This No-Bake White Chocolate Pumpkin Mousse Cake is the perfect fall dessert. It's layers of white chocolate mousse topped with a mascarpone pumpkin mousse and whipped cream.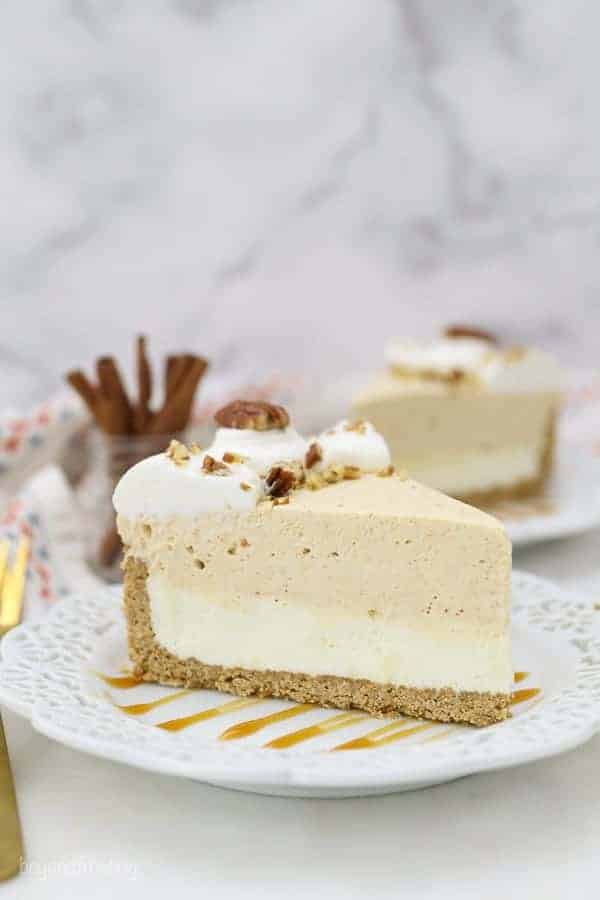 I never get tired of pumpkin desserts. Besides my moist pumpkin cupcakes, no-bake pumpkin dessert are my favorite thing to make this time of year.
They're great because they can be made ahead of time, saving you the stress of last-minute desserts.
I have a tons of recipes for these no-bake mousse cakes on my blog and I've done just about every flavor combination, but I was lacking a pumpkin one.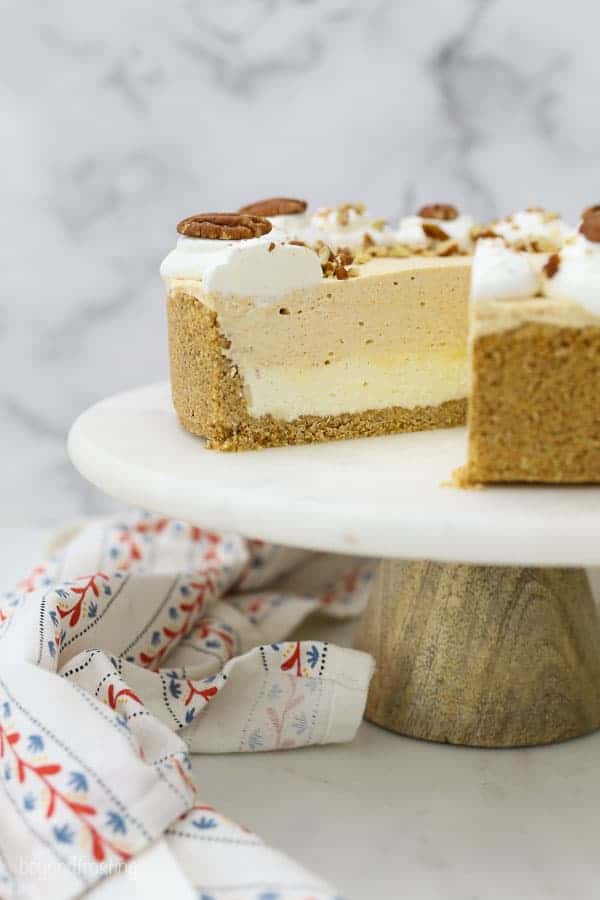 For this No-Bake White Chocolate Pumpkin Mousse Cake, I combined a layer of white chocolate mousse and mascarpone pumpkin mousse with a cinnamon graham cracker crust.
This no-bake dessert is light and fluffy, and packed with your favorite fall flavors. It's not overly sweet, and can definitely be enjoyed for breakfast. I speak from experience.
I haven't found a pumpkin cheesecake I love as much as my no-bake pumpkin mascarpone cheesecake, so it made the perfect topping for this mousse cake.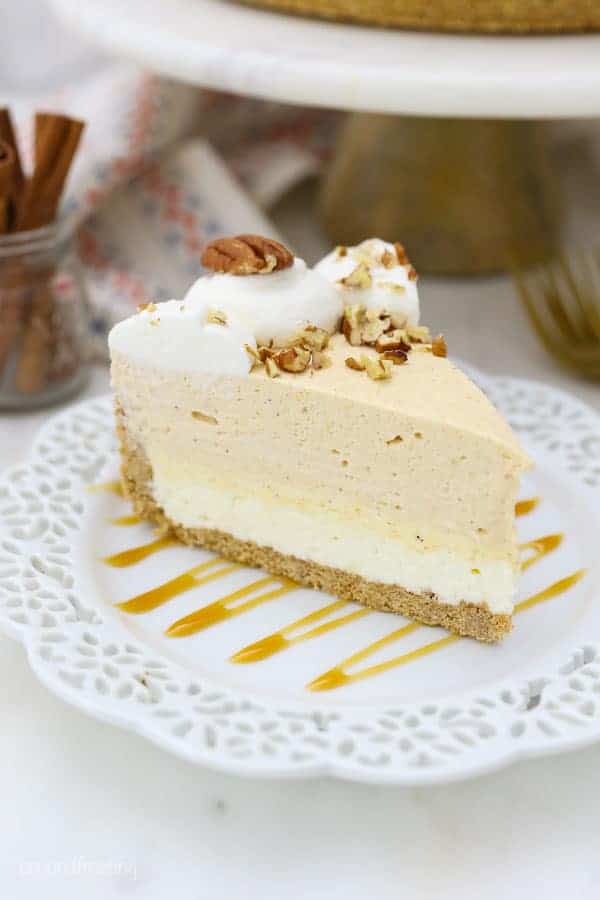 First you need to make a no-bake crust. I used graham cracker with a touch of brown sugar and cinnamon. But you can also use ginger snaps or even Oreos, Pumpkin JoJos or Nilla Wafer would work to.
Next prepare the white chocolate mousse layers. It's easy to make but there's a few steps involved. I recommend using white chocolate bars instead of white chocolate chips.
How to make this white chocolate mousse
The mousse calls for gelatin, which is a stabilizer. Place 1 tablespoon of cold water in a small dish. Sprinkle the powdered gelatin over the water, spreading evenly. Allow the gelatin to turn to a solid.
Next we are going to melt the white chocolate. I recommend microwaving at 50% power in 30-second increments until it's melted and stir until smooth. Set this aside to cool.
The gelatin will be added to the whipped cream, so melt the gelatin in the microwave for 5-8 seconds until it turns back to a liquid. Watch it closely! Let it cool for a couple minutes as well.
Prepare a batch of homemade whipped cream. Throw your mixing bowl in the freezer for a couple minutes to get it nice and cold. Use an electric mixer to beat the heavy cream on medium-high speed until the cream starts to thicken.
Slowly add the powdered sugar and liquid gelatin and continue beating on high speed until stiff peaks form. Set the whipped cream aside.
Then we are going to beat the cream cheese for a couple minutes before adding the white chocolate. Mix those until they're well combined.
Lastly, fold in the prepared whipped cream and mix until all ingredients are combined. Pour the filling into the prepared crust, spread evenly. Set aside.

Pumpkin Mascarpone Mousse
The top layer, a mascarpone pumpkin mousse is made with mascarpone, heavy cream, pumpkin puree, brown sugar and pumpkin pie spice. It's quite quick to put together. We're basically making a mascarpone whipped cream.
The only thing you need to do is beat the mascarpone and very slowly add the heavy cream, scraping down the bowl occasionally. The heavy cream will turn the mascarpone into a liquid consistency.
Once this happens, increase the speed of your mixer until soft peaks form. Then add the powder sugar, brown sugar, pumpkin pie spice and pumpkin puree and beat until stiff peaks form.
I could seriously sit there with a spoon and eat the whole bowl. It's so stinking good.
Once your dessert is assembled, it needs a couple hours to set in the fridge before serving. This is also why I suggest making it ahead of time.
Personally, I like to add the whipped cream topping just prior to serving, and after I remove the edge of the springform pan. I also added some crushed and whole pecans to add a little bit of crunch.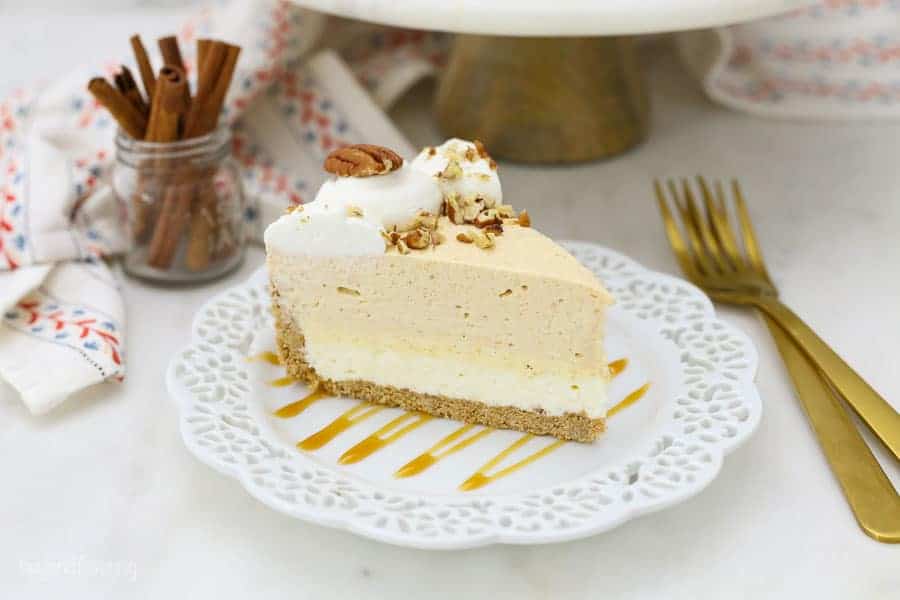 I hope you love this No-Bake Pumpkin Mousse Cake as much as I did. Happy fall baking to you!
Follow Beyond Frosting:
Facebook | Twitter | Pinterest | Instagram