This post may contain affiliate sales links. Please see my full disclosure policy for details
These Oreo Cheesecake Cookie Cups are fudgy chocolate pudding cookies filled with Oreo cheesecake filling. Bite-sized and packed with flavor, there's plenty of Oreo cheesecake in these chocolate cookie cups!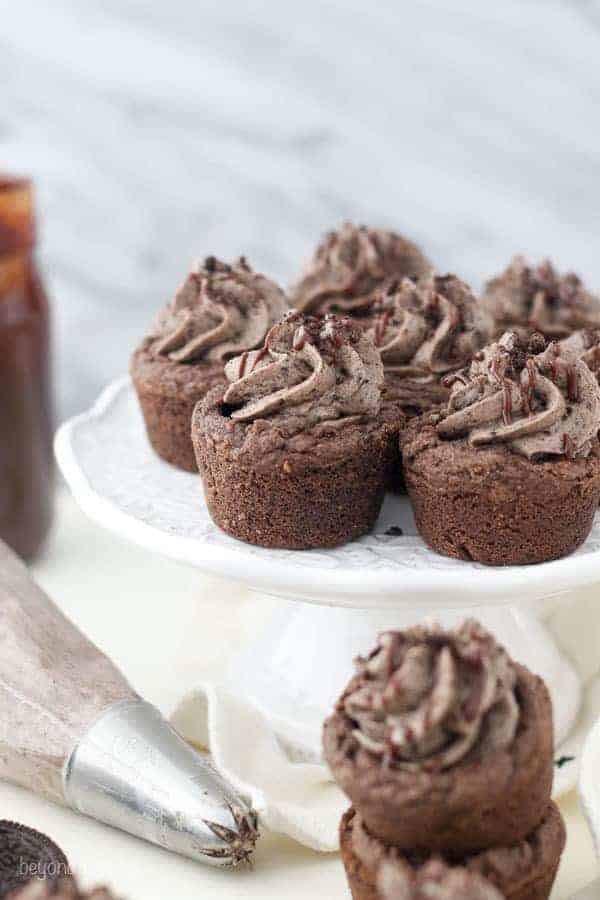 Easy Oreo Cheesecake Cookie Cups
So, I brought these cookies into work yesterday and they disappeared before I knew it. Multiple people came up to me and asked me what these amazing bites of heaven were.
Every time I just laughed and thanked them for their kind words, but secretly, I am all, "yeah, I know! So good right?"
Oreo Cheesecake Cookie Cups, doesn't that sound glorious? These soft and chewy chocolate pudding cookie are filled with the most amazing no-bake Oreo cheesecake filling. Then they're finished off with a drizzle of hot fudge sauce and a sprinkle of Oreo cookie crumbs.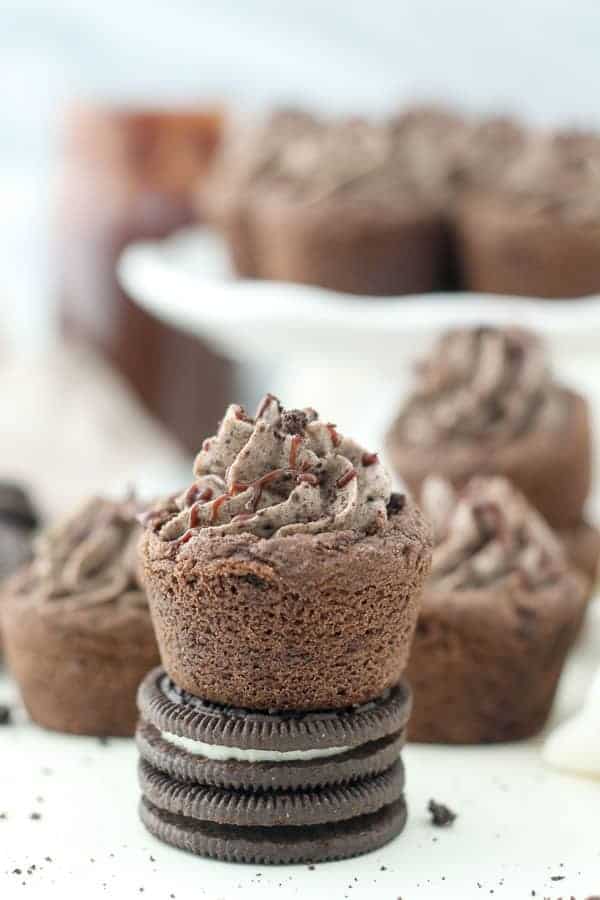 There was a point in time where I was making cookie cups left and right, but it's been a hot minute since I made some.
I love cookie cups, because as my husband so kindly pointed out, they are the perfect size for you to indulge in a little dessert without feeling too guilty. Especially if you have two.
For the cookie cups, I usually like to start with one of my pudding cookie recipes. The pudding cookies stay so soft in the refrigerator, and since they're slightly under baked, you definitely see the fudgey centers.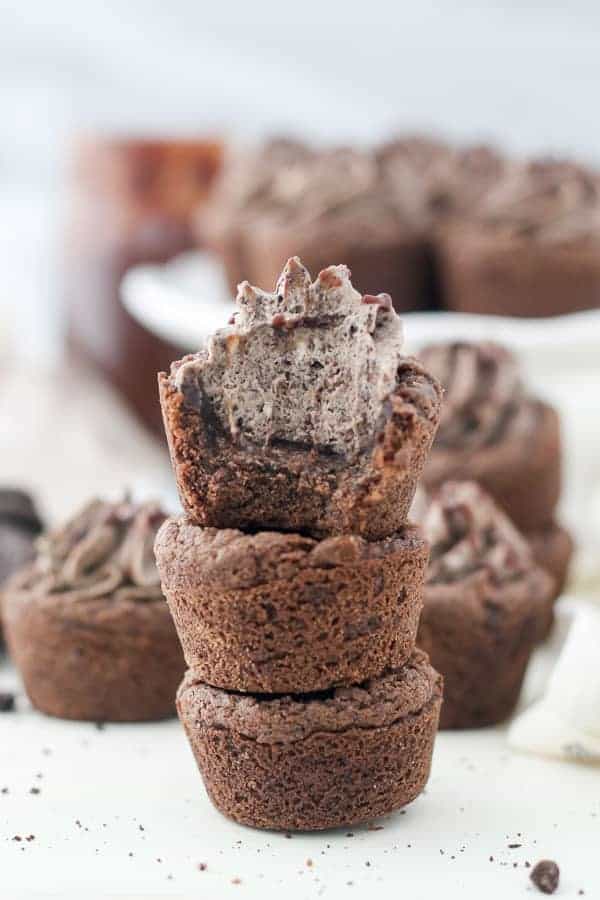 I've also found the perfect pan for cookie cups. It's a 24-cavity mini muffin pan from Calphalon. It's deeper than your average mini muffin pan and the sides are nice and straight. I'd say the size is between a regular cupcake pan and a mini cupcake pan.
To fill the pan, I use a medium-sized cookie scoop which is about 1-1.5 tablespoons of dough. These helps to keep the size of the cookies pretty even so it's easier to bake.
Once you pull these out of the oven, let them cool for about 5 minutes and then immediately press your tart shaper into the middle of the cookies to create the cavity.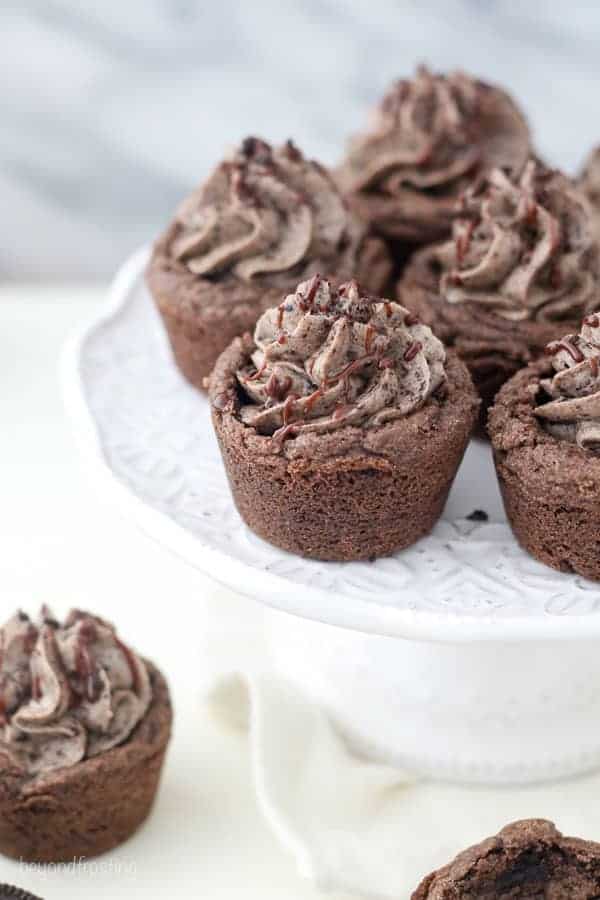 The reason we do this when the cookies are still warm is because you can press deeper into the cookie cups which means more room for filling!
Sometimes it's also necessary to run a knife around the outside edge to help release them. However, it's absolutely necessary that you have a well-greased pan. I prefer to rub Crisco shortening all over the inside of the pan prior to filling and I usually don't have too much of an issue.
There's plenty to go around. This cookie recipe will actually make about 30 cookie cups.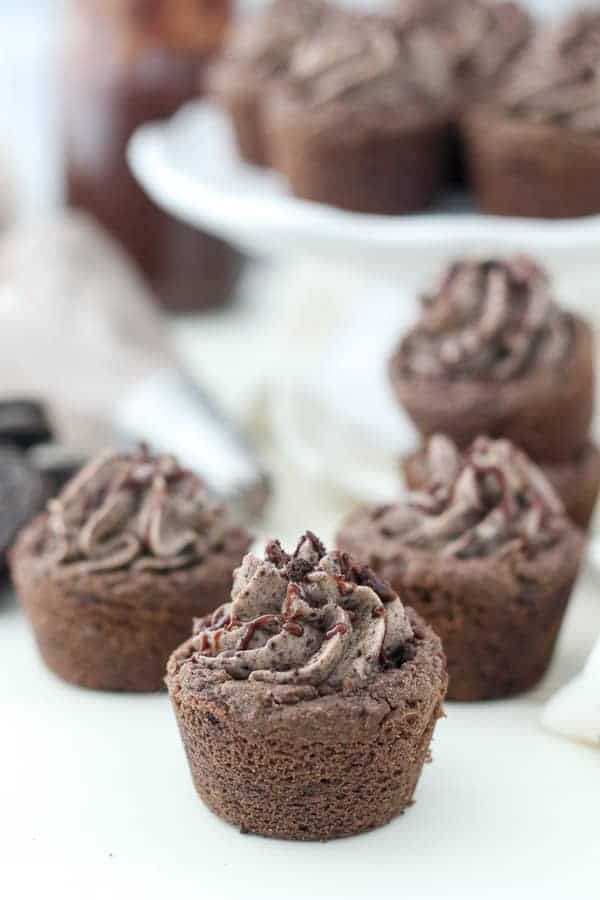 You can certainly use a regular sized cupcake pan or a standard mini cupcake pan but you'll want to adjust the amount of dough used one way or the other. I estimate the baking time will vary by 2-5 minutes. Obviously, the overall yield will change, but you already knew that!
Now let's talk about the real star of the show, this Oreo cheesecake filling.
This recipe is an adaption of my BEST No-Bake Oreo Cheesecake, which is to-die-for if I do say so myself.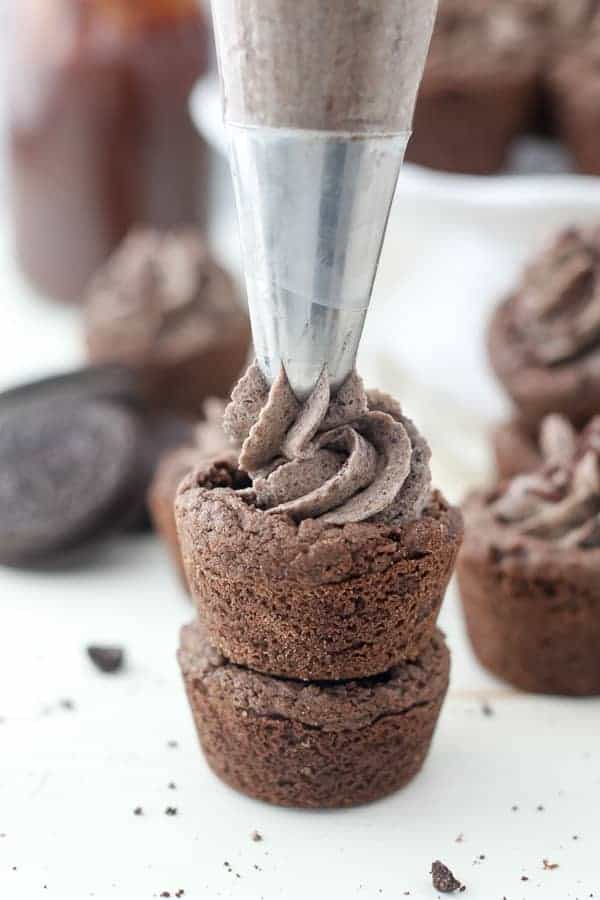 This filling has all your basic no-bake cheesecake ingredients: cream cheese, whipped cream, sugar, vanilla and plenty of crushed Oreos. I like to use a food processor to grind them into fine crumbs so that I can pipe the filling into the cookie cups, but you can also just use a spoon.
You can make the filling in advance and pipe the cookies once they're cooled or you can do the opposite and make and/or freeze the cookie cups ahead of time and then fill them when you're ready to serve.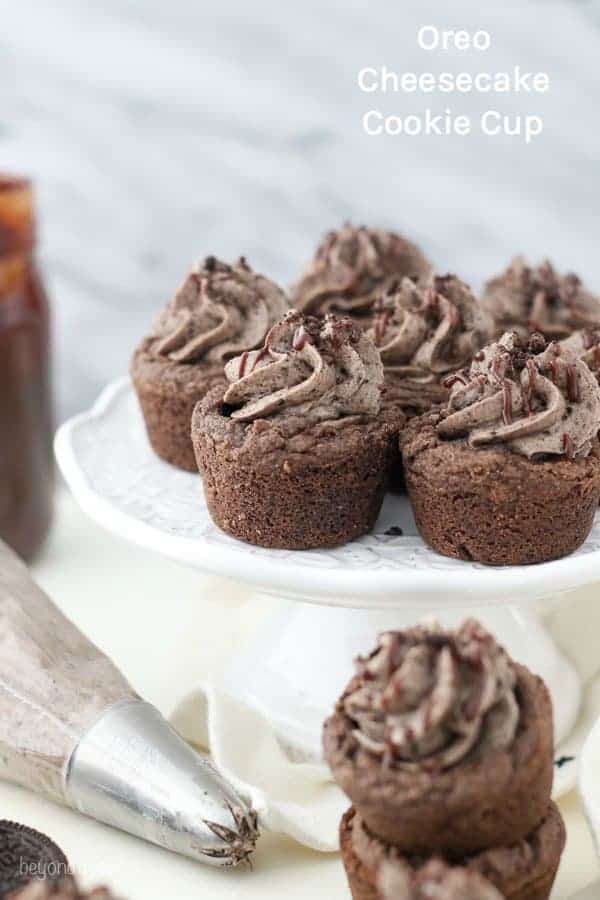 Just be sure that once you add the Oreo cheesecake filling, that you have enough space in your refrigerator to store them- although they won't last long because they're so dang good!
These Oreo Cheesecake Cookie Cups are great bite-size desserts for parties- especially if you want to impress your coworkers.
Follow Beyond Frosting:
Facebook | Twitter | Pinterest | Instagram
If you love no-bake recipes, be sure to check out my cookbook, No-Bake Treats!
Print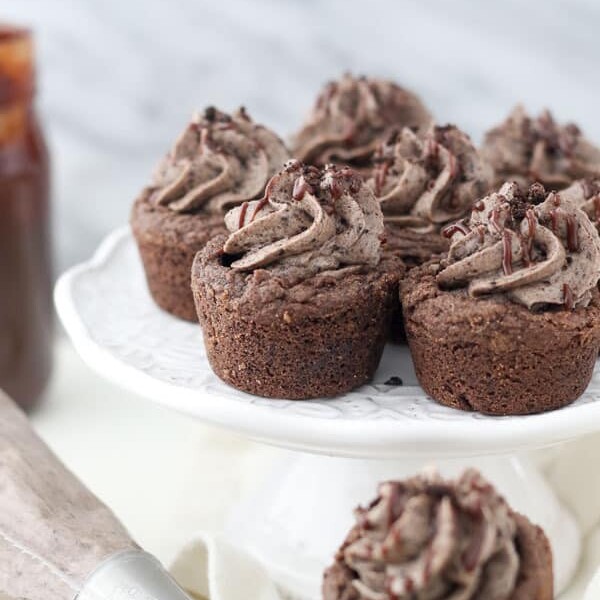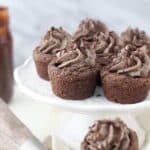 Oreo Cheesecake Cookie Cups
Author:

Prep Time:

1 hour

Cook Time:

12 minutes

Total Time:

1 hour 12 minutes

Yield:

30 cookies
Description
These Oreo Cheesecake Cookie Cups are a fudgy chocolate pudding cookie filled with a no-bake Oreo cheesecake filling.
Ingredients
For the cookie:
1 cup

(

2

sticks) unsalted butter, at room temperature

1 cup

granulated sugar

¾ cup

light brown sugar

2

large eggs

2 teaspoons

vanilla extract

2 ¼ cups

all-purpose flour

¼ cup

cocoa powder

1

package instant chocolate pudding (

3.4 oz

)

1 teaspoon

baking soda

1 teaspoon

salt
For the filling:
1 cup

heavy whipping cream

¼ cup

+

2 tablespoons

powdered sugar

8 ounces

cream cheese, softened

¼ cup

granulated sugar

1 teaspoon

vanilla extract

12

Oreos, grinded into a fine crumb
Hot fudge sauce for garnish
Leftover Oreos for garnish
Instructions
For the cookie: Preheat your oven to 350° F. Grease a mini muffin pan with cookie spray or Crisco.
Combine the butter and both sugars in your stand mixer and beat on medium speed until light and fluffy.
Add the eggs and the vanilla extract and continue beating until the butter, sugar and eggs are thoroughly mixed.
In a medium-sized bowl, combine the flour, cocoa powder, dry pudding mix, baking soda and salt. Stir to combine.
Slowly add the dry ingredients into the batter and beat on a low speed until the dough forms and it well mixed.
Drop 1-1.5 tablespoons of dough into the greased mini muffin pan. Bake at 350°F for 12-15 minutes.
Remove the cookies from oven and allow to cool for at least 5 minutes. Use a tart shaper or the back of a spoon to gently push down the middle of the cookies. Allow to cool for another 30 minutes in the pan. You may need to run a knife around the edge of the cookies to help release them from the pan. Cool completely.
For the filling: Place the mixing bowl and whisk attachment in the freezer for 5 to 10 minutes to chill while you are preparing the next steps.
Pour the heavy whipping cream into the chilled bowl and use an electric mixer to beat the heavy cream on medium-high speed until the cream starts to thicken.
Slowly add the powdered sugar and continue beating on high speed until stiff peaks form. Set the whipped cream aside.
Soften the unwrapped cream cheese in the microwave for 15 seconds. Change the mixer to the paddle attachment and beat the cream cheese until it's completely smooth.
Scrape down the sides of the bowl, and add the granulated sugar, 3 and vanilla. Beat until well combined.
Lastly, fold in the prepared whipped cream and the Oreo crumbs and mix until all ingredients are combined.
Pipe the filling into the cookie cups using a large piping bag and a large open star tip.
Category:

Dessert

Method:

Oven

Cuisine:

American
Keywords: cookie cups recipe, oreo dessert recipe, easy chocolate dessert, oreo cheesecake filling
You might also like: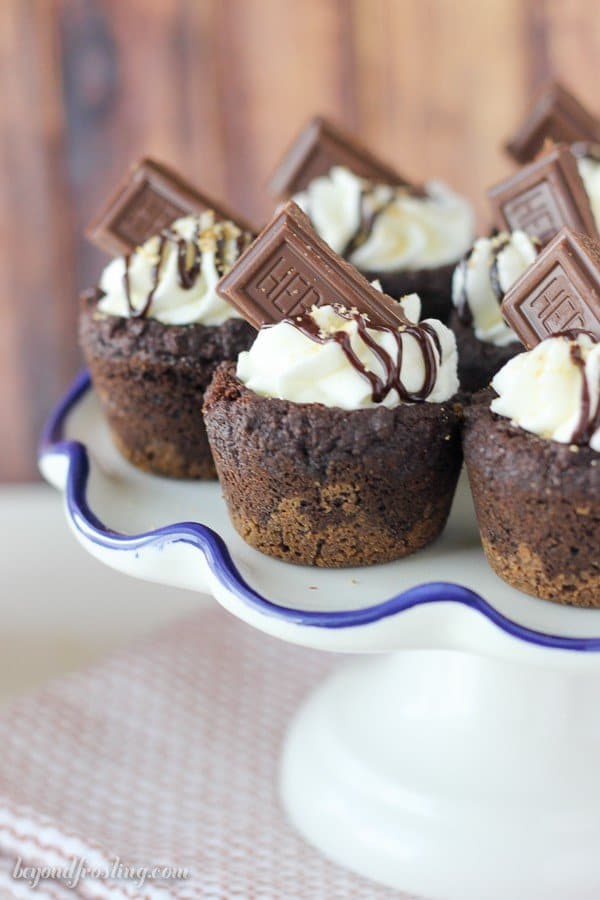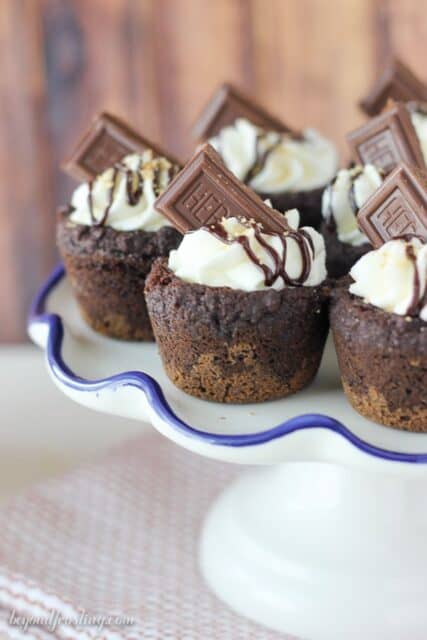 Chocolate Cream Pie Cookie Cups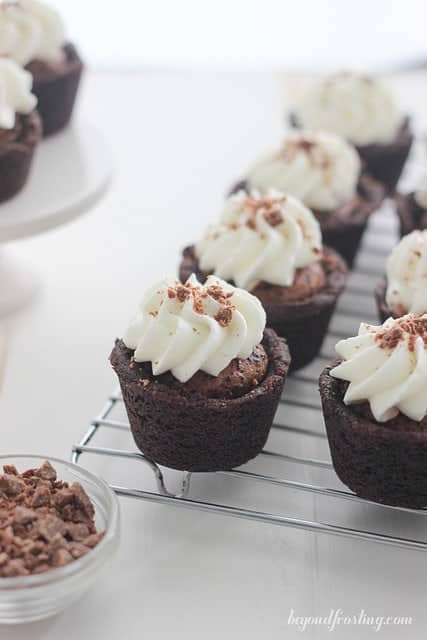 25 Creative Cookie Cup Recipes