This post may contain affiliate sales links. Please see my full disclosure policy for details
This No-Bake Oreo Cheesecake is an easy no-bake dessert packed full of Oreos inside a perfect Oreo cookie crust. The light, silky cheesecake filling tastes just like Oreo creme! And the best part is, you don't even have to turn on the oven.
If you love Oreo desserts, give my Brownie Bottom Oreo Mousse Pie a try, too!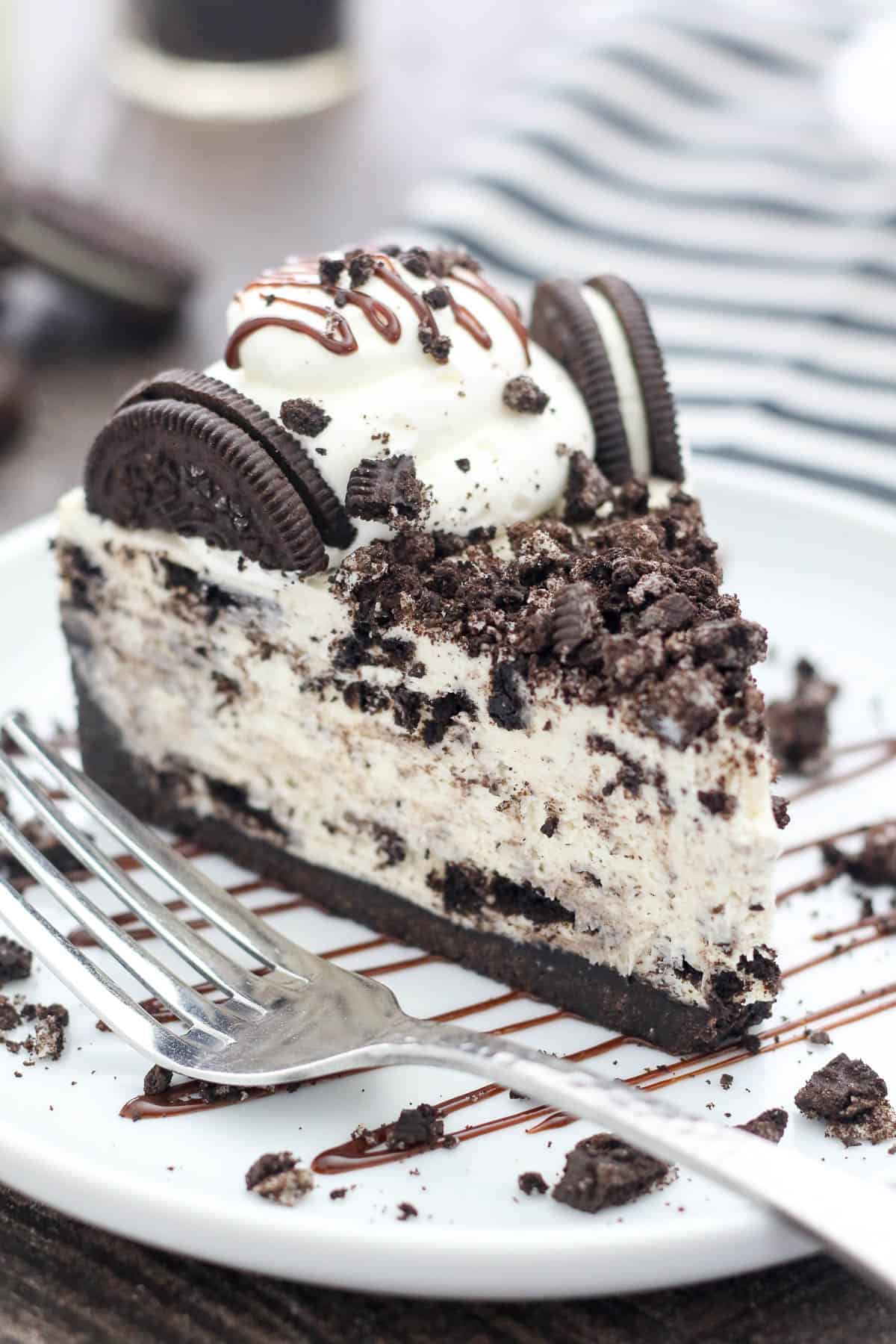 The Best Oreo Cheesecake Ever, No Oven Needed
I rarely play favorites when it comes to desserts (how do you pick one or two out of thousands??), but my no-bake Oreo cheesecake recipe is without a doubt high on my list. This no-bake dessert is unreal. It has a light, airy, velvety cheesecake filling that is to die for, set inside the most perfect Oreo crust.
Of course, this whole cheesecake is packed top-to-toe with cookies. It tastes just like cool and creamy Oreo creme, filled with even MORE Oreos. Make it any time of the year: birthdays, holidays, make it ahead for potlucks. It's especially great in the summer. Who wants to turn on the oven, anyway?
This Oreo cheesecake is my most recommended recipe and you'll soon see why. It's incredibly easy, make-ahead friendly, and it freezes like a dream. Honestly, the hardest part is waiting to slice it.
What's the Difference Between Baked and No-Bake Cheesecake?
The main difference between a no-bake cheesecake and a baked cheesecake is that the latter contains eggs, and calls for baking in order to set. A no-bake cheesecake doesn't have eggs in the recipe and sets up by chilling in the fridge.
Key Ingredients
Along with your usual pantry suspects, there are a few key ingredients that make up the perfect Oreo cheesecake. I go over them below, with the full details available in the recipe card at the bottom of this post.
Why Use White Chocolate In No-Bake Cheesecake?
Including white chocolate in the filling is actually my favorite way to make no-bake cheesecakes. White chocolate lends an air of luxury to the cheesecake filling that's subtle, and so delicious. If you've never used white chocolate in your no-bake cheesecakes before, I urge you to try it!
Including chocolate also makes this filling thicker, to the point where friends and family can't even believe that it's a no-bake recipe. You can leave it out and the cake will still set fine without it. The taste and texture just won't be quite the same.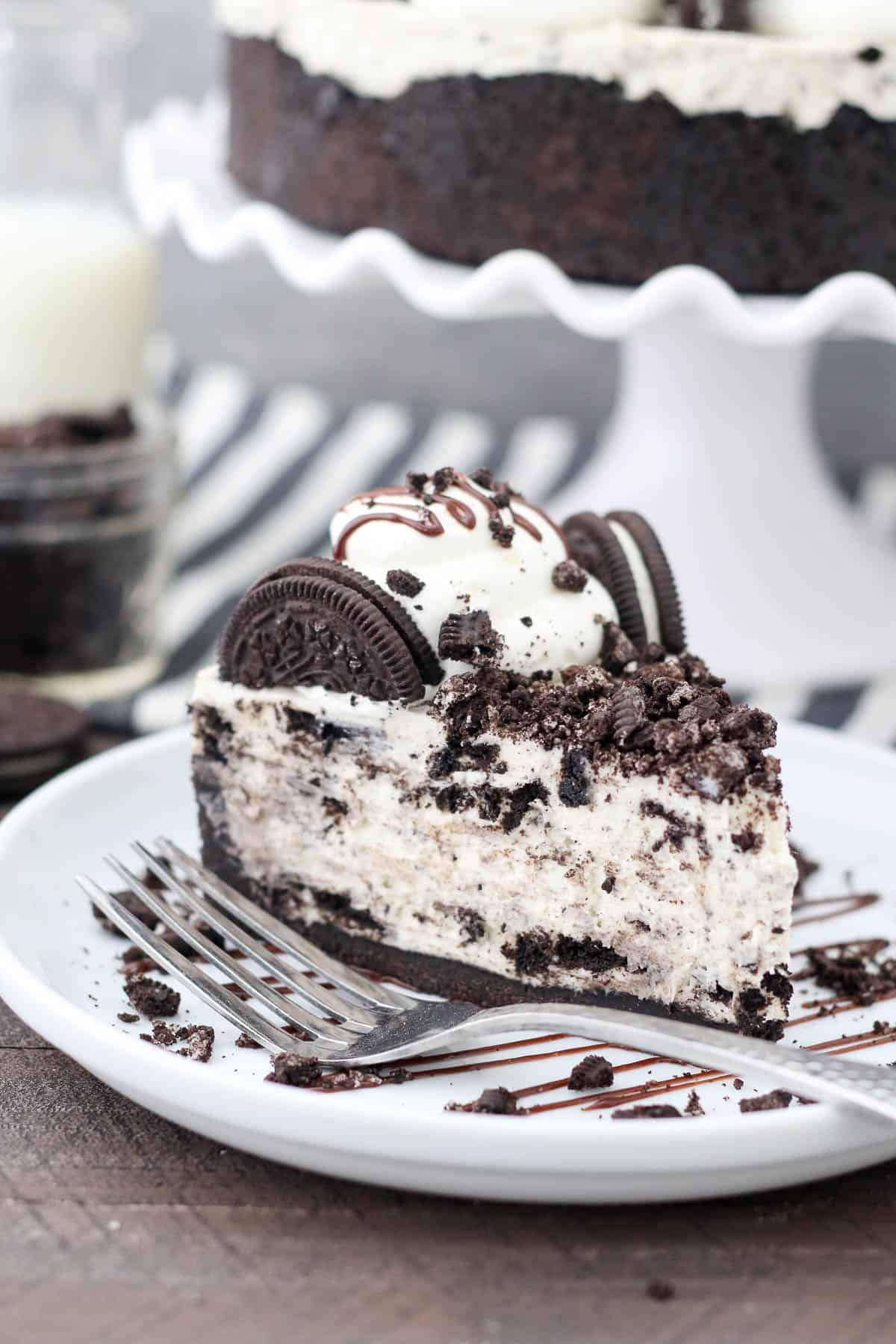 Preparing the Perfect Oreo Crust
Before we begin with the cheesecake itself, properly prepping your pan is key to preventing the crust from sticking. Here are some quick tips for a successful Oreo cookie crust:
With your pan prepped and ready, the Oreo crust comes together quickly with just two ingredients: crushed Oreos and melted butter. No need to remove the filling from the Oreos, either! It actually helps hold the crust together.
How to Make No-Bake Oreo Cheesecake
It's time to make the best Oreo cheesecake ever! First, you'll need to prepare the creamy whipped filling, and finally even more whipped cream on top. I seriously cannot wait for you to dig into this dessert.
Making the Cheesecake Filling
Once your crust is ready, here's how to make the creamy Oreo cheesecake filling from scratch:
Melt the chocolate. First, melt the white chocolate to 50% power. Stir frequently to prevent burning.
Prepare the whipped cream. Get the bowl of your stand mixer nice and cold, and then beat the heavy whipping cream until soft peaks begin to form. Next, add the powdered sugar a little at a time while continuing to beat the frosting into stiff peaks. Set aside.
Beat the cream cheese until smooth. This is the best way to prevent lumps in the filling. Add the sugar and vanilla, beat again, and add the melted chocolate until combined.
Fold in the whipped cream, followed by crushed Oreos.
Fill and chill. Fill the prepared crust, and then refrigerate the cheesecake until it's set. I recommend letting it chill for at least 4 hours (the longer the better).
Adding the Whipped Cream Topping
After your Oreo cheesecake is chilled and before you're ready to serve it, whip up another batch of whip cream. Here's how to decorate the cheesecake:
Decorate. Pipe the whipped cream around the borders of the cake.
Garnish. Sprinkle over more crushed Oreos and give that baby a drizzle of hot fudge. See below for more cheesecake topping ideas!
In addition to my Oreo crust tips from earlier, here are some more helpful tips to have your no-bake cheesecake come out perfect every time:
Use a large enough pan. As mentioned, this recipe makes a lot of filling. Make sure you're using at least a 9" pan or deep dish pie plate.
Use room-temperature cream cheese. Taking your cream cheese out of the fridge ahead of time will allow it to soften, and it will be so much easier to mix.
Budget enough time for the cheesecake to chill. I recommend 4 hours at the very minimum, but 6-8 hours, or overnight, is even better.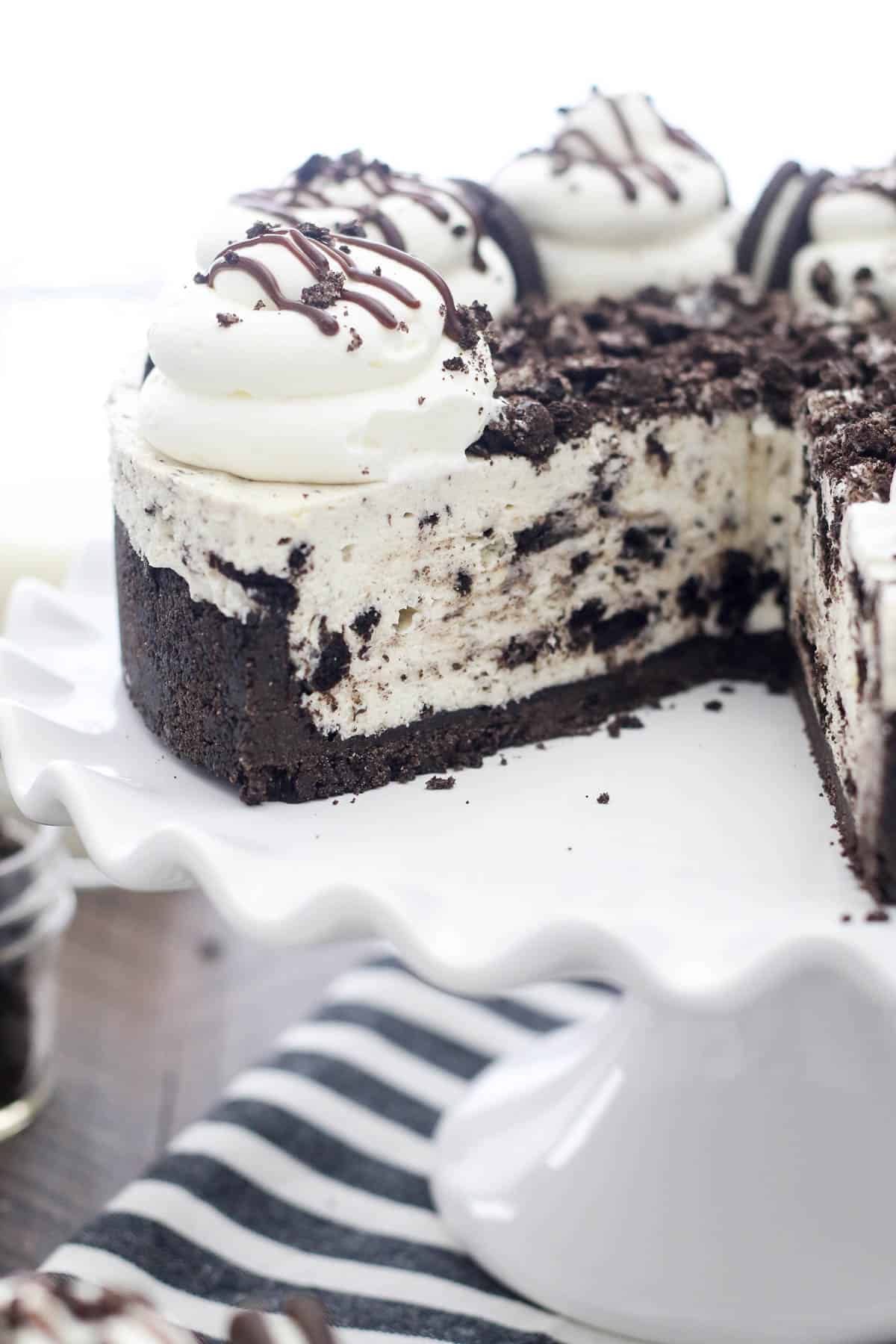 Common Questions
Why is my no-bake cheesecake not firm?
As mentioned above, the longer you can let your cheesecake chill and set, the better. If you don't give your cheesecake at least 4-6 hours to chill completely, it will be soft and mousse-y, not firm and cheesecake-like.
Additionally, if the whipped cream is not properly prepared, it can affect how the cheesecake sets.
Can I freeze my cheesecake to make it set?
I know this may sound tempting as a way to speed up the process but resist the urge. Freezing a no-bake cheesecake before it's had enough time to set will change the texture and it just won't come out the same.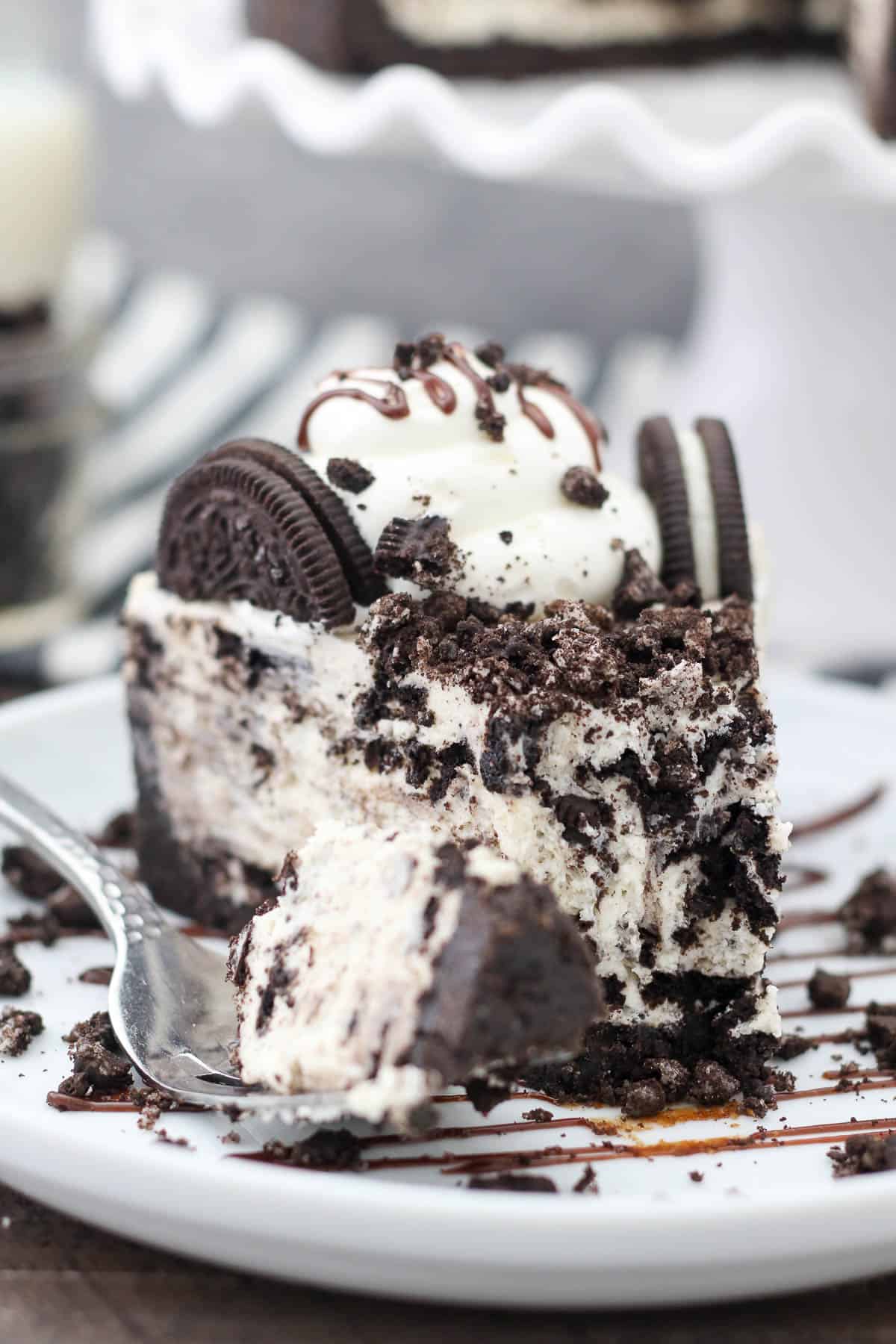 Does No-Bake Cheesecake Need to Be Refrigerated?
You might be able to skip the oven with this recipe, but refrigerating is a must for no-bake cheesecake. Once it's chilled for a few hours, wrap the pan tightly in plastic wrap. Take the Oreo cheesecake out just before serving but return it to the fridge as soon as possible.
If it's left out too long, your Oreo cheesecake filling will become soft and mousse-like, and the crust will crumble more easily.
This is an ideal dessert to make ahead of time (up to 2 days in advance), and it can also be frozen, see the next section.
Can I Freeze No-Bake Cheesecake?
Yes! Let the cheesecake set up in the fridge, and then wrap the pan tightly and keep it frozen for up to 1 month. Thaw your no-bake cheesecake in the fridge before serving.
Print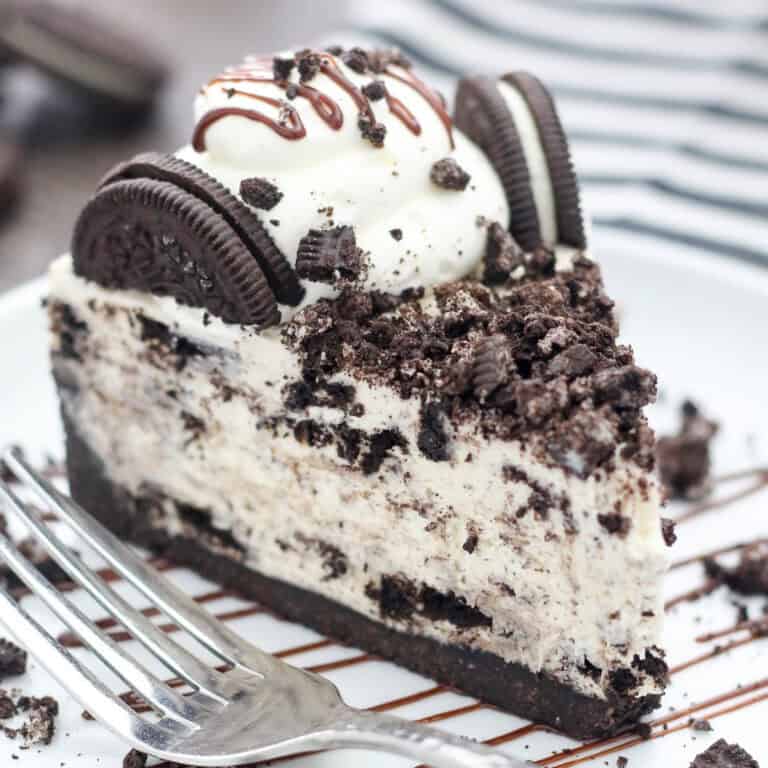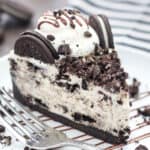 No-Bake Oreo Cheesecake
Author:

Prep Time:

30 minutes

Cook Time:

4 hours

Total Time:

4 hours 30 minutes

Yield:

8-10 slices
Description
You'll love this No-Bake Oreo Cheesecake! The light and silky cheesecake filling tastes just like Oreo creme, stuffed with even more Oreos inside a classic Oreo cookie crust.
Ingredients
For the crust:
1

package (14.3 oz) Oreos

½ cup

(

113G

) unsalted butter, melted
For the cheesecake filling:
4 ounces

white chocolate bar

1 ¼ cups

(354ml) heavy whipping cream

½ cup

(

65g

) powdered sugar

16 ounces

(

452g

) full-fat cream cheese, at room temperature

½ cup

(

95g

) granulated sugar

2 teaspoons

pure vanilla extract

20

Oreos, crushed
For the topping:
1 cup

(236ml) heavy whipping cream

½ cup

(

65g

) powdered sugar
Additional Oreos for garnish
Hot fudge sauce for garnish (optional)
Instructions
For the crust:
Prepare a 9-inch springform pan by lightly greasing the edges of the pan with cooking spray, and then wiping gently with a paper towel. Line the bottom of the pan with parchment paper.
Grind the cookies into a fine crumb using a food processor blender. Pour the melted butter over the cookie crumbs and stir until the crumbs are well coated.
Pour the crumbs into your springform pan and press firmly into the bottom and up on the sides to create a thick crust. Refrigerate the crust while you are preparing the filling.
For the filling:
In a microwave-safe bowl, microwave the white chocolate at 50% power in 30-second increments, stirring each time until the chocolate is melted. Stir until completely smooth. Set aside
Prepare the whipped cream. Place the mixing bowl and whisk attachment in the freezer for 5 to 10 minutes to chill. Pour the heavy whipping cream into the chilled bowl and use an electric mixer to beat the heavy cream on medium-high speed until soft peaks start to form. Slowly add the powdered sugar and continue beating on high speed until stiff peaks form. Set aside.
Beat the cream cheese until it's completely smooth, scraping down the sides of the bowl as needed. Next, add the granulated sugar and vanilla and beat until well combined. Add the melted chocolate, beating until it's completely mixed into the cream cheese. Then, fold in the whipped cream until it's completely smooth. Then stir in the crushed Oreos.
Pour the filling into the prepared crust, spreading evenly. Chill in the Refrigerate for 3-4 hours minimum.
For the topping:
Prior to serving, make a second batch of whipped cream as instructed above. Pipe the borders using a large open round tip. Garnish with more crushed Oreos and hot fudge sauce.
Notes
Storing and freezing: Keep refrigerated up to 5 days, this can be prepared up to 2 days in advance. Add topping the day of serving. Let the cheesecake set up in the fridge, and then wrap the pan tightly and keep it frozen for up to 1 month. Thaw your no-bake cheesecake in the fridge before serving.
It's recommend to use a chocolate bar instead of chocolate chips, but in a pinch white chocolate chips will work
Category:

Cheesecake

Method:

No-Bake

Cuisine:

American
Keywords: oreo cheesecake, no bake desserts, easy no bake cheesecake
More Easy No-Bake Desserts