This post may contain affiliate sales links. Please see my full disclosure policy for details
These OREO Cheesecake Hand Pies feature a flakey pie crust filled with a creamy OREO cookie filling topped with a chocolate ganache.
This post is sponsored by OREO. Even though I was compensated for my time, all opinions are my own.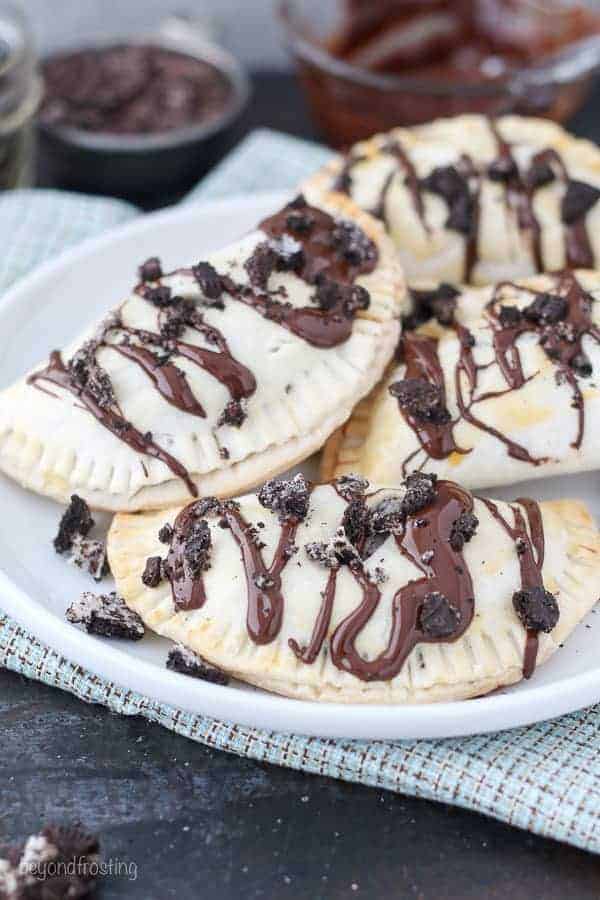 As you can imagine, a lot of sweets go through my household. My fiancé has the best restraint when it comes to eating dessert. It helps that he doesn't like at least 50% of the things I make, but still. His favorites include chocolate cake, chocolate chips cookies, rice cereal treats and OREO cookies. When I told him that I needed to come up with an idea for a recipe featuring OREO cookies, he was more than on-board for the task.
I loooove me some OREO cookies and they are probably one of the most used ingredients on my blog, so it's a challenge to find a new and unique recipe with OREO cookies.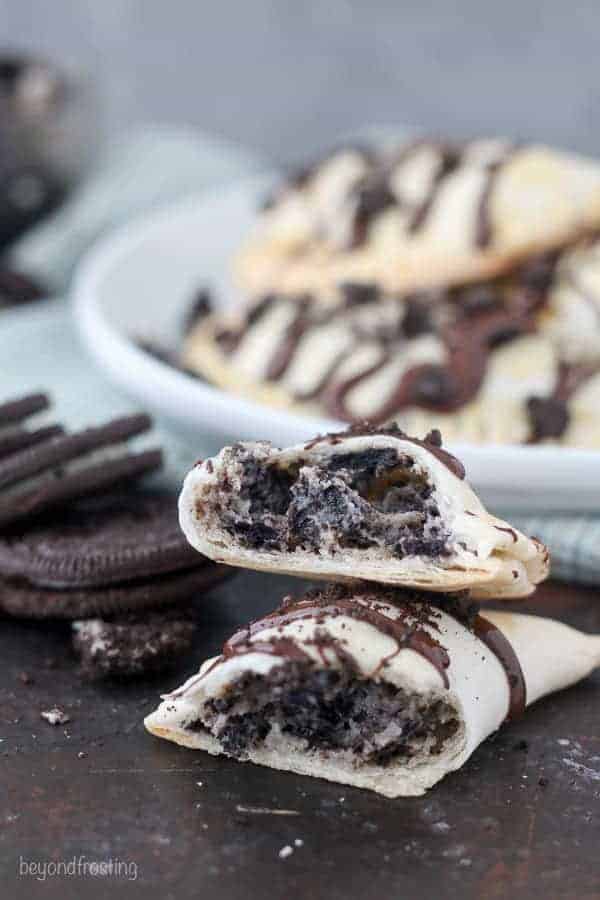 We tossed around a few ideas but none of them were quite as amazing as these OREO Cheesecake Hand Pies. The flakey pie crust is filled with a creamy cheesecake filling stuffed with OREO cookies and it's topped with a chocolate ganache.
The holidays are all about baking, and pies seem to take the center stage. I love a good pie myself but let's be real, it's a lot of work! I can't believe I've never made a hand pie before, these are way easier and I love bite-sized treats.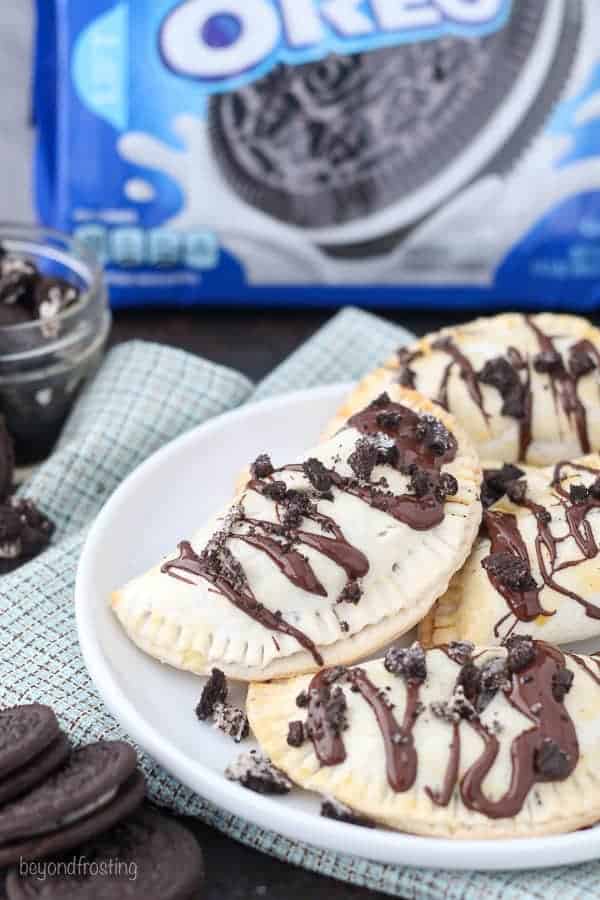 For these OREO hand pies, I kept things easy and grabbed some premade pie crust, because we all know it gets a little busy around the holidays. In 30 minutes, you can have these on the table. However, if you're willing to put in the extra effort, you can certainly make your own crust and a single pie crust recipe will do.
If you're using the store-bought crust, you'll get about 8 hand pies. I decided not to reroll the scraps because the dough doesn't lend itself to being blended together and re-rolled, so I just discarded the scraps.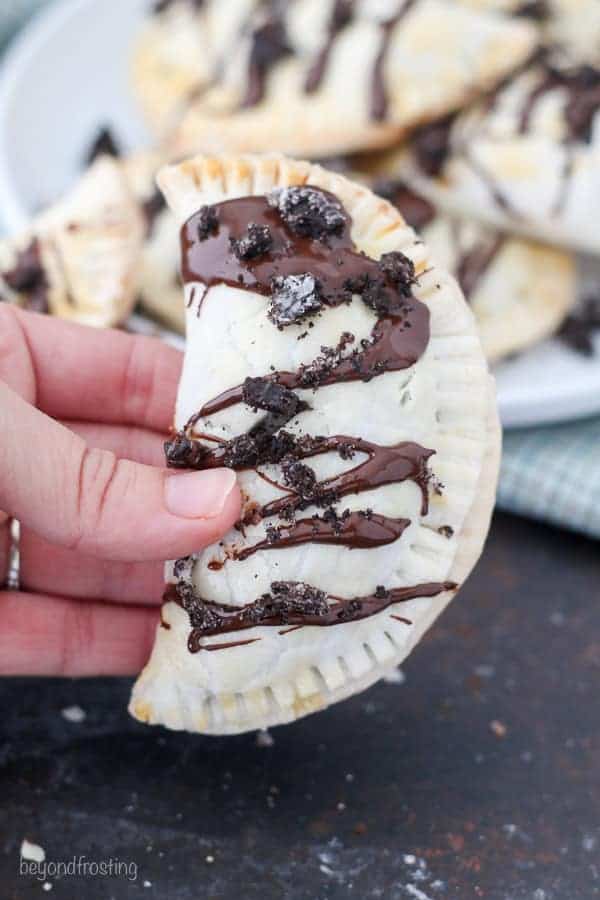 Once I cut the pie crust circles, I actually rolled the crust a little thinner. It's easier to do with the smaller circles. Once the dough is a little thinner, it's easier to crimp the edges together and gives you just a bit more space to fill in the middle. I also preferred this end result because the crust wasn't too thick meaning that the crust to filling ratio is spot on.
For the filling, 4 ingredients are all you'll need. Cream cheese, sugar, vanilla extract and crushed OREO cookies, that's it! The cream cheese is easier to handle if it's a little bit softer, so you could either leave it on the counter or throw it in the microwave for 15-20 seconds.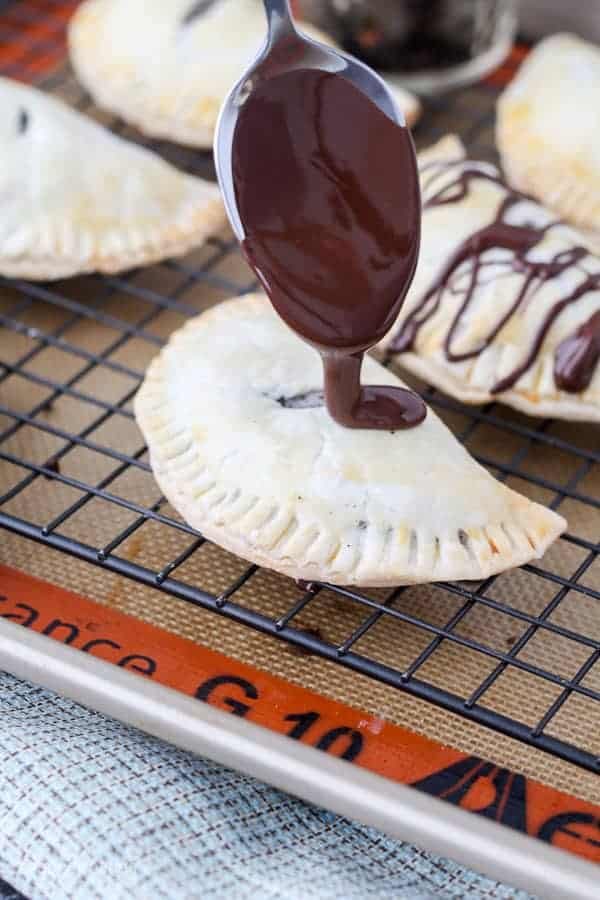 The filling is the perfect balance of cheesecake and chocolate. The OREO cookies get nice and soft when baked, so it's almost like taking a bite of cake! These can be served either warm or cold but I prefer them to be warm.
Once these OREO hand pies have had time to cool, drizzle a little chocolate ganache over top and sprinkles with some crushed OREO cookies.
This holiday season you'll find me at Walmart loading up my shopping cart with all my baking needs, especially OREO cookies because it wouldn't be a holiday season with them.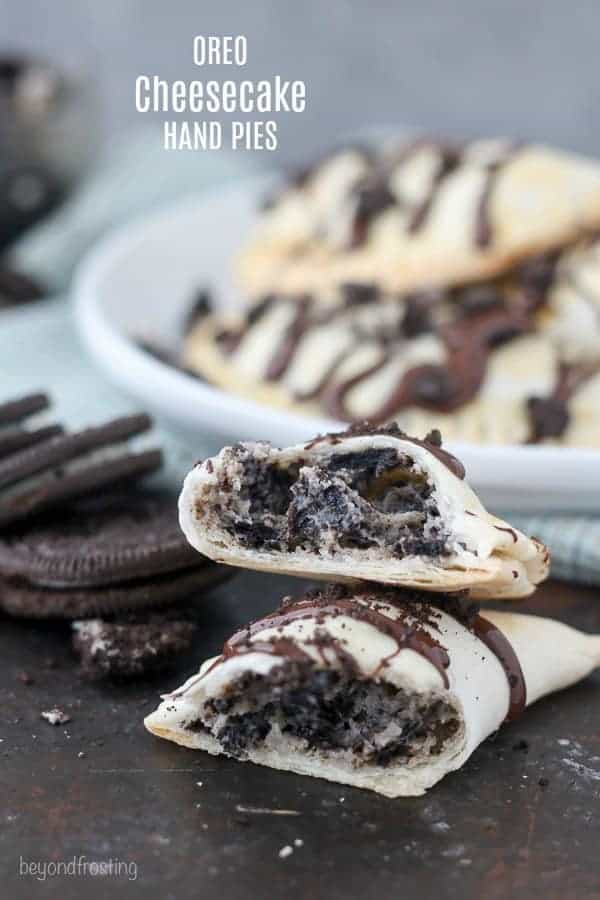 Follow along with OREO
Facebook: /OREO | Instagram @OREO | Pinterest: /OREO | Pinterest: /Nabisco | Twitter: @OREO
Follow Beyond Frosting:
Facebook | Twitter | Pinterest | Instagram
If you love no-bake recipes, be sure to check out my cookbook, No-Bake Treats!
Print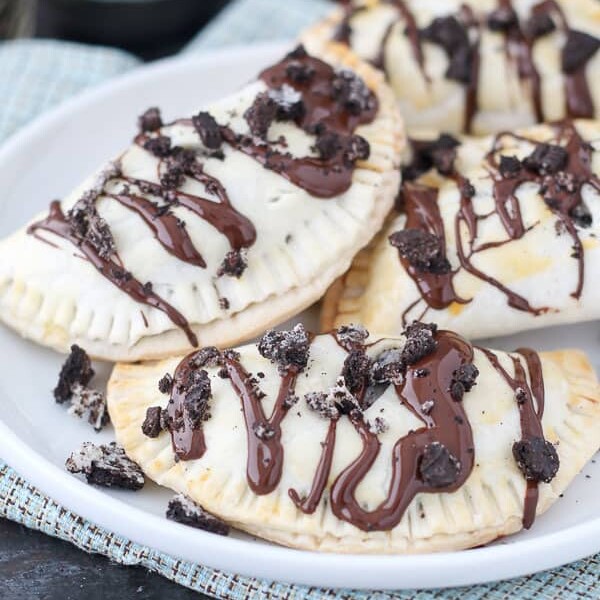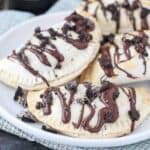 Oreo Cheesecake Hand Pies
Author:

Prep Time:

15 min

Cook Time:

15 min

Total Time:

30 minutes

Yield:

8 pies
Description
These OREO Cheesecake Hand Pies feature a flakey pie crust filled with a creamy OREO cookie filling topped with a chocolate ganache.
Ingredients
4 ounces

cream cheese, softened

½ cup

granulated sugar

1 teaspoon

vanilla extract

6

OREO cookies, crushed

1

box prepared pie crust (

2

crusts)

1

egg, beaten
For the topping:

2 tablespoons

chocolate chips

1 teaspoon

vegetable oil

3

OREO cookies, crushed
Instructions
Soften the cream cheese in the microwave for 20 seconds. In a medium-sized mixing bowl, combine the softened cream cheese, granulated sugar and vanilla extract. Mix until well combined and smooth.
Next add the 6 crushed OREO cookies and mix until thoroughly mixed
Remove the pie crust from the package and flatten. Use a circular cutter approximately 4 ¼ inches diameter to cut the pie crust into circles. Use a rolling pin to make the dough thinner.
Take a heaping tablespoon of the OREO filling and place in the middle of the pie crust circles.
Fold each pie crust over in half and press the edges together with a fork to seal them together.
Space the hand pies evenly on a silicone mat-lined baking sheet. Using a pastry brush, brush the beaten egg over each hand pie. Then use a sharp knife to cut a slit in the top of the pie crust, about ½ inch long on each hand pie.
Bake at 350°F for approximately 15 minutes until the bottom and edges start to brown.
For the topping: In a microwave-safe bowl, combine the chocolate chips and vegetable oil and microwave for 30-45 seconds until the chocolate starts to melt and then stir until smooth.
Drizzle the melted chocolate over the hand pies and then sprinkle with crushed OREO cookies. These can be served warm or at room temperature.