This post may contain affiliate sales links. Please see my full disclosure policy for details
This decadent layered Peanut Butter Cup Ice Cream Cake is a homemade chocolate cake layered with a no-churn peanut butter ice cream and it's covered with chocolate ganache. This cake is a peanut butter lover's dream.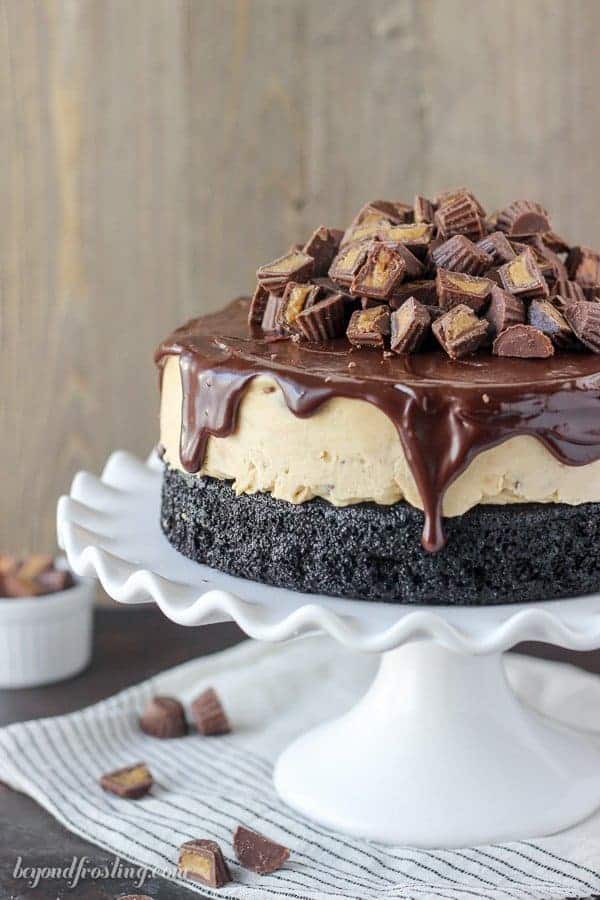 Today is the most exciting day since I've had since the release of my cookbook, because today is the official release of Lindsay's book, Simply Beautiful Homemade Cakes. If you don't know this already, Lindsay and I sort of went through this whole book writing process together. She started hers a couple months before me, but the way our timelines worked out, my book came out first. It was such a blessing to be able to experience the craziness with someone else. It was a lot of, "dude, I know" and "tell me about it". You also may not know that Lindsay and I both worked full time outside of our blogs during the process of writing out books. We're crazy y'all.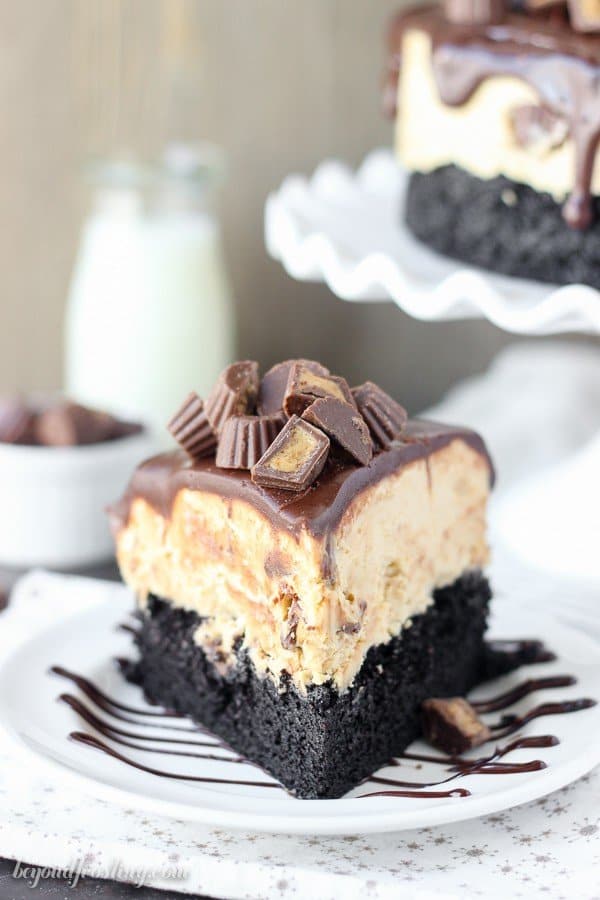 I so wish I could be there with her today to celebrate, but we have been very fortunate to see each other four times over the summer and fall. First we celebrated with trip to Portland, soley for the purposes of eating. Then we celebrated a couple weeks ago in Austin Texas when I got to see the book for the first time. Now I get to gush to you about how much I love this book.
You guys, it's simply amazing. Everyone knows Lindsay is well known for her gorgeous layer cakes, so this book was an absolutely perfect fit for her. However, it's more than just gorgeous layer cakes. There's a chapter for cupcakes, ice cream cakes, cheesecake, holiday cakes and a few icebox cakes, cookie cakes and single layer cakes. All the recipes are from scratch and will definitely fulfill your sugar cravings.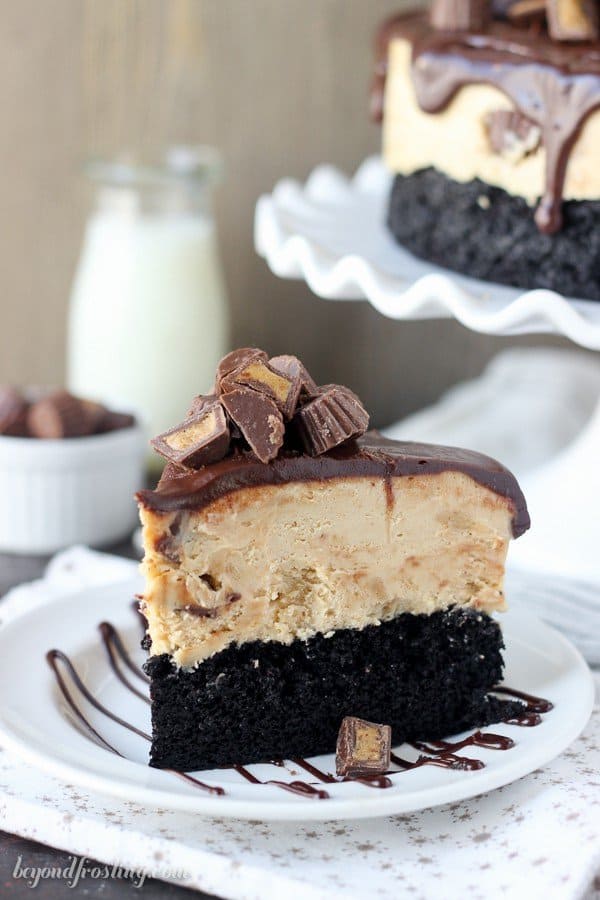 One of the great things about this book is all the tips and techniques that Lindsay shares to make her cakes. Some of these include achieving that gorgeous dripping chocolate, tips for preparing your pans for baking and making the layer cakes, tips for frosting a smooth cake, writing on cakes and other fin techniques. She tells you which cakes in the book use those techniques and references them throughout the book.
It was really hard for me to pick a cake for you to share, because there are so many good ones. Some of my favorites include the Guinness Chocolate Mousse Cake, the Cinnamon Roll Cake, The Bourbon Toffee Cake, and the Pina Colada Ice Cream Cake. I've tried several cake recipes from Lindsay's site, and they never disappoint. I even got to taste the Blueberry Oatmeal Icebox Cake when I was visiting Lindsay in Atlanta last year.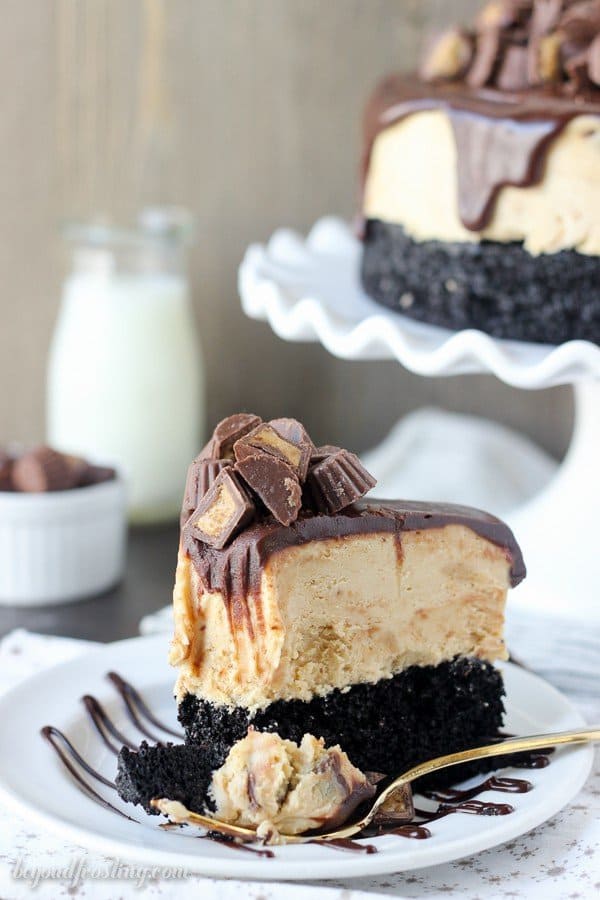 Finally I settled on this Peanut Butter Cup Ice Cream Cake. I've been wanting to make a cake like this for quite some time. It starts with the most delightful chocolate cake. It's simple ingredients and it's stays nice and soft for DAYS! It's definitely my favorite from-scratch chocolate cake.
The next layer is a no-churn peanut butter cup ice cream. It's made with whipped cream, cream cheese and creamy peanut butter. Plus there's chopped peanut butter cups. More peanut butter is more betta. Yeah, I said it.
To finish off this cake is a thick coating of chocolate ganache and more peanut butter cups.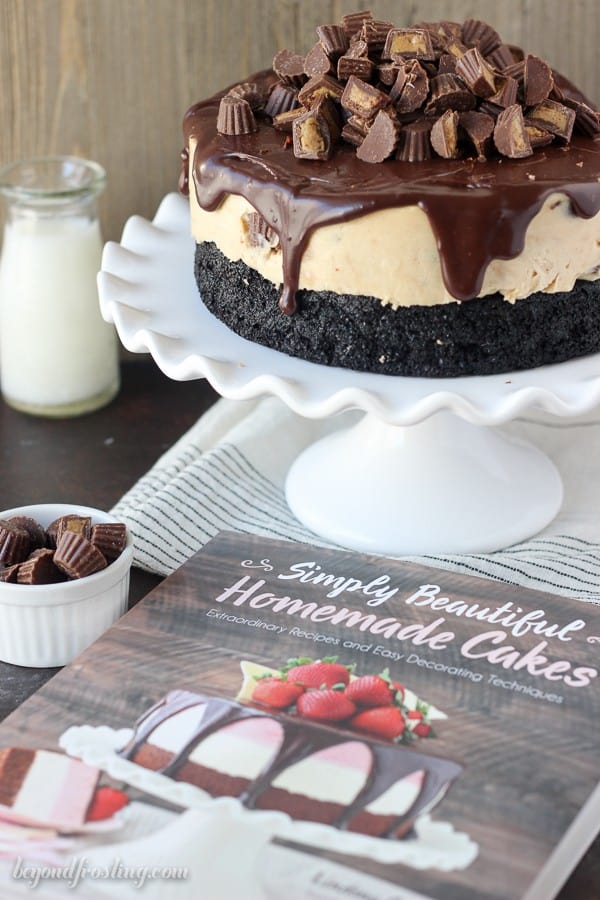 This cake really is easier than you think. I made a video so you can see exactly how I made it! If you can bake a cake, you can make this cake. You don't need to know any fancy decorating techniques, heck you don't even need a piping tip.
There are two helpful tools you might need. I use my trusty springform pan, but if you don't have one, it's best that you have a pan that is at least 3-inches tall. I bake my cakes with 8-inch pans, which I have for both the cake pans and the springform pan. This will help you build the layers of your cake and ice cream.
If you don't have a springform pan, then line your pan with saran wrap so that you can easily pull it out of the pan after the ice cream is frozen. This also helps prevent the ice cream from freezing to the edges of the pan. Lindsay does say that you can use a warm, flat angled spatula to smooth out the edges of your cake if needed.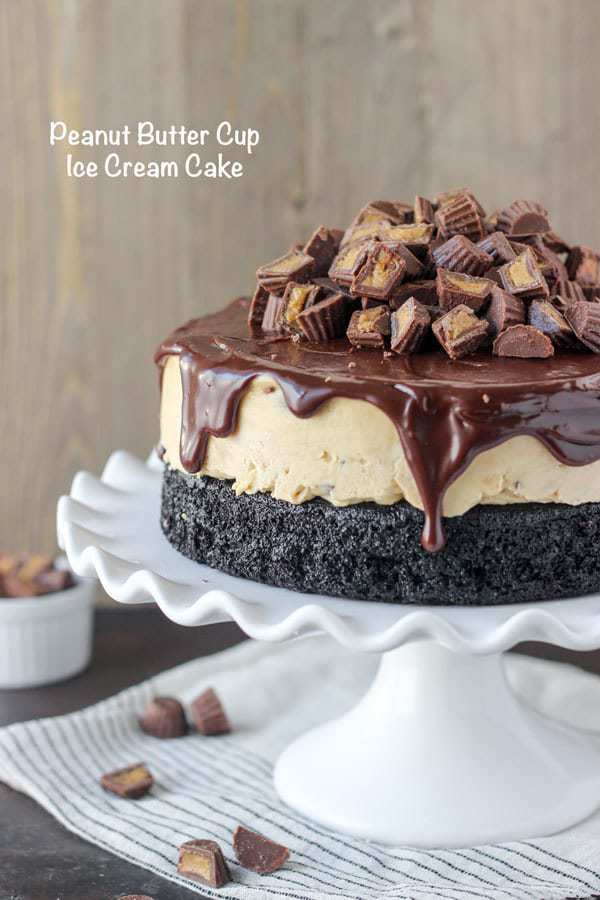 I don't think I need to tell you how decadent this cake is. So start small and go back for seconds, it's okay, tell them Julianne said you could. It is best to remove this cake from the freezer at least 30 minutes before slicing. Now hurry up and grab a copy of Simply Beautiful Homemade Cakes.
Follow Beyond Frosting:
Facebook | Twitter | Pinterest | Instagram
If you love no-bake recipes, be sure to check out my cookbook, No-Bake Treats!
Print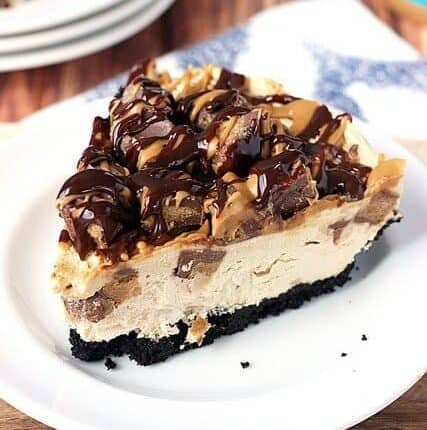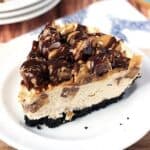 Peanut Butter Cup Ice Cream Cake
Author:

Prep Time:

45 mins

Cook Time:

6 hours

Total Time:

6 hours 45 minutes

Yield:

12-14 slices
Ingredients
For the chocolate cake:

1 cup

all-purpose flour

1 cup

granulated sugar

6 tablespoon

dark cocoa powder blend, such as Hershey's Special Dark

1

1⁄2 teaspoon baking soda

1⁄2 teaspoon

salt

1⁄2 cup

hot coffee

6 tablespoons

milk

6 tablespoon

vegetable oil

3⁄4 teaspoon

vanilla extract

1

large egg at room temperature

1

large egg white at room temperature
For the ice cream

8 ounces cream cheese, softened

1⁄2 cup

granulated sugar

3 tablespoon

milk

1

1⁄2 cups creamy peanut butter

1

1⁄4 cups heavy whipping cream, cold

1⁄2 cup

powdered sugar

1 teaspoon

vanilla extract

1 cup

chopped mini peanut butter cups
For the chocolate ganache

1 cup

semisweet chocolate chips

1⁄2 cup

heavy whipping cream, cold

1

1⁄2 cups chopped mini peanut butter cups
Instructions
For the cake: Preheat the oven to 350°F
Line the bottom of an 8-inch (20-cm) cake pan with parchment paper and grease the sides.
In a large mixer bowl, combine the flour, sugar, cocoa powder, baking soda and salt.
In a medium bowl, combine the hot coffee, milk, vegetable oil and vanilla extract. Add the egg and egg white and whisk until combined.
Pour the coffee mixture into the flour mixture and mix until smooth. The batter will be thin.
Pour the batter into the prepared cake pan and bake the cake for 30 to 35 minutes. To test the cake for doneness, insert a toothpick into the center of the cake. If the toothpick comes out clean, your cake is done.
Remove the cake from the oven and allow it to cool for 15-20 minutes, then remove the cake from the pan and transfer it to a cooling rack to cool completely.
For the ice cream: Place your mixing bowl in the freezer for 5-10 minutes to get it nice and cold. Prepare the whipping cream. Pour the heavy whipping cream into the chilled bowl and use an electric mixer to beat the heavy cream on medium-high speed until the cream gets bubbly.
Slowly add the powdered sugar and continue beating on high speed until peaks start to form. Set the whipped cream aside.
Beat the softened cream cheese and sugar in a large bowl until it's completely smooth. Add the milk and mix until well incorporated.
Next, Add the peanut butter and mix until it's completely smooth.
Carefully fold about one-third of the whipped cream into the cream cheese mixture, then fold in the remaining whipped cream and continue to fold together until the batter is nice and smooth. Gently stir in the chopped peanut butter cups.
To assemble the cake: It's best to use the same size pan as you used to make the cake. Place a cake board in the bottom of the pan. Wrap the sides of the pan with saran wrap or parchment paper so it can easily be removed. I prefer to use a springform pan.
Use a large serrated knife to remove the dome from the top of the cake so that it's nice and flat.
Set the chocolate cake in the bottom of the prepared pan then spread the ice cream in an even layer of top of the cake.
Loosely cover the top of the cake and put it in the freezer until firm, 6 to 7 hours.
Once the cake is frozen, take it out of the freezer and use the clear plastic wrap to lift the cake out of the cake pan. Place the cake on a serving plate or on a cardboard cake circle. Use a warm offset spatula to smooth the sides, if needed.
For the chocolate ganache: Place the chocolate chips in a small heat-proof bowl. Microwave the heavy whipping cream in a small, microwave-safe measuring cup until it comes to a boil.
Pour the hot cream over the chocolate chips and let them stand, covered, for about 5 minutes. Whisk the chocolate mixture until the chocolate is melted and the mixture is smooth.
Allow the ganache to cool for about 3 to 5 minutes, then pour it over the top of the cake and allow it to drizzle down the sides.
Finish the cake with the chopped mini peanut butter cups piled on top. Place the cake back in the freezer until you are ready to serve. I recommend setting the cake out for about 45 to 60 minutes, so that it can soften before being sliced.
This cake is best for 5 to 7 days, but it could remain frozen longer
Notes
"cook time" is time in the freezer
You might also like:
Reese's No-Bake Peanut Butter Cup Cheesecake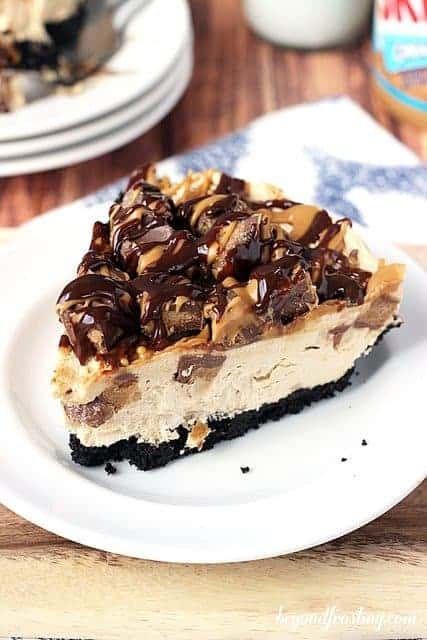 No-Bake Peanut Butter Cup Lasagna