This post may contain affiliate sales links. Please see my full disclosure policy for details
You won't be able to resist these Pop Tart Cupcakes! The vanilla cupcake is filled with strawberry jam and topped with a Strawberry Pop Tart frosting.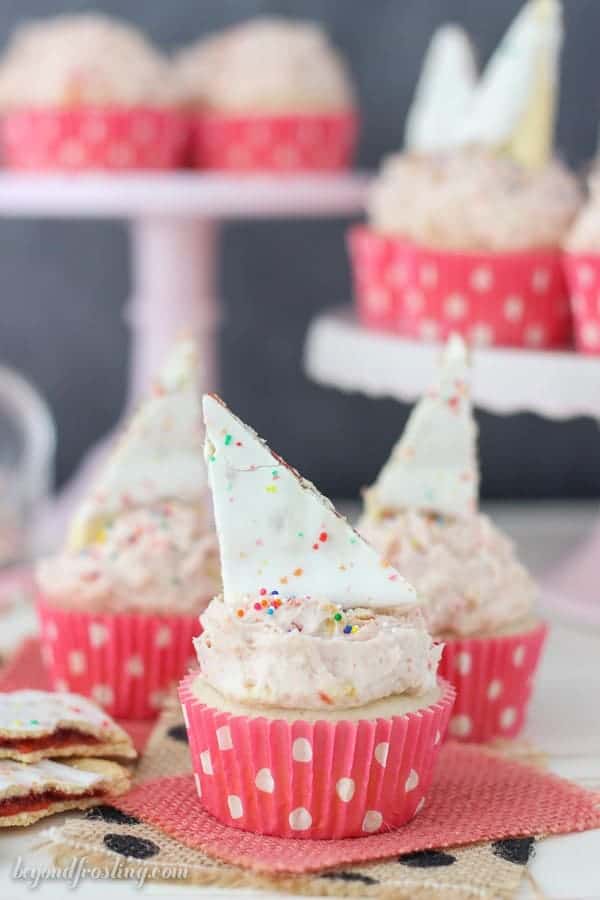 I have a slight obsession with outrageous cupcakes, but I think you know that already. It all started with adding things such as cookies. Then I moved on to cupcakes stuffed with things like Rice Krispie Treat Frosting and Oatmeal Cream Pies. So it should come as no surprise that I made these Pop Tart Cupcakes for you today.
You guys had to have seen this coming right? After I shared those Frosted Strawberry Pop Tart cookies last week, I couldn't just stop there.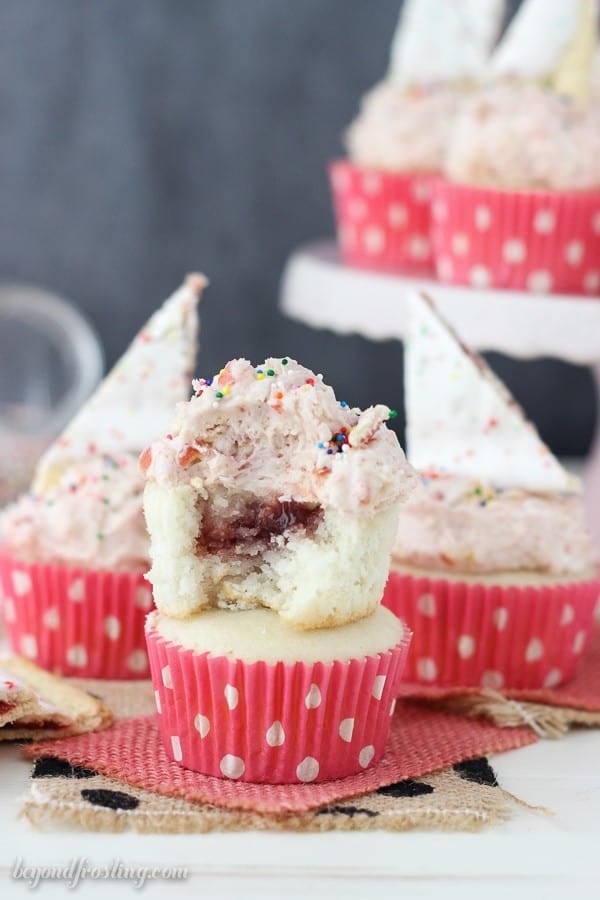 Here's the deal. I am not afraid of a little cake mix here and there. While I do enjoy baking from scratch, I can't deny the convenience of a cake mix. Plus, I do love that you can take a cake mix and tweak it for your liking. That is exactly what I did with these cupcakes.
This recipe starts with a vanilla cake mix to which I've added some sour cream (for moisture), a hint of vanilla extract and a strawberry jam filling. Everyone always asks me what my secret is for my cupcakes. It's always the same answer: sour cream! I use a light sour cream as opposed to full fat. This is a personal preference.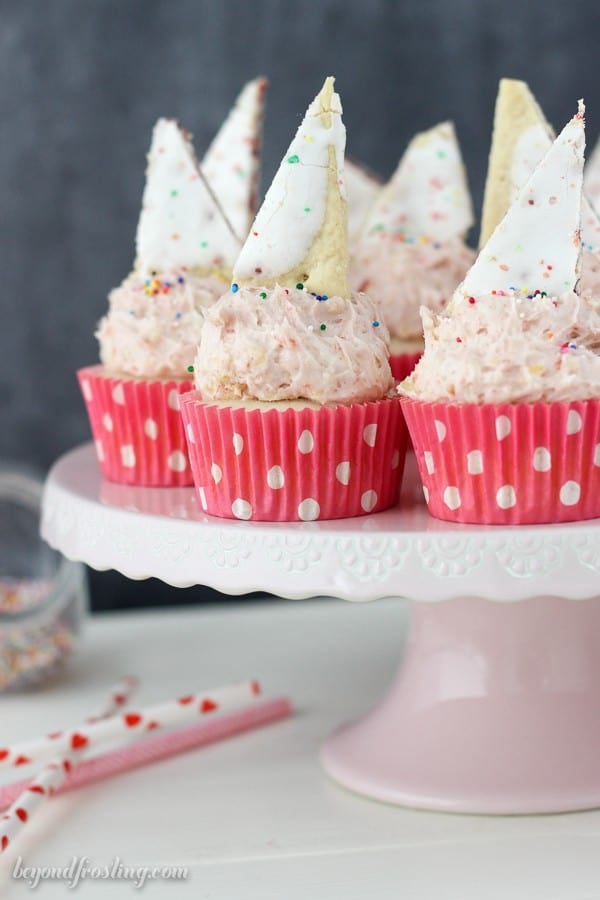 The frosting is really where it's at. Don't be intimated by the amount of butter or powdered sugar (this recipe is NOT diet-friendly). Since I used a cookie scoop to pile on the frosting, you really do need quite a bit of it to spread across all your cupcakes.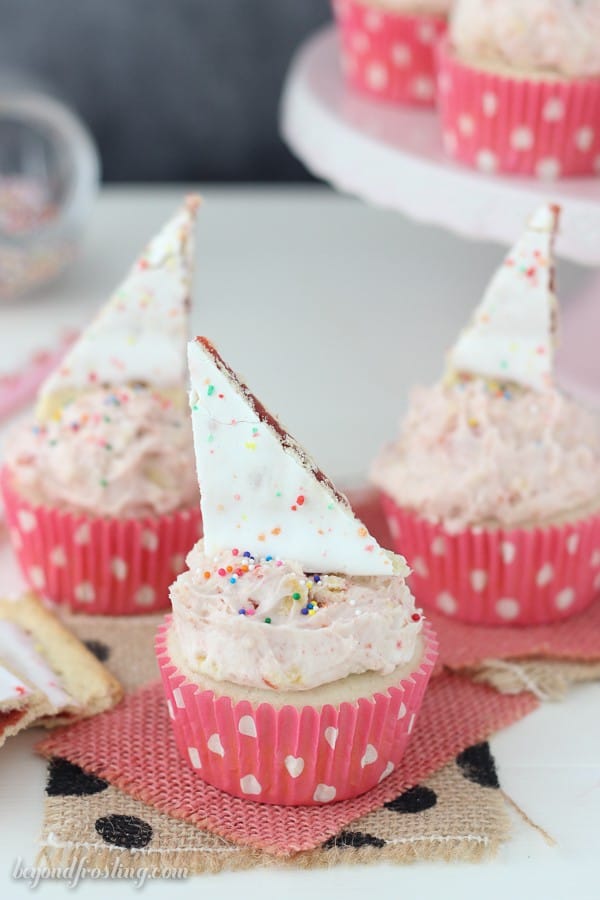 I've gone ahead and added crushed pop tarts (yes I did!) and a little bit of strawberry jam to the frosting. The strawberry jam helps eliminate that over powering sugar flavor but adds a subtle strawberry tone. This frosting is all about the Pop Tarts, and you'll be pleased to find that every bite is stuffed with plenty of them. As I previously mentioned, I used a cookie scoop to plop the frosting on top of the cupcake. It is much easier than trying to pipe it. Since there are small pieces of the Pop Tarts in the frosting, it gets stuck in the piping tip, so don't waste your time with that.
One last question, should I be making these in a brown sugar version? I am thinking so.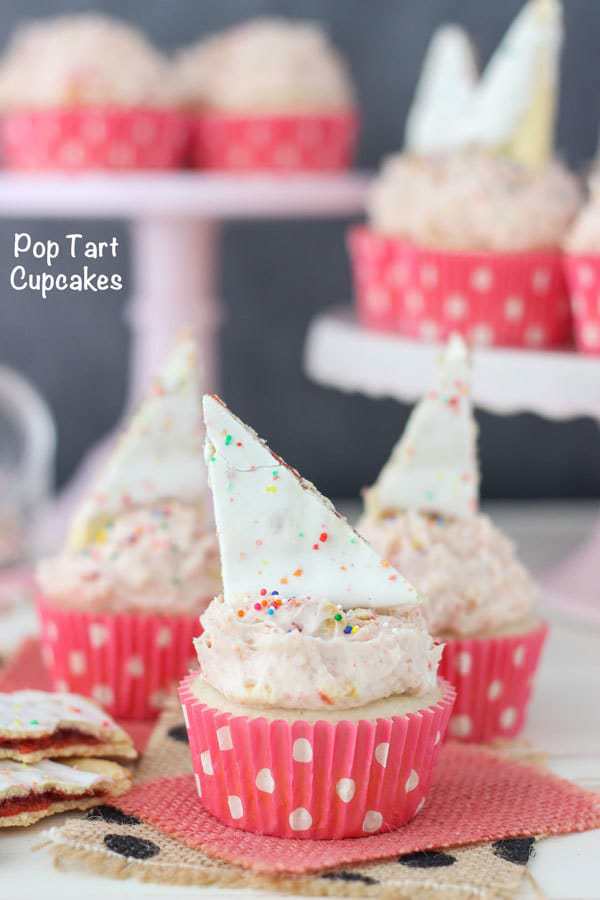 Keep up with all the happenings. Follow Beyond Frosting:
Facebook | Twitter | Pinterest | Instagram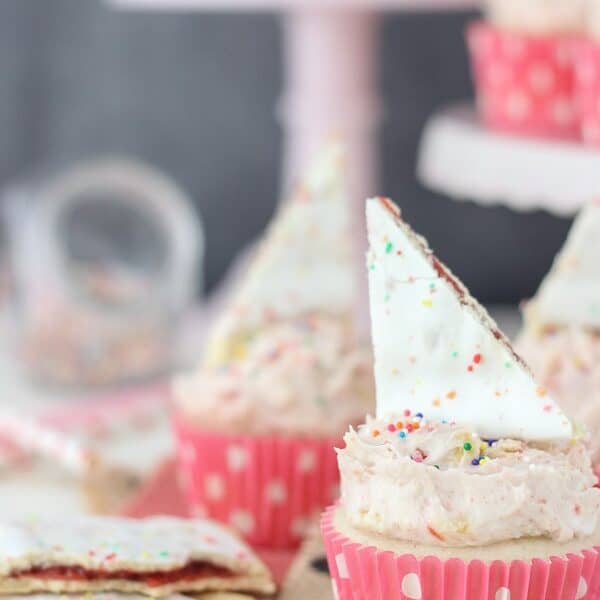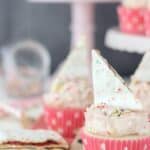 Pop Tart Cupcakes
Author:

Prep Time:

15 minutes

Cook Time:

33 minutes

Total Time:

48 minutes

Yield:

24 cupcakes
Description
These vanilla cupcakes are filled with strawberry jam and topped with a Strawberry Pop Tart frosting for a nostalgic treat!
Ingredients
For the Cupcakes:
1 box Vanilla Cake Mix

Ingredients listed on the Box: Eggs, Oil, Water

1/2 teaspoon

Pure Vanilla Extract

1/2 cup

Light Sour Cream

2/3 cup

Strawberry Jam
For the Frosting:
3

sticks Unsalted Butter, Softened, 1 1/2 cups

6

–

7

cups Powdered Sugar

2 tablespoons

Heavy Whipping Cream, Or milk

2 tablespoons

Strawberry Jam

1 teaspoon

Pure Vanilla Extract
pinch of Salt

8

Strawberry Pop Tarts, Divided, 4 sleeves
Instructions
For the Cupcakes:
Preheat oven to 350°F.
In a large mixing bowl, combine a box of vanilla cake mix with the ingredients as listed on the box. Add 1/2 teaspoon vanilla extract and 1/2 cup light sour and beat until all ingredients are well combined.
Line two 12-cavity muffin pans with liners. Divide the cupcake batter evenly between each liner.
Bake the cupcakes at 350°F for 15-18 minutes. Check the cupcakes for doneness by inserting a toothpick into the center of the cupcake. If the toothpick comes out clean, then your cupcakes are done.
Allow the cupcakes to cool in the pan for 10-15 minutes and then transfer to a wire rack and cool completely.
Once cooled, hollow out the center of each cupcake with the cupcake corer or a knife about halfway down through the cupcake.
Use a knife or spoon to fill the center of each cupcake with 1-2 teaspoons of the strawberry jam.
For the Frosting:
Soften butter in the microwave for 10 seconds then flip the butter over to the opposite side. Microwave again for 5 seconds.
In a large mixing bowl, whip the butter for 3-4 minutes until the butter is fluffy and well-whipped.
Slowly add the powdered sugar 2 cups at a time. I suggest reducing the mixer speed so the powdered sugar does not fly everywhere. Once incorporated, increase the mixing speed to medium-high and beat for 30 seconds.
As you are adding the powdered sugar the frosting will become thick and crumbly. Alternate adding the heavy whipping cream, strawberry jam, and vanilla extract in between the cups of powdered sugar. Toss in the pinch of salt last.
Once all of the ingredients have been added, beat at a high speed for 60 seconds so the frosting becomes is nice and light.
Chop 4 of the pop tarts into small pieces, about the size of a quarter. Toss the pop tarts into the mixer and beat into the frosting for 30 to 60 seconds until well incorporated.
To Assemble and Serve:
Use a large cookie scoop (about 3 tablespoons size) and scoop the frosting onto the top of the cupcakes. Tap the cupcake on the counter a couple of times to adhere the frosting to the top of the cupcake.
Cut remaining 4 pop tarts into triangles to place on top of the cupcakes before serving.
Keep the cupcakes covered in an airtight container until serving.
Category:

Dessert

Method:

Baked

Cuisine:

American
Keywords: homemade cupcakes, filled cupcakes, cupcake ideas
This recipe originally appeared on Food Fanatic.
You might also like: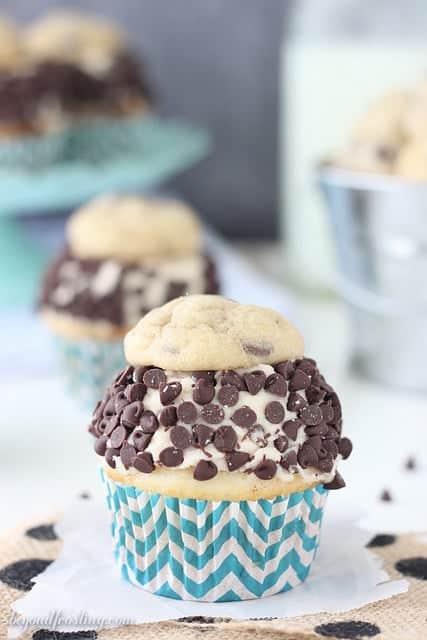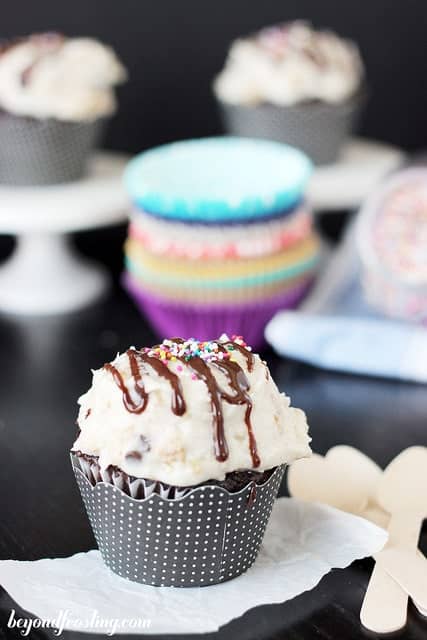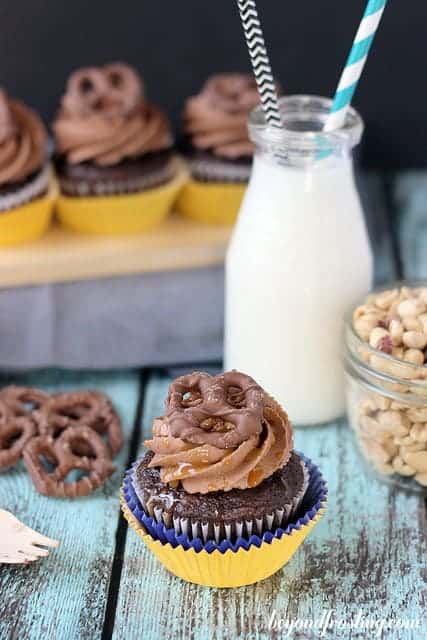 30 Amazing Cupcakes and Frosting recipes