This post may contain affiliate sales links. Please see my full disclosure policy for details
This Pumpkin Spice Latte Poke Cake is a simple pumpkin cake soaked in an espresso cream and topped with a cinnamon mocha whipped cream.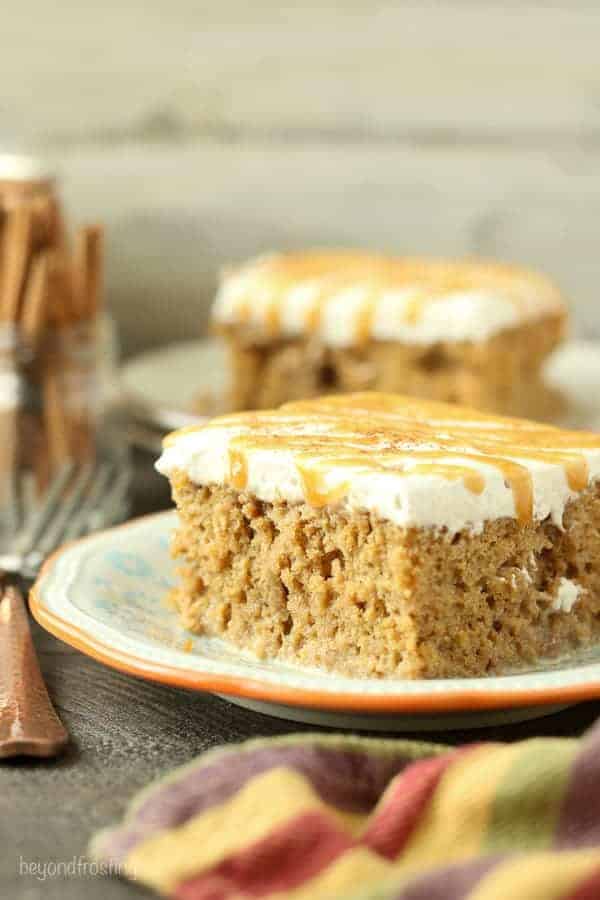 I'll be the first to admit that last year was the first time I ever had a pumpkin spice latte. I am addicted to my iced coffees, and pumpkin spice lattes didn't seem to fit. However, last winter was my first time back in cold weather (hello PNW!), and I felt myself craving a warm beverage.
While I didn't go FULL pumpkin spice latte because I can't handle that type of sweetness, I asked for 50% of the syrup which seemed to be the perfect balance for me. I suddenly caught myself dipping into the coffee shop regularly for this warm fall treat.
As you know, I'm pretty much a poke cake connoisseur at this point, and each year I've delivered a new pumpkin poke cake, so this year it's time for a Pumpkin Spice Latte poke cake.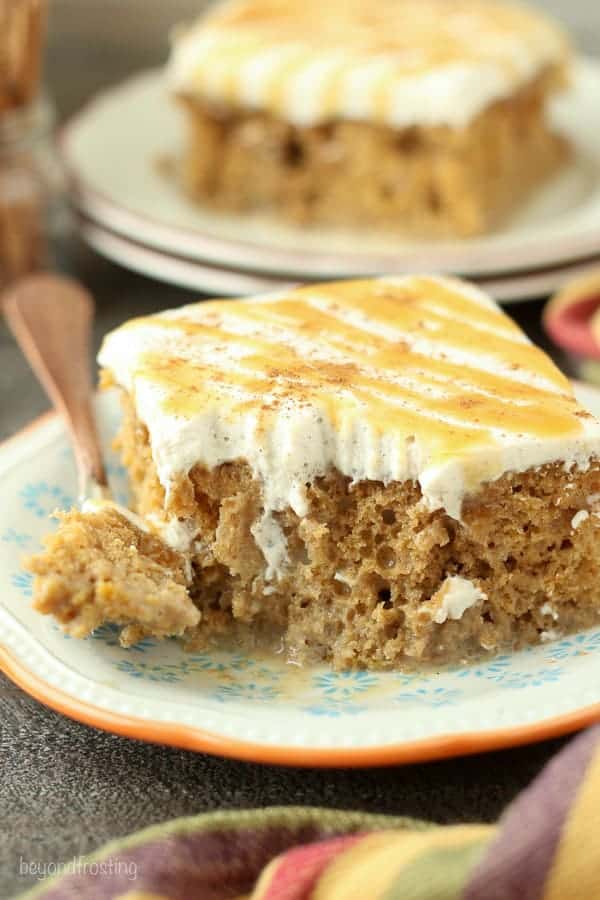 Just like my lattes, this cake has a subtle mocha flavor with plenty of pumpkin taste but it's not too overwhelming. This recipe starts with a spiced cake mix and it's flavored with pumpkin puree, pumpkin pie spice and a bit of espresso. Don't confuse pumpkin puree with pumpkin pie filling, they're different. You need 100% pure pureed pumpkin.
Once this cake is baked, it's drenched in a concoction of sweetened condensed milk and brewed espresso, giving this cake a touch of sweetness and a hint of mocha. This is definitely a "wet" cake and it is meant to be served cold.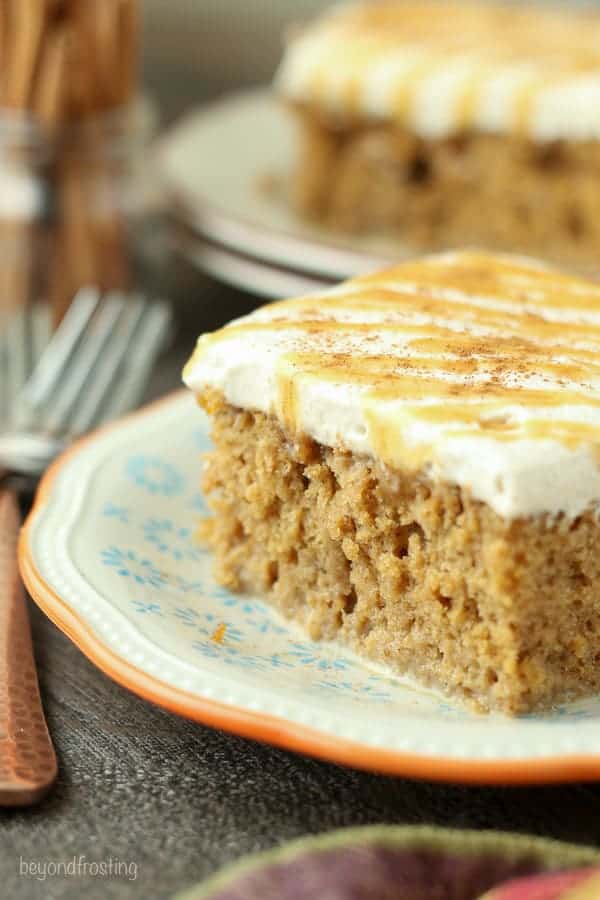 Next, we have the whipped cream, which is a spiced mocha whipped cream made with brewed espresso and a hint of cinnamon. It is pretty freaking amazing and it's probably going to make an appearance on future desserts here. It's imperative that the espresso is cooled before you add it to the heavy whipping cream. Therefore, you'll need to toss it in the freezer to cool it down. The cinnamon gives this whipped cream a subtle spiced taste which complements the mocha flavor.
I've mentioned espresso several times here. I prefer to use a strong espresso powder. Just a teaspoon or two of this mixed with hot water is enough to do the trick. For the cake, I just toss the dry espresso powder in the cake mix. For the filling and the topping, I actually brewed it. All you need to do is stir it into the hot water until it's dissolved.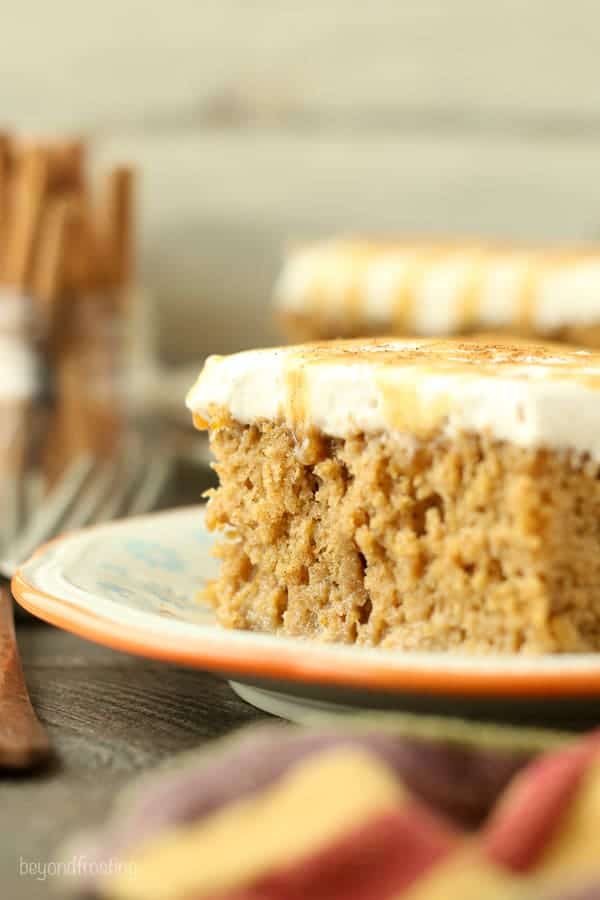 It might seem like there's quite a few steps in this cake, but it's actually quite easy to throw together. Plus, once pumpkin spice latte season is over you'll have something you can still enjoy at home. One thing is for certain, you'll find yourself going for seconds of this pumpkin spice latte poke cake.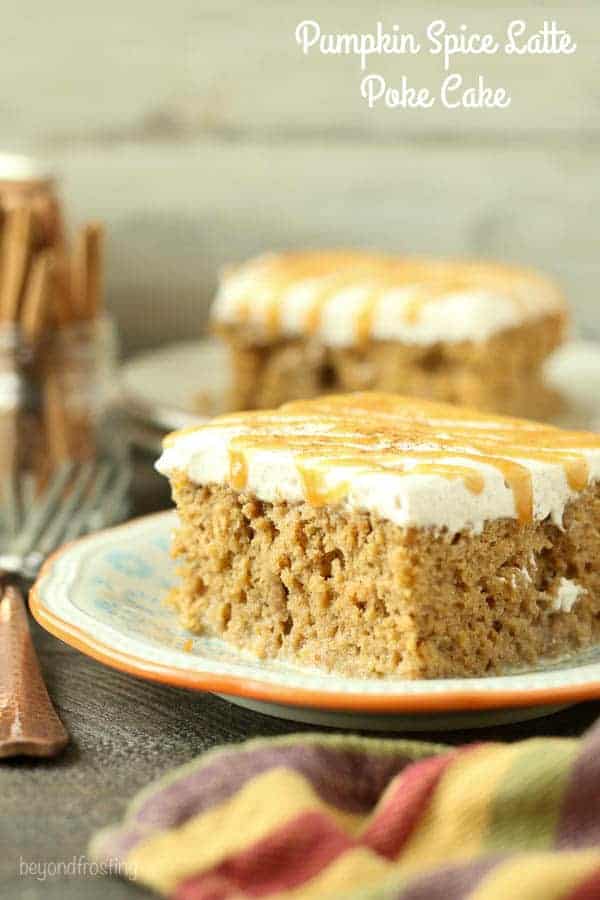 Follow Beyond Frosting:
Facebook | Twitter | Pinterest | Instagram
If you love no-bake recipes, be sure to check out my cookbook, No-Bake Treats!
You might also like: