These Gooey Chocolate Snickers Cookies are a chewy chocolate cookie loaded with caramel chips and chopped snickers bars. A touch of flakey salt on top makes these the perfect combination of salty and sweet.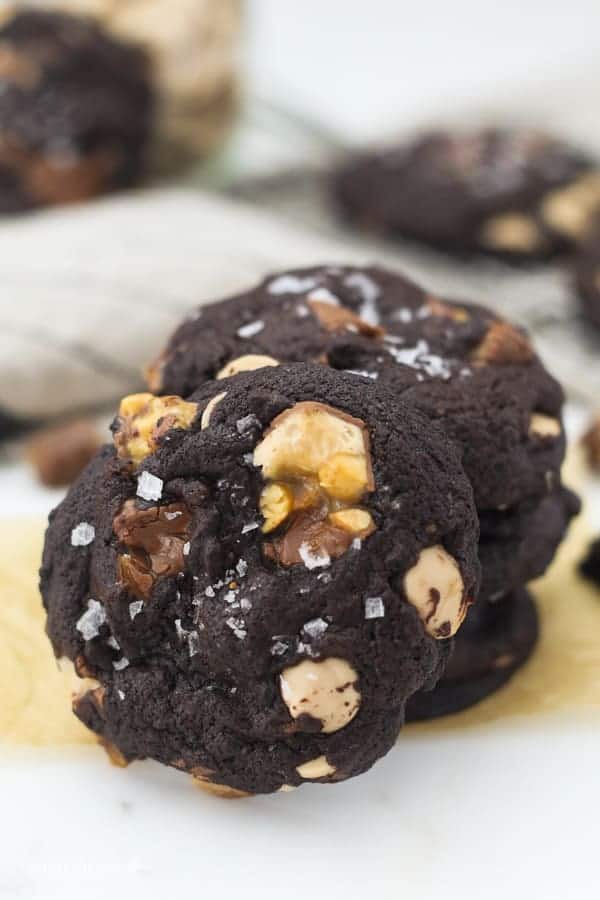 Cookies are a staple in my house. I love making cookies because they're such an easy dessert to share. They freeze well and they're usually quick to prepare. They also make a great gift for new neighbors or new moms, teachers or for the holidays.
Sharing easy recipes with my readers is very important to me. I realize that everyone's baking skills and level of comfort in the kitchen is not the same. But you can still bake something amazing from scratch!
Today we're serving up chunky chocolate Snickers Cookies. These chewy chocolate cookies are loaded with caramel chips and chopped snickers bars. Finish off these cookies with a sprinkle of flakey sea salt for a salty and sweet combo.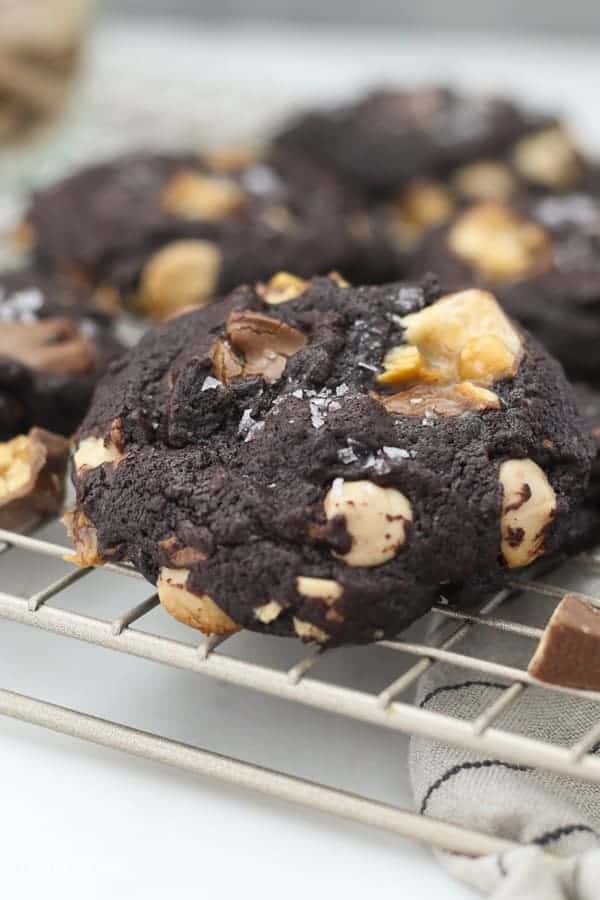 This is the third variation I've post of my Double Chocolate Chip Cookies. It's a very adaptable recipe and you can pick your favorite mix-ins to make your own variations of this cookie.
I tested the original, base recipe over and over again until I ended up with a fudgy, soft and chewy chocolate cookie with crisp edges. Just like you would find in a bakery but BETTER.
3 Reasons I love these Snickers cookies
The recipe uses melted butter, so you don't have to worry about taking out your butter to soften
It can be mixed by hand, using a hand mixer or a stand mixer
It's fast and easy to prepare, so you can have fresh cookies in under 30 minutes!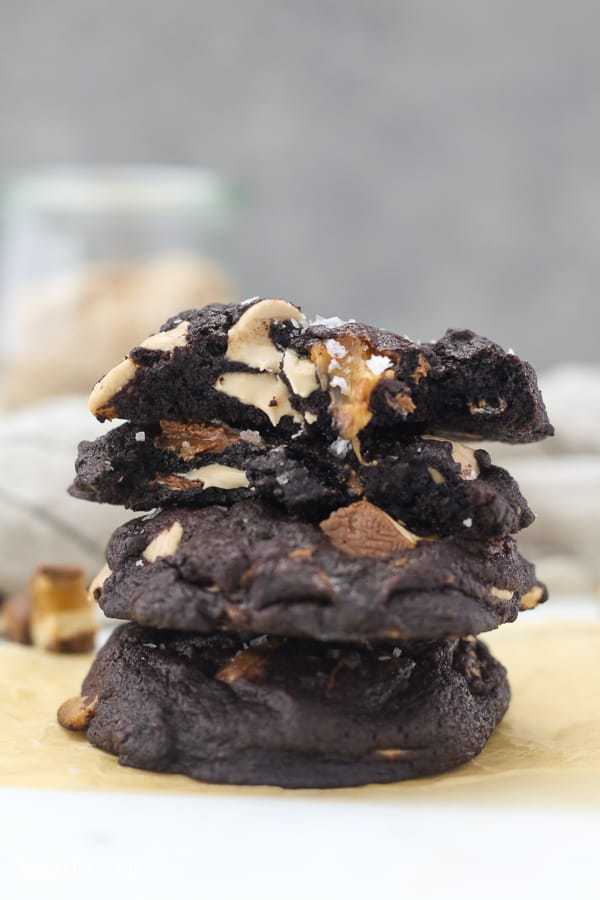 For these cookies, I used caramel chips, which can be found in the same aisle as chocolate chips. If you can't find them or don't want to order them online, you can substitute with regular chocolate chips.
This recipe also calls for mini Snickers bar, not the fun size, but the single bite size. These are just easier to work with and chop up nice and small. However, if you can only find the fun size or even one full size bar, that should work for this recipe. Cut the candy bar into thin slices so they more easily incorporate into the dough.
I tested my original double chocolate chip cookie with 3 different cocoa powders: Hershey's Special Dark cocoa powder, Hershey's Unsweetened Cocoa Powder, and Rodelle Dutch processed cocoa powder.
The Hershey's Special Dark cocoa powder is my preferred cocoa powder for this recipe. It's dark color lends to a more fudgy and rich flavor. It produces very consistent results. The recipe does work using any 3 of these options for the cocoa powder.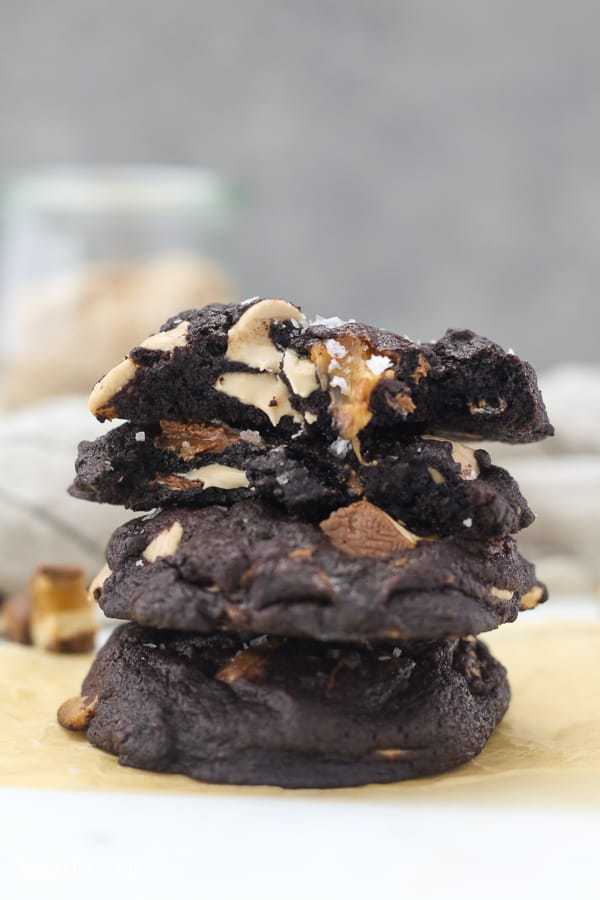 My Favorite Tips for Snickers Cookies
These are gooey because of the caramel in the Snickers. It's best to line the baking sheet with parchment paper or a silicone baking mat
For a thick, soft and gooey cookie is to take them out before they're fully baked and let them finish baking on the sheet for another 10 minutes.
If you find that you cookies spread too much, take a knife or angled spatula and press the edges of the cookie back towards the center. But this has to be done RIGHT when they come out of the oven before the edges have a chance to set.
These Snickers Cookies can easily be doubled for a larger batch. As written, it makes 10-12 large cookies when using a large cookie scoop. They freeze well and still stay nice and soft!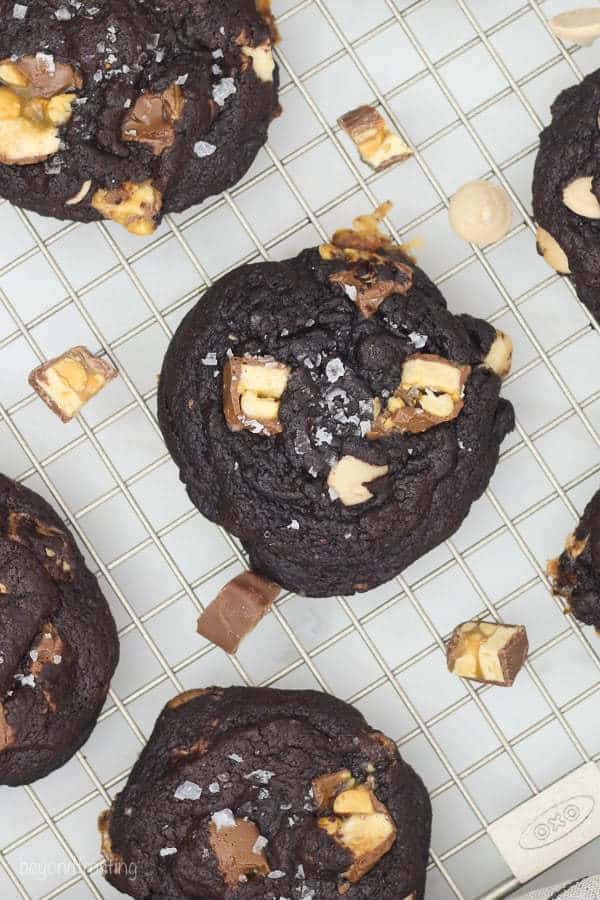 If you don't love Snickers, that's okay! You can choose your favorite mix ins, because these chocolate cookies don't disappoint!
More Cookie Recipes you'll love:
Follow Beyond Frosting:
Facebook | Twitter | Pinterest | Instagram