This post may contain affiliate sales links. Please see my full disclosure policy for details
These are the best Snickerdoodle cookies ever! They're irresistibly soft, chewy, and perfectly crisp at the edges with the signature Snickerdoodle tang. It's the perfect easy cookie recipe for any occasion.
Snickerdoodles are a fun and easy variation on classic sugar cookies. You're going to love them!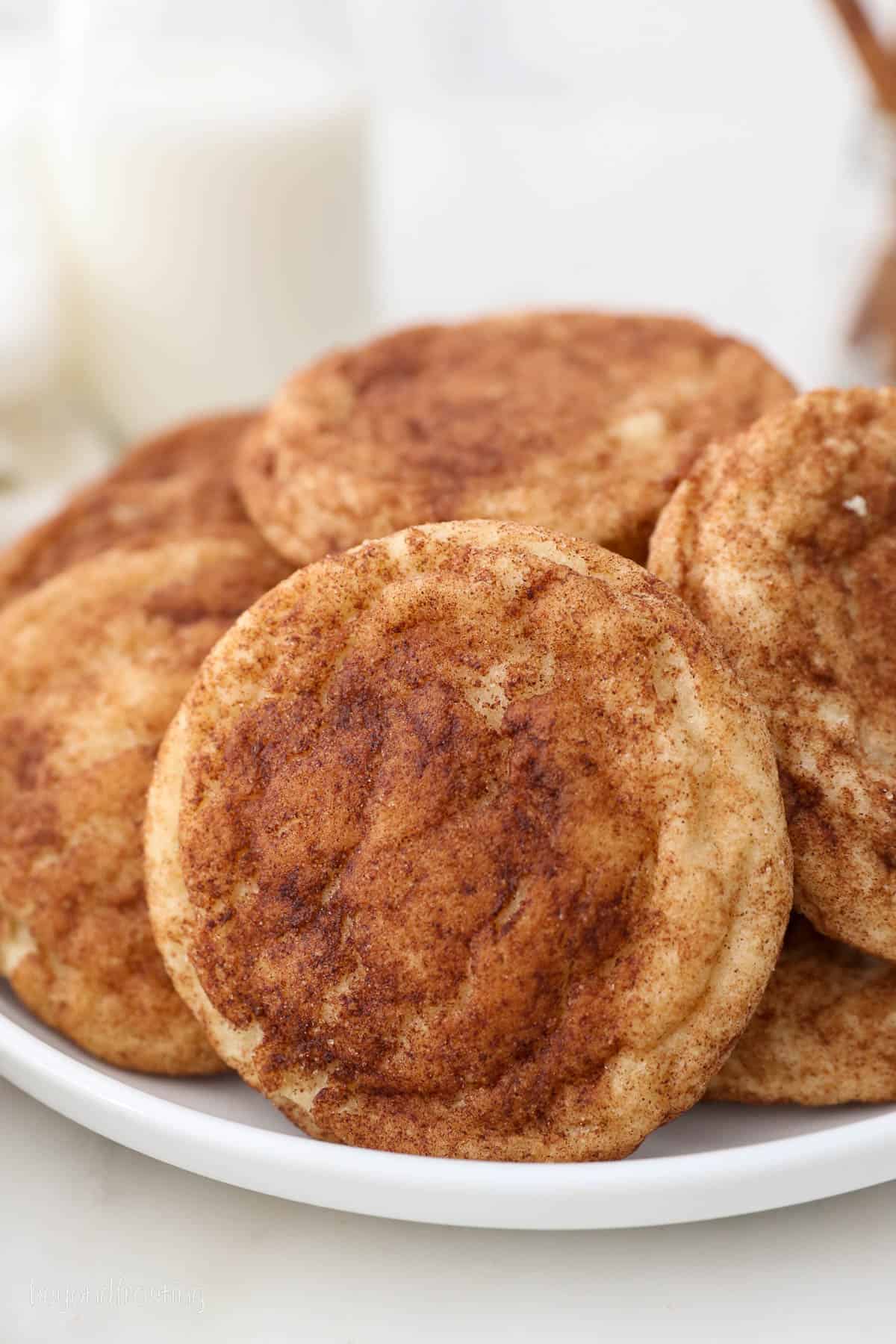 These Snickerdoodle cookies are my go-to Christmas cookies, but really, I bake them year-round. They're perfect in every way, and totally addictive.
Everyone has their own idea of the perfect cookie, of course. But these Snickerdoodles are truly something special: crispy at the edges, soft in the center, sweet, buttery, and melt-in-your-mouth. They're rolled in ample amounts of crunchy cinnamon sugar before going into the oven. If you've never experienced a soft-baked, chewy snickerdoodle cookie before, you're in for one heck of a treat.
Why You'll Love This Easy Snickerdoodle Recipe
Perfect texture. These cookies are soft and chewy in the middle, crisp at the edges, and crunchy all over thanks to a coating of cinnamon sugar. They're sweet, spiced, and a little tangy, just like a snickerdoodle should be.
Easy recipe. This recipe uses basic ingredients, but it's so good. I've made loads of variations over the years (be sure to scroll for some easy ideas!). These classic Snickerdoodles also freeze great, so I always have a batch on hand when we have company over.
A real all-rounder. Bake sales, potlucks, Christmas cookie platters, Easter baskets, you name it – there's always an occasion for a home-baked snickerdoodle cookie.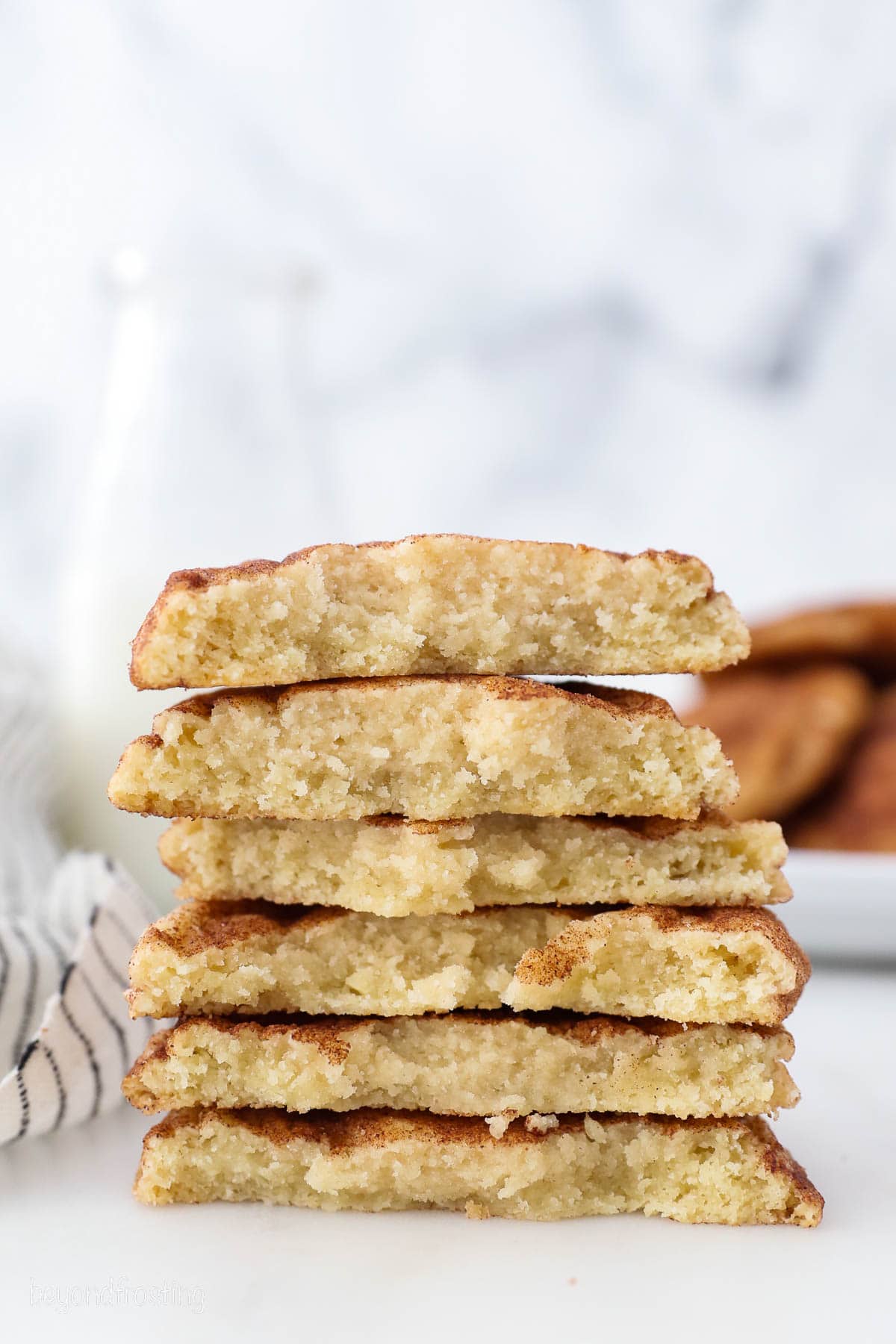 Why Are They Called Snickerdoodles?
It's a pretty silly name, huh? And the origin is a little fuzzy. After some Googling, it seems that our beloved cinnamon sugar cookie was most likely brought to America by Dutch-German immigrants. In this case, the name "Snickerdoodle" may have come from the German word Schneckennudeln, meaning a snail-like dumpling.
Another theory is that there's actually no meaning behind the name at all! It's very possible that a Snickerdoodle was simply the result of a New England tradition of nonsense cookie names. Either way, we love them for it.
I give a quick overview of the key ingredients for these Snickerdoodles below. Be sure to refer to the recipe card for the full amounts and recipe details.
Butter – You can start with room-temperature butter, however, I prefer to start with cold butter and dice it up into smaller pieces. It takes a bit of extra whipping with the mixer to soften, but it does help to keep the cookies from spreading too much.
Granulated Sugar
Eggs and Vanilla Extract
All-Purpose Flour
Baking Soda
Cream of Tartar – The signature ingredient in Snickerdoodle cookies. Cream of tartar works with the baking soda to give these cookies their distinctive chewiness and tang. See below for more details.
Salt
Cinnamon Sugar – For coating the cookie dough. Cinnamon sugar is SO easy to make by combining regular granulated sugar with ground cinnamon.
What Does Cream of Tartar Do in Cookies?
Ready for a bit of science? Cream of tartar works to prevent the sugars in the dough from crystalizing, resulting in softer, chewier cookies. The flavor of cream of tartar also contributes to a snickerdoodle cookie's tanginess.
I always have cream of tartar on hand, replacing cream of tartar with lemon juice or white vinegar is your best option. I use twice the amount of liquid to dry ingredients. So in this case, 1 teaspoon of vinegar. However, due to the increased liquid, you may find these cookies to be more dense or need a couple of extract minutes in the oven. I do not recommend using baking powder as it drastically changes the texture of the cookie.
I love making big batches of Snickerdoodles to have on hand over the holidays, and freeze for later. Luckily, this recipe makes stockpiling these cookies a breeze:
Combine the wet ingredients. Begin by creaming together the butter and sugar, then add the eggs and vanilla.
Add the dry ingredients. In a separate bowl, combine the dry ingredients and then gradually mix them into the batter to form the dough.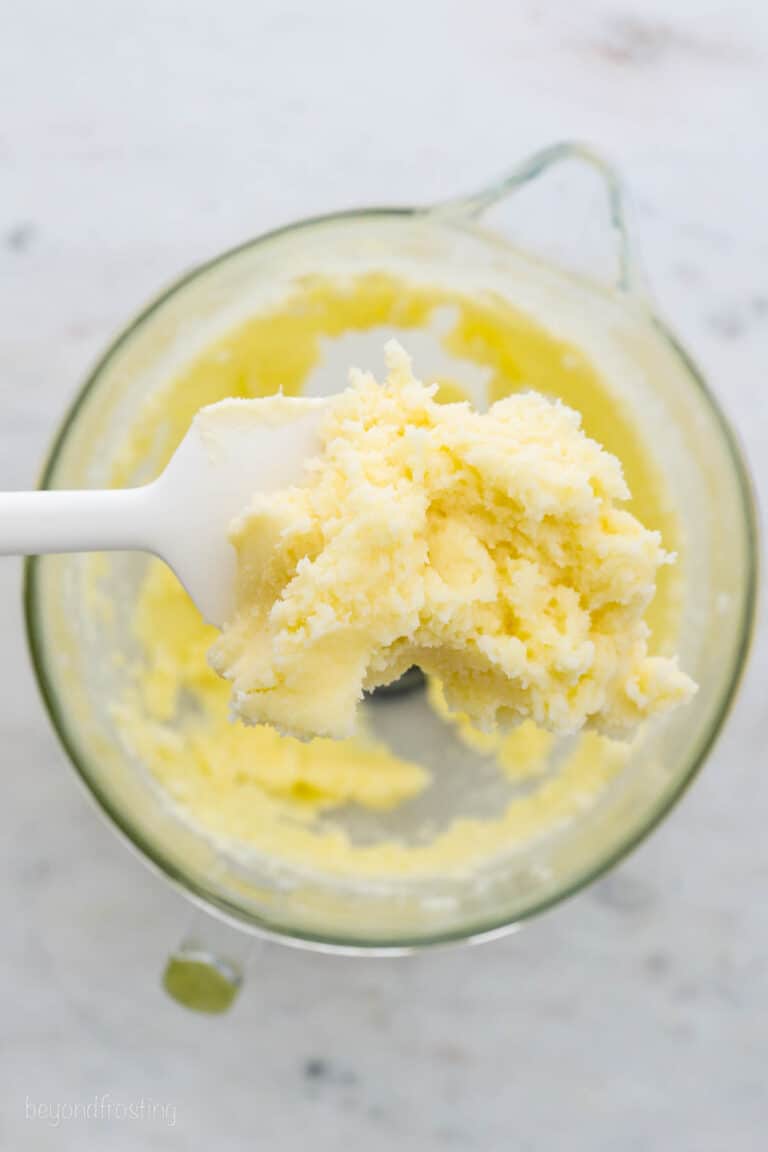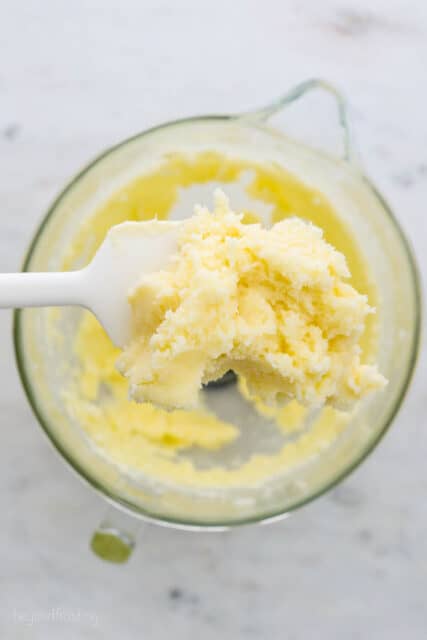 Scoop the dough into balls. Next, use a cookie scoop to portion the Snickerdoodle dough into balls. Roll each ball in cinnamon sugar, and then place the cookies onto a lined baking sheet.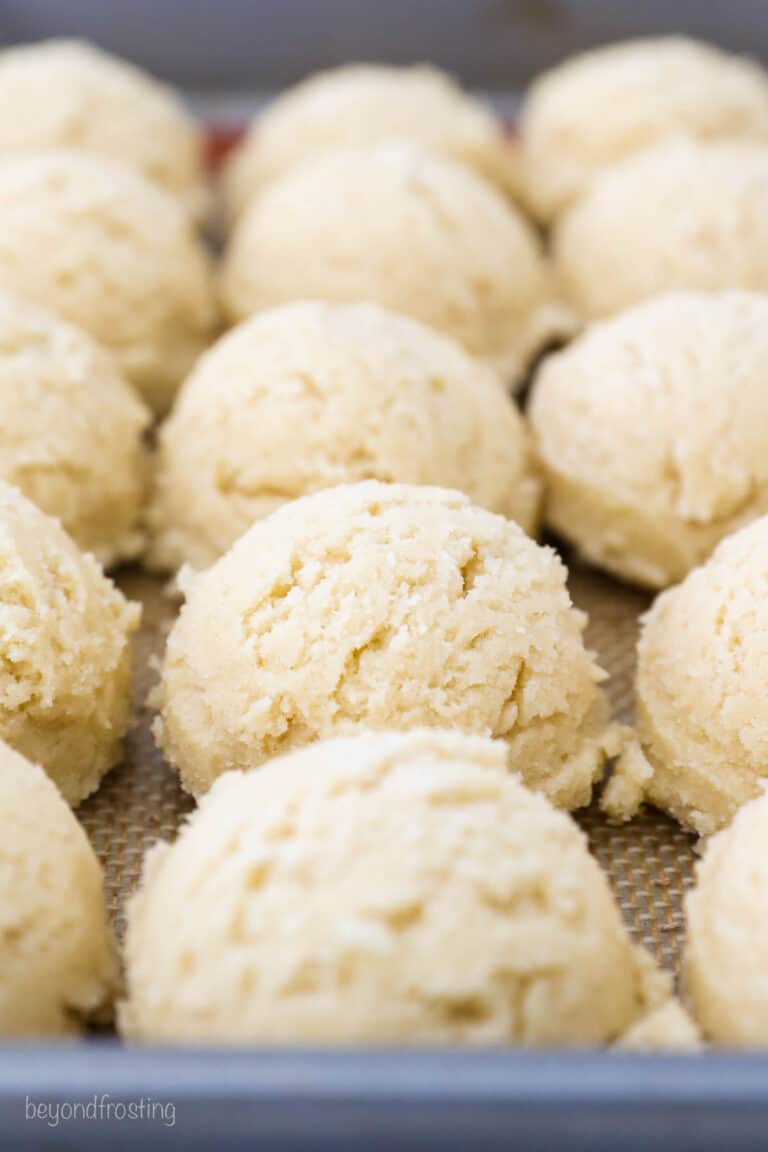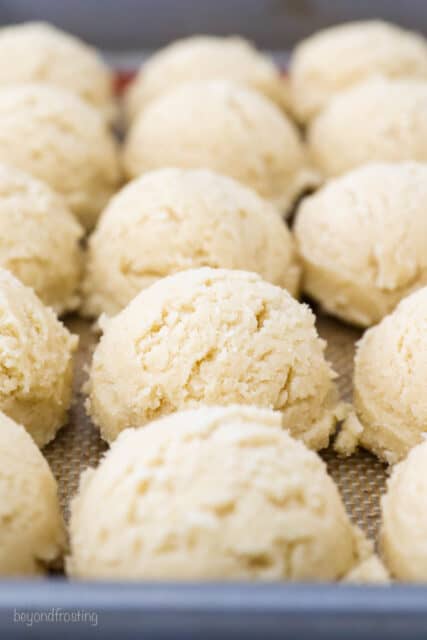 Chill. Pop the cookie dough into the fridge to chill. Aim for at least 45 minutes. When you're ready to bake, make sure that you leave about 2 inches between each cookie on the baking sheet.
Bake. Bake your Snickerdoodles at 350ºF for 10-12 minutes. For chewy cookies, you'll want to pull them out while they're still slightly underbaked. Afterward, allow the cookies to cool on the baking sheet for a few minutes before moving them to a wire rack.
Let's just say, I've made a lot of cookies over the years and I've made this recipe so many times! Here are some of my pro tips to ensure your Snickerdoodles turn out a success:
Measure the ingredients correctly. The best way to do this is with a kitchen scale. However, if you don't have one, avoid overmeasuring ingredients like flour by spooning the flour from the bag into a measuring cup, and then leveling off the top with the back of a knife. Whatever you do, please don't scoop the flour straight from the bag with the measuring cup! See my post on how to measure flour correctly for more helpful tips.

Pre-scoop the dough and roll it in the cinnamon-sugar mixture before chilling. Cold cookie dough is harder to scoop.

Don't skip chilling the cookie dough. Refrigerating Snickerdoodle dough lets the butter resolidify and prevents the cookies from flattening out in the oven. I recommend giving the dough at least 45-60 minutes of chilling time in the fridge before baking.

Use a silicone baking mat. Lining the baking sheet keeps the bottom of the cookies from burning, and it also helps with spreading. You can also line the pan with parchment paper, however, the bottoms of the cookies will be a little darker.

Bake one tray at a time. Overloading the oven can lead to uneven baking, especially if your oven has hot spots.

To fix a cookie that's spread, while the cookies are still warm, use a spatula or the edge of a knife to gently push the edges of the cookie towards the center for the perfect shape. You have to do this right when they come out of the oven, though, before the edges have fully set.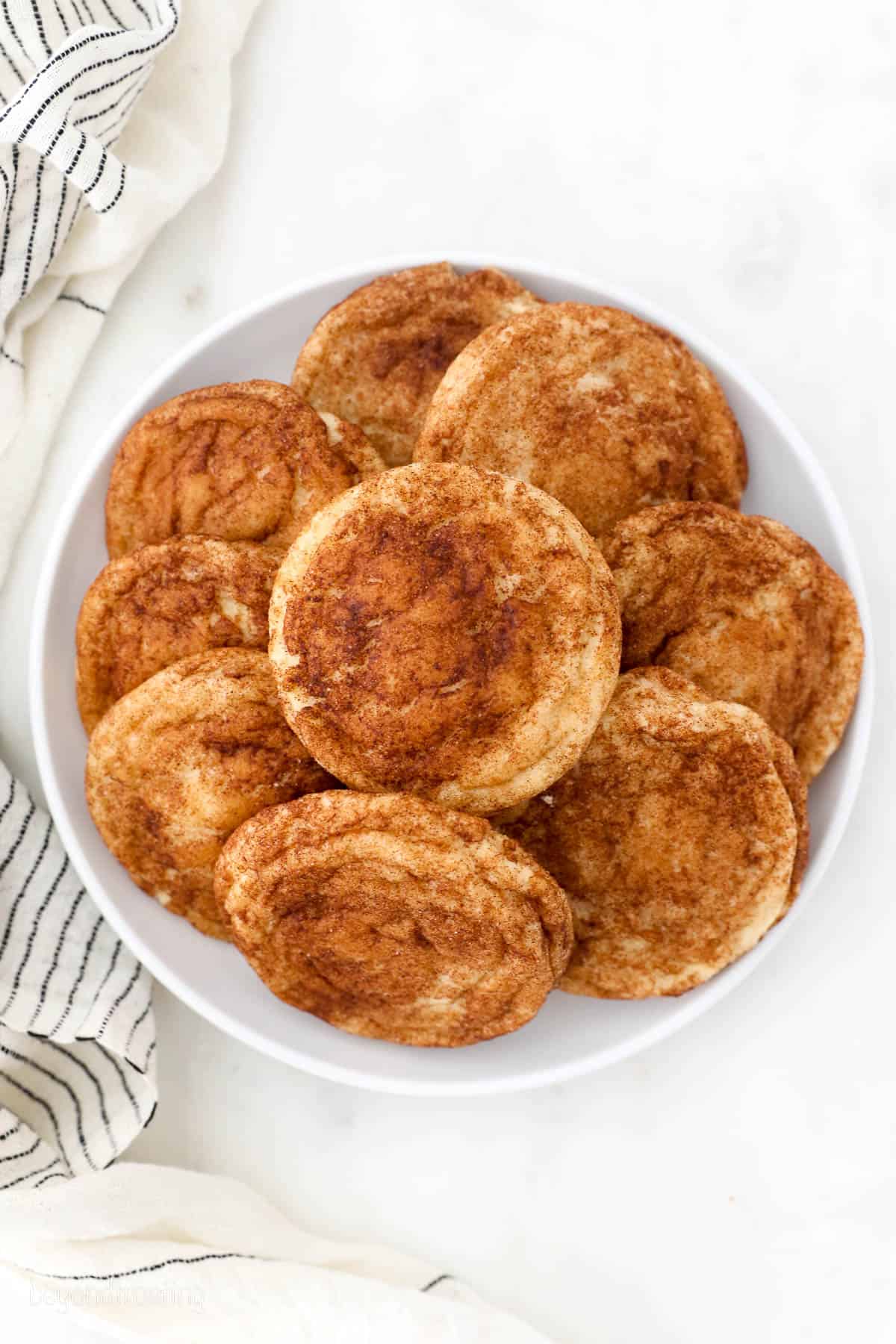 Common Questions
What happens if I leave out the cream of tartar in Snickerdoodle cookies?
The good news is, that you'll still end up with a delicious sugar cookie. However, the texture won't be quite as chewy, and you'll lose the distinctive tanginess of a traditional Snickerdoodle.
Why do my Snickerdoodles taste bitter?
What some taste as "bitterness" in Snickerdoodles, others consider "tanginess", and it comes from the metallic flavors of the cream of tartar and baking soda. If you're particularly sensitive to the tangy flavor, feel free to omit the cream of tartar in a pinch (see above).
Why did my Snickerdoodles come out dry?
Overbaking often results in dry, crunchy Snickerdoodles instead of soft, chewy ones. Make sure to pull the cookies out when they're still slightly underbaked. Another culprit could be that you overmeasured the flour. See the tips section above for details.
Favorite Cookie Baking Tools
Variation Ideas
Fun fact: This snickerdoodle recipe was passed to me from my husband's side of the family. Ever since I started making them, these classic Snickerdoodles have inspired so many more delicious ideas. Here are some of my favorite variations: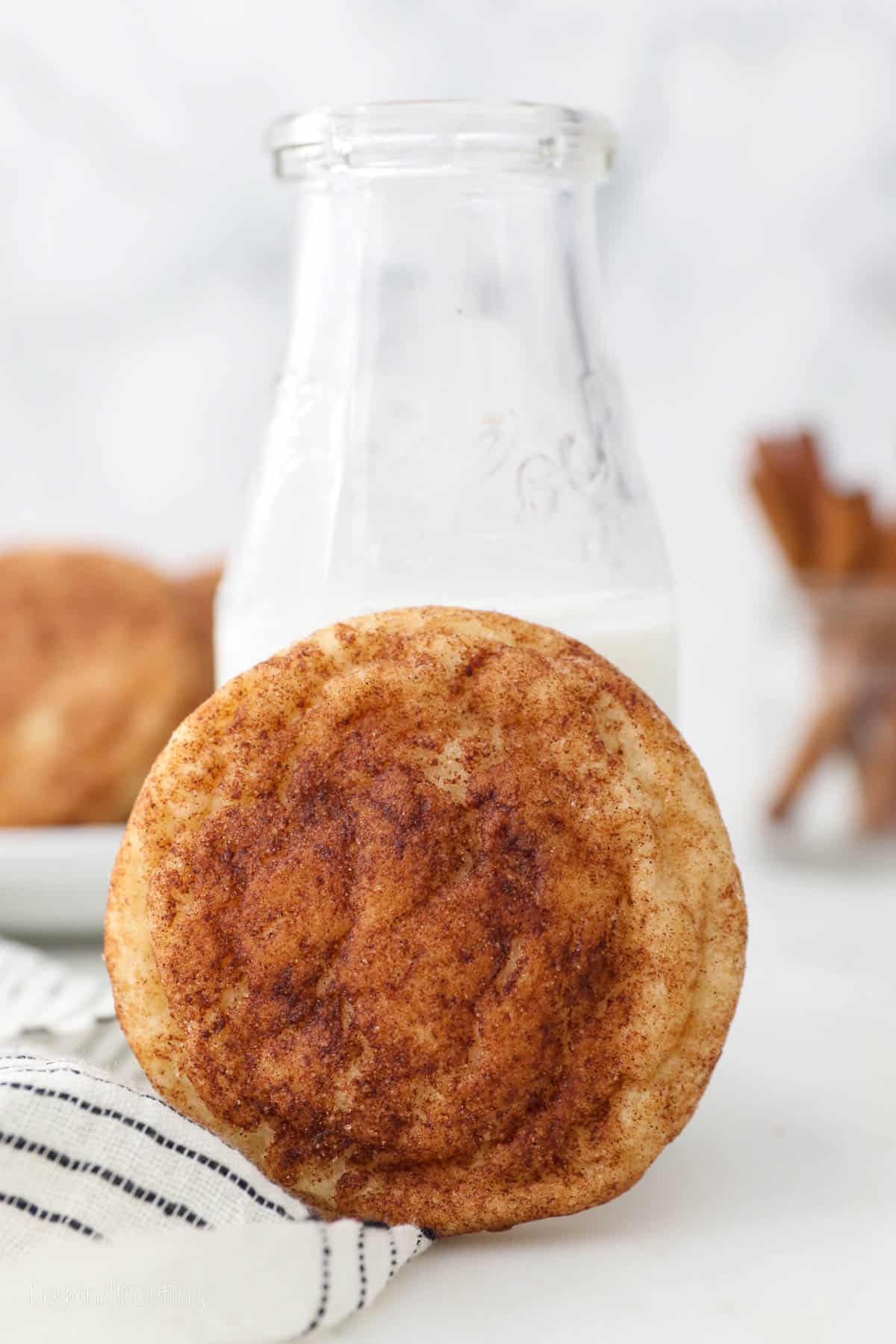 Yes! You can prepare the Snickerdoodle cookie dough, scoop it, roll it in sugar, and refrigerate it overnight. Cookie dough that's been in the fridge for longer than 2 hours should sit at room temperature for 15-20 minutes before baking, to take the chill off.
Alternatively, you can freeze your prepared cookie dough for up to 2 months. After chilling the portioned and sugar-coated cookie dough balls in the fridge for 30 minutes, transfer the dough to an airtight container to freeze. Defrost frozen cookie dough in the fridge overnight (or for a couple of hours at room temperature) before baking. See the next section for details on how to store your baked Snickerdoodle cookies.
How to Store
To Store. Store snickerdoodle cookies airtight at room temperature for up to 3-4 days.
Freezer. Allow the cookies to cool completely and then store them in an airtight, freezer-safe container or freezer bag. I recommend placing parchment paper between any layers. Store the cookies frozen for up to 2-3 months and thaw them at room temperature before serving.
Print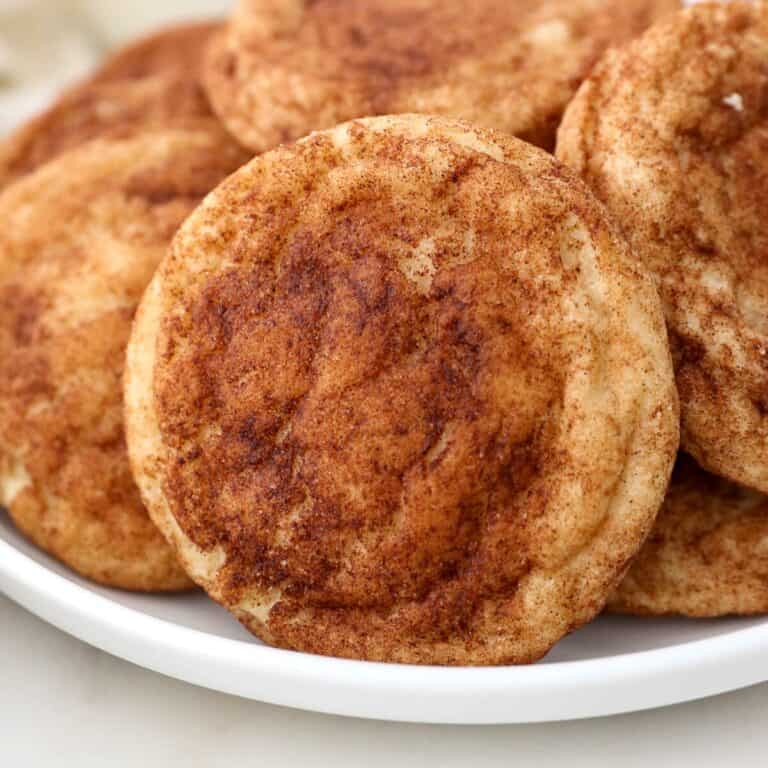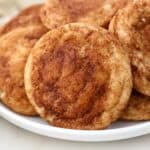 Author:

Prep Time:

60 minutes

Cook Time:

11 minutes

Total Time:

1 hour 11 minutes

Yield:

20 Cookies
Description
Seriously the best Snickerdoodle cookies you'll ever have! This classic and easy Snickerdoodle recipe has all the signature softness and chewiness with crisp buttery edges, rolled in cinnamon and sugar.
Ingredients
1 cup

(

226g

) Unsalted butter, softened (see notes)

2 cups

(

380g

) Granulated sugar

2

Large eggs

1 teaspoon

(5ml) Pure vanilla extract

3 1/2 cups

(

420g

) All-purpose flour

½ teaspoon

Baking soda

½ teaspoon

Cream of tartar

1/2 teaspoon

salt
For the coating
¼ cup

(

58g

) Granulated sugar

1 tablespoon

(

7.5g

) cinnamon
Instructions
Let the butter sit at room temperature for 30 minutes. In your stand mixer, combine the butter with the sugar and beat on medium speed until well creamed together.
In your stand mixer, combine the butter with the sugar and beat on medium speed until well creamed together. Add the eggs and vanilla extract, mixing until well combined.
In a separate bowl, combine the dry ingredients: flour, baking soda, and cream of tartar, and add to the wet ingredients. Beat on medium-low speed until well combined and dough starts to form.
In a small bowl, combine cinnamon and sugar and stir to combine. Use a large cookie scoop and scoop cookie dough into the cinnamon sugar and roll to coat the cookie.
Place the cookies on a silicone-lined baking sheet. Refrigerate dough for a minimum of 45 minutes.
Preheat oven to 350° F. Place the cookies about 2 inches apart on your baking sheet. If your cookies have been refrigerated longer than 2 hours, allow them to rest at room temperature for 10 minutes before baking.
Bake at 350° F for 10-12 minutes. Allow the cookie to cool on the baking sheet for several minutes and then transfer to a wire rack to cool completely.
Notes
My butter is slightly colder than room temperature. 30 minutes on the counter works great. If the butter is too soft, the cookies will spread too much.
Cream of tartar sub? See the blog post for notes.
Storing and Freezing
Store baked cookies in an airtight container at room temperature for 3-4 days.
To freeze the cookie dough, pre-scoop the dough, roll in cinnamon and sugar and then refrigerate for 30 minutes. Transfer the dough to an airtight container and freeze. The dough should be thawed but cold prior to baking. Thaw overnight in the refrigerator or for 1-2 hours on the counter at room temperature.
To freeze baked cookies, cool them completely then transfer them to an airtight container and freeze.
Category:

Cookies

Method:

Baked

Cuisine:

American
Keywords: snickerdoodle cookies, easy snickerdoodle recipe, best snickerdoodle recipe