This post may contain affiliate sales links. Please see my full disclosure policy for details
These peanut butter Rice Krispie treats are loaded with Snickers and chocolate chips topped with a chocolate ganache coating.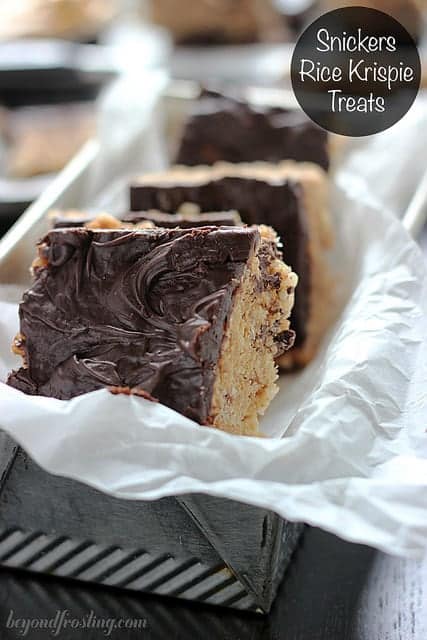 I don't think I have ever been more in love with a Rice Krispie treat than I am with these Snickers Rice Krispie Treats. I am sharing this recipe over at Chef-in-Training today. I realized when I went to write this post, that I am totally lacking in the Rice Krispie Treat department. Well that might be because SOMEONE in my household only likes plain Rice Krispie Treats. So whenever I made any type of these bars, I have to make said person their own personal batch of plain bars. Whatevs.
I decided to mix in some peanut butter into the marshmallow filling, which just helps bring out the flavor of the Snickers bars. I love the little bit of saltiness it adds too! For the Snickers bars, I cut them into small pieces and mixed them into the cereal at the same time that I poured the marshmallows in the bowl. Why you might ask? Because them the Snickers bars get a little bit melty. That way, every couple of bites you get a Snicker bite- which is awesome!
Since I love chocolate, I added mini chocolate chips and a layer of chocolate ganache on top! The ganache layer hardens slightly, but stay soft enough so that when you bite into it, it just melts in your mouth. I wanted these bars to be extra thick, so I made them in a 9×9″ pan. Of course you could also make them in a 9×13″ pan, but they would be half a thick. I suppose it you had someone to share with, that might be a better idea. Otherwise, don't feel bad about making yourself a "personal pan" size.
Be sure to head over to Chef-in-Trianing to get the recipe!
Keep up with all the happenings. Follow Beyond Frosting:
Facebook | Twitter | Pinterest | Instagram |
Don't forget to save your favorite recipes to your recipe box with the

button! You can create a meal plan and a shopping list all in the same place!
Other recipes you might like:
Boubon Salted Caramel Oatmeal Cookies