This post may contain affiliate sales links. Please see my full disclosure policy for details
These homemade Spiced Cupcakes with Vanilla Buttercream are the perfect texture and spice for fall.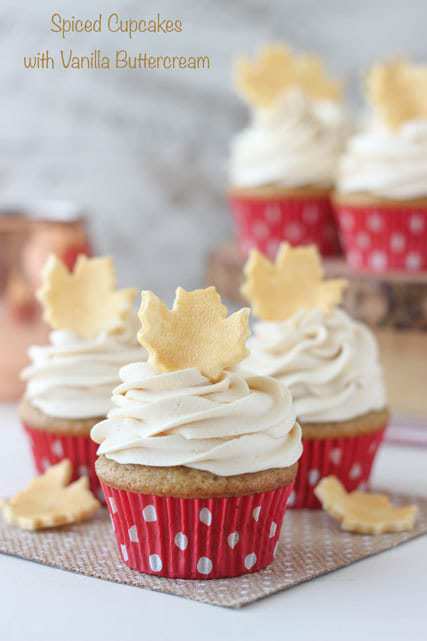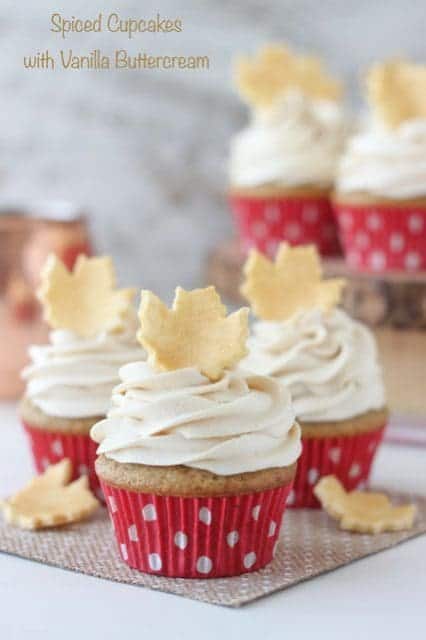 Please forgive me friends! This post was totally meant to go up last week and I blew it. I should know better by now that when I travel, I have zero time to a new post up for you. I call it bad blogger habits! I just returned from a whirlwind trip to Seattle that I canNOT wait to share with you! I fell in love with the city, and the food. Now I need a few weeks to detox, that's for sure.
You may have seen these cupcakes before, that's because I shared the tutorial for these cute little Gold Fondant Cupcake Toppers last week. At the same time, Wilton asked me to do an Instagram takeover on their page. It's my way of slowly taking over the world via dessert. NBD.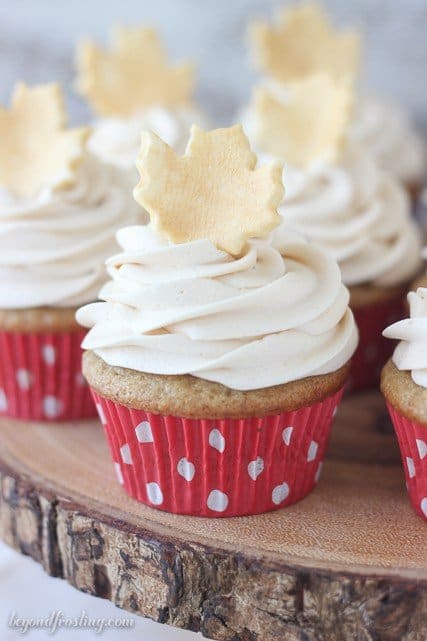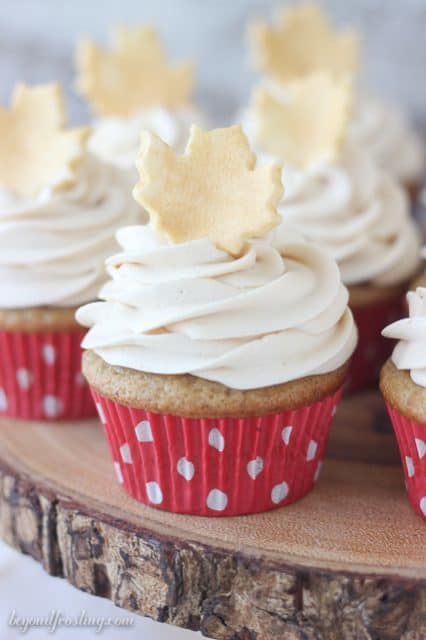 I need to share this recipe for Spiced Cupcakes with Vanilla Buttercream. The recipe originally came from Food Network Magazine. They did a cupcake issue where they shared 3 basic cake recipes that could be altered to fit the needs of your dessert. It's a great tool to have!
I'm going to be honest with you, it's hard to find recipes for cakes from scratch that are actually GOOD and that produce an actual pretty cupcake. This recipe is a keeper. The cupcakes baked up perfectly, they stayed fresh for a couple days and the crumb was very light and delicate.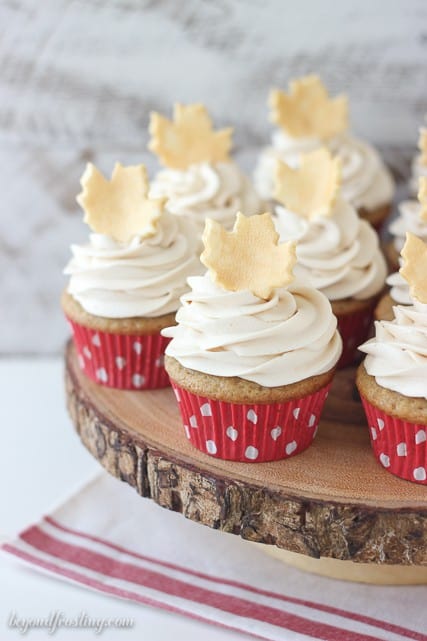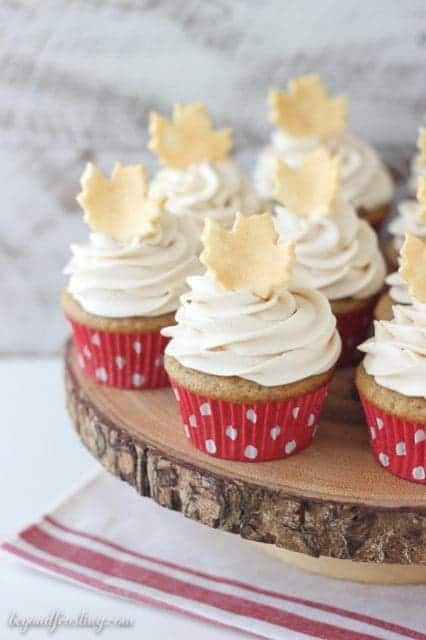 Here is a few things you can look for in a recipe to determine weather or not it will be good. Does it have a moisture-adding component like sour cream or yogurt? This is almost necessary for me.
What is the fat element? Is it butter or oil based? Usually either is fine with me. Does it use egg or egg whites? Additional egg whites will produce a lighter and fluffier cupcake.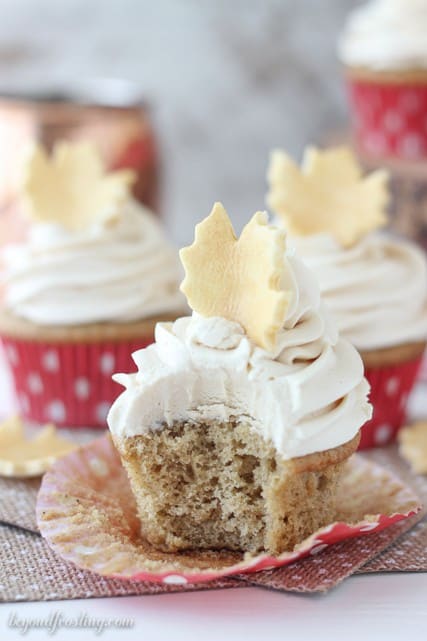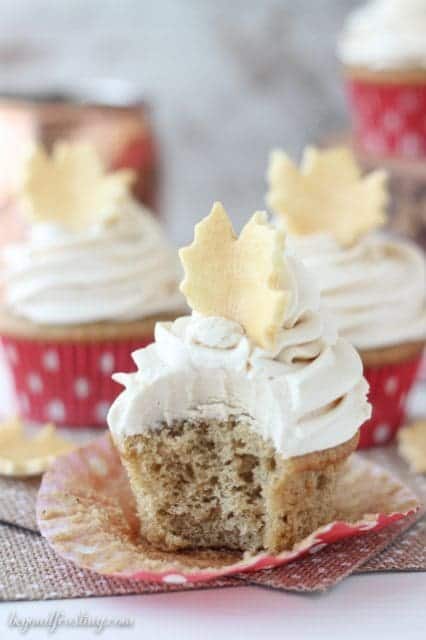 I will tell you that no matter how good your cupcake is, if you put it in the refrigerator, it is bound to dry out. It's been unseasonably warm, which means my house it too warm for buttercream. I will usually make the buttercream ahead of time, and refrigerate just the buttercream so I can pipe it before I serve the cupcakes. It is important that you allow enough time for the buttercream to come to room temperature before serving.
For this recipe, I used a half recipe of my perfect vanilla frosting. The cupcake recipe made 12 cupcakes, which is just perfect for me! If you double the cupcake recipe, then you can make a whole batch of my buttercream.
Check out my tutorial for these Gold Fondant Leaf Cupcake Toppers.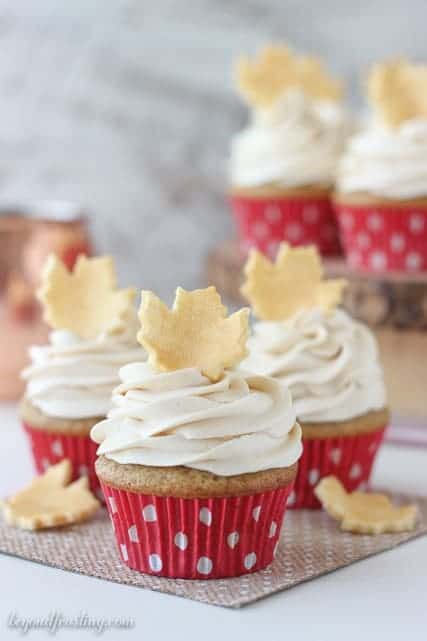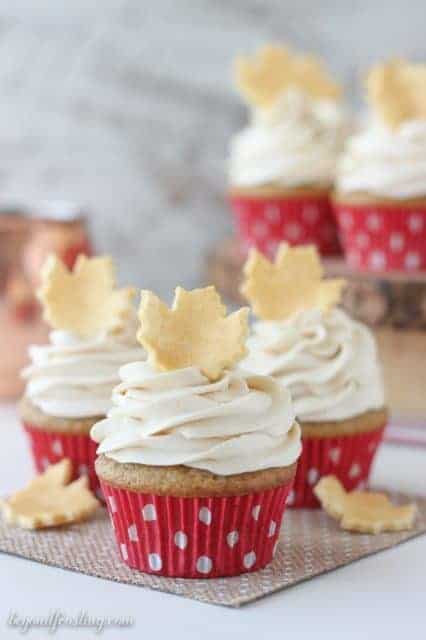 Keep up with all the happenings. Follow Beyond Frosting:
Facebook | Twitter | Pinterest | Instagram
Print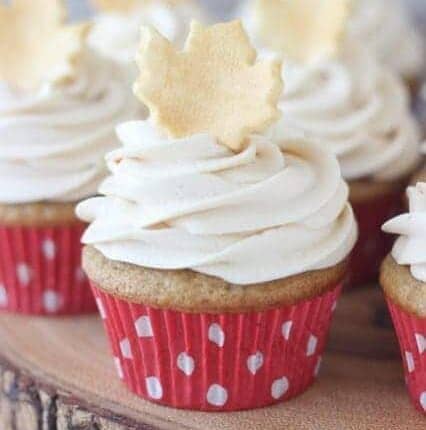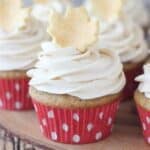 Spiced Cupcakes with Vanilla Buttercream
Author:

Prep Time:

15 mins

Cook Time:

20 mins

Total Time:

35 minutes

Yield:

12-14 cupcakes
Description
These homemade Spiced Cupcakes with Vanilla Buttercream are the perfect texture and spice for fall.
Ingredients
1 ¼

C All-purpose flour

½

tso Baking powder

½ tsp

Baking soda

½ tsp

Salt

½ tsp

Cinnamon

½ tsp

All-spice or Nutmeg

½

C (1 stick) Unsalted butter, browned

½

C Granulated sugar

½

C Light brown sugar

2

Large eggs

1 tsp

Vanilla extract

½

C Sour cream
For the frosting:

3/4

C Unsalted butter, cold.

3

C Powdered sugar

2 tsp

Vanilla extract

1 tbsp

Heavy whipping cream
Pinch of Salt

1 tbsp

Caramel Sauce (optional)
Instructions
Pre-heat oven to 350° F. Line your cupcake pan with baking liners.
In a medium-sized bowl, combine dry ingredients: flour, baking powder, baking soda, salt, cinnamon and all spice. Whisk together and set aside.
In a small saucepan, melt butter over medium heat. Once melted, increase heat to medium-high and continue stirring another 2-3 minutes until butter turns a light brown color and releases a nutty aroma. Add brown butter to mixing bowl and combine with sugar and brown sugar. Beat on medium speed until well combined; scrape down the sides of the bowl.
Add eggs, one at a time, beating well after each addition. Add vanilla extract and stir until mixed.
Slowly add dry ingredients while beating on low speed. Lastly, add sour cream and beat until all ingredients are well combine, but do not over mix.
Scoop batter into lined cupcake pan using a large cookie scoop (about 3 tablespoons each). Bake at 350°F and bake for 18-20 minutes.
For the frosting:
Cut butter into pieces. Using the paddle attachment, whip butter for 3-4 minutes, scraping down the bowl occasionally. Beat until butter look light in color.
Add 2 C powdered sugar and mix on low speed until incorporated into butter.
Add 2 tsp vanilla extract and mix to combine.
Add additional 1 C powdered sugar and beat on low speed until sugar is incorporated. Increase speed to medium-high and beat for 2-3 minutes. Add heavy whipping cream and caramel (optional) and beat on low until ingredients start to mix together. Increase speed to medium-high and beat for another 2-3 minutes to whip additional air into the frosting. Frost cooled cupcakes.
Visit Beyond Frosting's profile on Pinterest.
Other recipes you might like:
Coffee Cake Snickdoodle Cupcakes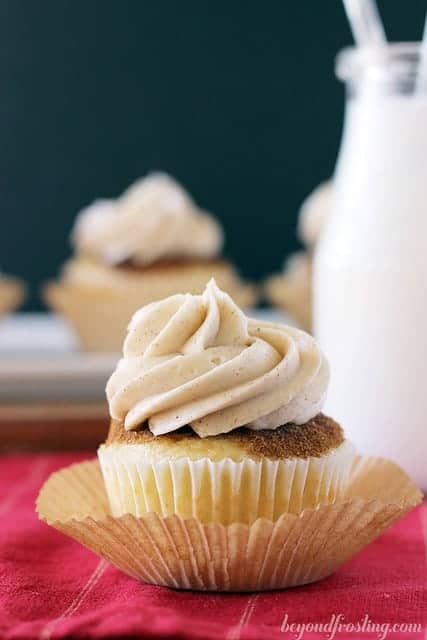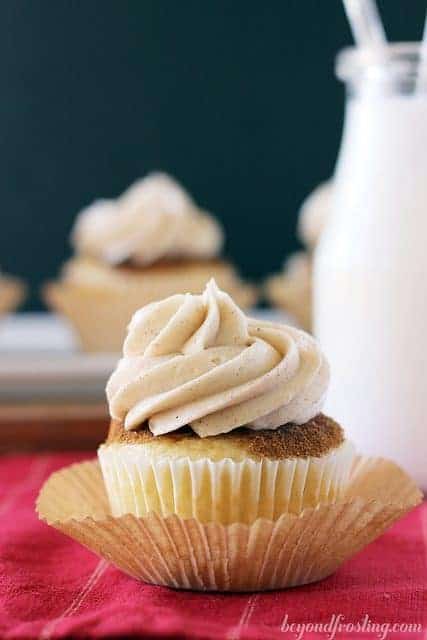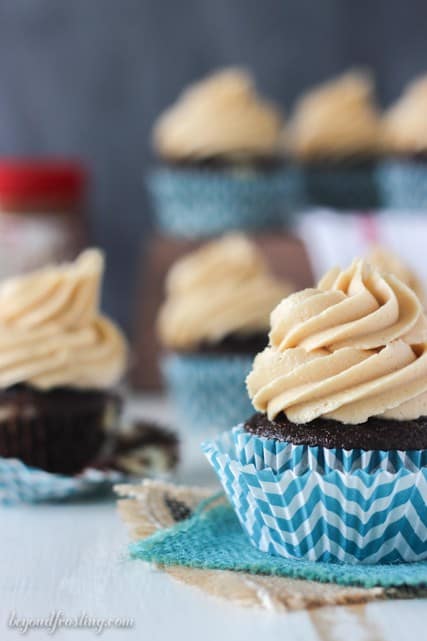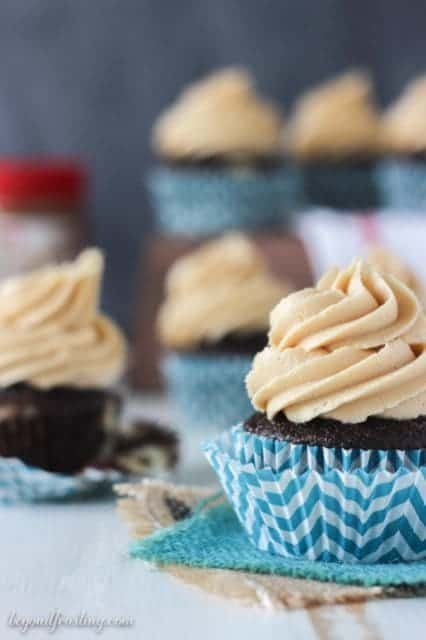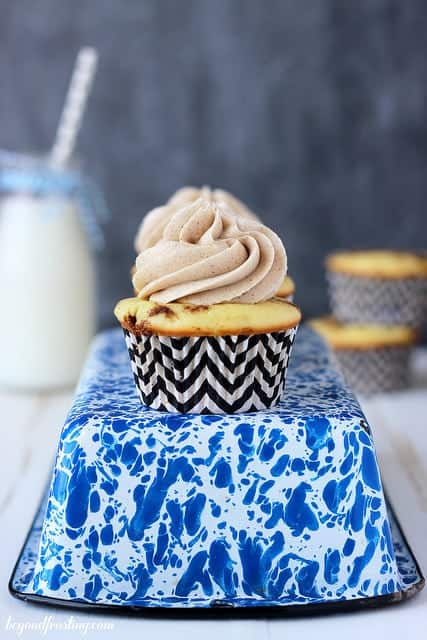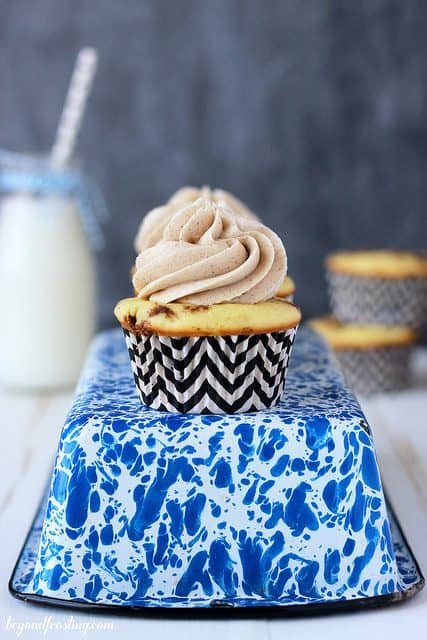 Carrot Cake Cupcakes with Whipped Cream Cheese Frosting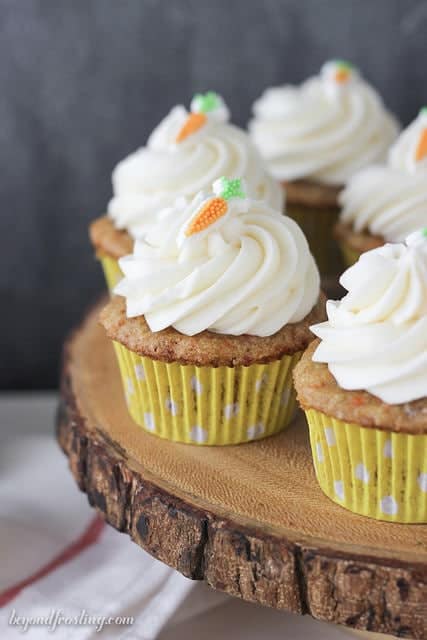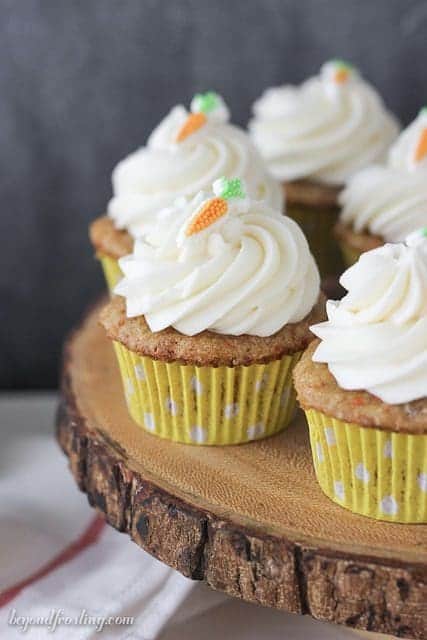 Easy Pumpkin Cupcakes with Caramel Cream Cheese