This post may contain affiliate sales links. Please see my full disclosure policy for details
Have you ever wondered how to make beautifully frosted sugar cookies like you see in the magazines? In this tutorial, I'm showing you how to decorate cut-out sugar cookies with buttercream frosting! We'll be using my easy cut-out sugar cookie recipe for our cookie base.
Looking for more Christmas cookie ideas? Try my Classic Snowball Cookies!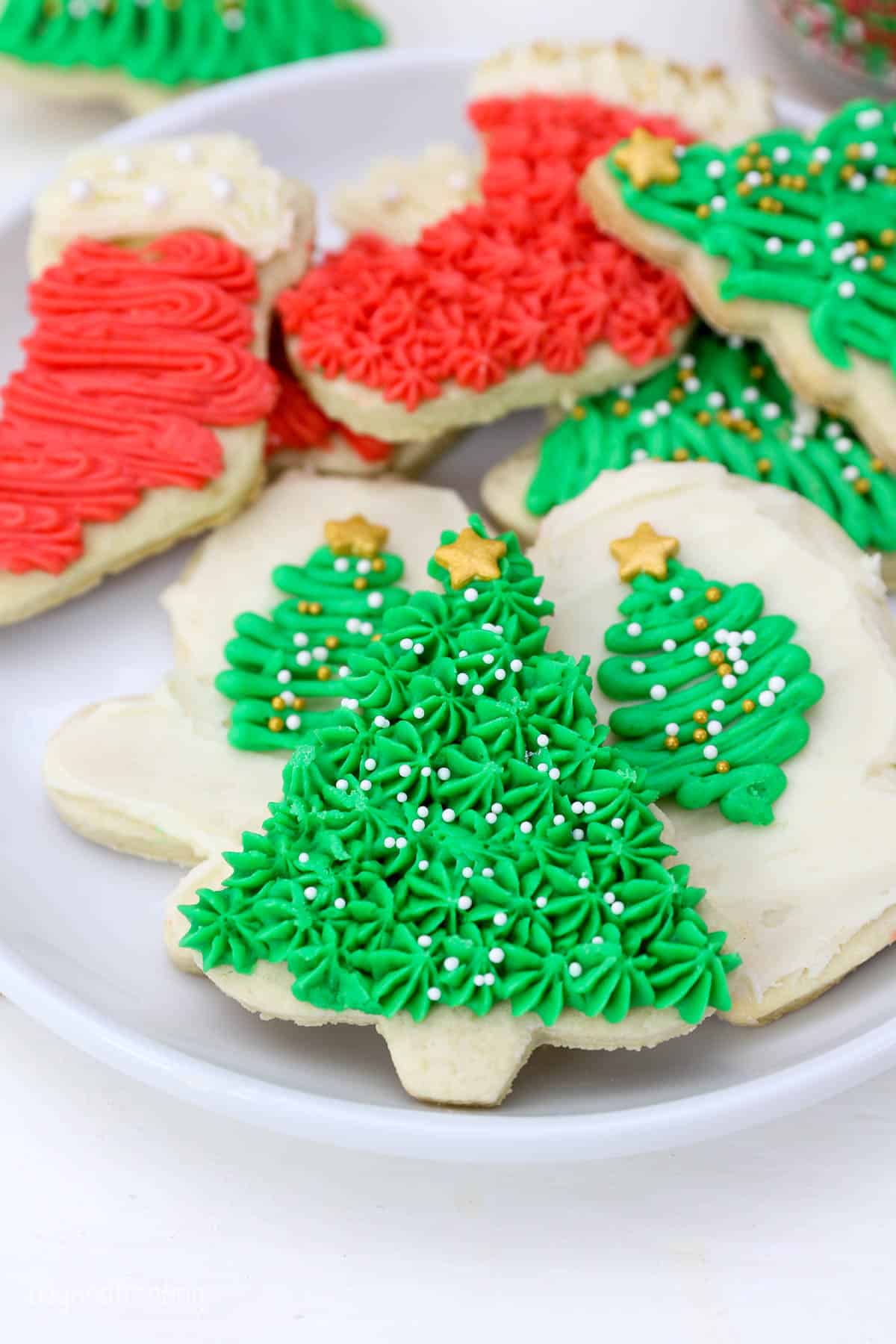 Everyone knows there are two very important parts to making the perfect sugar cookies for Christmas. The first part, is of course the cookies. The second part is using the right frosting to decorate your cookies.
There are a few different ways to decorate cookies, but this tutorial is all about buttercream. If you are new to cookie decorating, you'll find a lot of helpful tidbits here as well as links to resources for all things buttercream. You'll learn how to prepare, color and decorated my favorite sugar cookies.
You'll need a batch of my favorite buttercream. It's ideal for decorating because it's not too soft or runny. Why? Because I start with cold butter. The mixer does all the work to soften the butter to the perfect consistency.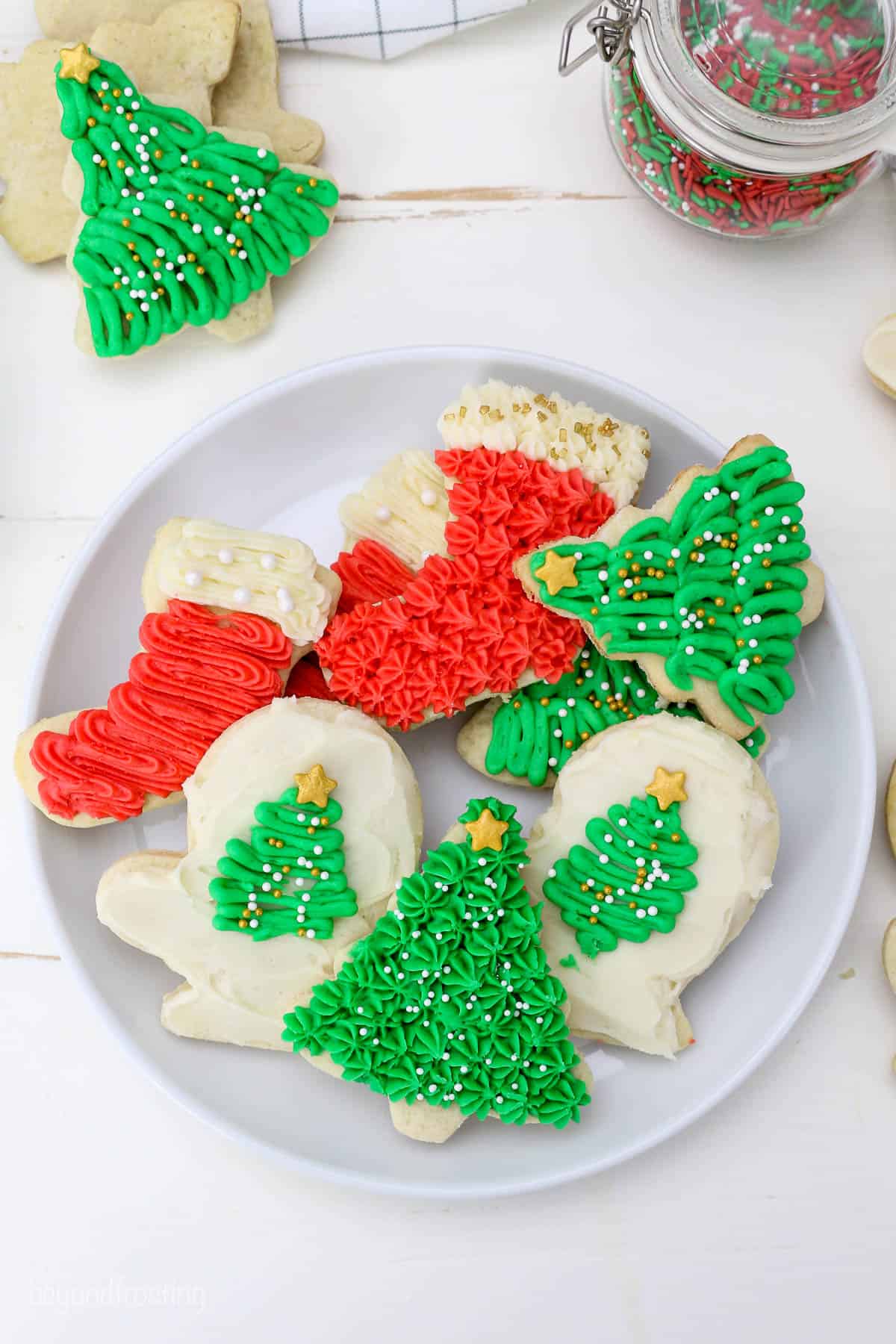 Bake The Cookies
You'll need a tried and true sugar cookie, and for that I recommend this recipe. They're soft, they hold their shape and it's such an easy recipe. Plus it only requires 30 minutes of chill time.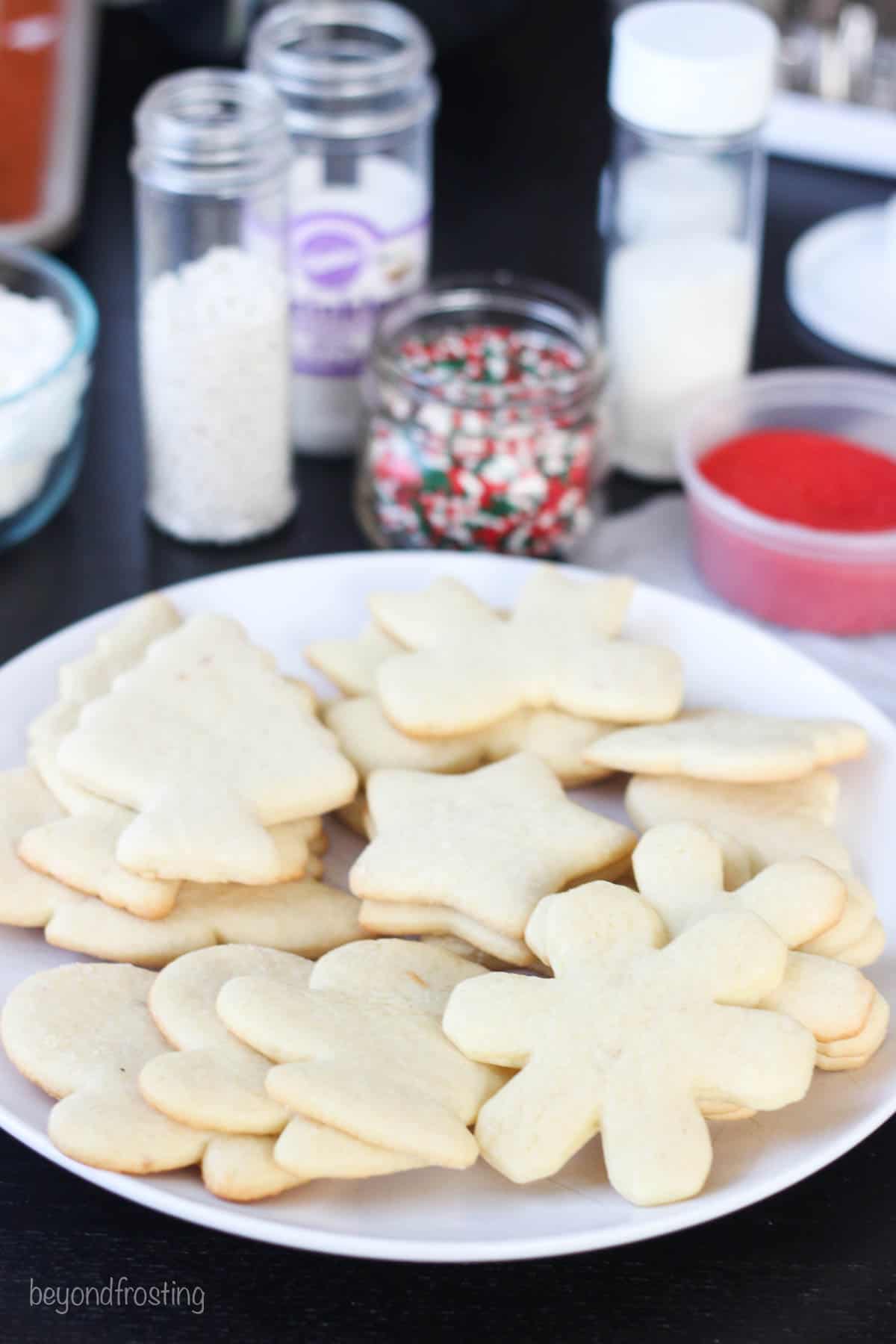 Make The Frosting
Cut the butter into 1 tablespoons size pieces then whip the butter for 5-7 minutes until it's super whipped and fluffy.
Alternate adding 2 cups of powdered sugar at a time along with the liquid ingredints (vanilla and heavy cream) and beat until well combined. With each addition of powdered sugar, beat the frosting for a couple minutes.
Once all the ingredients have been added, increase speed to medium-high and beat for another 3-5 minutes to whip additional air into the frosting.
While traditionally made with vanilla extract, buttercream can be flavored with any type of extract you prefer. Almond, peppermint or lemon are great options, or you can use a combination of vanilla with one of these to.
I always want the best tasting, so I stick with pure vanilla extract, which can make the buttercream tinted slightly yellowish. If you want to avoid that, you might consider using Clear Vanilla Extract.
Color The Frosting
In this post, I am going to provide you a few tips for coloring your frosting, but I went into a deep dive on this topic already. See this post.
Use gel colors and avoid food coloring: The gels are thicker, which means they have less water. So when you add them into your frosting, it doesn't change the consistency. Wilton makes an 8-pc set that a great starter kit. I also recommend Ameri Gel. Outside of the starter sets, you can also purchase individual colors.
You just need a couple drops: The gel colors are highly concentrated, so a little goes a long way. Usually, it's 1-2 drops per 1 cup of frosting. You can always add more. as you need. I also use a toothpick to add small amounts.
Stick to 4 colors max: I always use white and 3 other colors. This helps ensure I will have enough frosting to go around and helps reduce the mess.
Just need a little bit of one color? Spoon 2-3 spoonfuls of frosting into a cup and use a toothpick to dye and mix the color.
Prepare The Piping Bags
I have an entire post dedicated on how to use a piping bag because if you're new to using them, there are lots of tips you might not know and it will make it so much easier to get started.
First, cut the tip of your bag off just below the bottom edge of the coupler. Keeping the bag a little longer helps keep the bag from blowing out the sides. at.
Fold the bag over a glass. This just makes it easier to fill while keeping your hands clean.
Seal the bag: A rubber band works great, but push all the air out and twist it tight.
Add the tip: See my detailed list below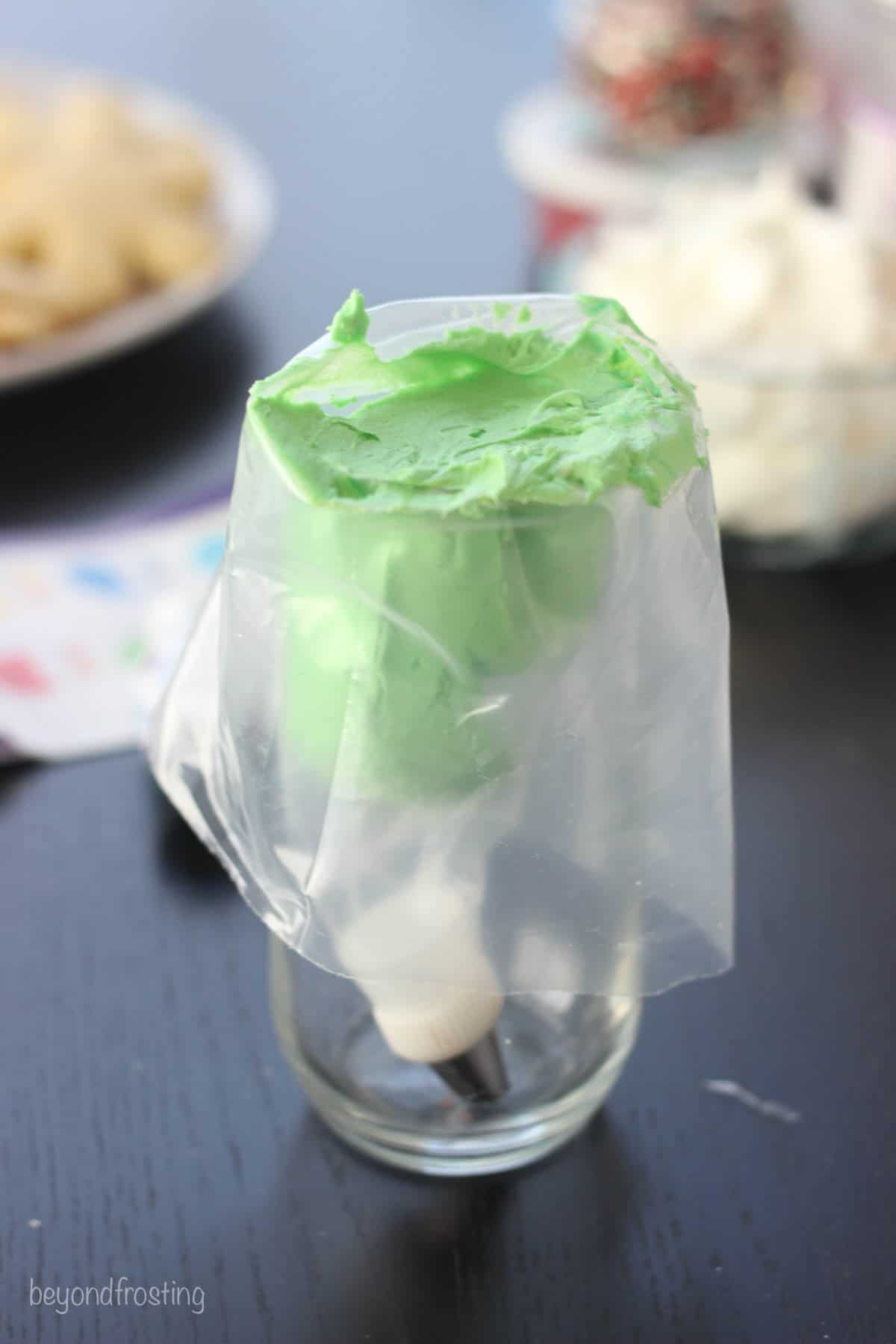 Decorate
Finally the fun part! Before you start to decorate, test your frosting by squeezing a little bit into a paper towel so you know how hard to squeeze and what the consistency is.
Great Tools To Have
Piping Tips – More on these below.
Coupler Set. You don't have to a coupler, but it makes it SO easy if you want to change tips while using the same piping bag with the same color frosting.
Piping bags. I usually use 12-inch Decorating Bags and no more than ¾ full so you can easily hold them in your hand. I also have some piping bag elastic ties to help keep my bags closed.
An Angled Spatula, which is basically my best friend for mixing frosting and filling piping bags
Sprinkles!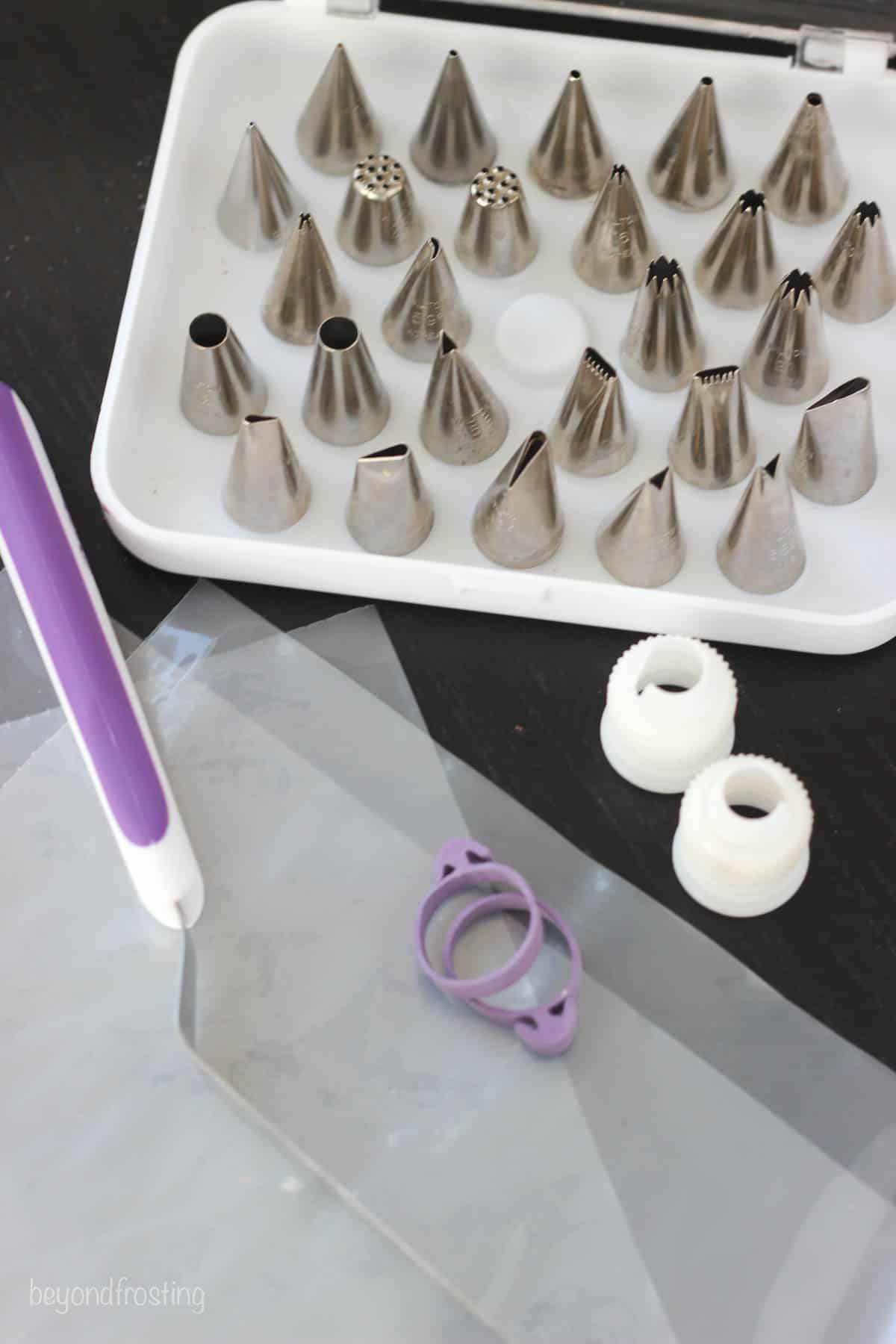 Which Piping Tips Are Best For Decorating?
I like to use #3, #5 (both round tips)
An open star tip, usually #18 or #21 – you can do so much with these!
A multi-opening tip (I call it my grass tip), #233
A basket weave tip #48.
Here's my complete guide to decorating tips.
Will This Buttercream Crust?
How many of you have trouble with buttercream? Don't worry!! Just follow my tutorial for the Perfect Vanilla Buttercream Frosting! It's way easier than you think. This buttercream also lightly crusts over, which is great for cookies, but not great for stacking them.
Frosted cookies should be stored in an airtight container. I do recommend a single layer for best results, but if you need to stack two layers high, place a piece of parchment paper between layers. Stacking cookies can result in some damage to the frosting.
Yes. Frosted cookies can be frozen. Once decorated, place them on a cookie sheet in the freezer for 15-30 minutes until the frosting had hardened. Then transfer to an airtight container. As long as the frosting is firm, these can be stacked in the container, with a layer of parchment paper in between. Thaw cookies on a cookie sheet in a single layer. These can be thawed on the counter for a couple of hours.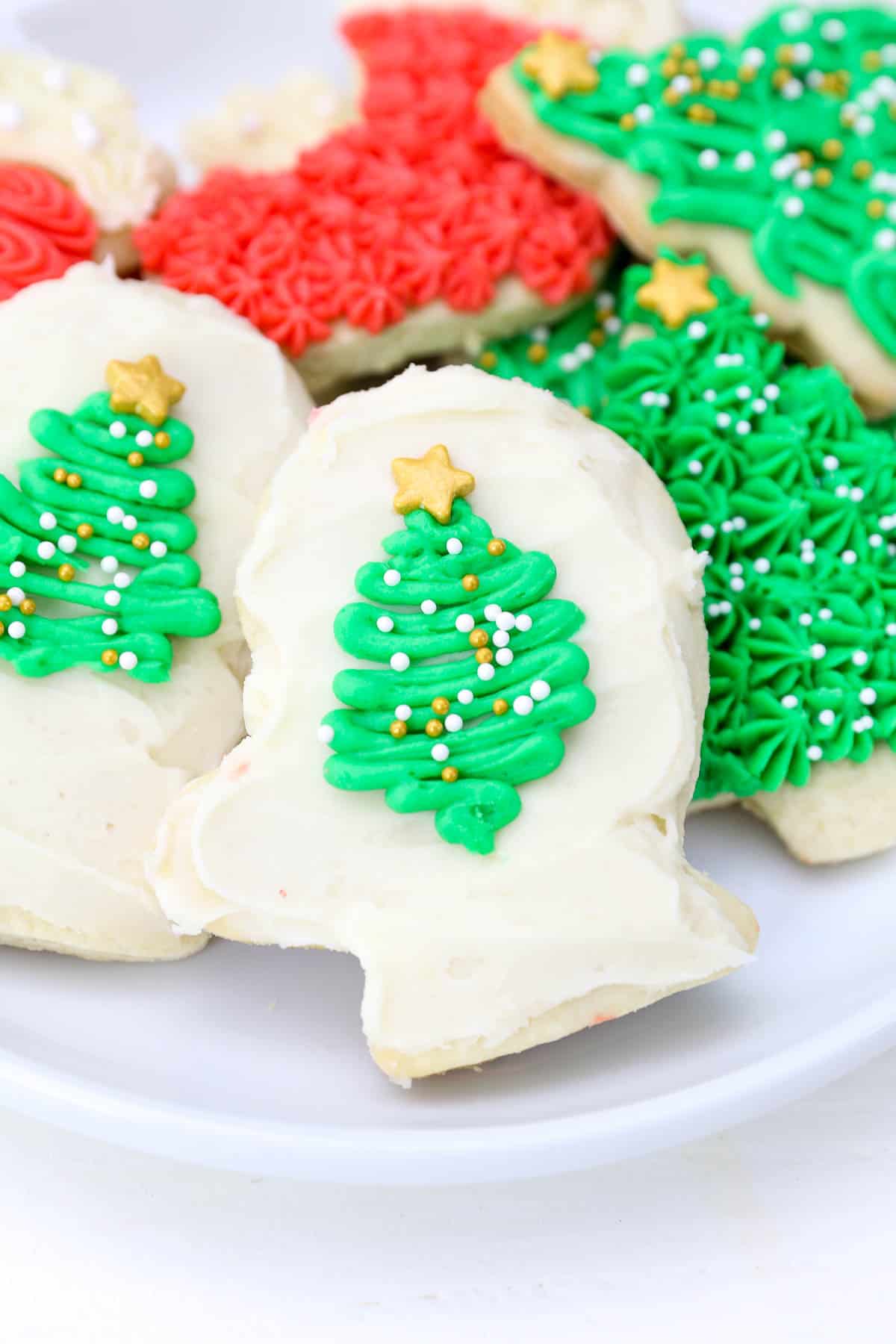 Print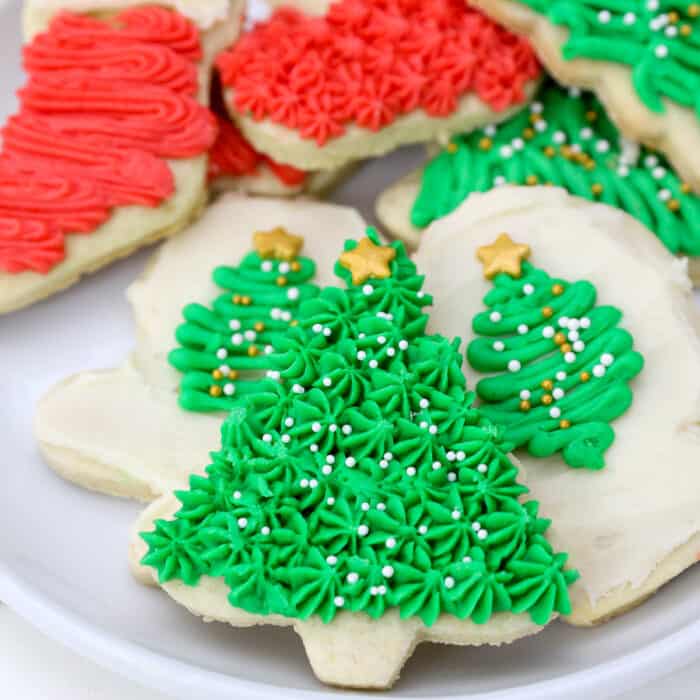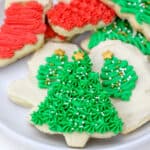 Author:

Prep Time:

15 minutes

Total Time:

15 minutes

Yield:

4 1/2 cups
Description
This is the best buttercream for decorating sugar cookies. It's stiff enough to hold a good shape but soft enough to work with. You can pipe it or spread it, and you can adjust the flavors and add coloring.
Ingredients
For the frosting
1 1/2 cup

(

339 g

) (

3

sticks) unsalted butter, cold.

5 cups

(

650 g

) powdered sugar

2 1/2 teaspoons

(

12

ml) pure vanilla extract

2 tablespoons

(30ml) heavy whipping cream (or milk)
Pinch of salt (optional)
Instructions
Cut the butter into pieces. Using the paddle attachment, whip the butter for 5-7 minutes, scraping down the bowl occasionally, beating until the butter look light in color.
Add 2 cups of powdered sugar and mix on low speed until incorporated into the butter then add the vanilla extract and mix to combine. Beat for about 60 seconds.
Next, add an additional 2 cups of powdered sugar and beat on low speed until sugar is incorporated. Increase speed to medium-high and beat for 3 minutes.
Add last 1 cup powdered sugar along with the heavy whipping cream and salt. Beat on low until the ingredients start to mix together. Increase speed to medium-high and beat for another 3-5 minutes to whip additional air into the frosting.
Divide the frosting into bowl, add gel colors and decorate.
Category:

Frosting

Method:

Stand Mixer

Cuisine:

American
Keywords: Frosted Sugar cookies, buttercream frosting for cookies