This post may contain affiliate sales links. Please see my full disclosure policy for details
Ooey Gooey Sweet Potato S'mores Fries are layers of sweet potato fries, melted marshmallows, chocolate sauce and graham crackers.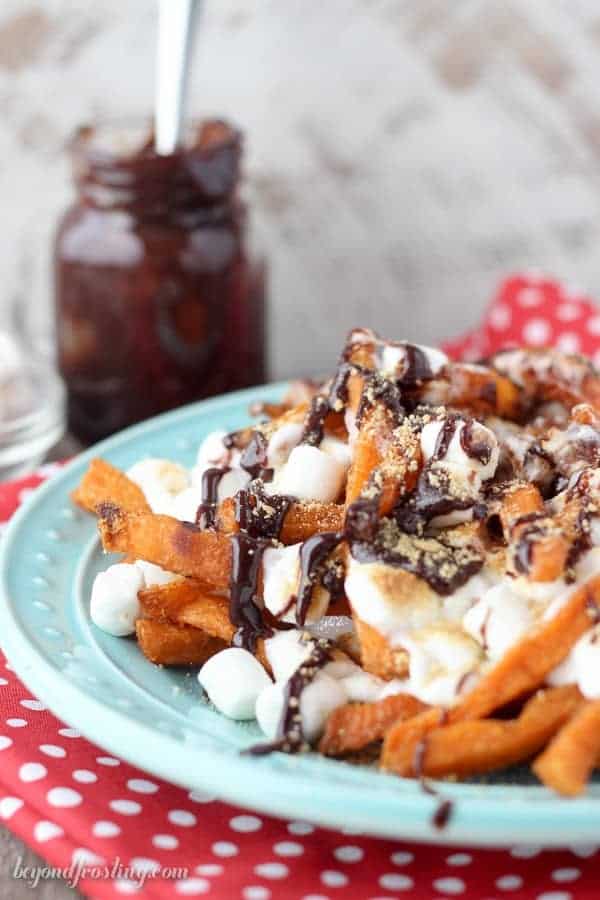 I am not even sure this can really be deemed a recipe, but I'll tell you what, it's a darn good idea! It also wasn't my own. I saw this on the dessert menu at Red Robin ( and I thought it was pure genius. Let me introduce you to Sweet Potato S'mores Fries.
Sweet potato and marshmallows are a match made in heaven. One of my favorite dishes at Thanksgiving is mashed sweet potato jars, which are topped with marshmallows (duh)!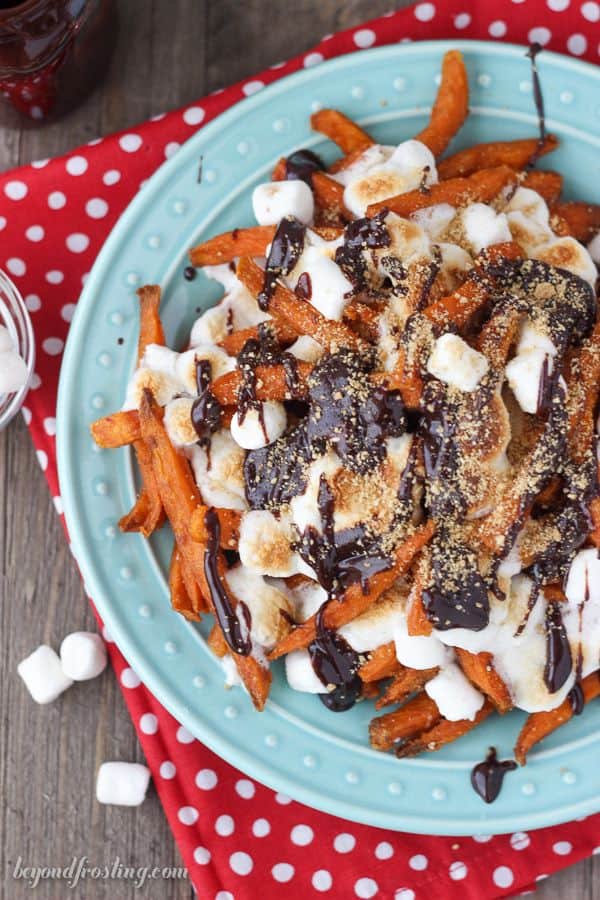 I am also accustom to make dessert French fries. It first started with my maple bacon donut fries, and then I added some cinnamon and sugar donuts fries. So I feel like it's only natural that I would try a S'mores version, this time swapping donuts for actual French fries.
You can totally make your own homemade sweet potato fries for this recipe, all the power to ya, but I can never seem to get the coating quite right. I choose to use frozen sweet potato fries but I did opt to bake them instead of deep fry them like you might find in a restaurant. Deep frying just takes too much work sometimes and then I don't know what to do with the extra oil.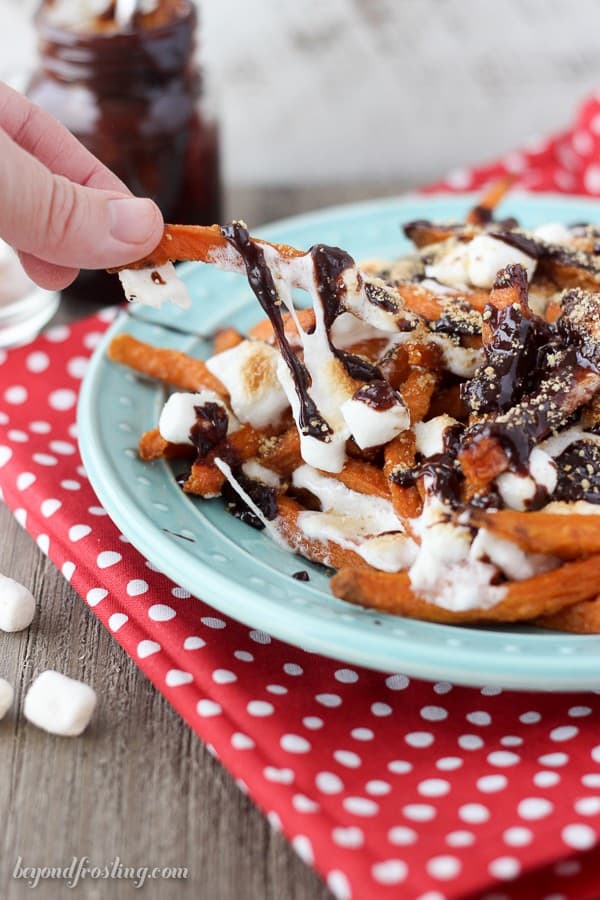 I decided to use my broiler to make them a little extra crispy at the end and I also use it to melt the marshmallows and gently toast them. If you have one of those handy handheld torches, this would be the perfect opportunity to pull that out. I find the marshmallows do not deflate as much if they are torched.
The most important part of building these smothered sweet potato fries is that you layer in the marshmallows so you get that ooey gooey sticky mess in every layer. So once they are baked, pull them out of the oven and split them by 3 ways. Then melt the marshmallows on top of each layer before adding the next.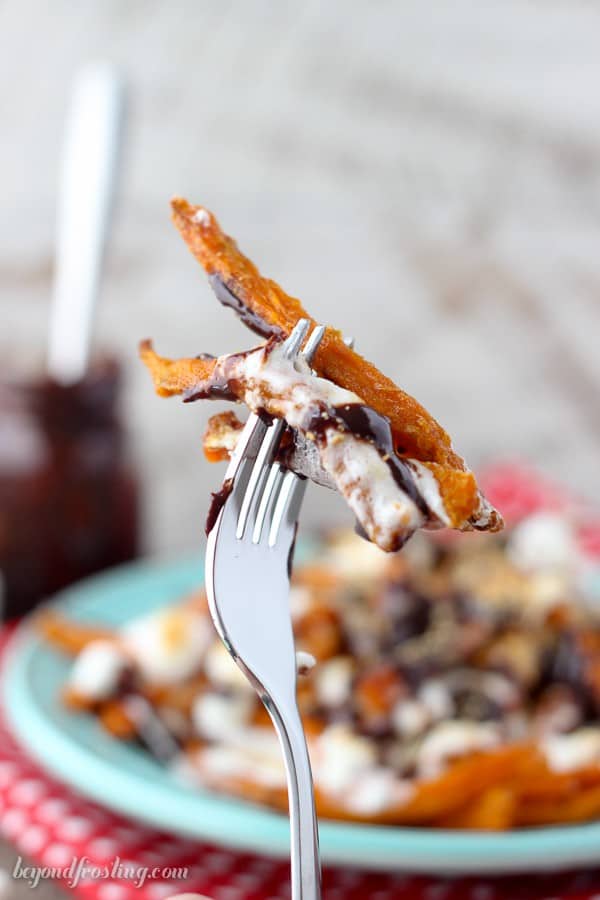 To finish these off, I drizzled them with melted chocolate. You could also use chocolate sauce or even hot fudge sauce (I always have that in my fridge!). Then loosely crush some graham crackers and sprinkle them on top. After I made these I thought that maple syrup would also be a great addition.
Oh and I almost forgot, I sprinkled some cinnamon sugar on these right after they were baked to add a little bit more sweetness to the fries.
Grab a handful of napkins and let's dig in.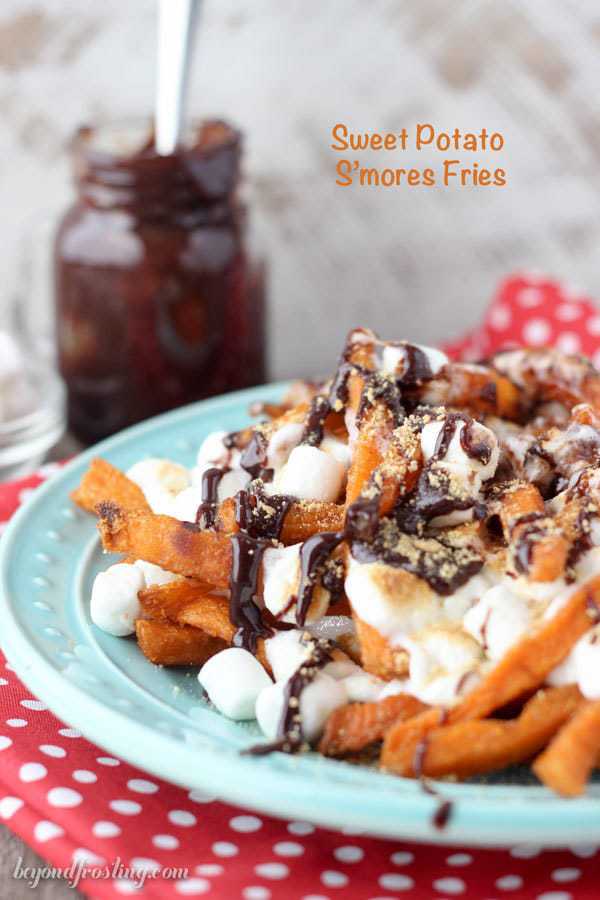 Follow Beyond Frosting:
Facebook | Twitter | Pinterest | Instagram
If you love no-bake recipes, be sure to check out my cookbook, No-Bake Treats!
Print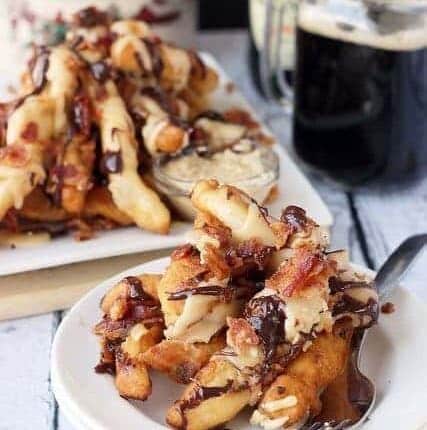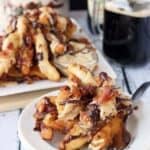 Sweet Potato S'mores Fries
Author:

Prep Time:

5 mins

Cook Time:

30 mins

Total Time:

35 minutes

Yield:

2 servings
Description
Layers of crispy sweet potato fries & melted marshmallow drizzled with chocolate sauce and crushed graham crackers
Ingredients
1

bag frozen sweet potato fries (

14

–

20

oz)

1 1/2 cups

mini marshmallows

1 teaspoon

cinnamon/sugar

1/4 cup

chocolate chips

1 tablespoon

milk

2

–

3

Graham crackers, crushed
Instructions
Preheat the oven according to the instructions on the frozen sweet potatoes.
Spread sweet potatoes over a parchment paper lined baking sheet and bake according to the instructions on the box. For a more crispy fry, turn on the broiler and broiler for 2-3 minutes per side.
Caution, the oven will get extremely hot. I never fully close my oven door while I am broiling.
Do not shut off the oven.
Remove the sweet potatoes from the oven and sprinkles with the cinnamon sugar. and start to build layers of sweet potatoes fries (about 1/3 of them) and marshmallows, pilling them in the center of the baking sheet. Melt each layer under the broiler for 2-3 minutes until the marshmallows are melted.
Continue adding more fries on top and repeat steps to melt the marshmallows.
Add the final top layer and melt the marshmallows once more. Remove these from the oven.
In a microwave-safe bowl, combine chocolate chips and milk. Microwave in 30 second increments, stirring occasionally until the chocolate sauce easily runs off the spoons. You may need to additional milk. Drizzle chocolate over the top of the fries and sprinkle with crushed graham crackers.
Notes
Please use caution when using the broiler, and ensure your cookware can withstand the temperature.
You might consider drizzling a little maple syrup over the top!
You might also like: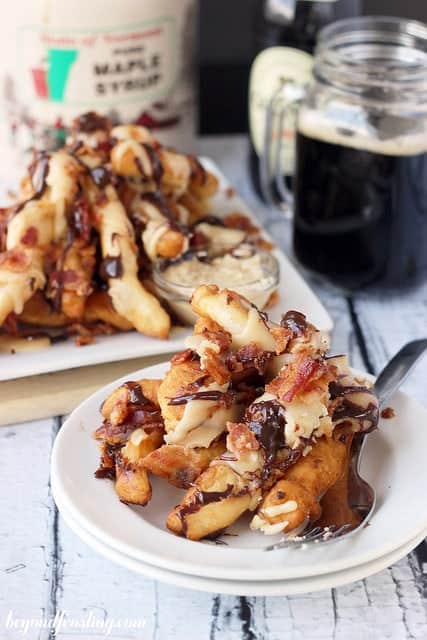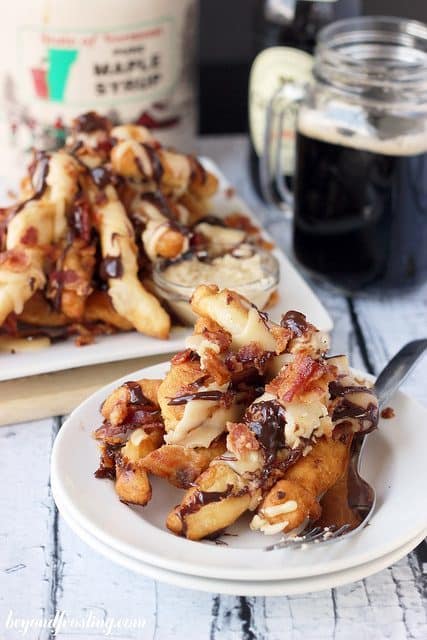 Cinnamon Sugar Donut French Fries