This Double Pumpkin Poke Cake features a spice cake soaked in pumpkin pudding and topped with a cinnamon maple whipped cream.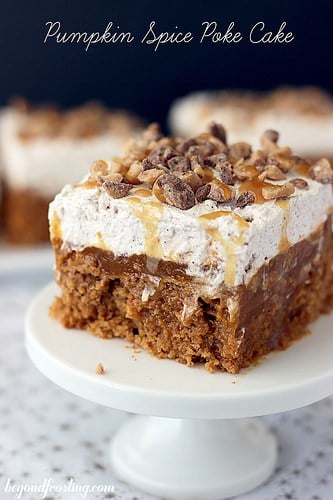 Happy October! Yesterday was my mother's birthday and a very happy birthday she enjoyed. She told me that she drove around southern Vermont taking pictures of the foliage. That is what we New Englanders call leaf peeping. Yes, it's a real thing. As much as I love the fall season, I don't miss the leaf peepers. Sure, they are an essential part of the economy in our tourist town, but they also cause quite a bit of danger  by driving slowly, suddenly stopping, or parking in the middle of the road to stop and take pictures. It's kind of a running joke where I'm from. Well, even I can appreciate a good day of leaf peeping, so I am glad you enjoyed yourself, mom!
Now it's time for cake. Double Pumpkin Poke Cake. It is a pumpkin spice cake soaked in pumpkin spice pudding and topped with a cinnamon maple whipped cream. I would say that I am "obsessed" with this whipped cream, but people tell me I am "obsessed" with too many things. So I am just going to tell you that it is down right amazing and you need to make it. I made it with these Brown Butter Peach Shortbread Parfaits as well. Well it is the perfect topping for this poke cake. This cake is kind of like mixing the best of both worlds; you get the taste of pumpkin pie mixed with texture of a fluffy cake.
The pudding adds an incredibly moistness to the cake, and topped with a decadent whipped cream it's to die for. This cake is relatively easy to whip together, you just have to wait a little bit for the pudding to set. This dessert is a great way to impress your friends.
Keep up with all the happenings. Follow Beyond Frosting:
Facebook | Twitter | Pinterest | Instagram | Bloglovin | Google+
Don't miss a thing, subscribe at the end of this post!
Print
Double Pumpkin Poke Cake
---
Prep Time:

40 mins

Cook Time:

20 mins

Total Time:

1 hour

Yield:

16 Servings
Ingredients
For the cake:
1 box Spice cake mix
1 pkg Instant pumpkin spice pudding (3.4 0z)
1 tsp Cinnamon
1/2 tsp Pumpkin pie spice
3 Large eggs
1/2 C oil
3/4 C Milk
1/2 C Sour Cream
For the pudding:
2 pkg Instant pumpkin spice pudding (3.4 0z)
4 C Milk
For the Whipped Cream:
2 C Heavy whipping cream
3 tbsp Pure maple syrup
2 tsp Cinnamon
3/4 C Health Milk Chocolate Toffee bits
---
Instructions
Preheat oven to 350° F.
Prepare the cake first. Mix all dry ingredients in your mixing bowl and mix slightly to combine.
Add eggs, oil, milk and sour cream. Beat on medium speed until well combined.
Bake cake for 18-22 minutes until golden brown on top.
Check for doneness by inserting a toothpick in the middle of the cake. If the toothpick comes out clean, your cake is done.
Allow cake to cool for fifteen minutes. While the cake is still warm, take the end of a wooden spoon or another round object and poke holes all over the top of your cake.
Prepare the pudding. In a separate bowl, combine the 2 packages of instant pumpkin spice pudding and milk together. Whisk until well combined. Before the pudding sets, while it is still pourable, dump the pudding over top of the cake and spread with a spatula if necessary.
Allow the pudding and cake to set in the fridge for at least an hour. In the meantime, you can prepare your whipped cream.
For the homemade whipped cream, I always put my bowl and whisk attachment in the freezer for 10 minutes before making it. The added coldness helps keep the whipping cream cold while it is mixing. Using the wire whisk attachment, whip heavy cream on medium high speed for several minutes until stiff peaks form.
Slowly add maple syrup one tablespoon at a time, ensuring that each tablespoon is well mixed before adding the next. Add cinnamon and mix just until combine. You can scrape down the sides of the bowl and fold it together with a spatula. Keep refrigerated until ready to serve.
Top cake with cinnamon maple whipped cream and sprinkle with milk chocolate toffee bits. Serve immediately or keep refrigerated until ready to serve.
Visit Beyond Frosting's profile on Pinterest.

So yeah, it's October and it's 30 days until Halloween and also, 30 days until my one year blogiversary! I am so excited to celebrate with you guys! In the meantime, you can celebrate with September's top 3 posts shown below, which shouldn't come as much of a surprise!