This post is filled with tips for how to decorate sugar cookies with buttercream frosting, plus a recipe for perfect buttercream. The soft-baked sugar cookie recipe is not overly sweet and they are perfect with vanilla buttercream.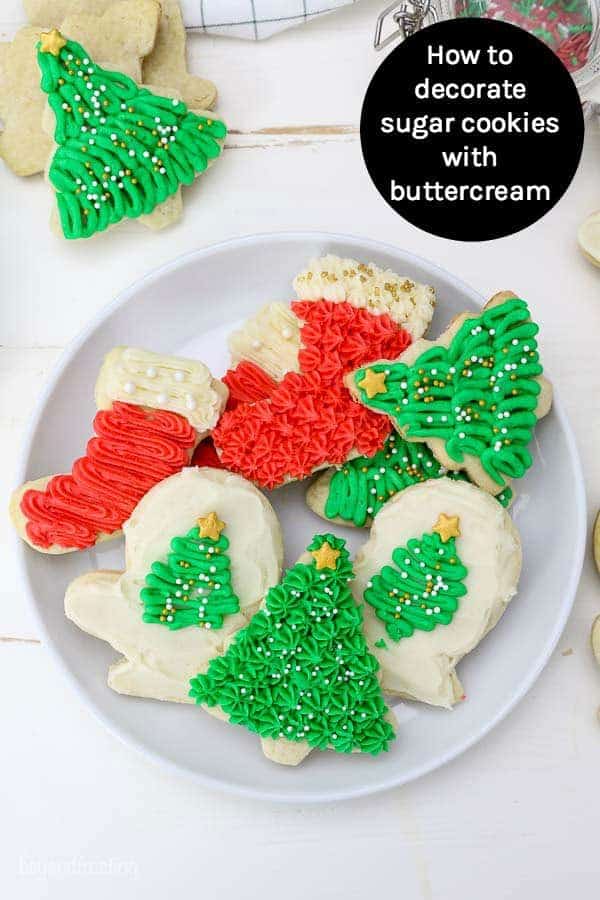 Everyone knows there are two very important parts to making the perfect sugar cookies. The first part, is of course the cookies, so make sure to check out my Tips and Tricks for Perfect Sugar Cookies – it's got over 15 tips! Part two is the frosting, duh! This post is all about How to Decorate Sugar Cookies with Buttercream Frosting.
Let me start by saying I am not a fan of royal icing. I learned how to do it when I took cake-decorating classes, but it's not my favorite. If you prefer royal icing, check out my friend Lindsay's tutorial, it includes a super helpful video!
Decorating cookies takes commitment. You need some time; maybe a diet coke and you need to mentally prepare yourself to make a mess. Which is all good with me because I know I will be eating cookies along the way, so there's that. This is quite the lengthy post, but I hope you'll pull up a chair and get through it.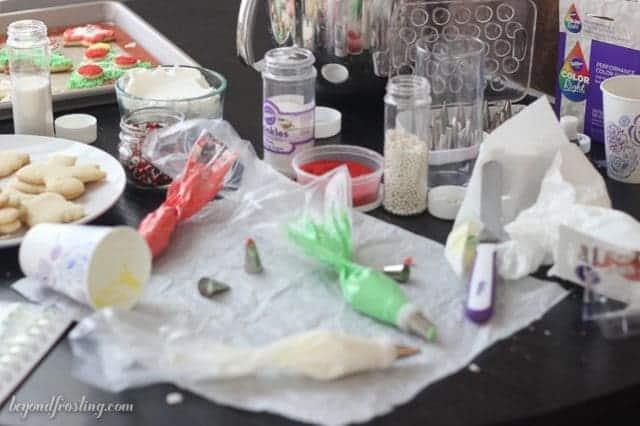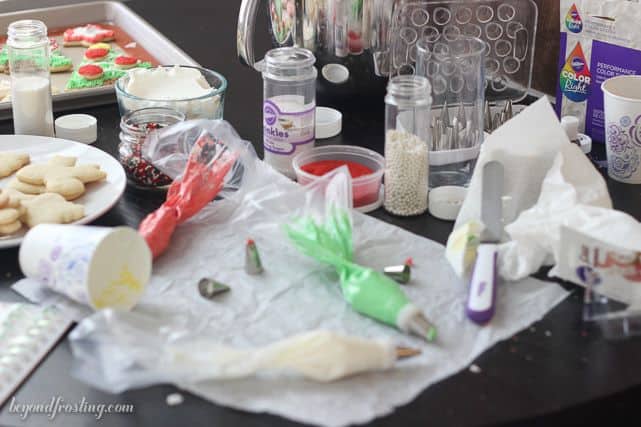 My preferred frosting is a tradition buttercream. How many of you have trouble with buttercream? Don't worry!! Just follow my tutorial for the Perfect Vanilla Buttercream! It's way easier than you think. I have had multiple readers comment about how much they love the recipe. This buttercream also lightly crusts over, which is great for cookies, but not great for stacking them.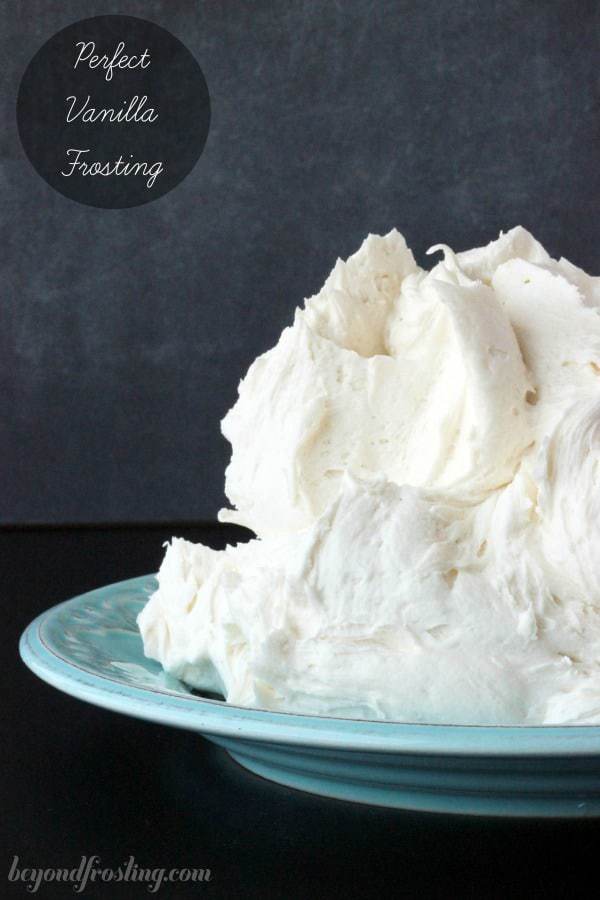 You have two options with the buttercream. Option one is to use all butter. Option two is to use a combination of butter and Crisco. I am going to talk a little bit about each one. Hear me out before you think, "Yuck, Crisco!".
If you use all butter, be sure you butter is COLD! That's right, cold, not softened. You will need to beat the heck out of the butter so it is more whipped, and softened in the mixer. If you start with soft butter, then your frosting will be weak and not great for piping.
This is also why I like using a combination of butter and Crisco. Crisco has a higher melting temperature than butter. What does this mean for buttercream? It means that when you are mixing color and handling your buttercream as you are piping, the Crisco blend will stay stiffer for longer- meaning your shapes will hold up beautifully. An all butter frosting might get too soft, and then the piping shapes just are not as crisp and clear.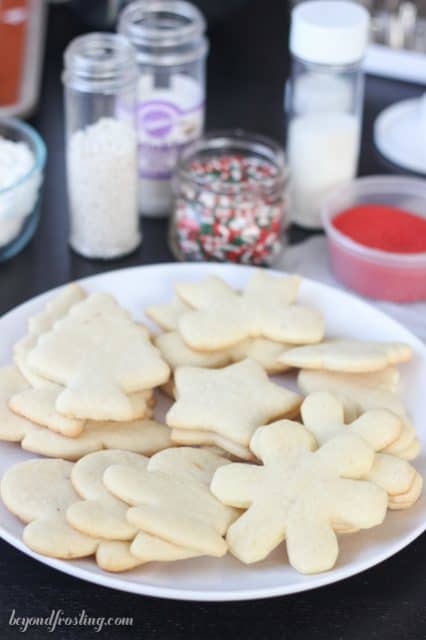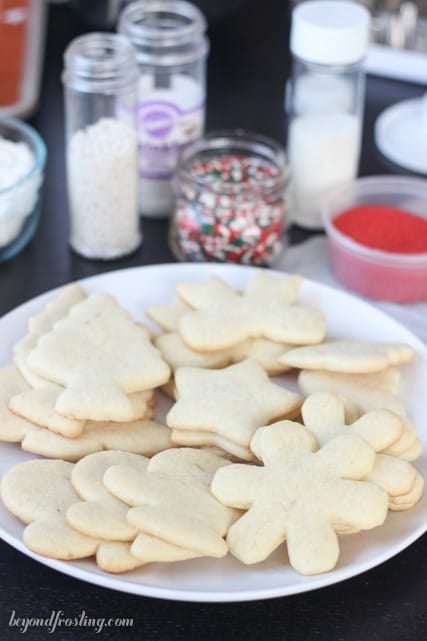 When preparing a buttercream for decorating, do yourself a favor and get CLEAR Vanilla Extract
. This can be found at most craft stores, or online. If you use traditional vanilla extract, it turns the frosting a light brown shade. Or, you can use a touch of almond extract instead of clear vanilla. Almond extract is naturally clear, but it has a very strong flavor. You only need a touch.
So that takes care of the frosting component. Now let's talk about coloring! I have linked to some of my favorite products in this post. You will notice there are a lot of Wilton products. Outside of being an ambassador for them this past year, I have used their products for quite some time, so that's what I have in my cupboards.
Here are some helpful piping tips you will need for decorating: I like to use #3, #5 (both round tips), an open star tip, usually #18, a multi-opening tip (I call it my grass tip), #233 and usually a basket weave tip #48. I love this guide from Cake Central for decorating tips. I have multiple tips for some of the ones I use the most; it is just helpful instead of having to wash them all the time. You can buy them at craft stores or online, and they are usually $1-2 each.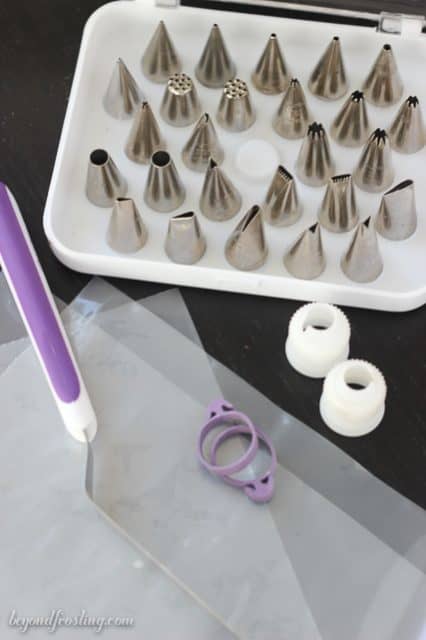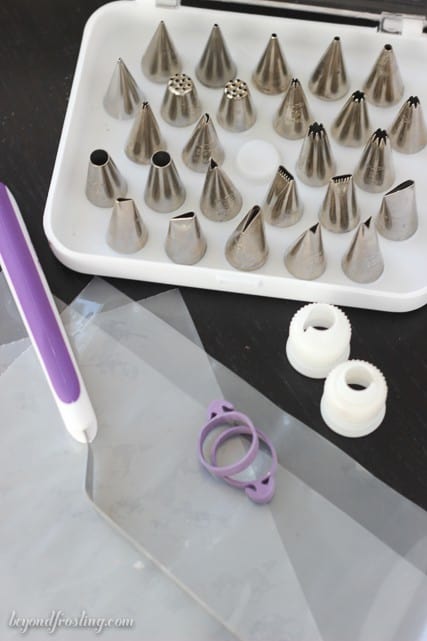 You will also need Coupler Set
, piping bags and an Angled Spatula
, which is basically my best friend. Technically, you don't need a coupler, but it makes it SO easy if you want to change tips while using the same piping bag. I also have some piping bag elastic ties to help keep my bags closed. They are helpful but not necessary. I usually use Wilton 12-inch Decorating Bags
and no more than ¾ full so you can easily hold them in your hand. Oh and lots of different types of sprinkles!
First, cut the tip of your bag off just below the bottom edge of the coupler. I like to do this, so I can fit my tip over the piping bag and coupler, and then screw the cap over the piping tip. Keeping the bag a little longer helps keep the bag from blowing out the sides. Sorry, but I couldn't think of a better way to say that.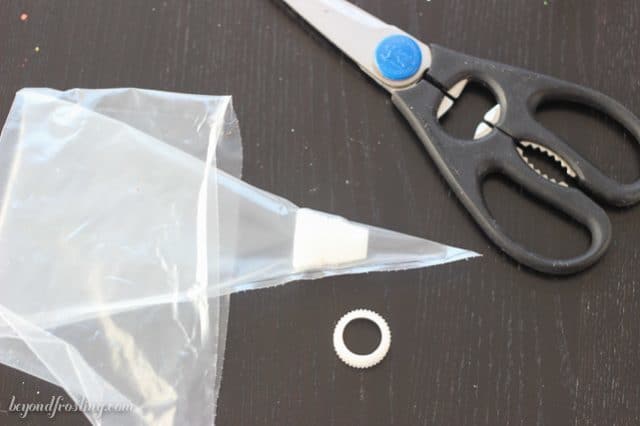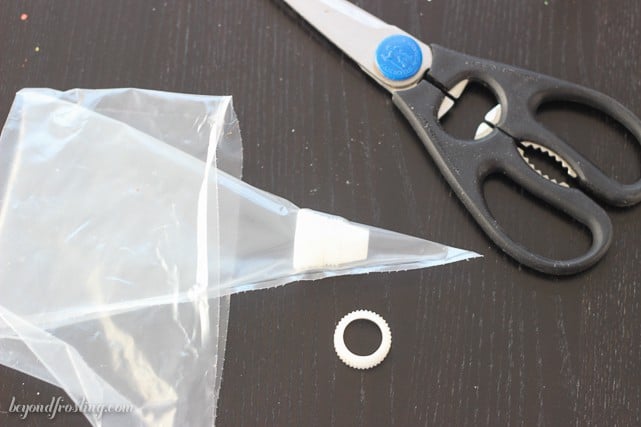 Decide a head of time, how many colors you are going to make. No matter what, I always end up coloring more than I need, which is good, because you never want to run out of a color. However, when I just need a little bit of one color, I spoon 2-3 spoonfuls into a paper cup and use a toothpick to dye and mix the color. Be sure to set aside some WHITE frosting! I also use a lot of paper cups for dying colors, so that I can just throw them out instead of having to clean bowls.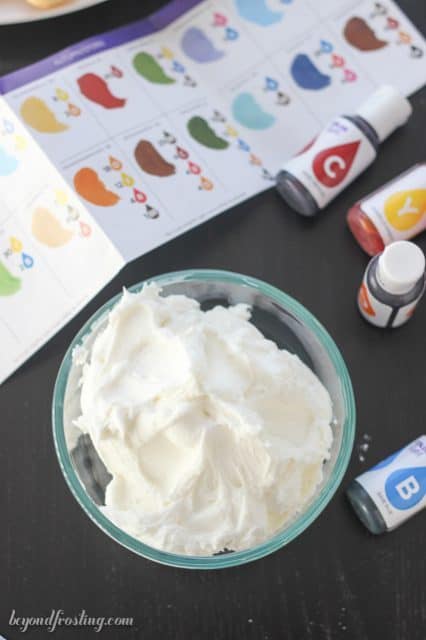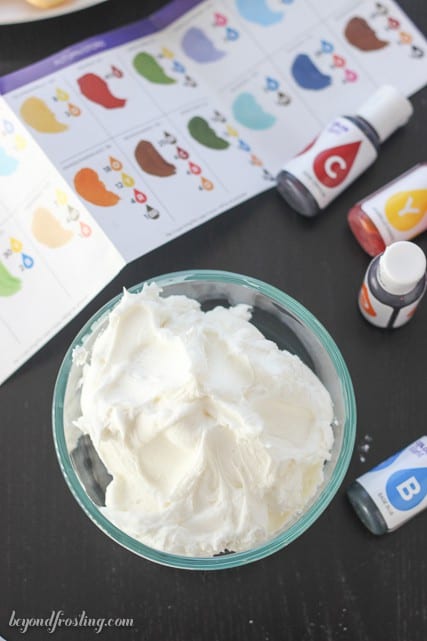 Since I discovered gel colors (a type of food coloring), I have never looked back at the traditional food coloring. The gels are thicker, which means they have less water. So when you add them into your frosting, you frosting will not get thinner. Plus they come in a bazillion colors like 30 shades of teal- because you need 30 shades of teal. However, if you aren't looking to invest a ton of money in individual colors, you can purchase Wilton Color Right System
. It is made up of 8 basic gel colors, and comes with a guide to make something like 30 different colors. It's fantastic.
One important tip when using gel colors: start with SMALL drops! You can always make a color darker, but in order to make it lighter, you have to add a butt load of white frosting. You can see below, I used just a hint if yellow and blue to make this green frosting.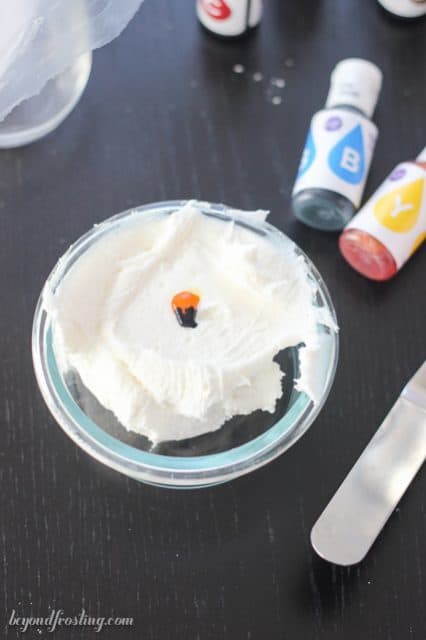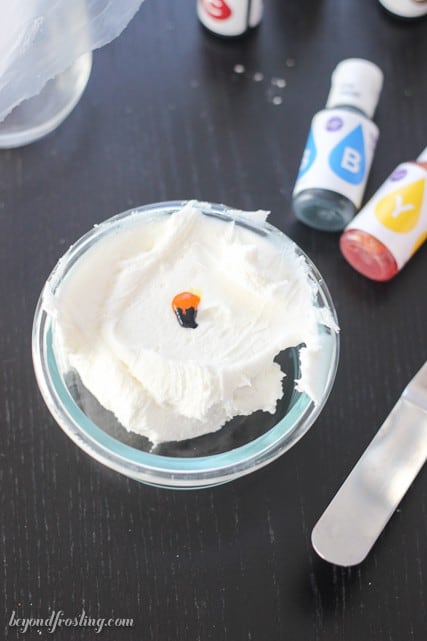 When it's time to fill the piping bag, I always use a glass so that I have two free hands to get every last drop of frosting in my piping bag. They are a pain in the butt to refill!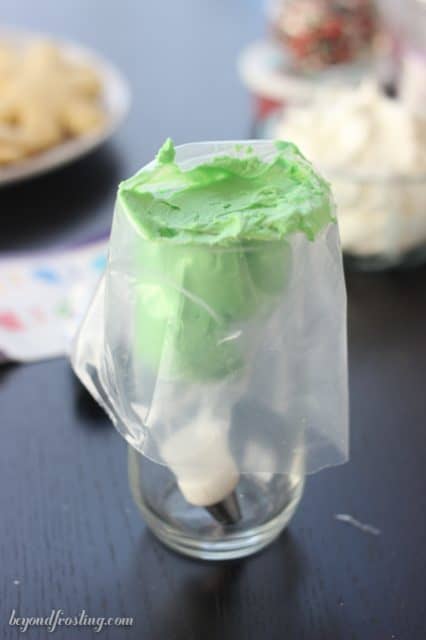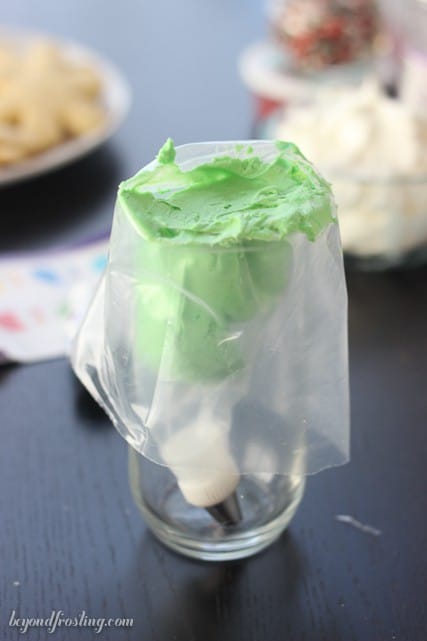 Alight, it's time to decorate! Before you start to decorate, test your frosting by squeezing a little bit into a paper towel so you know how hard to squeeze and what the consistency is.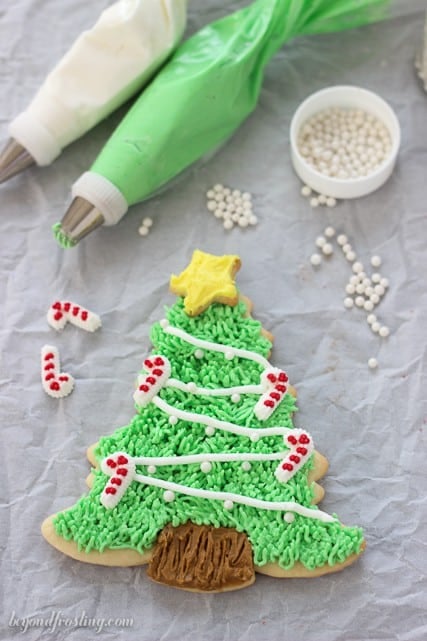 I am not going to lie, about halfway through the process, I get a little burned out with making cute cookies. So I am usually starting to decorate with just sprinkles by that point. However, this year, I added the mitten to my cookie cutter set.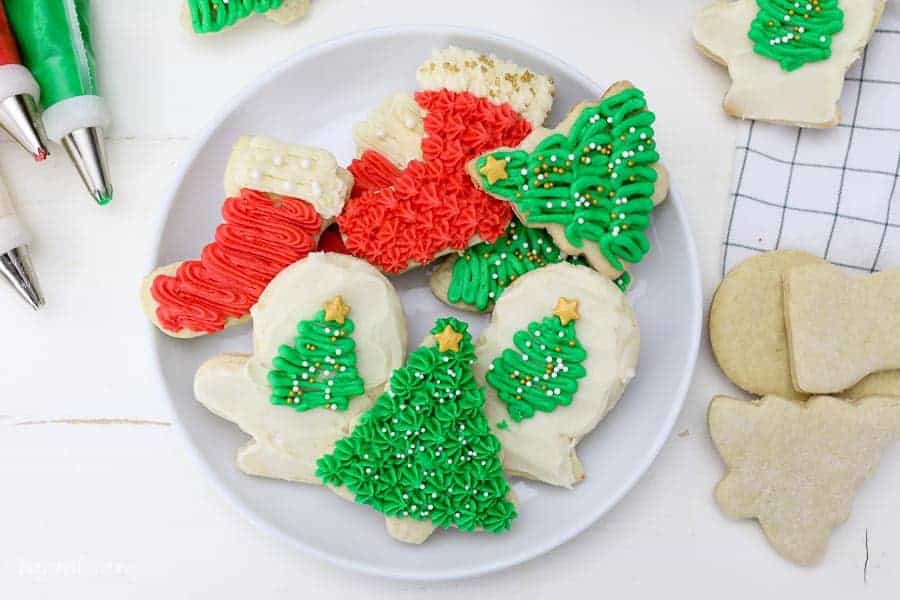 To decorate these sugar cookies, I used a variety of piping tips, but mostly I used a small open star tip (#18) and an open round tip (#5). As long as you have the couples on your bags, you can easily switch out the piping tips you are using to switch up your decorating.
To clean up, just cut your piping bags above the coupler (discard the top part) and use warm water to help release the coupler from the end of the piping bag. Run your piping tips under hot water, and I usually soak them in a bowl of hot water to remove any residue. I let them air-dry overnight.
Well that's about all I got! I hope you'll give it a try. And if not, just quit halfway through and enjoy some cookies. No one is judging you over here.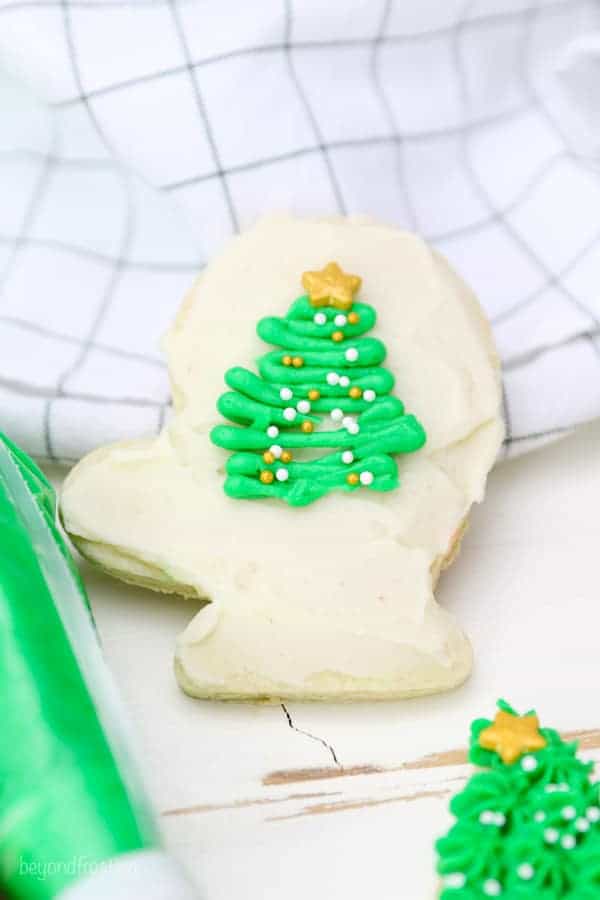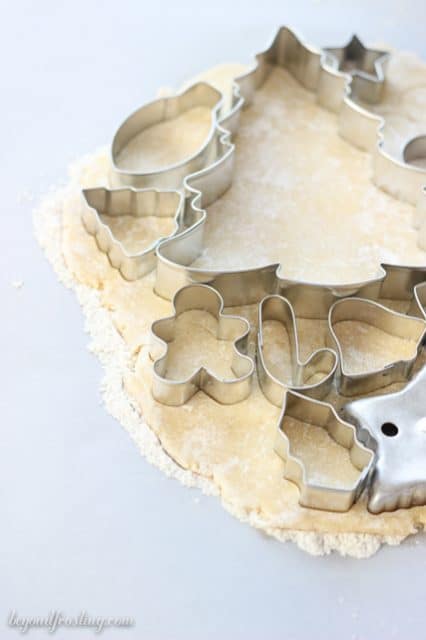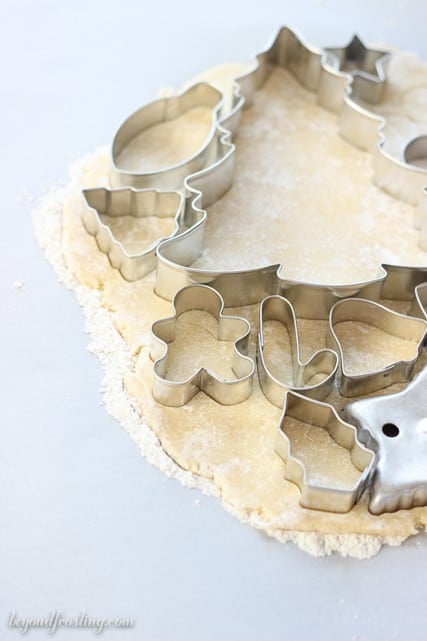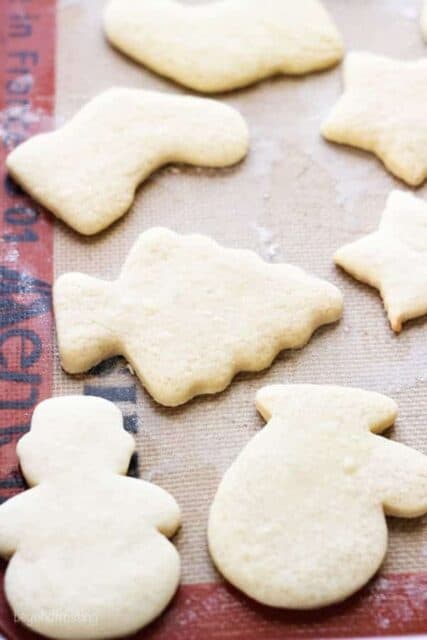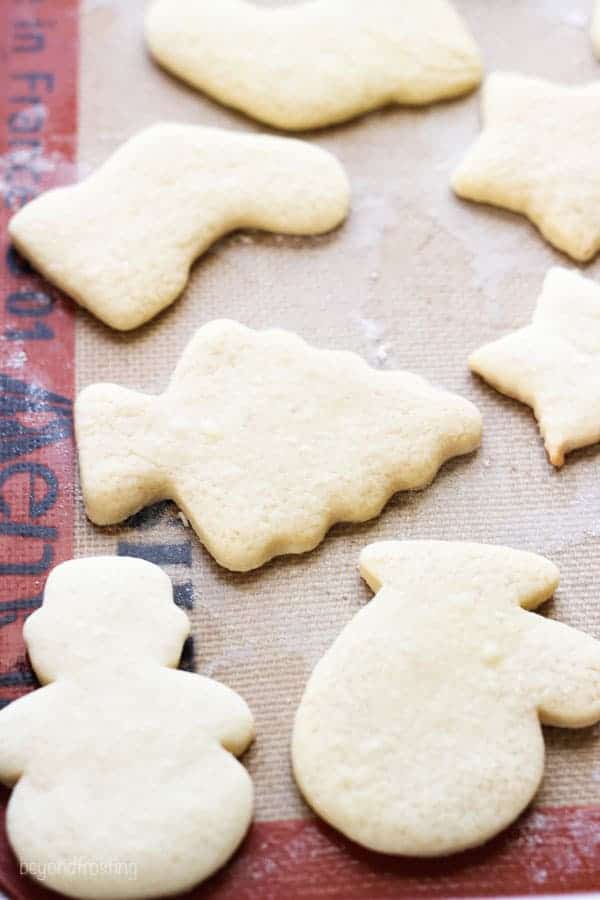 You can decorate them with buttercream or this fun marbled cookie