These Soft and Chewy Brown Butter Chocolate chip cookies are made with a nutty brown butter, chunks of dark chocolate and a touch of sea salt on top. They are perfectly crispy on the edges but soft and chewy in the middle.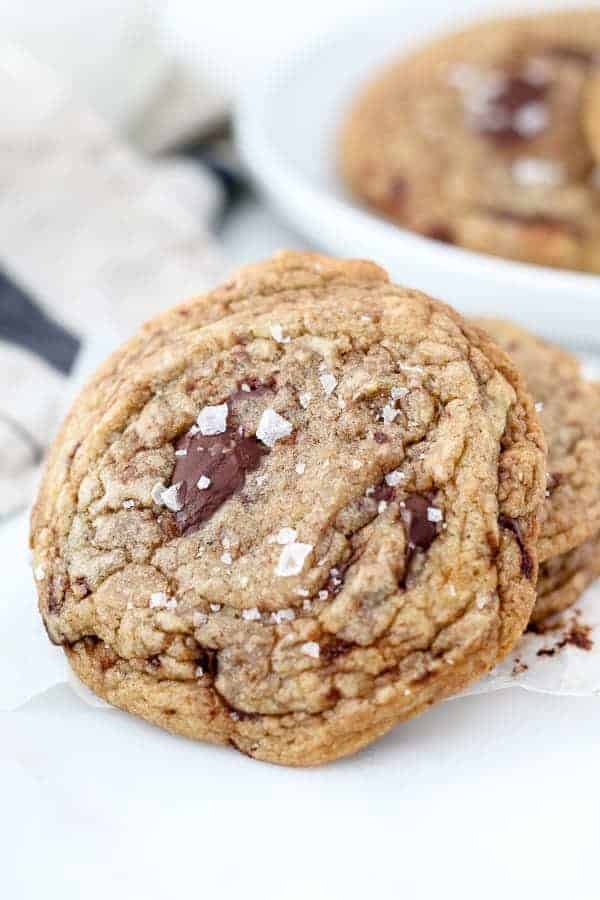 I am very picky about my chocolate chip cookies, and I've eaten plenty of cookies that were just okay. I spent so much time working on my Chocolate Chip Cookie recipe to make sure it was perfect. Now I am trying out new version of the recipe to change it up a bit.
This is the same, quick and easy recipe. The only difference is, this recipe has brown butter instead of melted butter.
The Brown Butter Chocolate Chip Cookies have a bit more of a nutty, richer finish than my regular chocolate chip cookies. The darker you brown the butter, the deeper the flavor will be.
They're slightly crispier around the edges but the center stays nice and soft. The cookies also freeze well, and I just eat them straight out of the freezer. Seriously, it's a problem for my waistline.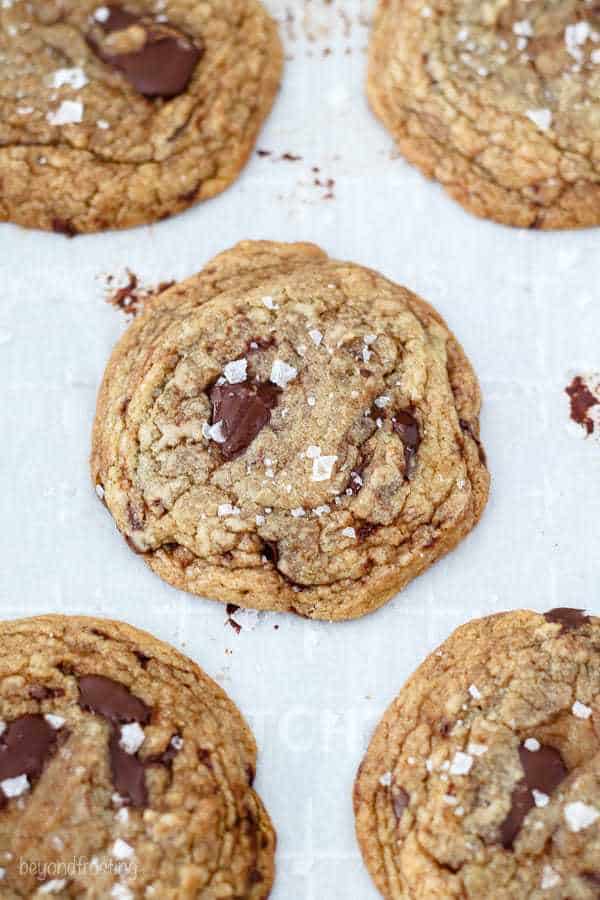 If you're looking for an easy cookie recipe, look no further!
This brown butter chocolate chip cookie doesn't require any time in the refrigerator prior to baking. All you need to do it let the butter cool for a few minutes before adding any of the other ingredients.
I also opted to use chocolate chunks instead of chocolate chips. Although chocolate chips will work just fine, chopping up a chocolate bar also results in lot of little shards of chocolate that get blended throughout the cookie dough.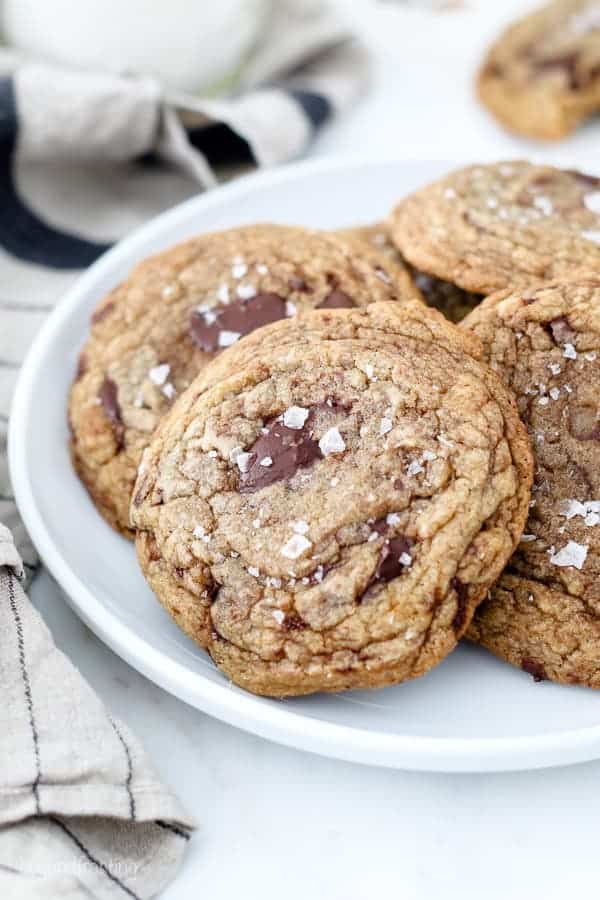 Recently I am loving the one pound dark chocolate bars from Trader Joes. They are nice and thick!
I'm a huge fan of the big pieces of chocolate chunks, I save a few to place on top of the dough before they go into the oven. Then, right when they come out of the oven, I take my knife and brush it over top of the chocolate to smear it over the cookie. I love the way it looks.
Be sure to finish off these cookies with some flakey sea salt. It took me forever to find a sea salt that I like, but this Maldon salt is life changing. I like a really salty cookie myself so I sprinkle some on the cookie before AND after baking.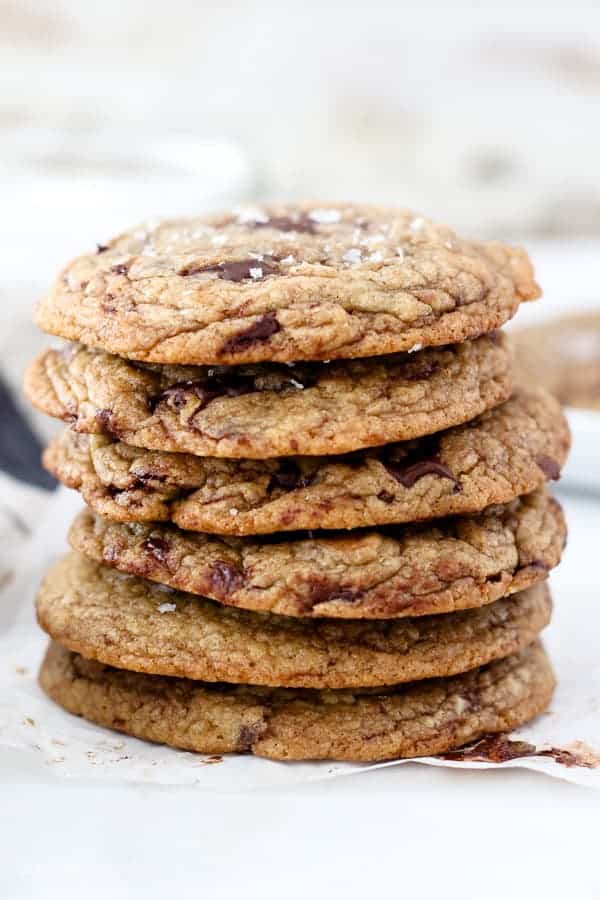 How to brown butter
Let's chat about browning butter for a minute. It's way easier than it sounds.
Simply melt the butter in a shallow saucepan over medium heat. Once the butter reaches a rolling boil, it will continue to boil until you start to see brown flakes in the bottom of the saucepan.
It's important that you stir your butter a lot while browning it. Once you start to see the brown flakes, things move quickly, and you don't want it to burn. Keep stirring until the butter turns a light brown color and releases a nutty aroma.
If the butter turns amber in color, that's okay, but don't let it get too dark and over browned.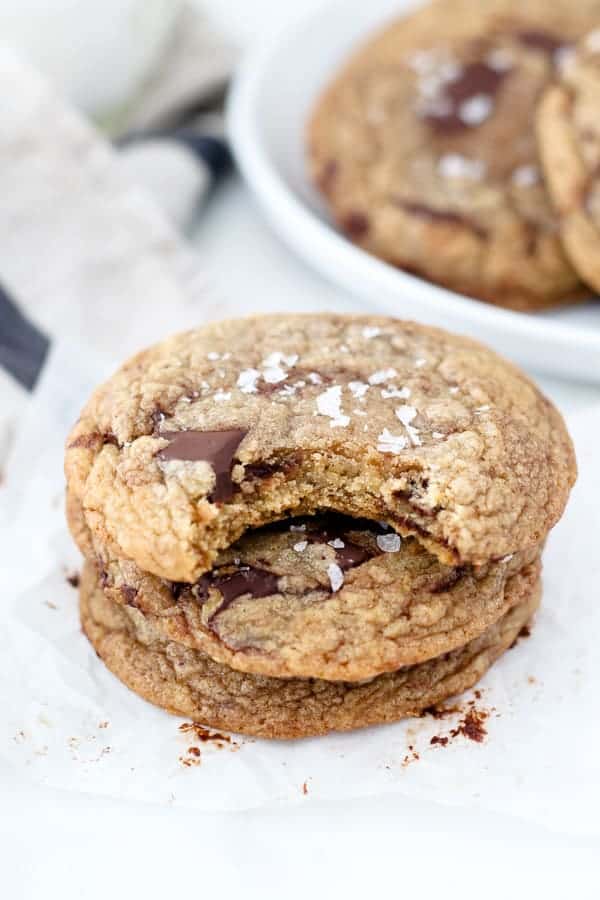 Once the butter is browned, it loses some of the moisture from the butter, which means you still need to add some melted butter to get the full 4 ounces (or ½ cup) of melted butter for the cookie recipe.
Therefore, you will brown a sticker of butter (equal to ½ cup 4 ounces), then you will be adding an additional 2 tablespoons of melted butter when it's time to add the sugars.
I recommend letting the butter cool off a bit before adding any of the other ingredients, if the dough is too warm, the chocolate will start to melt as you mix it in and your cookies will spread more.
The best way to tell if the dough is ready for baking is if you use your cookie scoop to scoop the dough onto the tray, the dough should hold it shape, not wilt or fall.
As always, for the best results, I recommend baking one tray at a time and using a silicone baking mat. Allow the cookies to cool on the mat for 10 minutes before transferring to a wire rack to cool.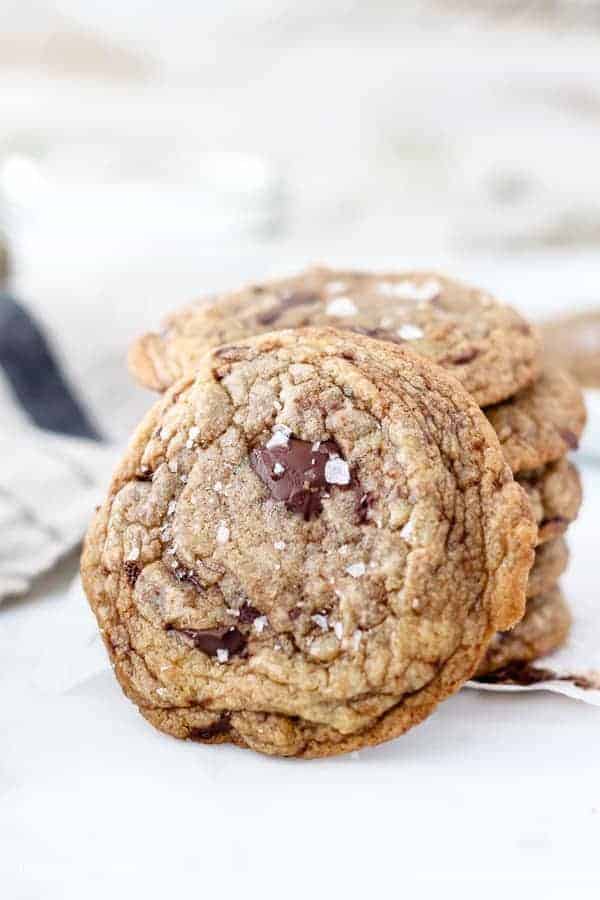 Follow Beyond Frosting:
Facebook | Twitter | Pinterest | Instagram
If you love no-bake recipes, be sure to check out my cookbook, No-Bake Treats!
Don't miss a thing, subscribe to get recipes delivered to your inbox!
Print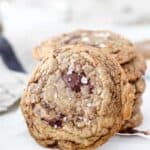 Brown Butter Chocolate Chip Cookies
---
Author:

Prep Time:

20 minutes

Cook Time:

10 minutes

Total Time:

30 minutes

Yield:

10

large cookies

1

x
Description
These Soft and Chewy Brown Butter Chocolate chip cookies are made with a nutty brown butter, chunks of dark chocolate and a touch of sea salt on top. They are perfectly crispy on the edges but soft and chewy in the middle.
---
Ingredients
½ cup

(144g) butter, browned

2 tablespoon

(29g) butter, melted

½ cup

 (55g) packed light brown sugar

¼ cup

 (48g) granulated sugar

1

 large egg

2 teaspoon

s (10ml) pure vanilla extract

1 ¼ cup

s (175g) all-purpose flour

½ teaspoon

 salt

¼ teaspoon

 baking soda

¾ cup

(135g) roughly chopped chocolate
---
Instructions
Preheat the oven to 350° F.
To brown the butter (1/2 cup), use a small saucepan, and cut the butter into pieces. Melt the butter over medium heat and allow it to boil and bubble. Once it's starts boiling, stir it frequently and it will slowly start to turn an amber color and releases a nutty aroma. Remove the butter from the heat and allow it to cool for several minutes.
Melt 2 tablespoons of butter  in a microwave-safe bowl for 15-30 seconds. In a large mixing bowl, combine both the melted and browned butter with the brown and granulated sugar. Beat on medium speed until well combined, 2-3 minutes.
Next add the egg and vanilla extract and continue beating until well incorporated.
In a separate bowl, combine the flour, salt and baking soda. Stir to combine and slowly add the dry ingredients into the dough, mixing on low speed until dough starts to form.
Before the dough thickens, add the chocolate chunks. Beat until incorporated.
Line a baking sheet with parchment paper or use a silicone baking sheet. Scoop the dough using a large cookie scoop and place on baking sheet, 2 inches apart. Sprinkle with flaky sea salt.
Bake for 9-11 minutes. The center of the cookies should be slightly under baked but not too gooey. Allow to cool on the baking sheet for 10 minutes before transferring to a wire rack to cool.
Notes
Right when the cookies come out of the oven, use a knife to flatten out any chocolate chunks on top and give it that smeared chocolate look.
For the chocolate chunks, I like to roughly chop a thick chocolate bar. Pieces should be no larger than a dime
You might also like:
Chewy Oatmeal Chocolate Chip Cookies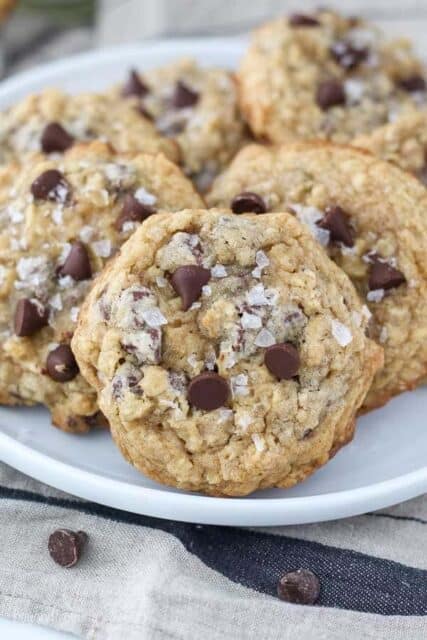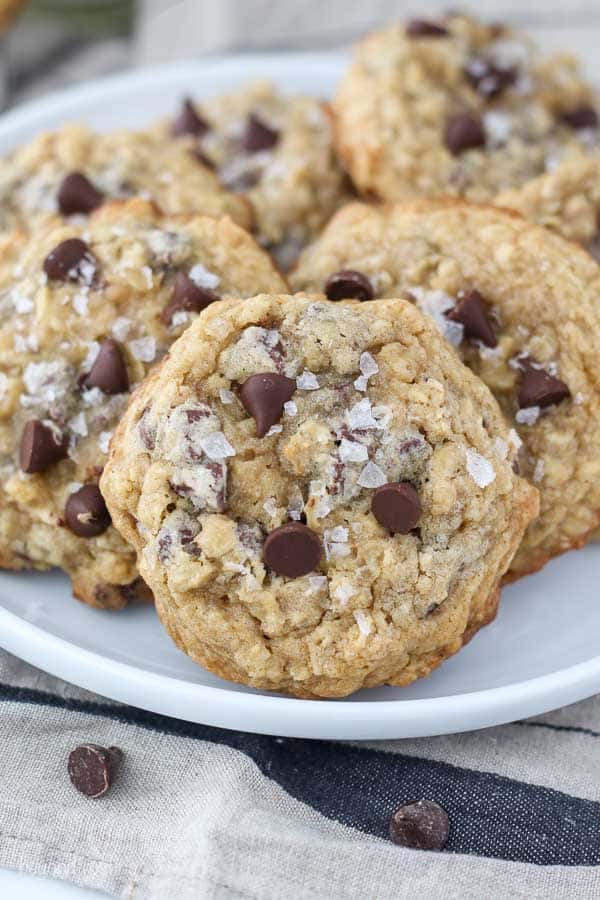 Perfect Soft and Chewy Snickerdoodle Cookie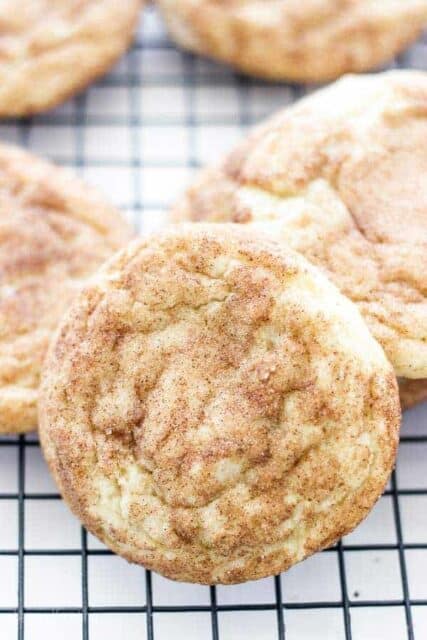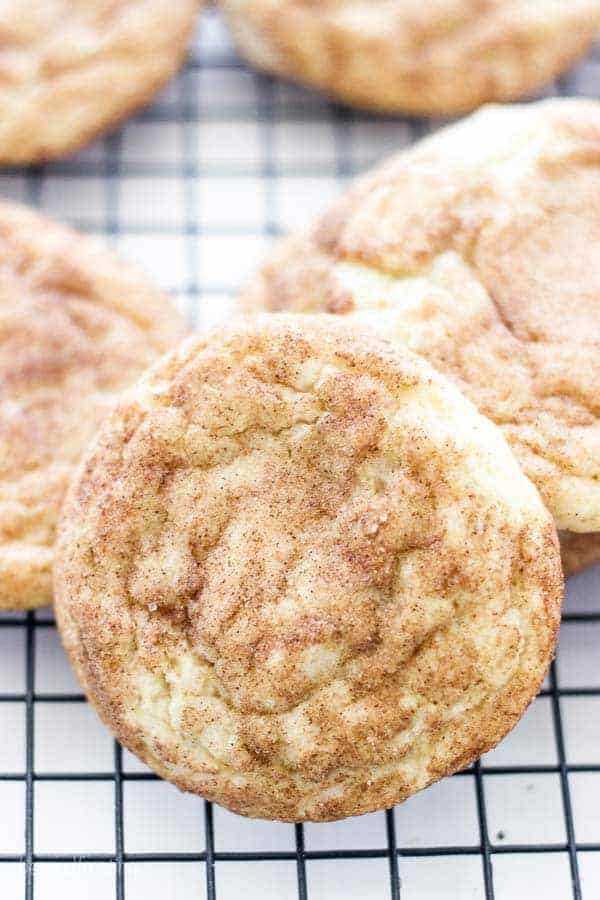 Chocolate Chip Cookie Cupcakes