This post may contain affiliate sales links. Please see my full disclosure policy for details
This Butterfinger Poke Cake is a vanilla cake baked with Butterfinger pieces, soaked in a butterscotch pudding and covered with chocolate whipped cream.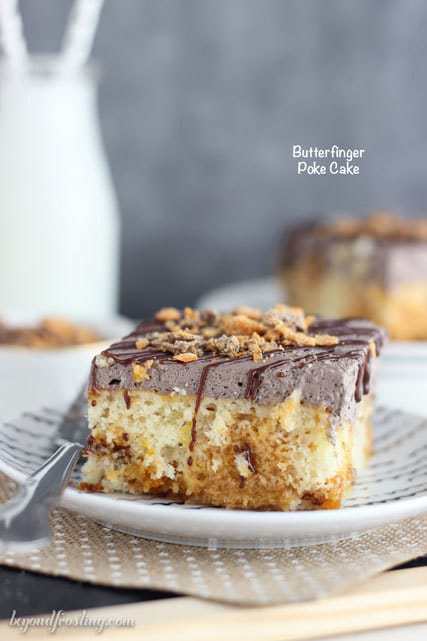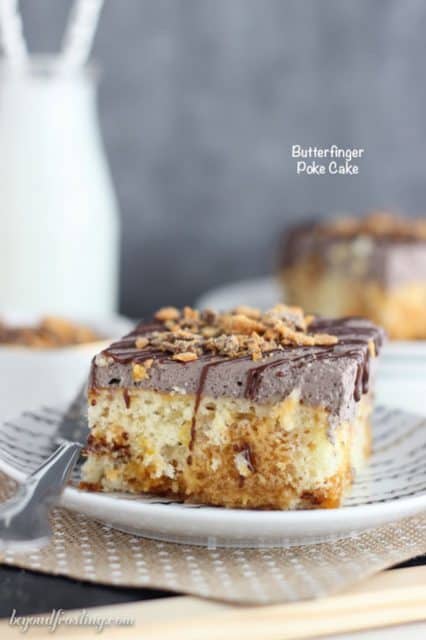 I hope you all had a great Halloween! Yesterday I saw someone posted on Facebook that there are only 7 more weekends until Christmas. It made me feel like I wanted to hide in my bed and never come out! You see, my book manuscript is due right after Christmas and it's freaking me out a little bit! I am in total denial, but that's for another time.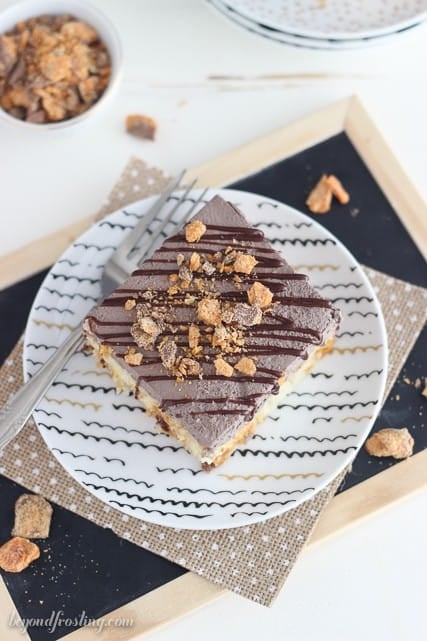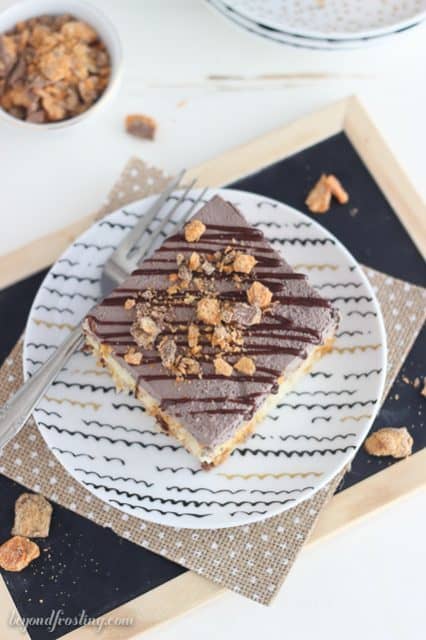 We've been looking forward to Halloween for a couple weeks. Not because of the candy, or the costumes or any of that jazz. We've been on a no-pizza diet for at least a month, but we said we would break our diet for our Halloween tradition, which included scary movies and pizza. All week long we had been talking about pizza. Oh well.
Each year, the number of trick or treaters in our neighborhood grows. To be honest, I thought about not handing out candy this year. I didn't even have time to think about, but my boyfriend insisted we do it. So while I was baking away preparing recipes for my cookbook, he took charge of handing out the candy. I told him I would do it after he reached 10,00 steps on his Fitbit. I thought I was so cleaver.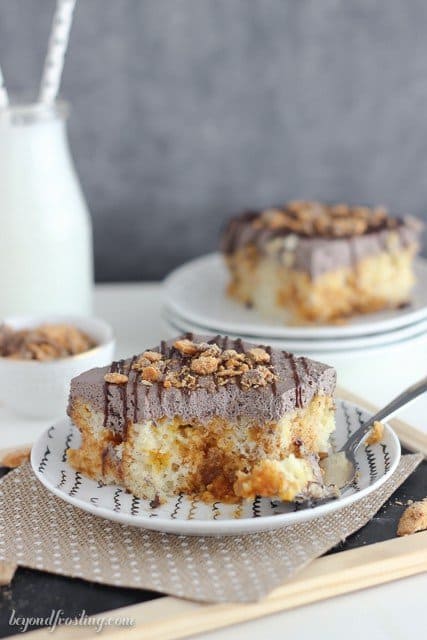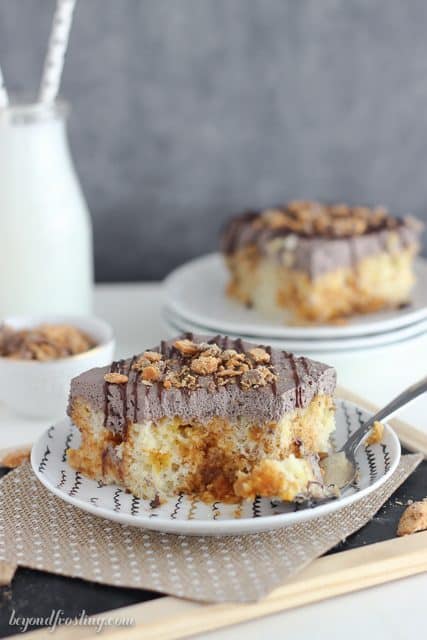 Eventually he got tired of running up and down the stairs, so he took a beer and sat at the bottom of the stairs and waited for each group of trick or treaters to come by. I popped my head around the corner and joined him a couple times in-between batches of whipped cream. Really, I just loved hearing him interact and laugh with all the kids. He pay off was eating all the leftover bags of peanut MnMs.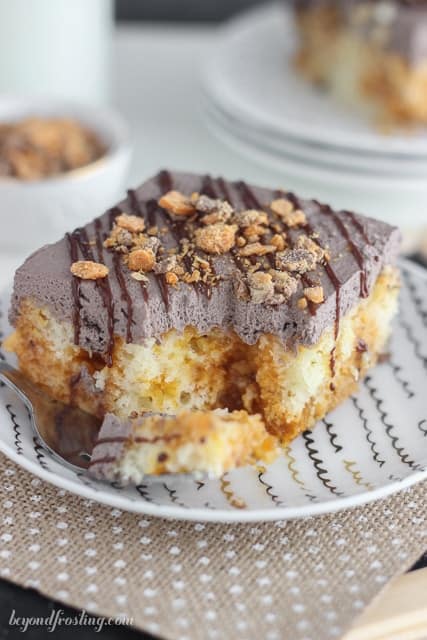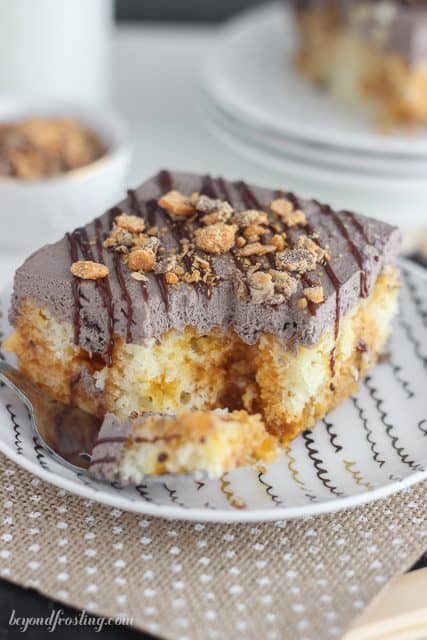 I thought it was a perfect time to share this Butterfinger Poke Cake with you. This cake was one of those ideas that came into my head when I was in the middle of another recipe, looking for an ingredient in my cabinet. I remember I had purchased a bag of Butterfinger Baking Bits and saw it sitting in my cabinet. Boom! Butterfinger cake.
This Butterfinger Poke Cake is a vanilla cake baked with Butterfinger pieces, soaked in a butterscotch pudding and covered with chocolate whipped cream. It is drizzled with chocolate syrup and sprinkled with more Butterfingers.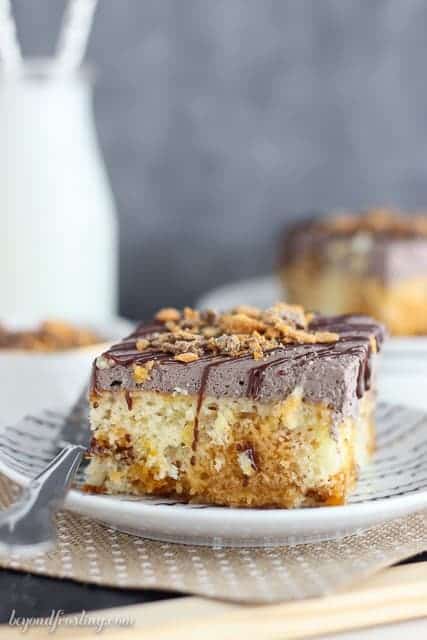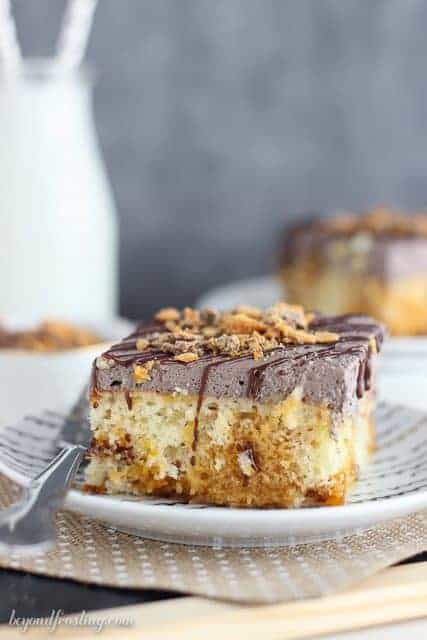 The cake is super easy because I used a cake mix and tossed in some of the baking bits. The Butterfinger bits soften when baked, but still offer a little bit of crunch to the cake. Once the cake had cooled, I poked holes all over the cake and poured butterscotch pudding inside. It's soooo good, but if butterscotch isn't you thing, you might try vanilla or even chocolate pudding.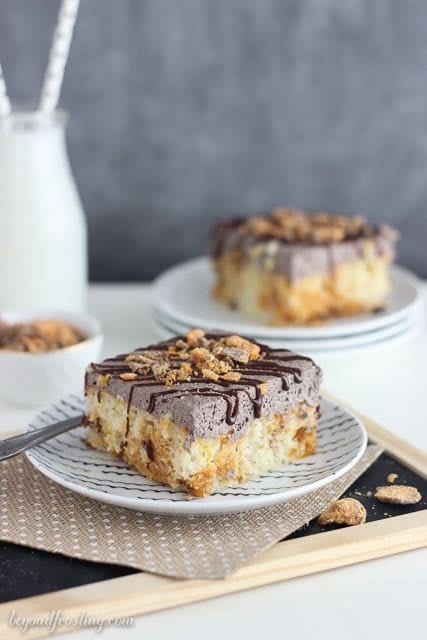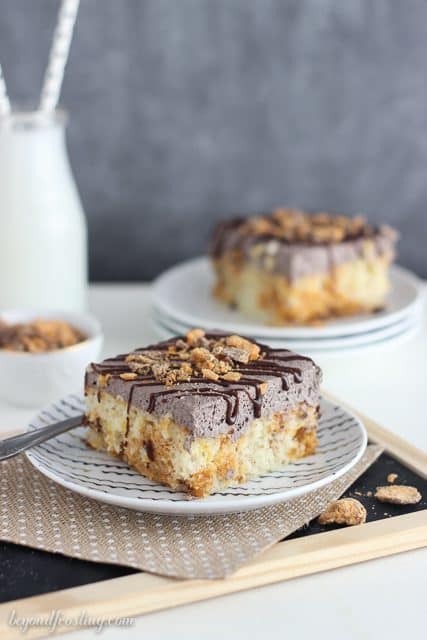 The chocolate whipped cream is very simple. It is best if you pre-freeze your mixing bowl. Beat the heavy cream until it's bubbly and then add cocoa powder and powdered sugar. The cocoa powder helps the whipped cream to be thick and mousse-like. Drizzle the top with hot fudge, sprinkle with additional Butterfinger chips and call it a day. I know you guys needed an excuse to hoard the Butterfingers from your children's Halloween candy right?
Keep up with all the happenings. Follow Beyond Frosting:
Facebook | Twitter | Pinterest | Instagram
Print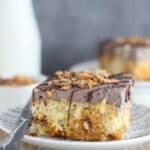 Butterfinger Poke Cake
Author:

Prep Time:

10 mins

Cook Time:

20 mins

Total Time:

30 minutes

Yield:

12-15 slices
Description
This Butterfinger Poke Cake is a vanilla cake baked with Butterfinger pieces, soaked in a butterscotch pudding and covered with chocolate whipped cream.
Ingredients
1

box Vanilla cake mix
Ingredients on the box: eggs, water, oil

½

C Butterfinger baking bits

1

pkg Butterscoth pudding (

3.4oz

)

1 ¾

C Milk

1 ¾

C Heavy whipping cream

½

C Powdered sugar

2 tbsp

Cocoa powder
Hot fudge for drizzling

¼

C Butterfinger baking bits
Instructions
Preheat oven to 350°F.
Prepare cake according to the instructions and ingredients listed on the box. Beat on medium speed until well combined, add Butterfinger bits and fold into batter. Pour batter into a 9 inch by 13 inch pan.
Bake cake for 20-22 minutes. Check for doneness by inserting a toothpick into the middle of the cake. If the toothpick comes out clean, your cake is done. Remove from oven and allow to cool for 10 minutes.
While the cake is still warm, take the end of a wooden spoon or another round object and poke holes all over the top of your cake. Allow to cool for another 20 minutes.
Prepare the pudding filling by combining pudding mix with milk and whisk until the pudding is dissolved. Pour pudding over top of cake, filling the holes. Refrigerate at least 10 minutes until the pudding is firm.
Put your mixing bowl and wire whisk in the freezer to help it get very cold. This is optional, but something I usually do.
Combine heavy cream and beat on medium speed until heavy cream is bubbly. Slowly added powdered sugar, followed by cocoa powder and beat until still peaks form. Spread over cooled cake. Drizzle with hot fudge sauce and sprinkle with additional Butterfinger bits.
Other recipes you might like:
Butterfinger Frosting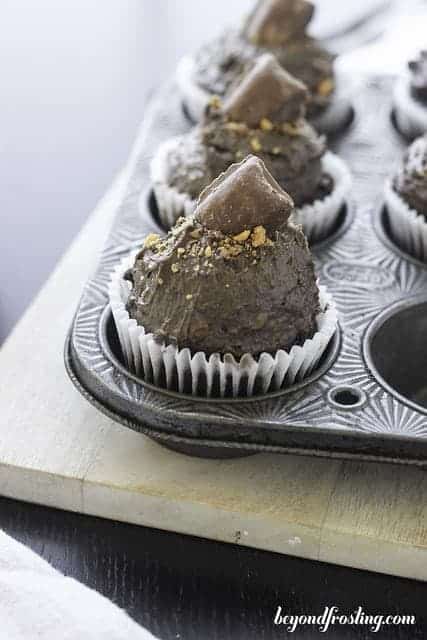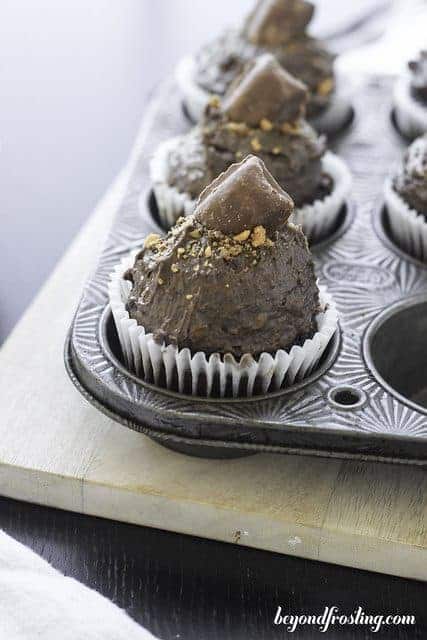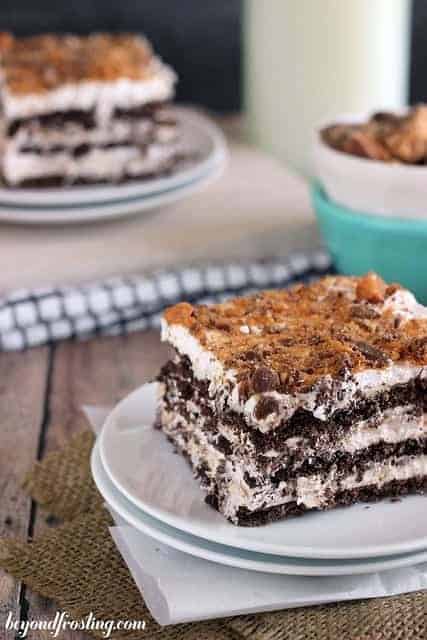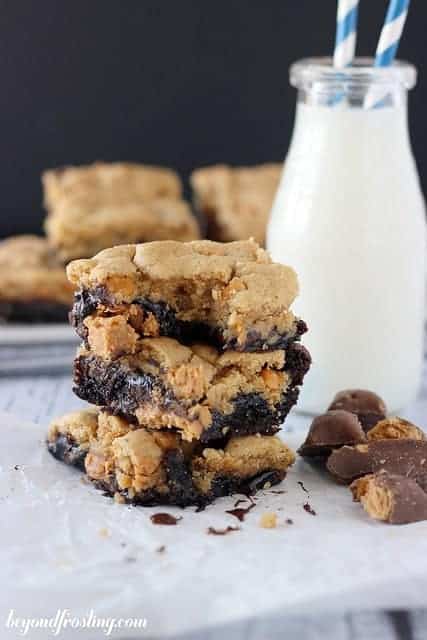 Butterfinger Pudding Pops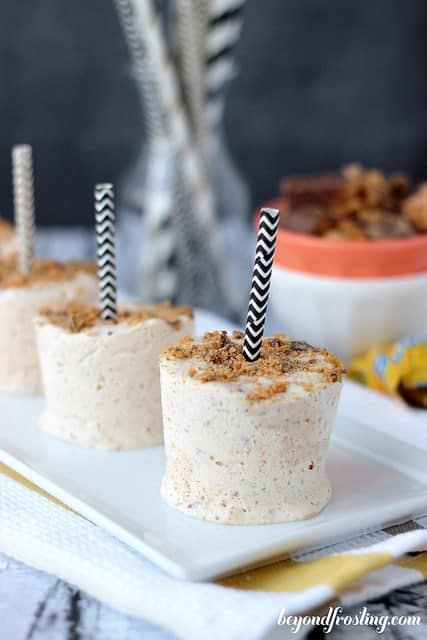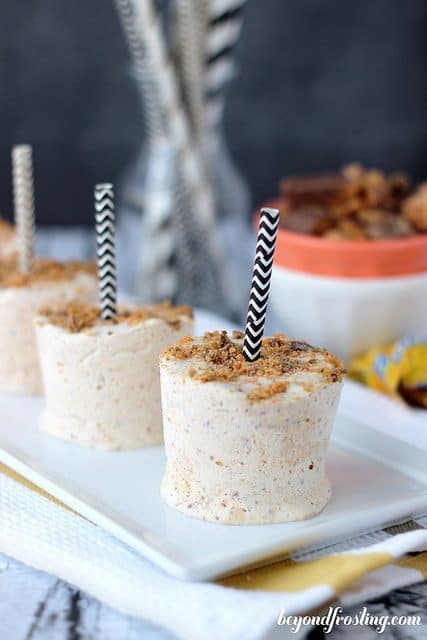 Love Butterfingers? Check these out!
Butterfinger Lush from Spicy Southern Kitchen
Gooey Butterfinger Bars from The Gunny Sack
Butterfinger Fudge from Chocolate Chocolate and More