This post may contain affiliate sales links. Please see my full disclosure policy for details
This Cherry Chocolate Chip Poke Cake is a sweet cherry cake with chocolate chips, soaked in sweetened condensed milk and topped with whipped cream and chocolate sauce.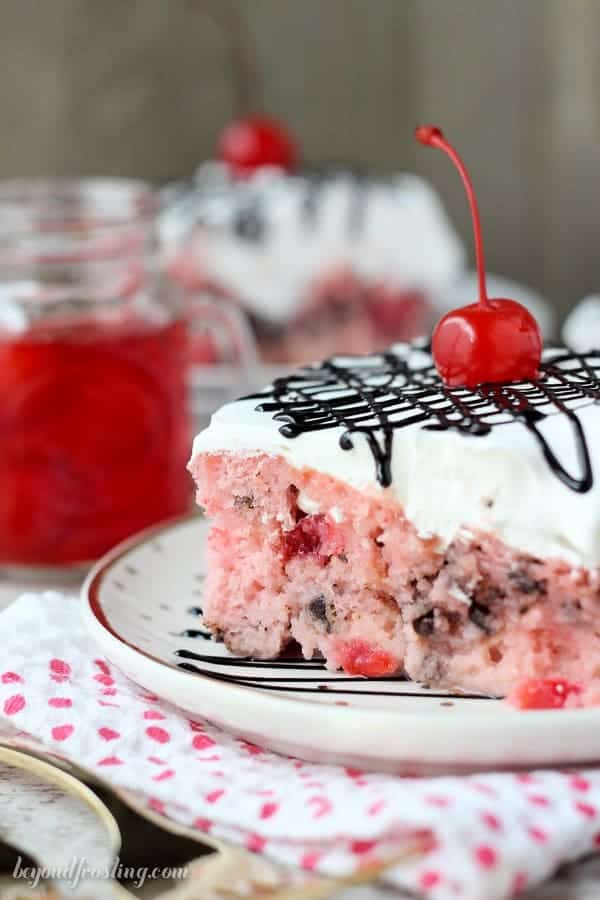 I've had the craziest week and half and just when things need to start getting back to normal I came down with a cold and nobody's got time for that! It's been slowly making it's way around our office and I've been trying my best to escape it but with all the traveling I've been doing it is bound to happen. Tell me your best cold remedies!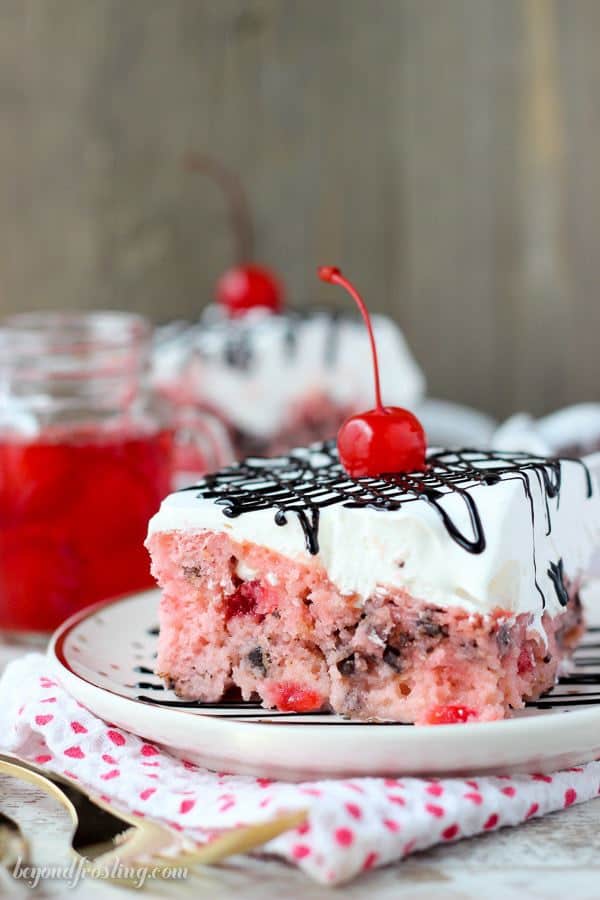 Enough about my boring cold, let's talk cake!
Do you call these cakes poke? Whenever I tell someone they are eating a poke cake, they never seem to know what I'm talking about. I too didn't really know what a poke cake was before I started my food blog. Seriously though, these cakes are always a hit and usually super easy to make. Plus the flavor combinations are endless.
This Cherry Chocolate Chip Poke Cake is not a very common flavor for me. I don't always consider myself a cherry girl, but if done in the right away, I will gobble it up. This is exactly what happened when I made this cake.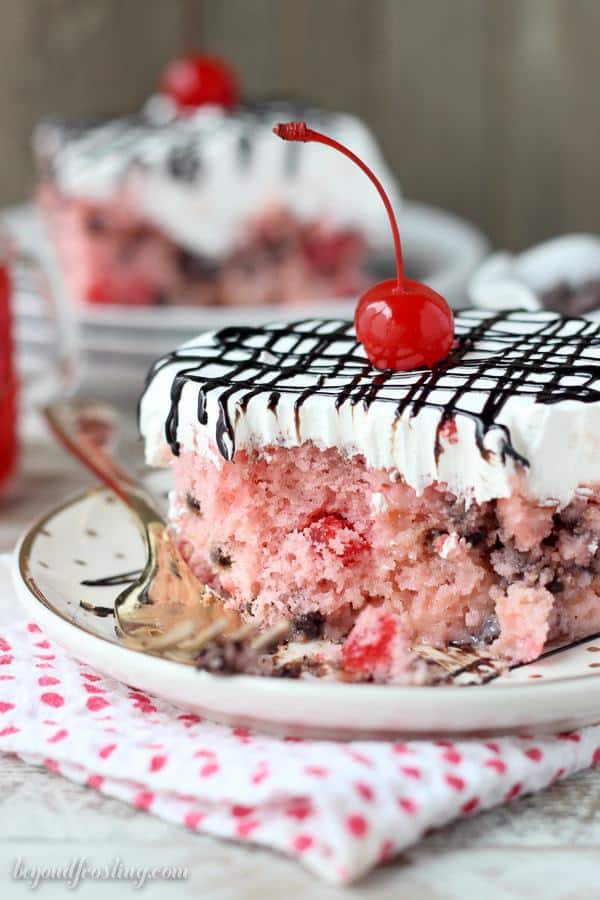 For this cake, you'll reach for your trusted cake mix and substitute some of the water (or milk) for maraschino cherry juice. I had a 10 ounces jar of cherries and got about a half cup of juice from it. If you prefer to make a homemade version of this cake, you could try using the same method I did, replacing some of liquid with the cherry juice.
I usually prefer to use almond as a flavor compliment to the cherry; they pair very nicely together. The almond tends to mask some of the overly sweet notes that cherries can have. For this cake, I used a touch of almond extract. I also used egg whites instead of whole eggs to keep this cake more fluffy.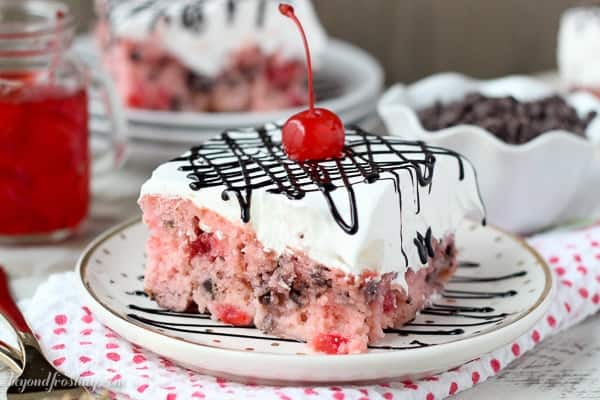 This cake needs a little chocolate, so I added some mini chocolate chips and chopped cherries to give the cake some texture. I do recommend using regular chocolate chips instead of regular because the minis tend not to sink to the bottom as much. I also lightly coat them in flour, which helps prevent them from falling.
When it came time decide what filling to pour over my cake, I chose the traditional sweetened condensed milk. This is the best option to let the flavors of the cake shine through.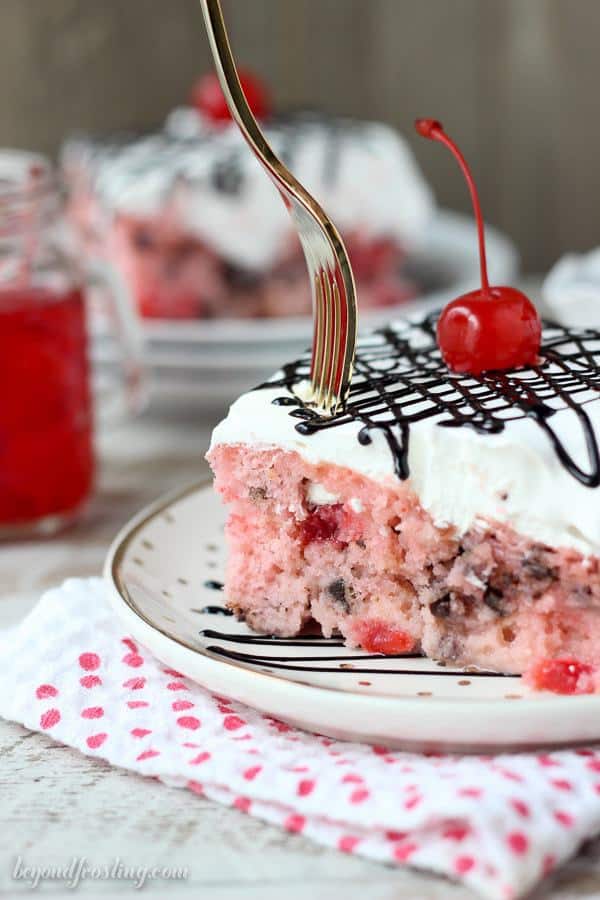 For convenience purposes, I went with a Cool Whip topping, but you could certainly make a homemade whipped cream. I suggest using a combination of 1 1/4 cups heavy whipping cream and 1/2 cup of powdered sugar. Once you add the whipped topping, drizzle some hot fudge and put some extra cherries on top and call it a day.
We all need a little more cake in our lives, am I right?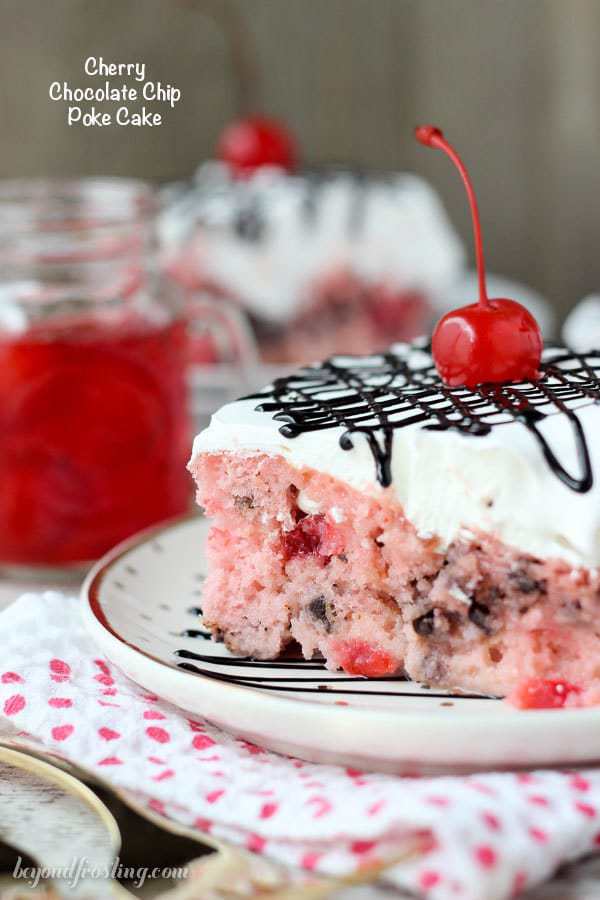 Follow Beyond Frosting:
Facebook | Twitter | Pinterest | Instagram
If you love no-bake recipes, be sure to check out my cookbook, No-Bake Treats!
This recipe originally appeared on Food Fanatic
You might also like:
Cherry Almond Funfetti Cupcakes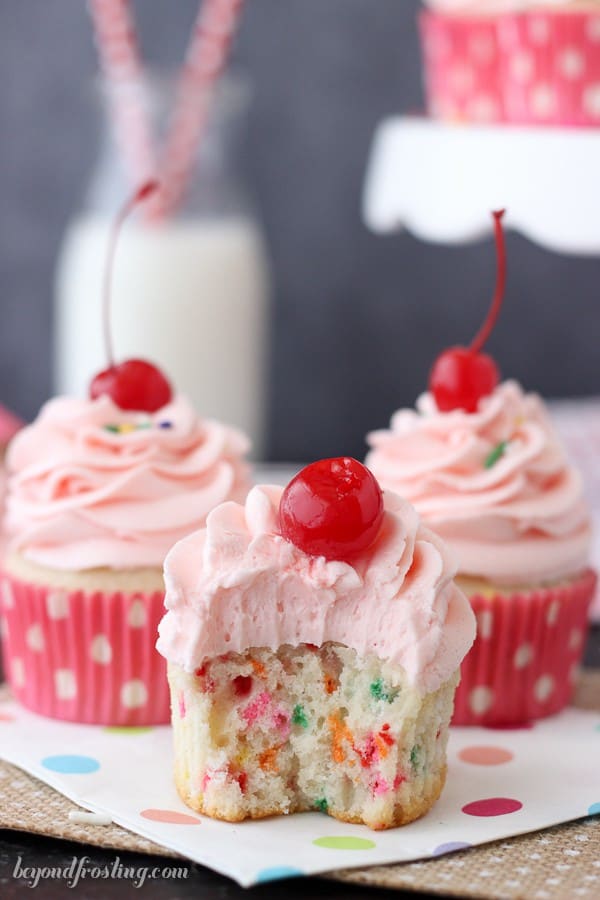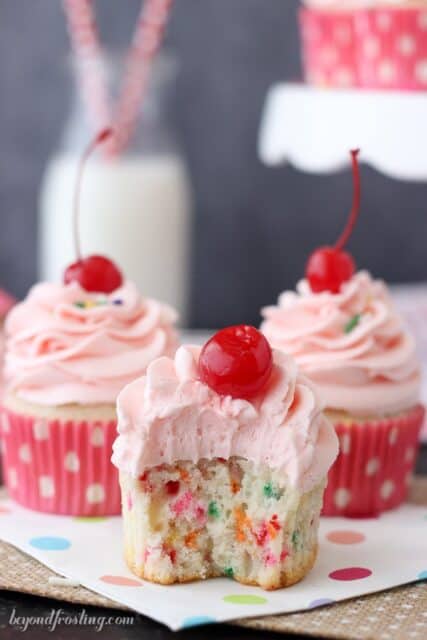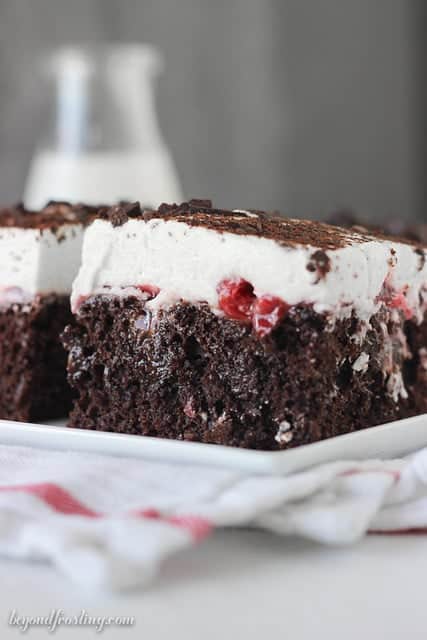 Strawberry Cheesecake Poke Cake