This post may contain affiliate sales links. Please see my full disclosure policy for details
These Easy Strawberry Marshmallow Popsicles are the perfect dessert to make with your kids this summer. They taste just like a strawberry cheesecake and are topped with a graham cracker crust.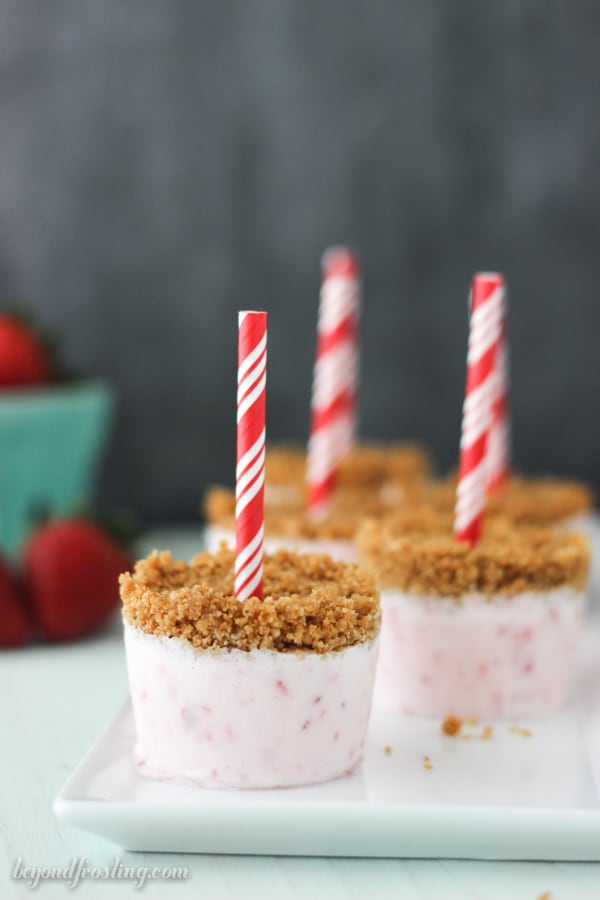 Disclosure:I have partnered with Kraft Jet-Puffed Marshmallows to bring you this post today. All opinions are 100% my own. I love Marshmallows, what can I say?
Every summer when we were growing up, we used to make popsicles. There were weeks during the summer where the weather in Vermont would be in the 90s with high humidity. It can be unbearable! We did everything we could to stay cool, and part of that meant eating as much ice cream and popsicles as possible! I am already thinking about what treats I can make to stay cool on those warm days this summer.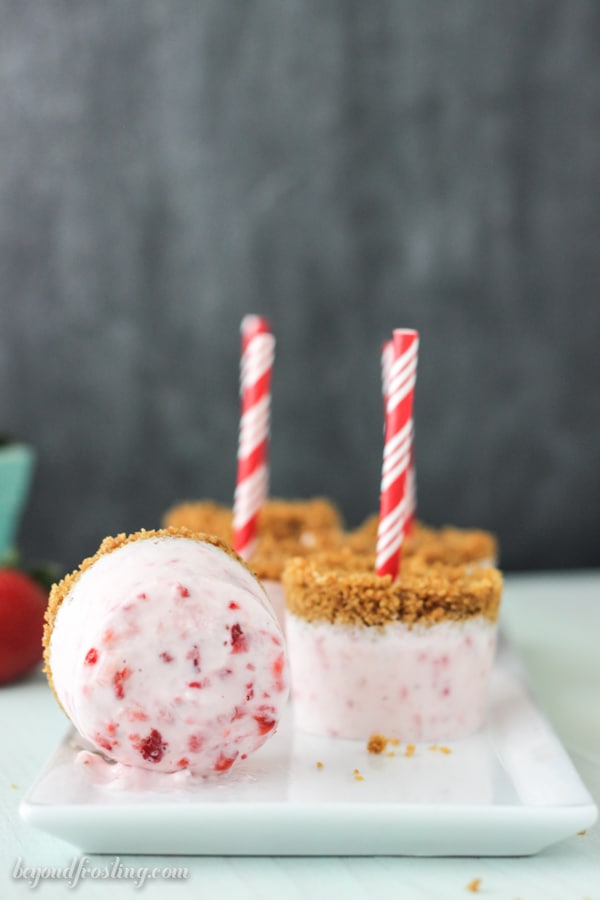 I am SO excited to tell you guys that I am partnering with JET-PUFFED Marshmallows to bring you a few delicious recipes this year. I mean, you must know by now just how MANY batches of Rice Krispie Treats we go through in my house. It is awesome to play around with the different JET-PUFFED flavors and products to see what recipes I can create!
I still love making popsicles! It's so fun to create different flavors that suite my taste buds. These Easy Strawberry Marshmallow Popsicles are perfect for adults and kids! They are filled with fresh strawberries, cream cheese and JET-PUFFED Marshmallow Creme. The combination is so smooth that it just melts away in your mouth! It reminds me a cheesecake topped with strawberries and whipped cream.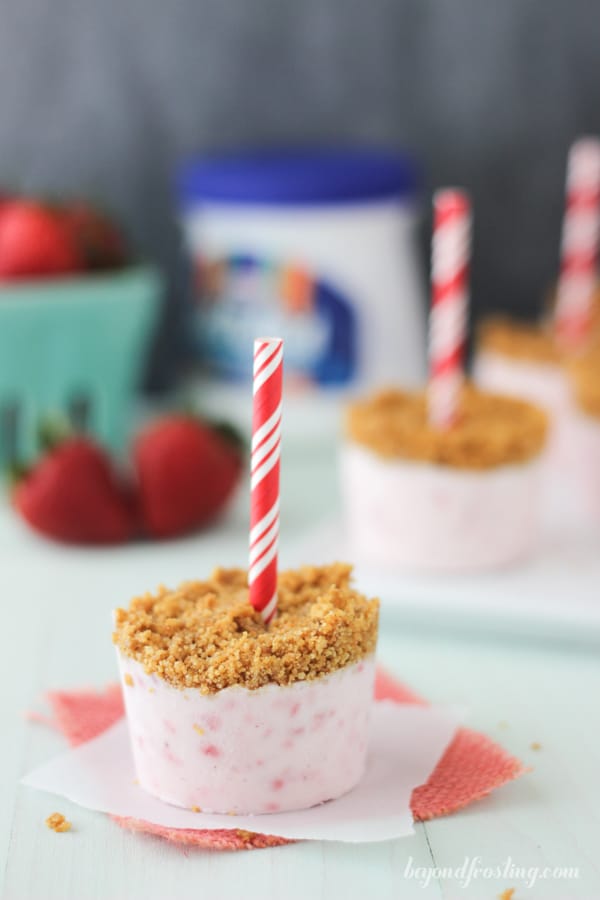 When I was younger, my mom would make us all sort of popsicles with different flavors. Some of my favorite memories as a child involved my mom and I together in the kitchen. Sometimes she would make them in ice cube trays or popsicle molds and sometimes we would make them in paper cups.
I find that paper cups are the easiest way to make popsicles. First of all, you can control the portions in the paper cups. Secondly, once frozen, the paper cups peel away from the popsicle very easily. Plus, you don't need any specific size cup in order to make the recipe; you can use whatever you have laying around.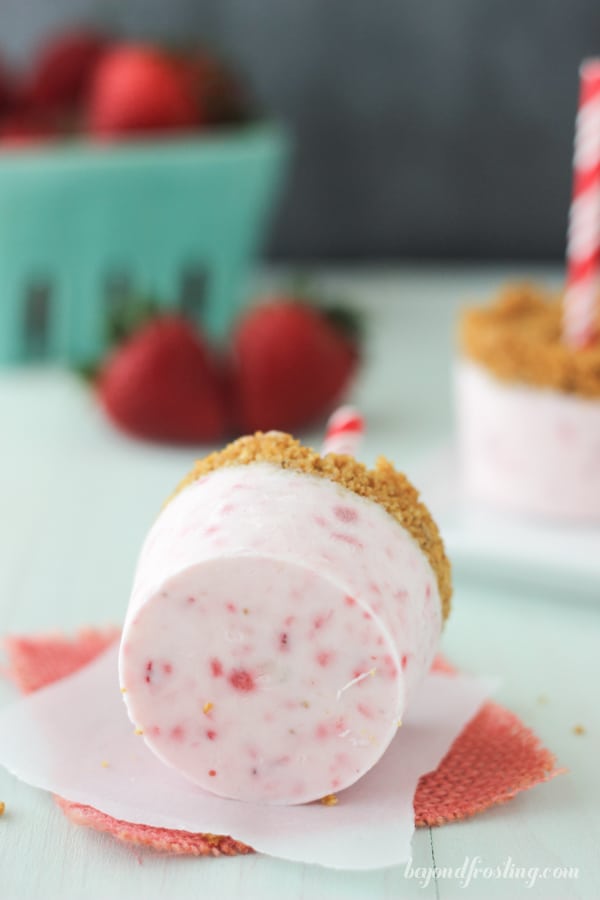 Now for these popsicles, you just need a few very simple ingredients and a mixer to make the filling. First, you should beat the cream cheese until it is nice and smooth, and scrape down the sides of your bowl a couple times. This will help prevent lumps in your popsicles!
Once you add in the marshmallow creme, you can mix it for a couple minutes to be sure everything is well combined with the cream cheese. Again, this helps create a nice smooth and even flavor for your popsicles! Since these are a little thicker than a traditional popsicle, they don't melt as quickly, so they are less messy!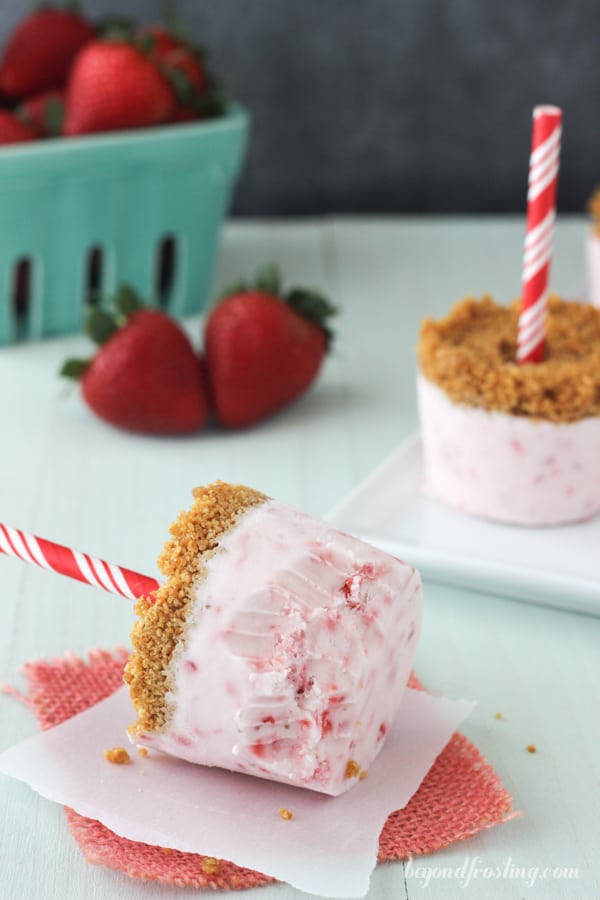 Last and most important are the strawberries! Last week, I posted a No-Bake Strawberry Marshmallow Pie. In that post, I talked about the importance of washing and drying the strawberries. The more liquid in the batter, the thinner it will be. So I usually wash and dry the strawberries with a paper towel. Then I use a small food processor to chop them into small pieces. However, you don't need a food processor for this! You can also chop your strawberries into small pieces with a sharp knife. It is less messy and less dishes, that's for sure!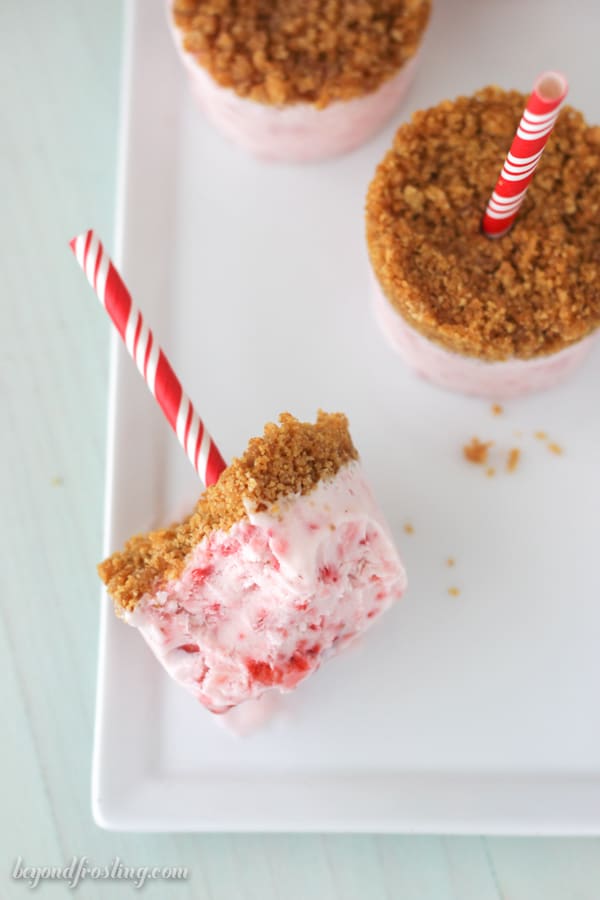 I like the idea of a little bit of crust on these popsicles since the filling reminds me of a strawberry cheesecake. So for the crust, I just mixed together some graham cracker crumbs and a little bit of butter and spooned it on top of (which is actually the bottom) of the popsicles. Again, the food processor is helpful, but not necessarily needed to chop the graham crackers into crumbs. Sometimes I just use a rolling pin and a Ziploc bag! I used paper straws that I cut in half instead of popsicles sticks. For younger children, I would suggest to use popsicles sticks. Usually you will find these at a craft store, Walmart or Target, or you can buy online!
Now if you don't have access to fresh strawberries, try substituting you favorite fruit. The base ingredients for these popsicles are so delicious that it can easily be adapted. Summer is coming; don't forget to save this recipe for later!
Connect with JET-PUFFED!
Facebook | Twitter | Pinterest | Instagram | Google+
Print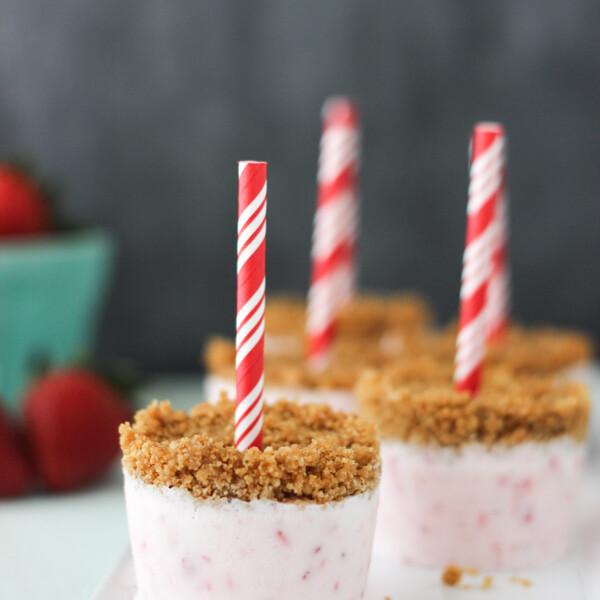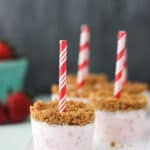 Easy Strawberry Marshmallow Popsicles
Author:

Prep Time:

10 mins

Cook Time:

4 hours

Total Time:

4 hours 10 minutes

Yield:

8 servings
Description
These Easy Strawberry Marshmallow Popsicles are the perfect dessert to make with your kids this summer. They taste just like a strawberry cheesecake and are topped with a graham cracker crust.
Ingredients
8 oz

Cream cheese

7 oz

JET-PUFFED Marshmallow creme

¼

C Milk

¾

C Strawberries, chopped or pureed

1

C Graham crackers

2 tbsp

Butter
Disposable paper cups
Popsicles sticks
Instructions
Beat cream cheese on medium- high speed for 2-3 minutes until smooth. Scrape down the bowl occasionally. Beat until there are no lumps left in the cream cheese.
Add Jet-Puffed Marshmallow creme into the bowl with the cream cheese. Beat until the two ingredients are well combined and smooth 1-2 minutes.
Slowly pour milk into mixing bowl and mix on low speed until incorporated into the batter.
Wash and dry strawberries (suggest to use a paper towel). Cut of the stems of the strawberries and chop into tiny pieces, or use a food processor to blend only until tiny piece remain.
Divide the batter evenly between the paper cups. You can make 4-6 depending on how much batter you want.
Use a food processor (or a Ziploc bag with a rolling pin) to crush graham crackers into crumbs. Pour into a microwave-safe bowl.
Add butter to microwave safe bowl. Microwave 30-60 seconds until butter is melted. Stir graham crackers until well coated in butter.
Spoon graham cracker crumbs into each cup. Stick a popsicle stick in the middle of the cup and freeze for 2-4 hours.
To serve, cut the top of the cup with a pair of scissors and then rip the side away until popsicle is exposed.
Category:

Dessert

Method:

No-Bake

Cuisine:

American
Keywords: homemade popsicles, strawberry popsicles, fruit popsicles