This post may contain affiliate sales links. Please see my full disclosure policy for details
Triple Funfetti Cream Pie Cupcakes are the best funfetii cupcakes you'll ever eat. It starts with a vanilla funfetti cupcakes, then it's filled with an easy vanilla mousse. Finally it's topped with a batch of cake batter whipped cream.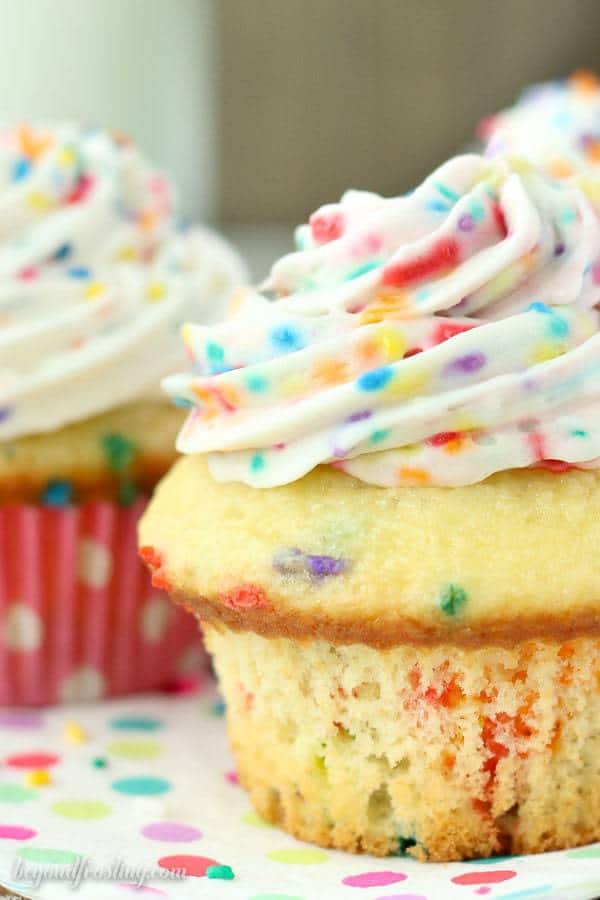 Guys, something amazing happened. Last week I put on a pair of jeans for the first time in err, 4 years? That sounds a little extreme, because I have tried on my previously owned jeans, but only to decide if I was keeping them or throwing them away. And by keeping them, I mean in the event that I ever wore jeans again.
Here is where I am going to share my story with you. So if you're just here for the cupcakes, that's cool. Scroll past this next part, mmkay?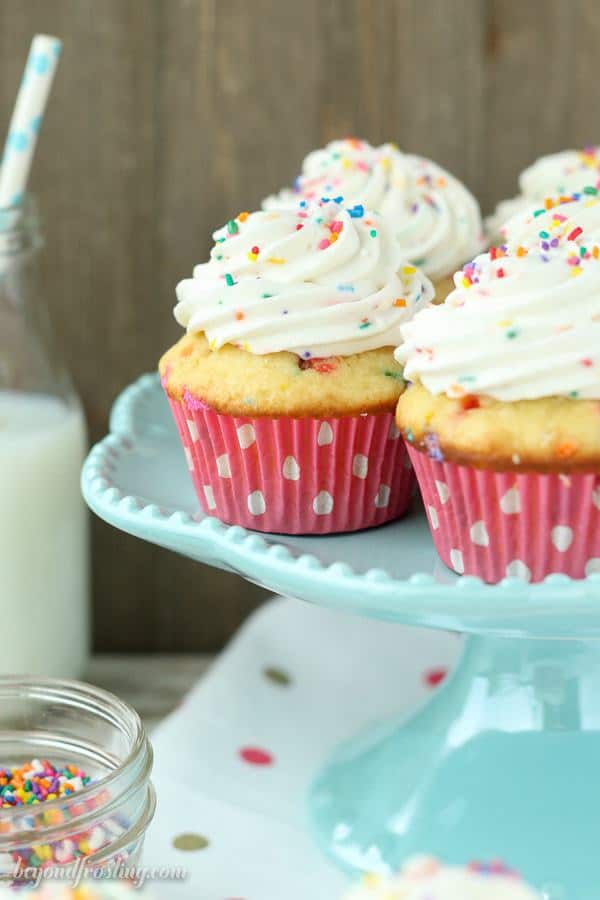 Let me explain a little bit. It started years ago when I went through a major weight loss journey. At my smallest, I was 125 lbs, and my whole wardrobe completely changed. I could actually shop at real stores!
Fast-forward a few years when I started my relationship and soon to follow, this here dessert blog. That combined with a slowing metabolism as I aged out of my twenties, and I've found 20 pounds have crept up on me.
Well after years of politely suggesting that I wear something other than my beloved black leggings (the one's I've built my wardrobe around), my kind-hearted fiancé finally nudged me to at least try wearing jeans again. This stuck some very emotional cords in me, there were even tears.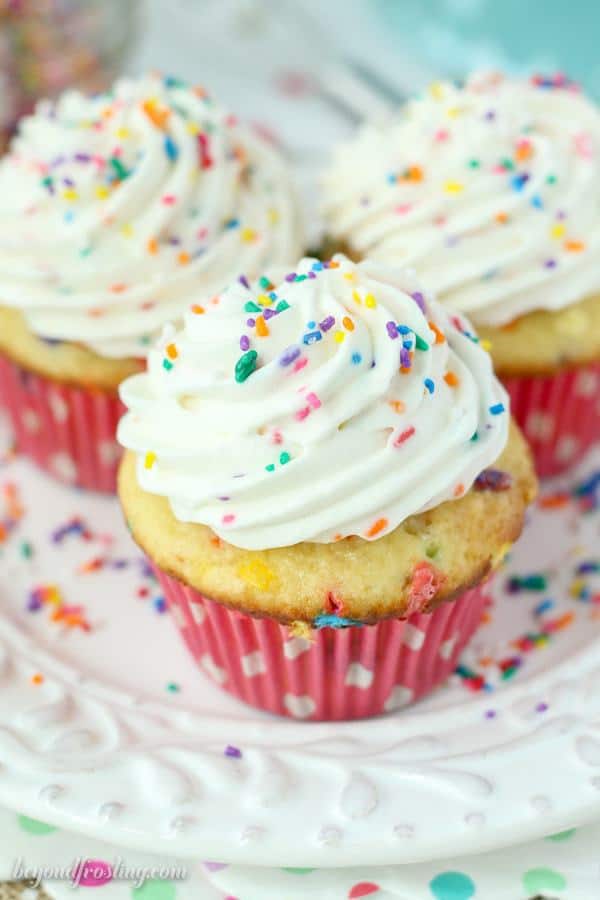 Every woman knows about the tire. The tire that sits above your pants, the one that draws eyes in every time you look in the mirror. It seems like it's never going away. Even though I am 80 pounds lighter than I was at my heaviest, it certainly does not mean that I don't live with those emotional scars.
So last week while I attending the conference, my bestie also nudged me to give it a try. I packed one pair of jeans to try and I wore them on the first day of the conference. Guys, it was SO liberating. I couldn't believe that I could actually make it work, I felt like I fit it that much more because I wasn't hiding behind my leggings.
So being the wonderful friend that she is, Lindsay took me jean shopping and let me try on every pair she brought with her so I could see what I did and did not like. Turns out I bought two pairs at Macys from the brand Kut from the Kloth, one that she was introduced to through Stitch Fix.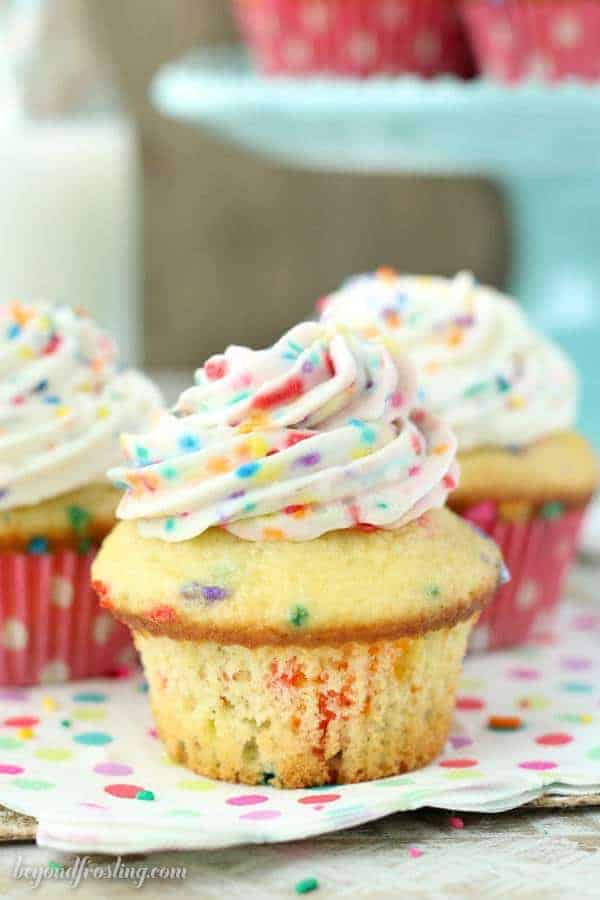 Today I wore jeans to work for the first time. I'm going to continue to try to find outfits that I can feel comfortable in, and try not to focus on my imperfections. I will try not to ask myself if I look too fat in this outfit. I will try to focus on how toned my muscles have become and celebrate how far I've come with my consistent workout routine. I will try and celebrate my successes because we don't do that often enough.
I know it's hard to talk about cupcakes after I just poured out my heart to you, but I think everyone needs a little funfetti in their lives, so I'm here to help.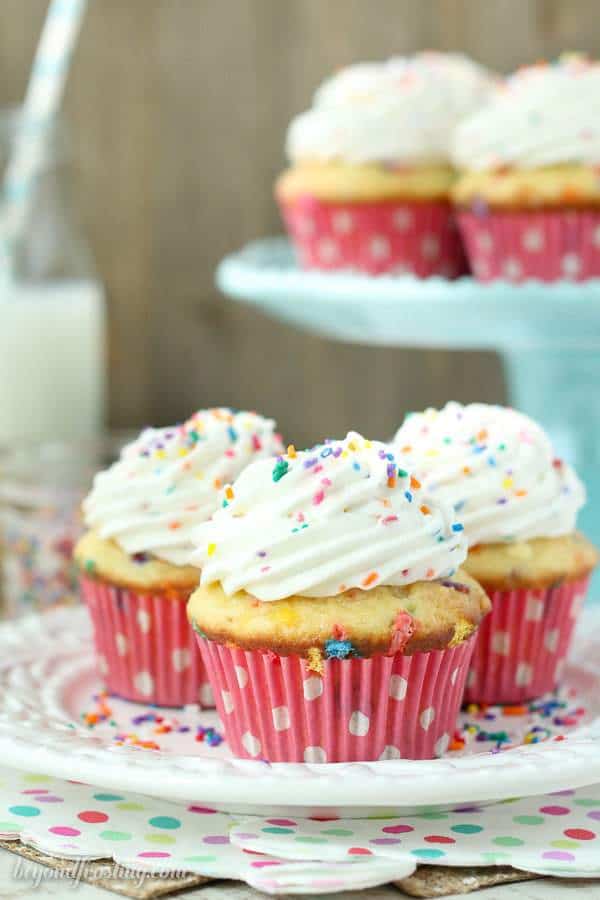 These Funfetti Cream Pie Cupcakes are triple the funfetti. First the obvious, vanilla funfetti cupcakes, next, the filling, which is an easy vanilla Mousse. Finally it's topped with a batch of cake batter whipped cream. If you've been following me for any amount of time, you know that I'm a huge fan of that whipped cream.
I've done quite a few of these cream pie cupcakes, because I just love the combination of the cake, the filling and the whipped topping. It's a surprise every time you take a bite.
The mousse is so good you can just eat it with a spoon. It's made with vanilla pudding and cake batter whipped cream. It's a win win here.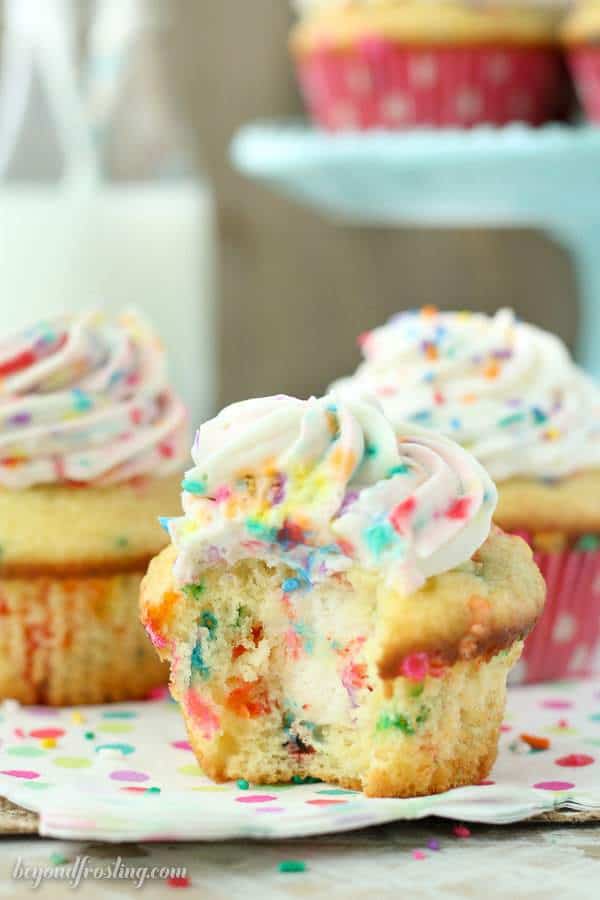 There are a couple things I want to tell you about the whipped cream. You can either mix the sprinkles into the whipped cream or just sprinkle them on top. You can see that if you add them to the whipped cream, eventually the coating may start to "bleed" into your whipped cream, so it will start to look a little tie dye. Personally I prefer to add the sprinkles on top so that whipped cream stays a bit more white.
I recommend preparing the cake batter whipped cream for the filling separately from the whipped cream you need for the frosting. I always prefer to add the frosting as close to the serving time as possible. However, if you need to prepare these a night in advance, that's fine too.
Cupcakes are my favorite, but I have to enjoy them in moderation if I want to keep fitting in my wonderful new jeans. So take an extra bite for me.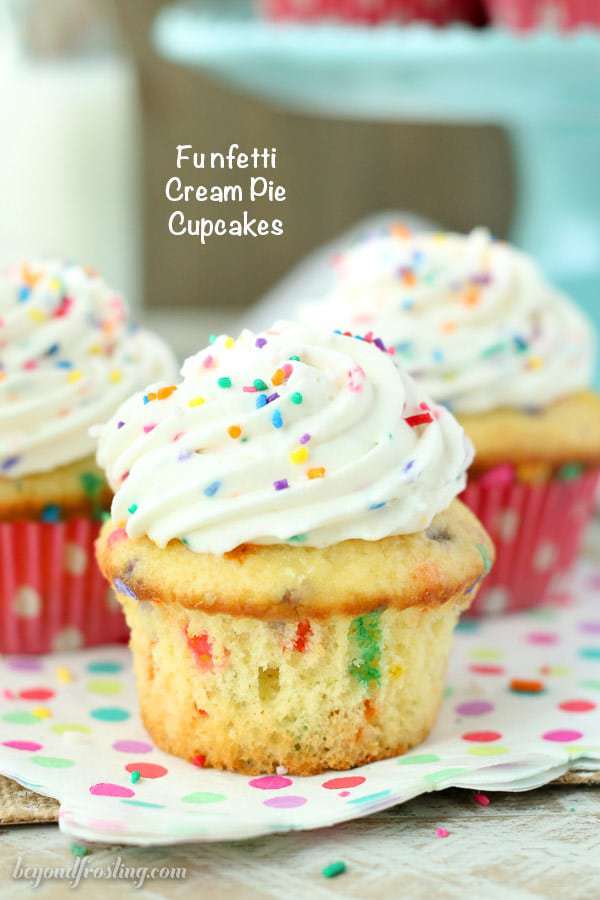 Follow Beyond Frosting:
Facebook | Twitter | Pinterest | Instagram
If you love no-bake recipes, be sure to check out my cookbook, No-Bake Treats!
Print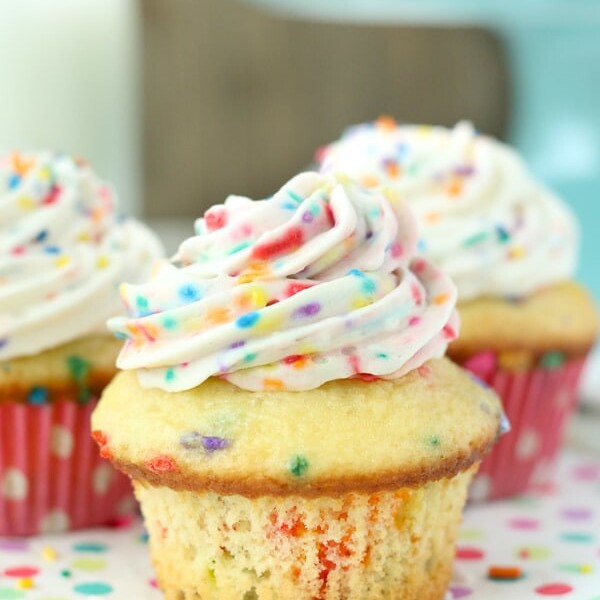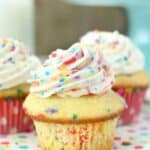 Funfetti Cream Pie Cupcakes
Author:

Prep Time:

20 mins

Cook Time:

16 mins

Total Time:

36 minutes

Yield:

16 cupcakes
Description
Triple Funfetti Cream Pie Cupcakes are the best funfetii cupcakes you'll ever eat. It starts with a vanilla funfetti cupcakes, then it's filled with an easy vanilla mousse. Finally it's topped with a batch of cake batter whipped cream.
Ingredients
For the Cupcakes:
1

box vanilla cake mix

1

package instant vanilla pudding

3/4 cup

buttermilk

1/3 cup

vegetable oil

3

large eggs

2 teaspoons

vanilla extract

1/2 cup

light sour cream

1/4 cup

sprinkles
For the Filling:
1

package (3.4 oz) instant vanilla pudding

3/4 cup

milk

3/4 cup

heavy whipping cream

2

–

3

tablespoons vanilla cake mix
For the Frosting:
1 3/4 cup

heavy whipping cream

3/4 cup

vanilla cake mix

2 tablespoons

powdered sugar

½ teaspoon

vanilla extract
Sprinkles for garnish
Instructions
For the Cupcakes:
Preheat the oven to 350 F. Line a cupcake pan with 16 cupcake liners.
In a large mixing bowl, combine all of the ingredients: cake mix, pudding mix, buttermilk, vegetable oil, eggs, vanilla extract and sour cream. Beat on medium speed until all of the ingredients are well combined. Stir in the sprinkles.
Divide the batter evenly, filling each liner about ⅔ full and bake at 350°F for 15 to 18 minutes until the cupcakes are set.
Test the cupcakes for doneness by inserting a toothpick into the center. If the toothpick comes out clean, the cupcakes are done. Allow the cupcakes to cool completely.
For the Filling:
In a medium-sized bowl, combine the pudding mix and the milk and whisk just until the pudding mix starts to dissolve. Refrigerate until the pudding is completely firm.
Prepare the whipped cream. Put the bowl and whisk attachment in the freezer for 5-10 minutes to get them really cold (this step is optional, but a common practice I suggest). Pour the heavy whipping cream into the chilled bowl and beat until soft peaks form.
Add the vanilla cake mix and increase speed to medium high. Beat until stiff peak form.
Remove the pudding from refrigerator (after it has set) and gently fold in whipped cream until it's well combined. Place the filling in a Ziploc bag. Set in the refrigerator until you're ready to use.
To assemble the cupcakes, remove the middle of the cupcake using a spoon, knife or cupcake corer.
Cut off the tip of the Ziploc bag and fill the center with the cheesecake mousse filling.
For the Topping:
To make the whipped cream, prepare your mixing bowl as directed above by placing in the freezer for 5-10 minutes.
Pour the heavy whipping cream into the chilled bowl and beat until soft peaks form.
Then slowly add the powdered sugar, vanilla cake mix and vanilla extract and increase the mixing speed to high and continue beating until stiff peaks form.
Use a large piping bag fitted with an open star tip and pipe the whipped cream on the cupcakes and garnish with sprinkles right before serving. These cupcakes must be refrigerated.
Category:

Dessert

Method:

Baked

Cuisine:

American
Keywords: funfetti cupcakes, easy cupcakes, confetti cupcake
You might also like:
Cherry Almond Funfetti Cupcakes