This post may contain affiliate sales links. Please see my full disclosure policy for details
My homemade funfetti cupcakes are moist, fluffy, and loaded with rainbow sprinkles! Ditch the boxed cake mix and make flavorful funfetti cupcakes from scratch, topped with vanilla buttercream.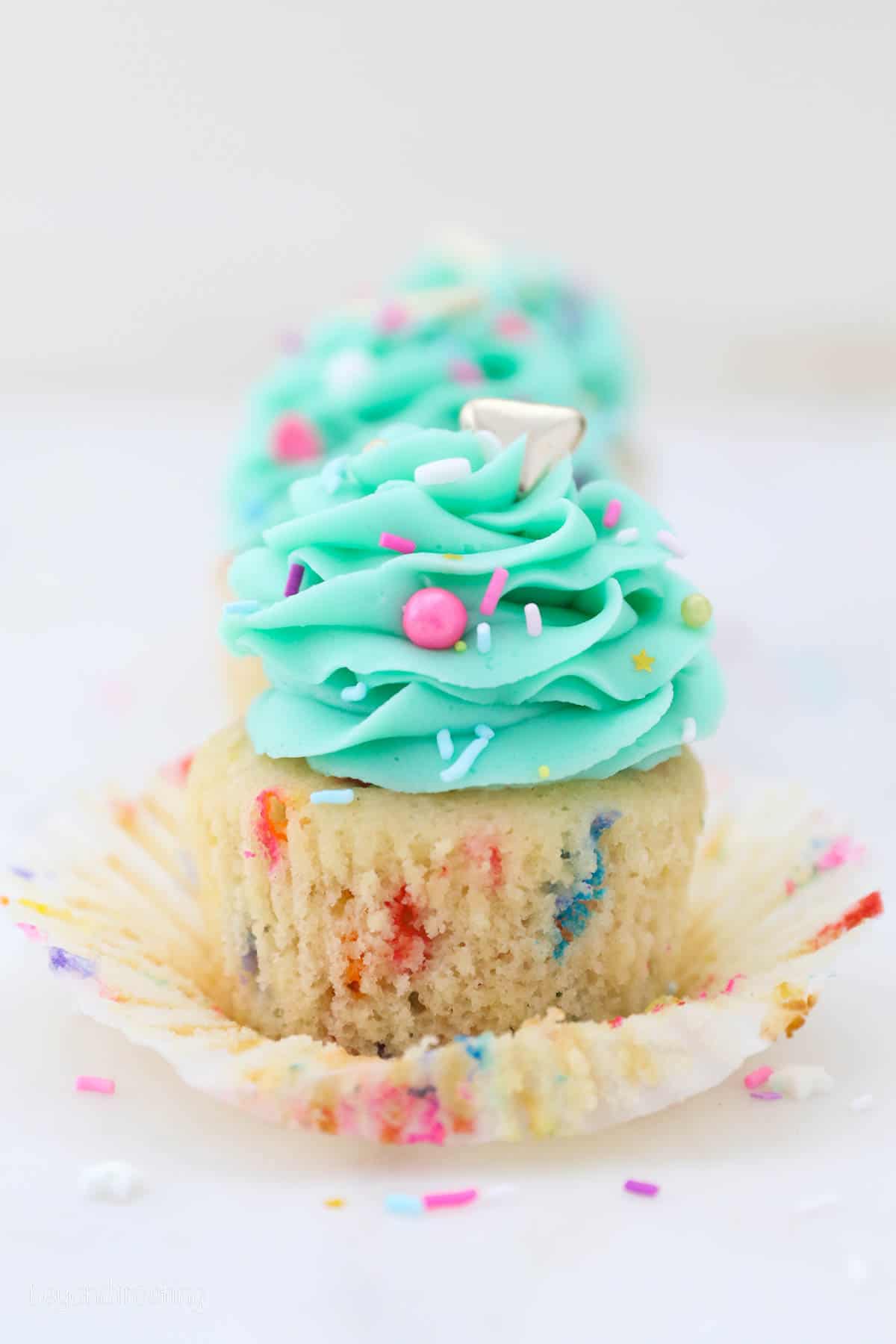 Fluffy Homemade Funfetti Cupcakes
There aren't many things more joy-bringing than a sprinkle-filled cupcake. Today, I'm sharing my recipe for the best homemade funfetti cupcakes. One look at these colorful cupcakes and everyone can't help but smile. And that's before they've taken a bite!
Sure, you could go the store-bought route with funfetti cake mix. But I promise that these easy homemade cupcakes put the fun in funfetti, more than a box ever could.
These cupcakes are a lighter, dare I say an even fluffier, version of my moist vanilla cupcakes recipe. They're definitely serving that authentic "birthday cake" flavor. The cake crumb is super moist with delicious hints of tangy buttermilk and almond extract amidst sweet, classic vanilla. And it probably goes without saying: these cupcakes are absolutely loaded with rainbow sprinkles.
Why You'll Love This Cupcake Recipe
Whether you grew up calling it "funfetti" or "confetti cake", this classic birthday cake is usually made from vanilla cake with plenty of colorful sprinkles baked in. Only this isn't your average funfetti cake. This recipe is WAY better! Here's why:
Better than a boxed cake mix. These homemade funfetti cupcakes have the best birthday cake-inspired flavor thanks to a few add-ins (more on that below). They're super moist and extra fluffy. One bite of these flavorful homemade funfetti cupcakes, and you'll never go back to a box.
Easy to make. My goal is always to create easy-to-follow recipes that anyone can knock out of the park. These funfetti cupcakes are no exception!
Loaded with sprinkles. I frost my funfetti sprinkle cupcakes with rich and creamy buttercream frosting and top them with even MORE sprinkles. If you're looking for the perfect treat to make for a birthday or celebration, look no further.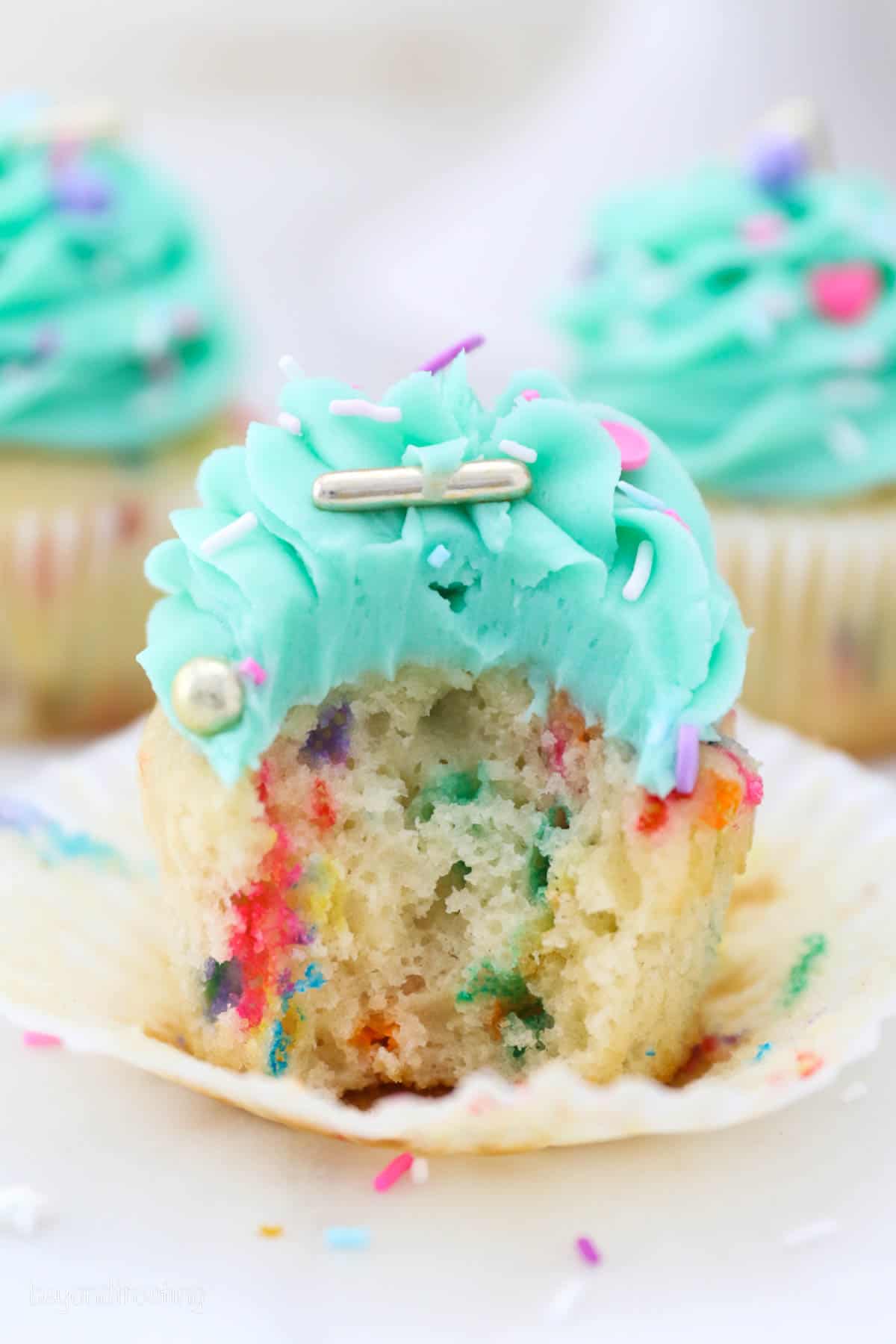 Key Ingredients
You'll need your usual pantry staples to make homemade funfetti cupcakes, including flour, sugar, leavening, etc., plus a few key ingredients, which I cover below. Be sure to scroll to the recipe card below the post for the full amounts and recipe details.
Oil – Using vegetable oil instead of butter yields a more tender cupcake crumb. Almost all my cupcake recipes are made this way, and it really does make a difference!
Flavoring – I use a combination of vanilla extract and almond extract. It gives these funfetti cupcakes a unique flavor that's reminiscent of birthday cake! You can use only vanilla extract if you prefer.
Sour Cream – When used in combination with vegetable oil, sour cream makes these cupcakes extra fluffy and moist. If you don't have sour cream, use plain or Greek yogurt instead.
Buttermilk – Buttermilk gives these cupcakes extra moisture, richness, and a subtle tanginess. If you don't have buttermilk handy, you can make your own substitute. See below.
Sprinkles – You can't make confetti cupcakes without "confetti"! You can use any color sprinkles you'd like, however, some types of sprinkles are better to use in homemade funfetti cakes than others (see the section later on for details).
Frosting – I topped these cupcakes with a variation of my perfect vanilla frosting, adapted with a touch of almond extract and buttermilk.
What If I Don't Have Buttermilk?
If you don't have buttermilk, make a batch of homemade buttermilk! I go over how to make a buttermilk substitute in-depth in that post, however, it's easy to do. Combine 1 tablespoon of white vinegar or lemon juice with enough milk to make 1 cup. Leave the mixture to sit for at least 5 minutes, until it looks a bit curdled. Then, stir. Tada! Homemade buttermilk.
What Are the Best Sprinkles for Funfetti?
When it comes to sprinkles, jimmies are the best for funfetti cakes and cupcakes. Unlike other types of rainbow sprinkles (like nonpareils), jimmies won't bleed color into the batter and won't come out crunchy after the cupcakes are baked.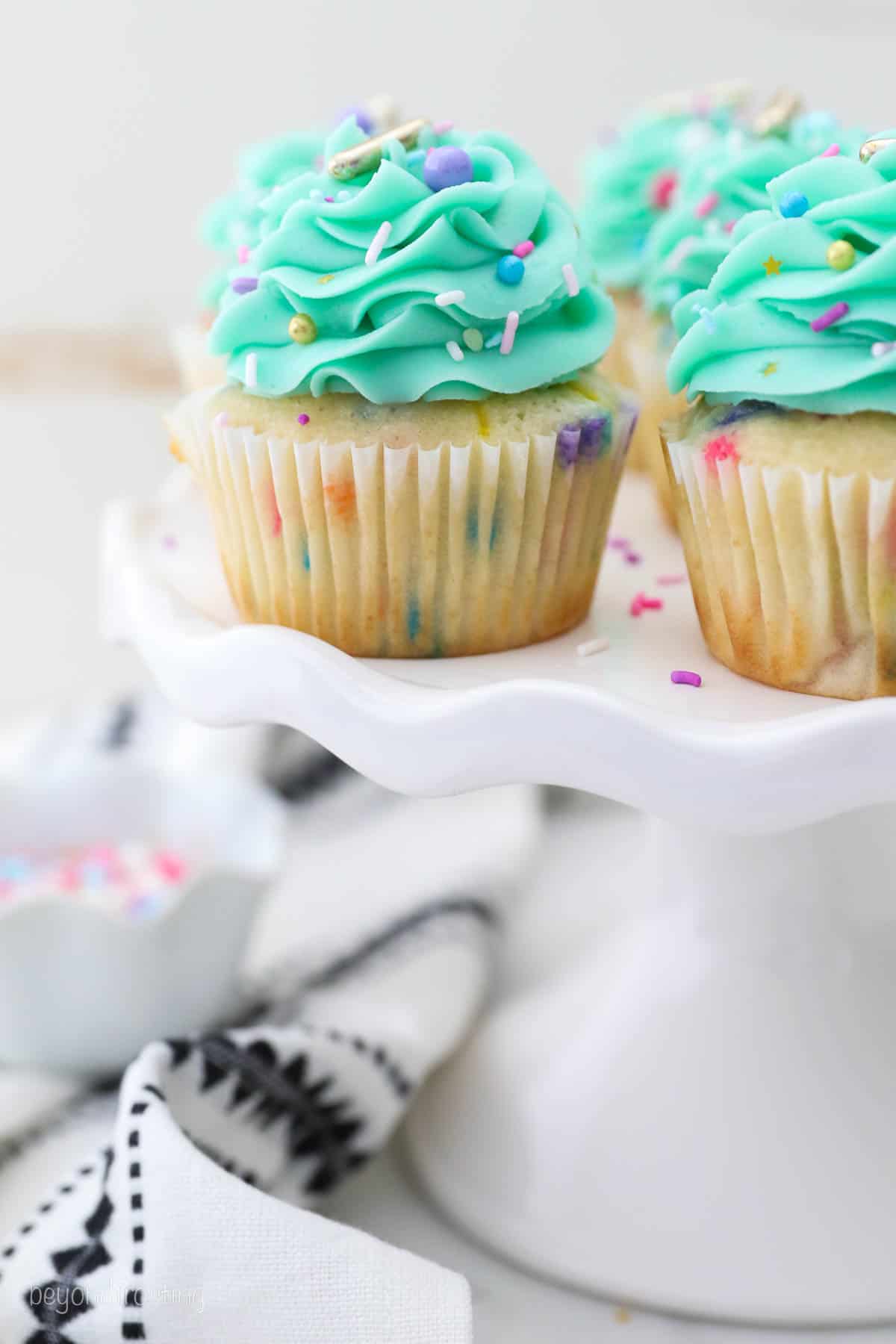 How to Make Funfetti Cupcakes From Scratch
I make this cupcake recipe with oil in place of butter, because 1) it makes the fluffiest cupcakes, and 2) there's no waiting for the butter to come to room temperature. This means that we can jump right into making the perfect homemade funfetti cupcakes:
Make the batter. Cream together the oil with the sugar, eggs, vanilla, and almond extract, followed by the sour cream. Combine the dry ingredients in a separate bowl and sift, then add them to the batter, alternating with buttermilk until combined. Finally, fold in the sprinkles.
Fill the pan. Next, portion the batter between the lined wells of a cupcake pan. Aim to fill each liner about 2/3 full. A large cookie scoop works great for this.
Bake the cupcakes. Bake the cupcakes at 350ºF for 14-16 minutes, then cool completely before frosting.
Make the frosting. Once your cupcakes have cooled, beat cubed butter with your stand mixer until it's light, fluffy and easily spreadable. Add powdered sugar a little at a time, alternating with the flavoring extracts, buttermilk, and, lastly, heavy cream. Make sure to beat the frosting for a couple of minutes in between each addition, followed by a good whip at the end to get the frosting airy and smooth.
Frost the cupcakes. Finally, using a piping bag fitted with an open star tip, pipe a swirl of frosting over each funfetti cupcake. Afterward, garnish with sprinkles. See below for more decorating ideas!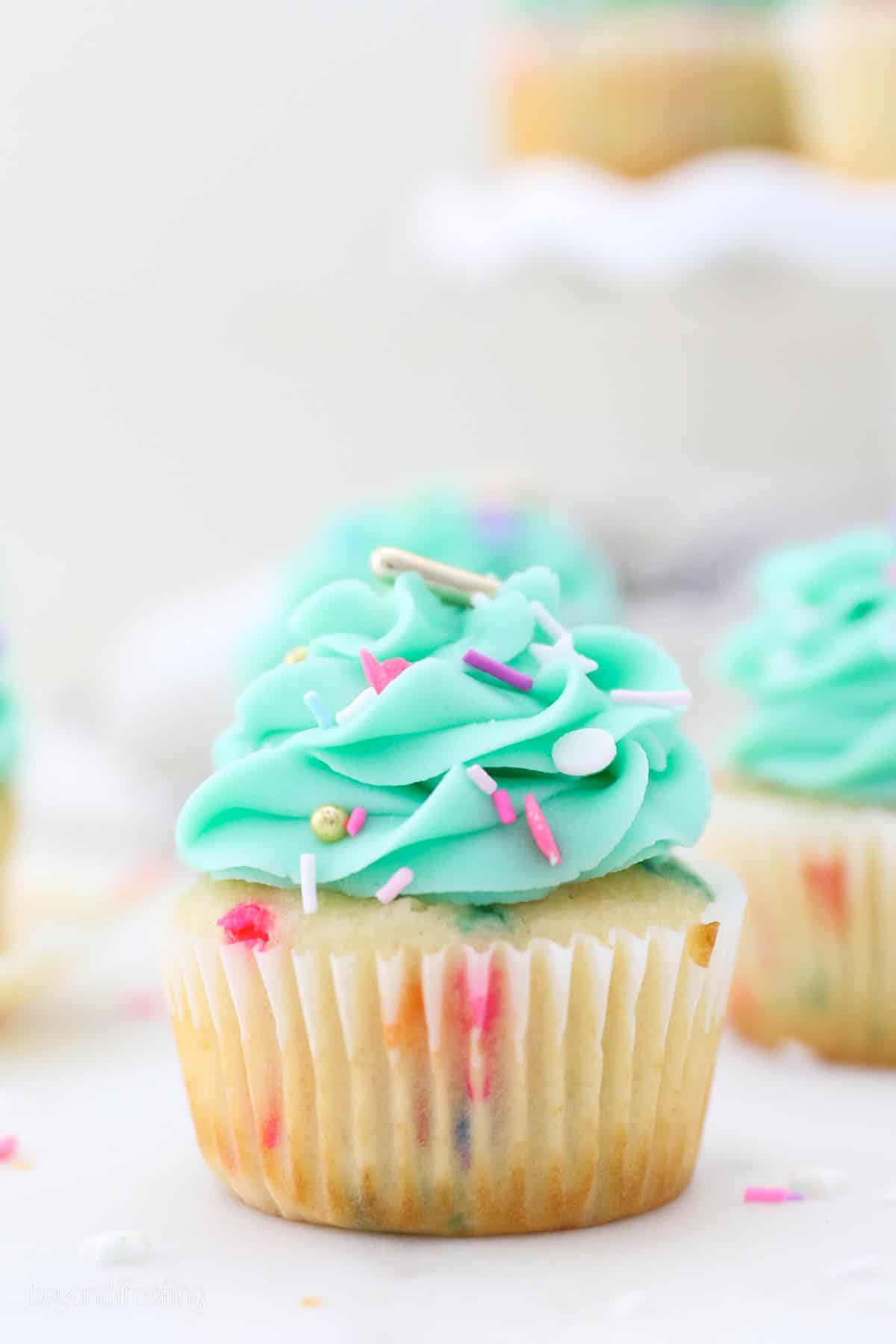 Tips for the Best Funfetti Cupcakes
You're going to love how perfect these cupcakes turn out! Here are some final tips to keep in mind:
Don't overmix the batter. Mix the ingredients until they're just combined. The batter should be uniform but not overly mixed, otherwise, the cake may turn out dense.
Use a large cookie scoop to fill the cupcake liners. It makes for more even-sized cupcakes.
For a shortcut to birthday cake cupcakes, try artificial vanilla flavoring or birthday cake flavoring in place of vanilla and almond extracts.
Use heavy cream for the creamiest frosting. Not only does it cut down on the sweetness, but it also helps incorporate more air into the frosting when whipped at high speed, for extra creamy frosting. If you don't have heavy whipping cream, milk will work in a pinch.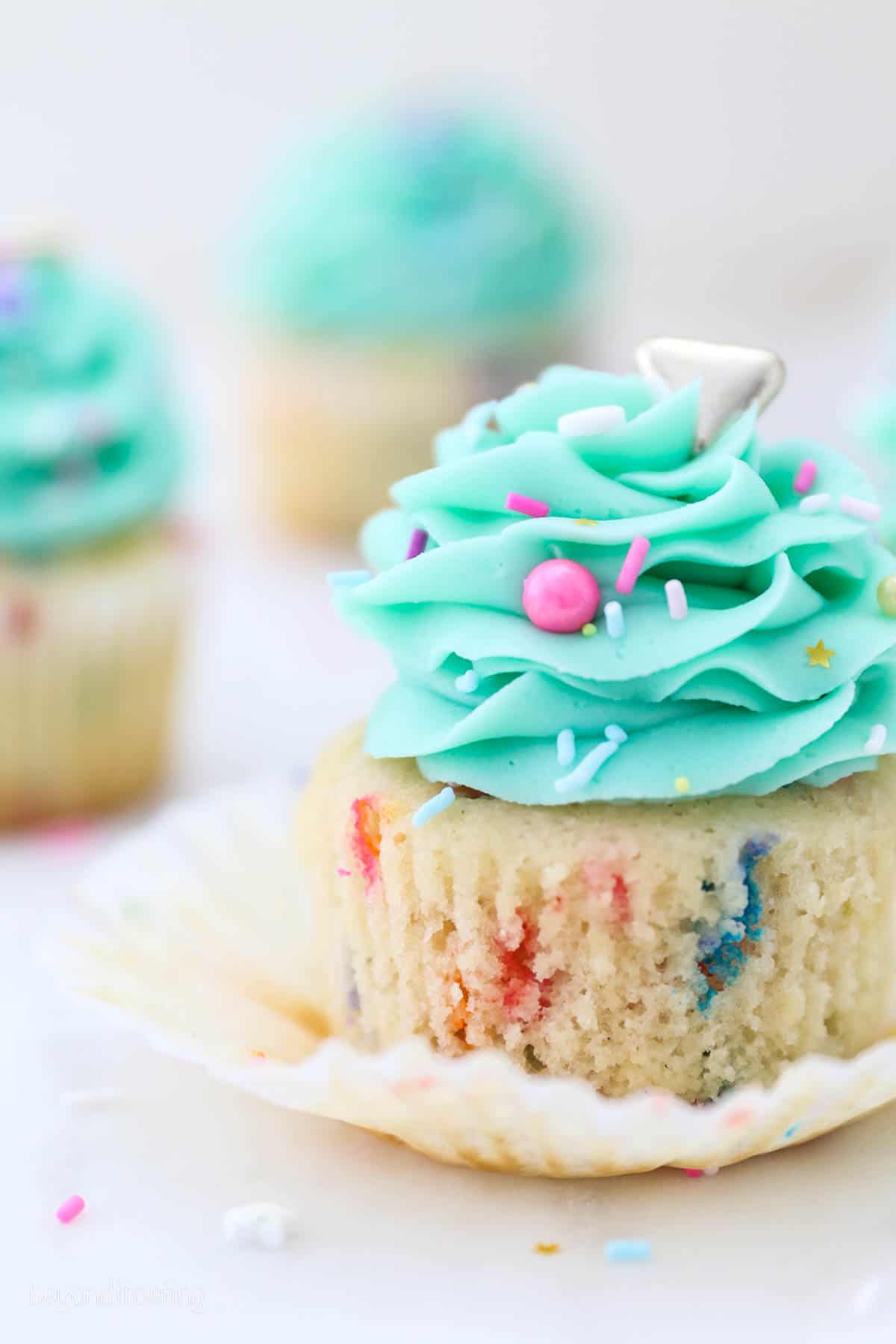 Cupcake Decorating Ideas
Instead of this variation of vanilla frosting, you can decorate your funfetti cupcakes with any flavored frosting you'd like. For a lighter topping, try homemade whipped cream or Swiss meringue buttercream.
If you're coloring your frosting, I recommend using gel food dyes as opposed to water-based food coloring (read more about the difference in my guide, how to color buttercream). Gel colors are much more vibrant, so a little goes a long way.
For these funfetti cupcakes, I add a drop of Americolor "Teal" color gel to the frosting and sprinkle the tops with my favorite Sweetapolita sprinkles. The bright colors combined with the funfetti cake make these cupcakes perfect for birthdays and parties!
To create a traditional frosting swirl as you see in the photos, use a large open star piping tip or Wilton 2D tip fitted to a large piping bag. It's easy to do with the right tools and a bit of practice. Check out my tutorial on how to decorate cupcakes for detailed decorating tips and tricks.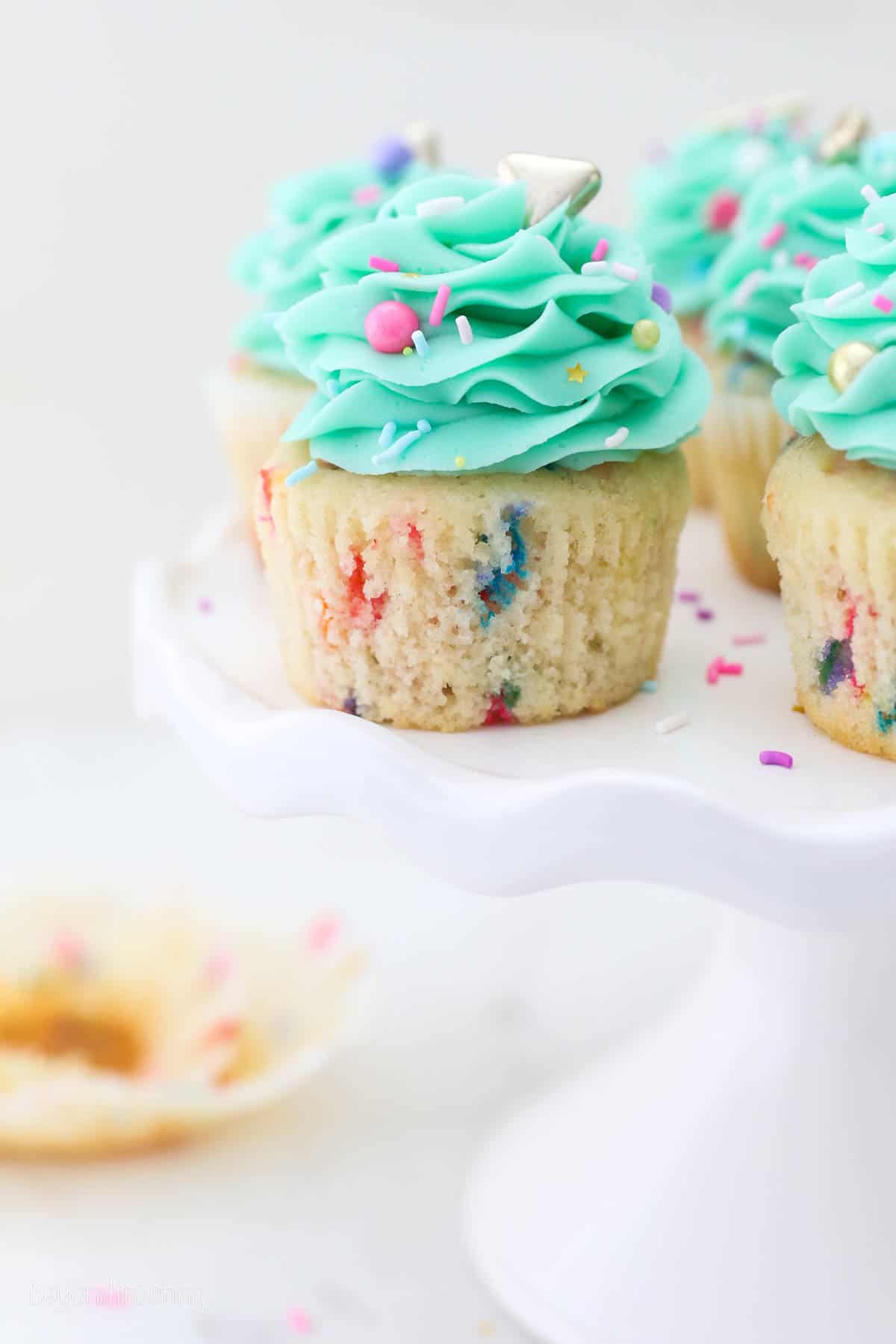 Make-Ahead and How to Store
These easy funfetti cupcakes keep well, in case you'd like to get a head start on the fun. Here's how to properly store your homemade cupcakes:
Prepare ahead: The cupcakes can be made up to 1-2 days ahead and stored, frosted or unfrosted, in an airtight container. Make sure to let the cupcakes cool to room temperature before they're stored. The frosting can also be prepared ahead of time and kept airtight in the fridge. I recommend giving the frosting an additional whip before frosting the cupcakes.
Storing: Keep the frosted funfetti cupcakes stored in an airtight container at room temperature for up to 2 days, and in the fridge after that. Before serving, take the cupcakes out of the fridge and let them come to room temperature again.
Can I Freeze Funfetti Cupcakes?
Yes! I recommend freezing these cupcakes unfrosted. Store the cooled cupcakes airtight and keep them frozen for up to 3 months. Whenever you're ready to serve them, defrost your cupcakes first in the fridge and then on the counter (going from freezer to fridge, and then to room temperature avoids excess moisture). Afterward, frost the cupcakes and serve!
Print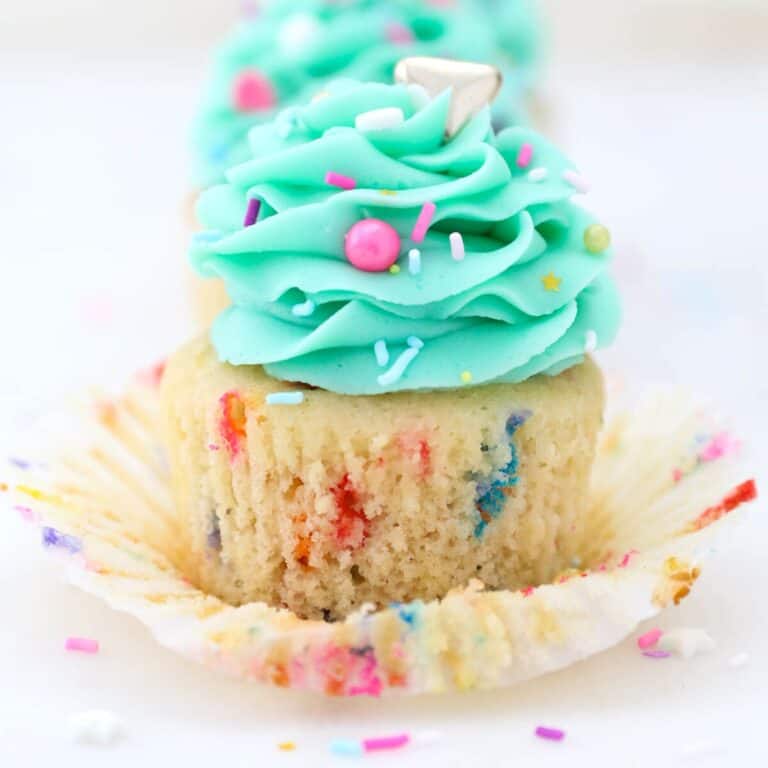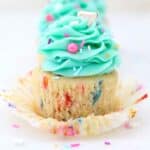 Funfetti Cupcakes
Author:

Prep Time:

45 minutes

Cook Time:

15 minutes

Total Time:

1 hour

Yield:

24 cupcakes
Description
These homemade Funfetti Cupcakes are moist, fluffy, and loaded with rainbow sprinkles! Ditch the boxed cake mix and make the best funfetti cupcakes from scratch. These are perfect for birthdays and parties, frosted with vanilla buttercream.
Ingredients
For the cupcakes
1 ½ cups

(

285g

) granulated sugar

3

large eggs, at room temperature

½ cup

(118ml) vegetable oil

1 tablespoon

(15ml) vanilla extract

1

teaspoon (5ml) almond extract

¾ cup

(

180g

) sour cream, at room temperature

2 3/4 cups

(

320g

) all-purpose flour, sifted

2 teaspoons

(

7.5g

) baking powder

½ teaspoon

baking soda

1 teaspoon

(

5g

) salt

1 cup

(

236

ml) buttermilk, at room temperature

1/3 cup

sprinkles
For the frosting
1 ½ cups

(

339g

) unsalted butter

5 ½ cups

(

715g

) powdered sugar

2 teaspoons

(10ml) vanilla extract

½ teaspoon

almond extract (optional)

1 tablespoon

(15ml) buttermilk

1 tablespoon

(15ml) heavy whipping cream
Instructions
For the cupcakes:
Preheat the oven to 350°F. Line a cupcake pan with cupcake liners.
In a large mixing bowl, combine the sugar, vegetable oil, eggs, vanilla and almond extract. Next mix in the sour cream and beat until well combined.
In a separate bowl, combine the remaining dry ingredients: flour, baking powder, baking soda and salt. Add half the dry ingredients with half of the buttermilk and mix just until the flour starts to incorporate.. Then add the remaining dry ingredients and buttermilk and beat until all of the ingredients are well combined. Finally, mix in the sprinkles and use a spatula to scrape down the sides of the bowl and stir the batter from the bottom to the top to ensure it's well mixed.
Using a large cookie scoop, divide the batter evenly, filling each liner 2/3 full. Careful not to overfill.
Bake at 350°F for 14-16 minutes. Test the cupcakes for doneness by inserting a toothpick into the center of the cupcake. If the toothpick comes out clean, the cupcakes are done. Cool Completely.
For the frosting:
Cut the cold butter into tablespoon-size pieces. Using the paddle attachment, whip the butter for 5-7 minutes, scraping down the bowl occasionally until the butter is whipped and easily spreadable.
Add 2 cups of powdered sugar and mix on low speed until incorporated into butter then add the extracts and mix to combine. Beat for about 60 seconds. Next, add an additional 2 cups of powdered sugar and the buttermilk and beat on low speed until sugar is incorporated. Increase speed to medium-high and beat for 2-3 minutes.
Add the last 1 cup of powdered sugar along with the heavy cream. Beat on low until ingredients start to mix together. Increase speed to medium-high and beat for another 2-3 minutes to whip additional air into the frosting. Use a large open star tip or 2D piping tip to frost these cupcakes. Garnish with sprinkles.
Notes
Sour cream substitute: Sour cream helps keeps these cupcakes very moist, and thus it cannot be omitted. I recommend substituting the sour cream with non-fat Greek Yogurt if you do not have sour cream.
Buttermilk substitute: If you don't have buttermilk, make a batch. In a measuring cup, add 1 tablespoon of lemon juice or vinegar and then fill it up to 1 cup with milk. Let the milk sit for at least 5 minutes until it starts to look curdled on top. Here's a handy tutorial.
Category:

Cupcakes

Method:

Oven

Cuisine:

Baked
Keywords: funfetti cupcakes, sprinkle cupcakes, birthday cupcakes
More Funfetti Recipes to Try