This post may contain affiliate sales links. Please see my full disclosure policy for details
These M&M Brownies are perfect made-from-scratch brownies that are loaded with mini chocolate chips and mini M&Ms. They're moist, rich, fudgy, and have just the right amount of candy crunch!
Fudgy M&M Brownies from Scratch
These M&M Brownies are a twist on my classic fudgy brownies, which I firmly believe is the best brownie recipe of all time. These brownies are insanely rich, chocolatey, gooey, fudgy, and also could not be any easier to make.
They take a quick 15 minutes to prep and will satisfy any chocolate craving!
Why You'll Love This Easy Brownie Recipe
To get straight to the point, they're so incredibly fudgy. This brownie batter starts with melted chocolate which creates an incredibly moist texture. It's also made with both egg and egg yolk which are whipped to incorporate air into the batter to give these brownies that classic shiny, crackly top!
Combine that rich flavor and incredible texture with the delicious crunch of M&Ms and dessert just got a whole lot better!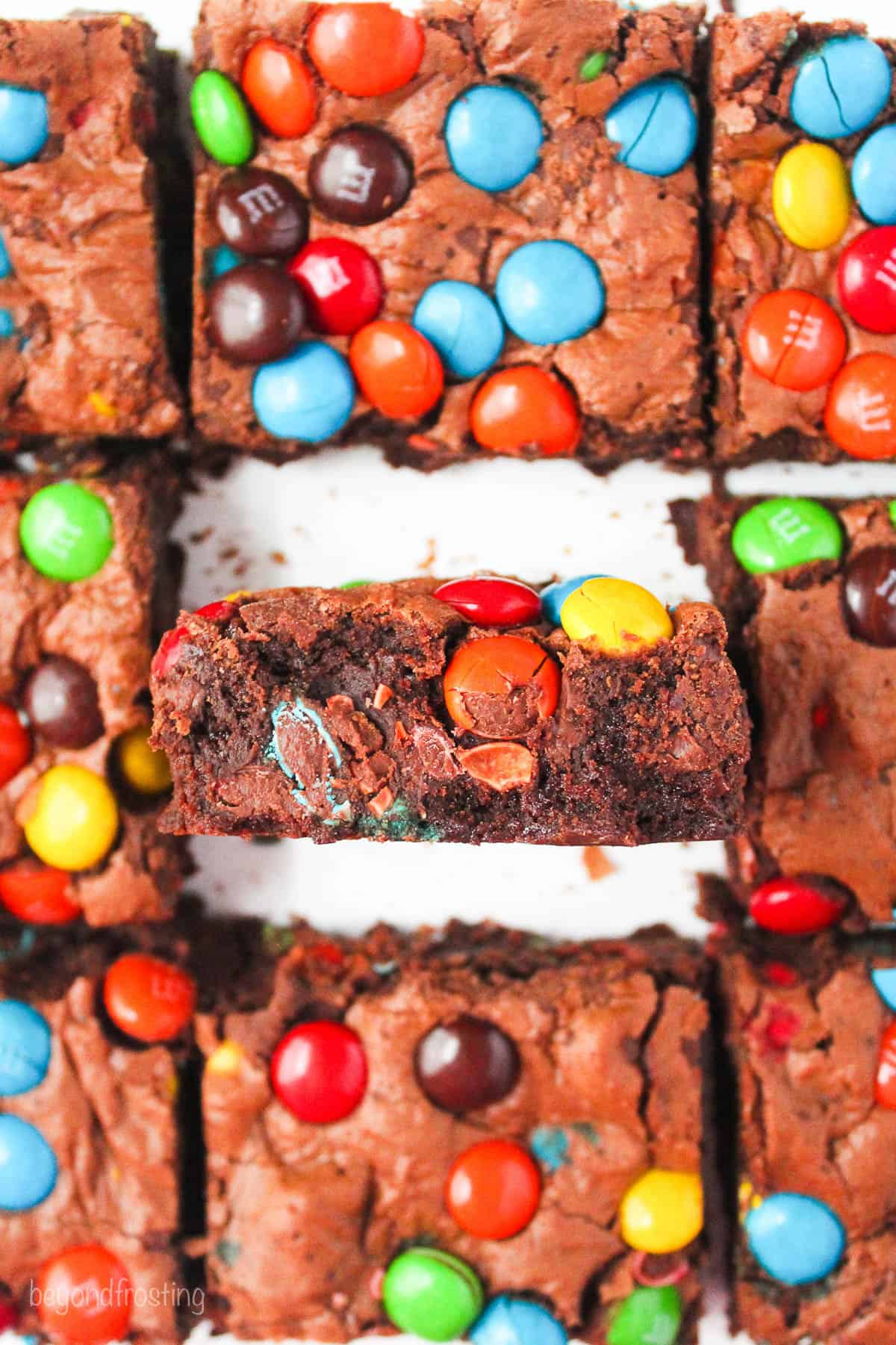 Imporant Ingredient Notes
There are a few key ingredients that contribute to the overall quality of the recipe.
Dark Chocolate – I recommend a high-quality baking bar like Ghirardelli or Lindt instead of using chocolate chips. Chocolate bars meltdown to be so much smoother and less waxy than chocolate chips.
Eggs and Egg Yolk – using both egg and egg yolk creates ultra-moist and chewy brownies. Pay special attention to the step where you beat the eggs for an extended period of time.
Cocoa Powder – I recommend using Rodelle Cocoa powder for an extra rich and chocolatey flavor, but really any type of cocoa powder will work.
Mini M&Ms– feel free to use full-sized M&Ms or any flavored M&Ms like peanut butter (the best flavor in my opinion), but using the minis will get you more M&Ms throughout.
How to Make M&M Brownies
Melt the chocolate: Roughly chop the chocolate and melt it in a microwave-safe bowl at 50% power until smooth, then set aside to cool. Reducing the power on the microwave to 50% will help to prevent the chocolate from burning.
Combine the wet ingredients: Beat together granulated sugar and melted butter until combined, then add in egg and egg yolk. At this step, you should be beating the mixture until is whipped and fluffy, resembling a cake batter consistency.
Add remaining liquid ingredients: Then add in vanilla and melted chocolate and mix to combine.
Add the dry ingredients: In a separate bowl, combine the dry ingredients, then mix that into the wet ingredients. Once the flour is mostly incorporated, add the chocolate chips and M&Ms.
Bake: Transfer the batter to a greased 8-inch square baking pan. Spread evenly, then bake at 350ºF for 20-24 minutes.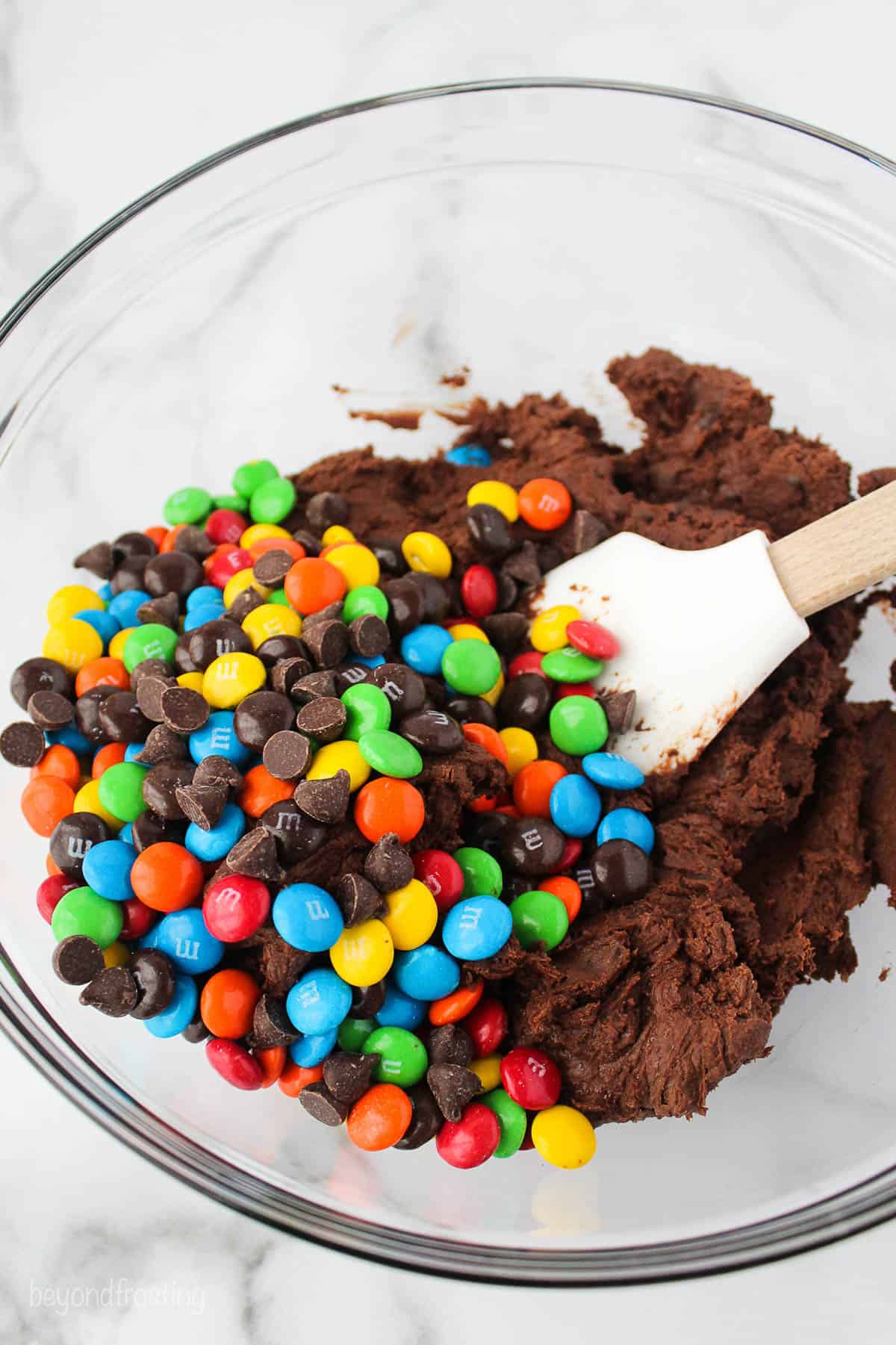 My Best Baking Tips
Use good quality chocolate. Chocolate is the MVP of all brownie recipes. Use the good stuff! I like to use a high-quality baking bar like Ghirardelli or Lindt which are readily available.
Whip the eggs. When you add the egg and egg white, beat on high speed for 60-90 seconds or until the mixture is light and fluffy like a cake batter. Incorporating air into the batter helps achieve that crackly brownie top!
To check that the brownies are done, insert a toothpick into the center. It should come out slightly gooey, but not wet.
Cool before cutting. Cooling the brownies before slicing makes for cleaner cuts. I like to wash and dry my knife between cuts for a clean look.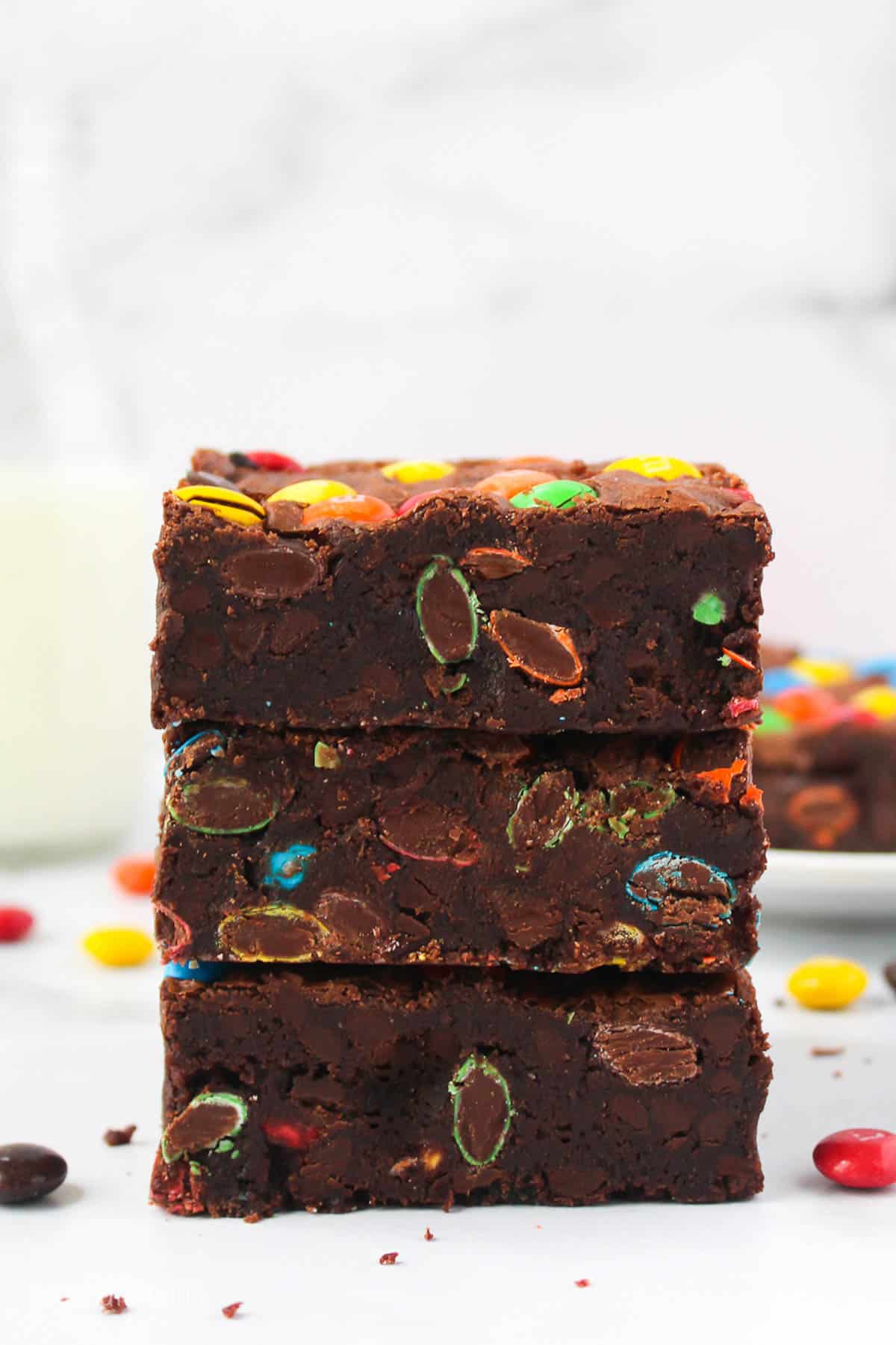 Brownie Variation Ideas
Add nuts. Try mixing in chopped walnuts or pecans for an extra crunch.
Add espresso powder. A tablespoon of instant espresso powder creates an even richer chocolate flavor. And no, it doesn't make the brownies taste like coffee!
Use other candy. Swap the M&Ms out for mini Reese's and peanut butter chips for a perfect peanut butter brownie.
Try other baking chips. Try white chocolate, butterscotch, or peanut butter chips instead.
Top them off. Make them even sweeter with a layer of chocolate ganache or chocolate cream cheese frosting.
My Trick for Removing Brownies from the Pan
There are a couple of things you can do to ensure that the brownies can be easily removed from the pan without them falling apart.
Use parchment paper: Gently grease the edges to get the parchment paper to stick, then tuck the parchment paper into the corners.
Cool before slicing. Once the brownies are cooled, you should easily be able to slide them out of the pan. Cooler brownies are easier to cut and much easier to remove from the pan without crumbling.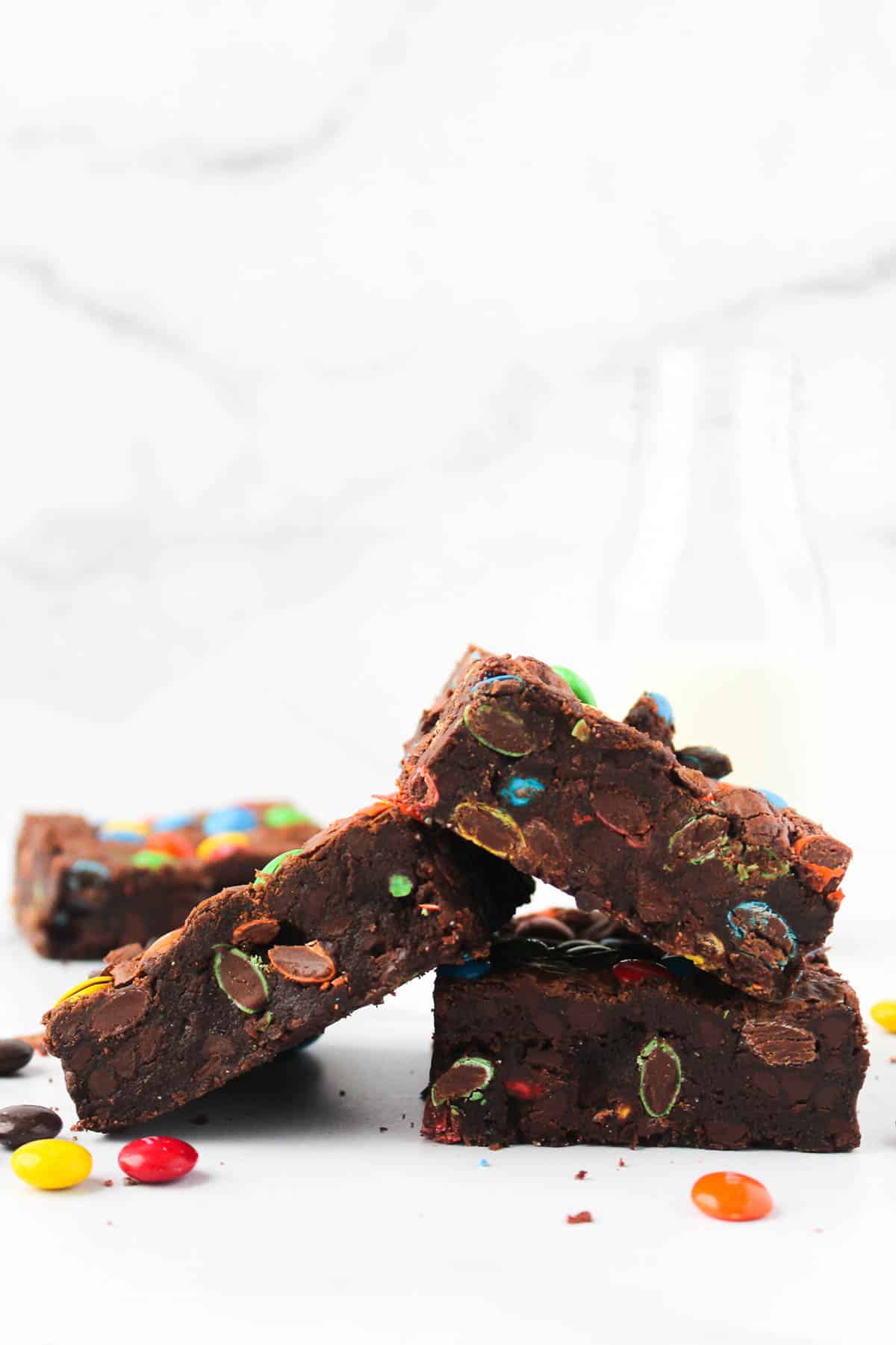 How to Store & Freeze
Leftover M&M brownies will last in an airtight container at room temperature for 3-4 days, in the fridge for up to 5 days, or in the freezer for up to 3 months. To enjoy again, thaw overnight in the fridge or on the counter, then enjoy as-is or warm in the microwave for 10-20 seconds.
Print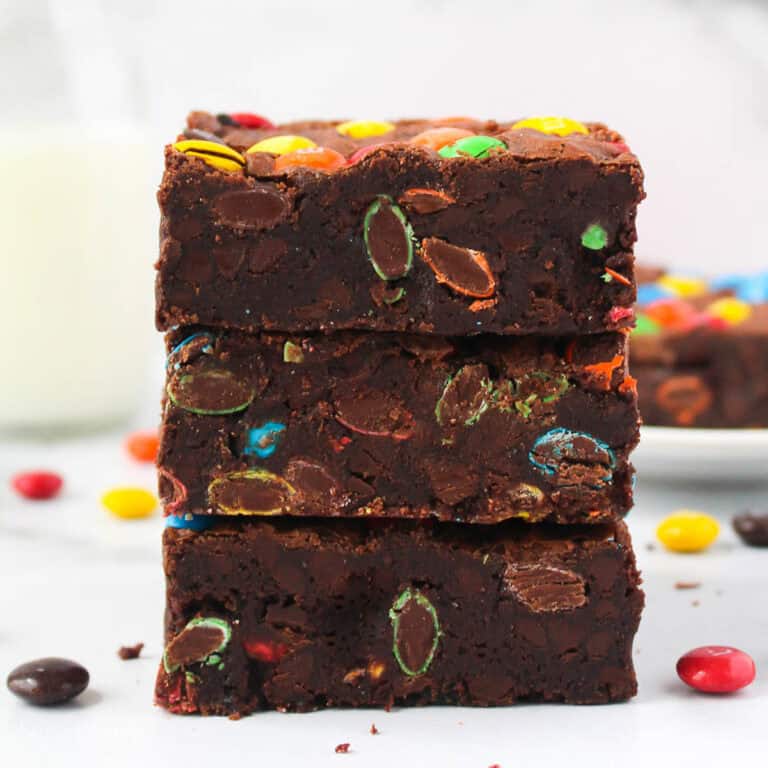 M&M Brownies
Author:

Prep Time:

15 minutes

Cook Time:

22 minutes

Total Time:

37 minutes

Yield:

9 brownies
Description
These M&M Brownies are perfect made-from-scratch brownies that are loaded with mini chocolate chips and mini M&Ms. They're moist, rich, fudgy, and have just the right amount of candy crunch!
Ingredients
4 ounces

dark chocolate, melted (see notes)

½ cup

(113g) unsalted butter, melted

1 cup

(190g) granulated sugar

2

large eggs

1

large egg yolk

1 tablespoon

(15ml) pure vanilla extract

½ cup

(70g) all-purpose flour

½ cup

(55g) Rodelle cocoa powder, sifted (see notes)

¾ teaspoon

salt

½ teaspoon

baking powder

½ cup

(112g) mini semi-sweet chocolate chips

½

–

¾

cup (100-125g) mini M&Ms
Instructions
Preheat the oven to 350°F.

Roughly chop the chocolate and melt the chocolate in a microwave-safe bowl for approximately 2 minutes at 50% power. Stir every 30 seconds until completely melted and smooth. Set aside to cool.

Combine the melted butter with the granulated sugar; beat together until well combined.

Next, add the egg and egg yolk and beat for 60-90 seconds at a higher speed until the batter is fluffy (texture resembling a cake batter). Then add the vanilla extract and melted chocolate and beat until combined.

Combine the dry ingredients in a separate bowl and stir to combine. Add the dry ingredients to the batter and mix just until combined. Fold in the chocolate chips and M&Ms with a spatula.

Generously grease an 8-inch baking pan. Spread the batter evenly and bake at 350°F for 20-24 minutes. The toothpick should still be somewhat gooey but not wet in the center. Remove from the oven and allow to cool prior to cutting. Store in an airtight container.
Category:

Desserts

Method:

Baked

Cuisine:

American