This post may contain affiliate sales links. Please see my full disclosure policy for details
Never mind their scandalous name, Slutty Brownies are impossible to resist. They're made from fudgy chocolate brownies and a chewy chocolate chip cookie layer, with Oreos in the middle. There's a reason these brownie Oreo cookie bars went viral!
Scandalous Slutty Brownie Recipe
Today we're making the infamous slutty brownies. Well, my spin on the original, at least. These triple-layer brownie bars have swept the internet (for what I think are obvious reasons).
I'm mildly obsessed with slutty brownies. I just love the idea of multiple sweet treats all in one! So much so that I've made Slutty Cheesecake Bars and Slutty Brookie Poke Cake. The Oreo-brownie-cookie combo is a hard one to resist.
I've adapted this slutty brownie recipe from my fudgy Cocoa Powder Brownies, borrowing the cookie layer from my favorite Brookies, with Oreos in between. The result? Ultra-fudgy, super moist, and decadent brownies topped with the most irresistibly chewy chocolate chip cookie, filled with crunchy Oreos. There's a lot going on, in the best possible way.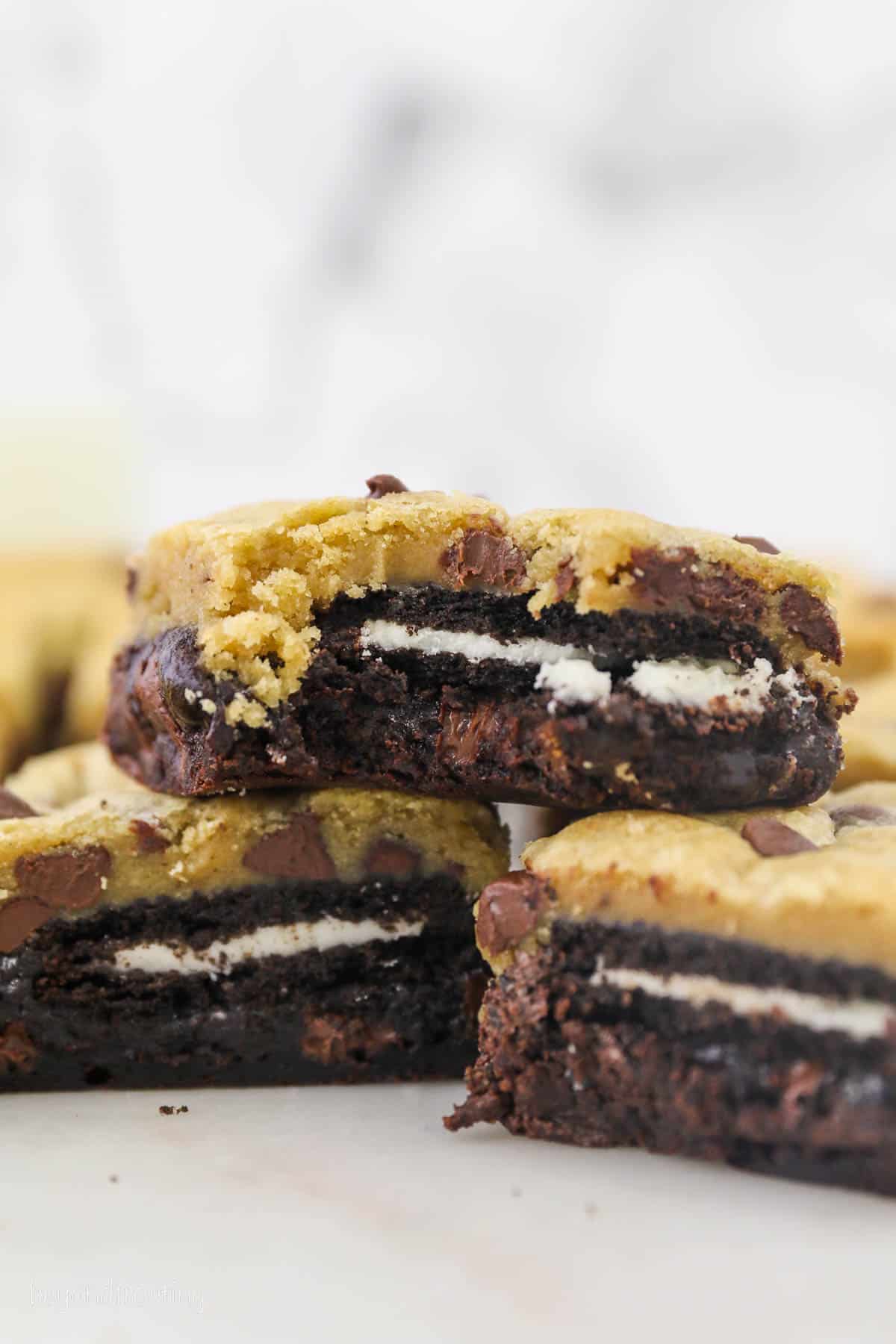 Why Are They Called Slutty Brownies?
So, a bit of Googling revealed that the original "slutty" brownies weren't called slutty at all. They originated as Cookie Dough Oreo Brownies, and it wasn't until years later when a similar recipe titled "Slutty Brownies" appeared online, and the suggestive dessert went viral.
How did these brownies become slutty? According to the Londoner, the blog responsible for the rebrand, they're "oh so easy, and more than a little bit filthy." Yikes.
In any case, I urge your to overlook their scandalous name and embrace these brownies for what they are: fudgy, chewy, melty, and oh-so-delicious.
Key Ingredients
I highlight some of the key ingredients you'll need to make these triple-decker brownie bars below. Don't forget to refer to the recipe card for the full recipe details!
For the Cookie Layer
Butter – I recommend baking with unsalted butter, but if you use salted butter, you can omit any added salt that comes later on.
Sugar – Using a combination of brown and granulated sugars brings the perfect amount of moisture to the chocolate chip cookie dough.
Egg and Vanilla – I use one whole egg plus one egg yolk to add extra richness to the cookie layer. For the best flavor, use real vanilla extract.
Chocolate Chips – Semi-sweet chocolate chips, or any variety of chocolate chips you'd like.
Oreos – You'll need about 24 Oreos, or enough to cover the full pan of brownies.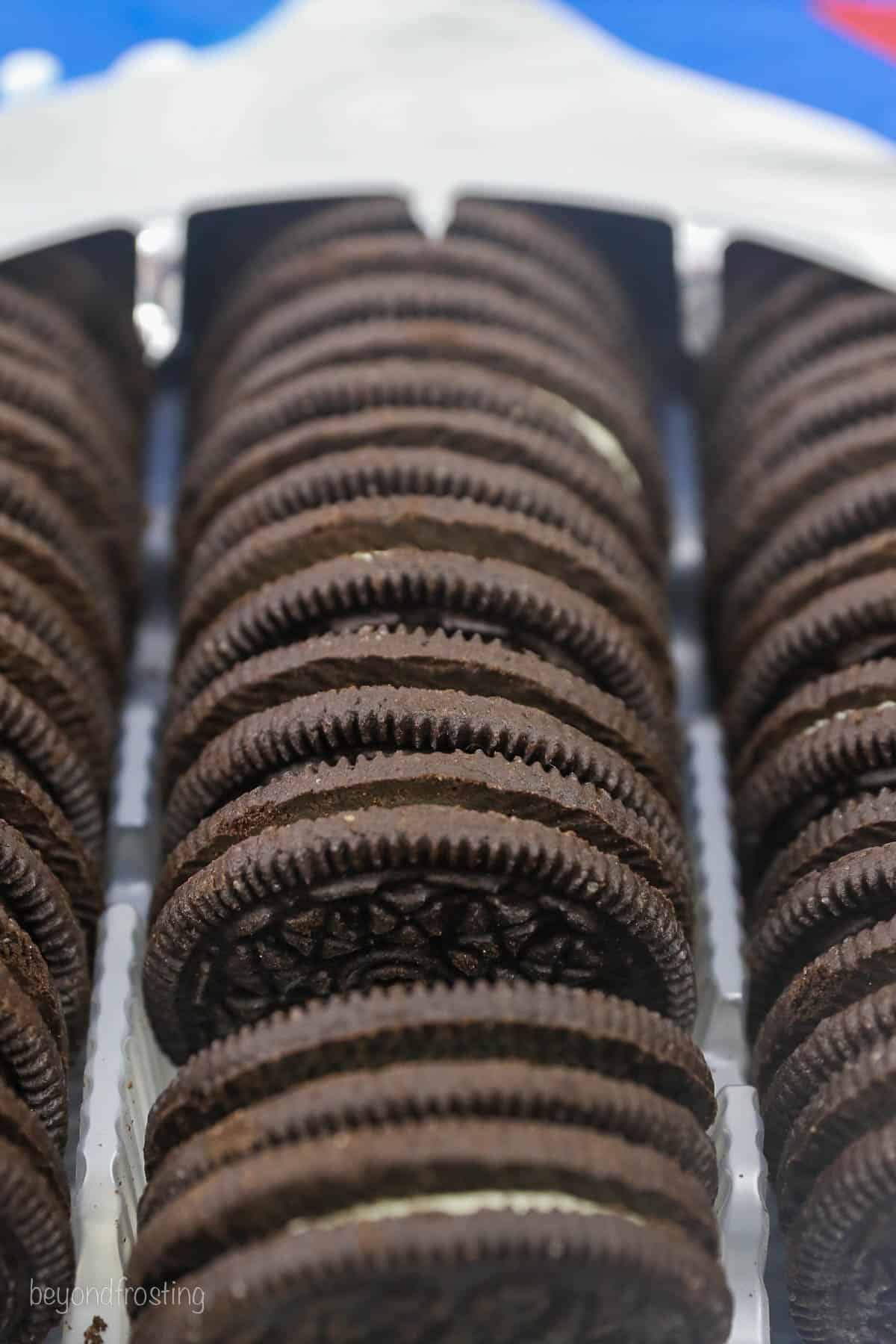 For the Brownie Layer
Oil – Using vegetable oil in place of butter in brownies and cakes adds tons of moisture and lightness to the crumb.
Cocoa Powder – Unsweetened cocoa powder or Dutch process cocoa powder will both work here. Using the Dutch process cocoa will yield darker, fudgier brownies.
Can I Use a Boxed Brownie Mix?
Yes. If you're looking to save time, you can make this recipe using a boxed brownie mix as well as store-bought refrigerated cookie dough. Make sure to pick up any ingredients you'll need per the recipe on the box.
How to Make Slutty Brownies
While your oven preheats, grease and line a 9×13-inch baking pan and take your butter out of the fridge. After about 20 minutes, the butter should be softened enough for you to get started.
Step 1: Make the Cookie Layer
Both the cookies and brownies involve mixing the wet and dry ingredients separately, before combining them and adding chocolate chips. Pretty straightforward. First, we'll make the chocolate chip cookie dough:
Combine the wet ingredients. Cream the butter and both sugars together until they're combined and fluffy, then beat in the eggs and vanilla.
Mix the dry ingredients. In a new bowl, whisk together the dry ingredients, then slowly mix the dry ingredients into the wet to form the dough.
Add chocolate chips. When the dough is barely combined, fold in the chocolate chips.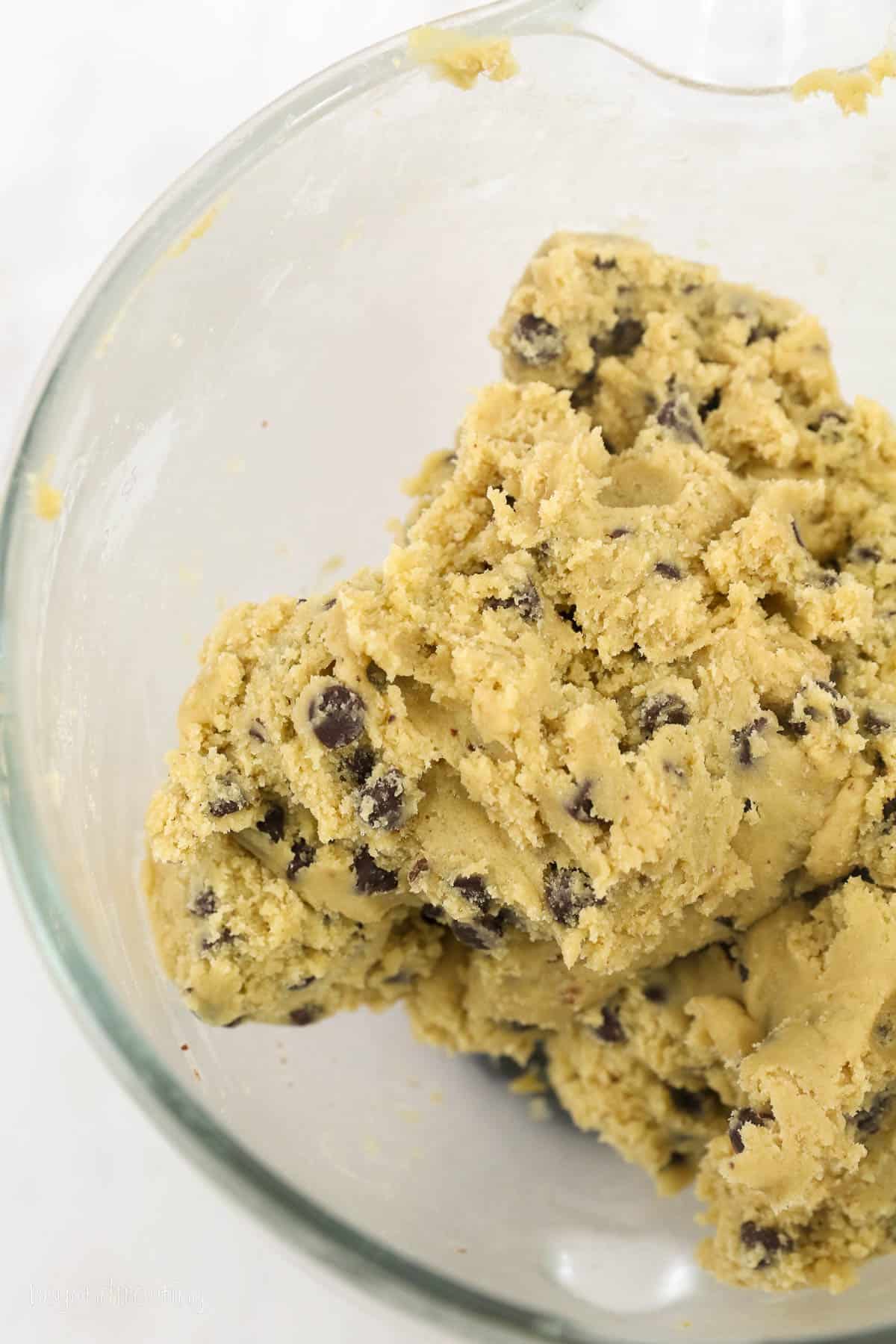 Make the Brownie layer
Next, we'll mix up a quick chocolate brownie batter:
Combine the wet ingredients. First, beat together the sugar, oil, milk, and vanilla. Next, add an egg.
Combine the dry ingredients. Next, combine the dry ingredients separately before adding them to the wet ingredients. Mix until the batter is just combined, and stir chocolate chips into this layer, too.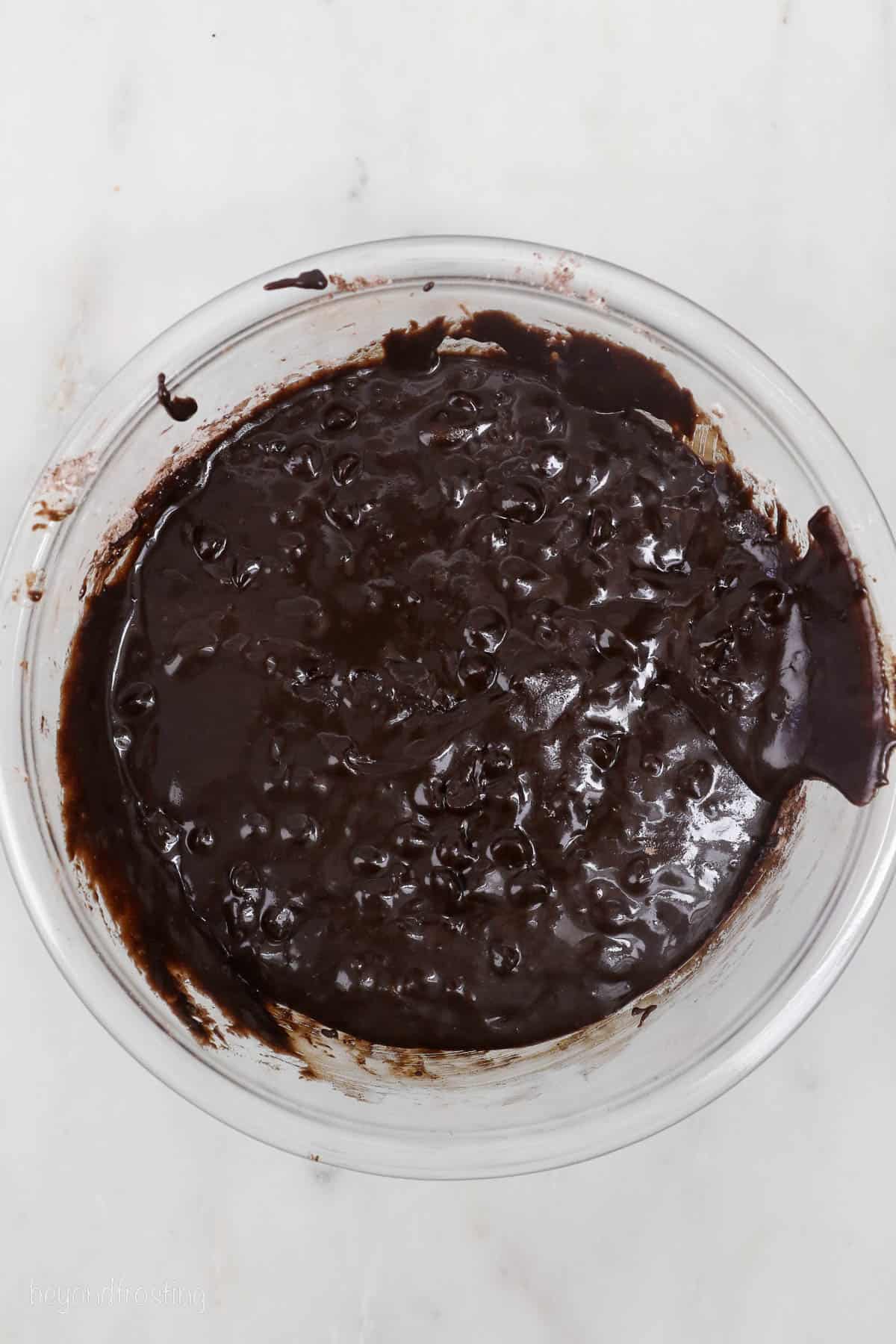 How to Assemble & Bake
Dough and batter? Check. Preheated oven? Check. Prepped baking dish? Check! You're ready to assemble and bake your slutty brownies.
A lot of slutty brownie recipes start with chocolate chip cookie dough as their base, but not these ones! We're flipping the script on slutty brownies, layering the cookie dough on top. You'll thank me later.
Step 1: Brownie batter first. Add the brownie batter to the pan and spread it in an even layer.
Step 2: Next, Oreos. Arrange the Oreo cookies in a single layer over the brownie batter.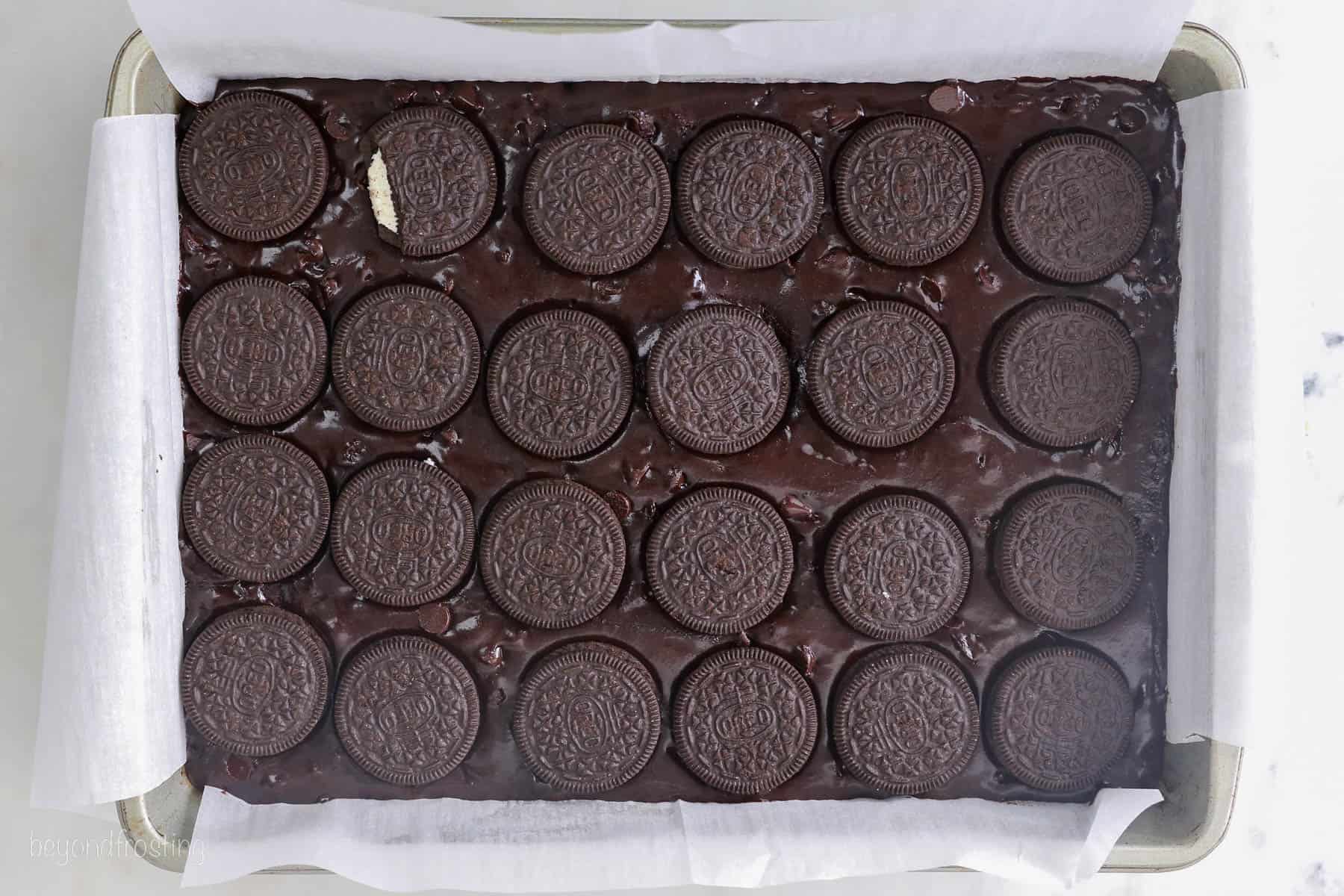 Step 3: Top with cookie dough. Use your hands to press large, flat pieces of chocolate chip cookie dough over the top of the Oreo layer. I find it's easiest to layer on the cookie dough so that you don't miss any spots.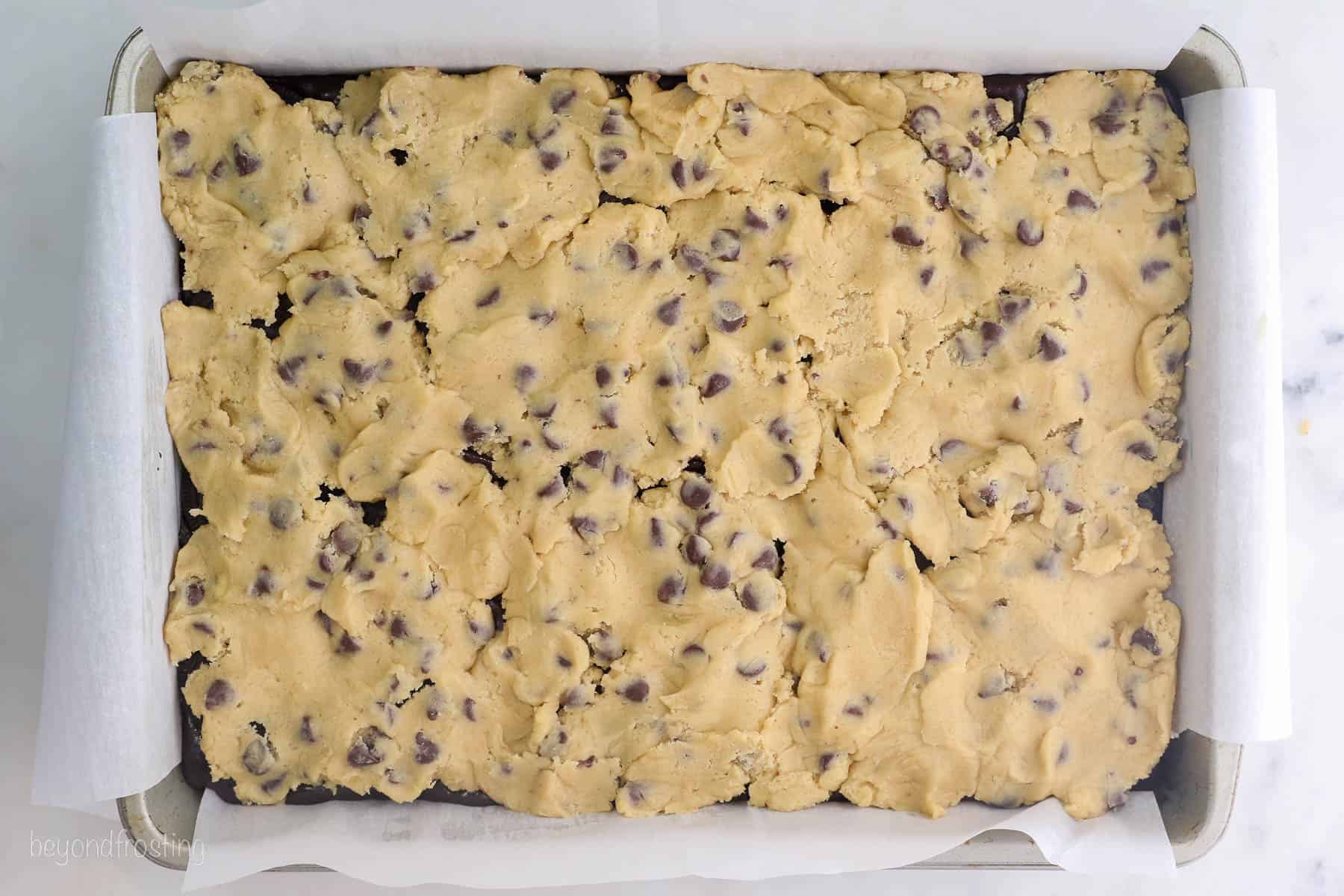 Bake. Pop your assembled slutty brownies into the oven to bake at 350ºF for 35-40 minutes. After 15 minutes, take the pan out and cover the brownies with foil to keep the top from browning. Remove the foil at around the 30-minute mark. When your brownies are done, let them cool completely before slicing.
Tips for Success
Here are some final tips for the best slutty brownies:
I prefer these slutty brownies with a brownie bottom. In all my testing, I've found that it's very easy to overbake the cookies when they're on the bottom, and they come out crumbly.
Test your brownies for doneness. This is easiest to do using a toothpick stuck into the middle of the pan (try not to hit a chocolate chip!). The brownies are done when the toothpick comes out mostly clean, with a few crumbs sticking to it. But it should not be wet. While you want your brownie layer to bake all the way through, it's OK if the cookie layer looks a bit underbaked. Cookies tend to set up more as they cool.
Allow the brownie bars to cool completely. Make sure your slutty brownies are at room temperature before you go to slice them.
Make the cookie dough first. Since the brownie batter tends to thicken the longer it sits, I find it's best to have the cookie dough ready to go beforehand.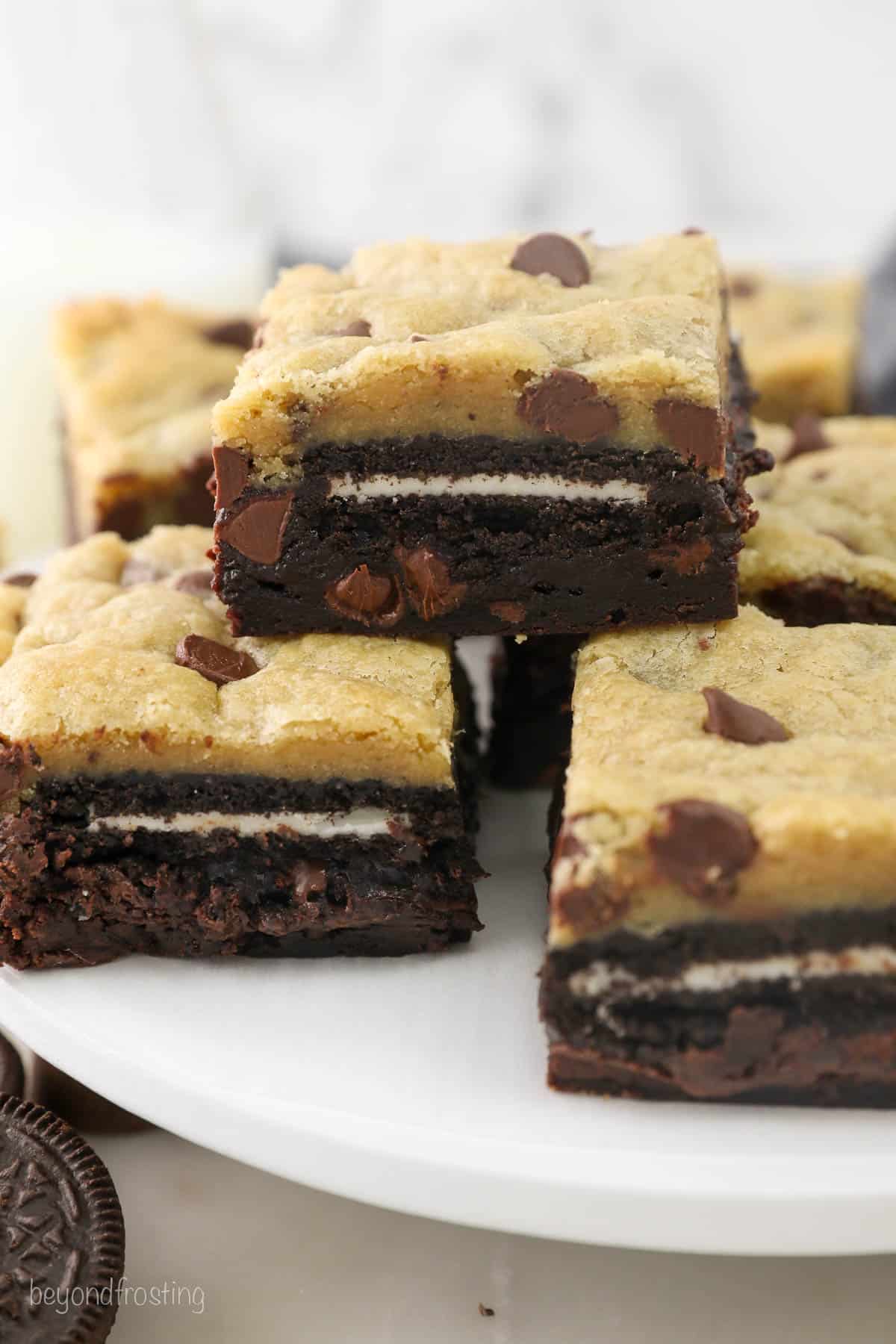 Variation Ideas
There are so many ways that you can make this recipe your own. Here are some easy slutty brownie variation ideas:
Use different Oreos. This brownie recipe will work with any type of Oreo you prefer: regular, Double Stuf, Golden Oreos, etc. Even Mint Oreos would add a fun mint chocolate brownie twist.
Different cookie dough. Instead of chocolate chip cookie dough, you can try adding other candies like M&Ms, Sprinkles, Toffee or even chopped candy bars.
Add frosting. Top your slutty brownies with a thick layer of Chocolate Buttercream Frosting, Marshmallow Frosting, or Oreo Frosting.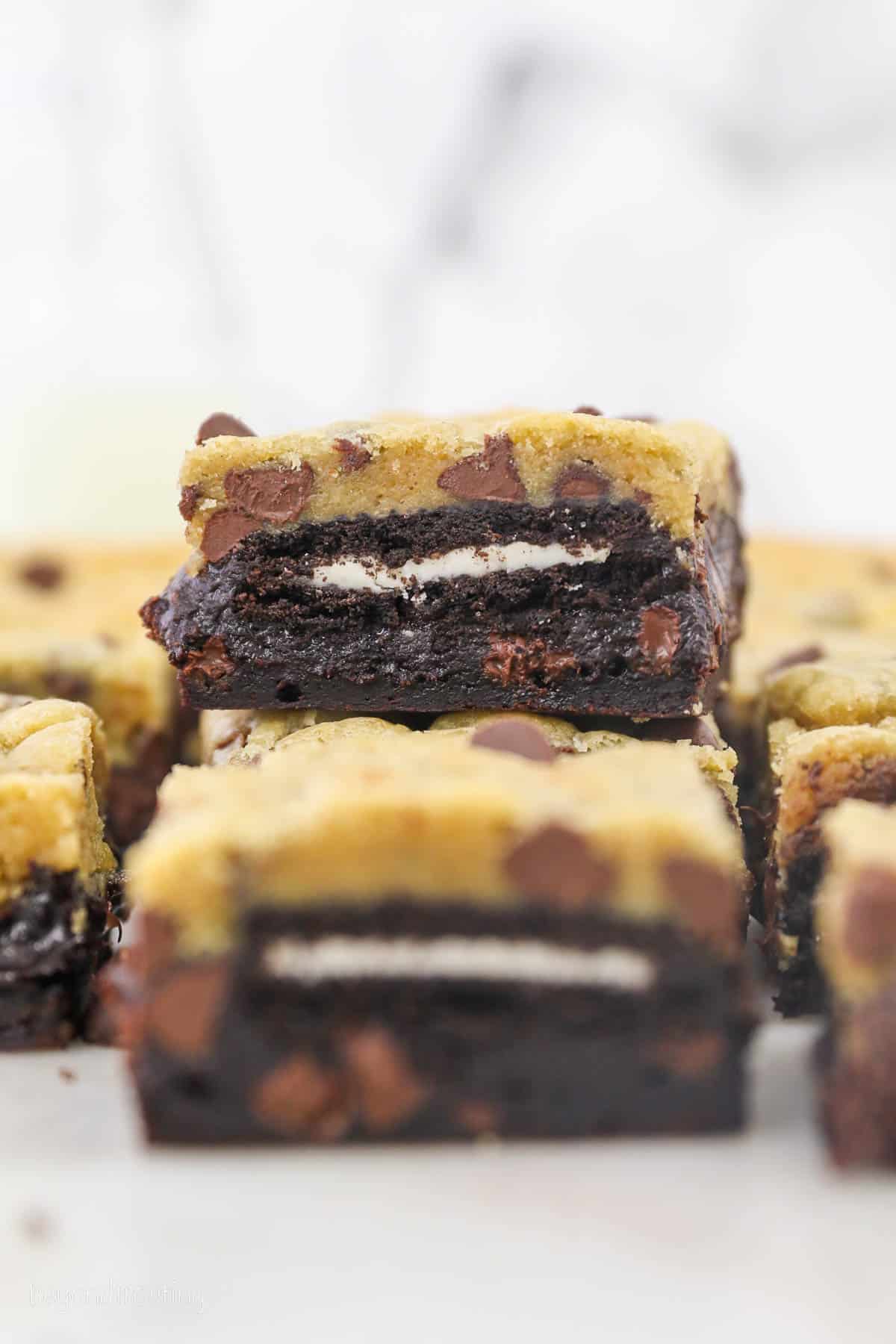 Ways to Serve
These slutty brownies are downright blissful and decadent on their own, or you can up the ante with a drizzle of hot fudge sauce or caramel sauce. They're also incredible when they're warmed up and topped with a scoop of ice cream.
Speaking of, make a brownie sundae! Serve your slutty brownies topped with your favorite ice cream, Homemade Whipped Cream, a drizzle of hot fudge, and a cherry.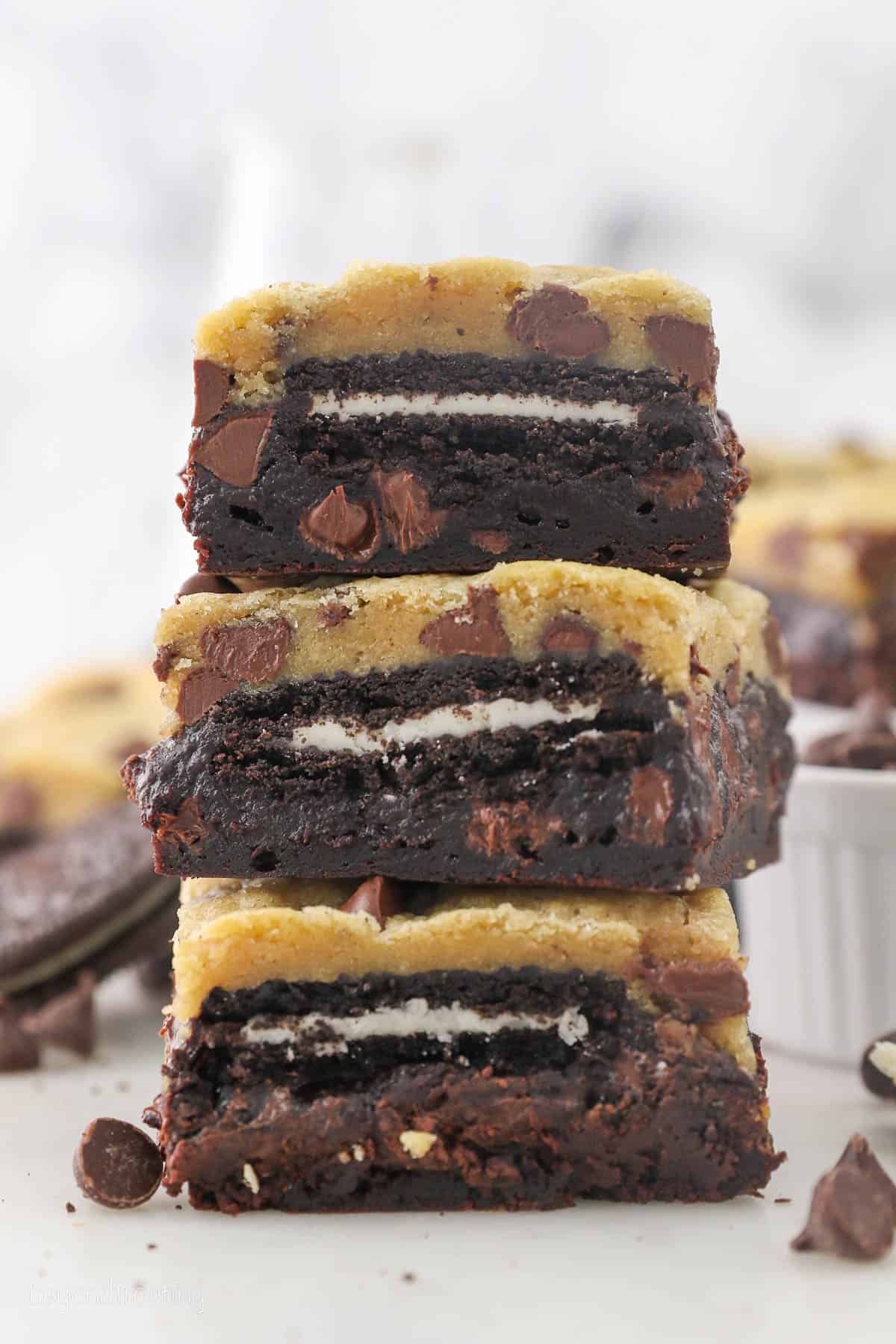 How to Store Homemade Brownies
The baked and cooled slutty brownies can be stored airtight at room temperature. They'll keep fresh for up to 4 days. Otherwise, they'll keep for up to 7 days in the fridge.
Can I Freeze Slutty Brownies?
Yes, you can. I recommend freezing these brownies either individually wrapped, or with parchment paper in between layers. Freeze them in an airtight container or freezer bag for up to 3 months. Thaw the brownies either in the fridge or on the counter before serving.
Print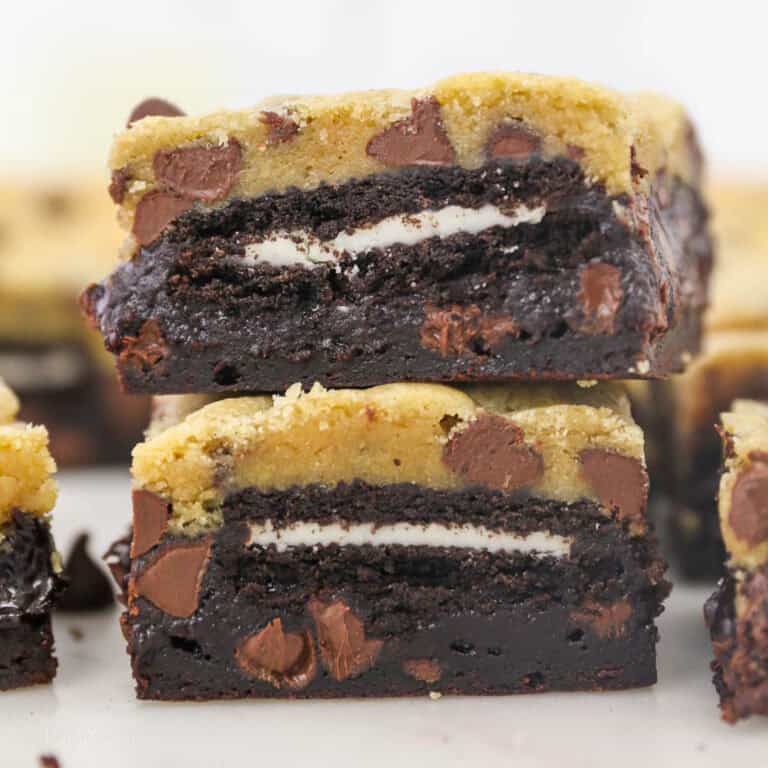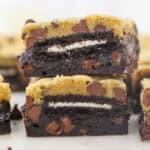 Slutty Brownie Recipe
Author:

Prep Time:

45 minutes

Cook Time:

40 minutes

Total Time:

1 hour 25 minutes

Yield:

18-21 bars
Description
This Slutty Brownie Recipe is made from fudgy chocolate brownies topped with a chewy chocolate chip cookie layer, with Oreos in the middle. Never mind their scandalous name, these brownie Oreo cookie bars are impossible to resist!
Ingredients
For the Cookie Dough
¾ cup

(

170g

) unsalted butter, softened

¾ cup

(

165g

) packed light brown sugar

¼ cup

granulated sugar

1

large egg

1

large egg yolk

1 tablespoon

(15ml) pure vanilla extract

1 ¾ cups

all-purpose flour

¾ teaspoon

salt

¼

teaspoon baking soda

1 cup

(

180g

) chocolate chips

24

Oreos
For the Brownie Layer
2 ½ cups

(

475g

) granulated sugar

2/3 cup

(158ml) vegetable oil

½ cup

(118ml) milk

2

large eggs

2 cups

(

280g

) all-purpose flour

1 cup

(

80g

) cocoa powder

1 ½ cups

(

270g

) chocolate chips
Instructions
Preheat the oven to 350°F. Grease a 9×13-inch pan and line the bottom and sides with parchment paper. Allow the butter to soften for at least 20 minutes.
Make the Cookie Dough
Combine the softened butter with the brown and granulated sugar. Beat on medium speed until well combined, 2-3 minutes.
Next add the egg, egg yolk, and vanilla extract and continue beating until well incorporated.
In a separate bowl, combine the flour, salt, and baking soda. Stir to combine and slowly add the dry ingredients into the dough, mixing on low speed until the dough starts to form. Before the dough thickens, add the chocolate chips. Beat until incorporated. Set aside.
Make the Brownie Batter
Preheat the oven to 350°F. Generously grease an 8-inch baking pan and line it with parchment paper.
In a medium-sized mixing bowl, combine the granulated sugar with the oil, milk, and vanilla extract and beat together until well combined.
Next, add the egg and beat just until combined, about 30 seconds or so.
Combine the dry ingredients in a separate bowl and stir to combine. Add the dry ingredients to the batter and mix just until combined. Fold in the chocolate chips with a spatula.
Assembly & Baking
Pour the prepared brownie batter into the bottom of the pan. Line the pan with 24 Oreos. Then take large pieces of the cookie dough and press it flat with your hands, then press it into the brownie batter. Continue to layer all the remaining cookie dough.
Bake at 350°F for 35-40 minutes. First bake for 15 minutes, then cover the pan with foil to prevent too much browning on top. Around 30 minutes into baking, remove the foil. Test for doneness by inserting a toothpick into the center. The toothpick should be clean. The brownie layer will be fully baked through, the cookie dough may be slightly underdone but will continue baking as it cools. Cool completely before slicing.
Notes
How to tell if they're done? Insert a toothpick into the center and it should come out mostly clean. If the toothpick is wet, it needs to continue baking. You may need to add to the baking time.
Any type of Oreo can be used.
I recommend making the cookie dough first so that the brownie batter doesn't sit for too long, as it tends to thicken.
Be sure to line the pan with parchment paper to prevent the brownies from sticking.
Category:

Brownies

Method:

Oven

Cuisine:

American
Keywords: oreo brownies, chocolate chip cookie brownies, slutty brownie recipe
More Irresistible Homemade Brownies