This post may contain affiliate sales links. Please see my full disclosure policy for details
These mint chocolate brownies are thick and fudgy brownies topped with fluffy mint frosting and creamy chocolate ganache. It's an irresistible spin on the classic chocolate and mint flavor combo!
Classic Mint Chocolate Brownies
Bust out your stretchy pants! My grandma's mint chocolate brownies are dense, fudgy chocolate brownies topped with layers of fluffy mint frosting and silky chocolate ganache. If you find a mint and chocolate combination impossible to resist, you're going to devour these brownies. Whether you're making them as a festive holiday treat, as a fun potluck dessert, or just because, there's rarely an occasion where these rich mint chocolate brownies don't vanish from the table.
Why You'll Love This Mint Chocolate Brownie Recipe
Extra chocolatey. My fudgy brownie recipe uses both solid chopped chocolate and cocoa powder, as well as minimal flour. The result is less cakey, extra-fudgy brownies with a dense, soft texture.
Fresh mint frosting. A thick layer of fluffy mint buttercream puts the "mint" in these mint chocolate brownies. The frosting is sweet and minty but not overpowering, and melts away with every bite.
Chocolate ganache. These mint chocolate brownies are finished with a layer of rich homemade ganache. Once set, it has the consistency of a chocolate truffle. So yummy!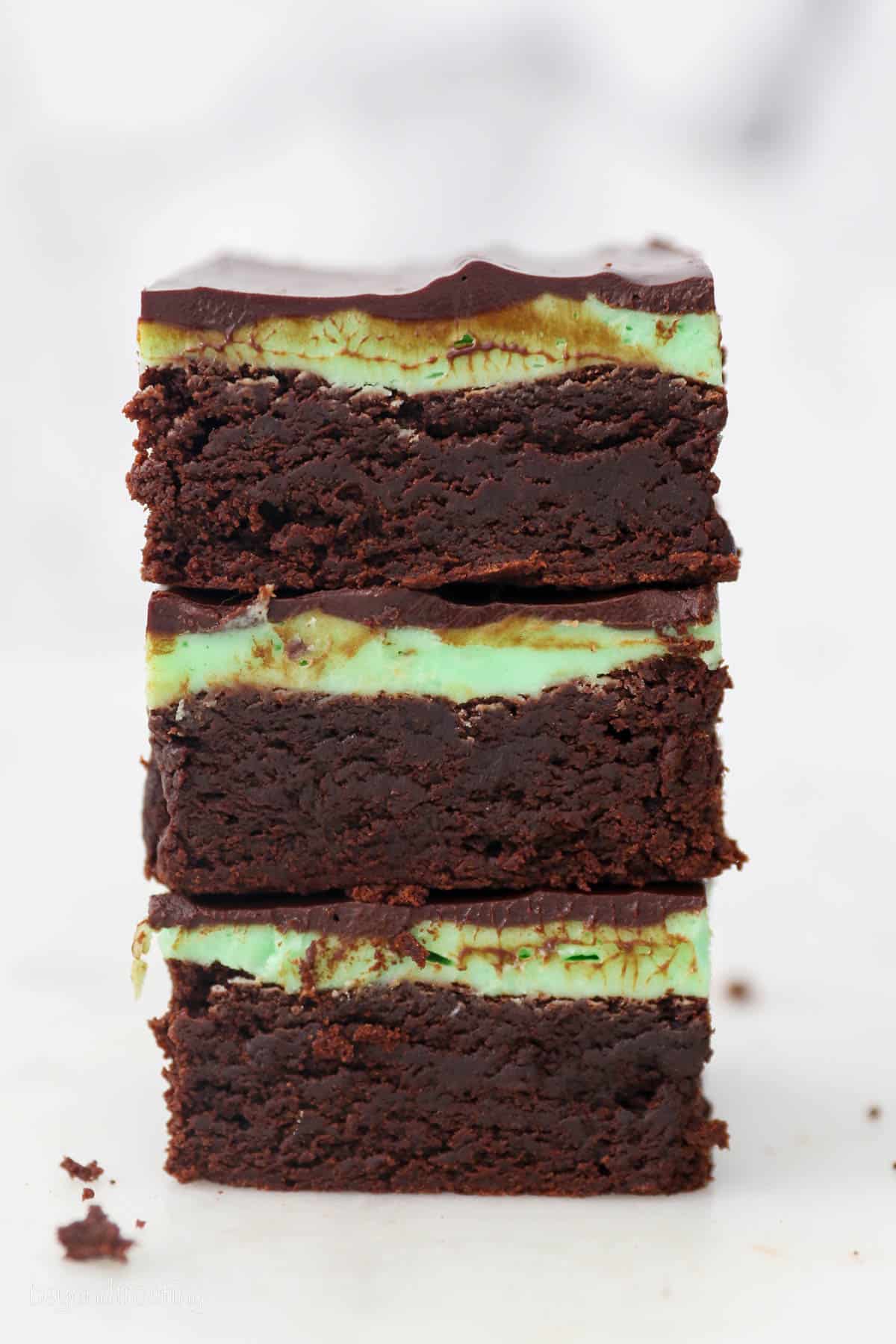 Ingredient Notes
I've outlined the important ingredients and included some notes.
Be sure to scroll to the recipe card for the full ingredients list, measurements, and recipe details.
Dark Chocolate – Use a high-quality chocolate bar (at least 60% cocoa or higher) like the kind from Ghirardelli, Lindt, or Guittard. You can also use semi-sweet or even milk chocolate if you prefer.
Butter – I recommend unsalted butter, also melted.
Eggs – Two eggs plus an additional egg yolk.
Cocoa Powder – I like to use Rodelle Dutch Processed Cocoa. However, this recipe will with any good-quality cocoa powder, such as Hershey's Special Dark or Ghirardelli Cocoa. I recommend sifting the cocoa powder beforehand.
Baking Powder – A little leavening goes a long way in achieving that "boxed brownie" texture with a rich, fudgy center.
For the Frosting Layers
Mint Extract – You can also use peppermint extract.
Food Coloring – Use your choice of green gel dye or liquid food coloring to dye the frosting a minty green color.
Chocolate Ganache – You'll melt dark chocolate with heavy cream to create a homemade ganache to pour over top of the frosted brownies.
How to Make Mint Chocolate Brownies
Here's how to have your mint brownies ready and frosted in just a few easy steps:
Melt the chocolate. First, melt chopped dark chocolate in the microwave in increments, stirring until it's smooth (see this handy tutorial for other ways to melt chocolate if you don't have a microwave)
Combine the wet ingredients. Cream together melted butter with sugar, then add the eggs and egg yolk and beat until the texture is light and fluffy. Finally, stir in the melted chocolate and vanilla.
Add the dry ingredients. In a separate bowl, whisk together the dry ingredients, then mix the dry mixture to the wet batter.
Bake. Spread the brownie batter into a greased and lined baking pan, and bake at 350ºF for 20-24 minutes. Let the brownies cool completely before you frost them.
Add the mint frosting. Beat softened butter with powdered sugar, mint extract, and heavy cream to make the frosting. Afterward, spread the frosting over the cooled brownies.
Finish with chocolate ganache. Add additional dark chocolate to a bowl with heavy cream, and microwave the mixture until melted and smooth. Finally, spread the ganache over the frosting layer, leave it to set, and then slice to serve.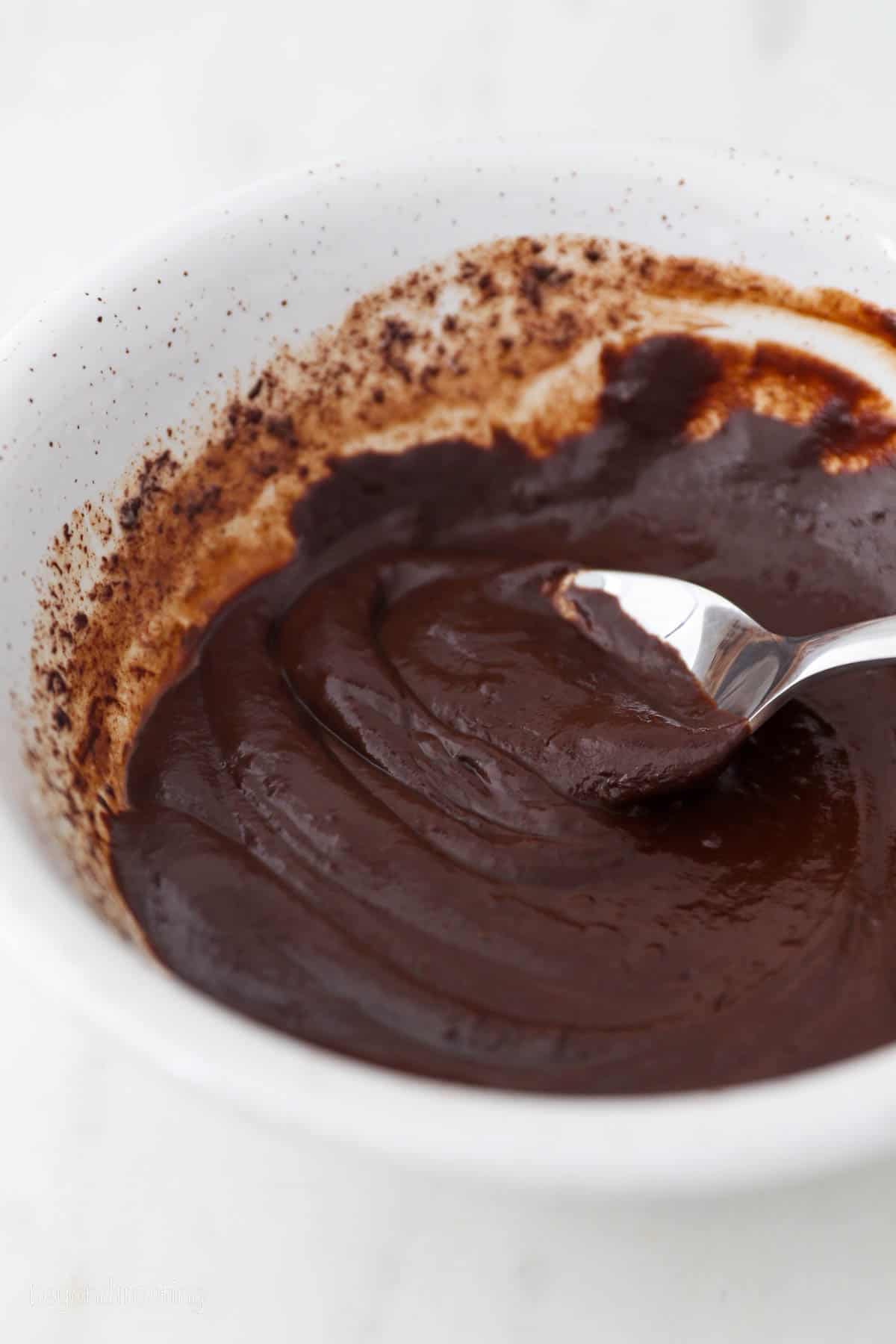 You've got this! In case you need a bit of encourage-mint when baking these mint chocolate brownies, keep the below tips in mind:
Use high-quality chocolate. Chocolate is the star flavor in these fudgy homemade brownies, so make sure that the chocolate bars you're using are good quality. You'll taste the difference!
Cocoa powder. You can use natural or Dutch-processed cooca powder, but high quality cocoa will produce the best results (also check out my resource on the different types of cocoa powders).
Whip the eggs. The secret to a flaky crust on these brownies is to beat the eggs and egg yolk into the batter until it's extra fluffy, like cake batter.
Not all pans bake the same. Metal pans require a shorter baking time than glass or ceramic pans.
Check the brownies for doneness. Use a toothpick stuck into the center of the pan, if it comes out a little gooey but not wet, the brownies are ready to come out.
For cleaner slices, run a sharp knife under hot water before cutting the brownies and wipe the knife off with a paper towel between cuts.
For perfect squares, trim off the outer edges of the brownies.
If your mint frosting is too thick, add additional heavy cream 1 teaspoon at a time until you reach your desired consistency.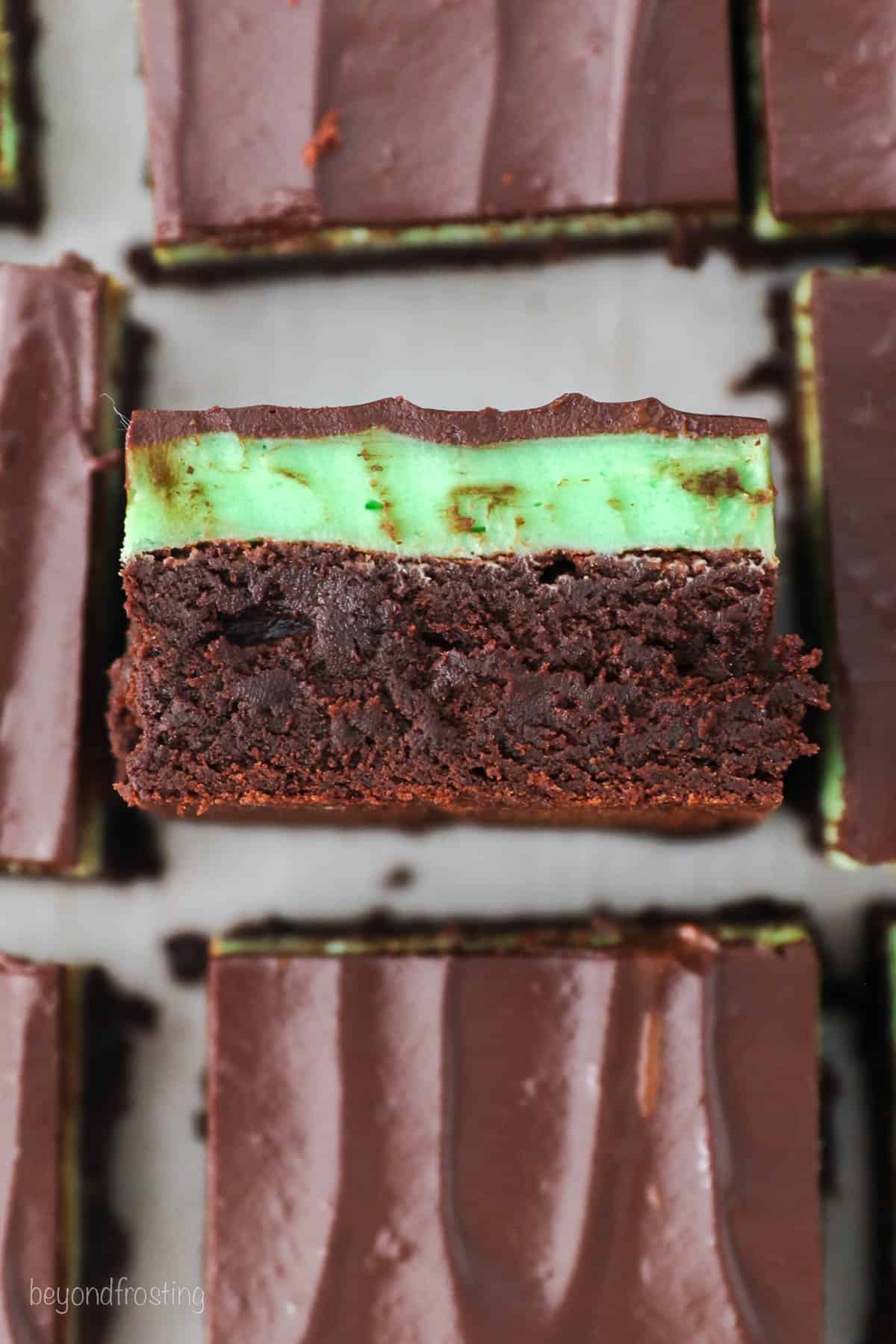 Can I Use Brownie Mix Instead?
Absolutely. Homemade is always my first choice, but when pressed for time, you can make this recipe with a boxed brownie mix, or try my cocoa powder brownies which are truly just as easy as a boxed mix.
In this case, you'll follow the directions on the box to bake the brownies. If it calls for a 9×13-inch pan, I recommend doubling the frosting and the ganache for a larger-sized pan.
Can I Make These Brownies Ahead?
Yes! I've found the easiest way to get a head start on this recipe is to bake the brownies in advance. You can store the brownies for a day or two at room temperature, or you can freeze them for up to 1 month. When freezing, make sure to wrap the pan tightly in a double layer of plastic wrap. Thaw the brownie layer at room temperature when you're ready to add the frosting and ganache.
How to Store Mint Chocolate Brownies
To Store. Store your mint chocolate brownies airtight at room temperature for up to 2 days. You can also refrigerate the brownies for up to 4 days, though it tends to dry them out a bit.
Freeze. Transfer the finished brownies to a freezer-safe container and store them in the freezer for up to 1 month. Thaw at room temperature before serving.
More Brownies Recipes
Print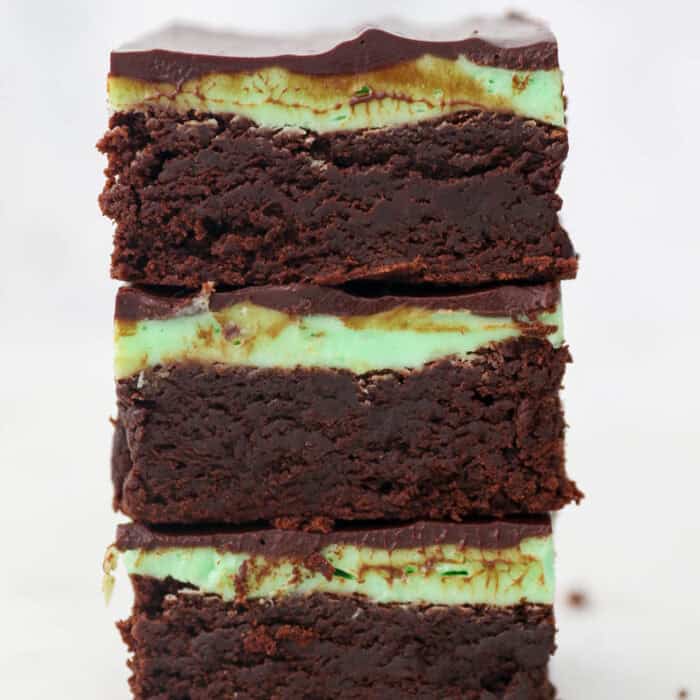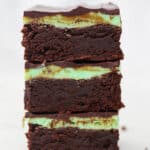 Mint Chocolate Brownies
Author:

Prep Time:

30 minutes

Cook Time:

22 minutes

Total Time:

52 minutes

Yield:

9 slices
Description
These easy mint chocolate brownies are thick and fudgy chocolate brownies topped with fluffy mint frosting and silky chocolate ganache. A classic flavor combination!
Ingredients
For the brownie
4 ounces

(113g) Dark chocolate, melted (see notes)

½ cup

(

113g

) Unsalted butter, melted

1 cup

(

190g

) Granulated sugar

2

large Eggs

1

large Egg yolk

1 tablespoon

(15ml) Pure vanilla extract

½ cup

(

70g

) All-purpose flour

½ cup

(

55g

) Rodelle Dutch-processed cocoa powder, sifted (see notes)

¾ teaspoon

Salt

½ teaspoon

Baking powder
For the frosting
6 tablespoons

(

84g

) Unsalted butter, softened

1 1/2 cups

(

195g

) Powdered sugar

2 teaspoons

Heavy whipping cream

1/4 teaspoon

Mint or peppermint extract
Green food coloring if desired
For the ganache
2 ounces

(

56g

) dark chocolate

5

–

6

tablespoons (75-90ml) heavy whipping cream
Instructions
For the brownies
Preheat the oven to 350°F. Generously grease an 8-inch baking pan, then line with parchment paper
Chop the chocolate into smaller pieces and melt the chocolate in a microwave-safe bowl in 30 second increments, stirring each time, and microwave until completely melted and smooth. Set aside to cool.
Combine the butter with the granulated sugar; beat together until well combined. Next, add the egg and egg yolk and beat for 60-90 seconds at a higher speed until the batter is fluffy (texture resembling a cake batter). Then add the vanilla extract and melted chocolate and beat until combined.
Combine the dry ingredients in a separate bowl and stir to combine. Add the dry ingredients to the batter and mix just until combined. Spread the batter evenly and bake at 350°F for 20-24 minutes. To test for doneness, rhe toothpick should still be somewhat gooey but not wet in the center. Remove from the oven and cool completely.
For the frosting
Soften the butter in the microwave for 15 seconds. Whip the butter for a couple of minutes using the paddle attachment, scraping down the bowl occasionally.
Add the powdered sugar, the mint extract, and the heavy cream. Continue beating at high speed until desired consistency is reached. Add green food coloring if desired. Spread over cooled brownies.
For the ganache
In a microwave-safe bowl, combine the chocolate with the heavy whipping cream. Melt the chocolate in the microwave in 30-second increments and stir until completely combined and melted. Allow to cool. Spread over the frosting and allow the ganache to set.
Notes
Chocolate bars: I recommend using a high-quality baking bar such as Ghirardelli or Lindt. These are best with dark chocolate, but any type of melted chocolate will work. If you don't have a chocolate bar, then you can use chocolate chips. 4 ounces of chocolate is equivalent to a generous ½ cup of chocolate chips.
Whipping the eggs: Be sure to beat your eggs and yolk until the batter is really light and fluffy, resembling a cake batter. This ensures the flakey crust on top.
Cocoa Powder: I recommend Rodelle Dutch-processed cocoa powder. In all my tests, it had the best taste and texture. However, any cocoa powder will work, this recipe has been tested using several varieties.
Baking Pans: This can be made in a 9-inch square or round pan. The baking time is approximately 20-22 minutes depending on the type of pan used. Glass pans will always require a longer baking time. After 22 minutes, I check my brownies every 1-2 minutes. If you stick a toothpick in the center of the brownies, they will still be gooey but not as "wet". The brownies will continue to bake for several minutes as they cool.
For a large batch, double this recipe and bake in a 9 by 13-inch pan. Baking time is similar.
How to store or freeze these: Store in an airtight container or freeze for up to 1 month. To freeze the brownies, first, allow them to cool completely, slice them, and store them in a freezer-safe airtight container.
Category:

Brownie

Method:

Baked

Cuisine:

American
Keywords: mint chocolate brownies, chocolate brownies, mint brownies