This post may contain affiliate sales links. Please see my full disclosure policy for details
Rich and fudgy Buckeye Brownies have all the decadent chocolate and peanut butter flavor we love about the classic buckeye candy recipe! Chocolatey homemade brownies are loaded with chocolate chips, then topped with peanut butter fudge and dark chocolate ganache.
The Best-Ever, Fudgy Buckeye Brownies Recipe!
If there is one recipe that can rival The Best Homemade Brownies, it's these incredible buckeye brownies! This delicious and easy brownie recipe is inspired by the classic buckeye candy, made with tons of chocolate and a melt-in-your-mouth peanut butter layer. It's rich, fudgy, decadent – I could go on.
This recipe borrows the filling from my Peanut Butter Buckeye Cookies for the creamy peanut butter fudge, layering it with a variation of my Cocoa Powder Brownies and a simple, decadent chocolate ganache.
The end result is a fudgy, chocolate-covered peanut butter brownie that tastes just like the buckeye candies we know and love!
What Are Buckeyes?
Buckeyes are made from peanut butter fudge dipped in melted chocolate, leaving a circle of peanut butter at the top. Basically, they're a partially-dipped peanut butter balls! The visible peanut butter makes buckeye candy look like the nut from the Ohio buckeye tree, which is where they get the name.
These buckeye brownies take everything we love about homemade buckeye candy, and turn it into a delicious multi-layered brownie!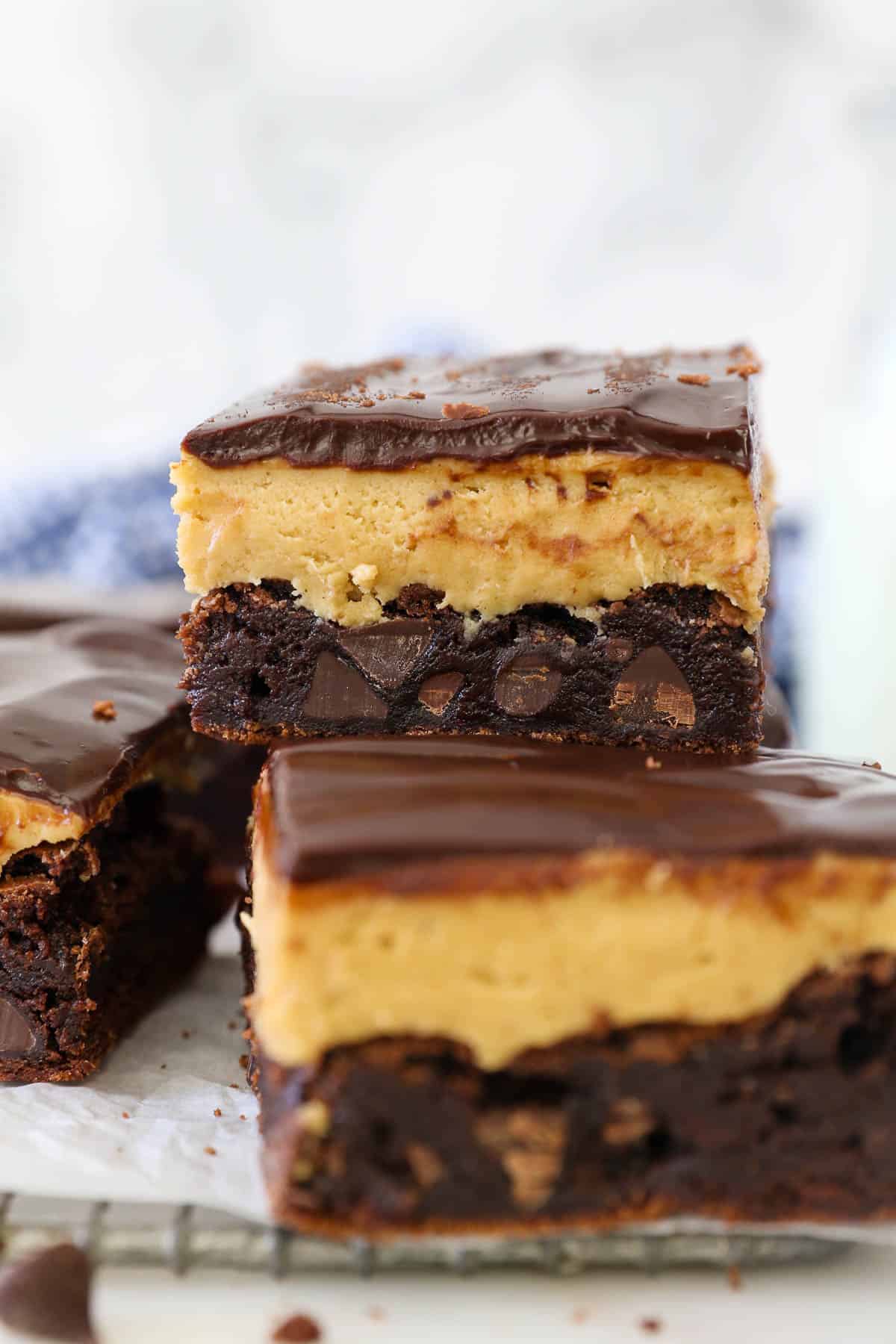 Key Ingredients
Here's an overview of what you'll need to make all three layers, with the full details available in the recipe card at the very bottom of this post.
Brownie Layer
Vegetable Oil

– I don't recommend swapping the oil for butter in this case.

Milk
Egg
Cocoa Powder – I recommend using natural, unsweetened cocoa powder for an extra fudgy brownie that isn't overly sweet.
Chocolate Chips – I like semi-sweet but use your favorite one.
Peanut Butter Layer
Unsalted Butter – Feel free to use salted butter if you prefer (or if the peanut butter you'll be using has no salt or sugar added). Let the butter come to room temperature before you start so that it's easier to combine.
Creamy Peanut Butter – I recommend using shelf-stable, creamy peanut butter (like Jif or Skippy) and not the natural kind. Natural peanut butter contains excess oils that will change the texture of the mixture.
Powdered Sugar – I recommend sifting the sugar to break up any clumps.
Chocolate Layer
Dark Chocolate – This ganache layer turns out the best with a high-quality, dark chocolate bar. You can break larger bars into pieces to help them melt faster.
Whipping Cream – Stick with full-fat heavy whipping cream for the perfect creamy and spreadable chocolate ganache.
How to Make Buckeye Brownies
First, grease and line a baking pan with parchment paper. With the oven preheating to 350ºF, here's how to make the fudgy chocolate brownies:
Combine the wet ingredients: In a bowl, beat together the sugar, oil, milk, and vanilla. Add the egg to your wet ingredients and continue to beat until combined.
Combine the dry ingredients: In a separate bowl, mix together the dry ingredients. Gently stir the dry ingredients into the wet until just combined (be careful to not overmix!). Finally, fold in the chocolate chips.
Fill the pan: Transfer the brownie batter to your prepped baking pan. Once it's spread into an even layer, top the batter with more chocolate chips.
Bake: Bake the brownies for 18 to 22 minutes, or until a toothpick stuck into the middle comes out damp but not too wet.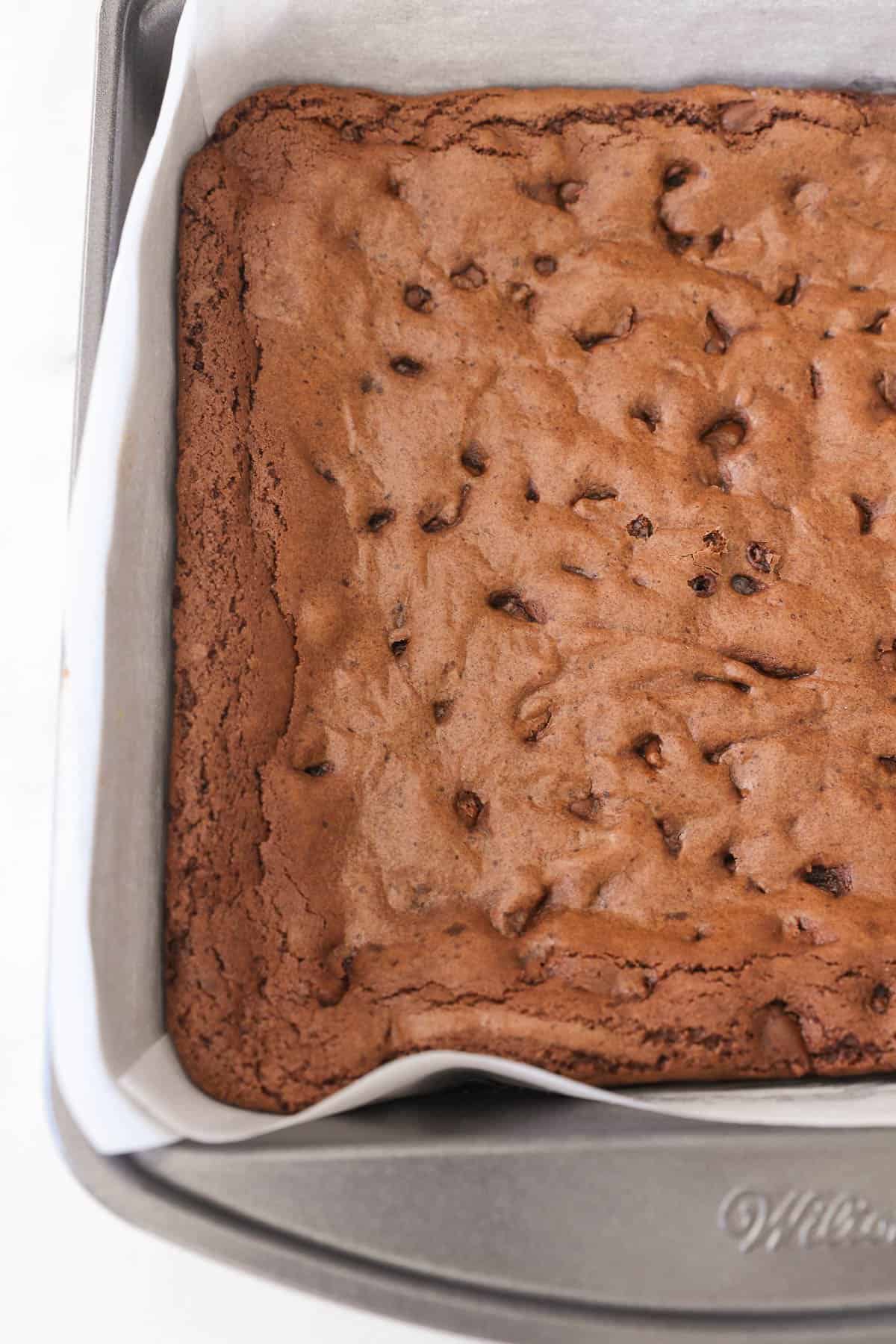 Making the Peanut Butter Layer
While your brownies cool on the counter, go ahead and start on your peanut butter fudge layer!
Combine the ingredients: Beat the butter with the peanut butter until it's free from lumps and silky smooth. Mix in the powdered sugar, and lastly the vanilla.
Spread over the brownies: Once everything is completely smooth, spread the peanut butter layer over the cooled brownies.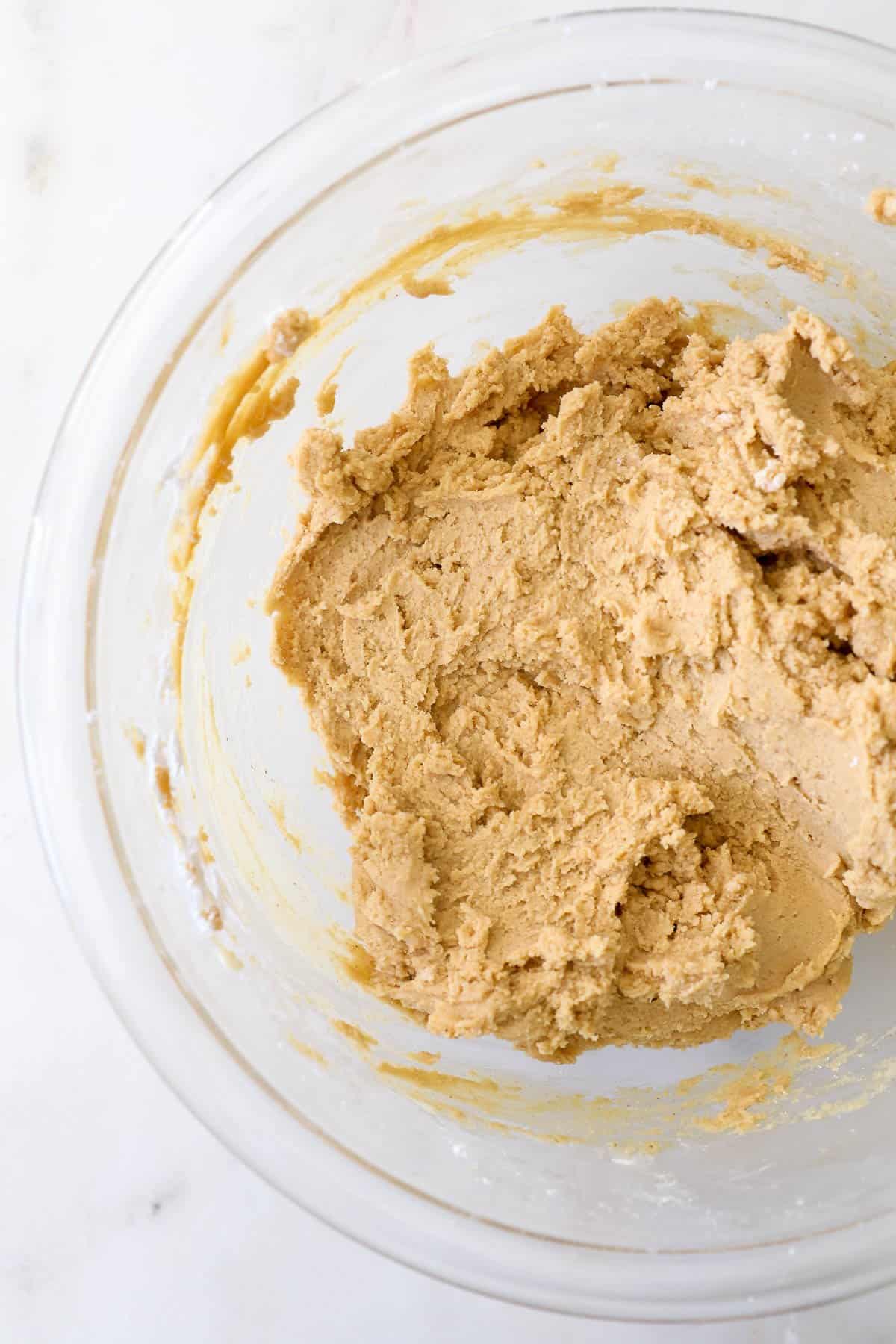 Making the Chocolate Ganache
Finally, it's time to top everything with a layer of fudgy ganache:
Melt the chocolate: To make the ganache, melt the chocolate with the heavy cream in a microwave-safe bowl. I recommend microwaving in increments, stirring in between.
Spread over the peanut butter layer: Give the mixture a chance to cool, then spread the chocolate over the peanut butter layer.
After the ganache has set, it's time to slice and serve! See the section later on for fun ways to serve these delicious buckeye brownies.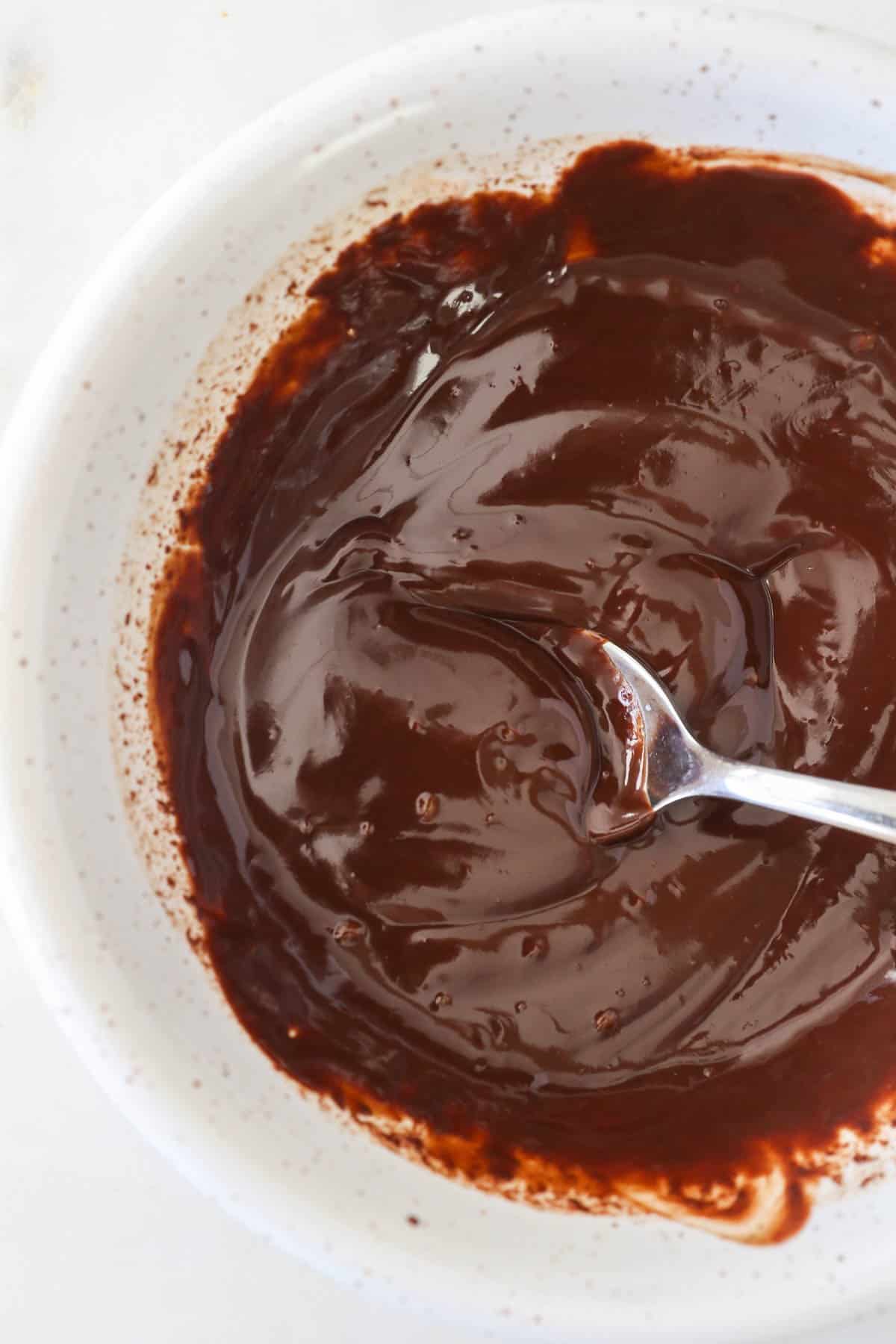 Recipe Tips
Don't overmix the batter. Overly mixing the brownie batter will result in brownies that are tough and chewy (and not the good kind of chewy!). Make sure to mix the ingredients until they are just combined.
Wipe the knife between slices. When slicing your brownies after they've set, use a clean knife and wipe it dry between cuts. This will make for cleaner slices.
Common Questions
What makes brownies chewy vs. cakey?
Adding oil leads to a chewier, denser brownie. In this recipe, I've included oil and left the baking soda out of the original brownie base, specifically because I was after fudgy, chewy brownies!
What is the best oil to use in brownies?
Vegetable oil is the best oil to use in brownie recipes. It has a neutral flavor that won't overpower the brownies.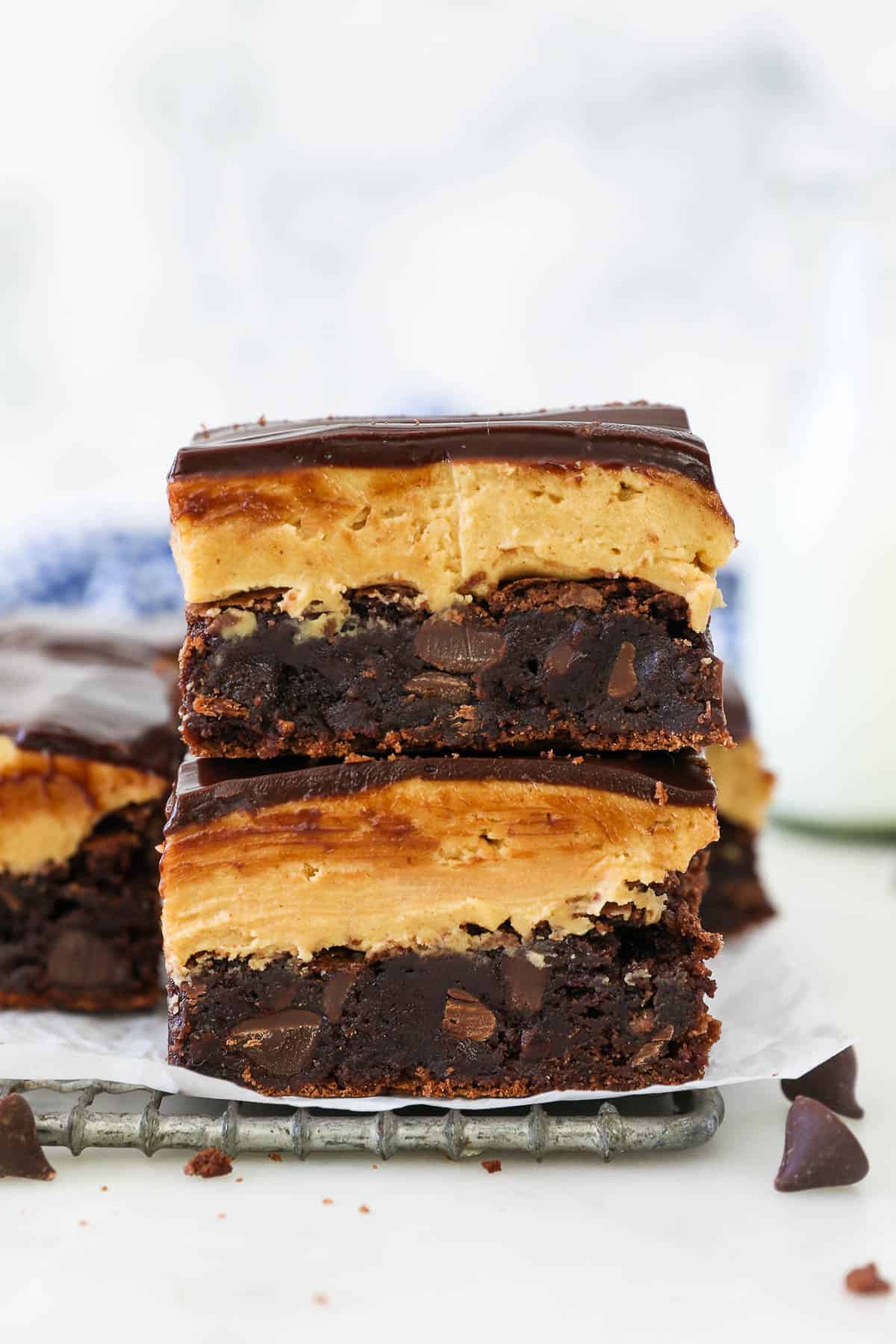 How to Store Homemade Brownies
While most brownie recipes are fine to store at room temperature, these buckeye brownies should be refrigerated. Chilling the brownies prevents the peanut butter and ganache layers from softening up. Do allow them to sit at room temperature for about 15 minutes before you bite into them.
Can I Freeze These?
Yes! These buckeye brownies can be frozen after they're fully cooled and set. Slicing the brownies before freezing them will help them thaw faster. To freeze, wrap the brownies tightly in plastic wrap plus an extra layer of aluminum foil, and keep them frozen for up to 2 months.
Thaw your buckeye brownies in the fridge before serving.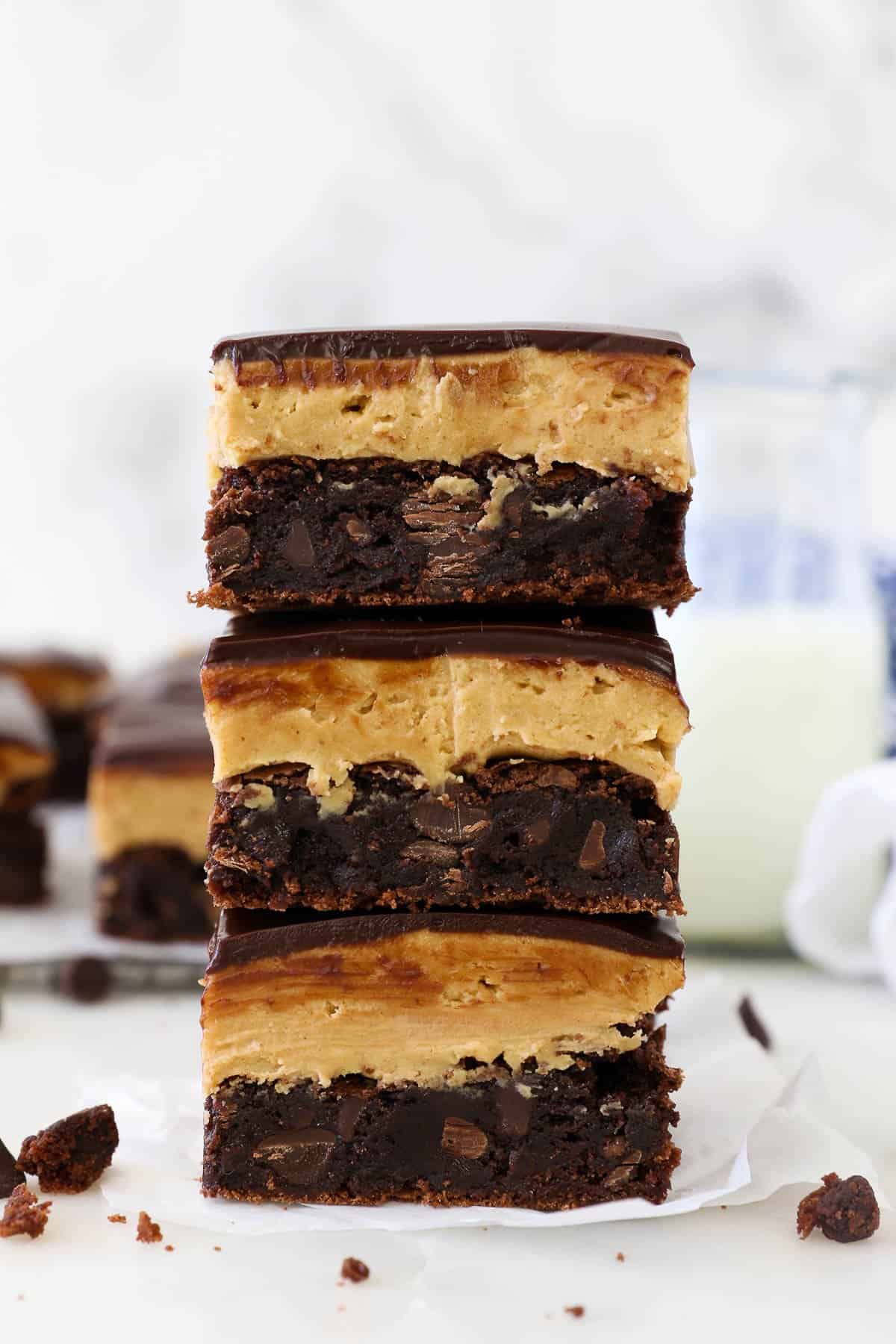 Print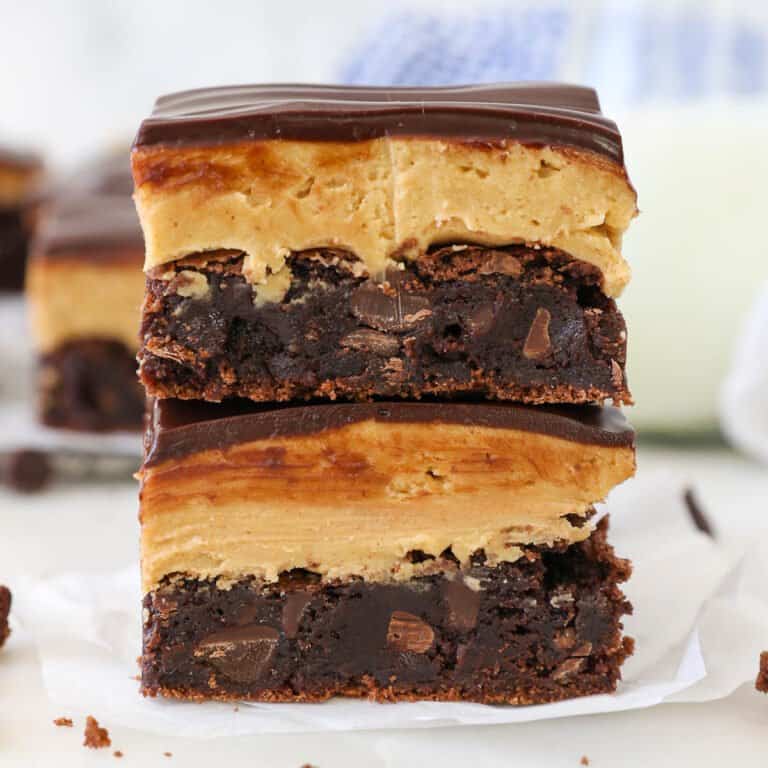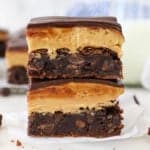 Buckeye Brownie Recipe
Author:

Prep Time:

45 minutes

Cook Time:

20 minutes

Total Time:

1 hour 5 minutes

Yield:

9-12 slices
Description
Rich and fudgy Buckeye Brownies are filled with decadent chocolate and peanut butter flavor, just like the classic buckeye candy recipe! Made from dense chocolate brownies topped with fudgy peanut butter and dark chocolate ganache.
Ingredients
For the Brownie Layer
1 ¼ cups

(

238g

) granulated sugar

1/3 cup

(78ml) vegetable oil

¼ cup

(59ml) milk

2 teaspoons

(10ml) pure vanilla extract

1

large egg

1 cup

(

140g

) all-purpose flour

½ cup

(

40g

) natural unsweetened cocoa powder

¾ cups

(

168g

) semi-sweet chocolate chips, plus additional for garnish
For the Peanut Butter Layer
6 tablespoons

(

85g

) unsalted butter, at room temperature

1 cup

(

264g

) creamy peanut butter

2

cups (260g) powdered sugar, sifted

1 teaspoon

(5ml) pure vanilla extract
For the Chocolate Layer
2 ounces

(

56g

) dark chocolate

5

tablespoons (75ml) heavy whipping cream
Instructions
For the Brownie Layer
Preheat the oven to 350°F. Generously grease an 8-inch baking pan and line it with parchment paper.
In a medium-sized mixing bowl, combine the granulated sugar with the oil, milk, and vanilla extract and beat together until well combined.
Next, add the egg and beat just until combined, about 30 seconds or so.
Combine the dry ingredients in a separate bowl and stir to combine. Add the dry ingredients to the batter and mix just until combined. Fold in the chocolate chips with a spatula.
Spread the batter evenly in the prepared pan and sprinkle another handful of chocolate chips over top. Bake at 350°F for 18-22 minutes. A toothpick inserted into the center will be damp but not gooey or wet.
For the Peanut Butter Layer
In a medium-sized mixing bowl combine the butter and peanut butter and beat until completely smooth and free of lumps. Add the powdered sugar and vanilla extract and beat until well combined. Spread over the cooled brownies.
For the Chocolate Layer
In a microwave-safe bowl, combine the chocolate with the heavy whipping cream. Melt the chocolate in the microwave at 50% power in 30-second increments and stir until completely combined. Allow to cool. Spread over the peanut butter and allow the ganache to set. Slice and serve.
Notes
Storing: These are best stored in the refrigerator to keep the peanut butter and chocolate layers from softening.
Freezing: Finished brownies can be frozen once they're fully set. I recommend slicing first so they will thaw faster.
Slicing: Use a clean knife to slice, wiping dry between cuts.
Category:

Brownies

Method:

Oven

Cuisine:

American
Keywords: peanut butter brownies, best brownies, homemade brownies
More Brownie Recipes to Try