This Moist Vanilla Layer Cake is an easy oil-based vanilla cake recipe that is SUPER moist and spongy, you'll know it's a homemade vanilla cake. It's decorated with the perfect vanilla frosting recipe.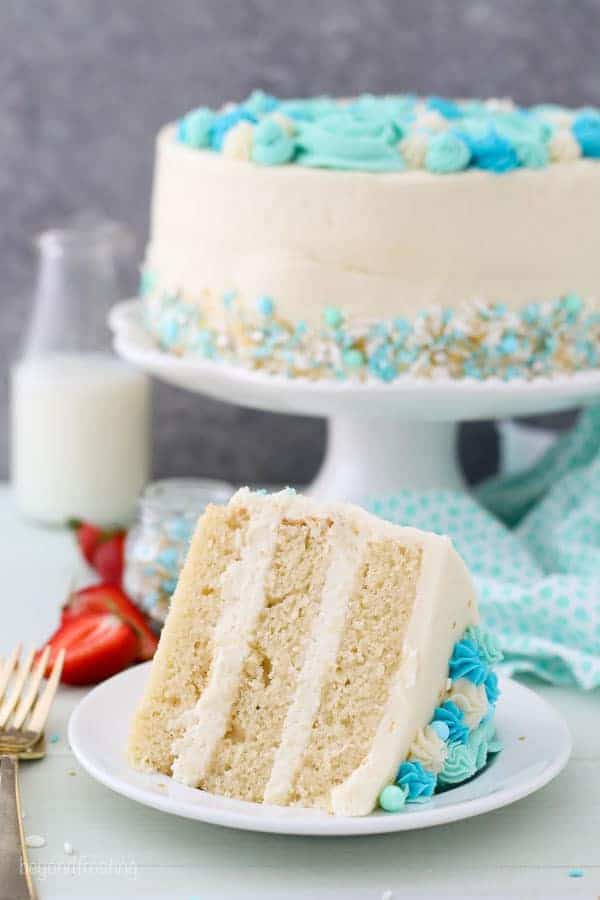 If you're just stopping by here for the first time, I want to be sure that you know that there's a couple different versions of this cake. Each recipe is prepared with the same ingredients but tailored specifically for either cakes or vanilla cupcakes.
When I initially posted my Moist Vanilla Cake recipe, I got a lot of questions about baking it as a layer cake. The quick answer is yes, but it's a little more complicated for a layer cakes, so I thought it deserves its own specific post!
The vanilla cake recipe is SO easy. It's an oil-based cake recipe, so there's no waiting around for the butter to soften or creaming the butter and sugar together. The oil also creates a more tender crumb in the cake. It's gotten RAVE reviews.
This cake recipe is denser than it is light and airy, but it's super moist. The cake is very sturdy which makes it a great recipe for layer cakes.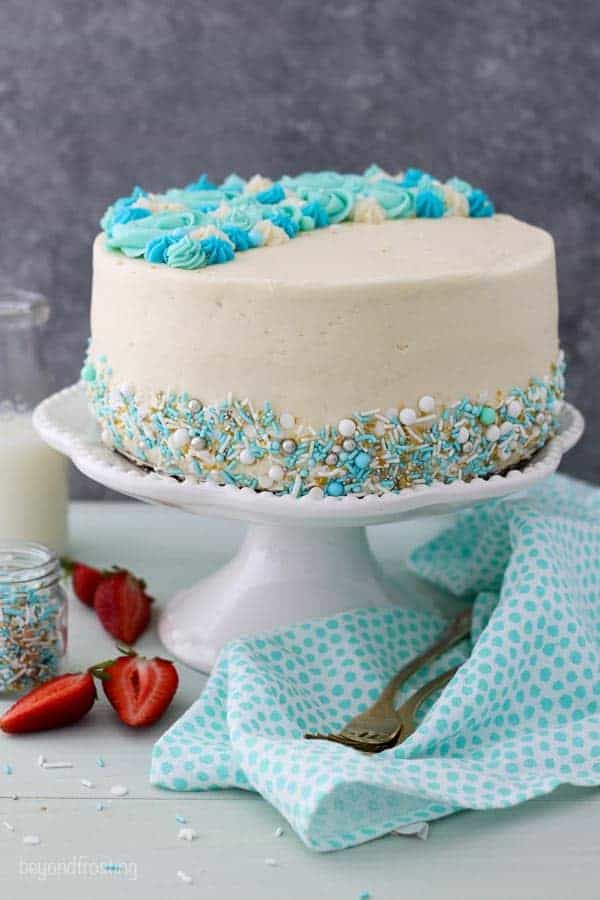 The vanilla cake can also easily be altered for different flavors as well. This recipe is the same one I used for my Strawberry Mascarpone Layer Cake and this Blueberry Lemon Mascarpone Cake.
Tips for making this vanilla Layer Cake
This recipe makes three 8-inch layers. My 8-inch baking pans are go-to size. I line all my pans with parchment paper circles or a Silpat liner. I also generously grease the sides of the pan with Crisco and a light dusting of flour.
Finally, I use bake even stripes whenever I am baking round cakes. The bake even stripes help prevent the dome from forming on the top of the cake, because it prevents the edges from baking too quickly. As the edges of the cake bake, it pushes the batter towards the center, creating the dome.
You need nice, flat top cakes when you're making a layer cake. If your cake has a dome, use a large serrated knife or a cake level to cut the dome off the top.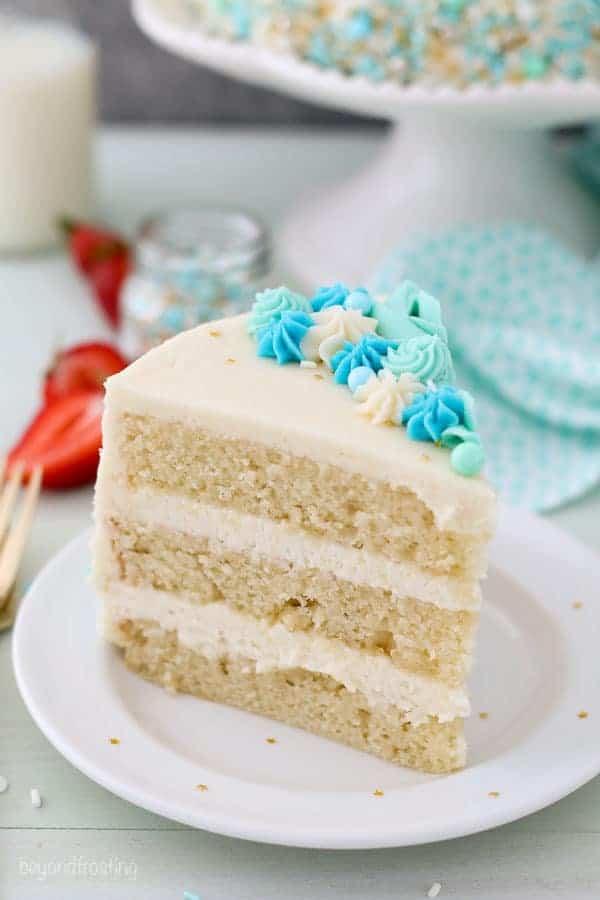 For this vanilla cake you'll need quite a bit of frosting. Besides the filling in between the layers, you'll need extra frosting for decorating. A batch of my perfect vanilla frosting should do the trick. If you don't prefer the taste of American buttercream, you could certainly also make a large batch of Swiss Meringue Buttercream.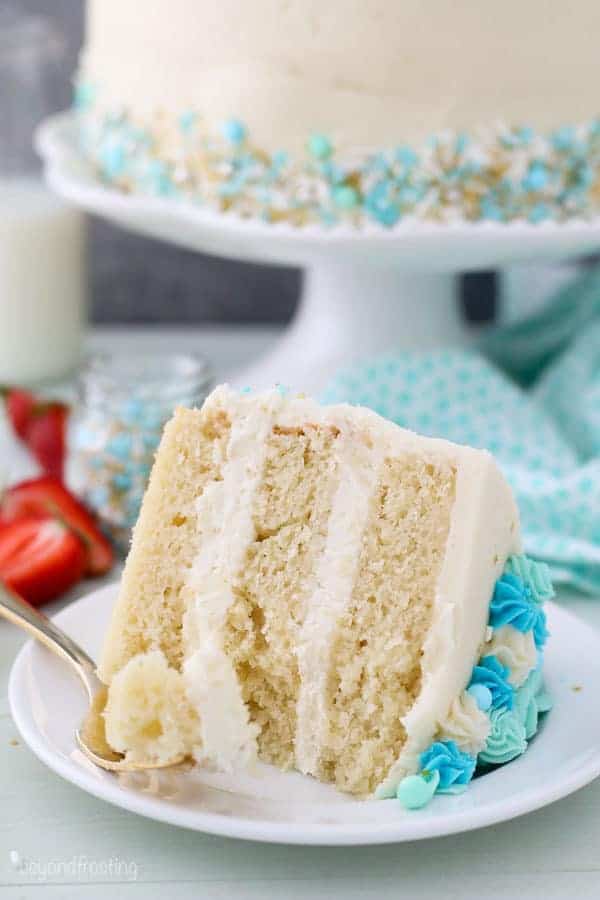 The BEST part about that frosting recipe is that it starts with COLD butter. It helps the butter from getting too soft when decorating or when coloring the frosting. Plus, there's no waiting around for your butter to soften.
The one catch is that you have to beat the frosting for quite a bit of time, but this produces the best whipped, silky texture.
You want to be sure the frosting is not too stiff, or it will be more difficult to actually frost the cake. If you think the frosting is too stiff, you can add additional heavy whipping cream (or milk), 1 tablespoon at a time, and beat for a few more minutes.
Since this recipe requires so much butter, you might consider making only a half batch at a time if you're using a standard 5-quart mixer. I have both a 5 and a 6-quart mixer, and I use my 6-quart mixer when I'm making this frosting. It's a much larger capacity.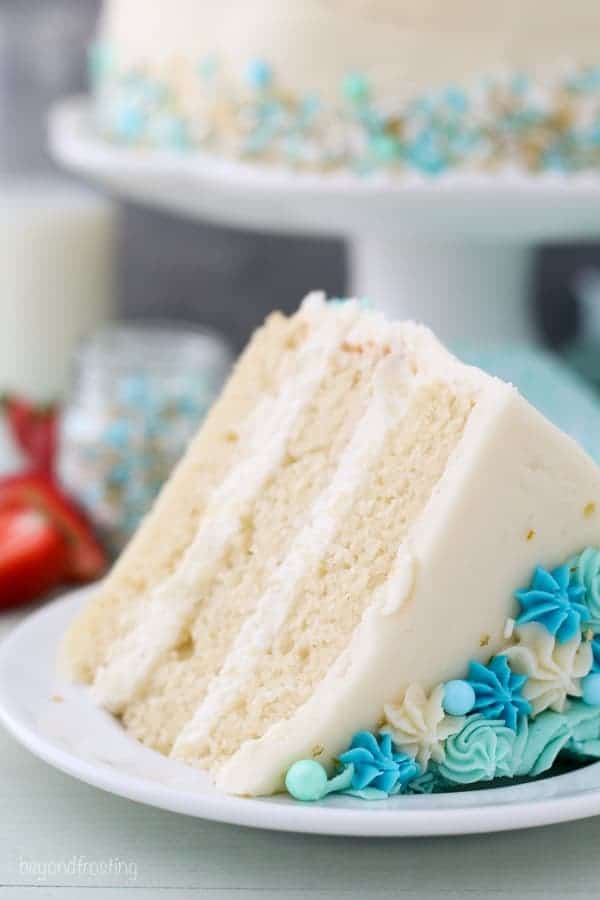 Making buttercream and decorating cakes can be intimidating. I am right there with you! Thankfully, I have spent a lot of time writing about how to make buttercream frosting, so that you'll be successful the first time around!
I love this Vanilla Layer Cake because I totally pushed myself out of my comfort zone in terms of decorating. I am NOT a cake decorator. However, after I took the Wilton Decorating course, it really helped me with the basics of how to decorate cupcakes and cakes. Of course, I've had a lot of practice over the years, but when it comes to cakes, I so often tend to stick with my go-to large open star tip.
However, for this vanilla layer cake, I wanted to do something different! I know most cake decorators would probably cringe at my uneven distribution, I mean I didn't intend to decorate half the cake, but I think it's darn pretty anyway.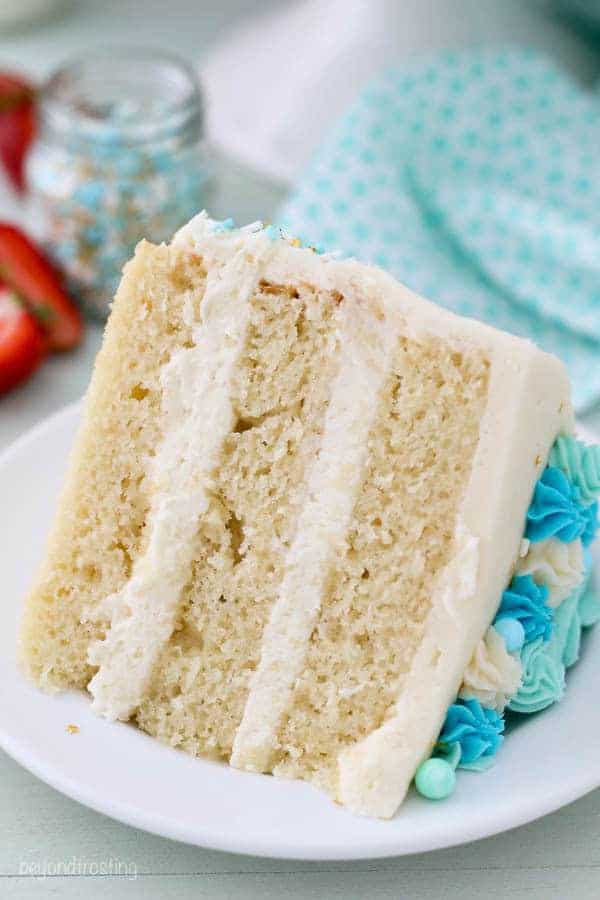 How to decorate this Moist Vanilla Layer cake
This is a super approachable way to decorate a cake. I never thought I was very good at piping roses, but you guys, it's SO SO easy!
I just used a 1M piping tip. If you're not fully comfortable, try piping a few of them on some clean parchment paper, and then you can reuse the frosting.
The other piping tips I used for this cake were a size 18 tip and size 21 open star tip. If you use your piping bags with couplers, you can easily switch out the tips. These piping tips can be purchased at stores like Michael's or a cake supply store, or online. All of the small flowers and rosettes were made using a combination of these tips.
To color the frosting, you can use either the Wilton Color Right Food Gels or AmeriColor Gels. I think the AmeriColor gels because they offer a wide variety of colors and you can purchase them as single either online or at a cake supply store.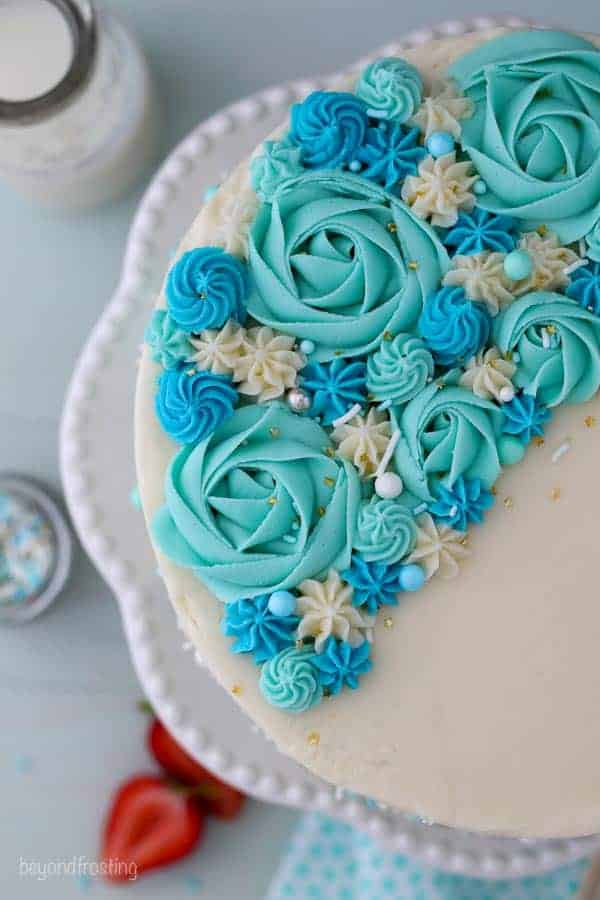 The best way to dye your frosting if you're looking for different shades is to start with a half a drop in one bowl and then get progressively darker. Just remember that you only need a TINY bit of this gel, to color these small amounts of frosting. It's helpful to use a toothpick to add small amounts to your bowls at a time.
Remember to save some of your white frosting to decorate with as well. You need about 1 cup of frosting for the roses, ½ cup for the darker blue color and ¼ cup of the white frosting. Start by piping your roses, and then fill in the open spaces with the stars and rosettes.
I don't want you to be intimated by making layer cakes. There is much more time and patience involved, but I believe everyone can do it, especially if you have the right tools. I am always here to answer your questions as well!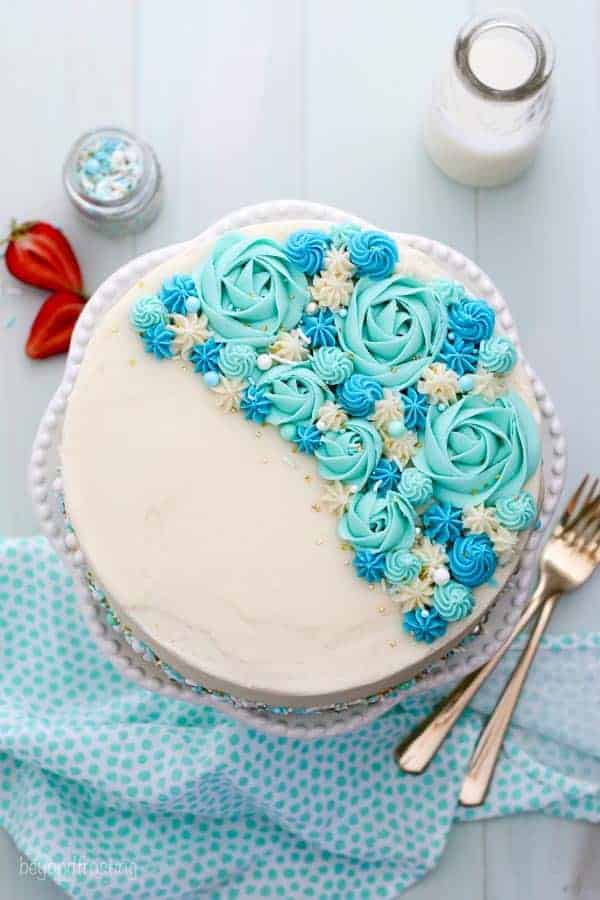 Commonly Asked Questions:
Do I have to use Sour Cream cream?
As I mentioned above, sour cream helps keeps these cupcakes very moist. I recommend substituting the sour cream with non-fat Greek Yogurt if you do not have sour cream. Some people have made it with mayonnaise but I have not tried it myself.
If you only have full fat sour cream that will work, your cake might just be a little more dense.
A few people have asked about substituting buttermilk for sour cream. I have never tried this, and this batter is already pretty thin, so I am not sure if adding additional liquid will work.
If you need to, you can omit it completely, but note the cake will not be nearly as moist.
Can I bake this in two 9-inch pans?
Yes! For two 9-inch cakes, they baked from 28-32 minutes. Baking times will vary due to how full the pans are, type of pans and true oven temperature. Please note these did "crust" a little more on the outside edge due to extended baking times and they rose quite a bite in the middle, so you'll lose more of the "dome" of the cake.

Do I have to use nonfat milk or can I substitute it with something else?
Yes, you can use any type of milk for this recipe.
I had to bake my recipe for longer than the required time, what did I do wrong?
Likely nothing! Different types of pans will bake differently. Glass baking pans will always need to bake longer as they do not conduct heat as quickly as metal pans. Disposable containers are much thinner and thus require additional baking time. Also keep in mind that not all oven temperatures are alike, and unless you have an internal thermometer, your oven temperature could be off.
Happy baking friends. Follow Beyond Frosting:
Facebook | Twitter | Pinterest | Instagram | Bloglovin
If you love no-bake recipes, be sure to check out my cookbook, No-Bake Treats!
Print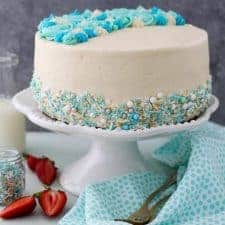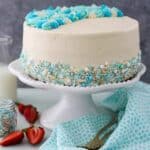 Moist Vanilla Layer Cake
---
Author:

Prep Time:

90 minutes

Cook Time:

30 minutes

Total Time:

2 hours

Yield:

8-10 slices
Description
This Moist Vanilla Layer Cake is an easy oil-based vanilla cake recipe that is SUPER moist and spongy, you'll know it's a homemade vanilla cake. It's decorated with the perfect vanilla frosting recipe.
---
Ingredients
For the cake:
2 cup

s (380g) granulated sugar

½ cup

(

118

ml) vegetable oil

3

large eggs

1 tablespoon

(

14.8

ml) vanilla extract

½ cup

(

118

ml) light sour cream

2 ½ cup

s (

350

g) all-purpose flour

3 teaspoon

s (

11.2

g) baking powder

1 teaspoon

(

5

g) salt

1 ¼ cup

s (

296

ml) milk (I use nonfat)
For the frosting:
 2 cups (4 sticks) (453g) unsalted butter, cold

7

–

8

cups (910-1041g) powdered sugar

1 tablespoon

(15ml) vanilla extract

2

–

3

tablespoons (30-44ml) heavy whipping cream
Pinch of salt
---
Instructions
For the cake: Preheat the oven to 350°F. Prepare 3 8-inch round baking pans, line the bottom with parchment paper and grease the sides. Prepare your bake even strips if desired.
In a large mixing bowl, combine the sugar, vegetable oil, eggs and vanilla extract. Beat on medium speed until the eggs and oil are well incorporated and the batter is lighter in color, about 2 minutes. Scrape down the bowl as needed.
Next mix in the sour cream and beat until well combined.
Combine the dry ingredients in a separate bowl. Add half the dry ingredients, beat on low speed while pouring in half of the milk. Mix just until the flour starts to incorporate.
Finally add the remaining dry ingredients, mixing on low speed while pouring in the remaining milk and beating until all of the ingredients are well combined. Use a spatula to scrape down the sides of the bowl and stir the batter from the bottom to the top to ensure it's well mixed.
Divide the batter evenly between the three pan, about 1 2/3 cups of batter per pan. Bake at 350°F for 20-23 minutes. Rotate your pans in the oven halfway through baking.
Test the cake for doneness by inserting a toothpick into the center of the cake. If the toothpick comes out clean, you cake is done. Remove from the oven and allow to cool completely.
For the frosting: Cut butter into pieces. Using the paddle attachment, whip the butter for 5-7 minutes, scraping down the bowl occasionally. Beat until the butter looks light in color.
Add 3 cups of powdered sugar and mix on low speed until incorporated into butter then add the vanilla extract and mix to combine. Beat for about 60 seconds.
Next, add an additional 2 cups of powdered sugar and beat on low speed until sugar is incorporated. Increase speed to medium-high and beat for 3 minutes.
Add the last 2 cup powdered sugar along with 2 tablespoons of heavy whipping cream. Beat on low speed until ingredients start to mix together. Increase speed to medium-high and beat for another 3-5 minutes to whip additional air into the frosting.
To assemble the cake, use a cake leveler to cut the domes off the top of the cake. Place a dollop of frosting on your cake board and place the bottom layer of cake on top of that.
Place about 2 cups of frosting in a large piping bag fitted with a large open round tip, or simply cut off the end of the piping bag. Pipe a layer of frosting on top of the cake, starting at the outside edge and working your way into the middle. Spread evenly with an offset spatula. Repeat with the second layer of cake and then place your third layer on top.
Use your piping bag to fill in any gaps between your layers and to create a crumb coat. Using an offset spatula or icing smoother, wipe away the excess frosting, leaving you just enough to coat the outside of the cake. Do not mix your crumb coating frosting back into your icing if it has cake debris in it.
Proceed to frost the top and sides of the cake using your offset spatula. Once the sides of the cake are covered, use you icing smoother to remove any excess frosting.
To decorate this cake: Use your hands to press the sprinkles into the sides of the cake. It's best to do this over a sheet pan lined with parchment paper, allowing you to easily capture and reuse the sprinkles that fall off the cake.
Take your leftover frosting and separate into 3 bowls: 1 cup, ½ cup and ¼ cup of white frosting (undyed).  Dye the 2 bowls with you desired color. Remember you only need a touch of the gel color to dye your frosting.
In a small piping bag, use a 1M piping tip to pipe the large roses on top of your cake.
Place the other frosting in two small piping bags,  fitted with a coupler and size 18 or size 21 tips, fill with your other color and the white frosting. Fill in the negative space with a mix of stars and small rosettes.
Keep this cake covered in an airtight cake container. Serve within 3 days for best results. High humidity and warm climates might consider keep this cake in the refrigerator and allowing the cake to come to room temperature before serving.
---
Notes
Depending on how much you fill the middle of your cake, you might need another half or quarter recipe of frosting to do your decorations, especially if you'd like to do more of a traditionally decorated cake with rosettes or something on top.  
Recipe Card powered by
You might also like: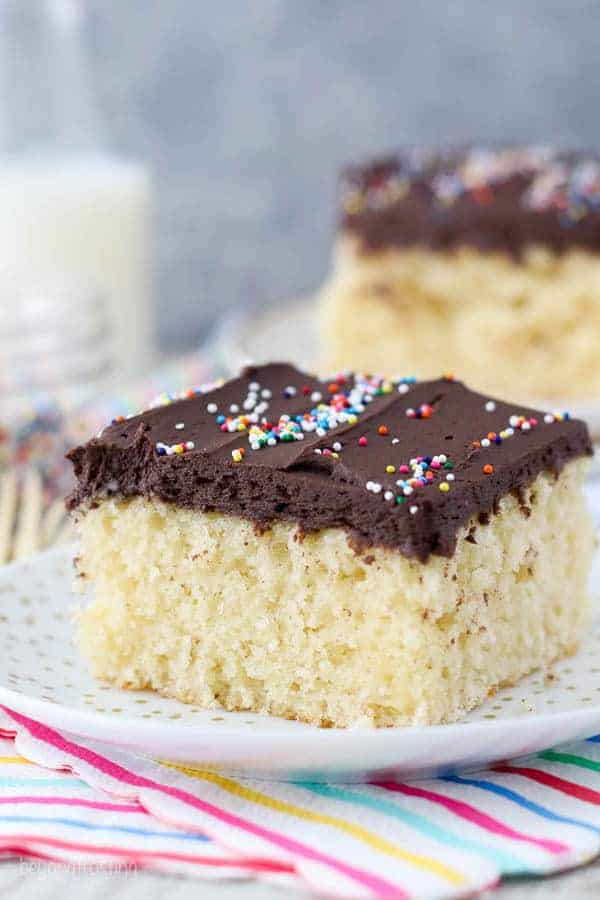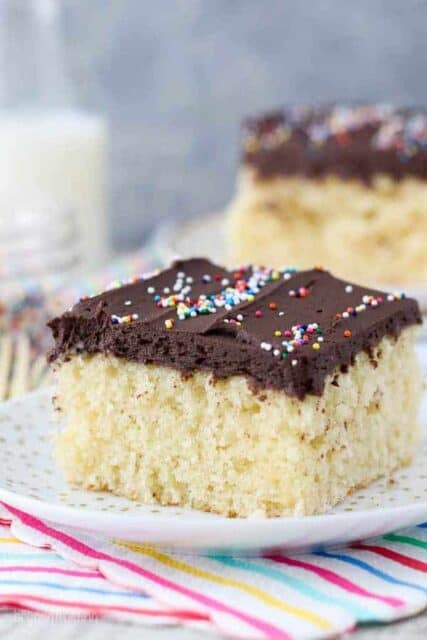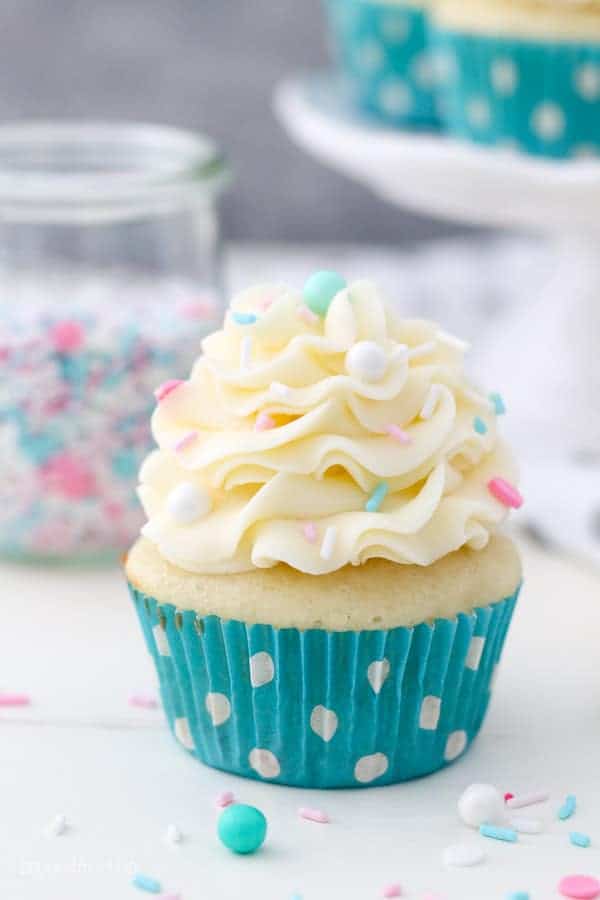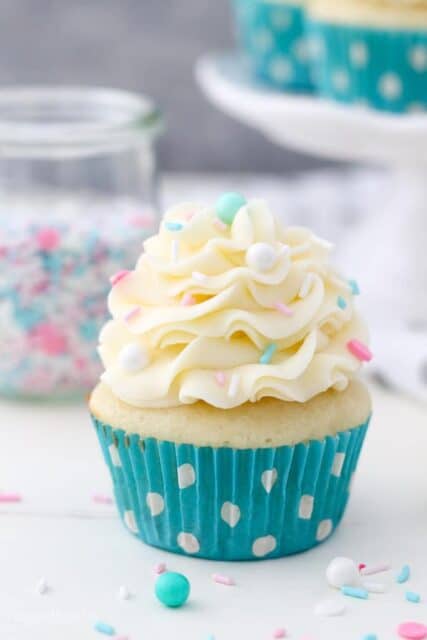 Strawberry Margarita Layer Cake