This post may contain affiliate sales links. Please see my full disclosure policy for details
This No-Churn S'mores Ice Cream Cake is layers of honey graham crackers with a no-churn marshmallow ice cream and layered with chocolate shavings. No-bake s'mores desserts are the best way to enjoy your favorite summertime snack without the campfire.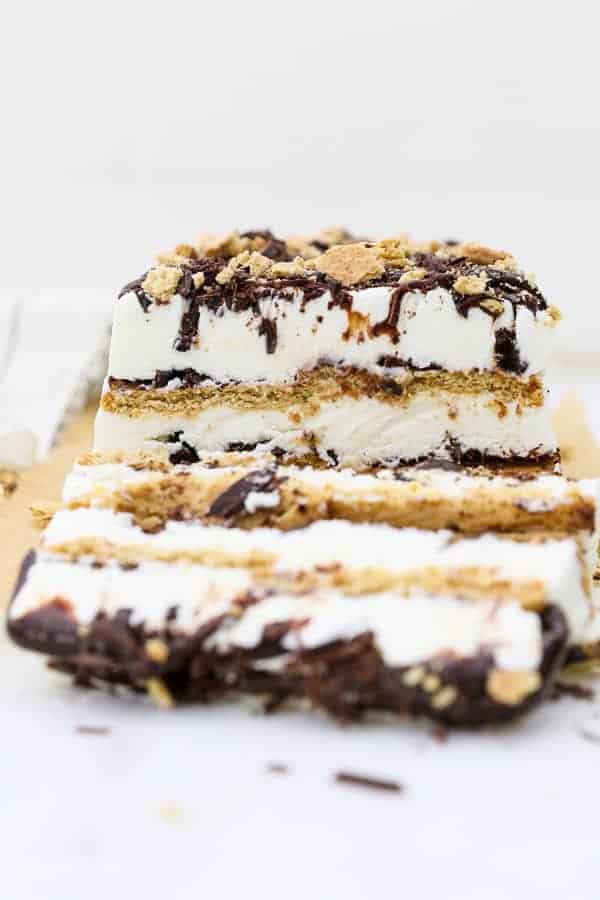 August 10th is national S'mores day and while I don't normally celebrate national food holidays, whom am I kidding, yes I do! A day dedicated entirely to s'mores seems entirely appropriate.
It's been a minute since I've made a true campfire gooey s'more complete with melted chocolate and sticky fingers. It makes me miss those warm summer nights at the lake. As such, I've had to improvise to get my s'mores fix.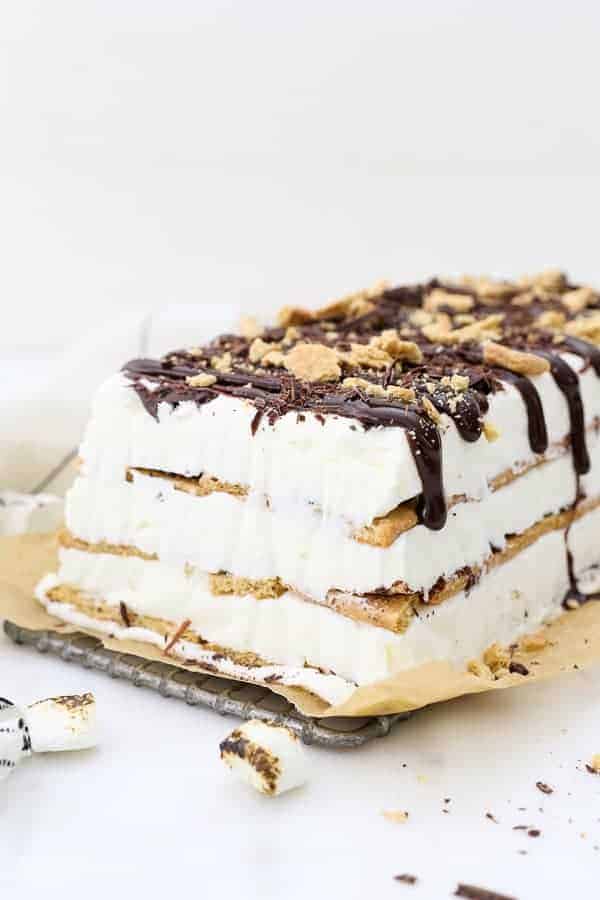 This No-Churn S'mores Ice Cream Cake is layers of honey graham crackers with a no-churn marshmallow ice cream layered with chocolate shavings. No fires or heat required for you to enjoy these s'mores.
These icebox cakes (as these are sometimes referred to!) are so easy, and very adaptable. All it requires is a batch of no-churn ice cream and some cookies or graham crackers to build up the layers.
No-churn ice cream seriously couldn't be easier. Sometimes I make it with a cream cheese base and sometimes I make it with a sweetened condensed milk base.
I prefer the cream cheese base because the ice cream gets a little firmer, and closer in texture to actual ice cream. It's also a little more dense which works especially well for this S'mores Ice Cream Cake. I also find that it doesn't melt as quickly as the ice cream made with condensed milk.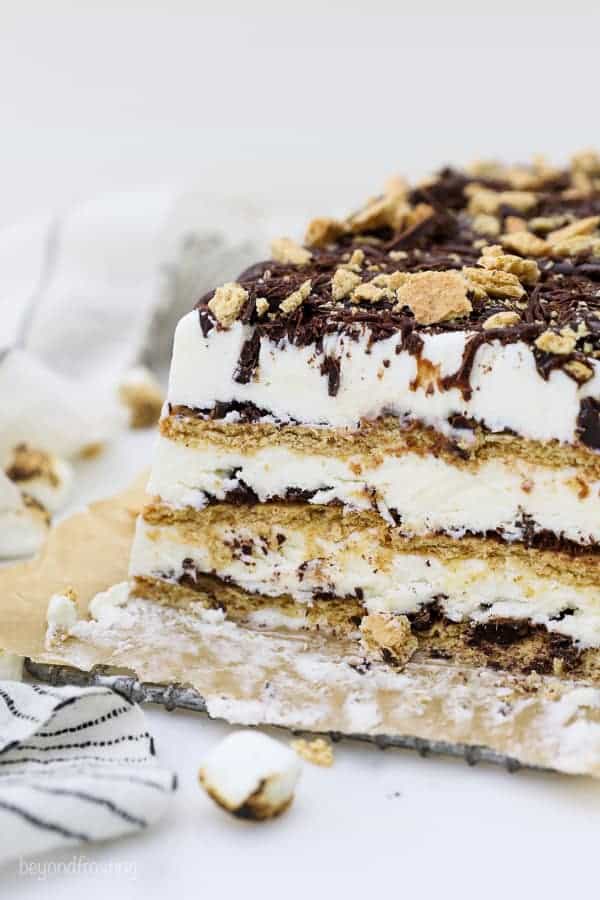 The cream cheese is mixed together with marshmallow crème (which is similar to marshmallow fluff). I love making ice cream with marshmallow crème. It helps keep the ice cream so creamy! If you're love marshmallow ice cream, you might love my Lucky Charms Ice Cream.
You'll also need a batch of homemade whipped cream or Cool Whip. If you've never made whipped cream, I am here to help. I have a whole post that discusses how to make whipped cream. Whipped cream helps incorporate some airiness into the ice cream.
A little bit of sugar and a touch of vanilla round out this ice cream base. The sugar is needed to help take the tartness out of cream cheese. Otherwise it would taste more like a cheesecake ice cream, and hey, that's good too!
You can make this dish in any type of pan and still get excellent results.
For this No-Churn S'mores Ice Cream Cake, I used a 9-inch loaf pan. It's best if you can line the pan with parchment paper, at least on the long sides, as it will be easier to take the it out of the pan. I saw a tip on instagram that you can use binder clips to clip the sides of your parchment paper down to the pan while you're filling it. It's seriously so much easier!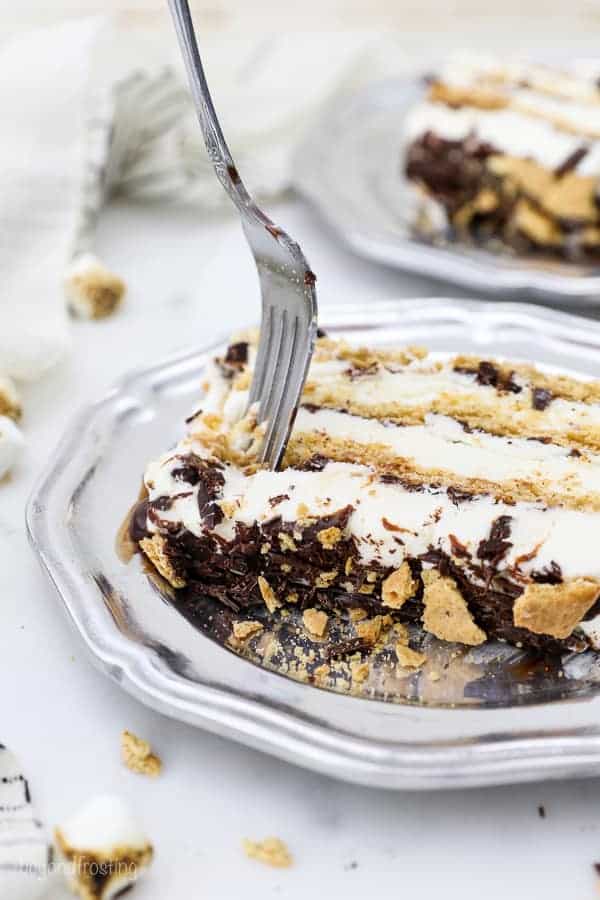 To make the layers of this No-Churn S'mores Ice Cream Cake build the layers like this:
The bottom is 1/3 of the no-churn ice cream spread evenly followed by a healthy sprinkling of chopped chocolate
Next comes the graham crackers. Layer whole crackers as best you can, and then for the small ones, used a serrated knife to cut them to fit. The good news is, it all freezes together, so if it's not perfect, that's okay.
Repeat these steps 2 times. The very top layer should be graham crackers, so that when you turn it upside down, and out onto the pan, it's relatively flat.
Once you turn it out onto a plate, remove the parchment paper and cover with hot fudge, crushed graham crackers and more chocolate shavings. Slice and enjoy!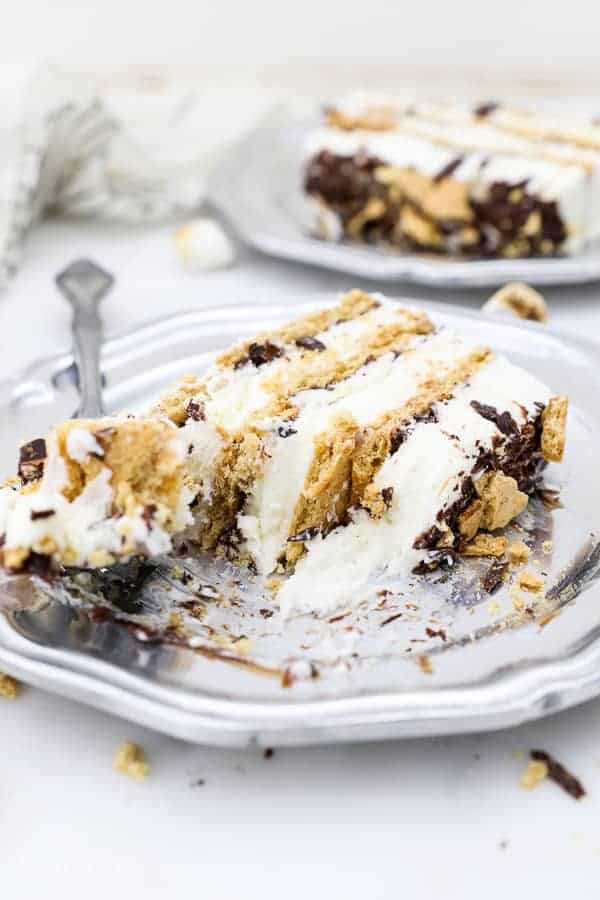 If you want more of a s'more "bar", then try it in a 9-inch square pan, and use about 2 cups crushed graham cracker crumbs with 6-8 tablespoons of melted butter and press it into the bottom of the psn to make a crust. I did the same thing when I made Banana Split S'mores Ice Cream.
Another option you can try is to make it in a springform pan and like I did with my Chocolate Oreo Icebox Cake, although you may need a whole box of graham crackers for that.
If you want to make it super simple (or you're just feeling lazy, and hey no judgements here), just add some crushed graham cracker into the ice cream base and pour it all in a freezer-safe container. Scoop and serve with hot fudge. Done and done.
While we tend to enjoy s'mores in the summer, there's never a bad time for No-Churn S'mores Ice Cream Cake.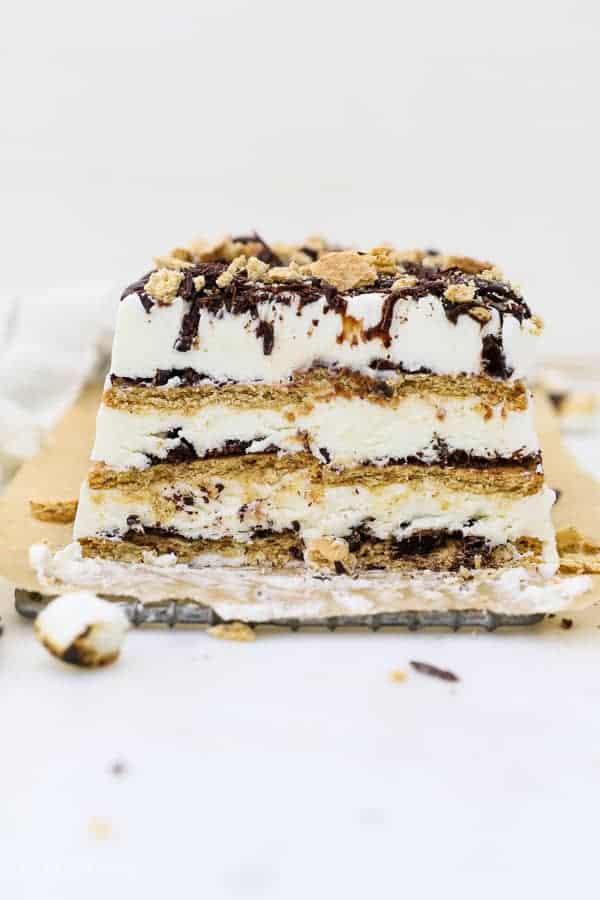 Follow Beyond Frosting:
Facebook | Twitter | Pinterest | Instagram
If you love no-bake recipes, be sure to check out my cookbook, No-Bake Treats!
Print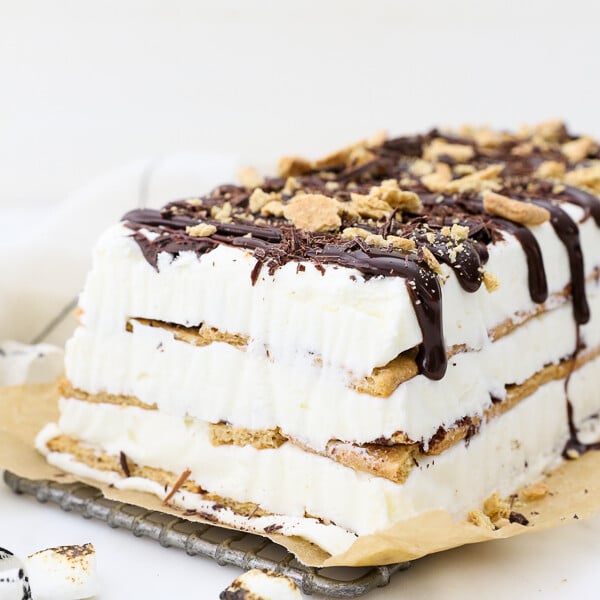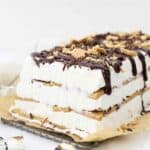 No-Churn S'mores Ice Cream Cake
Author:

Prep Time:

20 minutes

Cook Time:

4 hours

Total Time:

4 hours 20 minutes

Yield:

6-8 slices
Description
This No-Churn S'mores Ice Cream Cake is layers of honey graham crackers with a no-churn marshmallow ice cream and layered with chocolate shavings
Ingredients
1 ¼ cups

(295ml) heavy whipping cream

½ cup

+ 2 tablespoons (

81g

) powdered sugar

8 ounces

cream cheese, softened

1/3 cup

(

63g

) granulated sugar

2 teaspoons

(10ml) pure vanilla extract

1

jar (7 ounces) marshmallow créme

2

packages (272g) graham crackers

1 ½ cups

(

270g

) thinly chopped chocolate
Hot fudge sauce for topping (optional)
Instructions
Prepare the whipped cream. Chill the bowl in the freezer for 10 minutes. Pour the heavy whipping cream into the chilled bowl. Use an electric mixer to beat the heavy cream on medium-high speed until the cream starts to thicken.
Slowly add the powdered sugar and continue beating on high speed until stiff peaks form. Set aside.
Unwrap and soften the cream cheese in the microwave for 15 seconds. Beat the softened cream cheese until it's completely smooth and free of lumps. Scrape down the sides of the bowl as needed. Next add the granulated sugar and vanilla extract and continue beating until well mixed.
Next, mix in the marshmallow créme and beat until well combined. Finally, fold the prepared whipped cream into the cream cheese filling and stir until well mixed.
To assemble, line the bottom of a 9-inch loaf pan with parchment paper and spread 1/3 of the ice cream on the bottom of the pan. Sprinkle with chopped chocolate.
Next, align the graham crackers in the pan. It is okay to cut the crackers to fit as needed, but the more large/whole pieces you have, the better structure they will provide.
Repeat this two more times ending with a layer of graham cracker on top.
Freeze for at least 4 hours. To serve, turn it upside down on a plate and top with hot fudge, crushed graham crackers and leftover chopped chocolate.
Equipment
Notes
Two packages (not 2 boxes!) should be more than enough for your layers, and this allows you some extra to play around with
Category:

Ice Cream

Method:

No-Bake

Cuisine:

American
Keywords: No-Churn Ice Cream, Homemade Ice Cream, Smores Ice Cream, vanilla ice cream