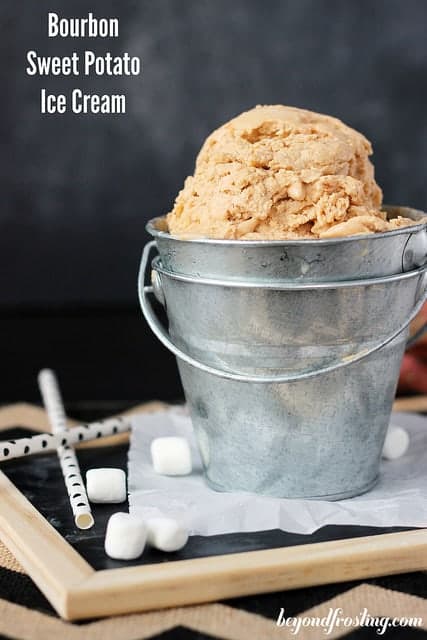 There are so many fun things going on right now, it's hard to hold it all in, but you will just have to wait and see! Let's start with this exciting Sweet Potato Ice Cream. Fall is the perfect time for sweet potatoes, and I for one, can't get enough.
When I traveled to Miami this summer for BlogHer Food, I had the most amazing sweet potato ice cream, and it has never occurred to me that this might be a flavor I could make at home. It was one of my favorite treats I enjoyed during the whole trip.
As soon as this recipe came out of my ice cream maker, I found myself reaching my spoon in for bite after bite. I think this recipe is best served as a custard as soon as it is finished, or just slightly frozen for maybe an hour or two. I noticed the longer I kept it in the freezer, the more difficult it was to scoop, and it sort of crumbled apart; yet it was still mouthwateringly delicious. You should also let is thaw, maybe 15-20 minutes before scooping.
This ice cream reminds me a little bit of a pumpkin ice cream. However, it's got all my most favorite ingredients for fall: cinnamon, maple syrup, bourbon and browned butter. Is a "you're welcome" in order?
For the actual sweet potato itself, it needs to be baked until completely soft. So this recipe will need some planning ahead of time. I used my toaster oven, but you could easily throw a sweet potato in the oven when you are making your next dinner. You could also peel and boil the sweet potato which is much faster.
Once the sweet potato is cooked, scoop the insides away from the skins, and mash it up until it is completely smooth and no chunks are remaining. The sweet potato needs to be cold when you are adding it to the ice cream maker as well. You will be adding the sweet potato directly into the ice cream machine after you have churned it for several minutes.
Trust me when I say that you will want to eat this right out of the mixing bowl. It will be much more custard like, in between the consistency of a milkshake and soft serve ice cream. If you prefer it more solid, then freeze for 1-4 hours. How amazing would it be to drizzle a little melted marshmallow fluff over the top. OH MY lord. Excuse me, I need to go make another batch!
Keep up with all the happenings. Follow Beyond Frosting:
Facebook | Twitter | Pinterest | Instagram | 
 Don't forget to save your favorite recipes to your recipe box with the 

   button! You can create a meal plan and a shopping list all in the same place!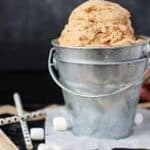 Sweet Potato Ice Cream
---
Prep Time:

15 hours

Cook Time:

20 minutes

Total Time:

15 hours 20 minutes
Description
This sweet potato ice cream is flavored with bourbon, maple syrup and a little bit of browned butter.
---
Ingredients
1

Extra large sweet potato

2 tbsp

Brown butter

1 tsp

Cinnamon

3

C Heavy whipping cream

3/4

Brown sugar

2 tbsp

Maple syrup

1 tbsp

Bourbon

2 tsp

Cinnamon
---
Instructions
Pre-freeze ice cream maker according to manufactures instructions.
Bake or boil the sweet potato until completely soft. If baking, I suggest to bake in a 425°F oven for 45-60 minutes. If boiling, remove the skin. Spoon out 1 ¼ C of the sweet potato filling and set aside.
In a small pan, melt butter over medium heat until it starts to turn light brown. Add mashed sweet potato, brown sugar and cinnamon. Stir until combined. Refrigerate sweet potato mixer until completely cold.
In a medium sauce pan, combine 2 cups of heavy cream, brown sugar, maple syrup, bourbon and cinnamon. Stir until mixture is boiling for 2-3 minutes.
Remove from heat and stir in remaining 1 cup of heavy whipping cream.
Refrigerate until mixture is completely cold. If mixture gets slightly firm, it may be reheated until liquid forms again. Return to the freezer to cool rapidly.
Start your ice cream maker before adding the liquid. Pour liquid in slowly and churn on low for 10 minutes until custard starts to form. Increase speed and churn for another 5 minutes. Pour the smashed sweet potatoes into the ice cream.
Once mixture has reached custard form, stop the mixer and spoon into freezer safe container or serve immediately. Freeze for 1-4 hours.
---
Notes
The prep time and total time includes both the pre-freezing of your ice cream maker. I suggest to make the sweet potato mix and the ice cream batter the night before, when you are pre-freezing your ice cream maker. Sweet potato can be baked or boiled as long as it is soft and free of any skin.
Recipe Card powered by
Recipes from my friends
Sweet Potato Muffins with Cinnamon Sugar from Noble Pig
Honey Roasted Sweet Potatoes from Averie Cooks
No-Bake Sweet Potato Cheesecake from How Sweet it Is
Other recipes you might like: