This post may contain affiliate sales links. Please see my full disclosure policy for details
My easy Almond Cookies are crisp on the edges and soft and chewy in the center. Loaded with almond flavor, these melt-in-your-mouth sugar cookies are rich, buttery, and completely irresistible.
Looking for more homemade cookie recipes? Try my Almond Flour Chocolate Chip Cookies, too!
It should come as no surprise that these cookies are simply irresistible. These almond cookies are everything I look for in a homemade cookie recipe: crispy and buttery at the edges, soft and chewy in the middle, and absolutely packed with flavor.
These almond cookies are a variation of my Easy Sugar Cookies recipe. Like the original, they're perfect drop cookies, this time infused with almond extract and topped with crunchy slivered almonds. They sort of remind me of sand dollars (coincidentally called "sea cookies" in some parts of the world). But rest assured, these cookies are all almondy sweetness!
This recipe is quick, easy, and perfect for those rainy days or chilly evenings (but let's be honest, any occasion) when you want to fill your home with the smell of baking cookies. If you're anything like me, these chewy almond cookies are going to become a weekly craving!
Key Ingredients
This easy cookie recipe comes together with your classic sugar cookie ingredients, including cream of tartar for that irresistible chewy texture. Below is an overview of the key ingredients you'll need, with the full recipe available in the recipe card further down.
Butter and Sugar – I prefer to use unsalted butter. If you use salted butter, you might want to consider leaving out any additional salt that comes later in the recipe.
Almond Extract – Since the almond flavor is the star here, I recommend using the best quality pure almond extract you can find.
Cream of Tartar – For a hint of tanginess and soft chew in the cookie crumb. You might recognize cream of tartar as a popular ingredient in Snickerdoodle Cookies, where it has the same effect on the cookies' texture.
Sliced Almonds – For pressing into the tops of the cookies. This is optional, but it does look cute and amps up the almond factor even more.
What If I Don't Use Cream of Tartar?
Cream of tartar prevents the sugar from crystalizing in the cookie dough while it bakes, for a soft, chewy cookie. Technically speaking, you can make this almond cookie recipe without cream of tartar. It will still taste delicious, but the texture just won't be as soft and tender.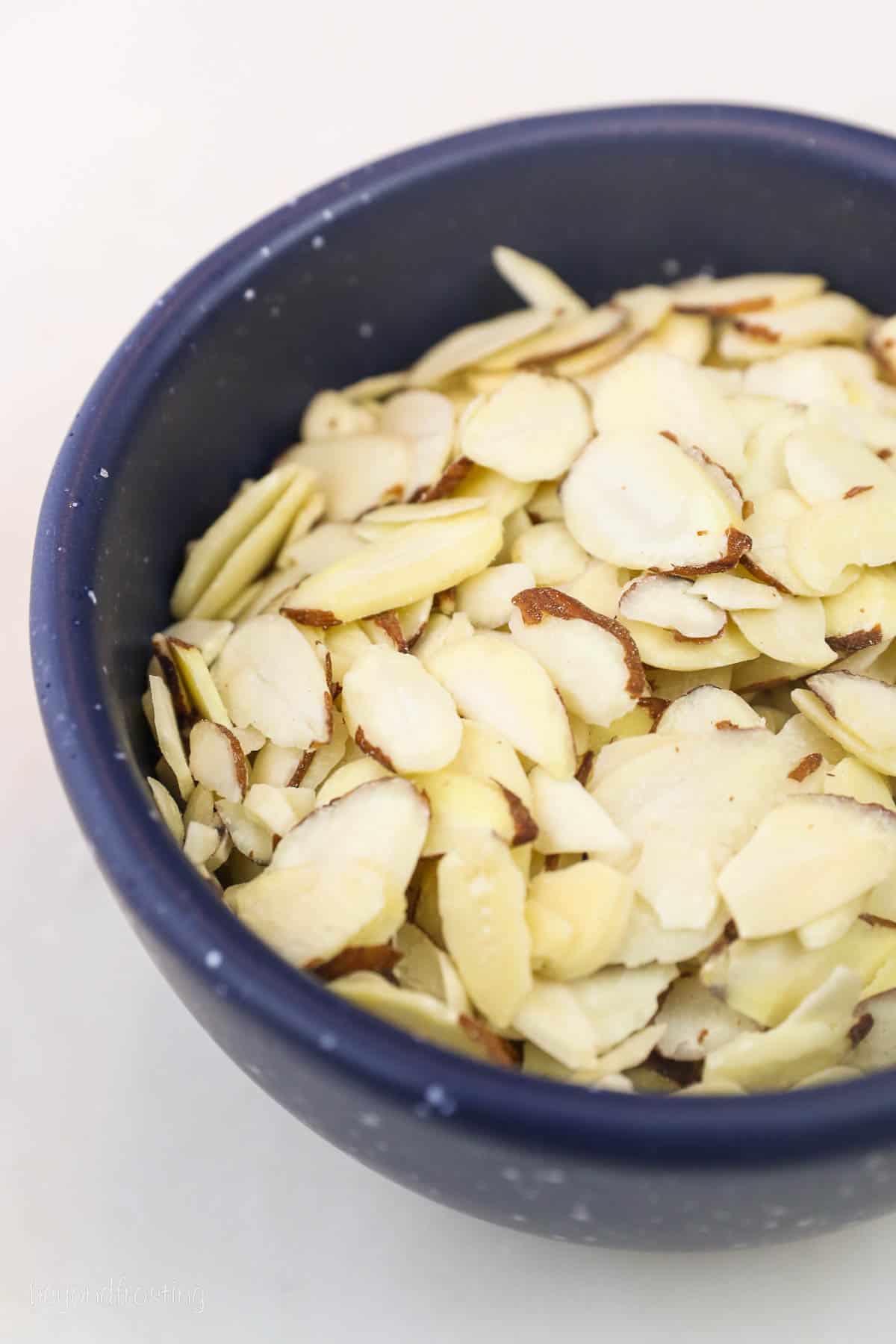 This is one of my best cookie recipes because 1) it's super simple and 2) these always come out tasting melt-in-your-mouth delicious. The secret lies in leaving the cookies slightly underbaked in the center so that they set up perfectly soft and tender as they cool. Here's how easy it is to do:
Step 1: Beat the wet ingredients. First, cream the butter and sugar until it's light and fluffy. Then, mix in the eggs and almond extract until everything is well combined. You can do this using a stand mixer, or a hand mixer.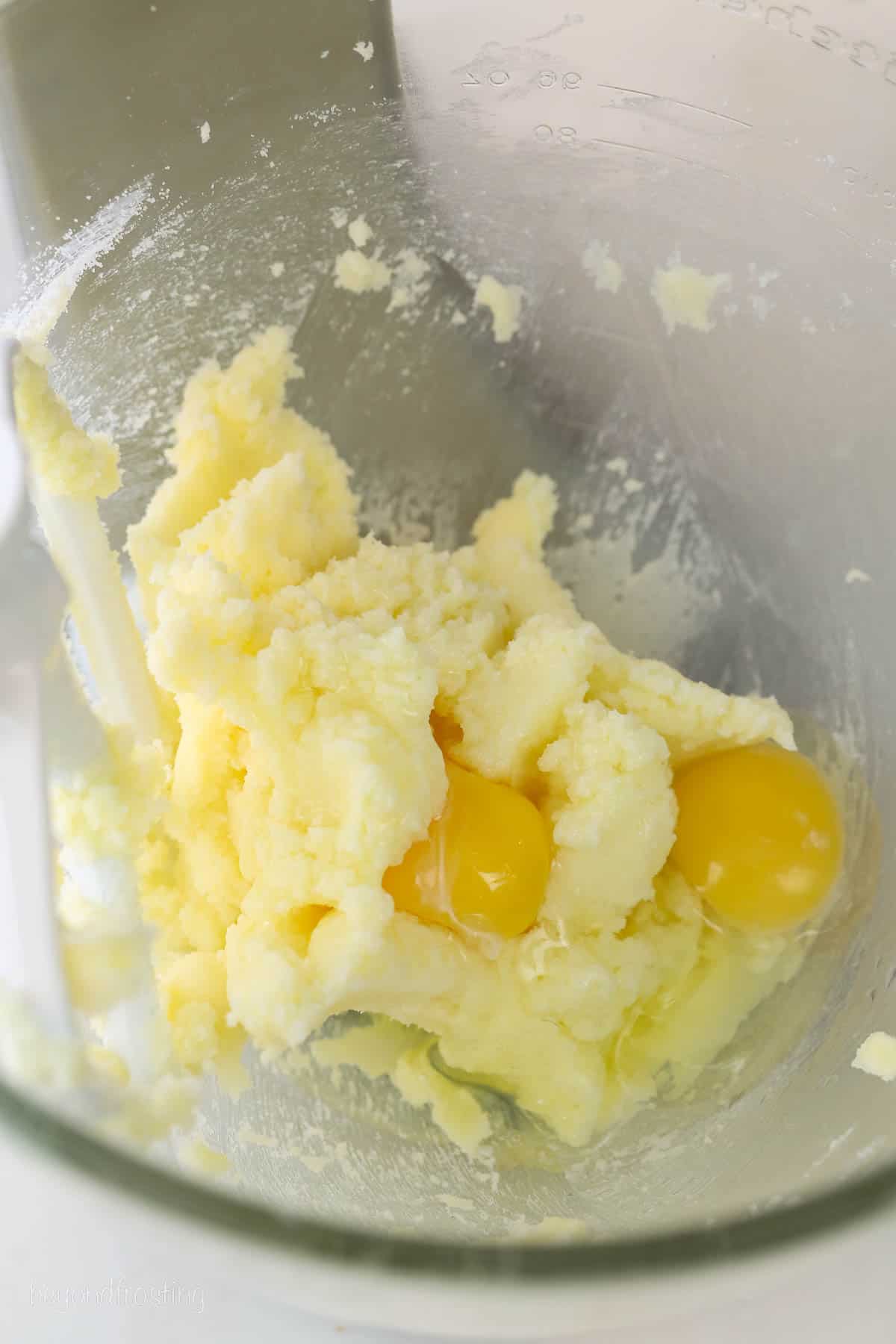 Step 2: Combine the dry ingredients. Next, whisk together the dry ingredients in a separate bowl. You'll want to slowly add the dry ingredients to the wet ingredients, mixing until a dough forms.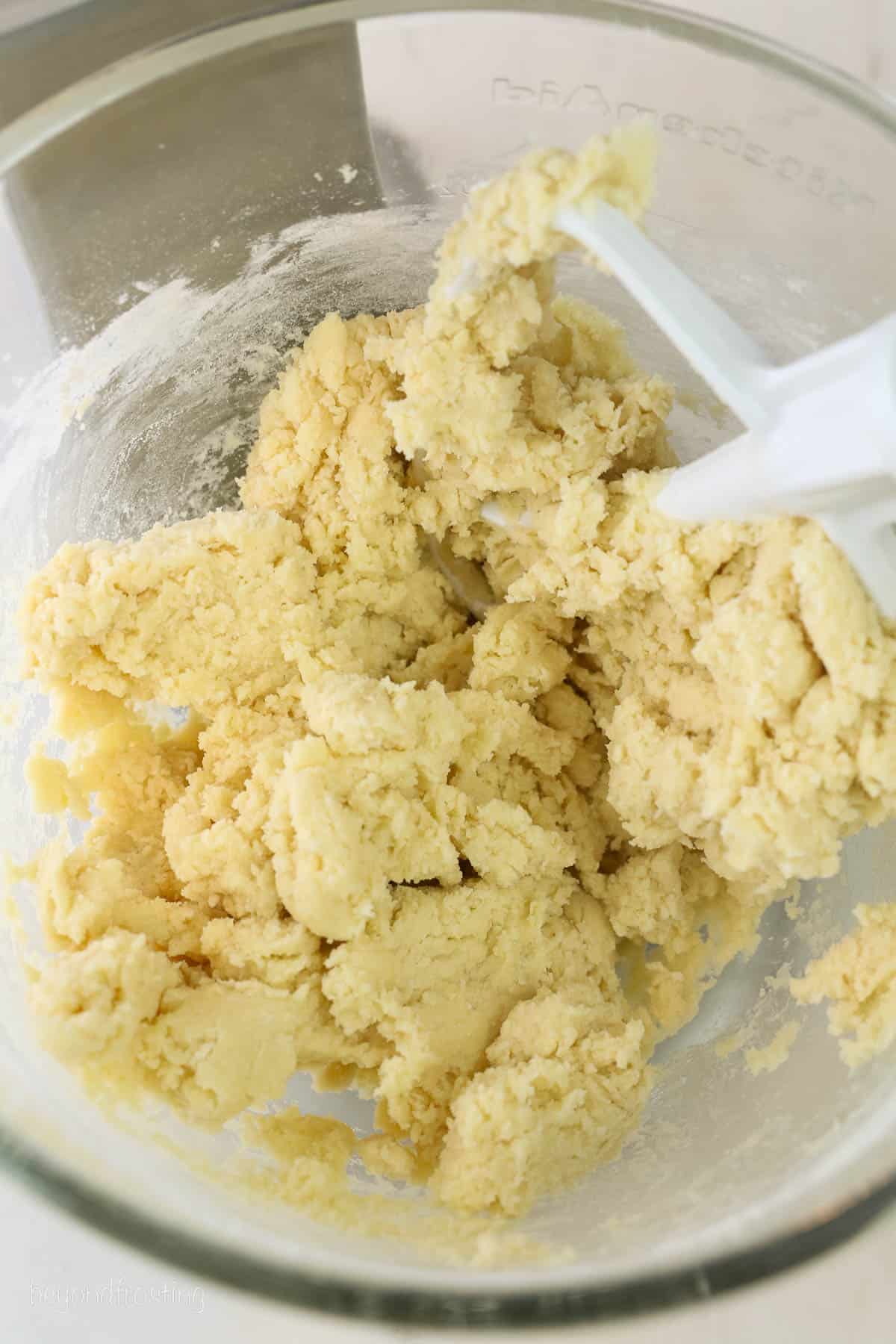 Step 3: Portion out the dough. This is easy to do using a cookie scoop, or you can use your hands. I use a large cookie scoop to portion the dough onto a lined baking sheet, leaving a couple of inches in between each cookie to account for spreading.
Step 4: Top with almonds. If you're adding almond slices to your cookies, gently press them into the tops of the dough balls before they go into the oven. I like to arrange the slices in a cute little star shape, but sometimes they break easily. You could also roll the whole cookies in finely crushed almonds.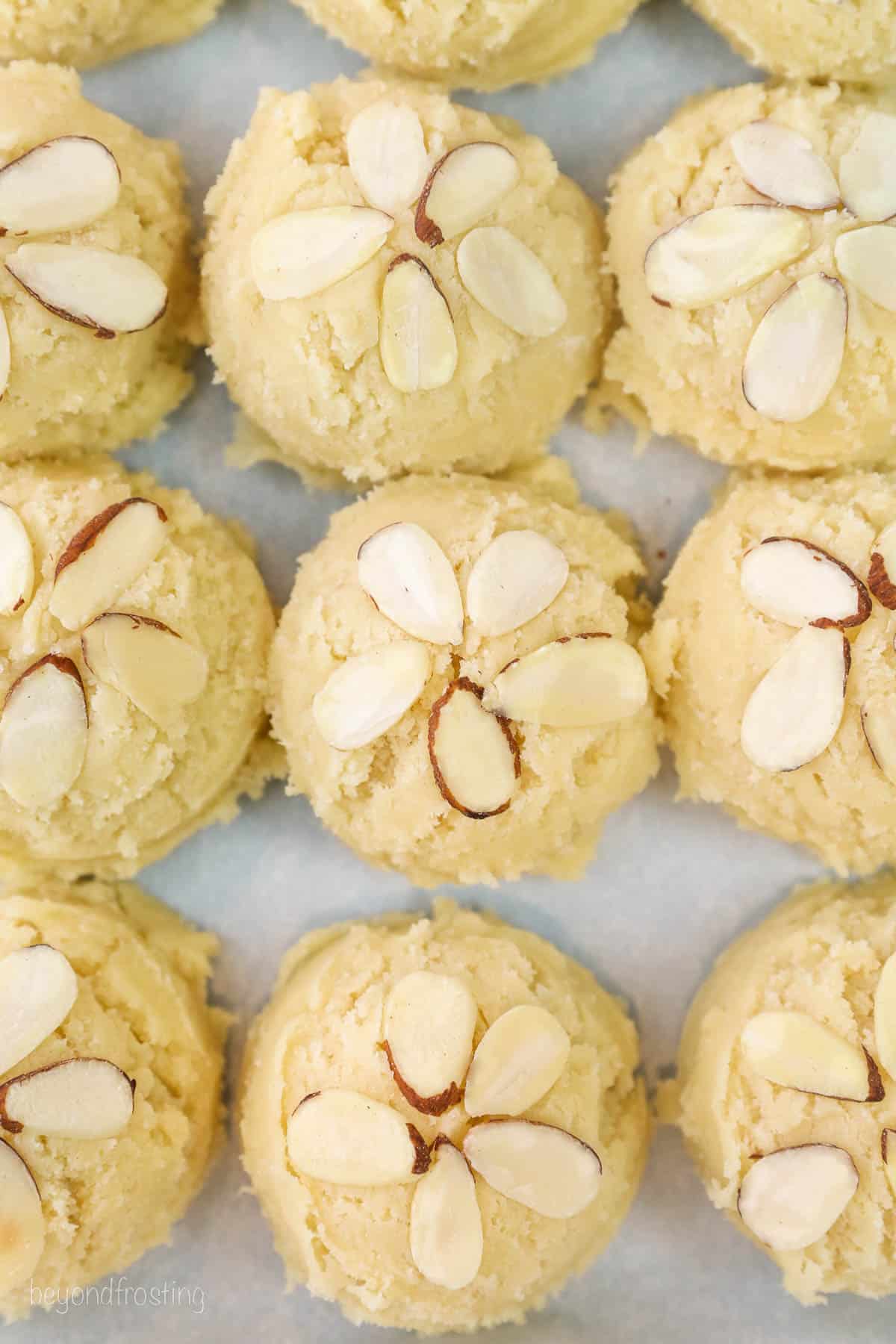 Step 5: Bake. Pop those cookies into an oven preheated to 350ºF oven for about 12-15 minutes. I take mine out once the edges are set and the centers are no longer glossy (again, it's totally fine if they look a tad underbaked in the middle, that's what we're going for). Give the cookies a few minutes to set on the baking sheet, and then move them to a wire rack to cool.
Yes! If you'd like to get a headstart on your almond cookies a day or two beforehand, you can prepare the dough ahead. Prepare the recipe as directed, and then store the dough airtight in the fridge.
If you're making the dough more than 48 hours in advance, I'd recommend freezing it instead. Freeze it in an airtight container and let the dough defrost fully in the fridge before baking. See the section later on for tips on how to store and freeze your cookies once they're baked.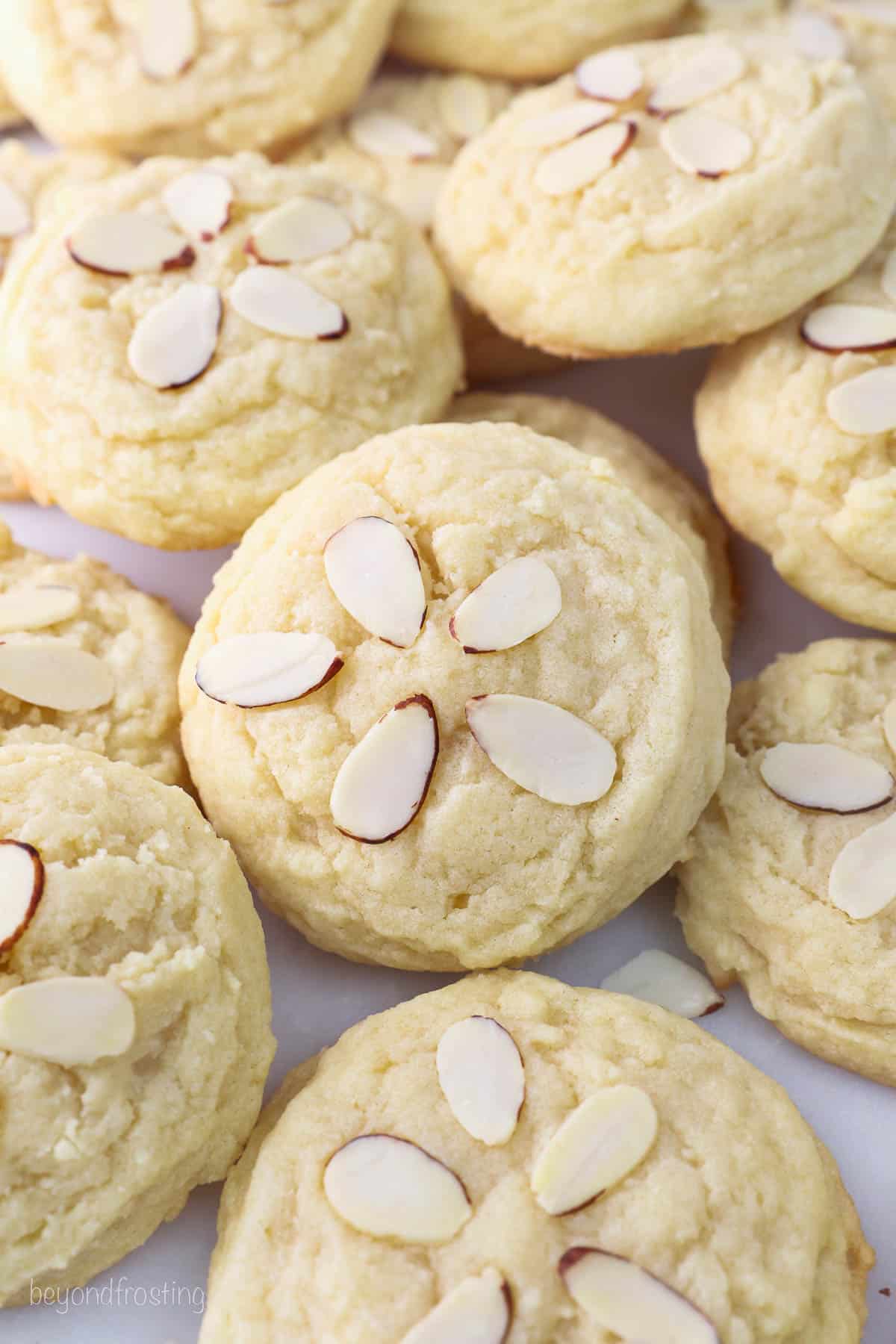 Helpful Tips and Recipe Notes
Below are some last-minute helpful tips and notes for making the best-ever chewy almond cookies:
My cookies spread too thin: This is likely due to using butter that was too soft. You should be able to make a small indent into the butter when pressed, but if your finger can easily press into the butter, it's too soft. It's also a good idea to make sure you're properly measuring the flour. If you don't have a scale, use the spoon and level method for measuring.
If you're making the cookie dough ahead, it's a good idea to pre-scoop the dough into balls before you refrigerate it. The dough gets a bit harder to scoop out when it's chilled.
Use a cookie scoop to portion the dough. It seriously makes the process so much easier! Using a large cookie scoop will yield about 20 largeish cookies, while a medium cookie scoop will turn out approximately 36 cookies.
Bake using a silicone baking mat. This is another handy baking tool that I can't recommend enough. The silicone helps to prevent the bottoms of the cookies from burning. If you don't have one, remember to line your baking sheets with parchment paper instead.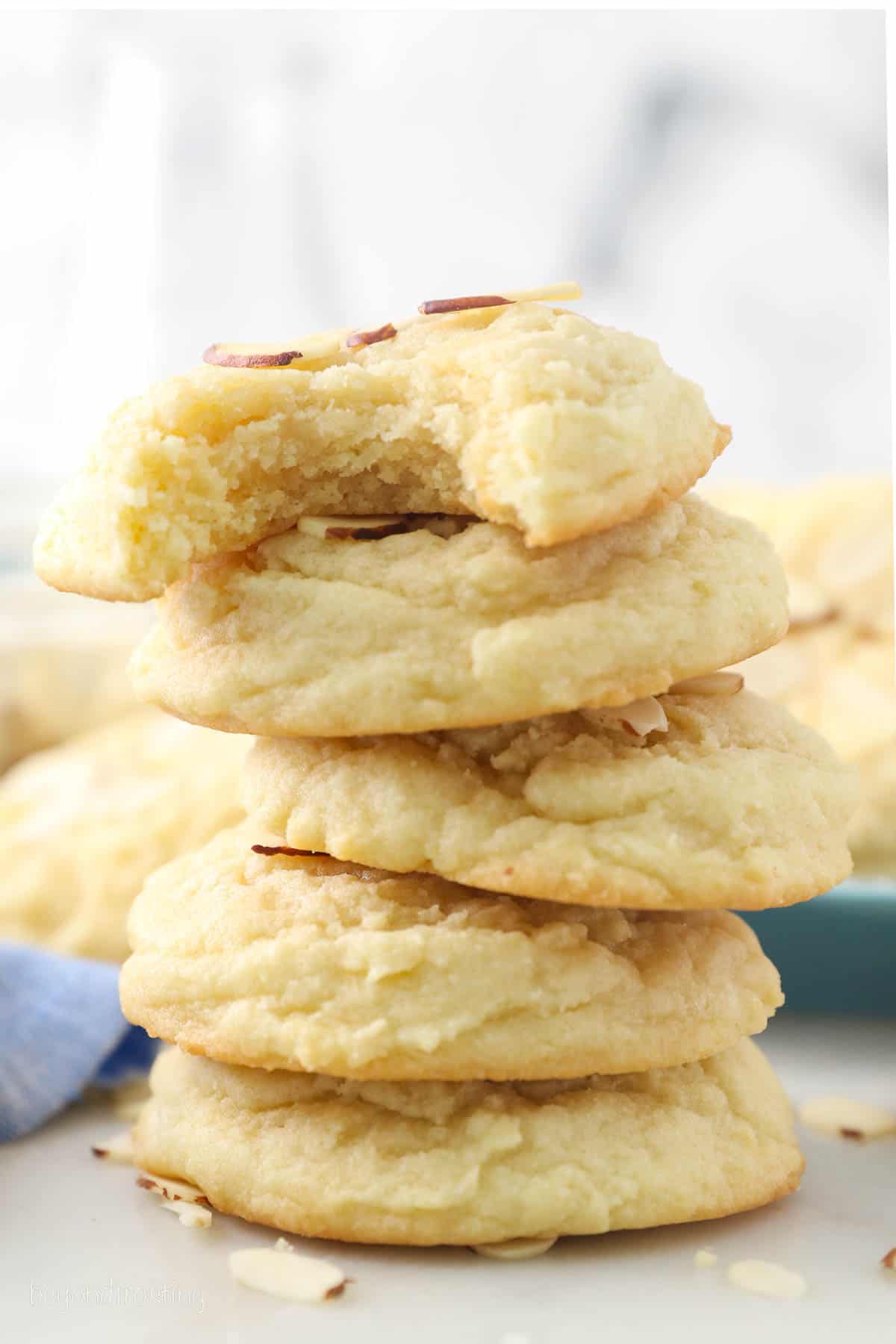 Common Questions
Does cream of tartar change the taste of these cookies?
Cream of tartar adds a slightly tangy flavor to sugar cookies. It's not overpowering, and it actually balances the other flavors nicely. It also keeps the cookie soft and chewy.
Does the cookie dough need to be chilled before baking?
Nope. This recipe has undergone a face-lift or two throughout the years, and it now skips the need for chilling the cookie dough all together. The dough can go straight from the mixer to the baking sheet.
Why did my cookies turn out hard after they cooled?
This is likely because your cookies were left in the oven too long, and became overbaked. Make sure to start checking your almond cookies around the 12-minute mark, and take them out when they're set at the edges but the middle is still a little underdone.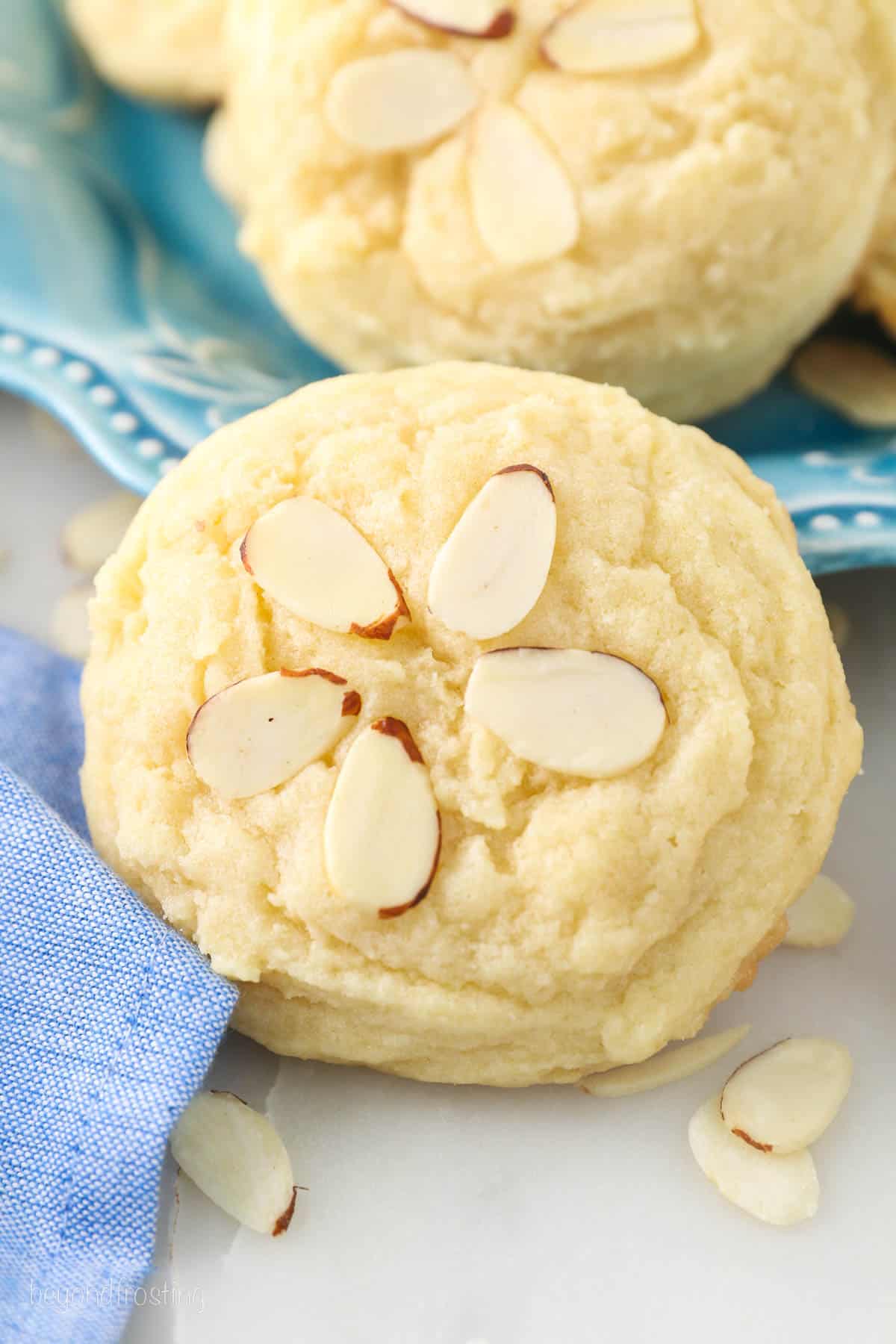 Easy Variation Ideas
Another reason I love this basic almond cookie recipe is that it's super versatile. Here are some fun variations to try:
Different Extracts – Almond extract can be substituted for vanilla, lemon, or even peppermint.
Add-ins – Experiment with different add-ins like mini chocolate chips, chopped candy, crushed nuts, or toffee bits.
Sprinkles – Get festive and top your almond cookies with colored sprinkles or nonpareils.
Glaze – Sometimes, I'll dip the tops of the baked cookies into a thinned-out version of my Easy Sugar Cookie Icing for some extra sugary goodness.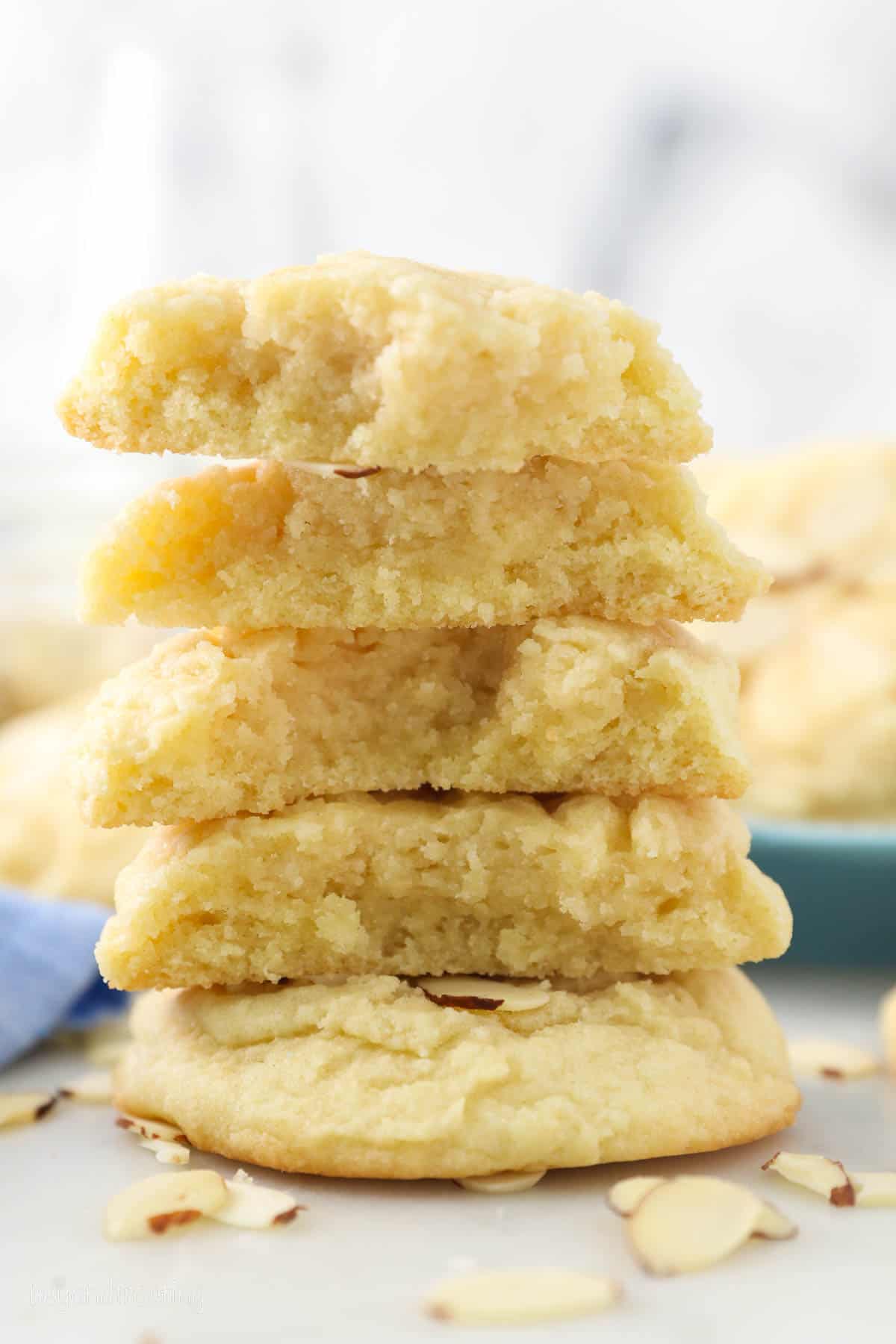 These homemade almond cookies will keep fresh when stored airtight at room temperature for up to 1 week. Make sure to store them in a cool, dry location on the countertop or in the pantry.
Yes, the baked and cooled almond cookies can be stored and kept frozen for up to 3 months. You would think that freezing them would help quell my cravings. Out of sight, out of mind, but no. These cookies thaw up so easily at room temperature, it's next to impossible to resist the temptation. You'll soon see for yourself!
Print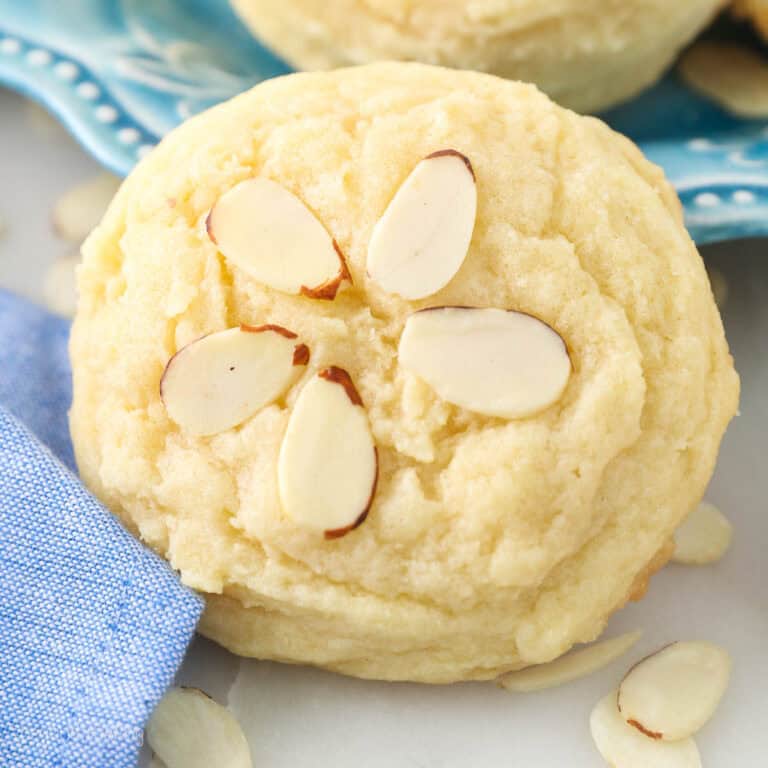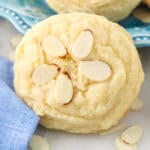 Author:

Prep Time:

30 minutes

Cook Time:

11 minutes

Total Time:

41 minutes

Yield:

24 large cookies
Description
My Almond Cookies are crisp on the edges and soft and chewy in the center. They are loaded with almond flavor and definitely remind me of sugar cookies.
Ingredients
1 cup

(

226g

) unsalted butter, at room temperature

1 1/2 cups

(285

g

) granulated sugar

2

large eggs

1

–

1 1/2

teaspoons (5ml) almond extract

3 ½ cups

(

420g

) all-purpose flour

½ teaspoon

baking soda

½ teaspoon

cream of tartar

¼ teaspoon

salt
Sliced Almonds
Instructions
Preheat oven to 350° F. Line a large baking sheet with a silicone liner or parchment paper.
Combine the butter and sugar and beat on medium speed until well creamed together. Add the eggs and almond extract. Mix into butter and sugar until the eggs are well beaten.
In a separate bowl, combine the remaining dry ingredients. Slowly add to the dough and beat on medium-low speed until the dough forms.
Use a large cookie scoop and scoop cookie dough onto a parchment paper-lined baking sheet. Place the dough about 2 inches apart. Gently press 5 sliced almonds into the top of the cookies.
Bake at 350° F 12-15 minutes. Allow cookie to cool on the baking sheet for several minutes and then transfer to a wire rack to cool completely
Notes
Make ahead and storage options: Prepare the dough ahead of time and leave it in the refrigerator or freezer. If it's more than 48 hours, I recommend freezing the dough in an airtight container. Thaw prior to baking . Finished cookies can be frozen and stored in an airtight container
Category:

Cookies

Method:

Baked

Cuisine:

American
Keywords: holiday cookies, soft sugar cookies, almond sugar cookies
More Easy Cookie Recipes to Try