This post may contain affiliate sales links. Please see my full disclosure policy for details
These Brown Butter Snickerdoodles are simply irresistible. Do you love perfectly soft and chewy cookies with a crisp edge? This is the cookie for you! They're rolled in plenty of cinnamon and sugar for that classic Snickerdoodle finish.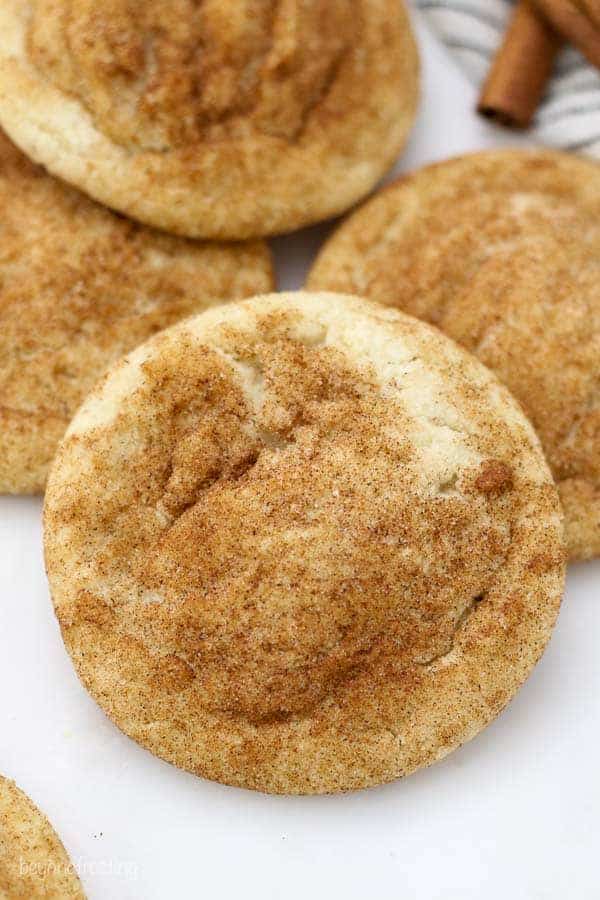 What's the one cookie you can't resist in the bakery? Is it a gooey, melty chocolate chip cookie, a classic sugar cookie or a buttery Snickerdoodle?
To be honest I can't always choose. I LOVE cookies and I'm more apt to get a cookie than a cupcake in a bakery, but it wasn't always this way. I've just come to love and appreciate the variety of flavors you can get with cookies.
There's nothing like that first bite of a cookie with crispy edge and a break apart soft and chewy center.
I didn't think my Snickerdoodle Cookie recipe could get any better…..until I added Brown Butter.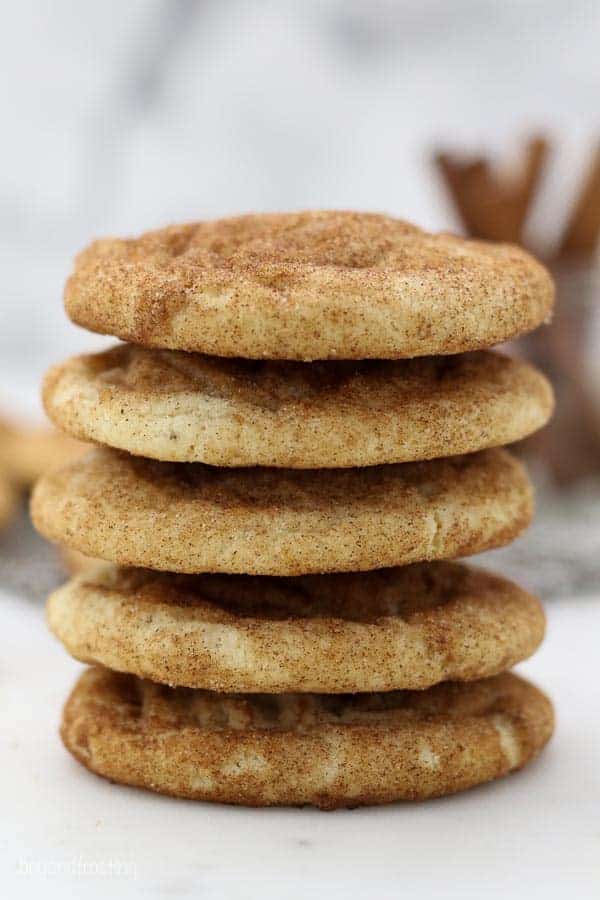 I'm just going to say this, Brown Butter Snickerdoodles are truly amazing. Taking the simple step of browning the butter first takes an already perfect Snickerdoodle and makes it even more amazing. There's also the cinnamon sugar coating you know and love.
It just melts in your mouth.
Browning the butter enhances the cookie by offering an underlying toasted or nutty flavor. I personally think it helps cut down some the initial sweetness in the cookies as well.
The recipe for these cookies is super simple. The only thing you need that you might not have on hand is cream of tartar. When combined with the baking soda, it acts like baking powder- lifting the cookies in the oven, and providing a bit of chewiness and softness.
There really isn't a good substitute for cream of tartar, but a quick Google search will tell you that vinegar or lemon juice can be used.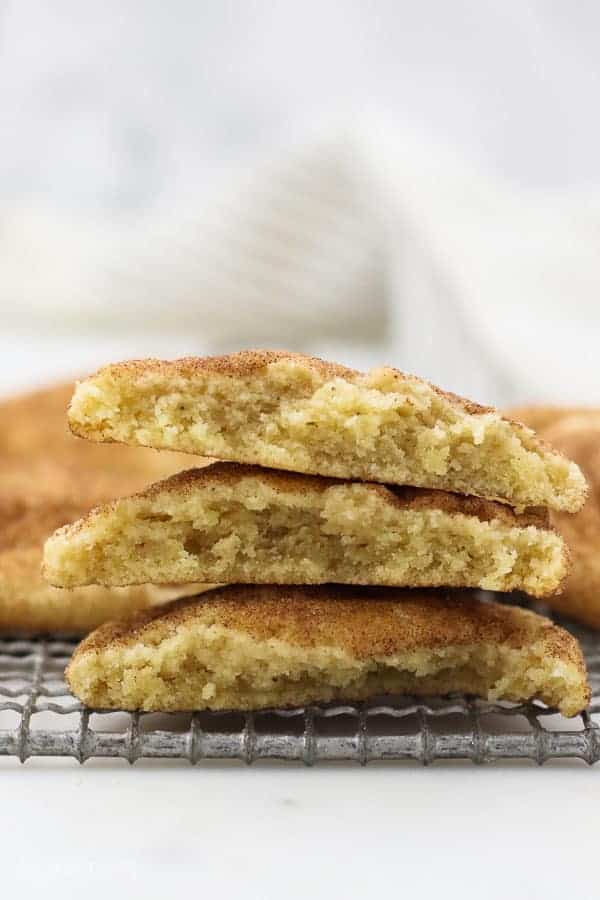 Preparing the brown butter
You've got a couple of options when it comes to preparing the brown butter. Either you can prepare it advance or prepare it on demand (while you're making the actual recipe).
If you've never made brown butter before, simply follow the tips and tricks I detailed in my how to brown butter blog post (video included). You're looking for a gorgeous golden-brown color- and that post will show you just how to achieve that!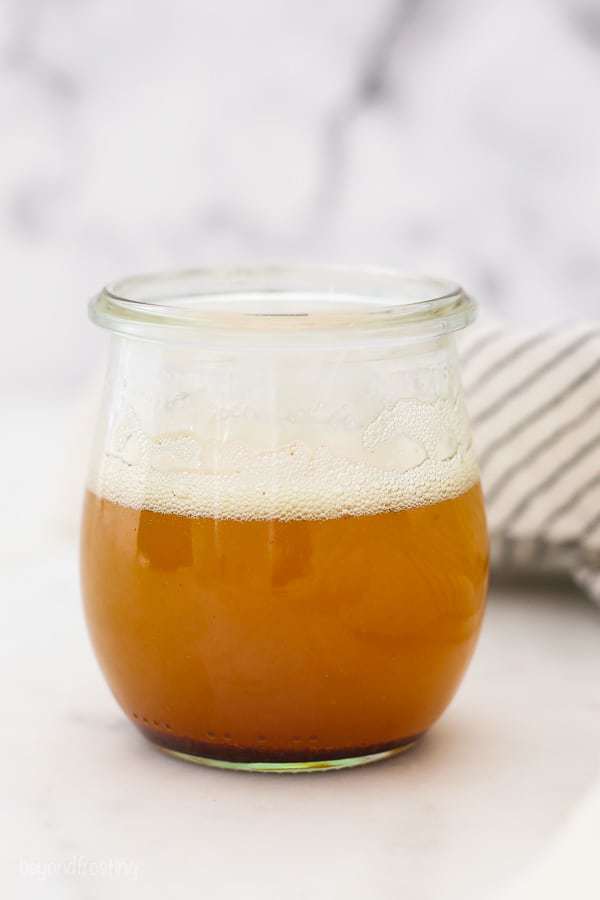 Browning the butter on demand
Browning the butter actually only takes about 10 minutes, but then you'll need an additional 20-25 minutes to chill the butter prior to mixing it with the sugar.
After the butter is browned, immediately place into a freezer-safe container and freeze for 20-25 minutes. Portions of the butter will turn solid, but you'll still have enough liquid on the bottom so you can incorporate the two.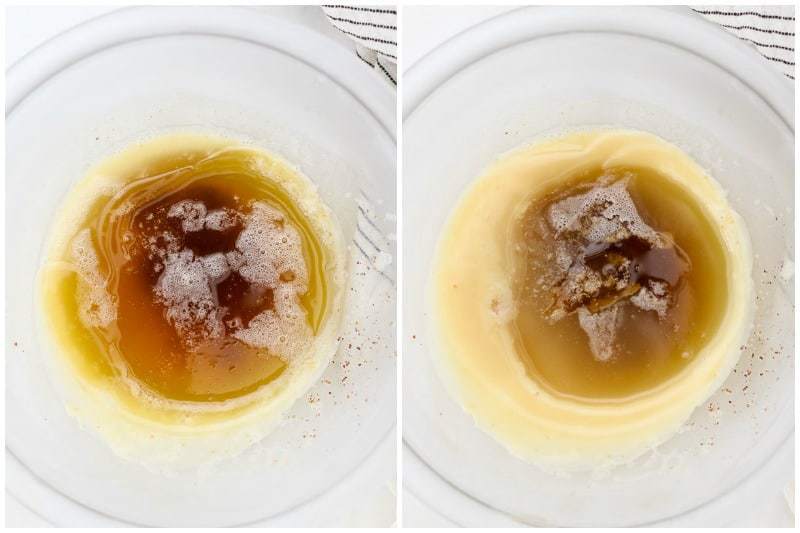 In testing this method, I found that 15 minutes was not long enough (photo on the left), there was still too much liquid in the bottom of the bowl. The photo on the right represents what you should be trying to achieve.
Remove the butter and vigorously stir it together. It will be a little bit lumpy, but it should be a soft and spreadable consistency.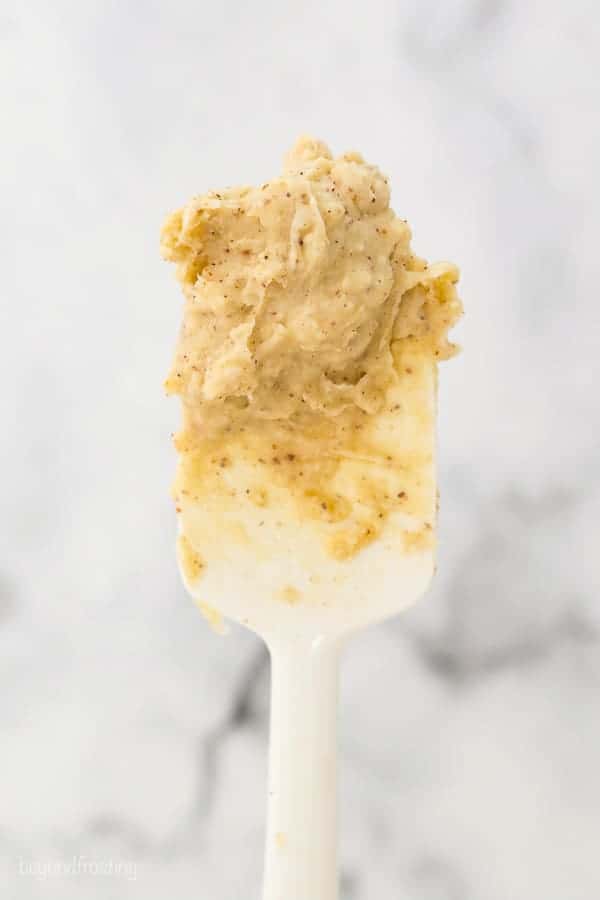 Browning the butter in advance
If you want to prepare this in advance, and make your cookie dough at a later time, you can do so. Simply refrigerate the butter until it reaches a solid start again. You can do this a day or two in advance if needed.
When ready to prepare the dough, simply melt the butter in the microwave at 50% powder for 30-60 seconds until it's soft enough to stir, but not so much that it's actually melted.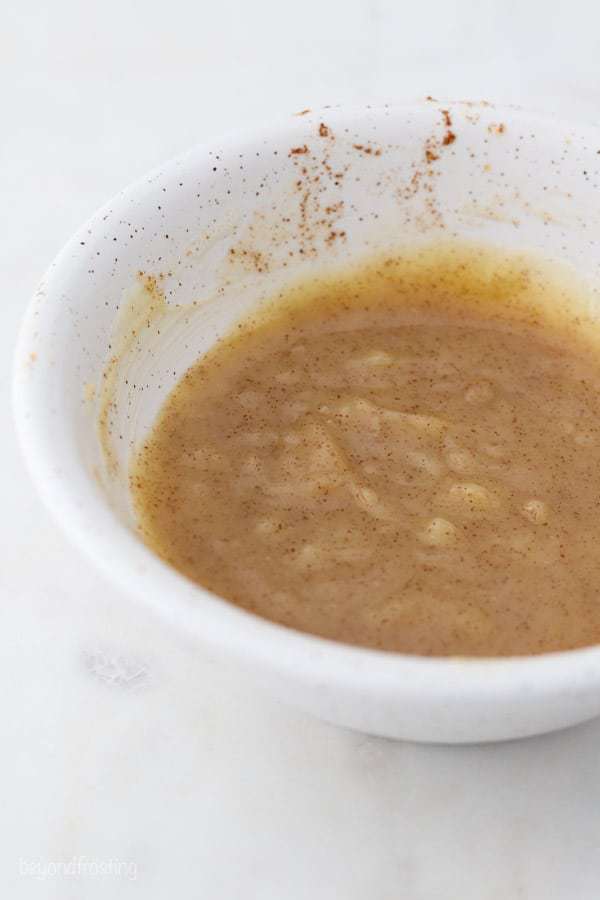 If you happen to overheat it and it's liquid again, toss it in the freezer for a few minutes until it starts to firm up a bit.
Below I talk more about beating the butter together with the sugar which is an important step in preparing this recipe!
Beat the butter and sugar until its very light and fluffy, at least 2-3 minutes. This is going to make sure you get a little bit of loft in your cookies.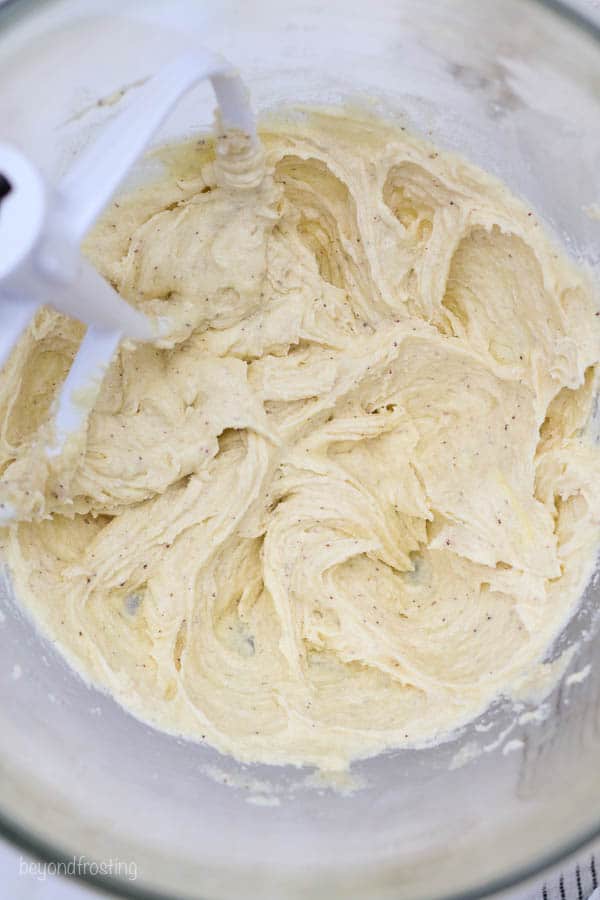 Pre scoop the dough and roll it in the cinnamon sugar mixture prior to refrigerating the dough. Once it's been refrigerating it's too firm to scoop it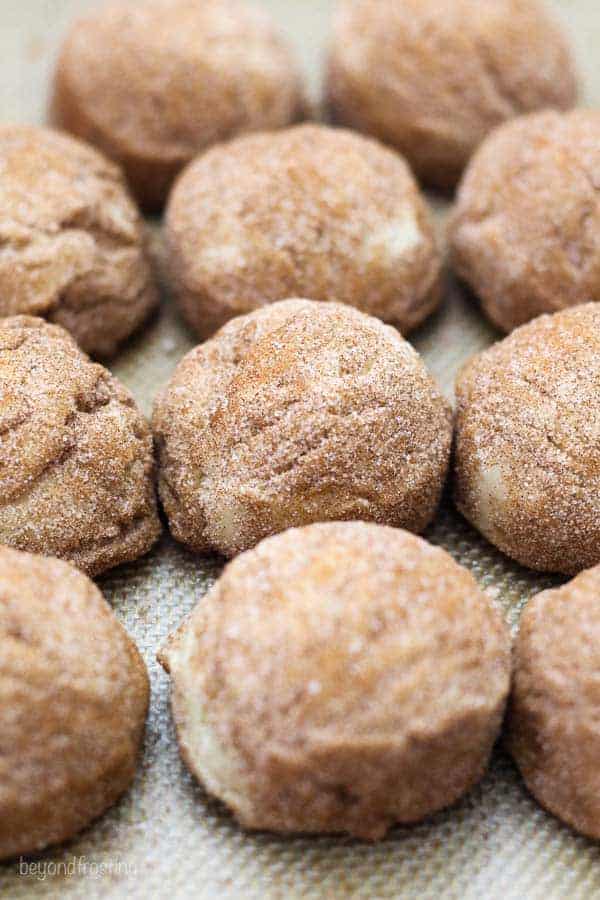 You'll definitely want to bake the cookies on a Silpat or some other type of silicone baking sheet. This helps prevent the bottom from burning and the added layer also helps the cookies from spreading.
If you find your cookies are spreading too thin, the dough is too soft, return it to the refrigerator. The cookies will appear puffy when you take them out of the oven and as they cool they will flatten out a little bit, creating those nice ridges in the top.
Pull them out of the oven before they're fully cooked. Slightly under baked cookies offer the best soft & chewy texture.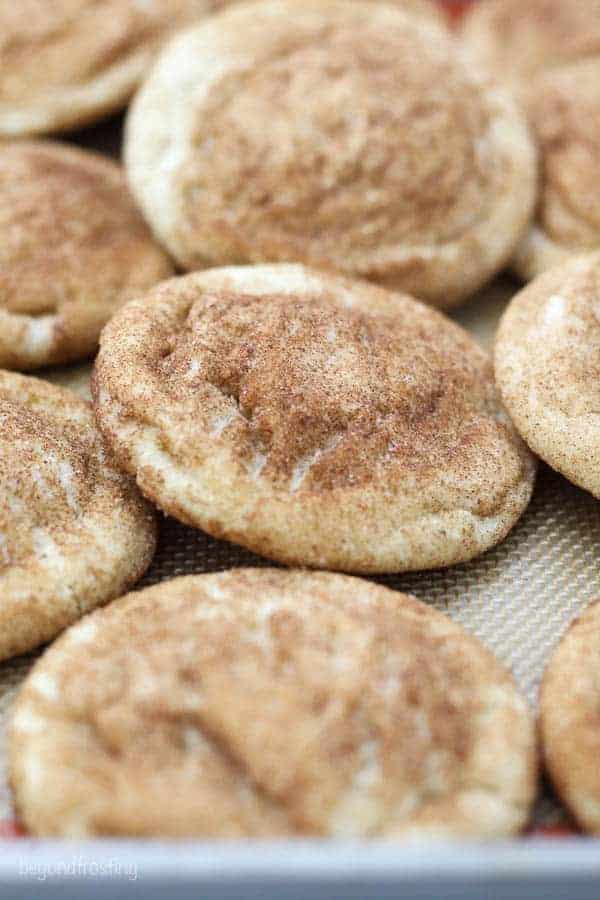 I've used this base recipe for over a dozen recipes including these Easy Sugar Cookies or Sugar Cookie Bars or you could make it into Almond cookies or MnM Cookies. It came from my husband's family and when we first started dating, he told me all about their Snickerdoodle cookies. I've been using it ever since.
Follow Beyond Frosting:
Facebook | Twitter | Pinterest | Instagram
Print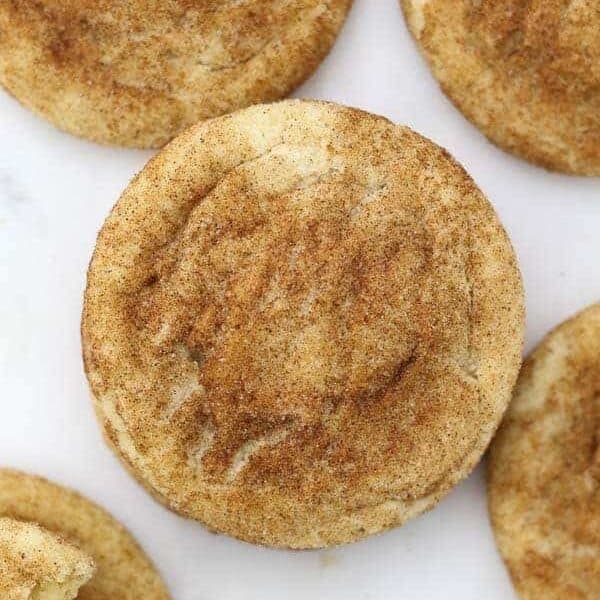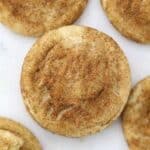 Author:

Prep Time:

90 minutes

Cook Time:

11 minutes

Total Time:

1 hour 41 minutes

Yield:

24-28 large cookies
Description
These Brown Butter Snickerdoodles are simply irresistible. Do you love perfectly soft and chewy in the middle and crisp on the edges? This is the cookie for you! They're rolled in plenty of cinnamon and sugar for that classic Snickerdoodle finish.
Ingredients
For the cookies
1 1/4 cup

(

282g

) unsalted butter, browned

2 cup

s (

380g

) granulated sugar

2

large eggs

1 teaspoon

(5ml) pure vanilla extract

3 cup

s (

420g

) all-purpose flour

½ teaspoon

baking soda

½ teaspoon

cream of tartar
For the coating
¼ cup

(

47.5g

) granulated sugar

1 tablespoon

(

7.5g

) cinnamon
Instructions
To brown the butter, use a small saucepan, and cut the butter into pieces. Melt the butter over medium heat and allow it to boil and bubble. Once it's starts boiling, stir it frequently and it will slowly start to turn an amber color and releases a nutty aroma. Remove the butter from the heat and place in the freezer for 20-25 minutes (but no longer!) and then stir until creamy.
In your stand mixer, combine the butter with the sugar and beat on medium speed until well creamed together.
Add the eggs and vanilla extract. Mix into the butter and sugar until the eggs are well beaten.
In a separate bowl, combine the dry ingredients: flour, baking soda and cream of tartar. Slowly add into batter and beat on medium low speed until well combined and dough starts to form.
In a small bowl, combined cinnamon and sugar and stir to combine. Use a large cookie scoop (3 tbsp) and scoop cookie dough into the cinnamon sugar mixture. Roll around to coat the cookie.
Place the cookies on a silicone lined baking sheet. Refrigerate dough for a minimum of 60 minutes.
Preheat oven to 350° F. Place the cookies about 2 inches apart on your baking sheet. If your cookies have been refrigerated longer than 2 hours, allow them to rest at room temperature for 10 minutes before baking.
Bake at 350° F for 10-12 minutes. Allow cookie to cool on the baking sheet for several minutes and then transfer to a wire rack to cool completely.
Notes
You can make this dough ahead of time and leave it refrigerated until ready to bake. If refrigerated for more than 2 hours, let them rest at room temperature for 15-20 minutes prior to baking.
If you're making the dough more than 2 days ahead of time, I recommend freezing the dough in an airtight container or Ziploc bag, thaw completely prior to baking, but the dough should still be baked cold. So thaw overnight in the refrigerator and then rest at room temperature for 15-20 minutes prior to baking.
Baked cookies can be frozen by storing in an airtight container.
A large cookie scoop will yield 24+ large cookies, a medium-sized cookie scoop will yield 36.
For more tips on brown butter, be sure to read through my tutorial
You can prepare the brown butter ahead of time and let it fully solidify in the refrigerator. However, you'll want to soften it prior to using. Microwave at 50% power in 30 second increments until the butter is stir able and smooth but not melted.
If you do the quick method of chilling the brown butter by placing in the freezer (as described in the recipe) but for some reason you forget about it and it gets too firm, follow the above instructions to microwave it back to a soft consistency. More details located in the blog post.
Category:

Cookies

Method:

Baked

Cuisine:

American
Keywords: Snickerdoodle Cookie, Soft and Chewy Snickerdoodles, Brown Butter Cookies