This post may contain affiliate sales links. Please see my full disclosure policy for details
These Patriotic Piña Colada Cupcakes are the perfect 4th of July dessert! They start with boxed cake mix, which means they're super easy!
Pina Colada Cupcakes for the 4th of July
Summertime is here! I can't believe July 4th is just over two weeks away! Is it me or is June flying by? I am loving these new Piña Colada cupcakes.
My favorite thing about these it the chunks of fresh pineapple mixed in. A few weeks ago, OXO sent me some of their new summer fruit tools to test out. One of them was a pineapple slicer and let me tell you, I am absolutely in love.
I love love love fresh pineapple, but it is expensive to buy pre-cut, and let's face it, it's a pain in the butt to try and cut one yourself. The OXO Pineapple slicer takes all the frustration out of it. It is so easy to use and creates the perfect pineapple circles in less than 5 minutes.
You can make these "virgin" cupcakes by omitting the rum. If you don't have fresh pineapple, you can easily substitute it with a can of crushed pineapple but it's best to drain the juices.
How to Cut a Pineapple with a Pineapple Corer
Cut off the top of your pineapple down to the 1st, second or third line on the pineapple slicer.
Place the center of the slicer over the center of the pineapple. Slowly press down and twist the slicer clockwise. As long as the pineapple is ripe, it doesn't take a lot of strength to do this.
Continue to twist until you reach the bottom of the pineapple. Slowly lift straight up.
You can remove the rings by removing the top of the slicer and turning it upside down. Thanks OXO for sending me all of the wonderful tools!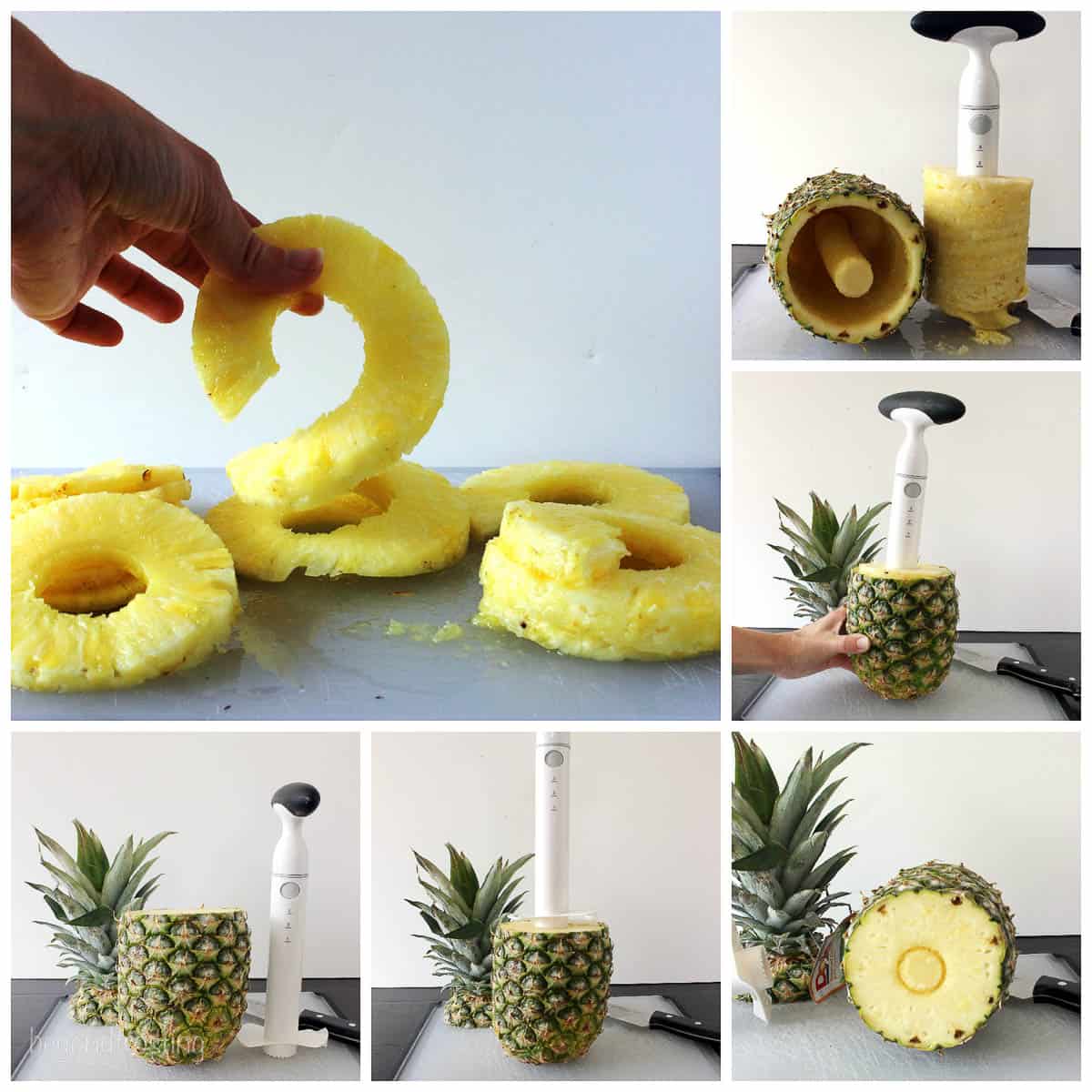 Coconut Swiss Meringue Buttercream
Ok, back to these cupcakes. They are topped with coconut Swiss meringue buttercream and decorated with coconut, which is dyed with food coloring.
If you are going to make this frosting ahead of time, you can keep it in a glass or a grease-free container for up to three days in the refrigerator. Since the butter content is high, it will become solid. You will want to allow a few hours for it to come to room temperature. Re-beat with the paddle attachment on medium speed for 3-5 minutes.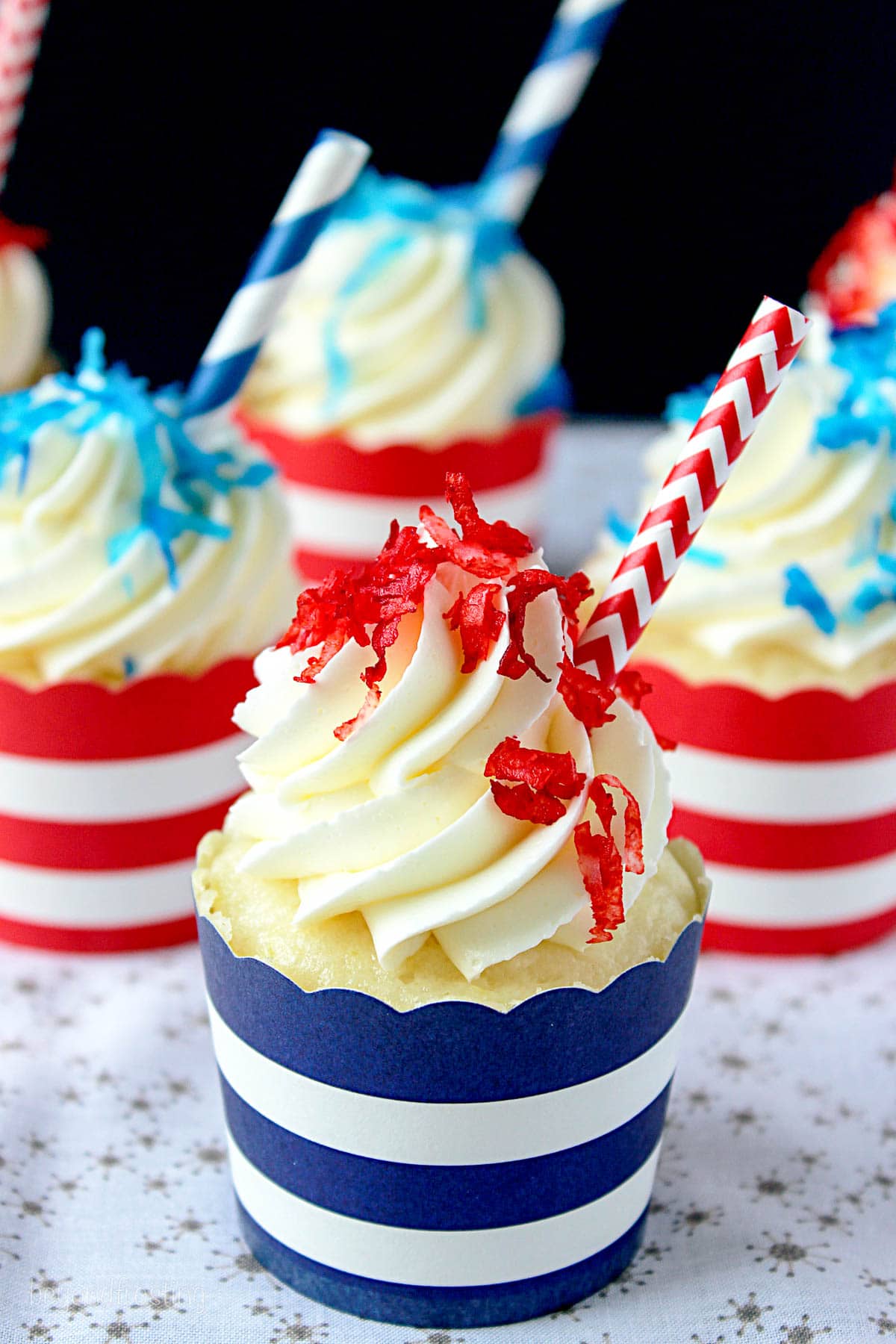 How to Color Shredded Coconut
To dye the coconut, place desired amount in a Ziploc bag, and add one or two drops of food coloring. I used Ameri color gels. Mix the color by pressing and shaking the bag. I place it on a paper plate and allow the coconut to dry for 15-20 minutes. If I have a rubber glove handy, I use a rubber glove to sprinkle on the cupcakes because the dye will make your fingertips turn colors!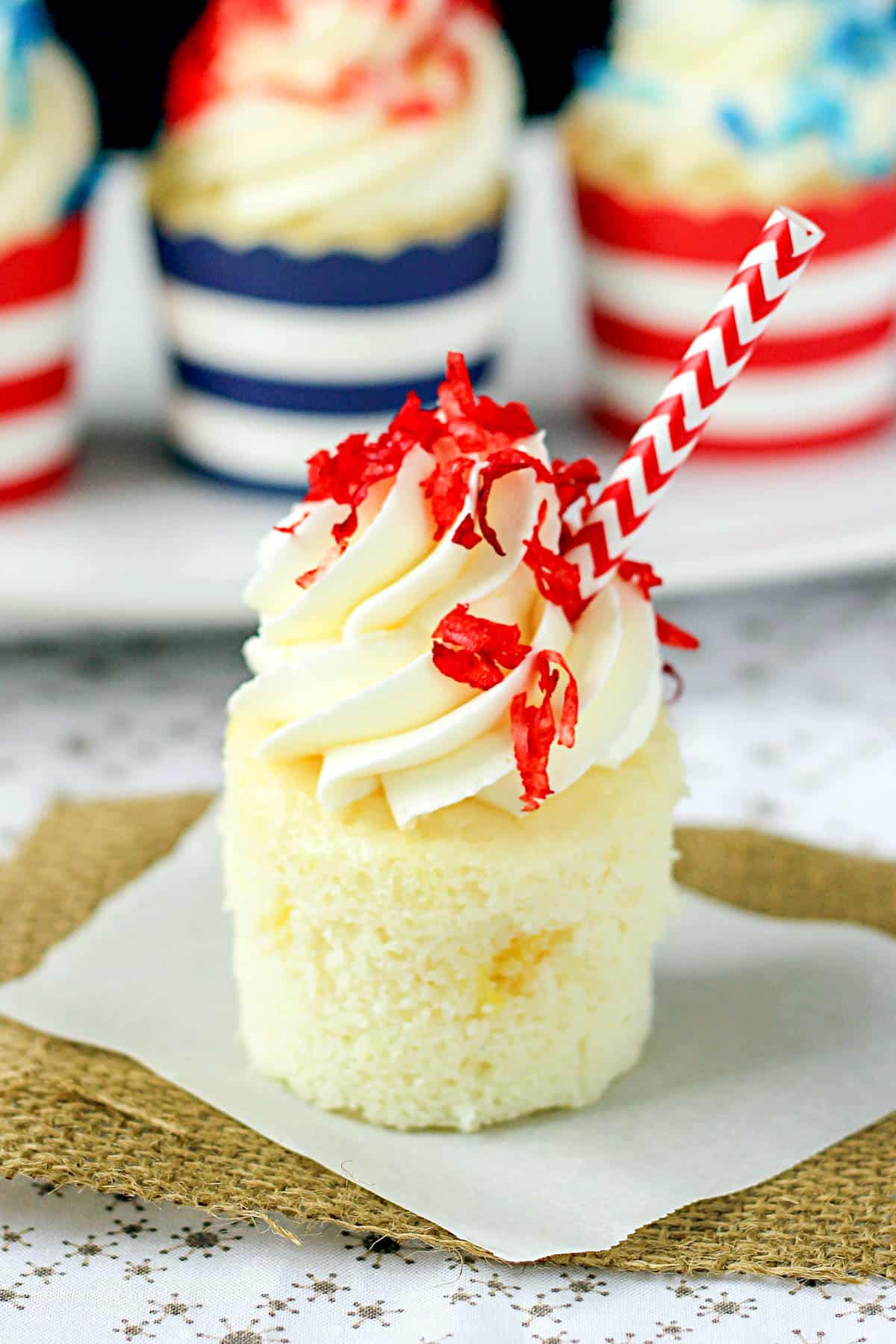 Go out there and enjoy the summer! Cocktails may not be appropriate for all hours, but cupcakes are, so eat up!
Print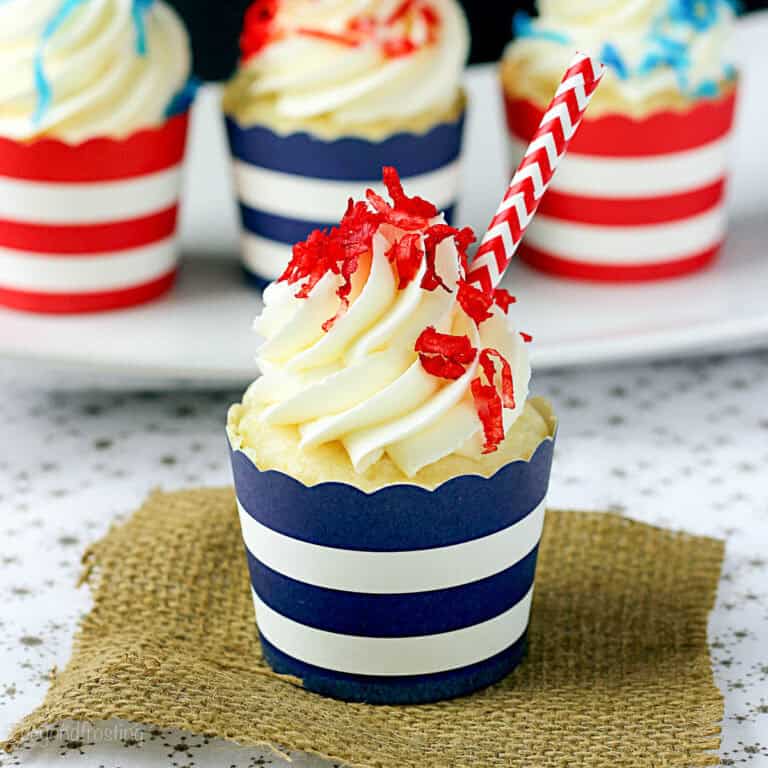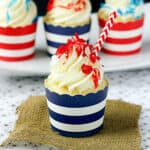 Piña Colada Cupcakes
Author:

Prep Time:

30 minutes

Cook Time:

15 minutes

Total Time:

45 minutes

Yield:

22-24 cupcakes
Description
These Patriotic Piña Colada Cupcakes are the perfect 4th of July dessert! They start with boxed cake mix, which means they're super easy to whip up!
Ingredients
For the Cupcakes
1

Box Vanilla cake mix

4

Large egg whites

1/3

C Oil

1/2

C Buttermilk

3/4

C Sour Cream

2 tbsp

Orange juice

2 tbsp

Rum

1 tsp

Coconut extract

1

C (6.5 oz) Pineapple, diced
For the Frosting:
5

large egg whites at room temperature

1 cup

plus 2 tablespoon granulated sugar

2 cups

unsalted butter at room temperature

1 teaspoon

coconut extract
Instructions
For the Cake:
Preheat over to 350°.
Combine cake mix with eggs, oil, buttermilk and sour cream. Beat with a mixer on medium speed until combined.
Next add orange juice, rum, coconut extract and diced pineapple. Beat into cake on a low speed until combined.
Fill cupcake liners 2/3 full and bake for 12-15 minutes. Check after 12 minutes, and bake another 2-3 minutes until tops are golden or until you can insert a toothpick and it comes out clean. Baking times will vary by oven.
Allow cupcakes to cool in the pan for 5 minutes and then transfer them to a wire rack to cool.
For the Frosting:
Wipe down the inside of your stainless-steel bowl with vinegar to remove any grease. Combine sugar and egg whites in the bowl with candy thermometer attached.
Set the bowl over top of a pot with 1 ¼ cups of water covering the bottom. Place over medium heat.
Stir constantly with a whisk until the mixture reaches 140°-160° The sugar should be dissolved in the egg whites. You can test this by placing a drop on your fingertips and rubbing them together. The mixture should be completely smooth.
Immediately place the mixing bowl on your stand. Using the wire whisk attachment, beat the eggs white on low for 2 minutes then increase to medium-high.
Beat for another 5 minutes. At this point, your frosting should have turned white and the body of the meringue starts to form. Increase the mixing speed to high. It will start to look glossy as the peaks begin to form. Beat for another 3-5 minutes until the bottom of your bowl is cool to the touch and your meringue has stiff peaks.
Turn your mixer down to medium-low. Slowly add your butter, 1 tbsp at a time. As you add more butter, the frosting might appear to have curdled and lost its body, but that's ok. Scrape down the sides of the bowl.
Switch to the paddle attachment, add the vanilla extract and continue beating on medium-high speed until your frosting starts to have stiff peaks. Beat for about 3-5 minutes.
Category:

Cupcakes

Method:

Baked

Cuisine:

American
Keywords: homemade cupcakes, 4th of july desserts, 4th of july cupcakes