This post may contain affiliate sales links. Please see my full disclosure policy for details
These Vanilla Cashew French Toast Muffins are the perfect make-ahead breakfast recipe. The Brioche bread is packed into a muffin tin and flavored with maple syrup, vanilla bean and cashews.
This post is sponsored by Sahale Snacks of The J.M. Smucker Company . All opinions are my own.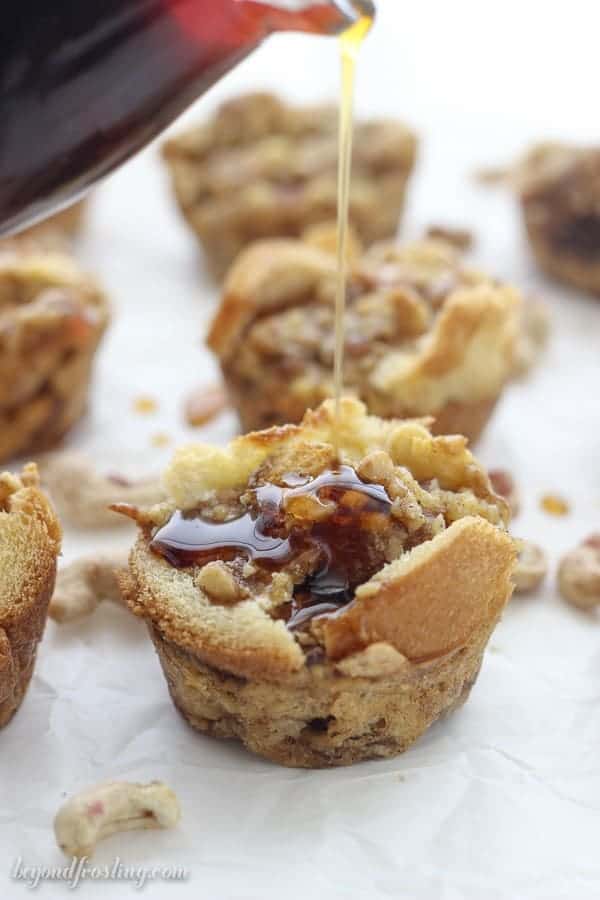 Can you believe it's March already? It seem weird that Easter is right around the corner and spring will be here before you know it. Before the winter is over, I'm getting off to Myrtle Beach (today!), Lake Tahoe and Las Vegas all in this month. It's going to be a little bit busy. I love traveling, adventure, exploring new things and of course, eating all the food. Food is a part of the experience and enjoying it with friends and family is definitely a bonus.
My favorite meal (besides dessert!) has always been breakfast. I love when restaurants offer all day breakfast menus, because bacon and eggs is perfectly acceptable at any hour of the day. Sometimes we'll even treat ourselves to chicken and waffles for dinner.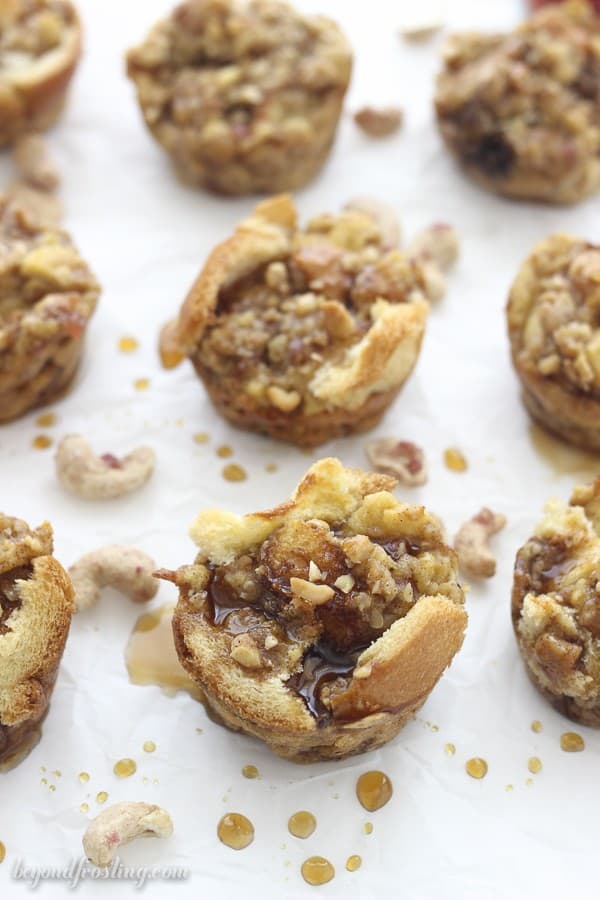 Today, I'm sharing these Vanilla Cashew French Toast Muffins which would make a fantastic addition to any breakfast or brunch table.
I absolutely adore making French toast at home, but what I don't love is that everyone cannot eat altogether because I can only make one piece of French toast at a time. With these muffins, you can throw them in the oven and serve them together with a bowl of fruit or a side of bacon.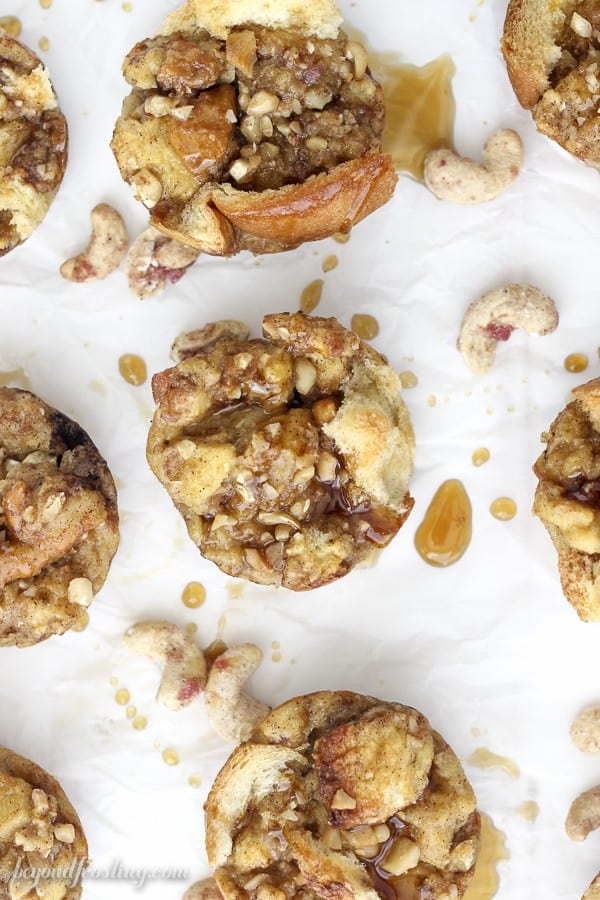 Perhaps the best part about these muffins is that you can also bake them in advance and keep them in the refrigerator or freezer until you're ready to enjoy. They just need to be reheated in the microwave or toaster oven. This might even help you on those busy mornings when you don't have time to make breakfast.
I've partnered with my friends over at Sahale Snacks to bring you this recipe today. You might remember when I shared the Maple Pecan Banana Muffins with you. Last year, I traveled to Seattle as part of the #Sahahleinspired team. During my time there, I got to try the Pomegranate Vanilla Cashew Glazed Nut mix fresh off the line. That might explain why I just can't stop thinking about the smell of the vanilla floating around their office.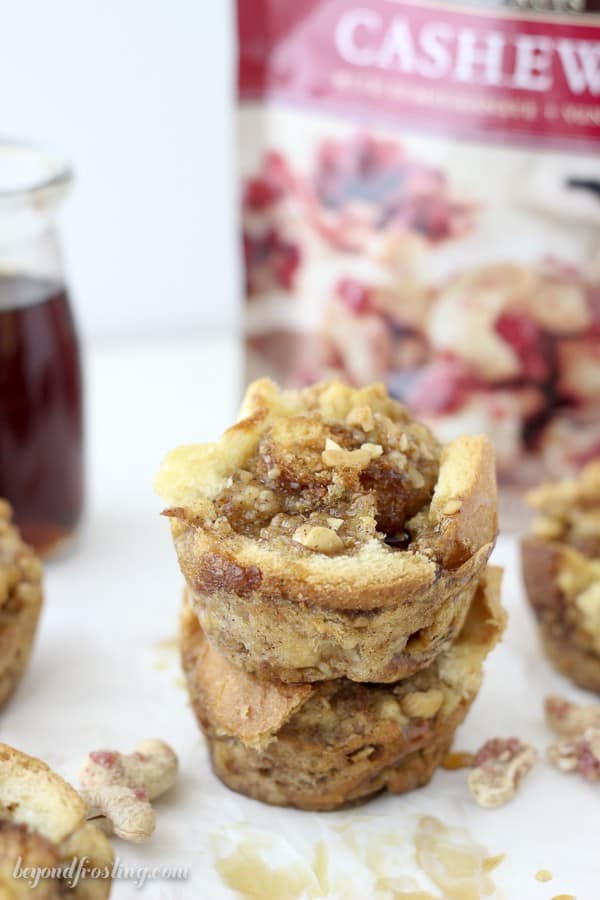 The Pomegranate Vanilla Cashew mix is what inspired this recipe. Following the philosophy of Sahale, I sought out the best ingredients I could find for these muffins. It all starts with the bread. I knew I had to have fresh Brioche for this French toast because it seems like all the best French toast starts with Brioche. I was very happy to find a loaf in the bakery department of a local grocery store.
The batter for this French toast is a mixture of milk and eggs, vanilla bean paste and grade A maple syrup, from Vermont of course (duh!). Vanilla bean paste can be an expensive ingredient. I just happen to have some in my cupboard, but if you don't have it, you can substitute vanilla extract for it . It's finished off with a teaspoon of Vietnamese cinnamon, which is also a premium grade cinnamon I like. The flavor is a bit richer than a traditional cinnamon. Whenever I open the jar, the smell hits me in the face like BAM, but in the best way possible.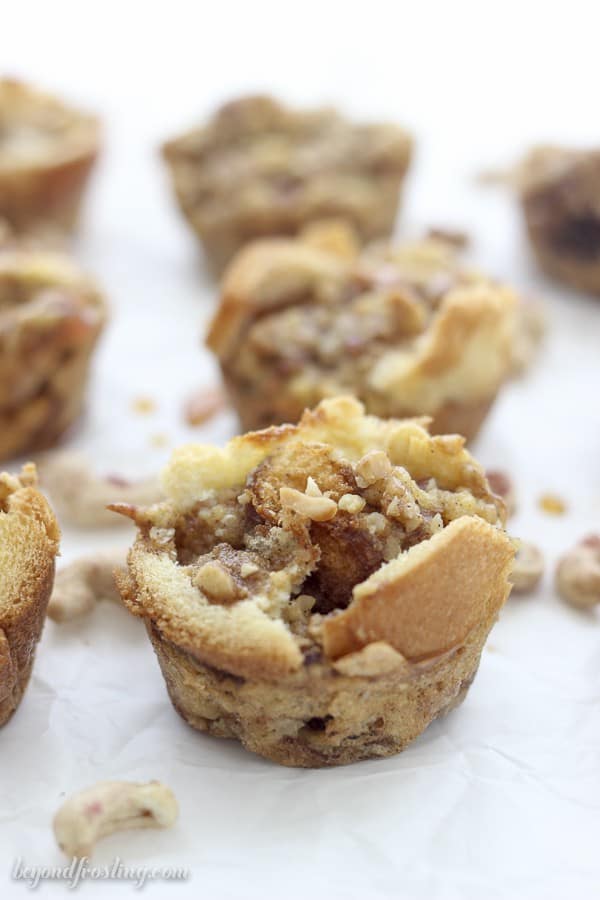 Let's discuss the maple syrup here for a minute. None of that fake stuff is allowed!! There are a few philosophies in my house, and one of them involves always serving the best maple syrup. Unfortunately for me, my boyfriend is a Log Cabin fan, but I am determined to change his mind, or we will forever have two types of maple syrup in the house.
The last important ingredient is of course, the Sahale Pomegranate Vanilla Cashew Glazed mix. I hand picked out the cashews and crushed them in my food processor. I only crushed them until they were broken into small pieces, not pulverized into dust. By picking out the whole cashews, I was left with pieces of the pomegranate-flavored apples. These little bite-size pieces of heaven offer a nice little sweetness in the French toast muffins. I sprinkled the crushed mix into each of the muffins. I also love the texture it adds to the otherwise soft French toast.
A few of you have asked where you can purchase Sahale Snacks. Be sure to check out the store locator. Or you can connect with Sahale on Twitter, Instagram or Facebook.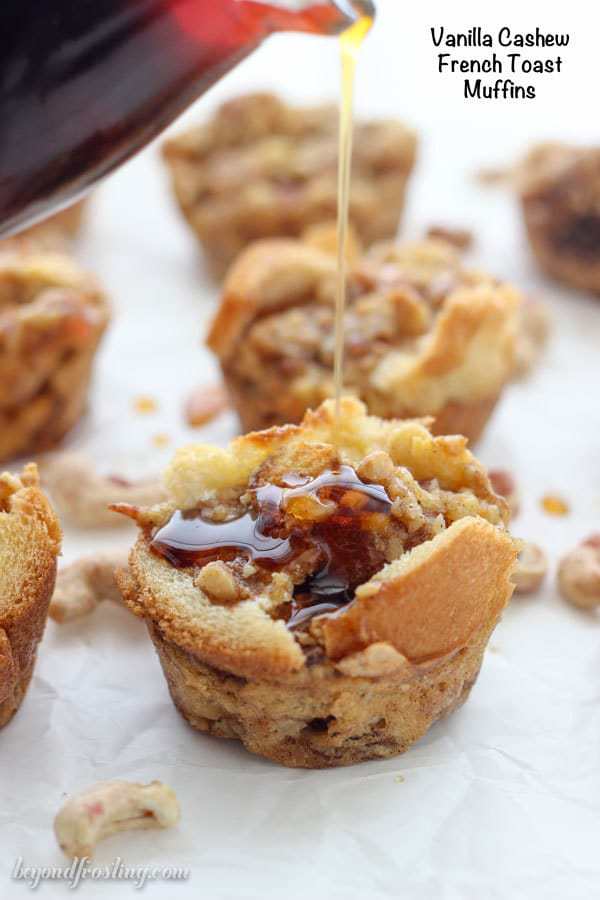 This recipe can be easily adapted to suite your own favorite flavors, and of course it can be doubled to serve a crowd. You should plan on serving at least two of these to each of your guests, but honestly it's hard to resist. Once you garnish these with a heavy spoonful of maple syrup, its game over.
Keep up with all the happenings. Follow Beyond Frosting:
Facebook | Twitter | Pinterest | Instagram
This post is sponsored by Sahale Snacks. All opinions are my own. I have received compensation and product for this post. I would not be sharing this if it was not a product that I love.
Print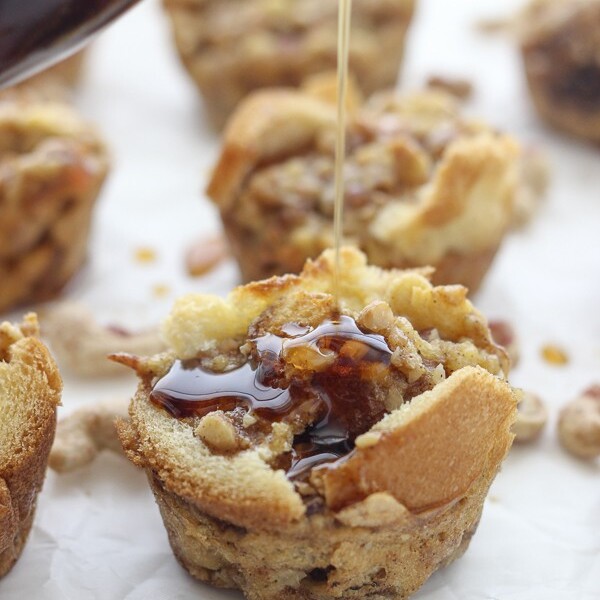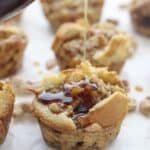 Vanilla Cashew French Toast Muffins
Author:

Prep Time:

15 mins

Cook Time:

25 mins

Total Time:

40 minutes

Yield:

12 muffins
Ingredients
1 ¼ cups

milk (regular, almond or cashew milk)

2

large eggs

2 tablespoons

maple syrup

2 teaspoons

vanilla bean paste or pure vanilla extract

2 teaspoons

cinnamon

3 ounces

Sahale Pomegranate Vanilla Cashew Glazed mix

1

loaf Brioche bread (

17.6 oz

)
Instructions
Preheat oven to 350°F. Spray a 12-cavity muffin tin with cooking spray.
In a medium-sized mixing bowl, combine milk, eggs, maple syrup, vanilla paste or extract, and cinnamon. Whisk all ingredients together until smooth. Pour into a measuring cup or pouring vessel.
Next, grind 3 ounces of Sahale Pomegranate Vanilla Cashew Glazed mix in a small food processor into crumbs, only crushing them until they were broken into small pieces.
To fill the muffin tin, you have two choices. First, you can:
Break the Brioche into small pieces and divide evenly between the muffin cups. Layer some of the cashew blend in together with the Brioche bread.
Slowly pour the egg filling over the bread, dividing evenly between each one. Sprinkle remaining cashew mix on top.
Or, you can:
Break the bread apart and add the pieces into the egg mixture.
Fold in the cashew blend and mix well. The bread is very absorbent, so it deflates a bit after mixing. Fill your muffin cups.
Bake at 350°F for 23 to 25 minutes. Allow the French toast muffins to cool in the pan for at least 15 minutes before trying to remove.
Serve warm with maple syrup. Store in an air-tight container in the refrigerator. Reheat in the microwave or microwave oven when ready to serve.
Visit Beyond Frosting's profile on Pinterest.
You might also like: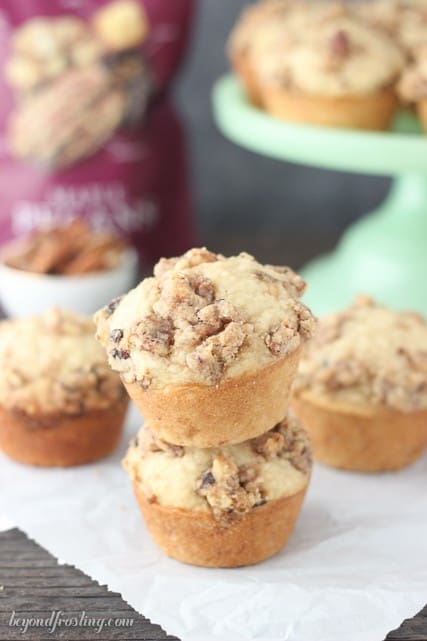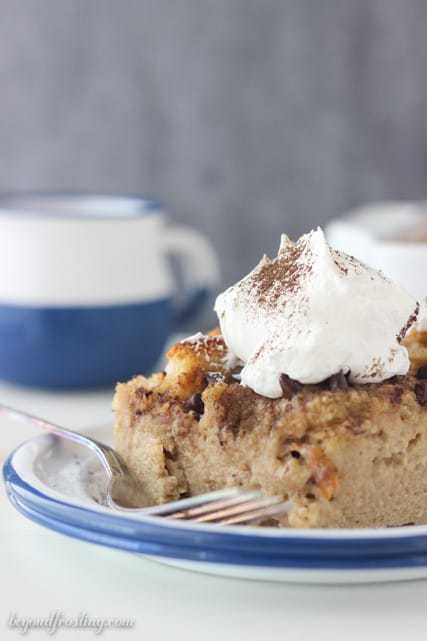 Maple Apple Pie Pull Apart Bread