These Bourbon Salted Caramel Oatmeal Cookies are a basic oatmeal chocolate chip cookies with a hint of bourbon and swirls of salted caramel.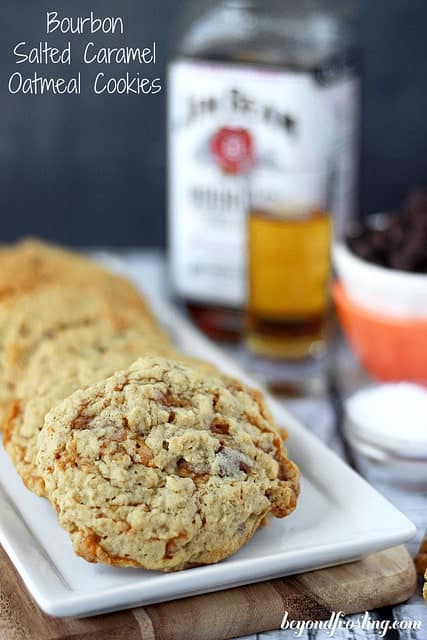 I actually spent a whole Saturday at home without baking. I am actually amazed at myself! For someone who relies on the weekend to do all my baking and photographing, giving up a day is hard to do. I enjoyed just hanging out, sleeping in and making dinner.
I was tempted to make another batch of these Bourbon Salted Caramel Oatmeal Cookies. I made them last weekend and shipped them off to a friend. I have a hard time resisting cookies, especially these ones. Even my boyfriend liked these cookies, and he usually sticks to the basics. So it's better if I get them out of the house as fast as possible instead of eating them all myself. With father's day coming up perhaps your dad would like them too!
Three reasons I am obsessed with these cookies. Bourbon gives these cookies just a little kick and I love alcohol infused desserts. I think it adds a little extra richness to these cookies. The melted caramel is swirled throughout the cookies. With caramel, usually it hardens once the cookies are cooled. So I was pleased to see the caramel stay soft. Every so often, you get a bite of sea salt too! Everyone loves a little sweet and salty mix right? Lastly, everything is better with chocolate, so I added chocolate chips to these cookies as well!
I prefer giant cookies, so I used a large cookie scoop for these, 3 tablespoons to be exact. If you like smaller cookies, try using a 2 tablespoon or medium cookie scoop. The smaller scoop will produce at least 3 dozen cookies. I also always use a Silpat when I bake cookies. In this case, it makes it easier to get the cookies off the non-stick sheet, since the caramel can be sticky. It helps to prevent the cookies from burning on the bottom. This recipe is adapted from my favorite Oatmeal Chocolate Chip Cookies recipe from Picky Palate.
Follow Beyond Frosting:
Facebook | Twitter | Pinterest | Instagram | Bloglovin | Google+
If you love no-bake recipes, be sure to check out my cookbook, No-Bake Treats!
Print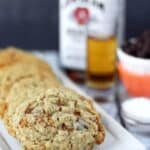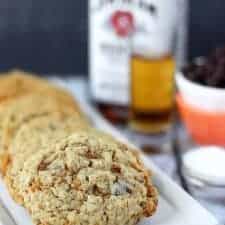 Bourbon Salted Caramel Oatmeal Cookies
---
Author:

Prep Time:

45 mins

Cook Time:

18 mins

Total Time:

1 hour 3 minutes

Yield:

26-30 large cookies
Description
A bourbon infused oatmeal chocolate chip cookies with a salted caramel swirl.
---
Ingredients
1 C (2 sticks) Unsalted butter
1 C Light brown sugar
3/4 C Granulated sugar
2 Large eggs
1 1/2 oz Bourbon
1/2 tsp Pure vanilla extract
2 1/2 C All-purpose Flour
2 1/4 C Quick oats
1 tsp Salt
1 tsp Baking soda
1 C Kraft caramel bites
2 tbsp Milk
1 tsp Sea salt
1 C Chocolate Chips.
---
Instructions
Preheat oven to 350° F.
Soften butter in the microwave for 10-15 seconds. Combine softened butter with brown sugar and granulated sugar. Beat on medium speed until well combined, 2-3 minutes.
Add eggs, bourbon and vanilla extract. Beat until well incorporated.
In a separate bowl, combine flour, quick oats, salt and baking soda. Stir to combine and slowly add into batter, mixing on low speed until dough starts to form.
In a microwave-safe bowl, combine caramel bites, milk and sea salt. Microwave in 30 second increments, stirring each time. Caramel will be very hot and can burn easily. Once caramel is melted and smooth, add to cookie dough along with chocolate chips. Beat until combined.
These cookies are best if the dough is refrigerated for 30 minutes. You can pre scoop the dough to make it easier to handle.
Spoon 3 tablespoons of dough onto a lined baking sheet. Bake for 15-18 minutes until cookies start to turn light brown. Remove from oven and allow to cool for 10-15 minutes before moving onto a wire rack to cool.
Notes
The prep time includes 30 minutes for the dough to rest in the refrigerator.
Recipes from Beyond Frosting
Whiskey Chocolate Toffee Truffles
Salted Caramel Hot Chocolate Cookies
Chai Coconut Chocolate Chip Cookies
Chocolate Espresso Bean Cookies
Recipes from my friends: 
Bourbon Banana Cream Pie from Completely Delicious
Banana Bourbon Cupcakes from How Sweet It Is
Salted Caramel Bourbon Popsicles  from Autumn Makes and Does