This post may contain affiliate sales links. Please see my full disclosure policy for details
This Banana Cake features a homemade banana cake covered in a sweet brown butter frosting with a touch of spiced rum, crunchy walnuts and salted caramel drizzle. Serve for brunch or dessert, this is a perfect cake for any occasion.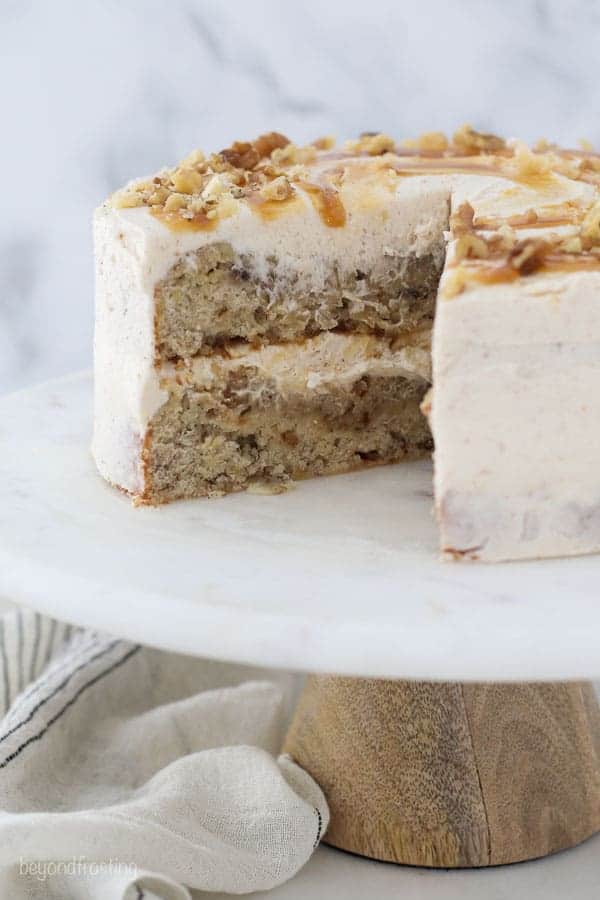 This was originally posted in 2015 and has been updated in 2020 with new photos, an updated recipe and instructions.
I made it a goal this year to share more cakes with you. I think cakes are a work of art and there are so many ways you can decorate a cake. While my style tends to be more rustic, I truly appreciate the nice, clean, buttoned up look and I am constantly working on that skill.
In the meantime, there's Banana Cake with Browned Butter Rum Frosting. This homemade banana cake is covered in a sweet brown butter frosting with a touch of spiced rum, walnuts and salted caramel sauce.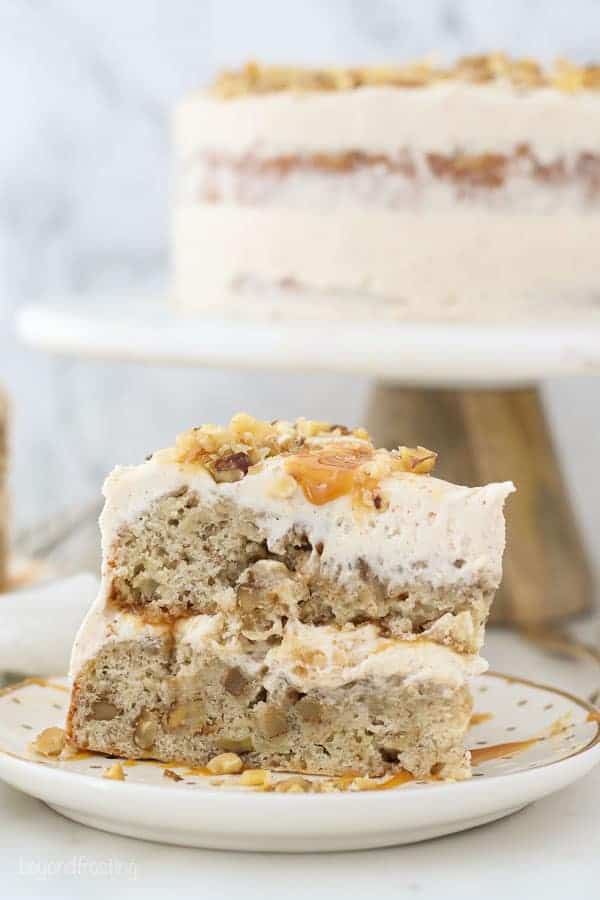 The brown butter frosting brings out a nuttier taste which is the perfect complement to the banana cake, especially if you use walnuts or pecans in the cake. You might even consider lightly toasting the nuts.
If you've never tried brown butter frosting before, I am ready to knock your socks off. I've paired this frosting with zucchini cake and a butterscotch cake and each time I make the frosting, I am reminded just how special it is.
I happen to love banana flavored baked goods including muffins, breads and cakes. This banana cake is no exception, I really don't even need the frosting! The original recipe for this cake is adapted from these banana bars.
The recipe for the banana bars did not need to be adjusted in order to turn this into a cake. I simply baked the cakes in two 8-inch round pans, but you can certainly use 9-inch pans as well.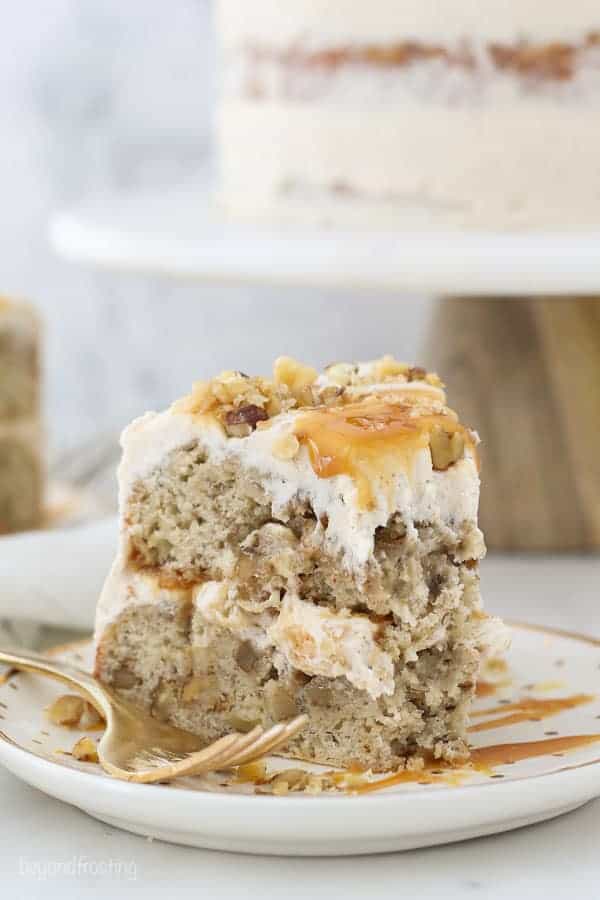 Serving this as a cake makes it a great way to "fancy up" this dessert for baby showers, brunches or birthdays, but if you prefer a single serving option, you can still make them as bars by following the original baking instructions.
The cake itself is a bit denser than your traditional cake, but the bananas and sour cream help keep it super moist. When you spread the batter in the pans, you may be concerned that it is not enough, but trust me it will bake up to be a nice thick layer of cake.
Whenever making a cake, I always recommend greasing the pans with Crisco spread and give them a light coating of flour. I also prefer to line the bottom of my pan with parchment paper or silicon baking mats because it makes it so much easier to remove the cakes from the pans.
I was going for a bit of a more rustic look with this cake, so I did not level off (torte) the layers or worry about having that perfectly even frosting. Since it's only two layers, as long as they are not totally lopsided, you don't need to worry about having a super flat surface to stack the cake.
You'll use about a third of the frosting in between the layers and the rest is used for covering the cake.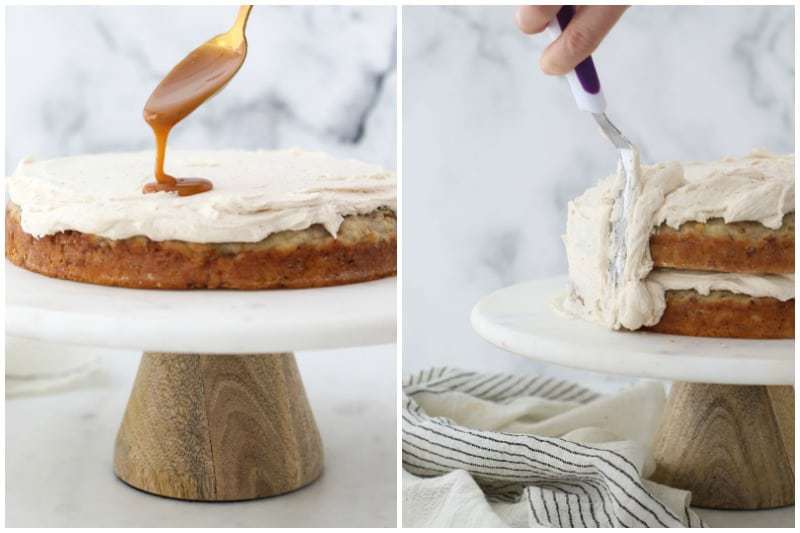 Brown Butter Frosting
The frosting is so easy! If you have never browned butter before, you are in for a treat! First, I recommend looking at my tutorial for how to brown butter which includes plenty of tips and an instructional video. It's a simple process that really transfers for the flavor of the butter.
For this frosting, you can prepare the brown butter ahead of time, or just allow for an extra 30 minutes for the butter to cool prior to making the frosting.
If preparing ahead of time, you can place the brown butter in the refrigerators and leave until it reaches a solid state.
Then, you'll simply melt the butter in the microwave for 30-60 seconds and stir it until it's smooth. It won't be completely melted, but just thick enough that you can get it nice and smooth.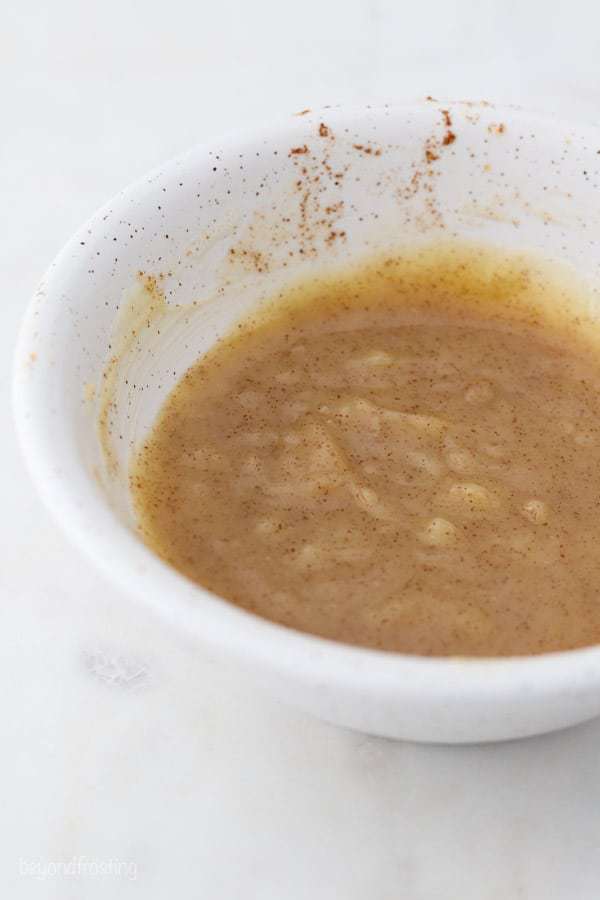 If using right away, throw it in the freezer for 20-25 minutes. Part of the frosting will harden but part of it will stay soft or melted. Stir it all together until it's completely smooth.
Either way the butter is not a completely liquid state.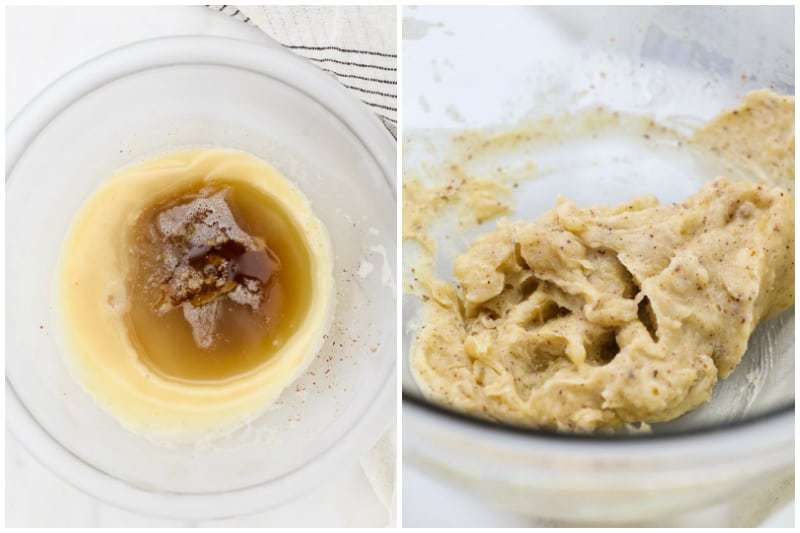 To make the frosting, slowly add the powdered sugar and alternate in the liquid ingredients. Spend some time really whipping the frosting for several minutes each time so you end up with a whipped, fluffy and very spreadable frosting.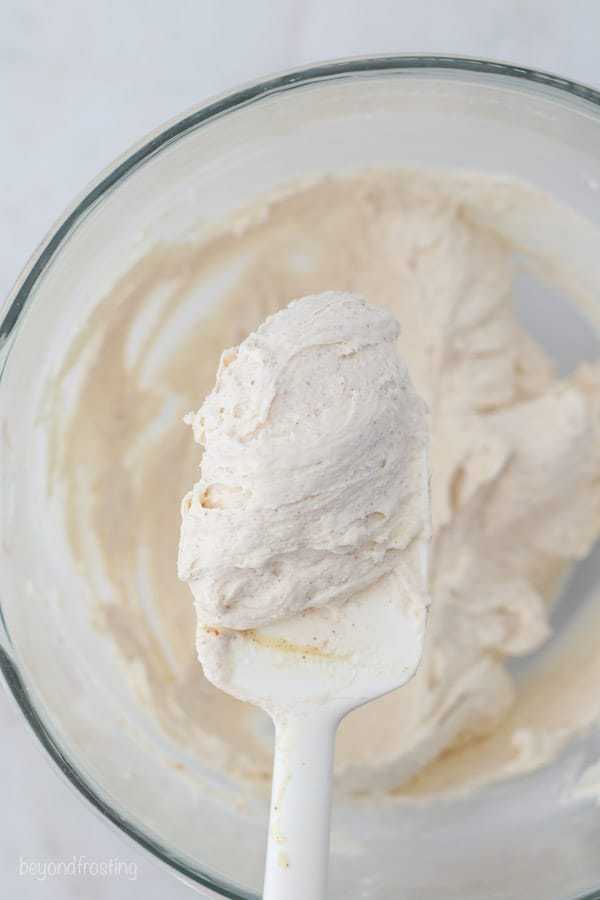 I also drizzled a swirl of salted caramel sauce and some chopped nuts in between the two layers on top for some added texture and sweetness. This is totally optional, especially if you have nuts in the cake, but I like the texture.
Seriously, I had no problem polishing off this slice of cake, and since my husband doesn't love banana cake, I didn't have to share! If you are looking for an alternative frosting, this would also be good with vanilla frosting or cream cheese frosting.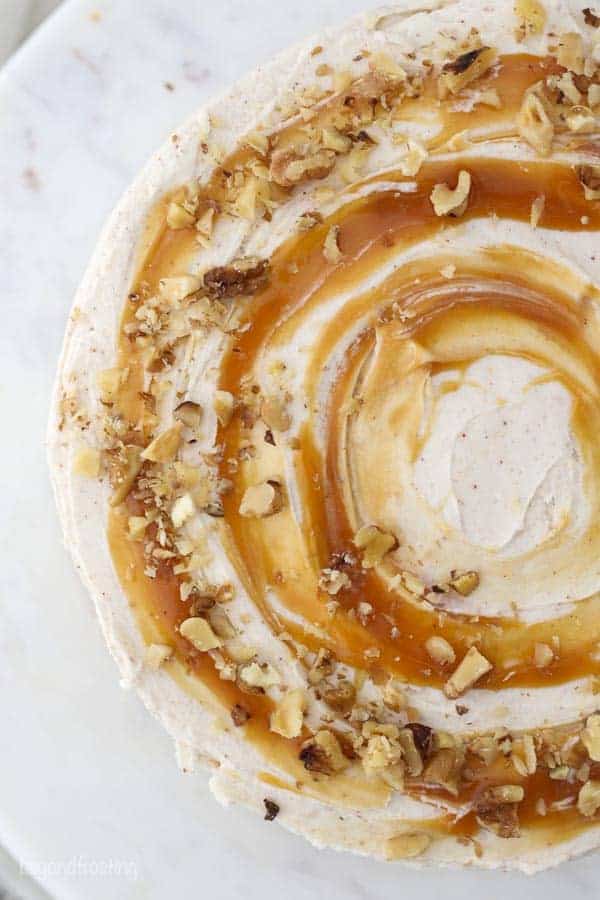 Keep up with all the happenings. Follow Beyond Frosting:
Facebook | Twitter | Pinterest | Instagram
Print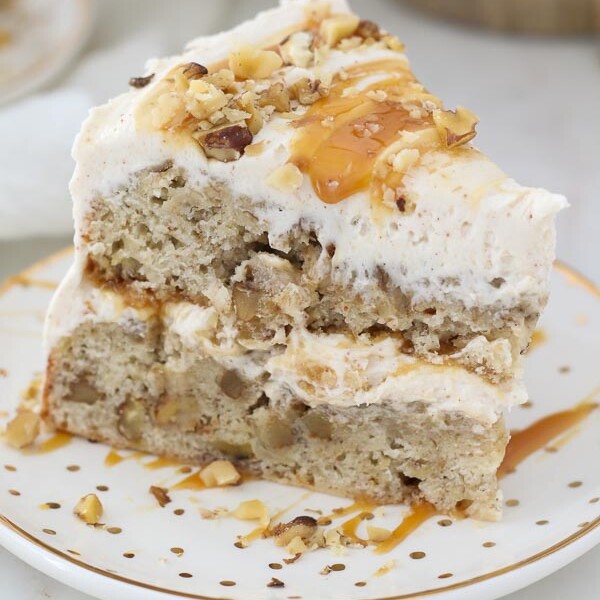 Banana Cake with Browned Butter Rum Frosting
Author:

Prep Time:

50 minutes

Cook Time:

22 minutes

Total Time:

1 hour 12 minutes

Yield:

10 slices
Description
This Banana Cake features a homemade banana cake covered in a sweet brown butter frosting with a touch of spiced rum, crunchy walnuts and salted caramel drizzle. Serve for brunch or dessert, this is a perfect cake for any occasion.
Ingredients
For the cake:
½ cup

(

113g

) butter, softened

1

 ⅓ cups (254g) granulated sugar

1

 ½ (5g) teaspoons baking powder

½ teaspoon

baking soda

¼ teaspoon

salt

1

large egg

1 cup

(

229g

estimated) mashed ripe bananas (about 3 medium bananas)

½ cup

(118ml) light sour cream

1 teaspoon

(5ml) pure vanilla extract

2 cups

(

280g

) all-purpose flour

¾ cup

(

87g

) chopped walnuts or pecans (optional)
For the frosting:
10 tablespoons

(

143g

) unsalted butter, browned

3

–

4

cups (390-5

20g

) powdered sugar

1 teaspoon

(

5g

) cinnamon

1

–

2

tablespoons spiced rum (30ml) (optional- flavored as desired)

3

–

4

tablespoons (59ml) milk

2 teaspoons

pure vanilla (10ml) extract
Salted caramel sauce (optional)
Walnuts or Pecans for garnish (optional)
Instructions
For the cake: Preheat the oven to 350°F. Grease two 8-inch baking pan and line with parchment paper or a silicon mat; set aside.
In a large mixing bowl beat butter with an electric mixer on medium speed for about 30 seconds.
Next add the sugar, baking powder, baking soda, and salt. Beat until all ingredients are combined, scraping sides of bowl as needed.
Beat in the egg, mashed bananas, sour cream, and vanilla until mix until combined.
Next, add the flour and walnuts, beating as much as you can using the mixer, but being careful not to overmix. Then use a wooden spoon or spatula and, stir in any remaining flour and the walnuts.
Pour the batter into the prepared baking pans, spreading evenly. Bake in a 350°F for 20-25 minutes. Test the cake for doneness by inserting a toothpick into the center of the cake. If the toothpick comes out clean, your cake is done. Cool completely.
For the frosting: To brown the butter, use a small saucepan, and cut the butter into pieces. Melt the butter over medium heat and allow it to boil and bubble. Once it's starts boiling, stir it frequently and it will slowly start to turn an amber color and releases a nutty aroma. Remove the butter from the heat and place in the freezer for 20-25 minutes and then stir until smooth.
Slowly add the powdered sugar 1 cup at a time powdered sugar, alternating in some of the liquid ingredients (Rum, milk and vanilla) The frosting will be thick at times, but as you slowly add the liquid, it will become smoother. Beat the frosting each time you add the powdered sugar until the frosting is completely smooth, whipped and fluffy.
Spread 1/3 of the frosting on top of the first layer, and drizzle some caramel and chopped nuts if desired. Then spread the remaining frosting over the cooled cake. Garnish with caramel and walnuts. Store in an airtight container.
Notes
Original cake recipe is from Better Homes and Gardens
This can also be made in a 9-inch pan and reduce the bake time 3-5 minutes
For more tips about brown butter, see my how-to post.
If you'd like to prepare the brown butter ahead of time (up to 3 days), you can place the brown butter in the refrigerators and leave until it reaches a solid state. Then, you'll simply melt the butter in the microwave for 30-60 seconds and stir it until it's smooth. It won't be completely melted, but just thick enough that you can get it nice and smooth.
The rum in the frosting is optional. To omit, sub with additional milk. You should need 2-4 tablespoons of liquid to achieve the consistency in the frosting. Spiced rum is best.
For added flavor, lightly toast the nuts for 5-10 minutes prior to adding to the cake
Sour cream can be substituted with a Greek yogurt. I used a light/reduced fat sour cream but a full fat sour cream would work to
Nutritional information is estimated and not including garnishes
Category:

Cake

Method:

Baked

Cuisine:

American
Keywords: Banana Cake, Brown Butter Frosting, Cakes with Bananas