This post may contain affiliate sales links. Please see my full disclosure policy for details
Easy Chocolate Walnut Pie is made with brown sugar, maple syrup and a hint of bourbon. It's a twist on a pecan pie, but made without corn syrup. This is the perfect pie recipe for Thanksgiving or Christmas dessert.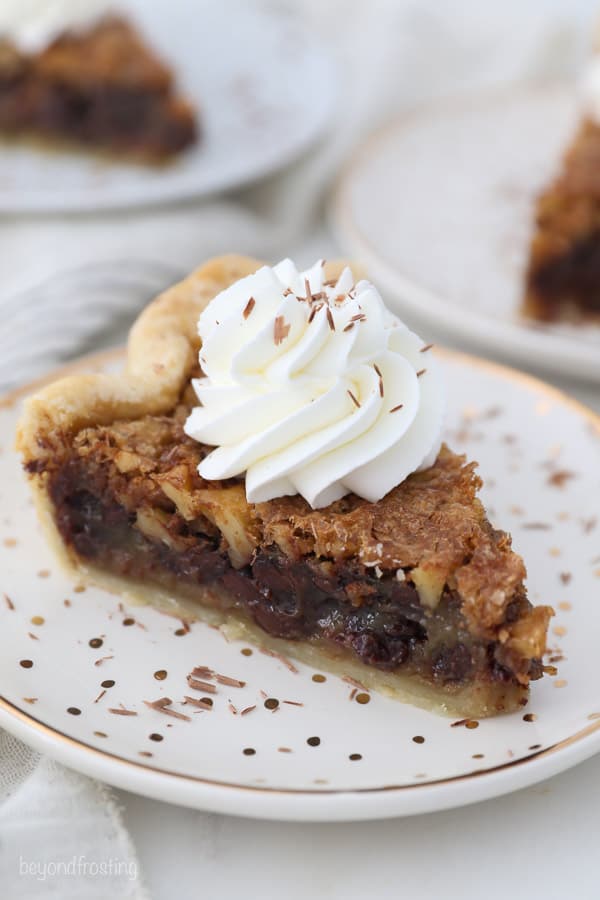 Easy Walnut Pie Recipe
The bakery that I worked at in high school had the most amazing chocolate walnut pie but I can't for the life of me remember what the texture was, which made it difficult to recreate. So, I started combing through my mom's old church cookbooks and found a Walnut Pie recipe that I decided to try.
The ingredients looked similar to pecan pie but it was made with maple syrup instead of corn syrup. I tried the recipe straight from the cookbook, I was skeptical at first, and I was right. The first attempt wasn't quite right and definitely needed some tweaking.
What makes this Walnut Pie so good?
I changed out the white sugar for brown sugar and reduced it by ¼ cup. This pie was already sweet enough with the maple syrup, but I thought the brown sugar added more caramelization to this pie.
I also added some flour to help thicken the filling because after the first test left the bottom layer wasn't quick thick enough. And of course, I added chocolate chips, which weren't in the original recipe. These subtle changes made all the difference!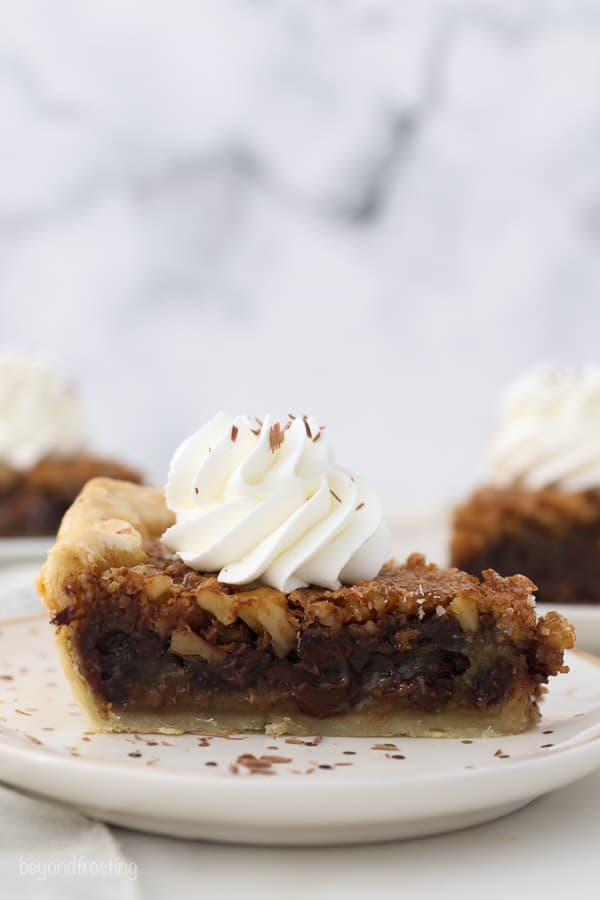 The original recipe called for corn liquor or brandy, which I had to Google, but it seemed like bourbon would be the best option. I don't know about you, but as soon as I see bourbon listed as an ingredient in the dessert, I am all in.
One slice of this pie is more than enough to satisfy your sweet tooth. It's quite chocolatey with a nutty finish. Serve this with homemade whipped cream or vanilla ice cream.
Recipe Ingredients
Pie crust: 1 single layer pie crust for a 9-inch pie. If you don't want to make a pie crust from scratch, you can buy an already prepared, unbaked pie crust. This could also be made with a gluten-free pie crust.
Maple syrup: I prefer 100% grade A pure maple syrup, you can use any type of syrup but be sure it's a pure maple syrup for the best results.
Eggs
Melted butter
Vanilla extract
Bourbon: I love the flavor that the bourbon adds, but it you prefer an alcohol free option, omit the bourbon and add an extra teaspoon of vanilla.
Light brown sugar
All-purpose flour: this helps thicken the filling when baking.
Cinnamon & Nutmeg
Salt
Walnuts: I recommend roughly chopping.
Chocolate chips: I used semi-sweet but you can use any kind.
3 Simple steps to make this pie
Prepare your favorite pie crust, and allow the proper time for it to set.
Combine the wet ingredients and ensure they're well mixed.
Add the dry ingredients, and once combined add the walnuts and chocolate chip.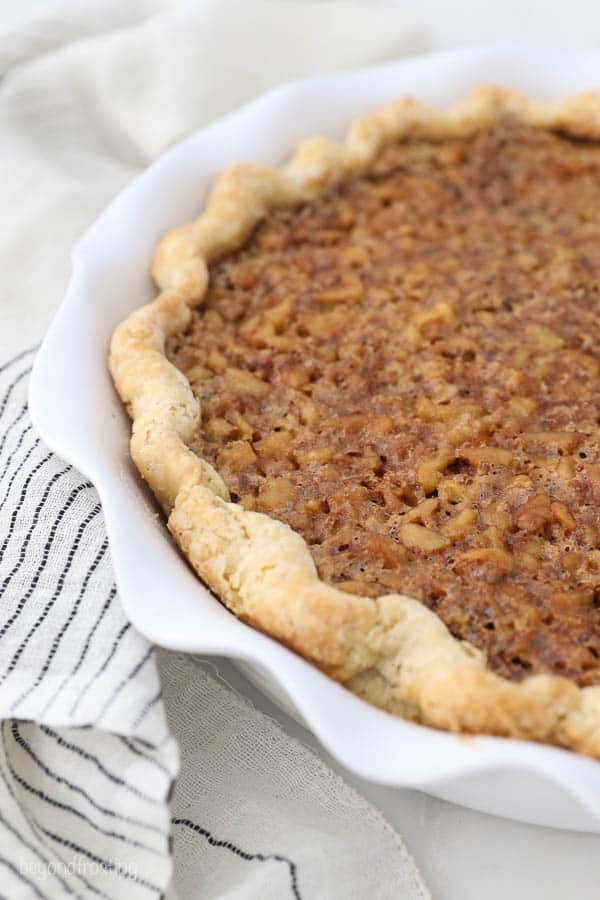 How to tell if this pie is done
The top of the pie should be completely set, and may even crack a little bit. The center should be stable but slightly jiggly, similar to jello once it has set.
How to serve
I served this with whipped cream and chocolate shavings, but a big scoop of ice cream will also do the trick.
How to store A Finished pie
Be sure to cool the pie completely and then wrap the top in plastic wrap or in airtight container. It can be store at room temperature or in the refridgerator.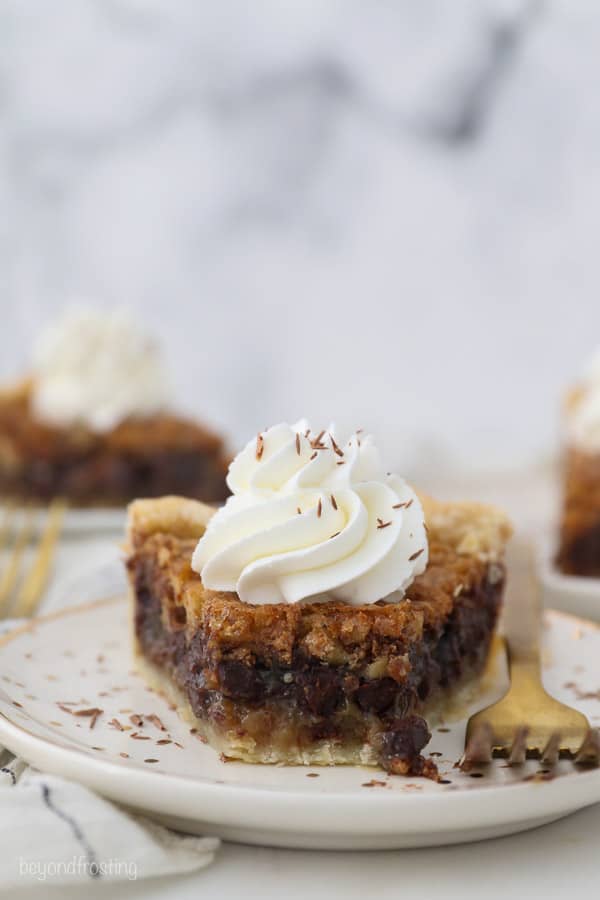 Are you looking for more pies? Here are my favorite pie recipes.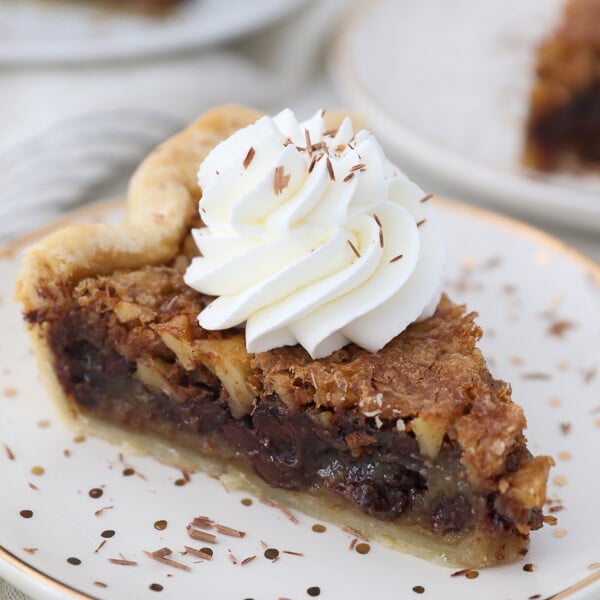 Chocolate Walnut Pie
Author:

Prep Time:

10 minutes

Cook Time:

35 minutes

Total Time:

45 minutes

Yield:

8 servings
Description
Easy Chocolate Walnut Pie is made with brown sugar, maple syrup and a hint of bourbon. It's a twist on a pecan pie, but made without corn syrup.
Ingredients
For the Pie Crust
For the Filling
1 cup

maple syrup

3

large eggs

2 tablespoons

butter, melted

2 teaspoons

pure vanilla extract

1 tablespoon

bourbon

¾ cup

packed light brown sugar

2 tablespoons

all-purpose flour

1/8 teaspoon

cinnamon

1/8 teaspoon

nutmeg
Pinch of salt

1 cup

roughly chopped walnuts

1 cup

semi-sweet chocolate chips
Instructions
Prepare a pie crust in a 9-inch pie plate. Preheat oven to 375°F.
Combine the wet ingredients and beat until well combined. Then add all the dry ingredients, thoroughly combine and finally add the walnuts and chocolate chips, stir to combine, and pour into prepared pie shell.
Bake on the center rack at 375°F for approximately 35 minutes until the center is no longer jiggly. Remove from the oven and cool completely prior to serving.
Notes
Baking tips:
If you don't want to make a pie crust from scratch, you can buy an already prepared, unbaked pie crust.
If your crust is browning too quickly, place foil over the top or a silicone pie shield around the edges.
Alcohol free option: Simply omit the bourbon and add 1 more teaspoon vanilla extract.
Pecans can be substituted for walnuts
Maple syrup: I prefer 100% grade A pure maple syrup, you can use any type of syrup but be sure it's a pure maple syrup for the best results.
Chocolate chips: any type of chocolate chips or chopped chocolate can be used
Category:

Pie

Method:

Oven

Cuisine:

American
Keywords: Walnut Pie, Maple Walnut Pie, Thanksgiving dessert, Pie recipe