This post may contain affiliate sales links. Please see my full disclosure policy for details
This German Chocolate Pie Recipe has a layer of gooey coconut pecan filling, a homemade German chocolate pudding and a layer of chocolate whipped cream in a flakey pie crust.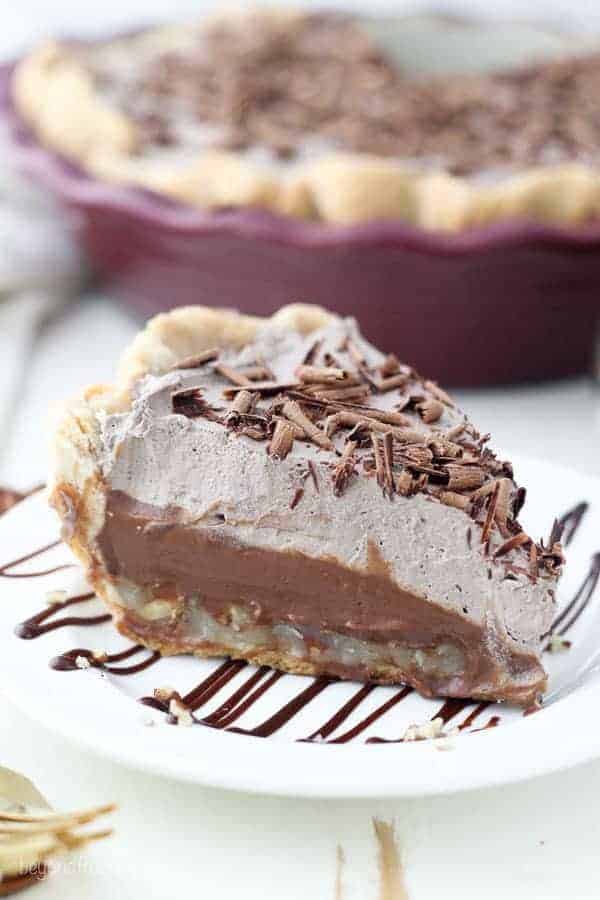 This pie you guys, can you even handle all the layers? You'll need an extra big fork to cut through them.
This past summer I traveled to San Francisco for work and while I was there, I called up my friend Dorothy from Crazy for Crust to meet me for brunch. After we stuffed our faces (with the best biscuits ever), we decided to order not one, but two desserts.
Dorothy loves pie and they had a German Chocolate Pie on the menu, so that was an obviously choice. I am sorry to say the pie was a major letdown. It was basically a pile of whipped cream with some coconut and pecans sprinkled on top.
We both agreed we could do waaaay better. So, I set to make my own German Chocolate Pie recipe.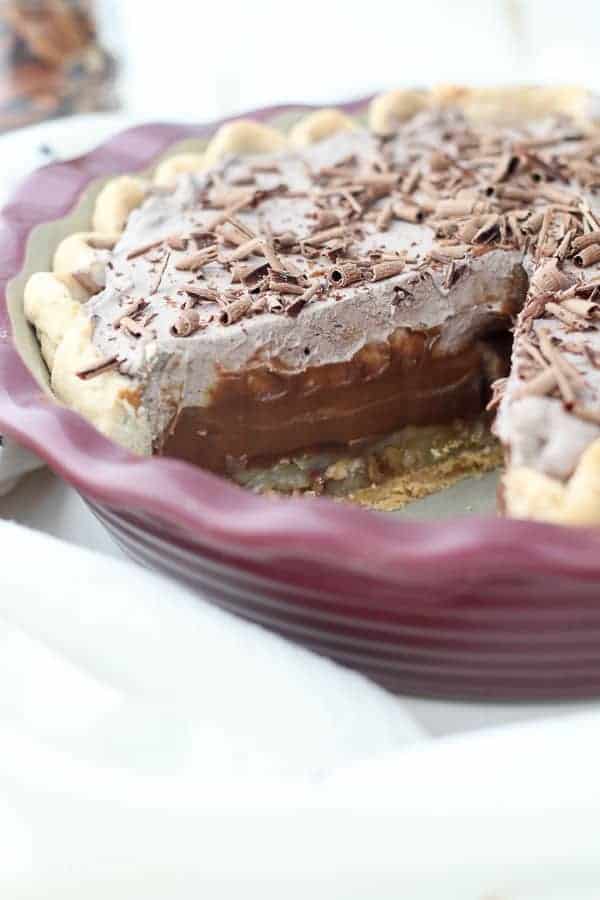 This German Chocolate Pie has a layer of gooey coconut pecan filling , a homemade German chocolate pudding and a layer of chocolate whipped cream in a flakey pie crust.
This recipe is not a quick one to make, so be sure to plan accordingly.
That bottom layer is a homemade gooey coconut pecan filling. It's made on the stovetop with melted butter, sugar coconut, pecans and heavy cream. It's fairly quick and easy to do. I just just eat this with a spoon.
On top of that is a layer of homemade german chocolate pudding. If you've never made a homemade pudding, you're in for a real treat. For the chocolate, I buy Baker's Chocolate German chocolate. It's the only brand I've seen available at the store. If you can't find German chocolate, I would substitute dark chocolate instead.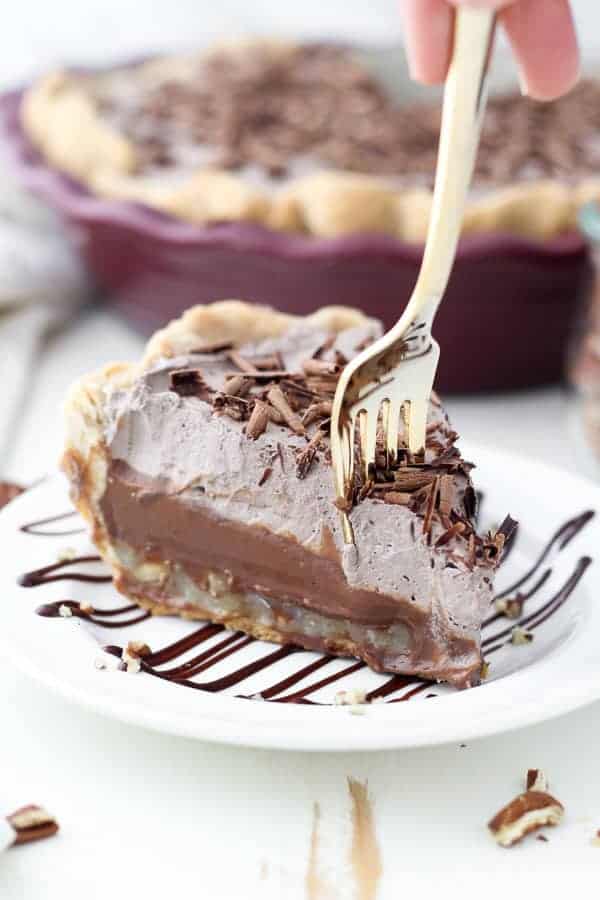 The first time I successfully made a homemade pudding, I felt like I could conquer the world. For so long, I was intimated by the process and worried about cooking the egg yolks properly, but you guys, there is nothing to be scared about. I promise, we'll walk through it together.
Finally, I needed a topping for my German Chocolate Pie. I debated back and forth between a traditional homemade whipped cream or a chocolate whipped cream. Obviously, you can see I decided on the chocolate version. More chocolate is definitely not a bad thing here.
Tips for Preparing The pie crust
Before you can get too far with this recipe, you'll have to blind bake a pie crust. I am not going to sugarcoat it, I am terrible when it comes to making a pie crust. They're never pretty.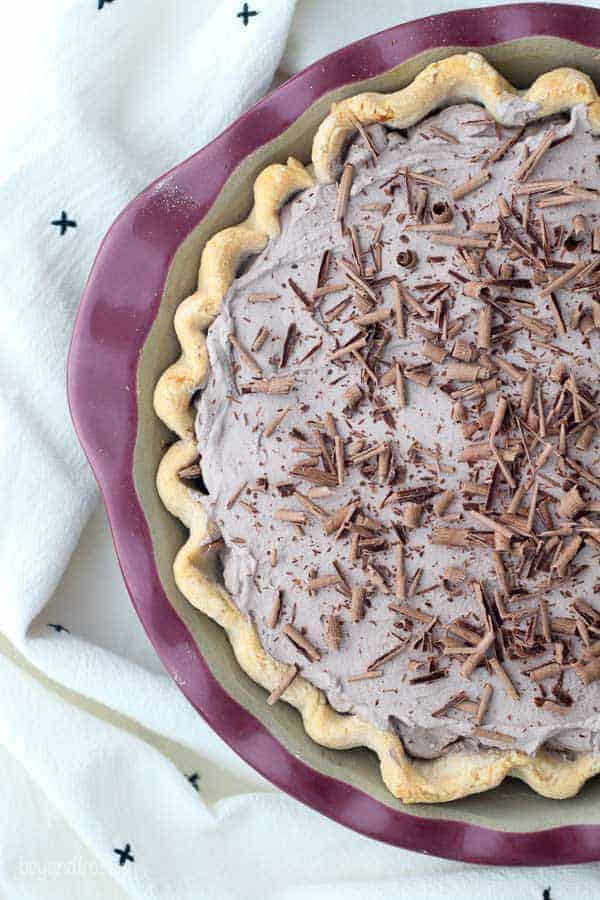 For this pie, I used a deep dish pie plate, and I used Sally's suggestion of making dough stripes to add additional height to the edges of this pie but with my own pie crust recipe. In this post, I go into detail about the proper way to blind-bake the crust using pie weights. If you don't have pie weights, I suggest using dry beans.
Be sure to line your pie crust with parchment paper and push the pie weights towards the sides of the crust to help prevent shrinking.
First with the pie weights, bake until the edges of your crust are baked and start to brown. T
hen you'll remove the pie weights and return the crust to the oven to bake it for a little longer to make sure the bottom of the crust is cooked through.
Once you remove the pie weights you might want a silicone pie crust shield

to help prevent the edges from over cooking or browning too quickly.
Once its cooked and cooled you can start adding the filling.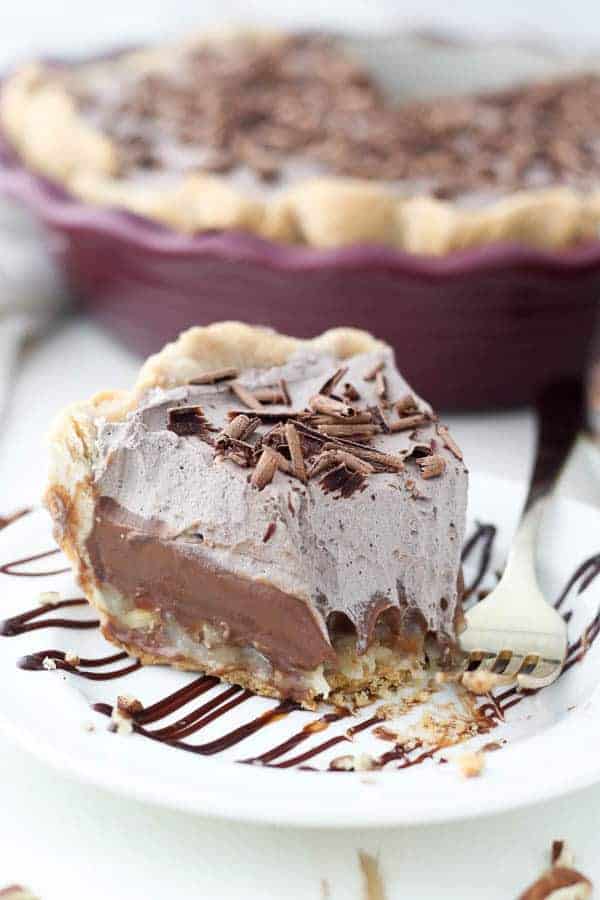 How to make the coconut pecan filling
You might recognize this coconut pecan filling because it's the same one I used for my No-Bake German Chocolate Cheesecake and it's super easy to do.
Just combine all of your ingredients on the stovetop and cook until the filling thickens. The liquid will bubble and after it's been boiling for several minutes, you'll add the coconut and pecans.
The filling will continue to thicken as it cools as well. You can spread it in the bottom of the pie and let it cool completely before adding the pudding. Or you can store it in an airtight container ahead of time and spread it in the bottom of the prepared crust.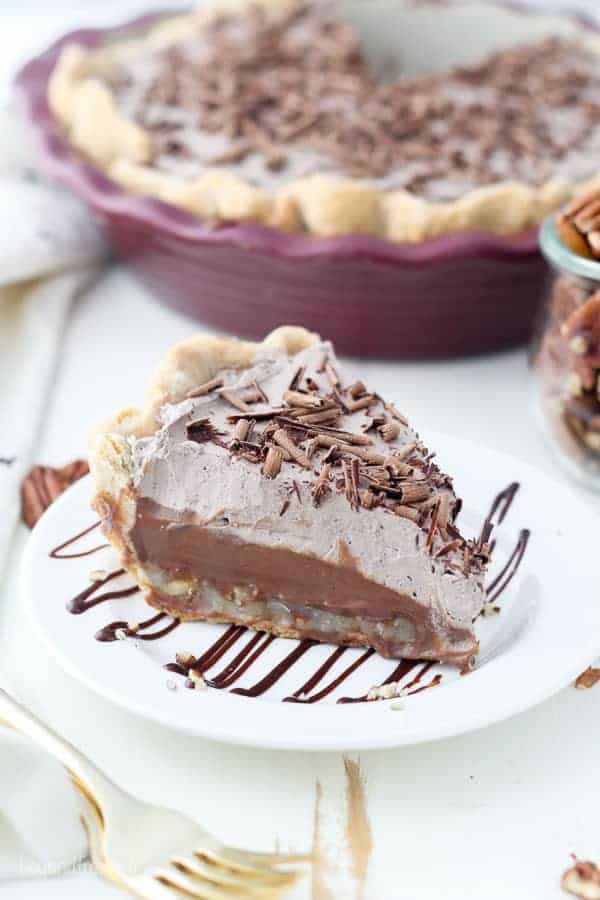 Homemade chocolate pudding
Before you start making your pudding, be sure that you have everything prepared and ready to go. Don't plan on multi-tasking while you're making the pudding, you need to be nearby for frequent whisking.
Start by combining the flour and sugar with your liquid ingredients and stir frequently to help dissolve the dry ingredients.
Once it's warm, but not boiling, take about ¼ cup of the hot liquid and pour it into the egg yolks while you are whisking. You need to whisk continuously to prevent the yolks from cooking when they come in contact with the warm liquid.
Then pour that egg mixture back into your bowl. You'll notice the pudding will start to thicken fairly quickly after you add the eggs but keep whisking just until it starts to buddle.
Finally, you'll add the chopped chocolate into the pudding and whisk it until it's completely smooth.
It's important that you strain the pudding right away through a fine mesh sieve in order to remove any of the lumps of dry ingredients that did not incorporate. I actually do this twice, washing the sieve in between.
Then you can strain the pudding right into your pie crust. Immediately cover the crust with saran wrap and poke a few holes in the plastic with a toothpick. The saran wrap prevents a skin from forming on the top of the pudding.
Unfortunately, you'll need to wait for that pudding to cool completely. Pop that baby in the refrigerator for a couple of hours so the pudding can set.
Finally, FINALLY we are ready to add that chocolate whipped cream topping.
I know this German Chocolate Pie is not a quick dessert to make, but at least you'll know your that hard work pays off when you take that first bite.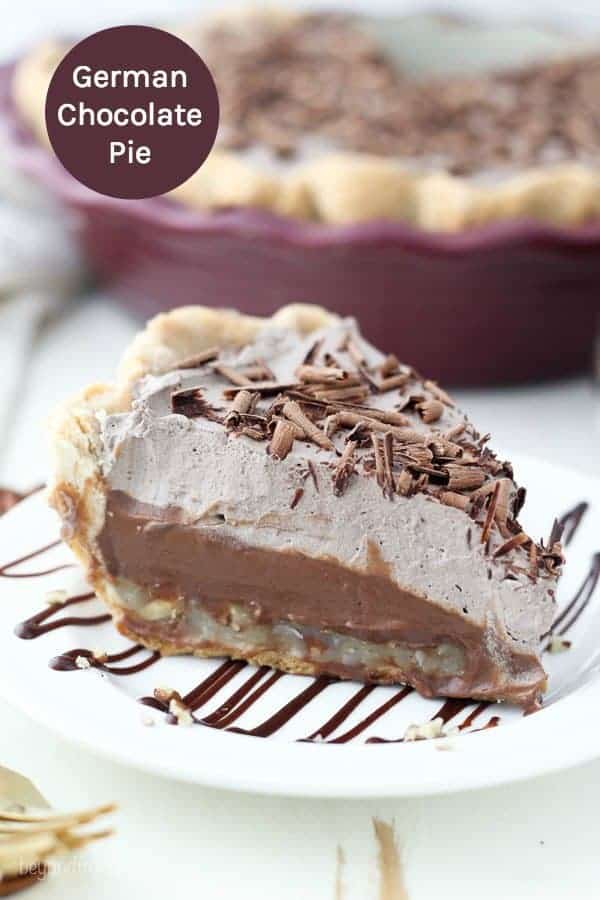 Follow Beyond Frosting:
Facebook | Twitter | Pinterest | Instagram
If you love no-bake recipes, be sure to check out my cookbook, No-Bake Treats!
Print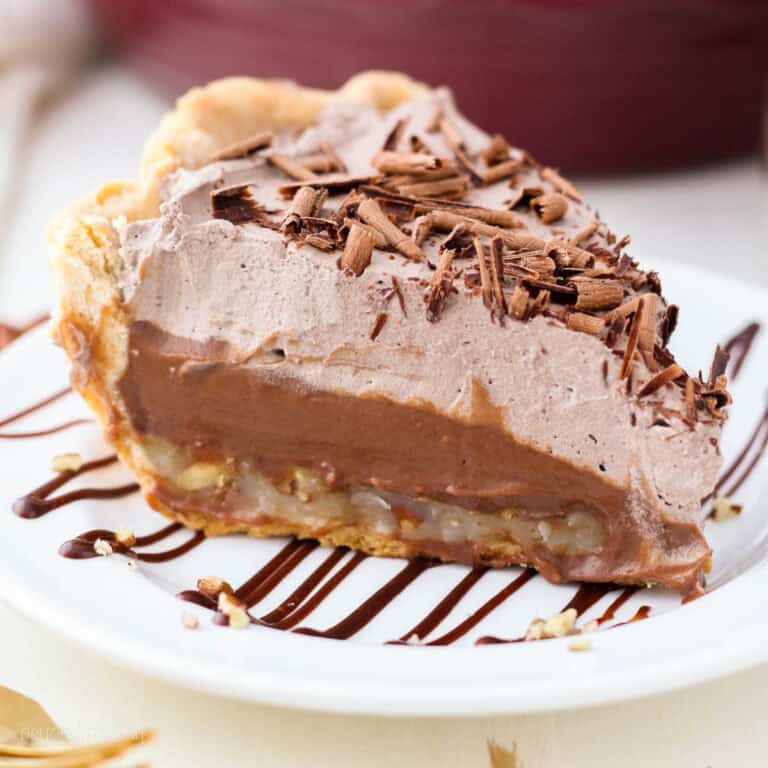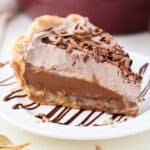 German Chocolate Pie
Author:

Prep Time:

23 hours

Cook Time:

1 hour

Total Time:

24 hours

Yield:

8 slices
Description
A silky German Chocolate Pie recipe made from thick layers of gooey coconut pecan filling, rich chocolate pudding, and chocolate whipped cream set in a flaky pie crust.
Ingredients
For the coconut pecan filling
½ cup

heavy whipping cream

½ cup

granulated sugar

1 tablespoon

light brown sugar

4 tablespoons

unsalted butter

2 tablespoons

corn syrup

1 teaspoon

vanilla extract

⅔ cup

shredded sweetened coconut

½ cup

pecans, chopped
For the chocolate pudding
3 tablespoons

all-purpose flour

1/3 cup

granulated sugar
Dash of salt

1 cup

milk (I used nonfat)

½ cup

heavy whipping cream

½ teaspoon

vanilla extract

2

large egg yolks

4 ounces

German chocolate, chopped
For the whipped cream topping
1 ¼ cup

heavy whipping cream

½ cup

powdered sugar

2 tablespoons

cocoa powder

1 teaspoon

vanilla extract
Instructions
Prepare your favorite pie crust and blind-bake it. Cool completely.
For the coconut pecan filling: In a medium-sized saucepan, combine the heavy whipping cream, granulated sugar, brown sugar, butter, corn syrup, and vanilla extract.
Cook over medium-low heat, stirring frequently until the mixture is bubbly and thickened.
Remove from the heat and stir in coconut and pecans. Allow the mixture to sit at room temperature for 30 minutes. The filling will continue to thicken as it cools. Pour the filling into the prepared pie crust and refrigerate while you're preparing the pudding.
For the chocolate pudding: Prepare all the ingredients prior to starting. Place the egg yolks in a separate bowl, whisk, and set aside.
In a medium saucepan, combine the flour, sugar, and salt and whisk together.
Next, add the milk, heavy whipping cream, and vanilla extract to the saucepan. Heat the mixture over medium-low heat, whisking constantly.
Once the mixture is warm (but not boiling) pour about ¼ cup of it into the bowl with the egg yolks and whisk vigorously to temper the yolks.
Immediately pour the egg yolk mixture back into the saucepan and continue whisking over medium-low heat to prevent the eggs from cooking.
Whisk the pudding until it starts to lightly bubble, then add the chopped chocolate and continue whisking until the chocolate is completely incorporated. Cook for 60 more seconds.
Strain the pudding through a fine sieve once or twice, rinsing the sieve in between.
Pour the pudding over the cooled coconut pecan filling and cover it with clear plastic wrap (placing directly on the surface of the pudding), then poke a few holes in the plastic wrap with a toothpick.
Allow the pudding to cool on the counter for at least 1 hour before refrigerating. Refrigerate for 2-3 hours until the pudding has cooled and is firm.
For the whipped cream topping: Chill a mixing bowl in the freezer for 10 minutes. Pour the heavy whipping cream into the chilled bowl.
Use an electric mixer to beat the heavy cream at medium-high speed until the cream starts to thicken.
Slowly add the powdered sugar, cocoa powder, and vanilla extract and continue beating on high speed until stiff peaks form. Finally, spread the whipped cream over the top of the pie crust.
Notes
There are multiple steps to make this pie. It's best to prepare the crust the day before filling. You can also prepare the coconut pecan filling in advance and store it in the refrigerator. Allow enough time for your pudding to set and cool before adding the whipped cream topping.
If you want to ensure the sides of the pie are nice and tall, I recommend doubling the pie crust recipe.
If you can't find German chocolate, try using dark chocolate instead.
Category:

Pie

Method:

Oven

Cuisine:

American
Keywords: german chocolate pie, chocolate pudding pie, easy chocolate pie
You might also like: