This post may contain affiliate sales links. Please see my full disclosure policy for details
Everybody loves a freshly baked pie with a flaky crust and a warm cinnamon apple filling. This easy old-fashioned recipe produces perfect Homemade Apple Pie every time!
Craving more apple pie goodness? Be sure to check out my Apple Crumble Pie too.
A Classic Apple Pie Recipe
Complete with a lattice crust and crispy caramelized sugar, this apple pie is the ultimate grand finale for any holiday dinner. Biting into that buttery crust with the soft cinnamon apples inside – there's truly nothing like it! The combination of flavors and textures is divine.
My dad was actually the inspiration behind this recipe. He wanted me to make a traditional cross-hatched pie overflowing with cinnamon apples, like the ones his grandmother used to make. Judging by how quickly his slice disappeared, he was very satisfied. And I couldn't get my husband or myself to stop eating it! I'll definitely be making this pie for years to come.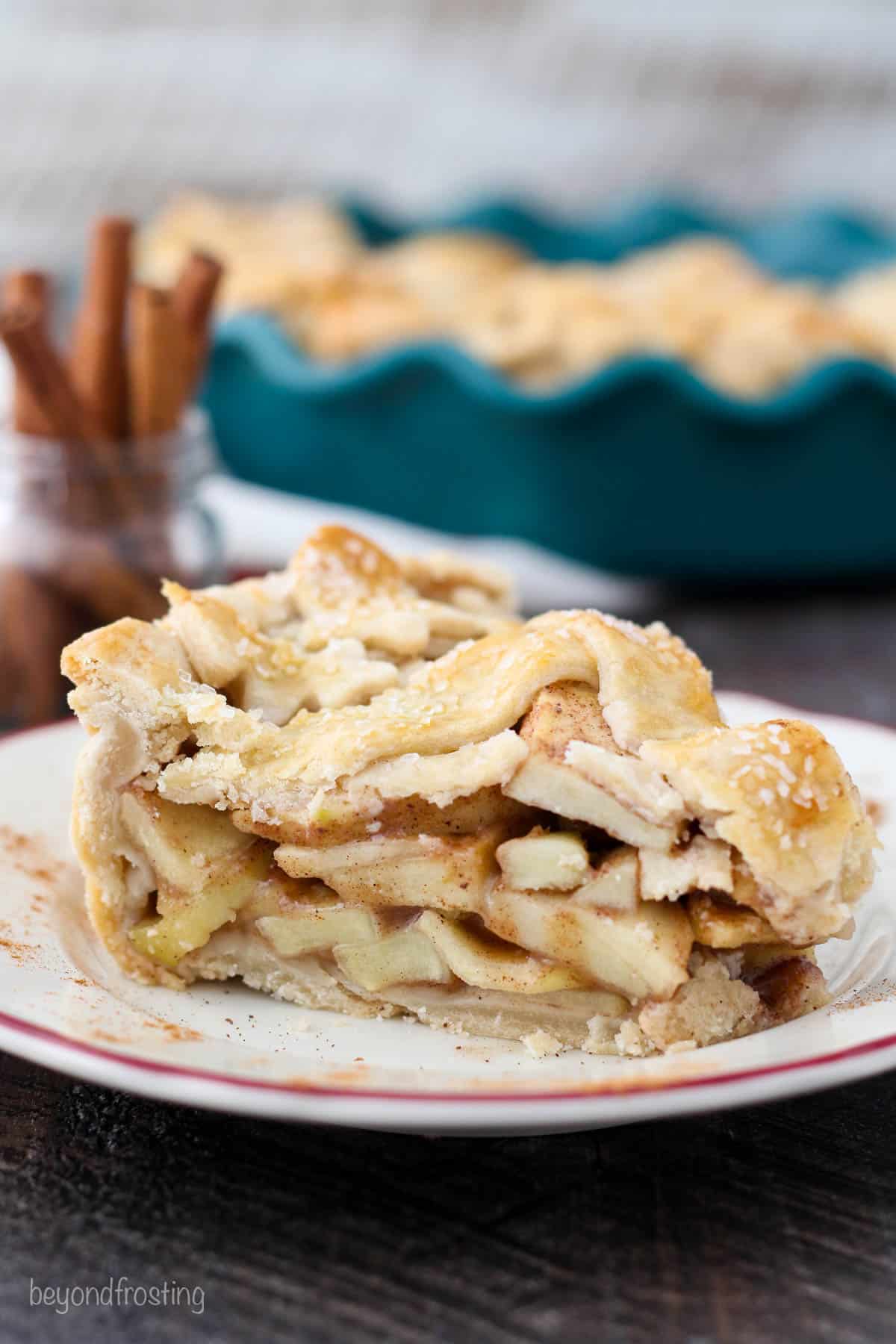 What You'll Need
The ingredients that go into this apple pie are pretty standard. You probably already have everything you need!
Pie Crust: You'll need two crusts – one for the base and one for the lattice top. I recommend using my homemade pie crust. If needed, make this gluten-free one instead.
Apples: I use 4 Granny Smith apples and 2 Gala apples. They should be large or medium-sized.
Lemon Juice: Freshly squeezed
Flour: To thicken the filling.
Sugar: This recipe uses equal parts brown sugar and granulated sugar.
Cinnamon: To flavor the apples and add warmth to the dish.
Nutmeg: For richness and depth of flavor.
Maple Syrup: This adds more sweetness to the pie – you can omit it if you'd like.
Butter: A little butter will prevent your apple pie filling from oozing up over the lattice top.
Egg: Whisked to form an egg wash.
Coarse Sugar: Optional, for a caramelized crust.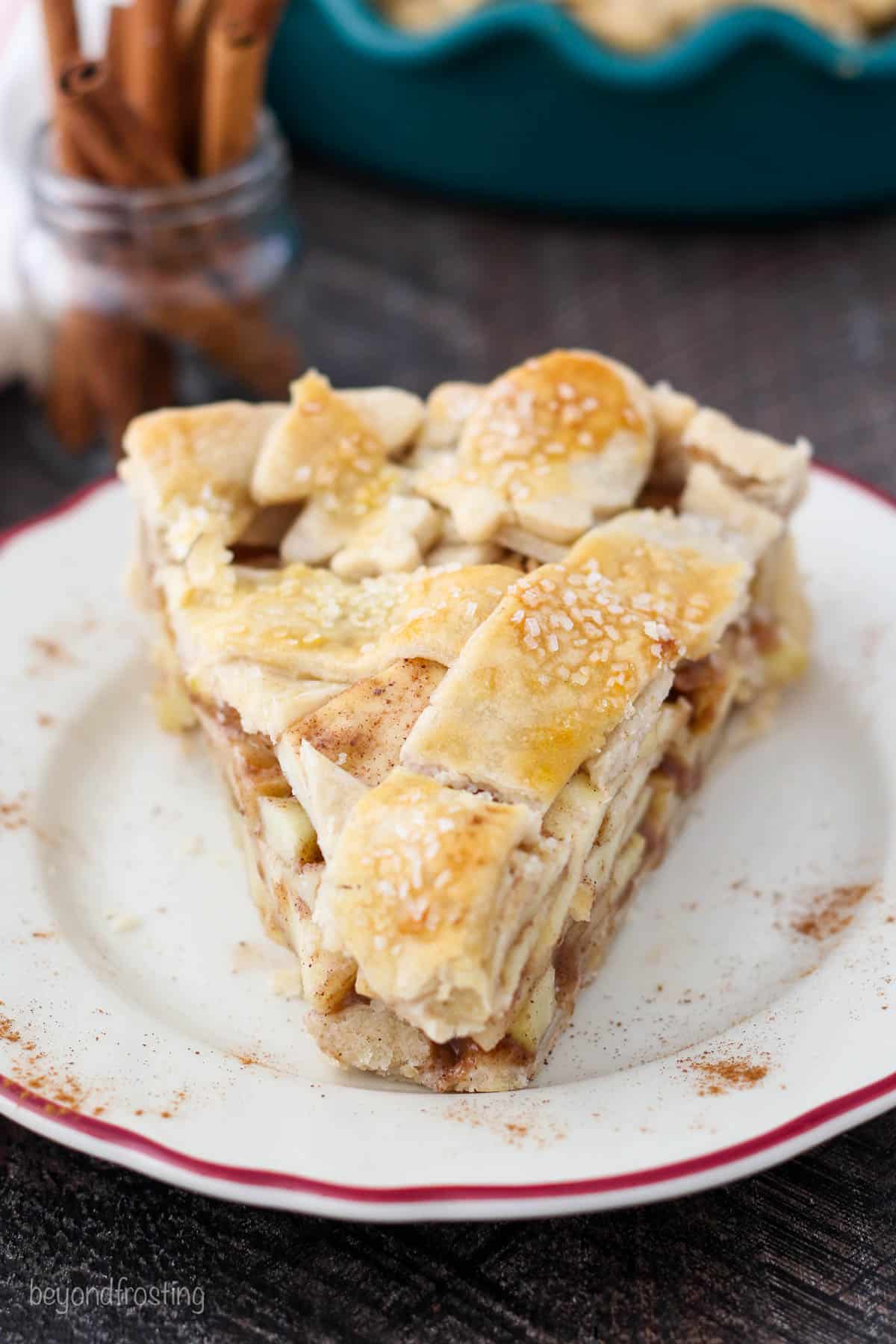 What Kind of Apples Make the Best Pie Filling?
In my opinion, a 2:1 combination of Granny Smith to Gala apples is the golden ratio for apple pie filling. But there are definitely other options that will work well. Stick with varieties on the firmer side, such as Honey Crisp, Golden Delicious and Pink Lady. You could also go with all Granny Smith, but I like using a combo of sweet and tart apples.
How to make Apple Pie
This classic recipe keeps things super simple. You don't even have to pre-bake the pie crust!
Prepare Crust: Make two 9-inch pie crusts and refrigerate them for at least 1 hour. After the dough has set in the fridge, prepare one crust in your pie dish and place it back in the fridge while you make the filling.
Heat Oven: Preheat the oven to 400°F.
Prepare Apples: Slice your apples into thin pieces, about 1/8-inch thick. Toss the sliced apples in the lemon juice.
Combine Dry Ingredients: Combine your dry ingredients in a separate bowl.
Add Apples: Toss the prepared apples in the dry ingredients. Make sure to get your hands in there and really work the dry ingredients in, tossing from the bottom to the top.
Add Maple Syrup & Butter: Drizzle the maple syrup overtop, then pour the apple pie filling into your prepared crust. Cut the butter into 9 small pieces and distribute them over the apples.
Form Lattice Top: Cut the second batch of pie dough into thin strips and form the lattice top. Brush the top of the crust with the eggwash and sprinkle it with coarse sugar, if desired.
Bake: Bake the pie for 15 minutes, then reduce the oven temperature to 350°F. Bake it for another 30 minutes.
Let Cool: Allow the pie to cool for a couple of hours before cutting and serving it.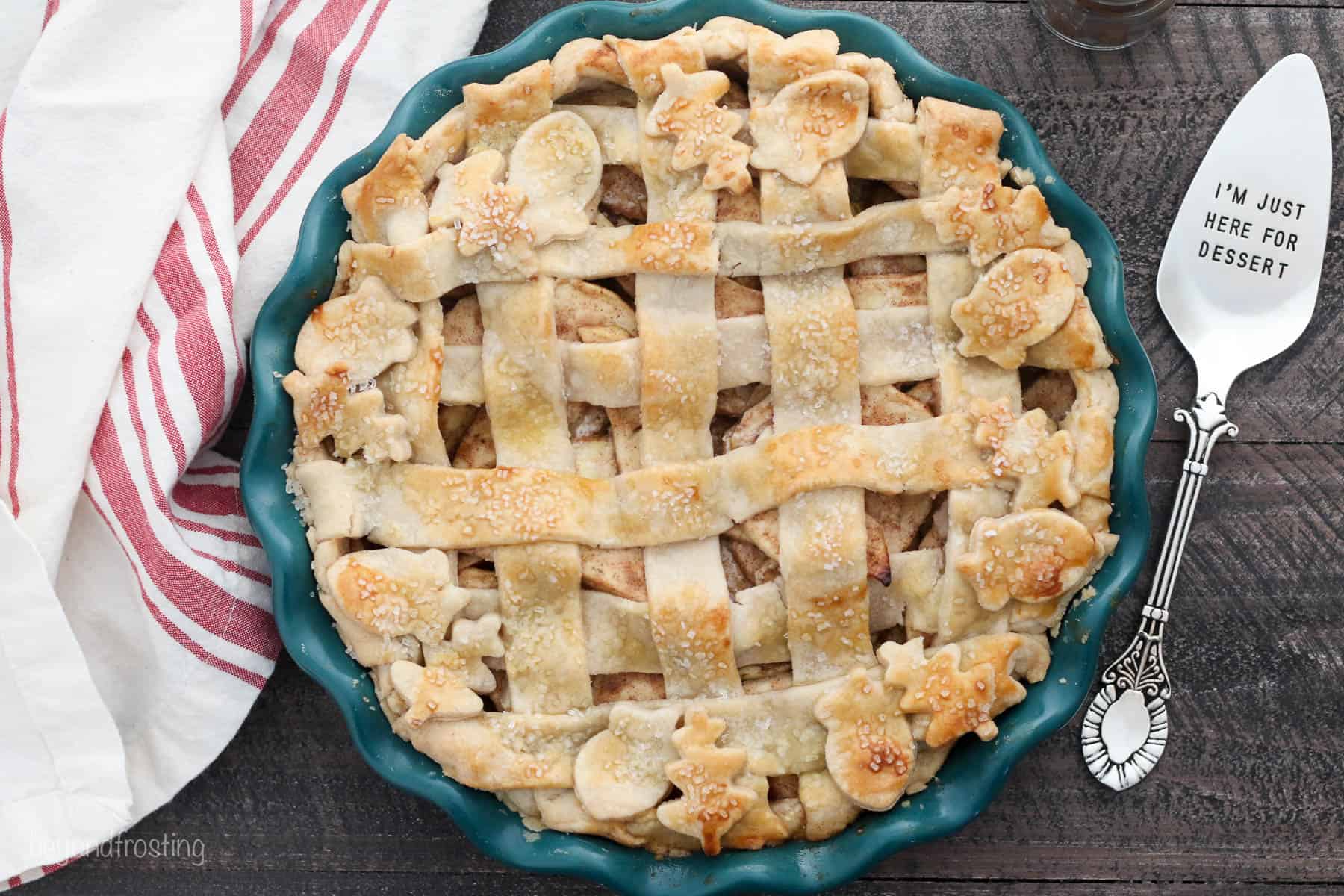 Tips for Success
I have a few pieces of advice for making apple pie from scratch. Here are my tips and tricks!
Chill the Dough: If your dough isn't chilled and completely set, it will be difficult to work with. Place it in the fridge for at least an hour before you begin, and keep it in there until you're ready to use it.
Coat the Apples Well: Make sure that all the apples are well-coated with the lemon juice after you first cut them. Then, coat them well with the dry ingredient mixture. You want to distribute all the flavor evenly across the pie.
How Do I Make the Lattice Top? Here is an easy visual tutorial of a lattic top for you. Arrange 6 strips of dough evenly across the top of your pie. Fold alternating strips back onto themselves and place a 7th strip across the middle, overtop the non-folded strips. Then, unfold the strips so they go over that middle strip and lay flat on the top of the pie. Next, fold up the underneath strips and layer another piece on top of the non-folded strips. Continue alternating until half of the pie is latticed, then repeat on the second half.
Use Leftover Dough to Decorate: I like using any leftover pie dough to make small, festive shapes with a cookie cutter. Place the shapes around the edges of the pie as desired. It's helpful to brush some of the eggwash on the back of each piece to help them stick to the dough.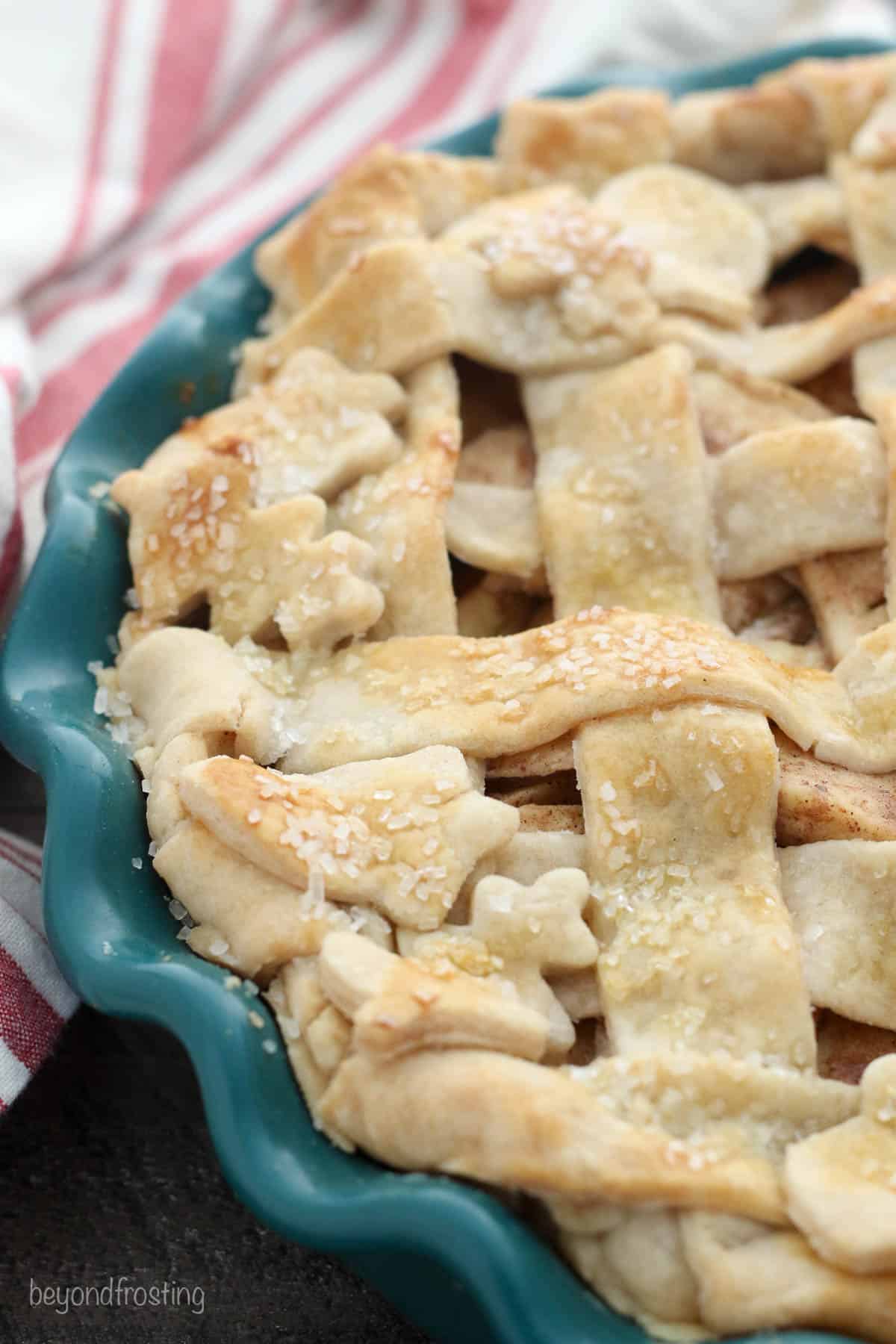 Serving Suggestions
Although it tastes amazing by itself, there are tons of different ways to serve apple pie. Try one of these yummy ideas!
Pair with Vanilla Ice Cream: Top your pie with a heaping scoop of vanilla ice cream for a cool and refreshing addition. It goes so well with the warm cinnamon apple pie filling!
Add Whipped Cream: Whipped cream is another classic topping for apple pie. My easy recipe only calls for 2 ingredients!
Top with Caramel Sauce: Craving some extra sweetness and flavor? A drizzle of caramel sauce makes this dessert even more indulgent.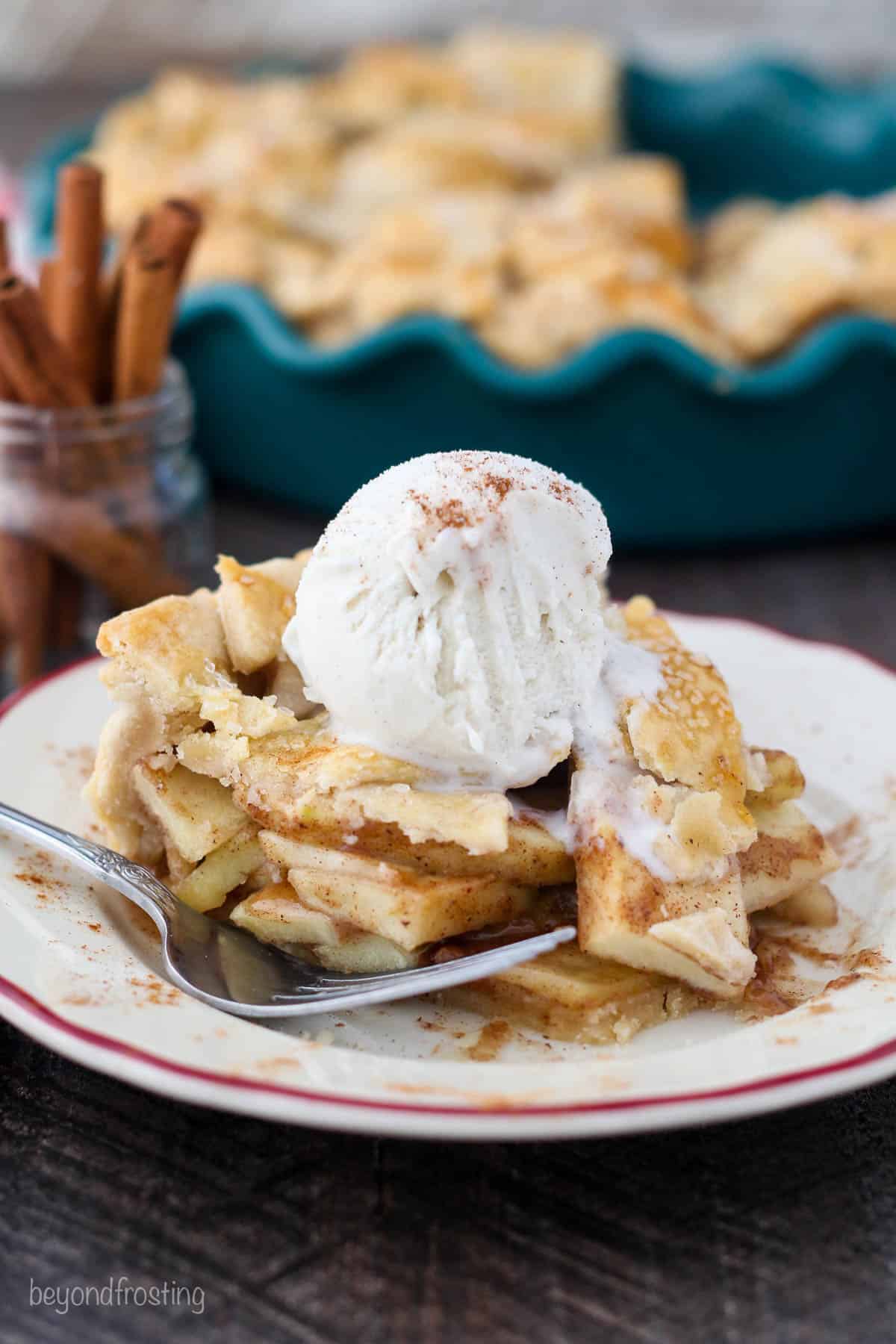 How to Store and Reheat Apple Pie
Cover your cooled pie well and keep it on the counter for up to 2 days. You can transfer it to the fridge and store it for another couple days if necessary. Alternatively, you can store individual slices in airtight containers.
To reheat the entire pie or a large portion of it, bake it at 350°F for about 15 minutes, or until warmed through. Individual slices can be reheated in the microwave.
Can I Freeze This?
Yes, this apple pie is freezer-friendly! Before covering and storing it, you'll need to flash-freeze it until it's solid. Wait until it has cooled completely before doing so. Once it's frozen solid, wrap the entire pie in two layers of plastic wrap or heavy-duty aluminum foil and store it for up to 4 months.
If desired, you can freeze individual slices with the same process. Either way, be sure to thaw out your pie in the fridge before reheating it.
Print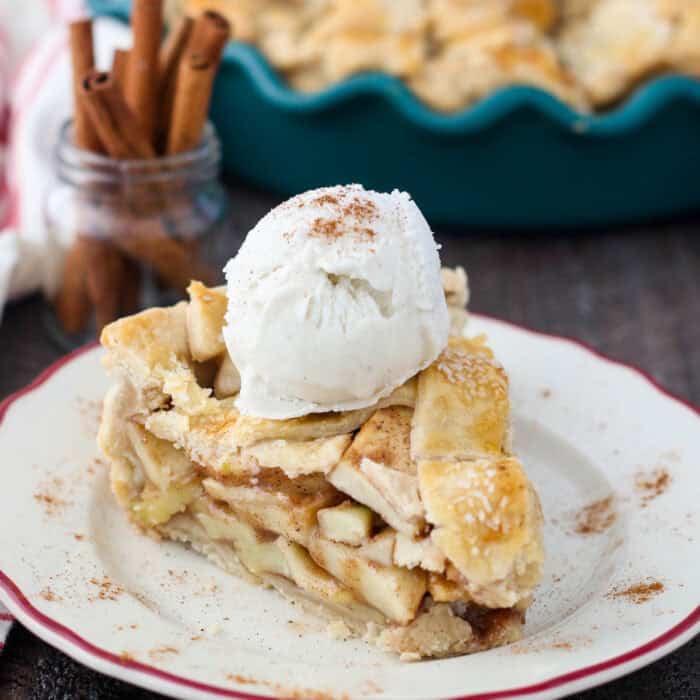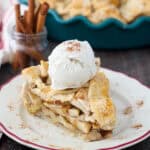 Easy Apple Pie
Author:

Prep Time:

90 minutes

Cook Time:

45 minutes

Total Time:

2 hours 25 minutes

Yield:

8-10 slices
Description
Everybody loves a freshly baked pie with a flaky crust and a warm cinnamon apple filling. This easy old-fashioned recipe produces perfect Homemade Apple Pie every time!
Ingredients
2

single pie crusts, dough prepared

4

medium granny smith apples

2

medium gala apples

1 tablespoon

lemon juice

¼ cup

flour

¼ cup

granulated sugar

¼ cup

light brown sugar

2 tablespoon

cinnamon

¼ teaspoon

nutmeg

1 tablespoon

maple syrup

1 tablespoon

butter

1

large egg, whisked
Coarse sugar (optional)
Instructions
Prepare two single size pie crust doughs. Refrigerate for 1 hour.
Remove one crust from the refrigerator, roll and prepare the crust in your pie plate.
Slice the apples about 1/8" thick and toss with the lemon juice.
In a separate bowl, combine your dry ingredients and then toss the apples thoroughly in the dry ingredients.
Finally, drizzle the maple syrup over top then pour your apples in your prepared crust.
Cut the butter into 9 small pieces and distribute over the apples.
Next, take a large chunk of the remaining pie dough and roll it out into 10" long strips. Build your lattice.
Brush the crush with the egg and then sprinkle with a coarse sugar (optional).
Use any remaining dough and small cookie cutters to make cut outs of the pie dough and place along the edges of the crust. Brush the front and back sides with egg wash.
Bake the pie at 400° for 15 minutes and then reduce the temperature to 350° and bake for another 30 minutes. Allow the pie to cool for a couple of hours before serving.
Category:

Dessert

Method:

Oven

Cuisine:

American
Keywords: homemade apple pie filling, mom's apple pie, holiday pie
More Holiday Pies to Try
Need another kind of pie for the upcoming holiday? No problem! I've got some fantastic suggestions right here.
Let's Get a Grip on Arthritis
This post is sponsored by The Arthritis Foundation, all opinions are my own.
A few weeks ago, the Arthritis Foundation approached me to participate in their Let's Get a Grip on Arthritis campaign. With more than 54 million Americans living with arthritis, it's no wonder that this has affected me personally.
The Let's Get a Grip campaign is raising awareness to fund research to help find a cure for arthritis because when you're living with arthritis, everyday tasks become impossible to do. Well, I thought to myself, it can't be easy to make a pie with arthritis, especially if you're making the crust by hand.
The arthritis foundation sent me a pair of simulation gloves, so I could get a first-hand experience of what it might be like to live with arthritis. The gloves make everyday tasks extremely difficult because living with arthritis can affect fine motor skills.
The gloves are bulky and difficult to move. It took all my hand strength to be able to peel and cut the apple, I couldn't anything that required fine detail and small movements was near impossible.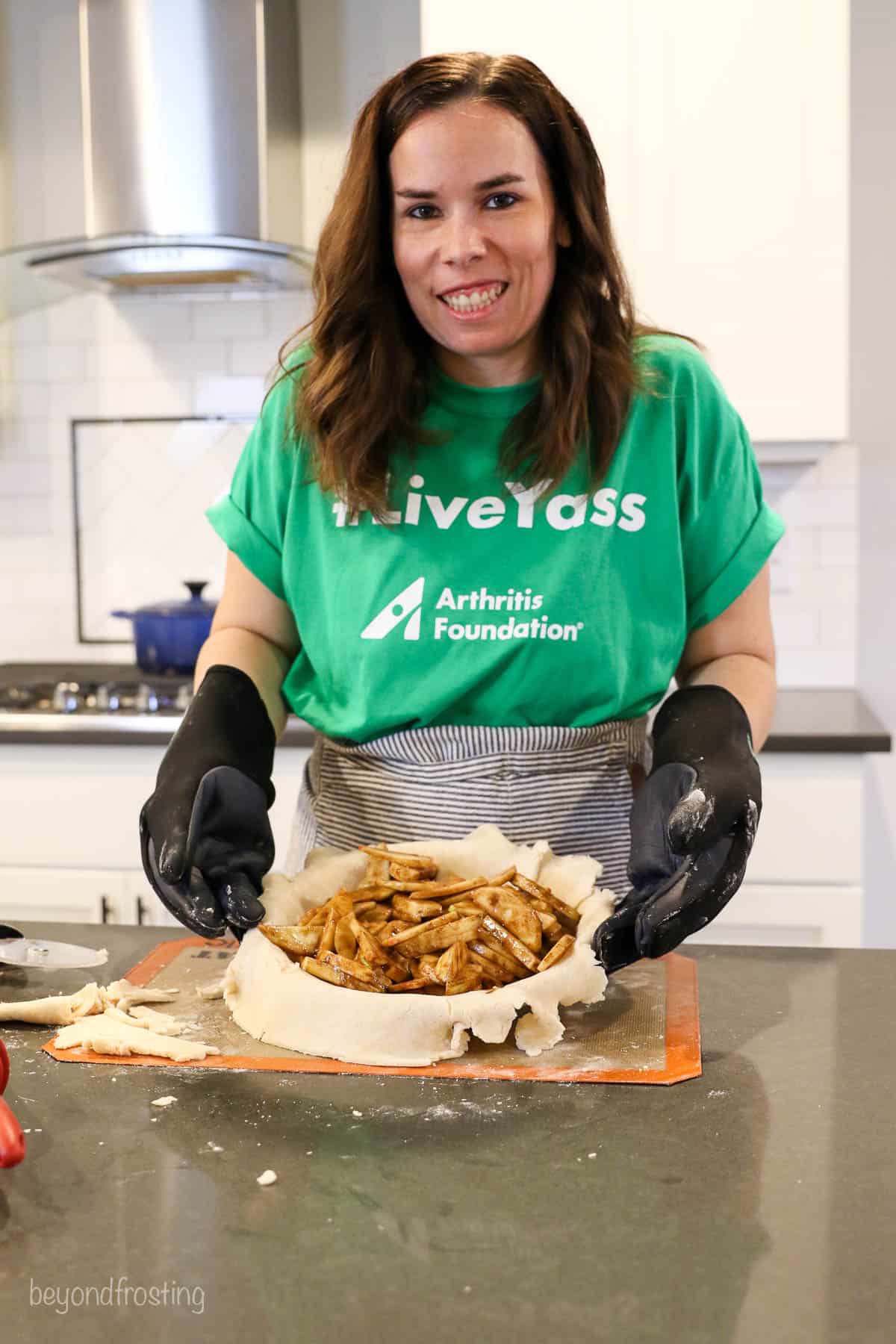 I was surprised to learn that 93% of Americans are not aware that arthritis is the leading cause of long-term disability. Personally, I haven't ever thought about arthritis being a disability even though I've seen my dad work through it.
I had the luxury of taking off the gloves when I needed to do things like crimping the edges of my pie crust, but that is not something you have the option for if you're someone who lives with arthritis every day.
If you have a couple of extra minutes, join the Arthritis Foundation and me by visiting the Let's Get a Grip on Arthritis website to learn how you can join the #LetsGripArthritis movement, donate and learn more about living with arthritis.