This post may contain affiliate sales links. Please see my full disclosure policy for details
Not your momma's pecan pie. This Kahlua Pecan Pie needs to be on your Thanksgiving table. This flaky pie crust is filled with a classic pecan filling spiked with Kahlua.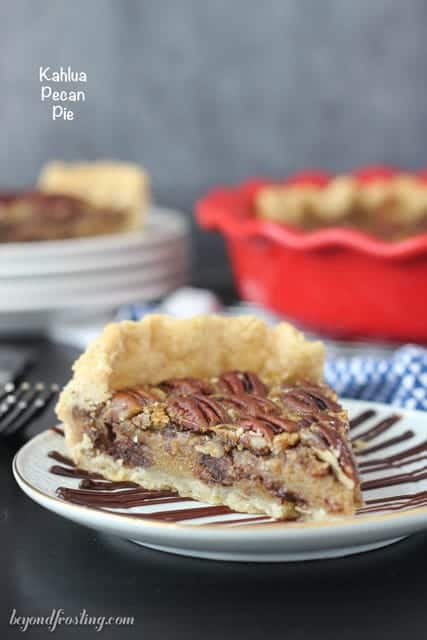 Is it Saturday yet? I just need it to be Saturday. We start our annual, week-long snowboarding trip in Colorado this weekend. It is a much-needed break for us. Even though I have been traveling a lot this year, I've been kicking butt working on my cookbook. You guys, it's due in 7 weeks and I'm freaking out. I won't get into the details but the fact that I have to finish this up so soon is scary! Part of me want to climb into bed and hide under my covers until it's over. I can't wait to share it with you!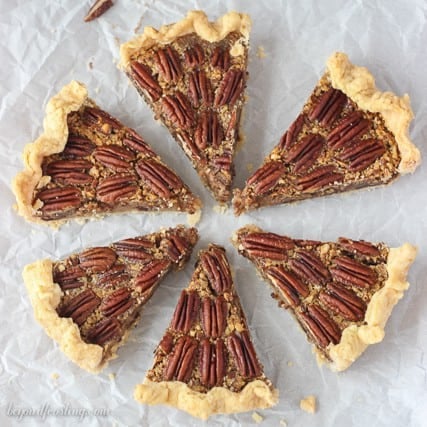 Let's just forget about that and talk about Kahlua Pecan Pie. A couple of weeks ago, I shared a recipe for Bourbon Chocolate Pecan Pie Bars with a shortbread crust. It was the first pecan pie I shared. This recipe belongs to my boyfriend's grandmother's sister; say that three times fast. The original recipe is for a deep dish pie, but after trying it, I preferred the pie as a standard size. So the recipe I am sharing today is for a standard size pie (not deep dish).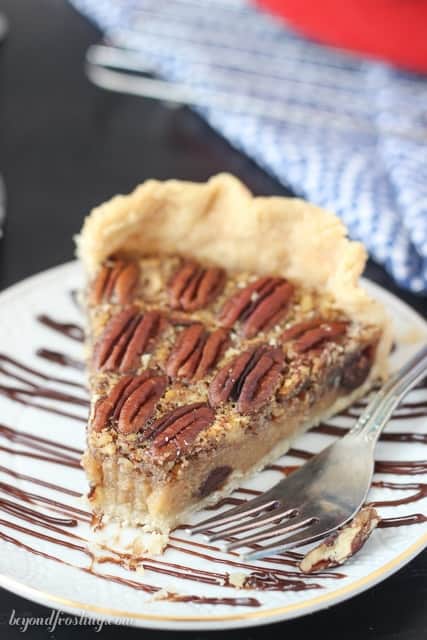 This pie is loaded with pecans. I chopped up pecans and added it into the pie, and then I laid out the pecans on top of the pie in the pattern you see here in the photos. It was much easier than I thought it would be. I started with the outside edges and worked my way in.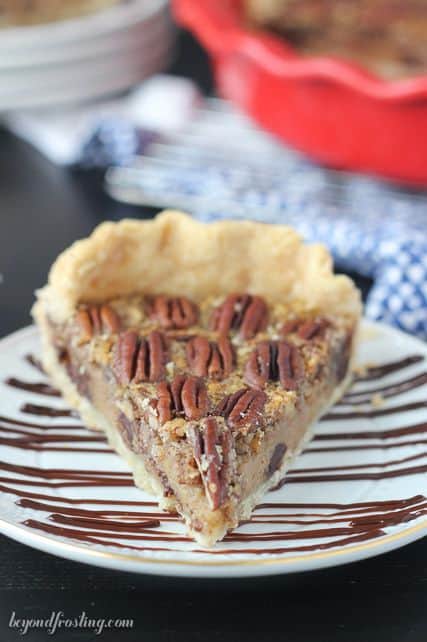 Can we talk about pie crust for a minute? I have a favorite recipe, which happens to be from The Pioneer Woman and uses Crisco. I have even made this into a gluten-free pie crust. The recipe makes enough for two crusts. For some reason, I still can't prevent the crust from tearing and I can never get those perfectly crimped edges. Then I watch a video for an all butter perfect pie crust from my friend Dorothy and I just don't get why I can't get the same results! Dear pie crust, I am determined to get you right some day!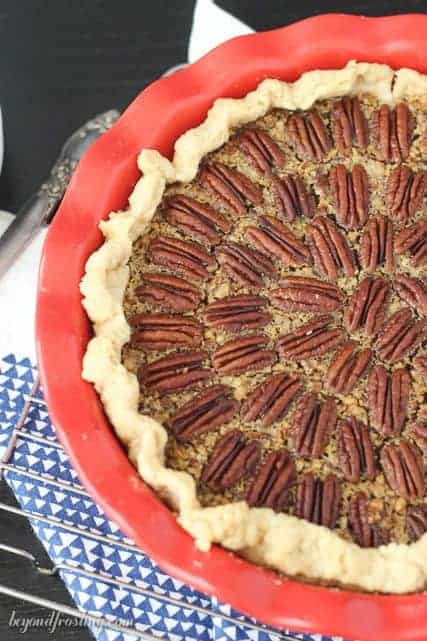 I found that it can be a bit difficult to determine when the filling is actually done. It is okay for the center is a tiny bit jiggley, because it will bake a little more as it cools. However, I tend to bake mine just a little bit longer and the top of the pie starts to crack a bit. Regardless, this pie needs to be completely cooled before you cut into it! I usually refrigerate my pies once they are cooled because I prefer cold pies. It's true, I will gladly take a cold slice of apple or pumpkin pie over a warm slice any day.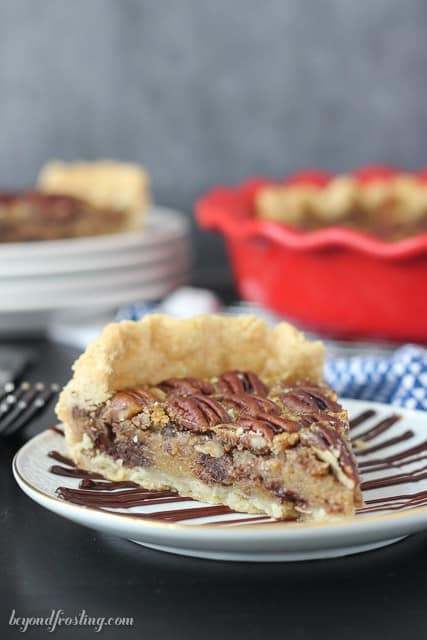 Keep up with all the happenings. Follow Beyond Frosting:
Facebook | Twitter | Pinterest | Instagram
Print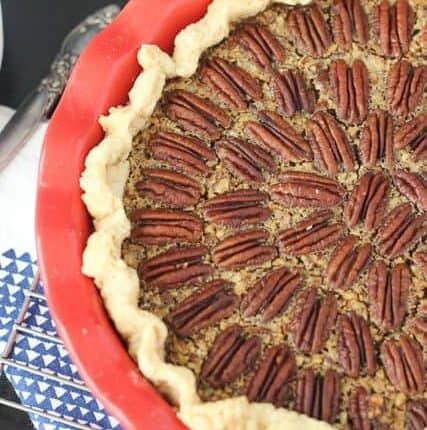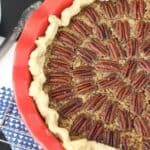 Kahlua Pecan Pie
Author:

Prep Time:

30 mins

Cook Time:

45 mins

Total Time:

1 hour 15 minutes

Yield:

9" pie
Description
Not your momma's Pecan Pie. This Kahlua Pecan Pie needs to be on your Thanksgiving table. This flaky pie crust is filled with a classic pecan filling spiked with Kahlua.
Ingredients
1

Recipe Pie Crust

2 tablespoons

Unsalted butter

½

C Sugar

1 tsp

Vanilla extract

2 tbsp

Flour

2

large Eggs

¼

C Kahlua

¼

C Corn syrup

1/3

C Evaporated milk

1 1/4

C Pecans, divided

½

C Chocolate chips
Instructions
Prepare your favorite piecrust recipe, and keep the cut refrigerated in your pie plate until ready to bake. Preheat oven to 400°F.
Combine butter, sugar, vanilla and flour in a large mixing bowl. Beat on medium speed until light and fluffy; 2-3 minutes. Add egg and continue beating until well combined, scrape down the sides of the bowl.
Add Kahlua, corn syrup and evaporated milk and mix until all ingredients are blended. Take 3/4 cups of pecans and chop into small pieces with a blender or food processor. Stir in pecans and chocolate chips. Pour filling into prepared crust. Cover the top of the pie in whole pecans by laying them out in a circle, starting at the edge and working your way in.
Bake pie at 400° for 10 minutes and then reduce the oven to 325° and bake for another 35-45 minutes. Remove pie and allow to cool completely, about 4 hours before cutting.
Notes
Baking times will vary by oven. I baked this in the middle rack. If the edges of your pie crust start to brown too quickly, cover them lightly with tin foil or a pie crust shield.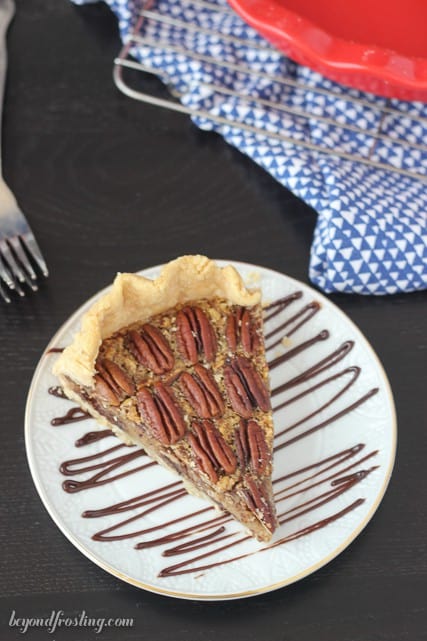 Visit Beyond Frosting's profile on Pinterest.
You might also like:
Bourbon Chocolate Pecan Pie Bars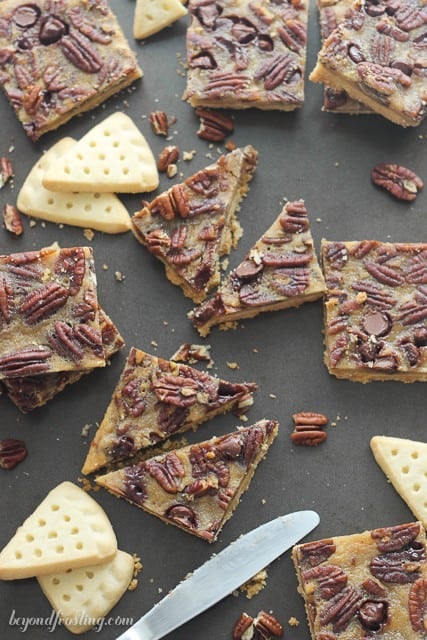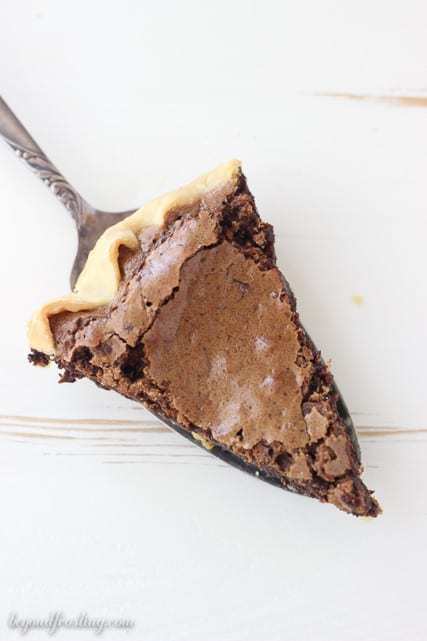 Snickers Peanut Butter Oreo Pie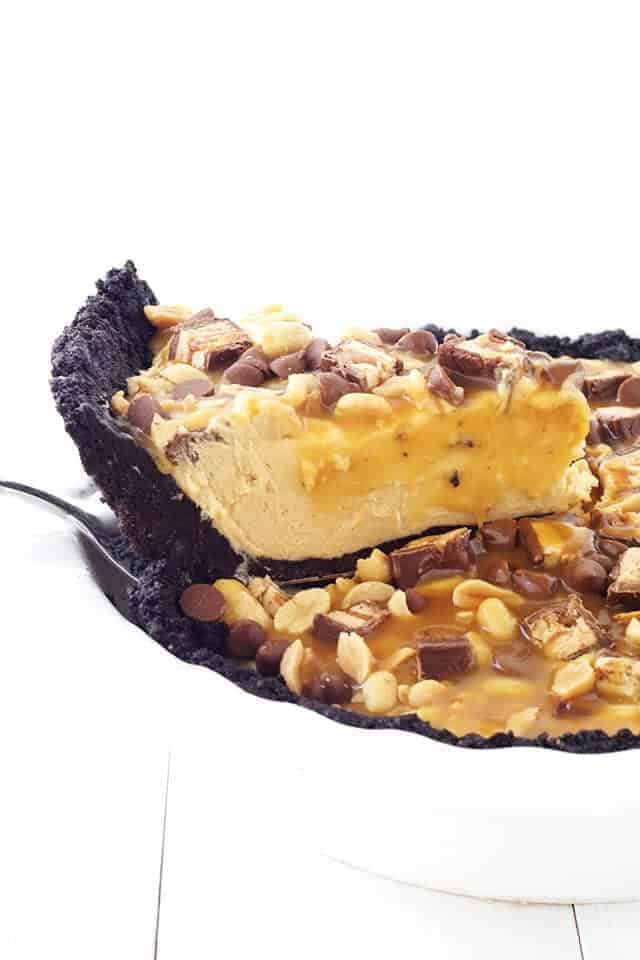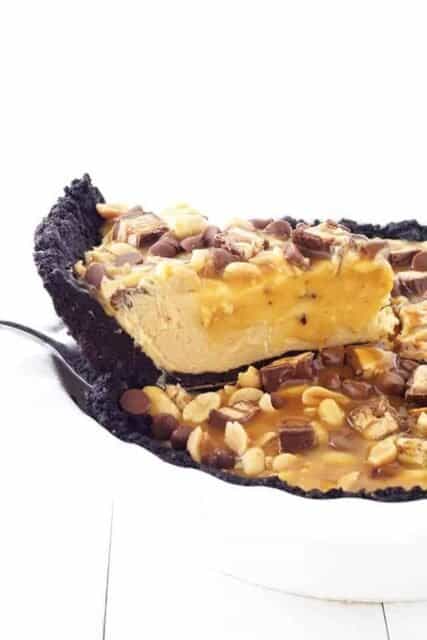 Old Fashioned Coconut Custard Pie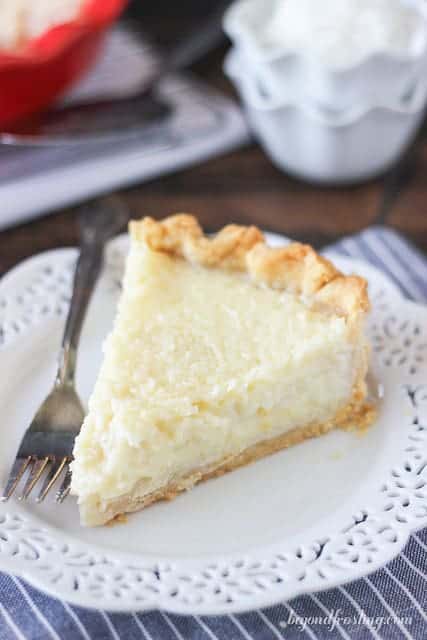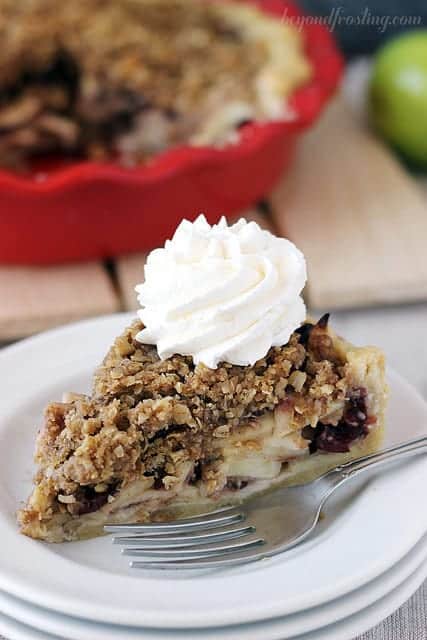 I love these recipes from my friends:
Chocolate Orange Pie from Spend With Pennies
Ding Dong Pie from I Wash you Dry
Lemon Meringue Pie from Baking a Moment