This post may contain affiliate sales links. Please see my full disclosure policy for details
Learn How to Make Lemon Curd with this easy homemade recipe! Bright and tangy lemon juice and zest combine with butter and sugar in this smooth and creamy lemon curd that you can use in loads of citrus desserts.
Easy Homemade Lemon Curd Recipe
I love the flavor of creamy, tangy lemon curd. After going through jars of the stuff between my Lemon Curd Cake and Lemon Blueberry Cake recipes, I figured it was high time that I started making my own at home. Boy, did it pay off! This homemade lemon curd is surprisingly simple to make and store-bought just doesn't compare.
I'm convinced that the secret is in the fresh lemons. I swear, every stitch of zesty flavor gets injected straight from the lemon into this recipe. Is there anything more energizing than bright, fresh citrus zest and freshly squeezed lemon juice? I'm so thrilled with how this came out, and I can't wait for you to try it.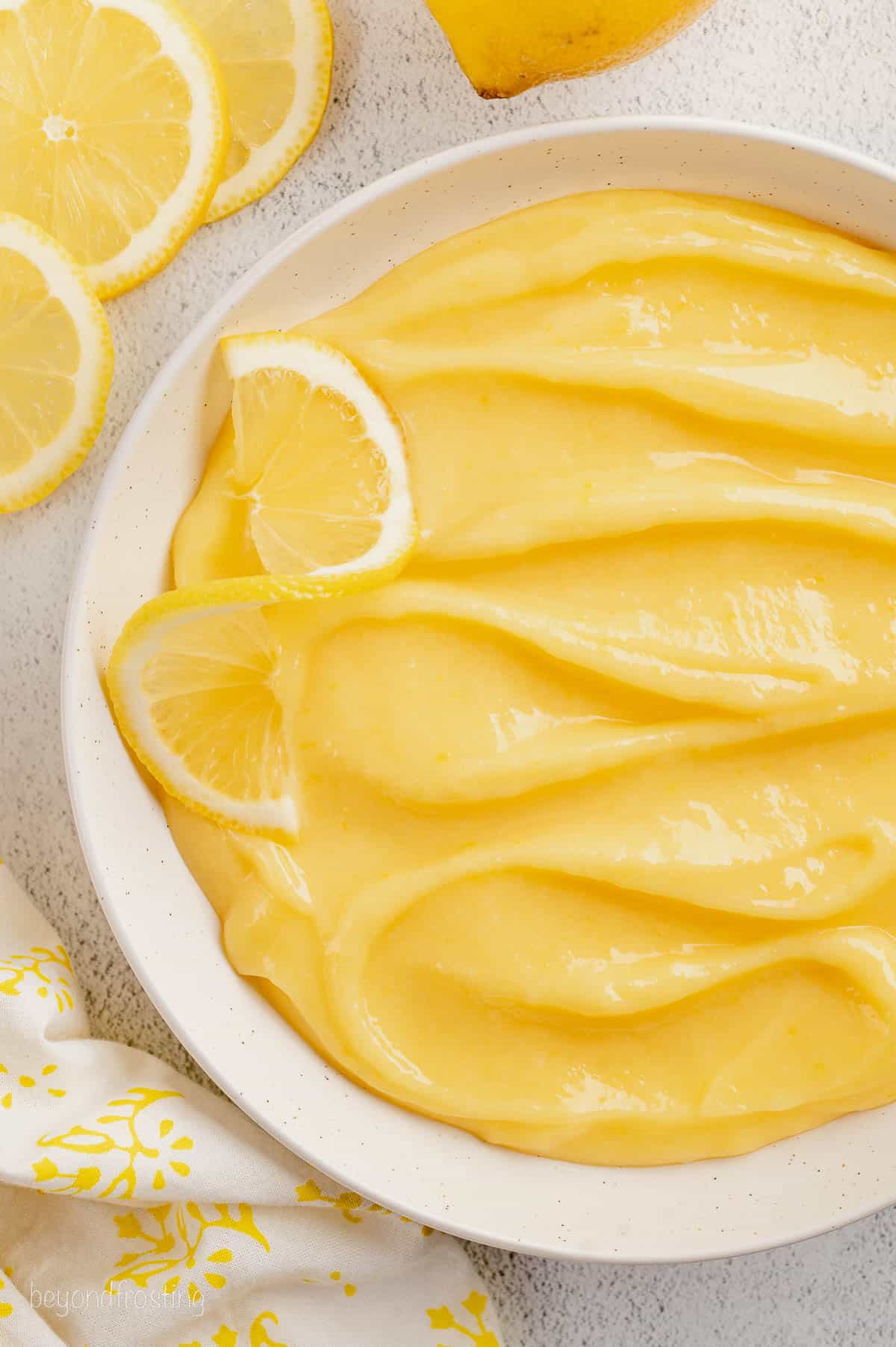 What Is Lemon Curd?
Lemon curd is a rich and creamy dessert topping or filling made from lemon juice, butter, and sugar. The lemon flavor is zesty and intense, especially when you make it with real, fresh lemons.
Original recipes date back to 1800s England and involved literally curdling cream with lemon juice and straining the curds through a cheesecloth. Thankfully, homemade versions nowadays, like the one we're making here, are silky smooth like buttah and just the right amount of sweet.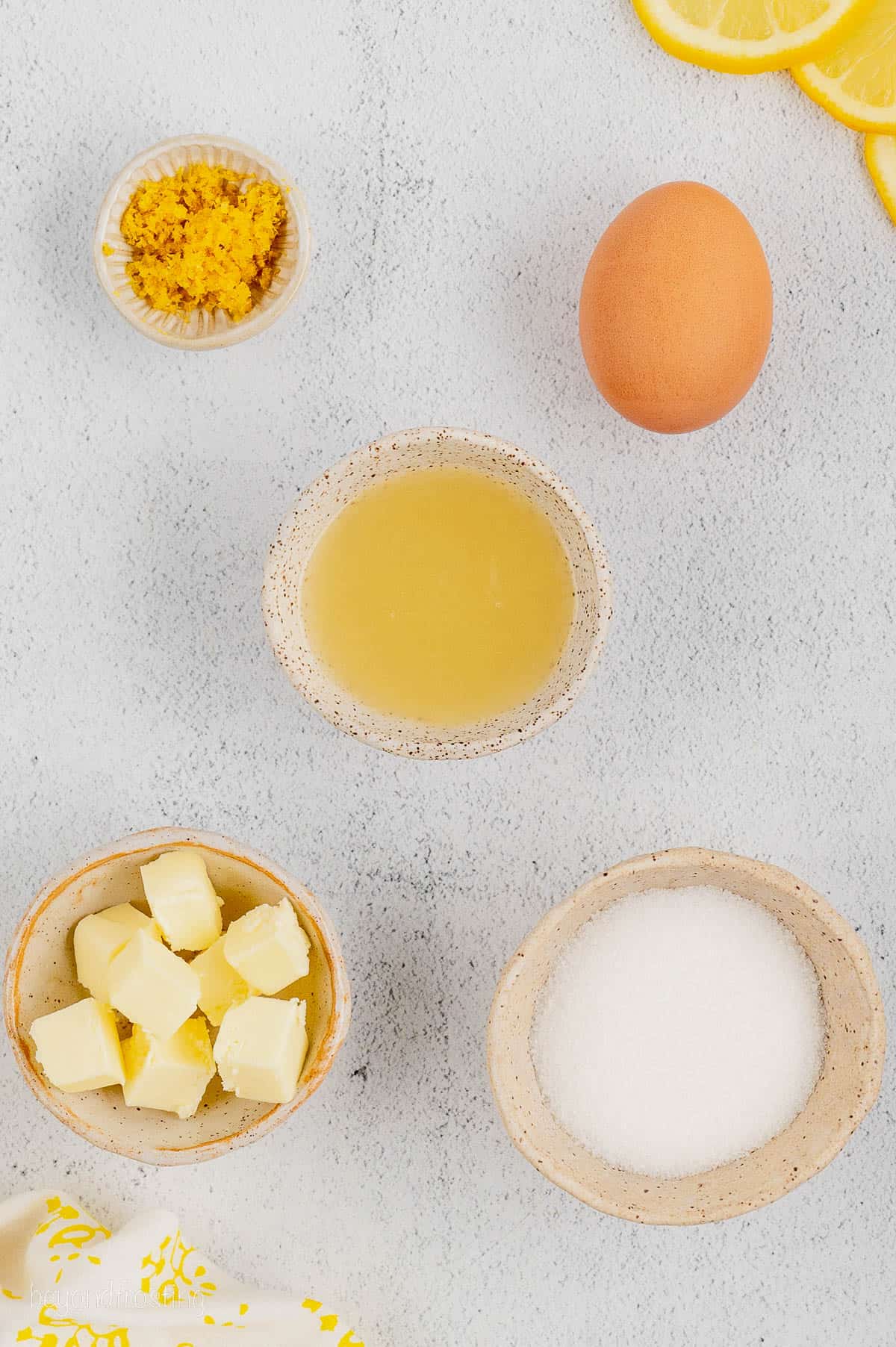 Ingredients You'll Need
You only need 4 ingredients, and all of them are key to a silky smooth, spreadable lemon curd. Below you'll find a short summary, with the full recipe amounts available in the recipe card:
Lemon – You'll need real, fresh lemon juice and zest (no bottled stuff here).
Sugar – For the best results, use regular white granulated sugar. Sugar dissolves into the eggs and sweetens the curd.
Eggs – The higher the quality of eggs you use, the deeper the color of your curd will be. Eggs help to emulsify the curd ingredients as they're heated over the double boiler.
Butter – Make sure to cut your butter into small cubes so that they fully melt into the hot curd to make it rich and creamy. I like to use salted butter to balance out the sweetness, but you can also use unsalted and add a pinch of salt yourself.
How to Make Lemon Curd from Scratch
Before you start, you'll need to zest your lemon. I have a handy tutorial on How to Zest a Lemon that walks you through it! Afterward, squeeze out the juice, and you'll use both the fresh juice and the zest to make your homemade lemon curd:
First, combine the lemon zest and granulated sugar. Use your hands to gently massage the zest into the sugar, then place the bowl aside for now.
Add to a double boiler. Next, add the lemon sugar, along with the eggs and lemon juice to a heat-proof bowl over a double boiler on the stovetop. Making this recipe in a double boiler helps to prevent the curd from burning. Make sure the bottom of the bowl isn't touching the simmering water underneath.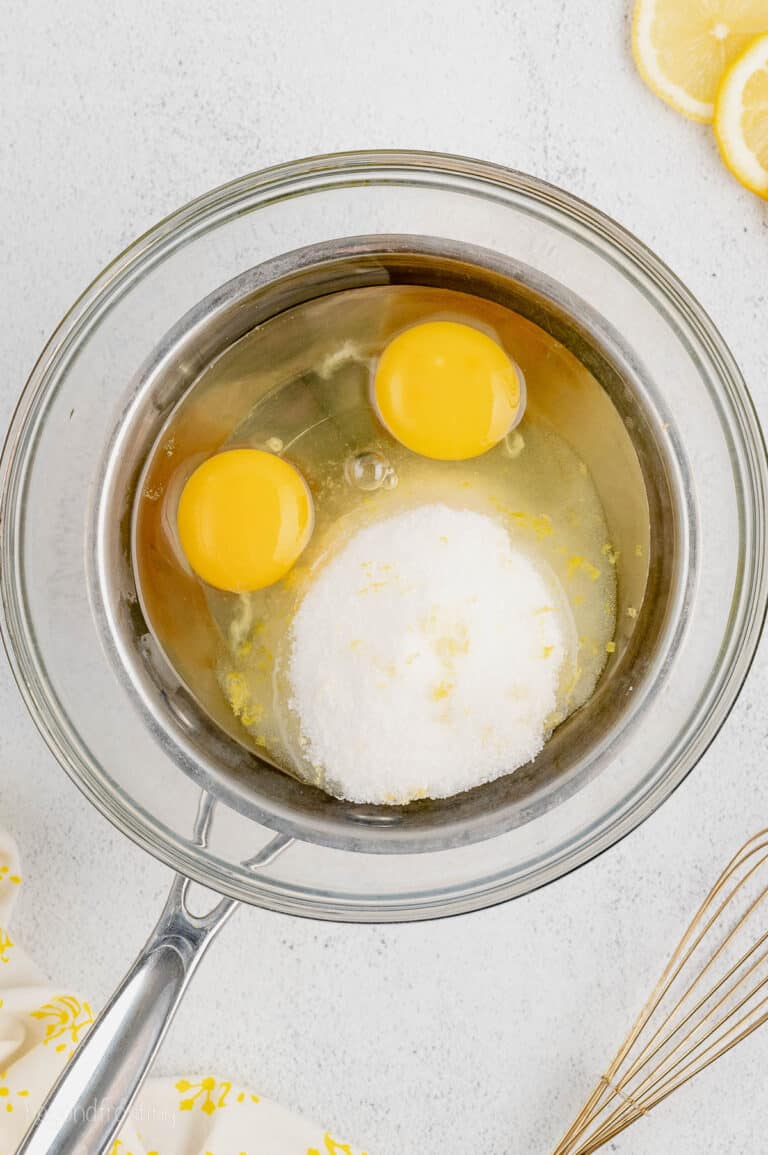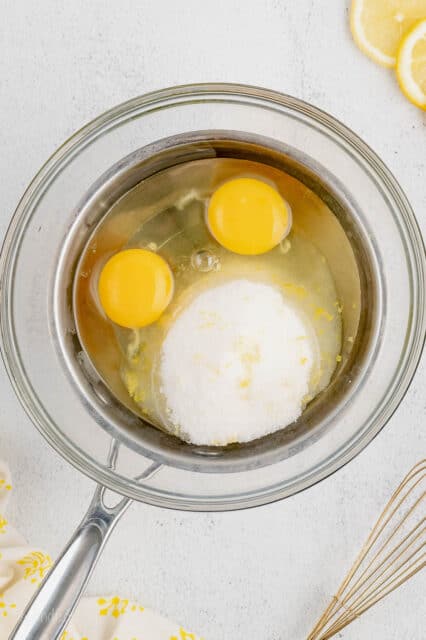 Whisk and thicken. Heat the ingredients, continuing to whisk for 5-7 minutes as the curd thickens. Once you reach a consistency thick enough to coat the back of a spoon, take the bowl off the heat and stir in the cubed butter.
Strain. While the curd is still hot, pass it through a fine mesh sieve. This removes any zest and leftover egg pieces to ensure your finished lemon curd is silky smooth.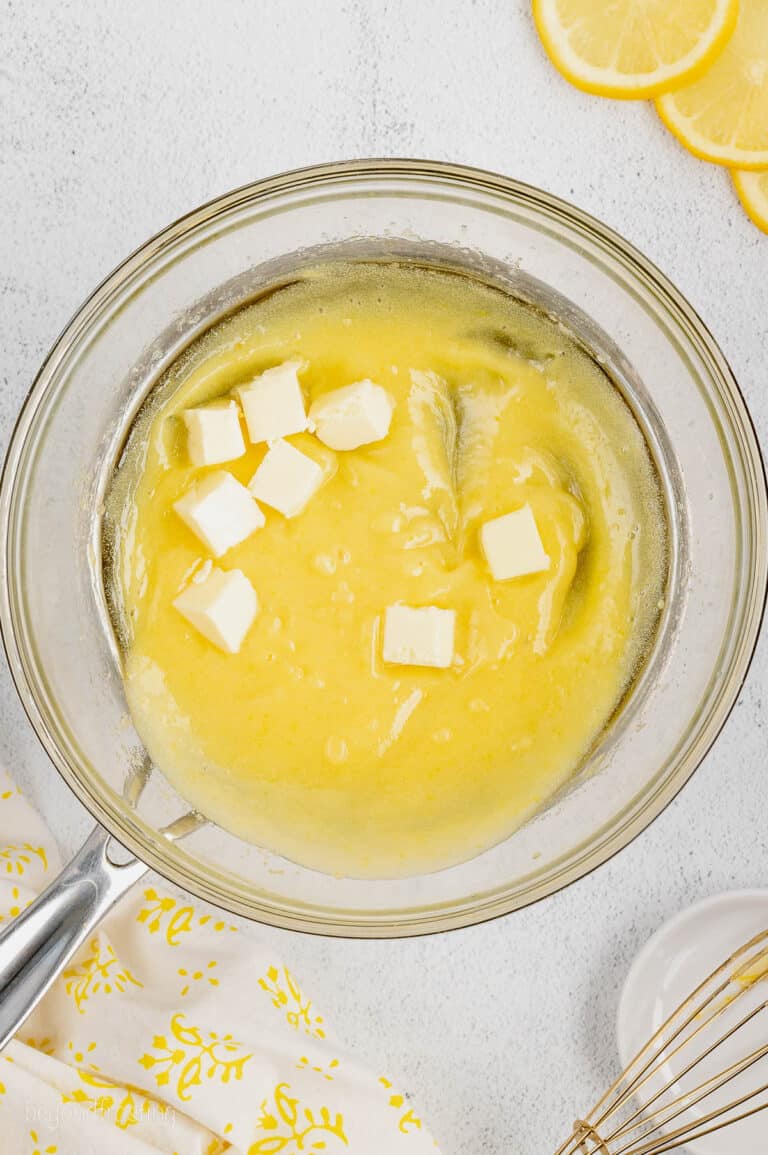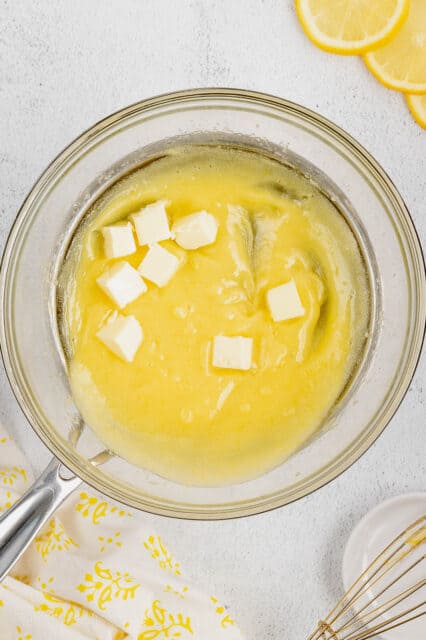 Cool. Leave the curd to cool for an hour at room temperature. Before you move it to the fridge, press a sheet of plastic wrap directly to the surface of the curd, then chill for an additional 2 hours.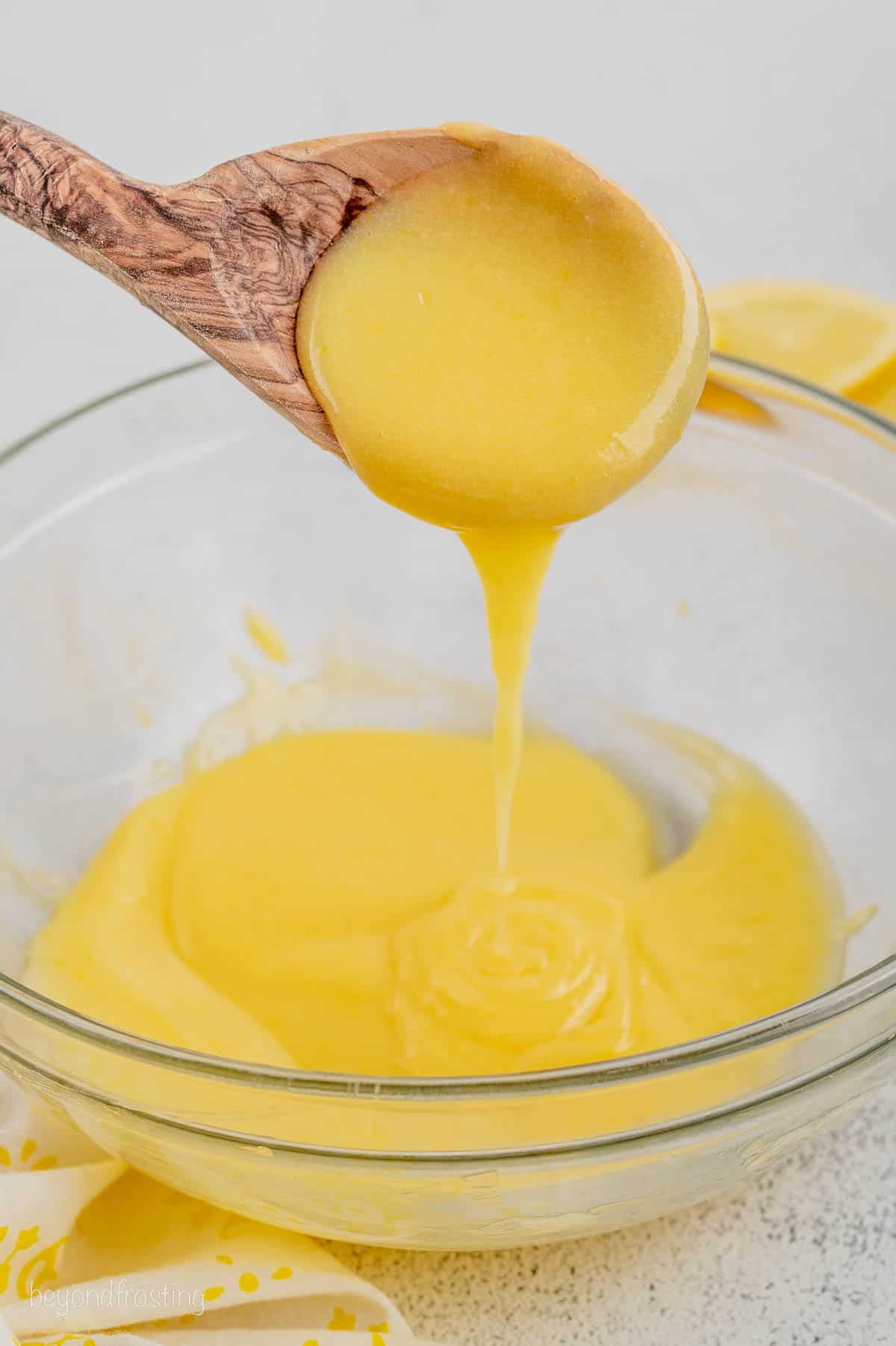 I'm sure you're going to nail this recipe the first time. Here are some additional tips for the best results:
Patience is key. Using the double boiler method helps to ensure a smooth and scramble-free lemon curd. However, it does take more time and patience to reach the proper temperature for thickening (around 170ºF) than traditional curd recipes that are heated in a pan.
Keep whisking. Continuous whisking is key to preventing the eggs from scrambling while the curd heats up. Only stop whisking once the curd is off the heat.
Use the wooden spoon test. The consistency of the hot curd should be thick enough to coat the back of a wooden spoon, a bit like the thickness of an Alfredo sauce. The curd will continue to thicken as it cools and the final consistency will be that of a nice thick pudding.
Use for other flavored curd. Once you've mastered this basic recipe, you can switch up the flavors by using orange, lime, key lime, grapefruit, or Meyer lemon. Or, add in some freshly grated ginger for a hint of spice.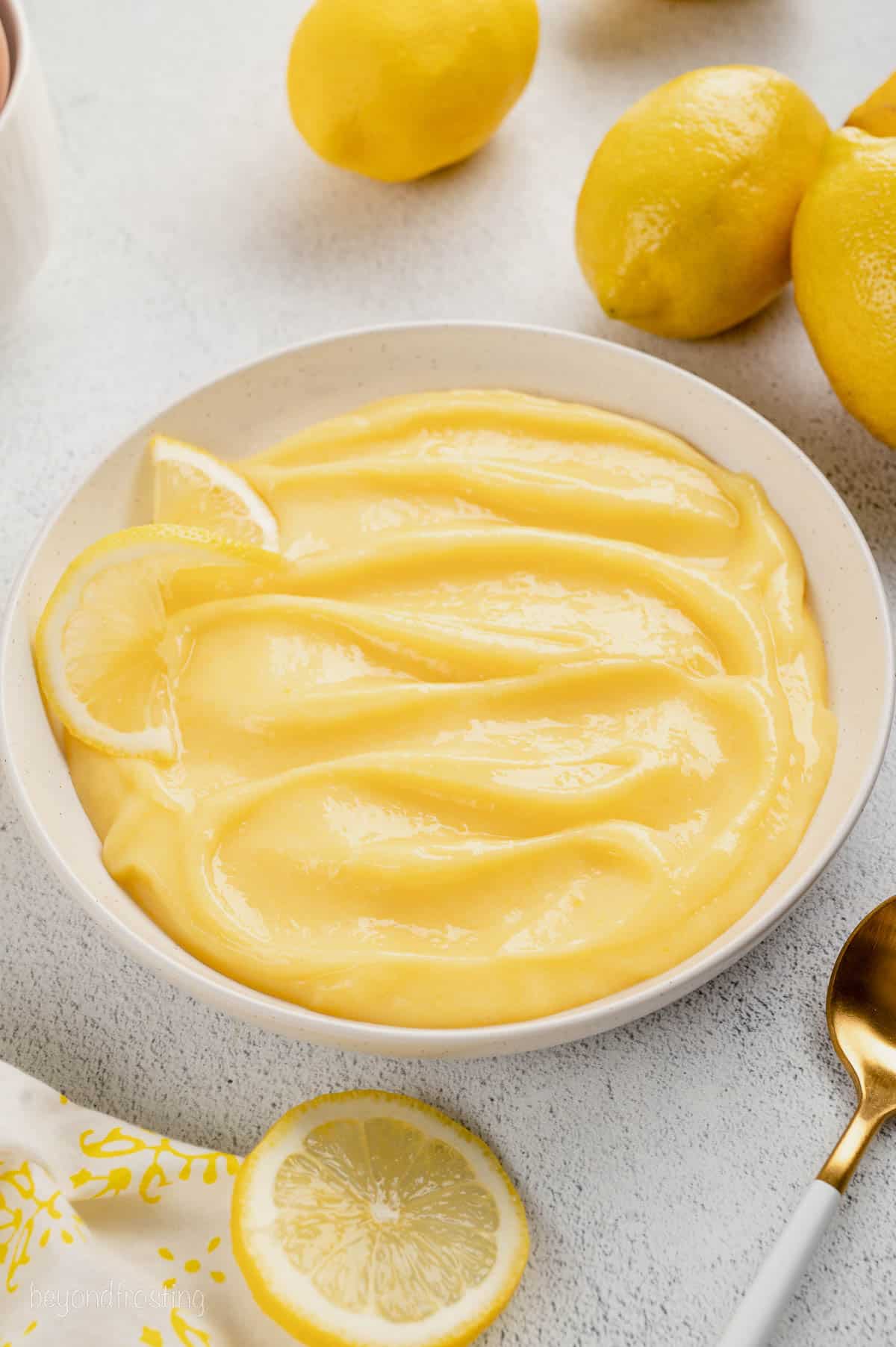 Common Questions
In case you're still a little wary of making your own lemon curd (don't be!), here are some additional FAQs:
Why is my homemade lemon curd not thickening?
The curd will only thicken once it nears the boiling point (about 170ºF). If your curd mixture is still a bit runny, it could mean that you haven't cooked it long enough or hot enough. To fix runny lemon curd, try tempering one more egg with a bit of the hot curd, and then whisk the egg back into the double boiler with the rest of the mixture to cook until thickened.
Can you overcook lemon curd?
Yes, overcooking will make the curd lumpy instead of smooth. If your lemon curd turns out slightly lumpy, first try to put it through a blender, then strain it through a fine mesh strainer. Unfortunately, if this doesn't fix the texture, you may need to discard the curd and start over.
How long does this keep in the fridge?
When properly stored, homemade lemon curd will keep for 1-2 weeks in the fridge. You can also freeze it for longer storage, see detailed storage tips below.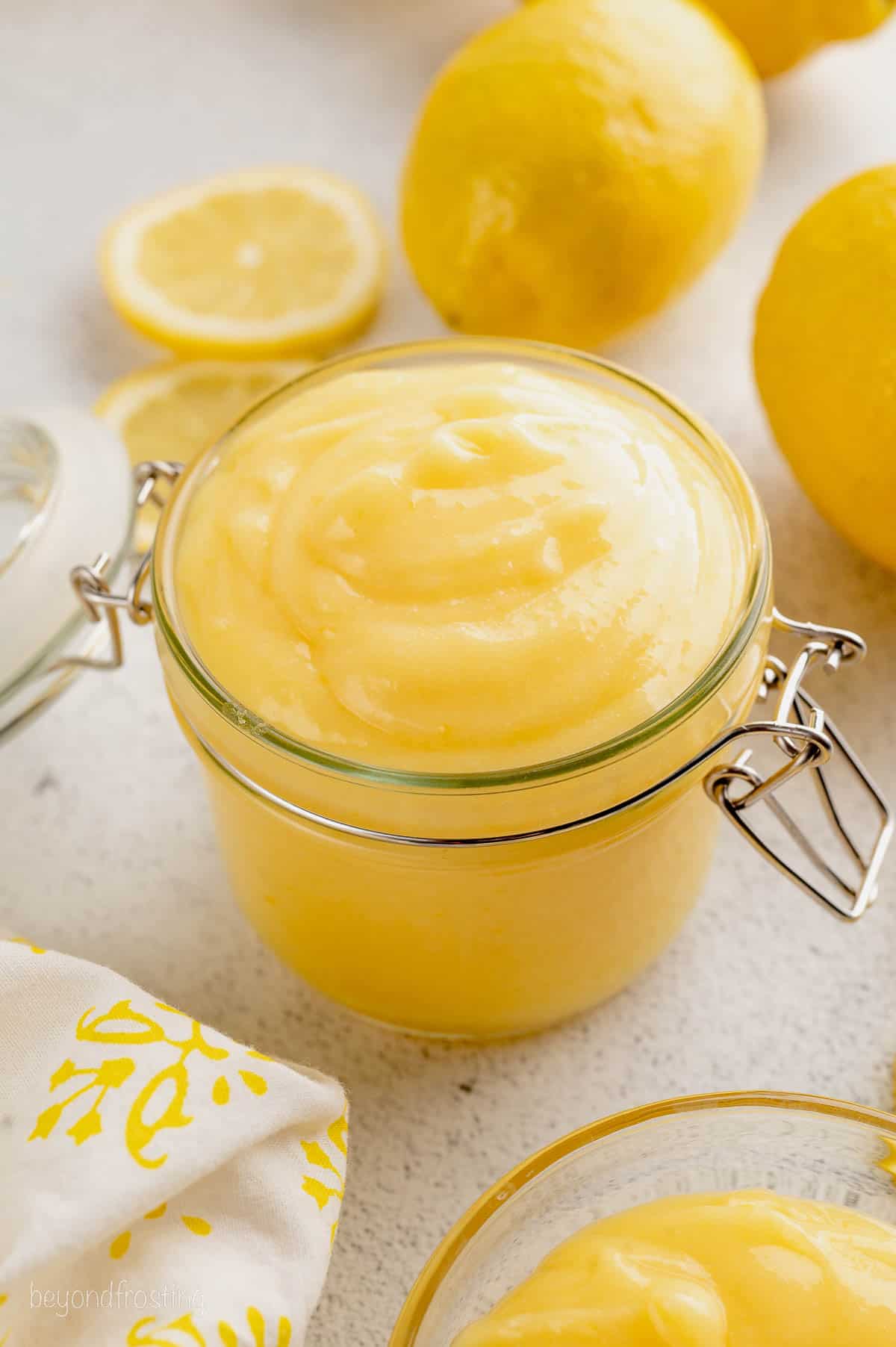 Ways to Use Lemon Curd
This small batch lemon curd recipe makes one cup, the perfect amount to swirl into a No-Bake Cheesecake or use as a filling for Cupcakes or a topping for mini cheesecakes. I'll also spread this homemade topping between the layers of a Lemon Curd Cake. Or, try it in one of these easy layer cake recipes:
Lemon curd is also great to drizzle into Greek yogurt, spread over toast, or serve over pancakes or waffles at breakfast! The possibilities really are endless.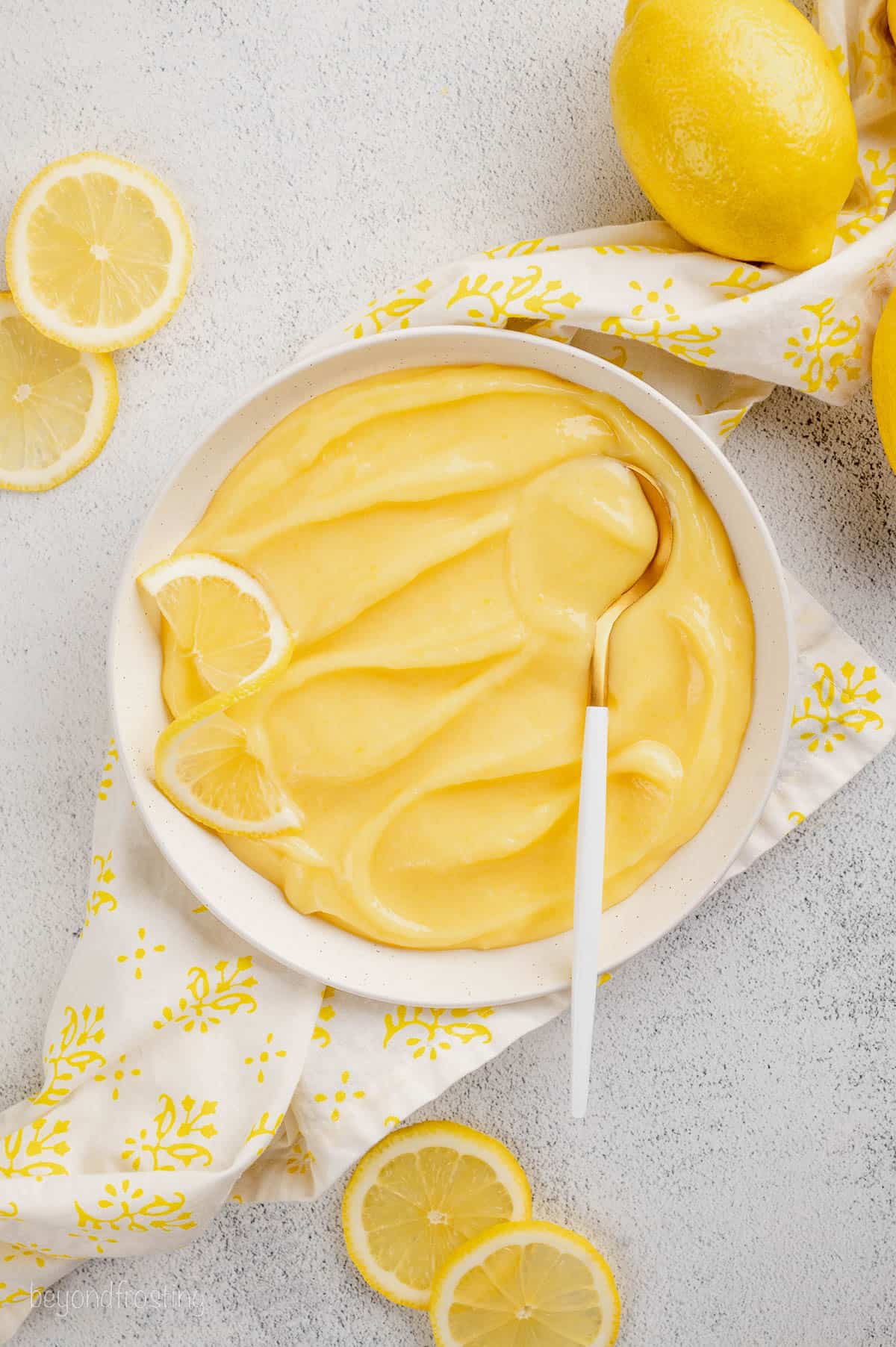 How to Store
Keep your lemon curd in an airtight jar or container and refrigerate it for up to 1 month. I recommend placing a layer of plastic wrap directly on top of the curd to prevent skin from forming.
Can I Freeze Lemon Curd?
Yes, you can also store lemon curd in a freezer-safe container and freeze it for up to 3 months.
Print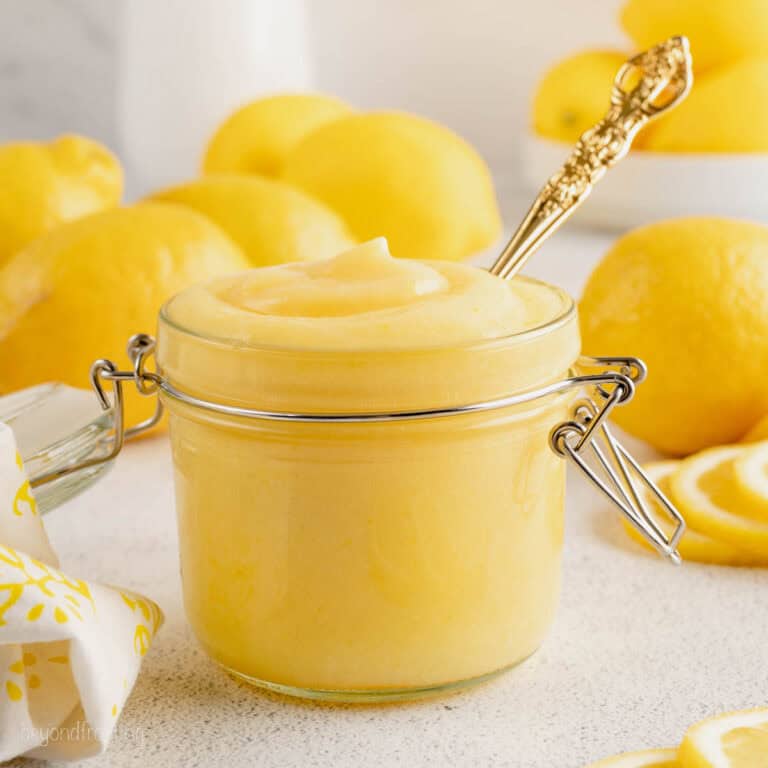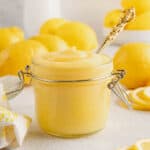 Homemade Lemon Curd
Author:

Prep Time:

15 minutes

Chilling Time:

2 hours

Cook Time:

20 minutes

Total Time:

2 hours 35 minutes

Yield:

1 cup
Description
Learn How to Make Lemon Curd! Bright, tangy lemon juice and zest combine with butter and sugar in this easy homemade lemon curd recipe.
Ingredients
Zest of

1

lemon

½ cup

(

95g

) of granulated sugar

½ cup

(118ml) lemon juice

2

large eggs

4 tablespoons

(

56g

) salted butter, cut into small cubes
Instructions
In a small bowl, using your fingers rub the lemon zest into the granulated sugar, and set aside.
Place 2 inches of water in a small saucepan, and bring to a simmer.
In a small heat-proof glass or metal bowl, mix together the lemon sugar and egg until well combined. Mix in the lemon juice, then place the bowl onto the simmering saucepan without touching the water.
Continuously whisk and cook until the mixture thickens enough to coat the back of a spoon, about 5-7 minutes. Remove from the heat, and whisk in the butter pieces. It will continue to thicken as it cools.
Pour the hot curd through a fine mesh strainer into a jar or bowl to remove any possible lumps. Let this mixture cool on the counter for 1 hour, place a piece of plastic wrap directly on top of the curd, and store it in the fridge.
Notes
Keep your lemon curd in an airtight jar or container and refrigerate it for up to 1 month or freeze for 3 months.
Category:

Dessert

Method:

Stovetop

Cuisine:

American
Keywords: lemon curd, lemon curd recipe, how to make lemon curd
More Zesty Lemon Recipes