This post may contain affiliate sales links. Please see my full disclosure policy for details
Lemon Curd Cake is made from mouthwatering lemon cake layers filled with sweet lemon curd and decorated with creamy homemade lemon cream cheese frosting. This irresistible layer cake recipe is zesty, tangy, and perfect for spring!
Craving more homemade lemon desserts? Try my easy one-bowl Lemon Bread!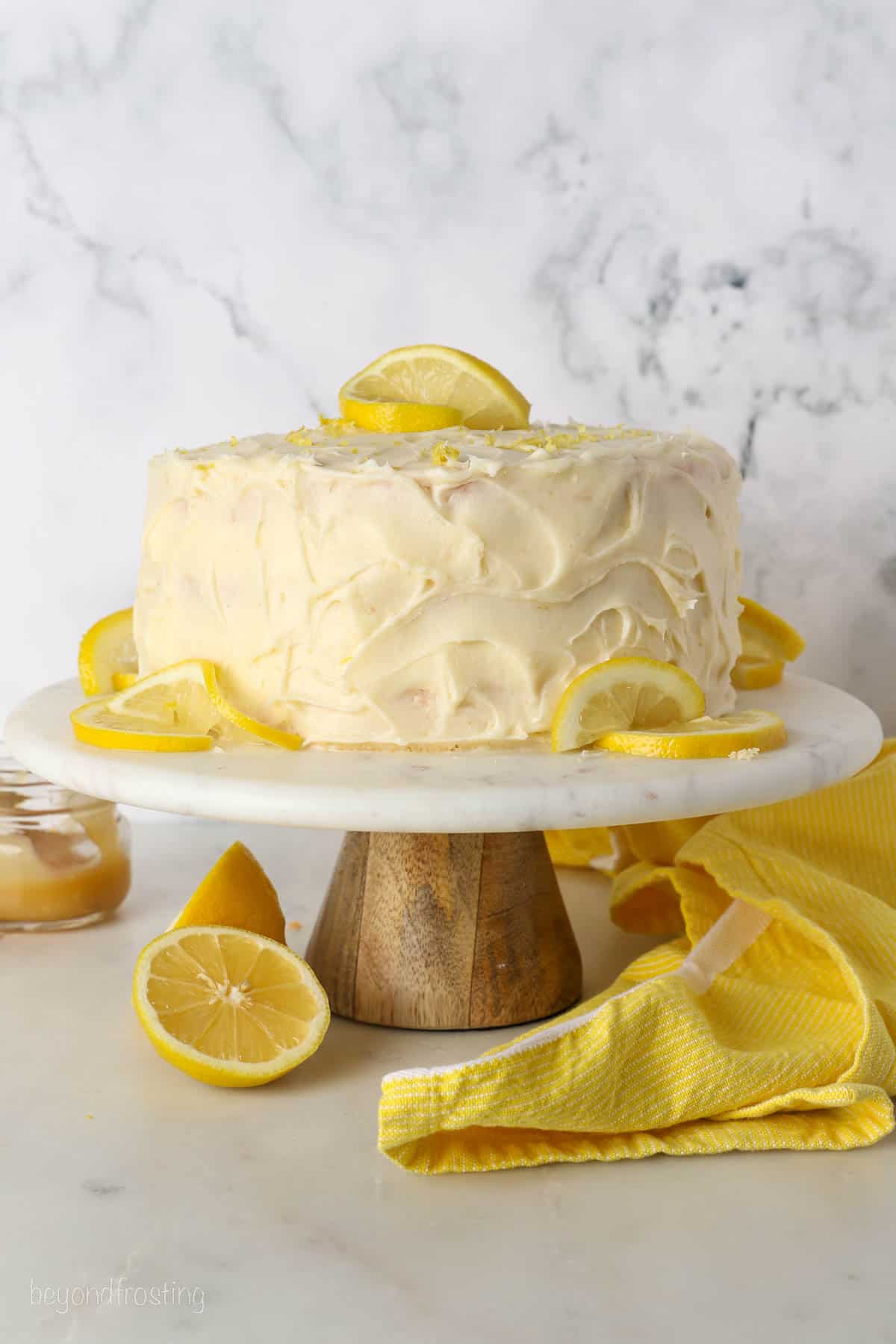 Homemade Lemon Curd Layer Cake
Recently, I turned my all-time best lemon cake recipe into a lush Lemon Layer Cake. The citrus flavor was absolutely incredible. Why not keep the lemon theme going? This time, I filled the moist layers of lemon cake with juicy lemon curd, and I may as well have died and gone to lemon dessert heaven. Again.
This lemon curd cake is a total zest bomb. The layers of moist cake are flavored with real lemons, stacked over silky lemon curd filling, and frosted with mouthwateringly zesty and creamy lemon frosting. It's bright and fresh and so delicious.
The sunshiney flavors of this cake make it perfect to serve at Easter or any other springtime occasion. You can decorate it any way that suits you! The best part is, you don't have to be a baking pro to knock this lemon cake recipe out of the park.
Key Ingredients
Below I've summarized the key ingredients for this luscious lemon curd cake, as well as the lemon frosting. The full recipe details, including the complete ingredients list and measurements, can be found in the recipe card.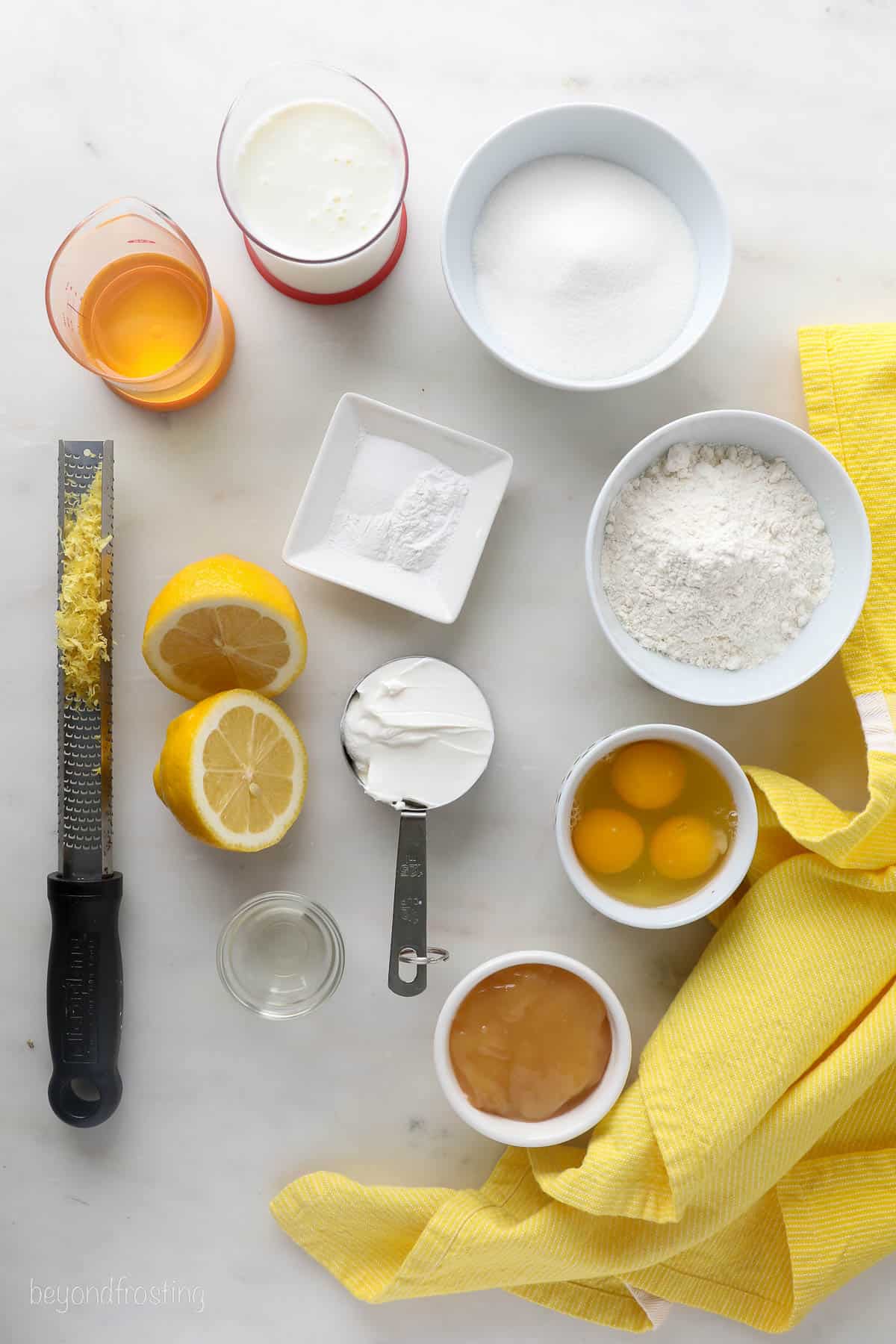 For the Lemon Layer Cake
Lemon Curd – Choose your preferred brand of jarred lemon curd for filling the cake layers.
Oil – I use vegetable oil in place of butter for an ultra-moist yet airy cake.
Lemons – You'll need both the zest and juice from fresh lemons. See my tutorial on How to Zest a Lemon for helpful tips and tricks.
Lemon Extract – Adding lemon extract boosts the citrus flavors, but vanilla extract will also work.
Sour Cream – Along with oil, sour cream is the other secret to an incredibly rich, moist cake. If you don't have sour cream, use plain Greek yogurt instead.
Buttermilk – I love the richness of buttermilk in this recipe, and how the tangy flavors play off of the citrus in the cake. You can use milk if you prefer, but I highly recommend giving buttermilk a try! It's easy to make your own buttermilk substitute, too, see below.
For the Lemon Buttercream Frosting
Butter – I recommend using unsalted butter that's cold from the fridge. Yes, cold! Many frosting recipes call for room-temperature butter, but I've always found that the extra whipping needed with cold butter yields the fluffiest frosting.
Cream Cheese – Also make sure this is cold. Like the buttermilk in the cake, the tanginess of cream cheese in the frosting complements the lemon cake beautifully. You'll want to use the kind that comes in blocks rather than the spreadable cream cheese that comes in tubs.
Lemon – You'll need additional lemon extract as well as lemon curd to flavor the frosting.
Heavy Cream – Full-fat heavy whipping cream will yield the best, creamiest consistency.
What If I Don't Have Buttermilk?
If you don't have buttermilk on hand, don't worry. You can make your own! I go into this in detail with my tutorial on How to Make Homemade Buttermilk, but it's very easy to do.
To make a buttermilk substitute, combine 1 tablespoon of vinegar or lemon juice with enough milk to fill a 1 cup measuring cup. Stir, then leave it to sit for 5-10 minutes, and stir one more time. That's it! Your "buttermilk" is ready to use.
How to Make Lemon Curd Cake
This easy lemon cake recipe comes together in three parts: the cake itself, the frosting, and then assembling with lemon curd between the layers.
Prep: Before you begin, preheat the oven to 350ºF and grease and line three 8-inch round pans. You'll start by making the lemon cake:
Combine the wet ingredients. Start by beating together the sugar with oil, eggs, and lemon extract, followed by the zest from two lemons. Juice the leftover lemons to get ¼ cup of juice (I highly recommend zesting before juicing!).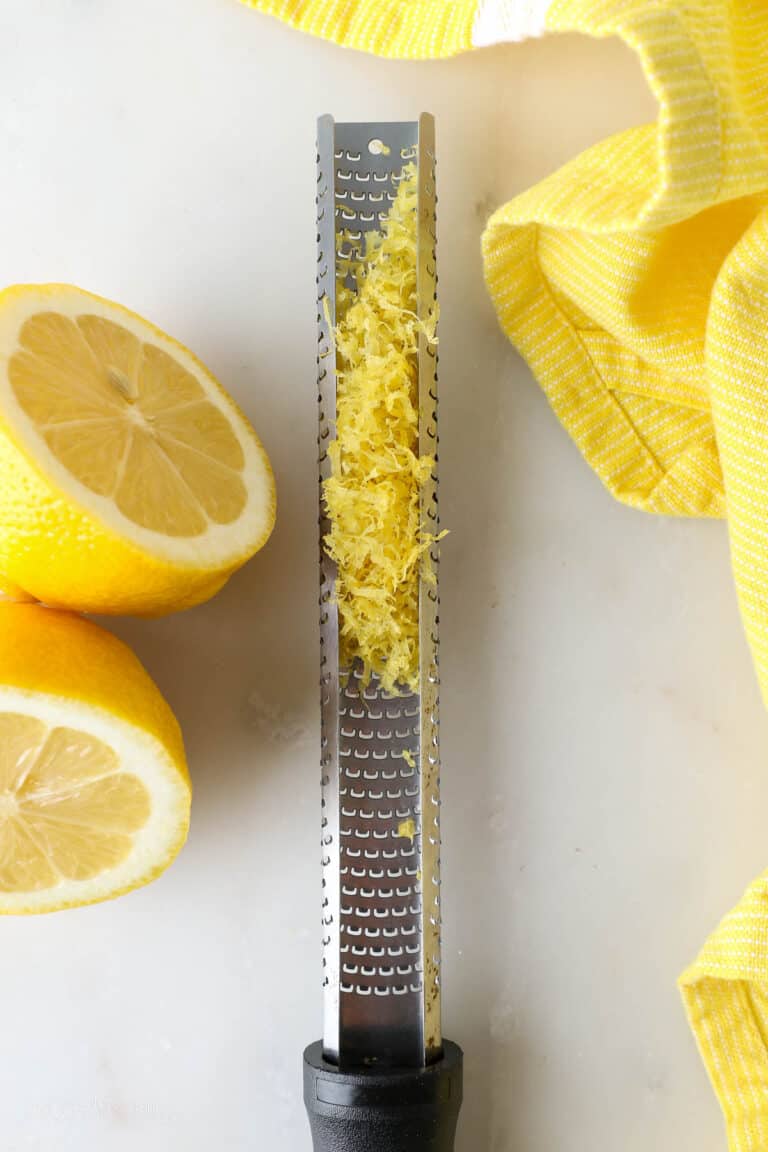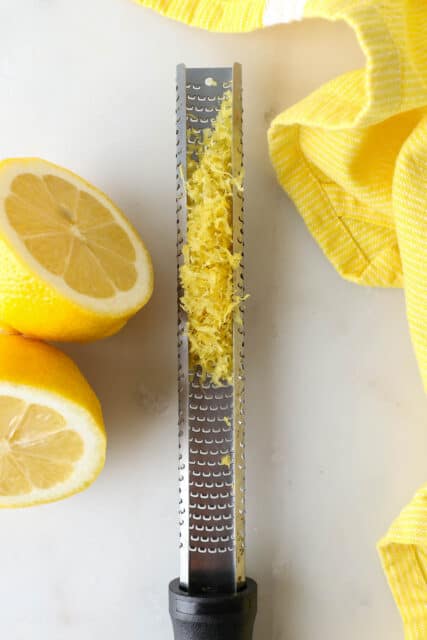 Combine the dry ingredients. Next, combine and then sift the dry ingredients into the wet ingredients a little at a time. Alternate adding buttermilk, mixing until all the ingredients are well mixed.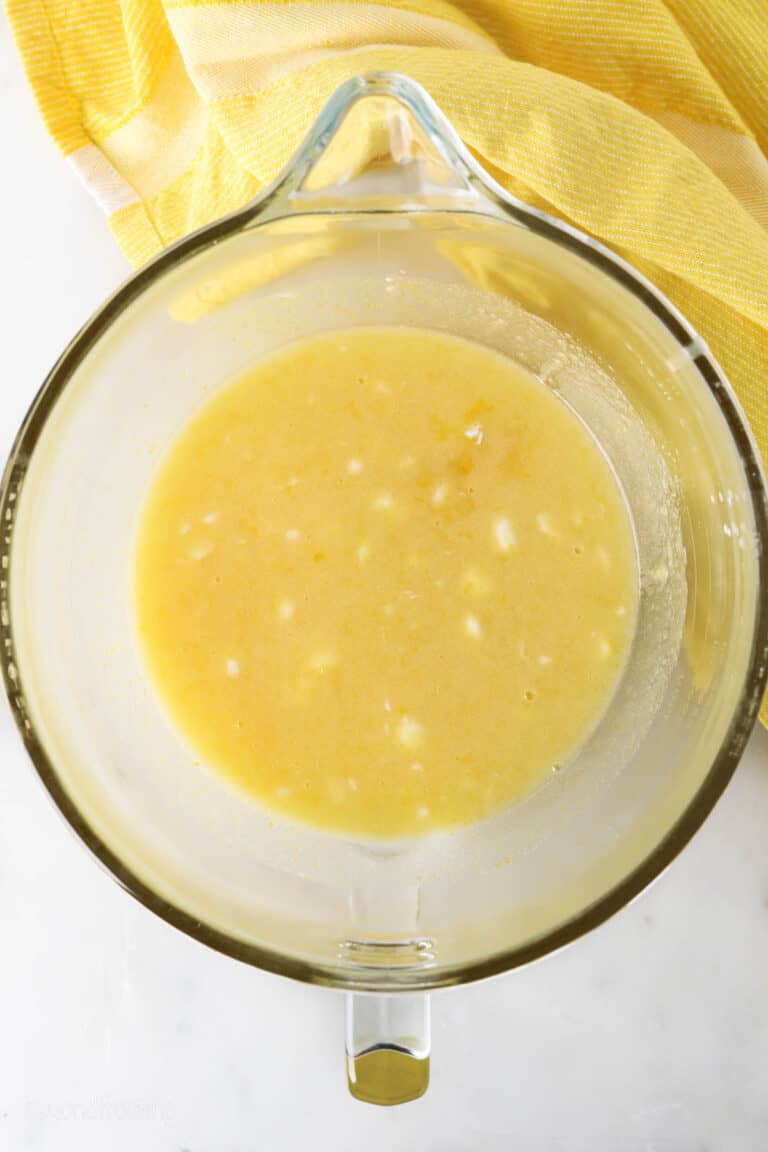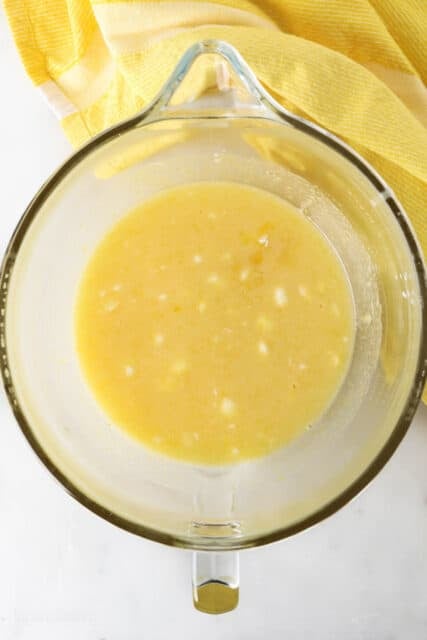 Bake. Lastly, divide the lemon cake batter between the prepped pans from earlier. Bake the cakes for 20-23 minutes, then take them out to cool. The cakes will need to cool completely before you assemble and frost your layers.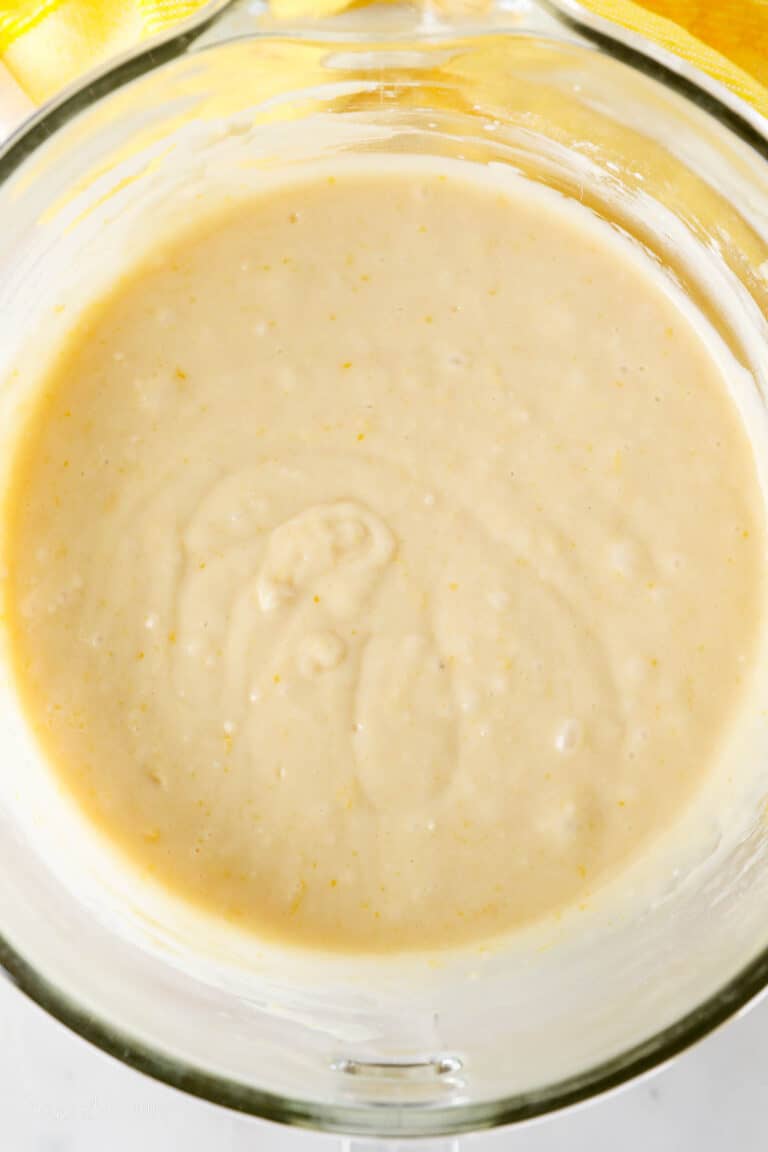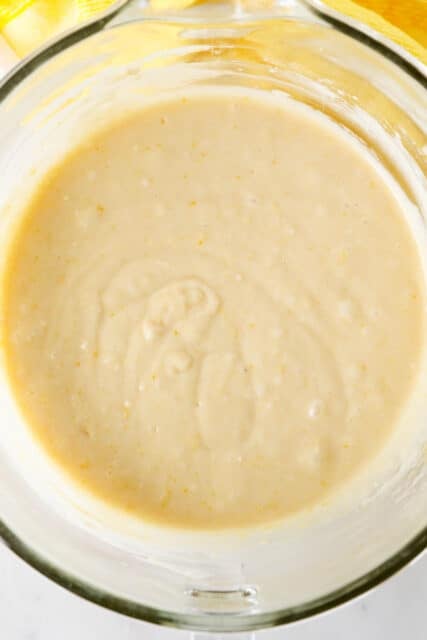 Making the Lemon Frosting
Once your cake layers have cooled, it's time to whip up a quick lemon cream cheese frosting:
Start with cold cubed butter. Cream the cubes of butter for a good 3-5 minutes to get the consistency light and fluffy. Next, beat in the cream cheese.
Add powdered sugar along with lemon extract and heavy cream, and beat to combine.
Add lemon curd, and then increase the speed, giving the frosting a good whip until it's fluffed and creamy.
Assembling and Decorating the Cake
Finally, you're ready to assemble and frost your lemon layer cake. Assembling a layer cake is easier than you think, but if you could use the extra guidance, I have an in-depth tutorial on How to Make a Layer Cake that you can refer to. Here's how to assemble your lemon curd cake:
Begin with the first layer. If the cake layers are not even, remove the dome and level it off with a serrated knife or cake leveler. Place the first cake layer onto a plate or cake board. A dollop of frosting underneath will help hold it in place. Use a piping bag to pipe a thick dam around the edge of the cake – this will keep the lemon curd from seeping out the sides. Fill the middle of the cake with about half of the lemon curd.
Add the remaining layers. Place the second cake layer carefully over the first, and repeat. Next, add the final layer over top. I recommend inverting the top layer to give you a nice, flat cake to decorate.
Frost the cake. Pipe additional frosting between any gaps in the layers. Then, use an offset spatula (or an icing smoother if you have one) to create a crumb coat. Use what's left of the lemon frosting to frost the top and sides of the cake. To create texture, you can use an offset spatula to swirl the frosting. I like to garnish my lemon curd cake with fresh lemon slices or lemon zest, see below for more decorating ideas.
Recipe Notes and Tips
Try these tips for the best lemon curd cake:
Adjust the thickness of the layers. The cake layers are quite thin when they're made with three 8-inch rounds. If you'd prefer thicker cake layers, I'd recommend baking two 8-inch layers instead. You'll need only half the amount of lemon curd for the filling. I wouldn't adjust the frosting, I'd just use the extra for decorating.
Level the cake layers. My cake layers came out pretty flat after baking, so there was no need to torte them (even them out) before stacking. If your layers have domed, I recommend leveling them out with a bread knife so that they stack properly.
For the smoothest possible frosting, sift the powdered sugar to remove any lumps. For the same reason, sifting the dry ingredients in the cake with prevent a lumpy batter.
Add a dam/border of frosting to the outside edges of the cake layers, to hold in the lemon curd in.
Don't make the lemon curd layers too thick. Otherwise, the curd may drip out of the center of the cake once it's sliced.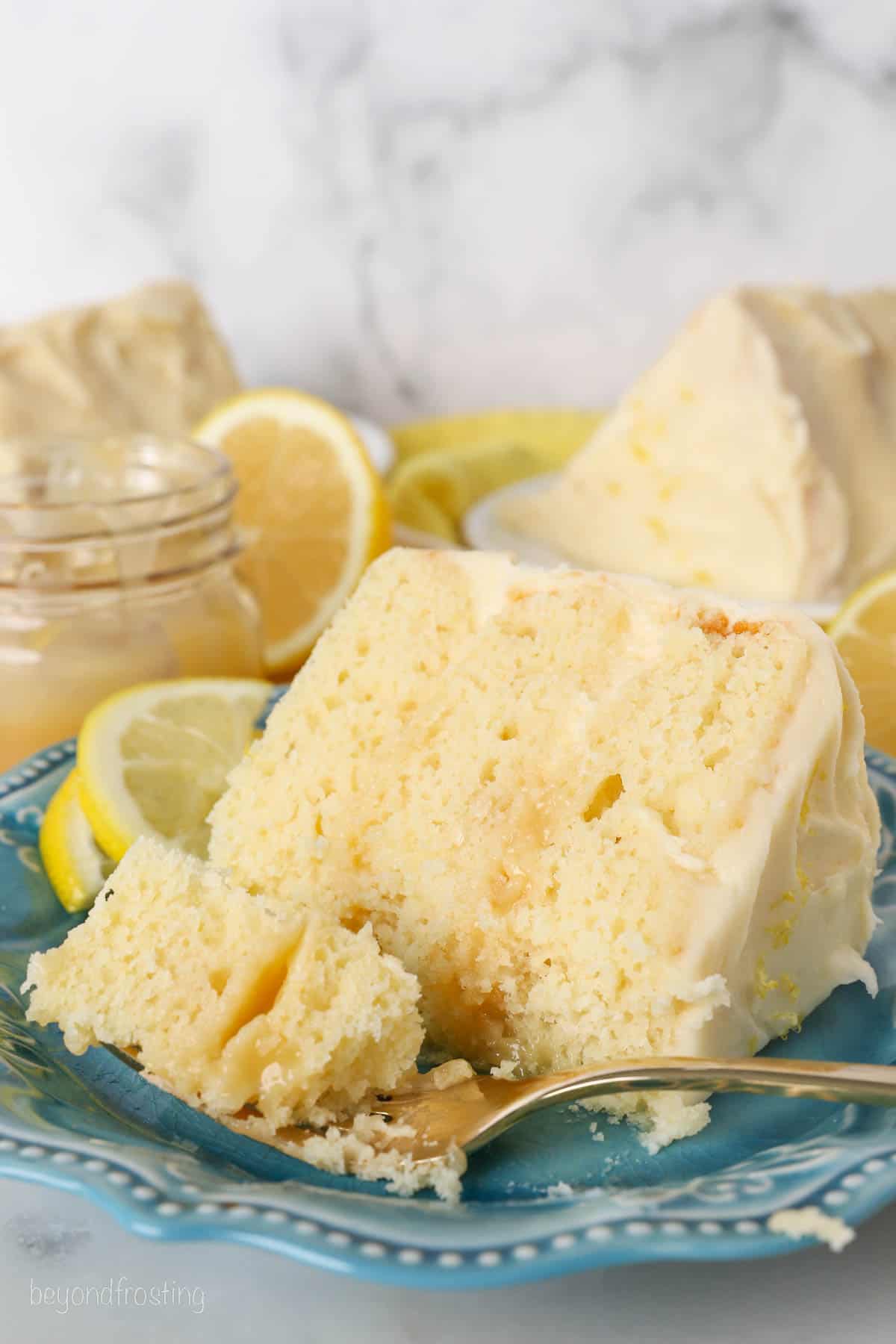 More Decorating Ideas and Variations
When it comes to decorating a homemade cake, there are so many ways to make it your own. This lemon curd layer cake is no exception. Give one or more of these simple decorating ideas or variations a whirl:
Add fruit. Garnish the cake with strawberries, raspberries, or blueberries, as I do in my Lemon Blueberry Cake.
Use another frosting. If you'd prefer to swap out the lemon frosting in this recipe, try my Perfect Vanilla Buttercream or Cream Cheese Whipped Cream.
Use another filling. For a strawberry lemon cake, fill the layers with Strawberry Filling instead.
Add toppings. Sprinkle on complementary toppings like shredded toasted coconut, crushed pecans, or chopped candied fruit.
Add sprinkles. If you're making this cake for a special occasion, decorate it with your choice of colored sprinkles or nonpareils.
For more decorating ideas and tips, check out How to Use a Piping Bag and How to Decorate with Piping Tips.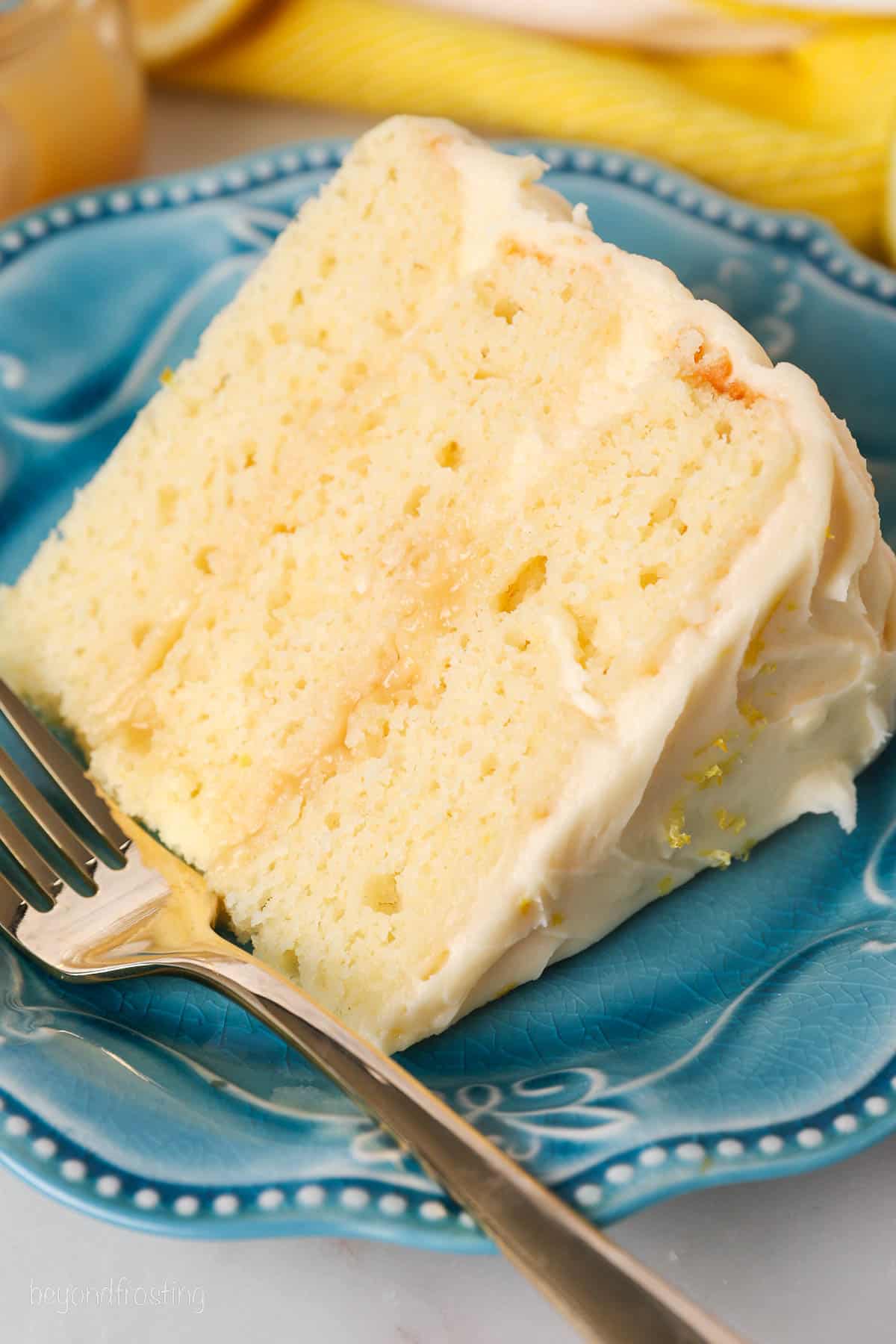 How to Store a Lemon Curd Cake
Store the frosted lemon curd cake airtight in the fridge for up to 5 days. I recommend letting the cake come to room temperature before serving.
Can I Freeze Lemon Layer Cake?
I wouldn't recommend freezing the assembled and frosted cake. If you'd like to make this cake ahead, it's best to freeze the individual cake layers. They'll keep fresh when frozen for up to 2 months.
Let the layers cool fully, then wrap them tightly in double layers of plastic wrap, followed by foil. Defrost the cake at room temperature before assembling and serving.
Print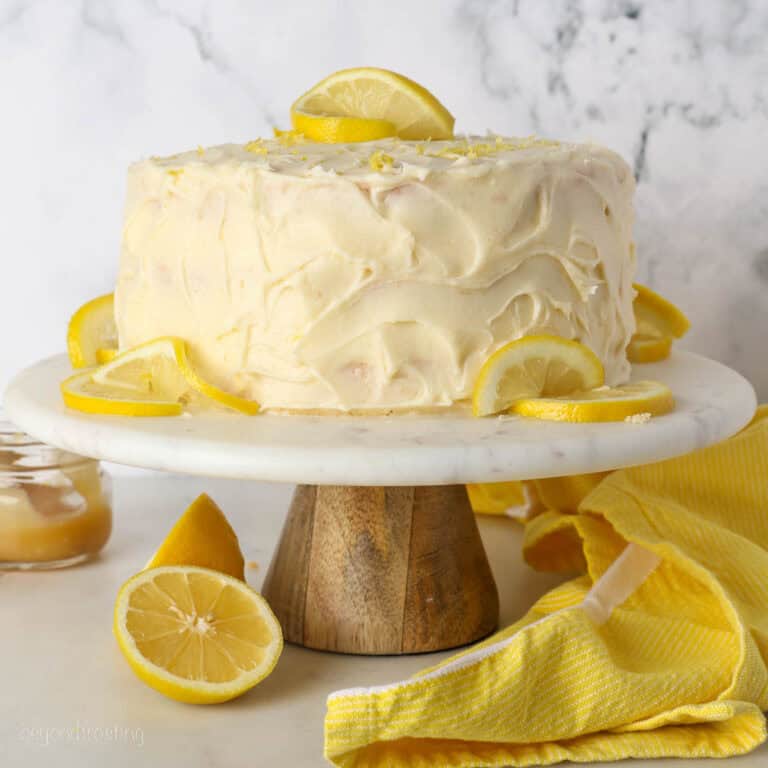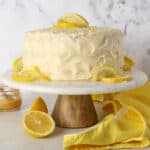 Lemon Curd Cake Recipe
Author:

Prep Time:

1 hour

Cook Time:

20 minutes

Total Time:

1 hour 20 minutes

Yield:

10-12 servings
Description
Homemade Lemon Curd Cake made from moist lemon cake layers filled with sweet lemon curd and frosted with tangy lemon cream cheese frosting. The perfect lemon layer cake for Easter, or any special occasion!
Ingredients
1

(10oz) jar of Lemon Curd
For the cake:
2 cups

(

380g

) granulated sugar

½ cup

(118 ml) vegetable oil

3

large eggs, at room temperature

2

large lemons, zested and juiced (see below)

1 teaspoon

(5ml) Lemon (or vanilla) extract

½ cup

(

120g

) sour cream (or Greek or plain yogurt), at room temperature

2 ½ cups

(350 g) all-purpose flour, sifted

3 teaspoons

(11.2 g) baking powder

1 teaspoon

(5 g) salt

1 cup

buttermilk (236 ml) (or milk), at room temperature

1/4 cup

(59ml) fresh lemon juice
For the frosting:
1 cup

(

226g

) unsalted butter, cold

4oz

(

113g

) full-fat cream cheese, cold

3 1/2 cups

(

455g

) powdered sugar, sifted

1 teaspoon

(5ml) lemon extract

1 tablespoon

(15ml) heavy whipping cream

3 tablespoons

(

57g

) lemon curd
Instructions
Make the Cake
Preheat the oven to 350°F. Prepare three 8-inch round baking pans, line the bottom with parchment paper, and grease the sides.
In a large mixing bowl, combine the sugar, oil, eggs, and lemon extract. Beat on medium speed until the well is incorporated. Scrape down the bowl as needed
Next, zest 2 lemons into the batter and then juice the lemons to get 1/4 cup of lemon juice. Add the lemon zest, lemon juice, and sour cream to the batter and beat until well combined.
Combine the dry ingredients in a separate bowl, sift into the wet ingredients, adding half the dry ingredients at a time, with half of the buttermilk, and beat on low speed until combined. Add the remaining dry ingredients and buttermilk and continue mixing until combined. Use a spatula to scrape down the sides of the bowl and stir the batter to ensure it's well-mixed.
Divide the batter evenly between the three pans, about 1 2/3 cups of batter per pan. Bake at 350°F for 20-23 minutes. Test the cake for doneness by inserting a toothpick into the center of the cake. If the toothpick comes out clean, the cake is done. Remove from the oven and allow to cool completely.
Make the Frosting
Cut the butter into 1-inch blocks. Beat the butter for 3-5 minutes until it is light and fluffy and reaches a spreadable consistency, scrape down the bowl frequently. Then add the cream cheese and cream together for 2-3 minutes until it's fluffy and free of lumps.
Next add the powdered sugar, lemon extract, and heavy cream. Beat on low speed until the powdered sugar has combined. Add the lemon curd, beat to combine then increase speed to medium-high and beat for a couple of minutes until smooth and creamy.
Assembly and Decoration
Level the cake layers if needed. Place a dollop of frosting on your cake board and place the bottom layer of cake on top of that. Place half of the frosting in a large piping bag, then cut off the end of the piping bag. Pipe a thick border (a dam) along the outside edge of the cake, once or twice.
Spread half of the lemon curd in the middle of the cake. Add the second layer of cake, inverted and repeat the above steps using all of the remaining lemon curd. Next, add the final layer of cake on top, inverted.
Use the piping bag to fill in any gaps between the layers and to create a crumb coat. Using an offset spatula or icing smoother, wipe away the excess frosting, leaving you just enough to coat the outside of the cake.
With the remaining frosting, proceed to frost the top and sides of the cake using an offset spatula. Garnish with lemon slices.
Notes
Substitutions:
Sour cream- use plain or Greek yogurt instead
Buttermilk- If needed, homemade buttermilk can be made using 1 tablespoon lemon juice or vinegar and the remaining 1 cup milk. Here's a quick guide to making your oven buttermilk.
Gluten-free flour: If you'd like to make this gluten-free, use a measure for measure gluten-free flour replacement.
Check out my tutorial on How To Zest a Lemon for tips and pointers.
Storage: This cake can be refrigerated in an airtight container for up to 5 days. Cover the ends of the cake with plastic wrap to help maintain freshness. Remove from the refrigerator about 20 minutes before serving, as it's best served closer to room temperature.
Freezing: It's not recommended to freeze a frozen cake. Instead, freeze the individual cake layers. Once cooled, tightly wrap them twice in plastic wrap, then again with aluminum foil. Freeze for up to 2 months. Thaw to room temperature before assembling.
Category:

Cake

Method:

Oven

Cuisine:

American
Keywords: lemon layer cake, lemon cake, lemon desserts
More Easy Lemon Desserts