This post may contain affiliate sales links. Please see my full disclosure policy for details
This buttercream flower cake tutorial breaks down all the components of how to decorate a layer cake with buttercream flowers. It's actually a very easy cake decorating technique. These buttercream flowers are perfect for birthday cakes, easter cakes, spring cakes and more!
This post is sponsored by Wilton. I've received products from Wilton to make this recipe, but these are products I would buy on my own. All thoughts and opinions are my own.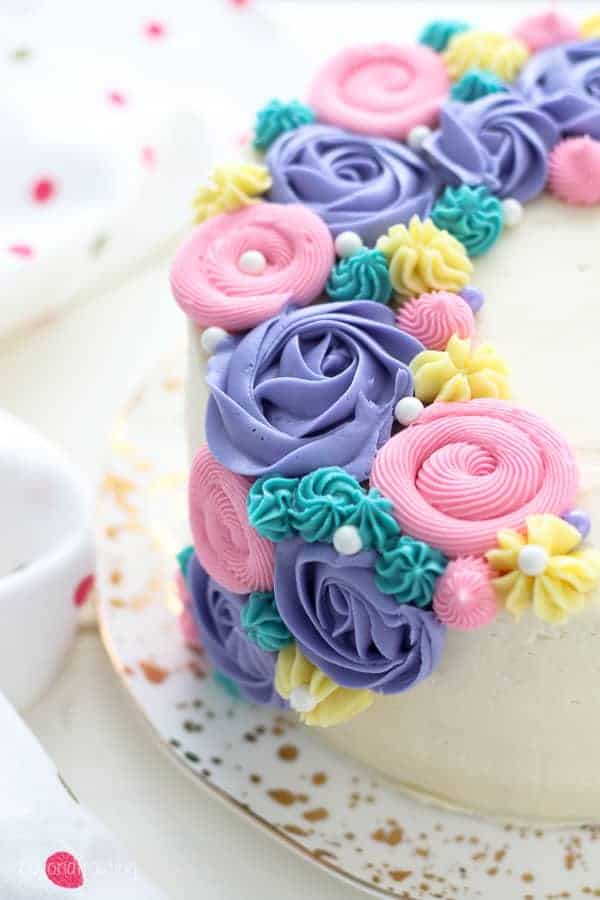 I've never thought of myself as a cake decorator, in fact, I never even knew I could decorate a cake until I took the Wilton course about 6-7 years ago where I learned some basic techniques on how to decorate cupcakes and cakes.
Over the years, I've been working on my techniques and pushing myself out of my comfort zone. Then recently, Wilton asked me to make a cake for a birthday! I was so excited, as I love Wilton products and I have so many of them in my kitchen already.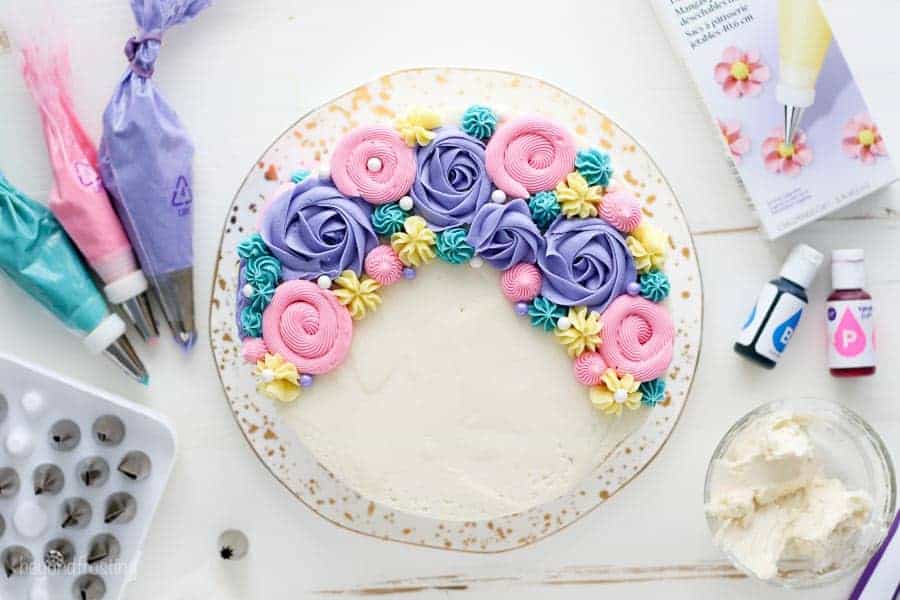 I hope by sharing this tutorial, you'll feel confident enough to make your own 3-layer cake. I follow a lot of cake decorators on Instagram that always inspire me to try new ideas. For this buttercream flower cake, I was inspired by Brittnay May Cakes.
If you need more ideas or inspiration for your own cake and cupcake decorating, be sure to visit Wilton's Birthday ideas, there are plenty of ideas for all different types of themes.
For this cake, we're making my moist vanilla layer cake. It's a 3-layer vanilla cake finished with my perfect vanilla frosting.
The cake is moist, spongy and perfect for layer cakes because it can easily be handled. For all of my cakes, I use an 8-inch round baking pan. This is the perfect cake size, not too big or too small. Each pan gets about 1 2/3 cup of batter and I always grease and flour my pans before filling them.
I use bake even strips whenever I am baking round cakes. The bake even strips help prevent the dome from forming on the top of the cake by preventing the edges from baking too quickly. As the edges of the cake bake, it pushes the batter towards the center, creating the dome.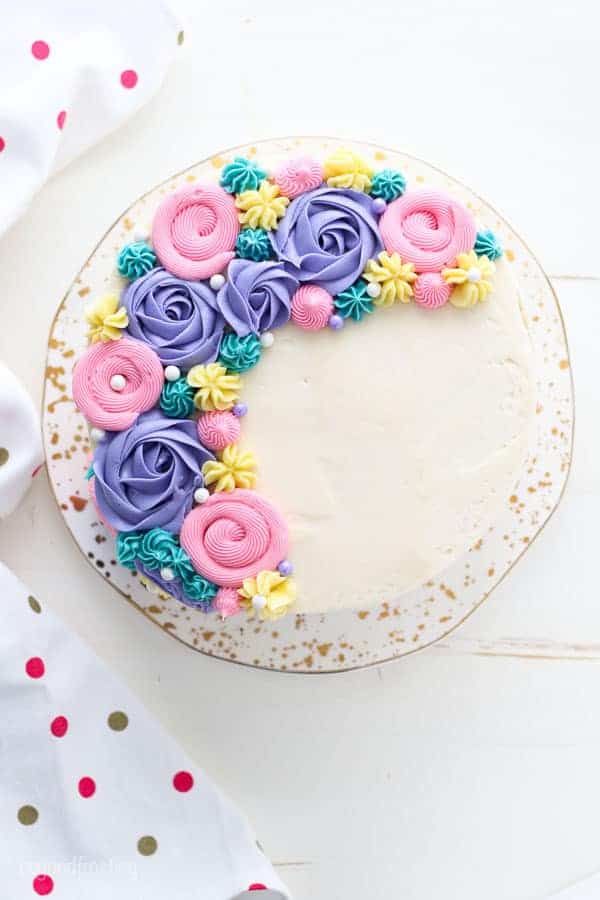 For this vanilla cake you'll need quite a bit of frosting. Besides the filling in between the layers, you'll need extra frosting for decorating.
Personally, I hate running out of frosting, so I always have extra on hand. It's also helpful if you don't like the color of the frosting that you made, you'll still have extra.I'd recommend making two separate batches because the volume of frosting can be too much for a standard 5-quart mixer to handle.
Now before you start making your frosting, I highly recommend checking out my tips for how to make buttercream frosting. That post is loaded with answers to everything you want know how about how to make your frosting consistency just perfect!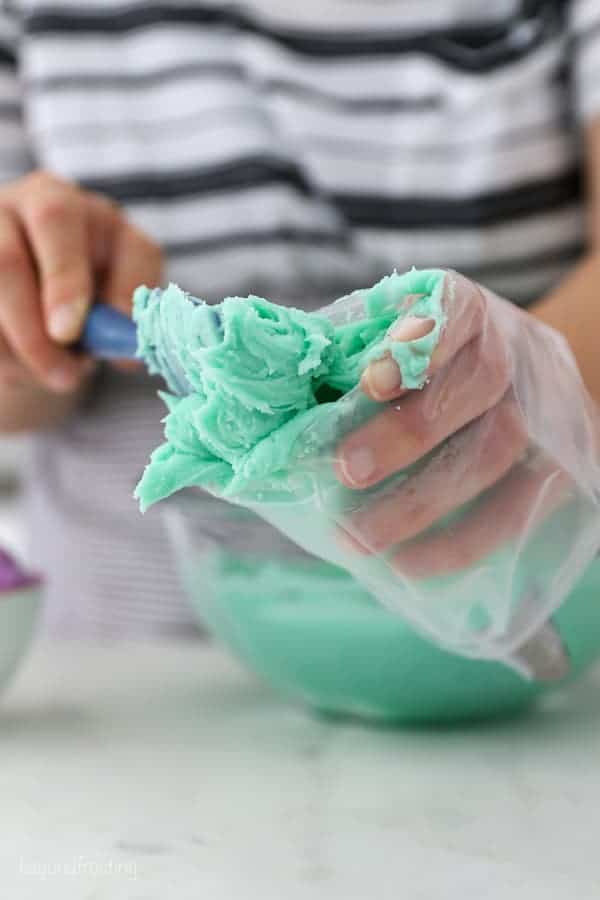 If you're new to decorating, then I have plenty of tips to share for about how to use a piping bag.
When you're ready to start decorating, level off the top of your cakes so you have a nice even surface. Use a large piping bag and fill it with your vanilla frosting. Pipe a layer of frosting on top of the cake, starting at the outside edge and working your way into the middle, then spread evenly with an angled spatula.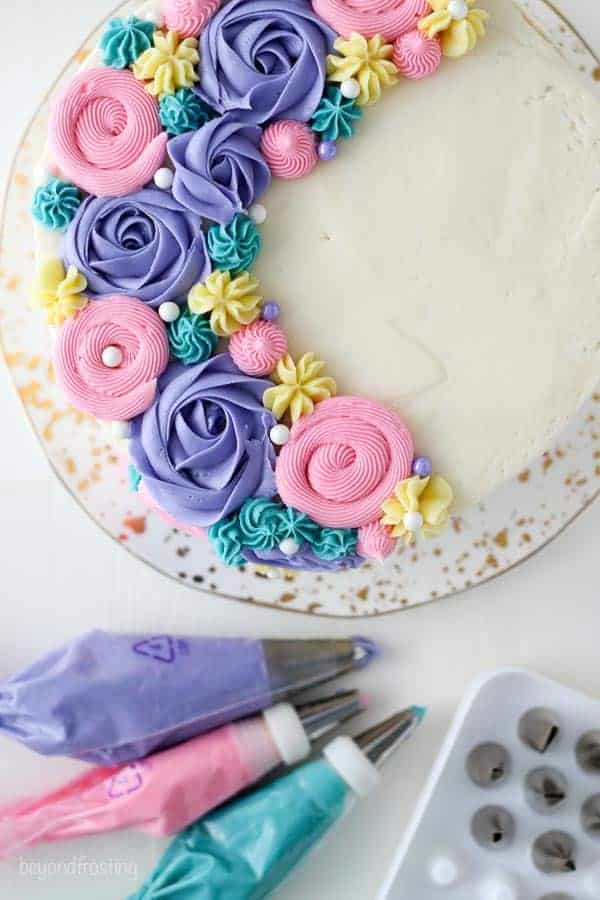 Once your layers are assembled, it's time to add the crumb coat. The crumb coat is a thin layer of frosting that allows you to get a nice smooth surface on the outside of your cake before adding the final layer of frosting.
It's always a good idea to refrigerate the cake before adding that final layer of frosting. This allows the crumb coat to harden a bit, so it's easier to frost the cake.
I've tried several different ways to frost a cake, but my preferred method involves a large piping bag fitted with a cake icing tip. It adds a nice thick strip of frosting on the outside. When it comes time to make those nice smooth edges, it's WAY easier since you're dealing with a relatively even frosting thickness all the way around the outside of the cake. Of course, an icing smoother is a huge help here as well as your angled spatula.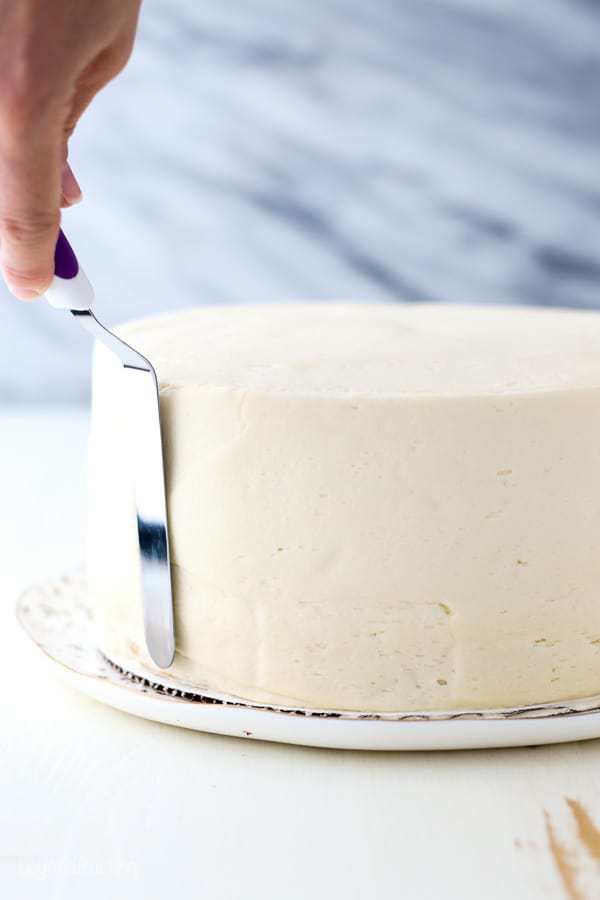 Once the cake is frosted and the edges are smooth, it's time to decorate.
First you need to pick your color palette. If you're unsure what to do, Pinterest is a great place to start. I recommend choosing 3 colors plus a white (undyed) frosting or a 4-color total palette.
Despite the fact that I have lots of different icing colors, I always default to using my Wilton Color Right color system. This system is comprised of 8 color gels and it comes with a guide for how to mix the colors together to achieve dozens of different colors and shades.
Decide which two color are going to be your primary colors- these will be the color of your rose and the large swirls. You'll want about 1 cup of each color. Then for your two accent colors, you'll need about ½ cup of frosting each.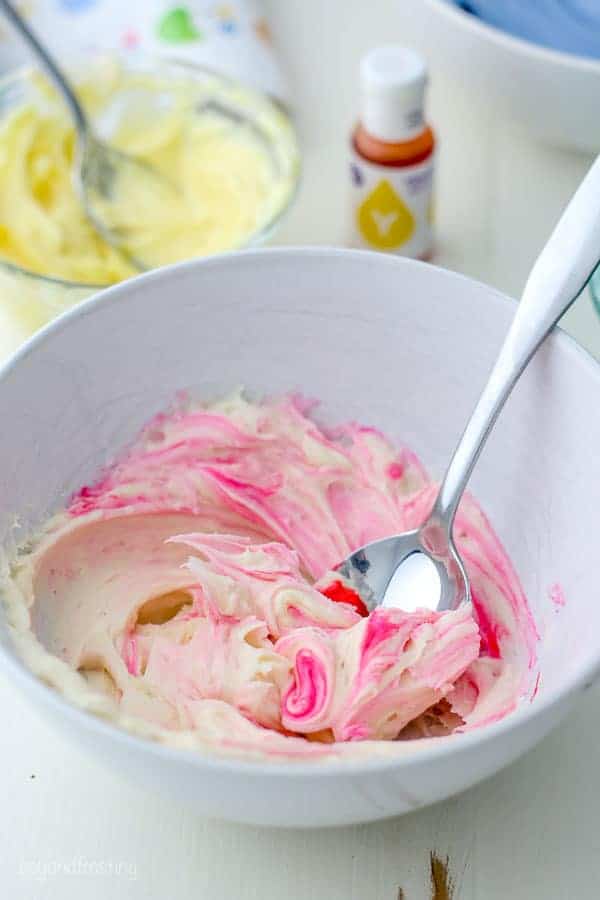 One thing to note about the gel colors is that they are highly concentrated. The recommended amount is based on dying 2 cups of frosting. So, start with tiny drops of frosting, and then add more gel to adjust the colors as needed. You can always go darker, but it's much harder to go lighter.
Fill your piping bags with each of your dyed frostings. For the smaller piping tips, you might consider using couplers, so you can easily change out the piping tips.
Start by piping your roses in an assorted pattern from the bottom edge of your cake, up the sides and over the top.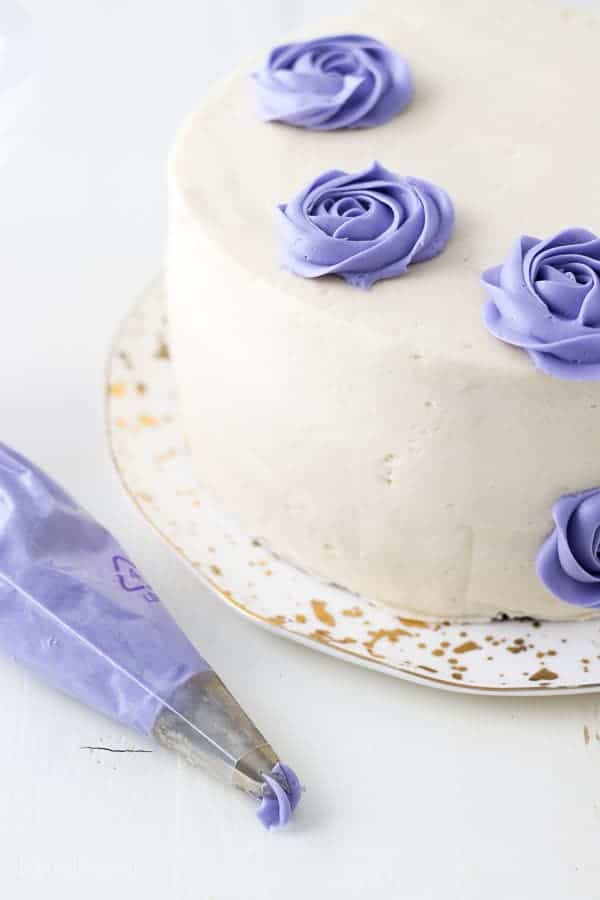 Then, it's time to add the swirls, which I layered in, offset from the roses. I started with the large ones, and then came back in for the smaller ones.
After you have your two main components down, use your filler colors to start piping small rosettes and flowers in between your larger roses and swirls, alternating the colors and positions.
The #21 piping tip is great because you can use it to make small swirls, or simple drop flowers.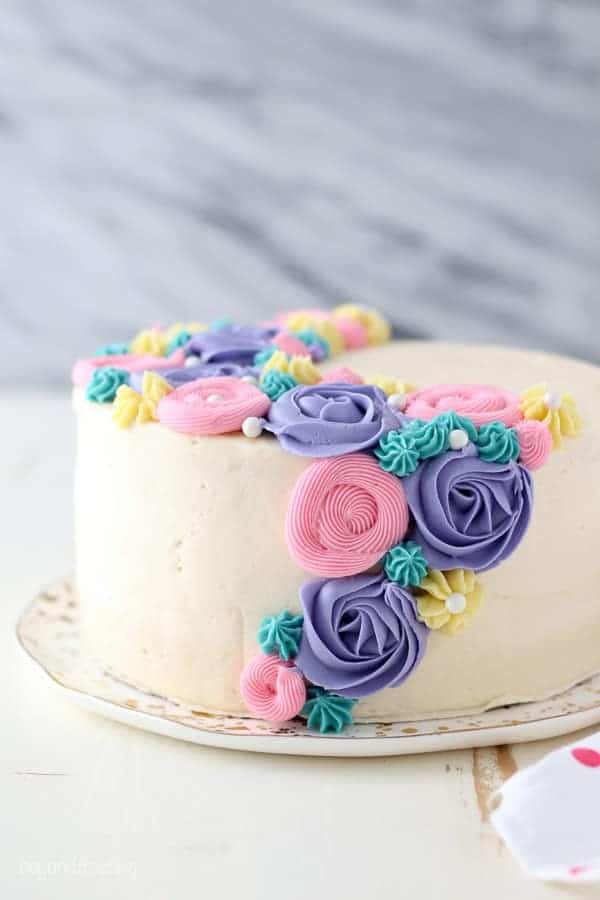 I think it's quite easy to go overboard with the decorating, so use your best judgement and remember that negative space is a good thing! I often like to finish cakes with some sugar pearls or other decorative sprinkles.
If you find yourself nervous to decorate your cake, always try piping a couple roses or flowers on a plate or parchment paper first to get yourself comfortable and remember, practice is the best way to improve!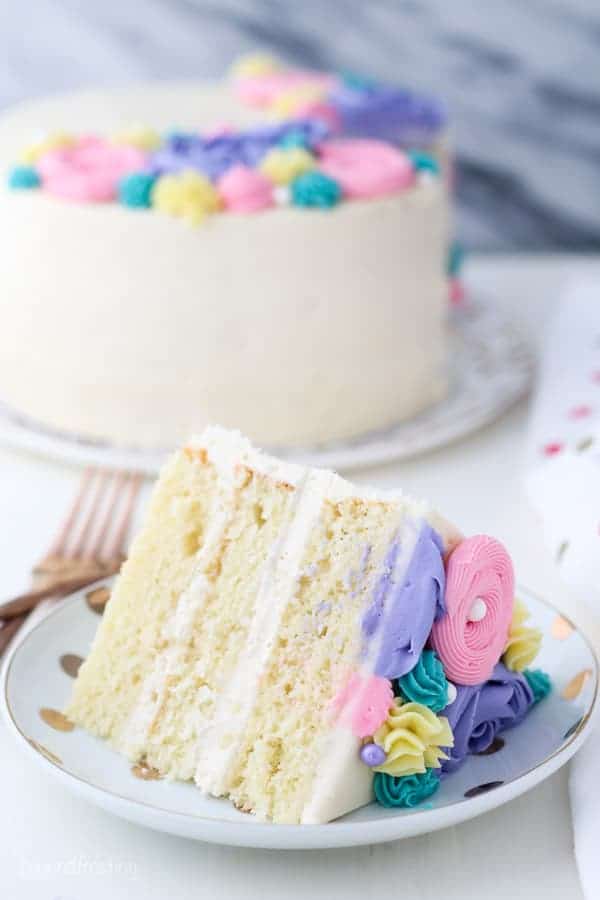 Follow Beyond Frosting:
Facebook | Twitter | Pinterest | Instagram
Print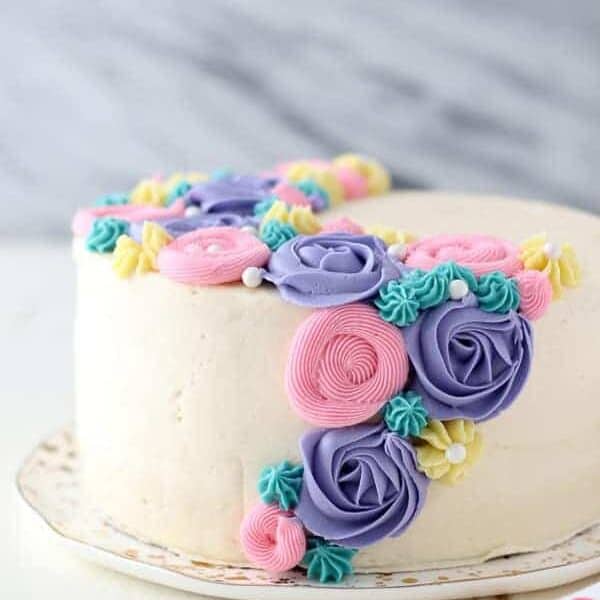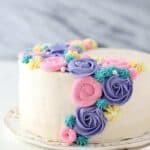 Buttercream Flower Cake
Author:

Prep Time:

90 minutes

Cook Time:

30 minutes

Total Time:

2 hours

Yield:

10-12 slices
Description
This Moist Vanilla Layer Cake is an easy oil-based vanilla cake recipe that is SUPER moist and spongy, you'll know it's a homemade vanilla cake. It's decorated with the perfect vanilla frosting recipe.
Ingredients
For the cake:
2 cups

(

380g

) granulated sugar

½ cup

(

118

ml) vegetable oil

3

large eggs

1 tablespoon

(

14.8

ml) vanilla extract

½ cup

(

118

ml) light sour cream

2 ½ cups

(

350 g

) all-purpose flour

3 teaspoons

(

11.2 g

) baking powder

1 teaspoon

(

5 g

) salt

1 ¼ cups

(

296

ml) milk (I use nonfat)
For the frosting:
2 1/2 cups (565g) unsalted butter, cold

8

–

10

(1041g-1301g) cups powdered sugar

1 tablespoon

(15ml) vanilla extract

2

–

3

(30-45ml) tablespoons heavy whipping cream
Pinch of salt
Instructions
For the cake: Preheat the oven to 350°F. Prepare 3 8-inch round baking pans, line the bottom with parchment paper and grease the sides. Prepare your bake even strips if desired.
In a large mixing bowl, combine the sugar, vegetable oil, eggs and vanilla extract. Beat on medium speed until the eggs and oil are well incorporated and the batter is lighter in color, about 2 minutes. Scrape down the bowl as needed.
Next mix in the sour cream and beat until well combined.
Combine the dry ingredients in a separate bowl. Add half the dry ingredients, beat on low speed while pouring in half of the milk. Mix just until the flour starts to incorporate.
Finally add the remaining dry ingredients, mixing on low speed while pouring in the remaining milk and beating until all of the ingredients are well combined. Use a spatula to scrape down the sides of the bowl and stir the batter from the bottom to the top to ensure it's well mixed.
Divide the batter evenly between the three pan, about 1 2/3 cups of batter per pan. Bake at 350°F for 20-23 minutes. Rotate your pans in the oven halfway through baking.
Test the cake for doneness by inserting a toothpick into the center of the cake. If the toothpick comes out clean, you cake is done. Remove from the oven and allow to cool completely.
For the frosting (suggest to make in 2 batches due to volume): Cut butter into pieces. Using the paddle attachment, whip the butter for 5-7 minutes, scraping down the bowl occasionally. Beat until the butter looks light in color.
Add 3 cups of powdered sugar and mix on low speed until incorporated into butter then add the vanilla extract and mix to combine. Beat for about 60 seconds.
Next, add an additional 2 cups of powdered sugar and beat on low speed until sugar is incorporated. Increase speed to medium-high and beat for 3 minutes.
Add the remaining powdered sugar 1-2 cups at a time alternating with the of heavy whipping cream. Beat on low speed until ingredients start to mix together. Increase speed to medium-high and beat for another 3-5 minutes to whip additional air into the frosting.
To assemble the cake, use a cake leveler to cut the domes off the top of the cake. Place a dollop of frosting on your cake board and place the bottom layer of cake on top of that.
Place about 2 cups of frosting in a large piping bag fitted with a large open round tip, or simply cut off the end of the piping bag. Pipe a layer of frosting on top of the cake, starting at the outside edge and working your way into the middle. Spread evenly with an offset spatula. Repeat with the second layer of cake and then place your third layer on top.
Use your piping bag to fill in any gaps between your layers and to create a crumb coat. Using an angled spatula or icing smoother, wipe away the excess frosting, leaving you just enough to coat the outside of the cake. Do not mix your crumb coating frosting back into your icing if it has cake debris in it.
Proceed to frost the top and sides of the cake using your angled spatula or a large piping bag fitted with a large cake icer tip. Once the sides of the cake are covered, use you icing smoother to remove any excess frosting.
Notes
For tips and tricks no how to decorate this cake, please refer to blog post
For the roses (see in purple), we're using a Wilton 1M piping tip.
For the large swirls, I used a Wilton #199 piping tip (see in pink)
For the smaller flowers, I used a #21 piping tip (teal)
Finally, #2F drop flower piping tip (yellow)
Be sure to check out all the tips and tricks I've shared in my how to make buttercream post which is detailed with all my success tips for the perfect buttercream frosting every time.
Decide which two color are going to be your primary colors- these will be the color of your rose and the large swirls. You'll want about 1 cup of each color. Then for your two accent colors, you'll need about ½ cup of frosting each.
I recommend using the gels from Wilton Color Right system to tint the frosting.
Category:

Cake

Method:

Baked

Cuisine:

American
Keywords: cake decorating, buttercream flowers, vanilla cake, moist vanilla cake
You might also like:
Tips for decorating with buttercream frosting