This post may contain affiliate sales links. Please see my full disclosure policy for details
This is the easiest Lemon Bundt Cake you'll ever make and it's absolutely amazing. Perfect for dessert or even breakfast. It's covered with a lemon zested glaze. This Lemon Bundt Cake starts with a cake mix and you'd never even know it.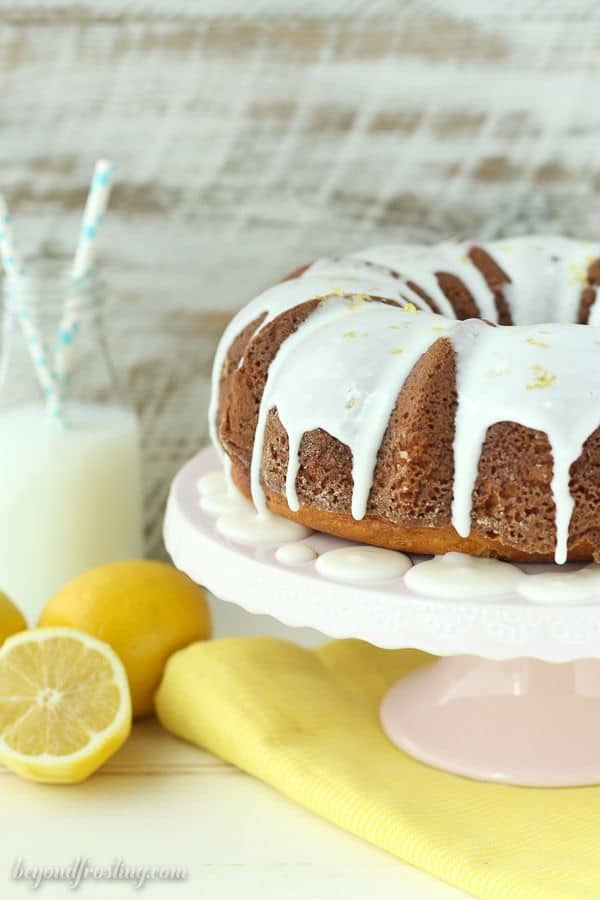 I can't believe it's been a week since we left California. My amazing fiancé spent the whole week putting the house together, organizing and unpacking boxes and setting up furniture. He saved me massive amounts of stress and even made dinner every night too. Oh did I mention he also made a batch of cupcakes from scratch? What did I do to be so lucky?! In return, I made him a batch of chewy chocolate chips cookies.
A couple of months ago, I made a Lemon Oreo Cheesecake Bundt Cake that was undeniably amazing. It was dense and perfectly moist, practically begging you to take another bite. So I thought that I would make a more basic lemon bundt cake for your everyday needs.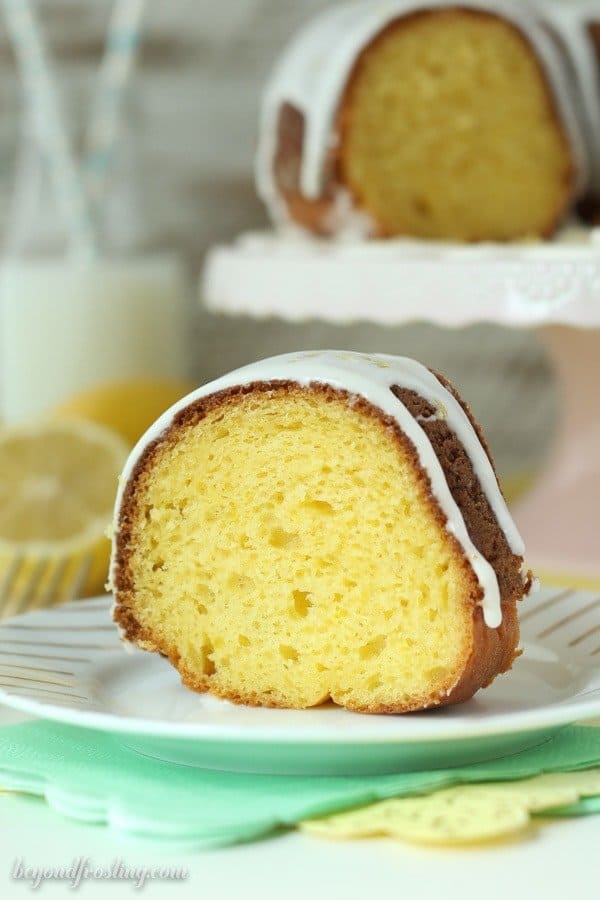 I first replicated the original recipe, but without the Oreo cheesecake filling: the cake was too dense and it shrank significantly when cooling. So I made some alterations, which included the addition of egg whites, and reducing the sour cream.
My final Easy Lemon Bundt Cake is not quite as dense as the original version, but it is a little bit lighter, making it ideal for brunch or dare I say, breakfast? If you don't believe me, then maybe you should try my lemon blueberry bundt cake instead.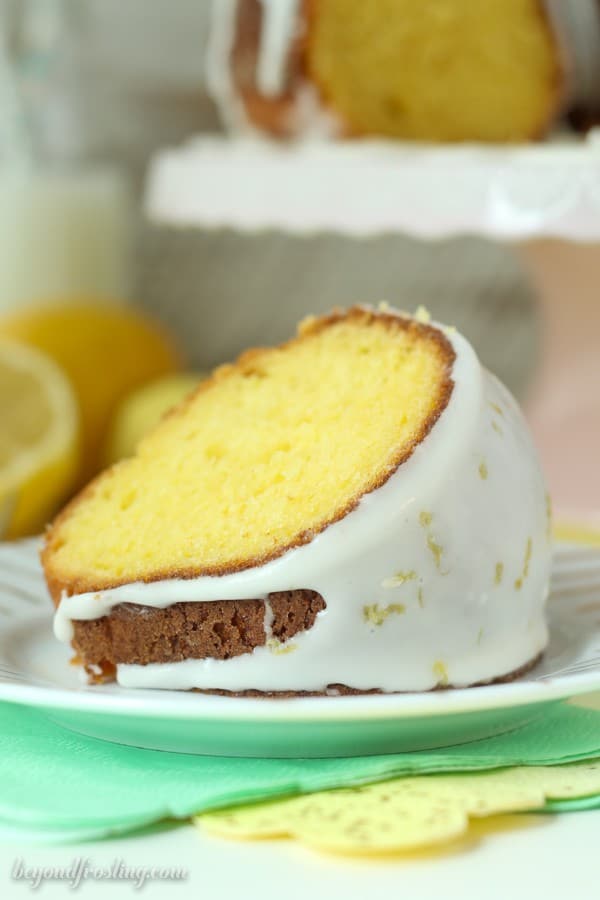 You might be asking yourself what make this cake so easy? Well, it starts with a cake mix. Even though the cake mix I used already had pudding in the mix, I decided to add another packet of lemon pudding mix.
I've also added a few basic ingredients to alter the original box mix including sour cream to add moisture, baking powder for rise, and lemon zest so it really packs a punch and a touch of vanilla extract to balance it all out.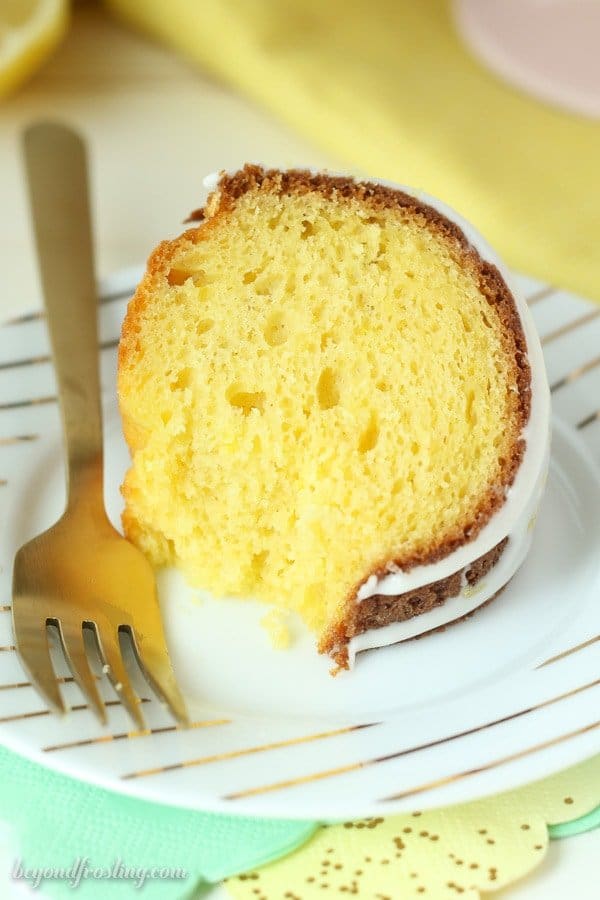 For this cake, I added a lemon infused vanilla glaze. This is very reminiscent of a cake from a bakery I worked at in high school. Their famous Lemon LuLu cake practically had wings because it flew off the shelf so fast.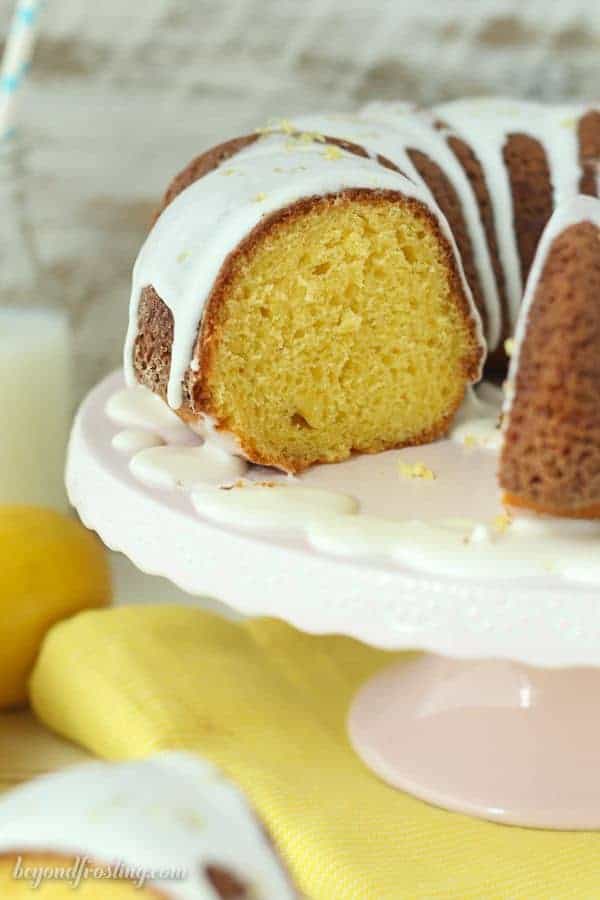 I definitely found myself sneaking bites of this cake after my photo shoot. Each time my, "just one more bite" was never enough.
This cake would pair perfectly with a scoop of vanilla ice cream or even some whipped cream and fresh berries. This recipe first appeared on Food Fanatic.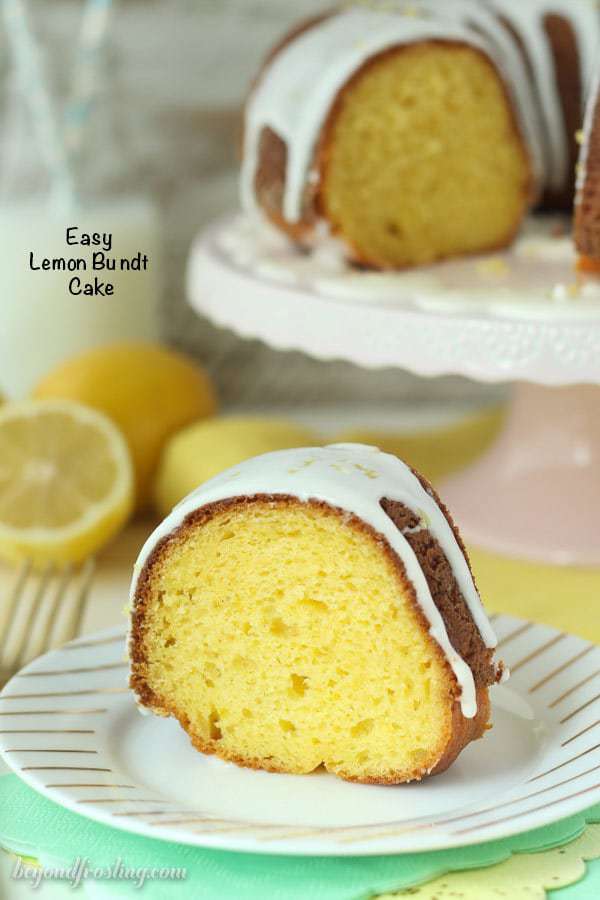 Follow Beyond Frosting:
Facebook | Twitter | Pinterest | Instagram
If you love no-bake recipes, be sure to check out my cookbook, No-Bake Treats!
You might also like: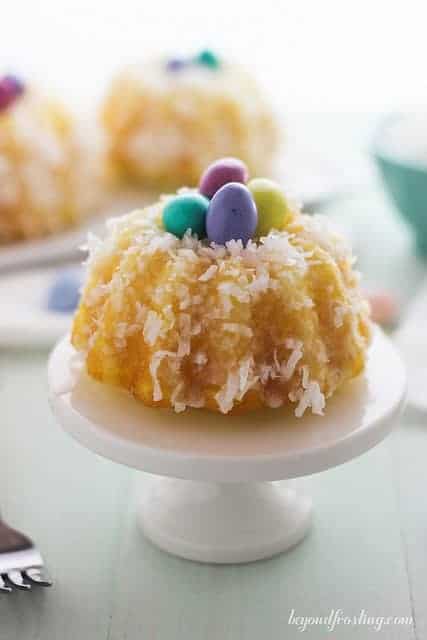 Lemon Oreo Cheesecake Bundt