This post may contain affiliate sales links. Please see my full disclosure policy for details
These homemade Meyer Lemon Pudding tarts are a little bit sweet and a little bit tart. It's a homemade Meyer lemon pudding with a buttery oatmeal cookie crust.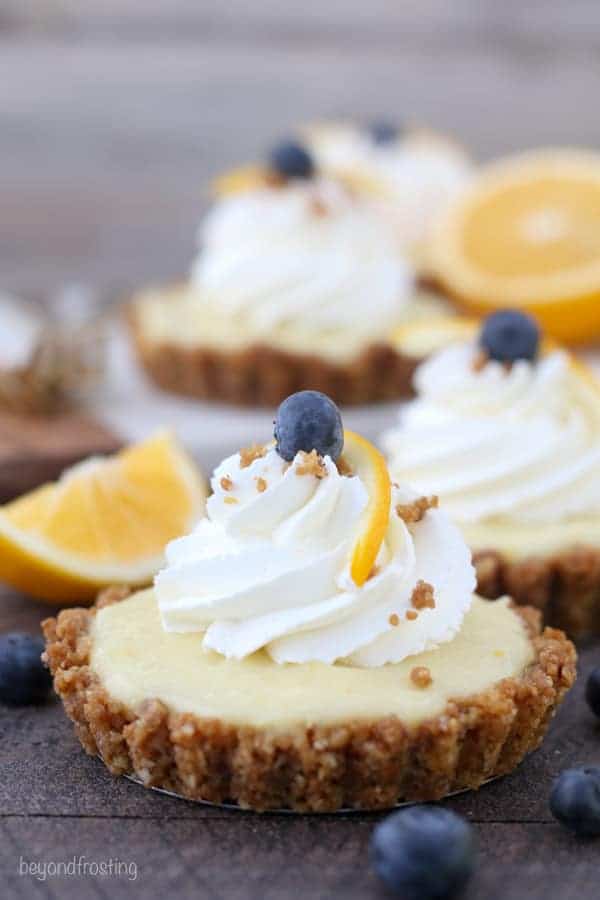 Guys, we're back! I know I've been a little MIA, I ran out of time to prepare some posts for you while I took off time for our wedding. I can't wait to share more details of the day with you, it was absolutely magical.
We decided not to go on our honeymoon until early next year because we're planning a snowboard trip. Instead we opted to stay a few extra days after the wedding and snowboard at Mt. Bachelor with about a dozen of our friends who also decided to stay. We had a blast bringing together our different groups of friends to tear up the mountain.
I can't believe it's already April, and we had a teaser of warm weather over the weekend. Seemed like the perfect time to share these Meyer Lemon Pudding Tarts. It's a homemade Meyer lemon pudding with a buttery oatmeal cookie crust.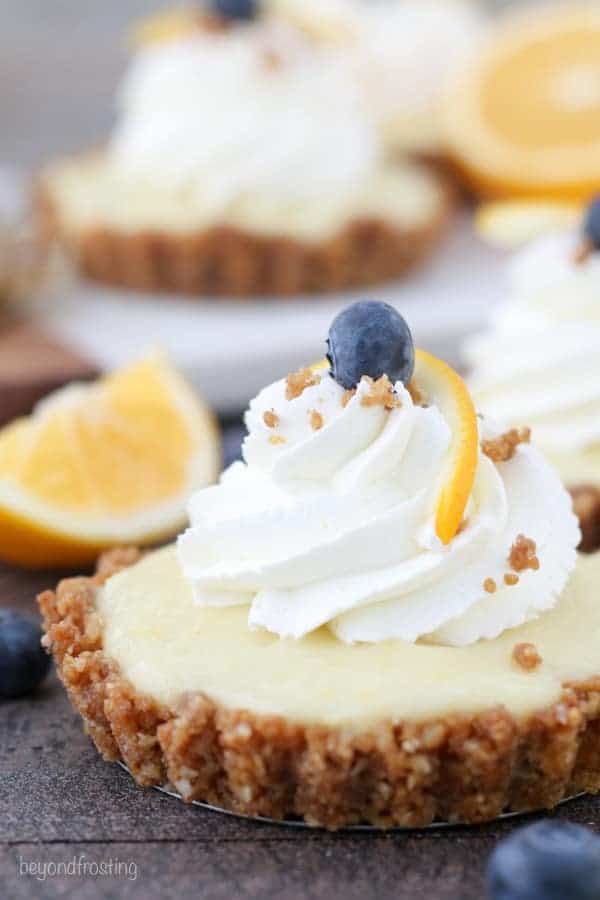 I haven't used Meyer lemon in very many recipes, the first time I tried it was actually in a pasta recipe, but it was so dang good, I've been wanting to make desserts with Meyer lemons for quite some time.
This homemade pudding is quite easy and it's a base recipe that I used for my cookbook. I have to tell you that homemade pudding is a lot easier than you might think. At first it intimated me, the whole tempering the egg things, but it really is super easy!
I always recommend getting all your ingredients ready before you start. That way you can focus on moving quickly through each step when the time comes.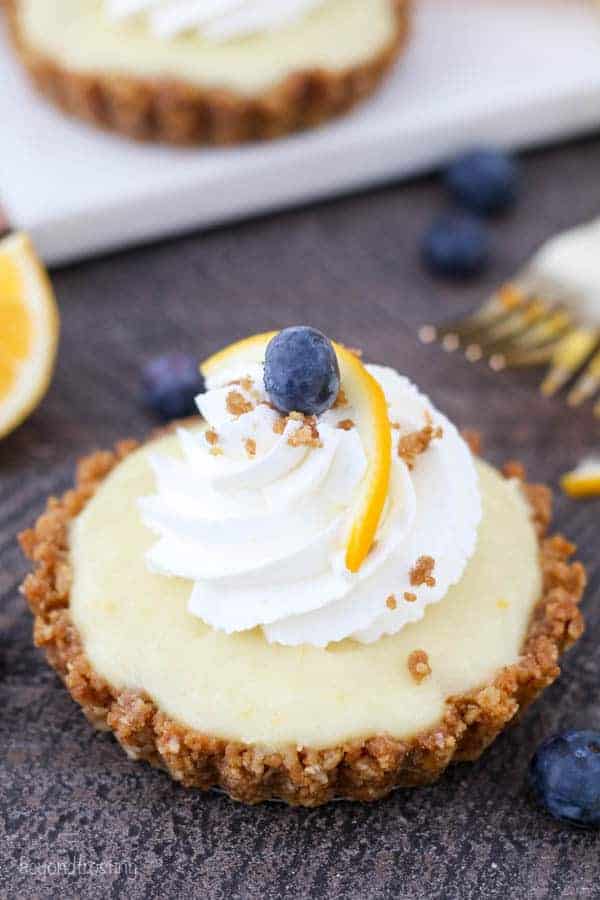 The flour and granulated sugar are dissolved in a combination of milk and sweetened condensed milk. The sweetened condensed milk helps cuts any tartness from the lemons, although Meyer lemons are much sweeter than regular lemons.
One the liquid is warm but not boiling, you will pour some of the liquid into the egg yolks and whisk to temper them. Then you pour the eggs into the milk mixture and continue whisking until the eggs are dissolved.
Once the pudding starts to bubble, it will thicken quickly.
I always strain the pudding at least twice through a fine sieve to eliminate any clumps of dry ingredients that did not get dissolved. Then I put the pudding in a bowl with piece of saran wrap directly on the surface of the pudding to prevent any skin from forming.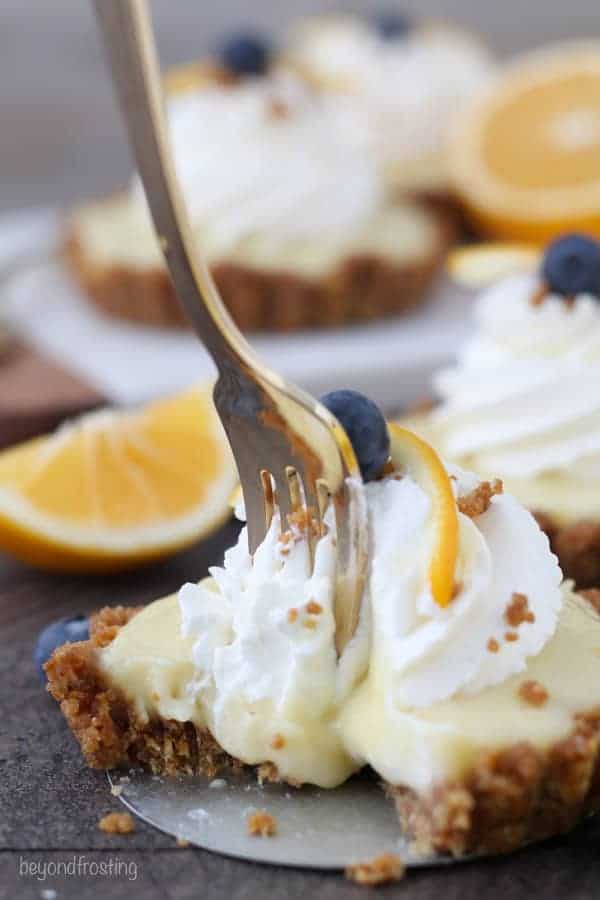 I like to allow the pudding to cool before I put it into the tart crusts, so it doesn't melt the butter.
I used 4 ½ inch tart pans for these pudding tarts. Mini tart pans come in various sizes, but I think this one is the best size for a single serving.
The crusts are made with oatmeal cookies, I used Mother's brand. You could certainly use Oreos (Golden or Lemon) or even graham crackers for the crust, but I actually loved the buttery and subtly sweet oatmeal cookies.
Finally, you can finish these off with a little bit of whipped cream or berries.
These Meyer Lemon Pudding Tarts would be perfect for brunch or a small dinner party. Make sure you stock up on meyer lemons while they're in season!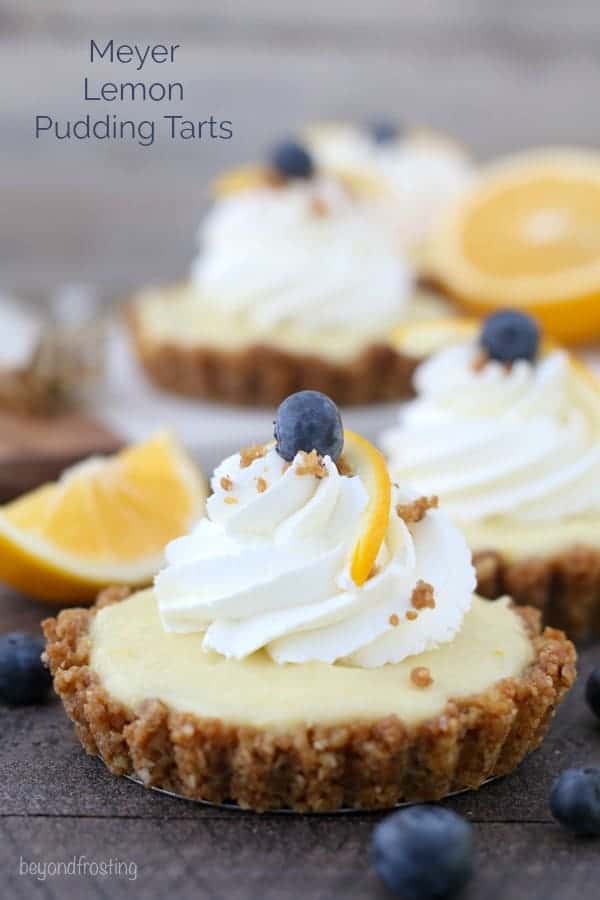 Follow Beyond Frosting:
Facebook | Twitter | Pinterest | Instagram
If you love no-bake recipes, be sure to check out my cookbook, No-Bake Treats!
Print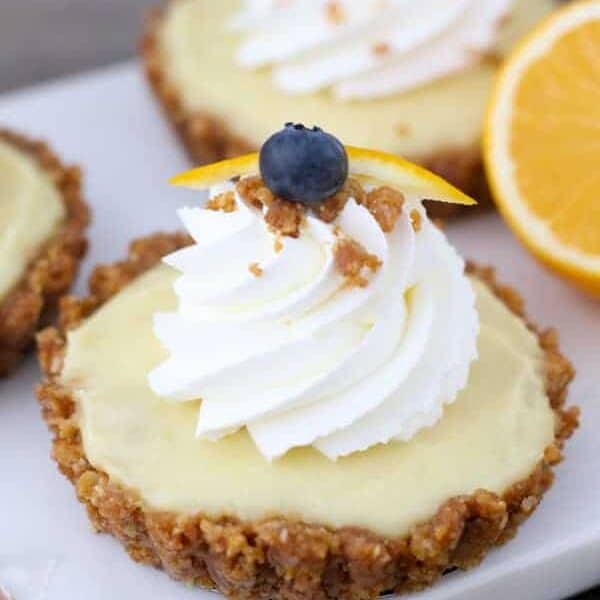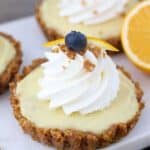 Meyer Lemon Pudding Tarts
Author:

Prep Time:

2 hours

Cook Time:

10 min

Total Time:

2 hours 10 minutes

Yield:

6 mini tarts
Description
These homemade Meyer Lemon Pudding tarts are a little bit sweet and a little bit tart. It's a homemade Meyer lemon pudding with a buttery oatmeal cookie crust.
Ingredients
For the pudding:
2

large eggs yolks, slightly beaten

3 tablespoons

all-purpose flour, sifted

1/3 cup

granulated sugar
Dash of salt

1 cup

milk (I used nonfat)

½ cup

sweetened condensed milk

2 tablespoons

Meyer lemons juice (about

2

lemons)
Zest of

1

Meyer lemon
For the crust:
1

pkg (12.5oz) Mother's Oatmeal Cookies (not iced)

8 tablespoons

unsalted butter
For the topping:
¾ cups

heavy whipping cream
tablespoons powdered sugar
Berries (optional)
Instructions
For the pudding: Measure out all of the ingredients for the pudding prior to starting. Place the egg yolks in a separate bowl and whisk lightly.
In a medium-size saucepan, combine the milk, sweetened condensed milk and Meyer lemon juice. Heat over medium-low heat, whisking to combine.
Add the granulated sugar, flour and salt. Whisk continually to dissolve the dry ingredients.
Once the mixture is warm but not hot, pour about ¼ cup of the milk into the eggs and whisk vigorously. You will need to work quickly to prevent the eggs from becoming scrambled.
Immediately pour the egg yolks back into the pan and whisk constantly until the pudding starts to thicken and lightly bubble.
Remove the pudding from the heat and immediately strain the pudding through a fine sieve. Repeat one more time and pour the pudding into a medium-sized bowl.
Immediately cover the top of the pudding with clear plastic wrap (directly on the surface of the pudding) and poke a few holes with a toothpick.
Allow it to cool on the counter for at least 1 hour or until cooled to the touch. Prepare the crusts next and then you can fill the tart pans.
For the crust: Grind the cookies into a fine crumb using a food processor or blender.
In a small bowl, melt the butter in the microwave for 30 to 45 seconds. Pour the melted butter over the cookie crumbs and stir until the crumbs are well coated.
Divide the cookie crumbs evenly between the 4 ½ inch tart pans. Press the crumbs into the tart pans.
Pour the cooled pudding into each tart pan and cover the surface of the pudding with saran wrap. Refrigerate 3-4 hours until the pudding is set.
For the topping: Chill a mixing bowl in the freezer for 10 minutes. Pour the heavy whipping cream into the chilled bowl. Use an electric mixer to beat the heavy cream on medium-high speed until the cream starts to thicken. Slowly add the powdered sugar and continue beating on high speed until stiff peaks form. Use a large open star tip to pipe the whipped cream onto each tart.
Notes
This recipe makes 6 mini (4.5 inch) tarts or 1 large 9-inch tart. Prep time includes cooling time. Cook time is estimated for cooking the pudding.
You might also like: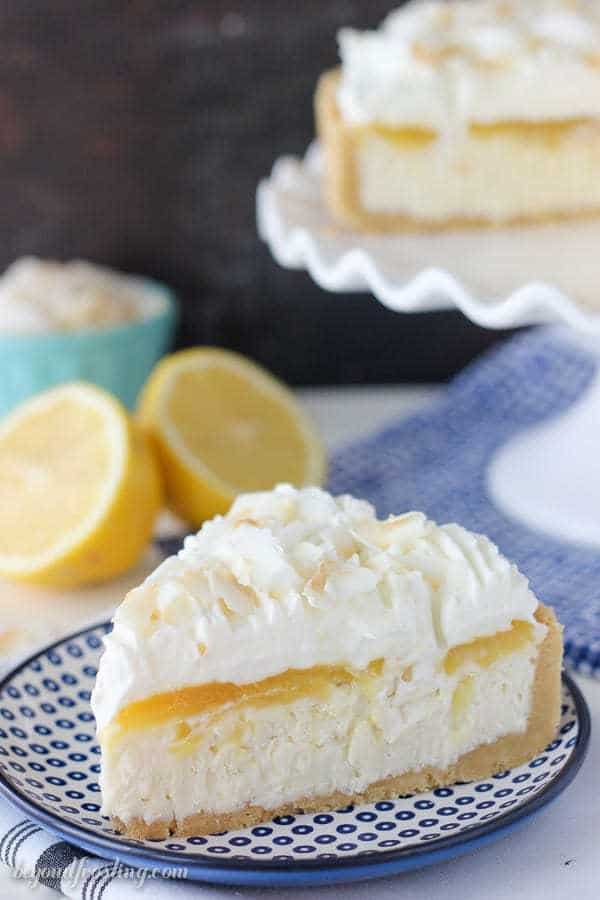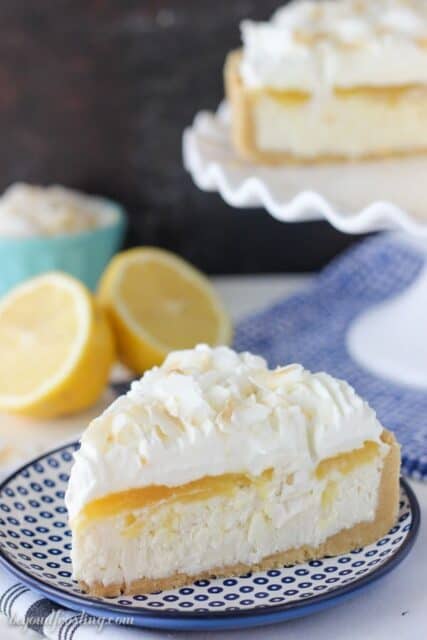 Meyer Lemon Cupcakes with Coconut Buttercream