This post may contain affiliate sales links. Please see my full disclosure policy for details
Homemade Strawberry Whipped Cream is bursting with real strawberry flavor. It's the perfect topping for pancakes or ice cream, but the addition of mascarpone cheese also makes this the perfect consistency for frosting cupcakes or a cake.
Do you love homemade whipped cream? Try my classic recipe or add a little cocoa powder for a chocolate whipped cream.
I don't mean to knock store-brought whipped cream, but if you haven't tried a homemade version, I recommend you do so ASAP. It's much easier than you would imagine, and the flavor possibilities are endless!
This time I am serving up the most incredible Strawberry Whipped Cream flavored with freeze-dried strawberries and a secret ingredient, mascarpone cheese. The mascarpone cheese adds incredible (but mild) flavor and texture.
What does Strawberry Whipped Cream taste like?
Simply put, it's amazing. The whipped cream is a little sweet with a touch of tartness. This recipe starts with a mascarpone whipped cream base but with freeze-dried strawberries added to it. The freeze-dried berries provide the best flavor that you just can't get when using fresh strawberries or with an extract.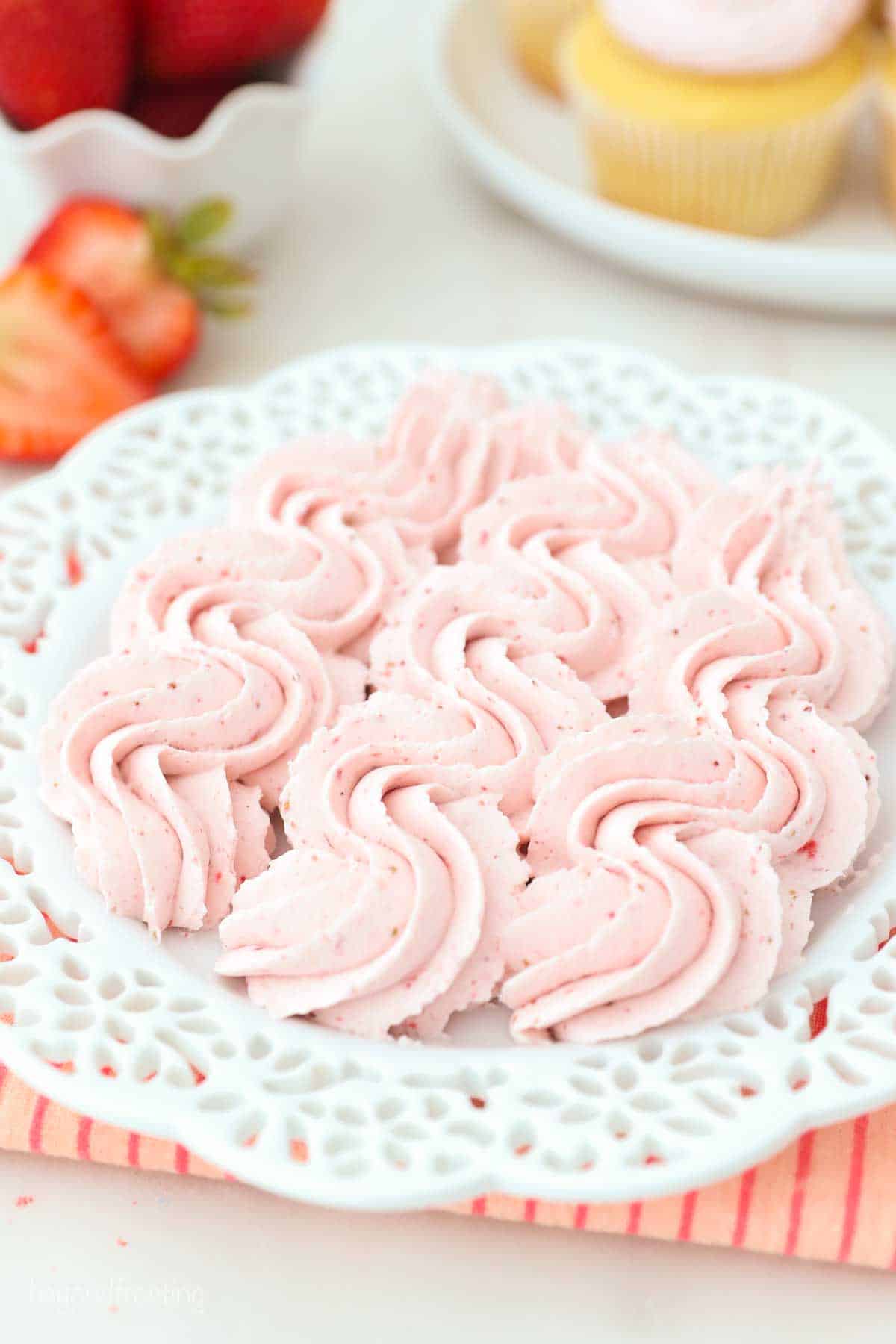 Ingredients needed:
Freeze-dried strawberries– I love the Trader Joes ones, you can also find these at Target and grocery stores as well
Heavy whipping cream
Mascarpone cheese- you can also substitute cream cheese instead
Powdered sugar
Vanilla extract
Can I make this without mascarpone?
Yes, to make this without mascarpone. The texture will be lighter, similar to a traditional whipped cream. It won't be quite as stable for frosting cupcakes or a cake. You can also make this with cream cheese, which has a tangier flavor than mascarpone. It's a 1:1 substitution.
What else can I use besides freeze-dried strawberries?
If you can't find them, I would recommend using 2-3 tablespoons of instant strawberry Jell-o. The strawberry Jell-o will make a much thicker mousse-like texture. You may also want to reduce the powdered sugar by 1-2 tablespoons, as the jello is sweeter than freeze-dried berries.
How to make Strawberry Whipped Cream
Start with cold utensils: Put your mixing bowl and whisks in the freezer for a few minutes to chill. This helps keeps the ingredients cold which is a crucial step.
Blend the strawberries: Use a food processor to grind the freeze-dried strawberries into a powder.
Combine the mascarpone with the heavy cream: Start slowly adding the heavy cream to the mascarpone so it reaches a liquid consistency before adding all the heavy cream. This helps to prevent lumps in the whipped cream.
Beat until soft peaks form: Once all the cream has been added, beat it a high speed until it reaches soft peaks. Meaning that when you run a spatula through it, the whipped cream has a shape but still might fall over on itself.
Add the powdered ingredients: Next add the powdered sugar and freeze-dried strawberry powder. Beat at a low speed until incorporated them increase to a high speed and beat until stiff peaks form. Then enjoy!
Ways to use Strawberry Whipped Cream
Pancakes or waffles: Liven up breakfast with a fresh whipped cream topping
Ice Cream Sundaes! Put it on top of some ice cream for a refreshing summer treat.
As a frosting: This recipe is thicker like a mousse, so it's stable enough to pipe for cupcakes or use as a frosting for cake
Pies or Crisps: Serve this with a slice of pie instead of a classic whipped cream
Icebox Cakes: Do you have a no-bake recipe that calls for whipped cream? Try using this strawberry variation instead.
Can I make this recipe ahead of time?
I don't recommend making whipped cream in advance. It's really best when used right away. It can be stored in the refrigerator for up to an hour, but I find that the longer it sits in a bowl, the weaker it becomes.
If you're using this as a frosting, use it right away and it will keep fresh and hold it's shape just fine. Be sure to store your desserts in the refrigerator.
More whipped cream recipes to try
Print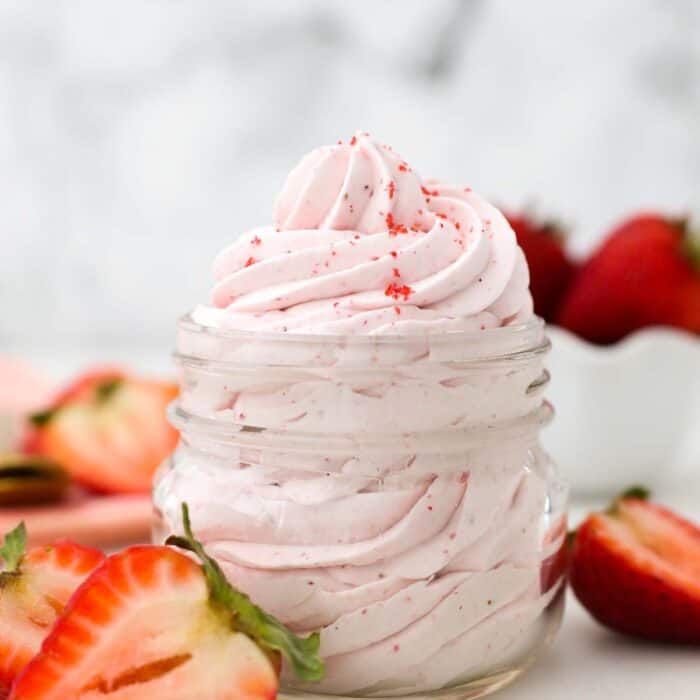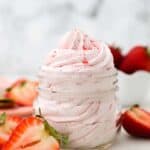 Strawberry Whipped Cream
Author:

Prep Time:

10 minutes

Cook Time:

0 minutes

Total Time:

10 minutes

Yield:

2 1/4 cups
Description
Easy Strawberry Whipped Cream is only 5 ingredients and takes 10 minutes to prepare. Use it for cupcakes, pancakes or ice cream.
Ingredients
3/4 cup

freeze-dried strawberry (

1/4 cup

powder)

4 ounces

(

113g

) mascarpone cheese, cold

1 1/4 cups

(295ml) heavy whipping cream, cold

½ teaspoons

pure vanilla extract

1/2 cup

(

65g

) powdered sugar
Instructions
Pulse the freeze-dried strawberries to a food processor and grind into a powder.
Place your mixing bowl in the freezer or refrigerator for 5-10 minutes before starting.
Spoon the mascarpone cream into your bowl and beat on a medium-low speed (speed 3 on your stand mixer). Slowly pour in the heavy cream, allowing the mascarpone cheese to turn to a liquid consistency.
Once all the cream has been added, increase the mixing speed to high (speed 8-10) and beat it until soft peaks form.
Add the powdered strawberries, powdered sugar and vanilla extract and beat until stiff peaks form. Use immediately.
Category:

Frosting

Method:

Mixer

Cuisine:

American
Keywords: Strawberry Frosting, Whipped cream frosting