These No-Bake Mini Apple Pie Cheesecake Jars are the perfect fall treat. Layers of buttery graham cracker crust, a no-bake brown sugar cheesecake, salted caramel sauce, stovetop apple pie filling and a cinnamon maple whipped cream on top. There's so many layer, you won't be able to fit them all in on one bite.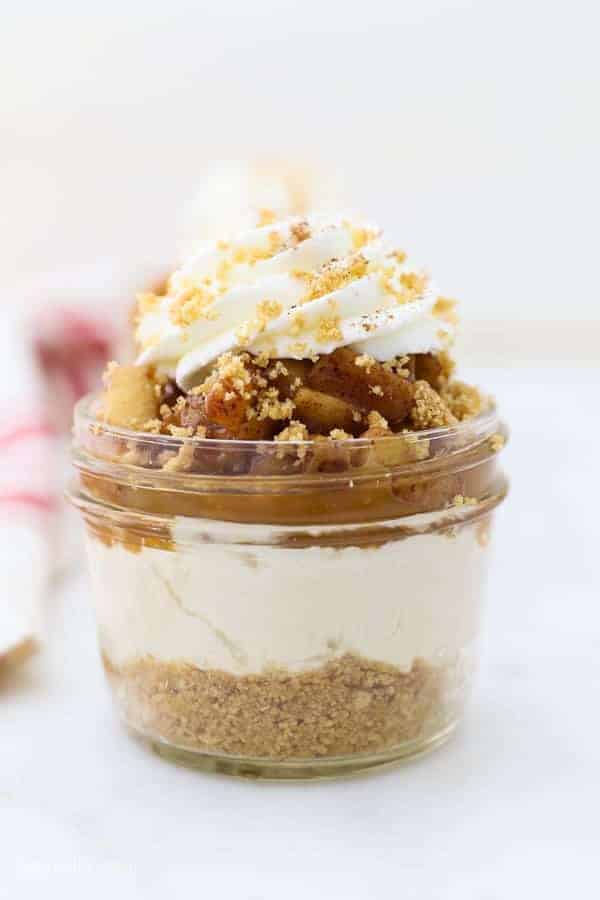 I am a firm believer that we don't have to wait until fall to enjoy apple pie or apple pie desserts. Especially if your dessert is no-bake!
Spiced cinnamon, maple syrup and freshly picked apples are just a few of my favorite things for fall.
Today we're pulling it all together for this No-Bake Mini Apple Pie Cheesecake Jars. Look at those mouthwatering layers. The graham cracker crust and brown sugar cheesecake is topped with a to-die-for stovetop apple pie filling and a cinnamon maple whipped cream.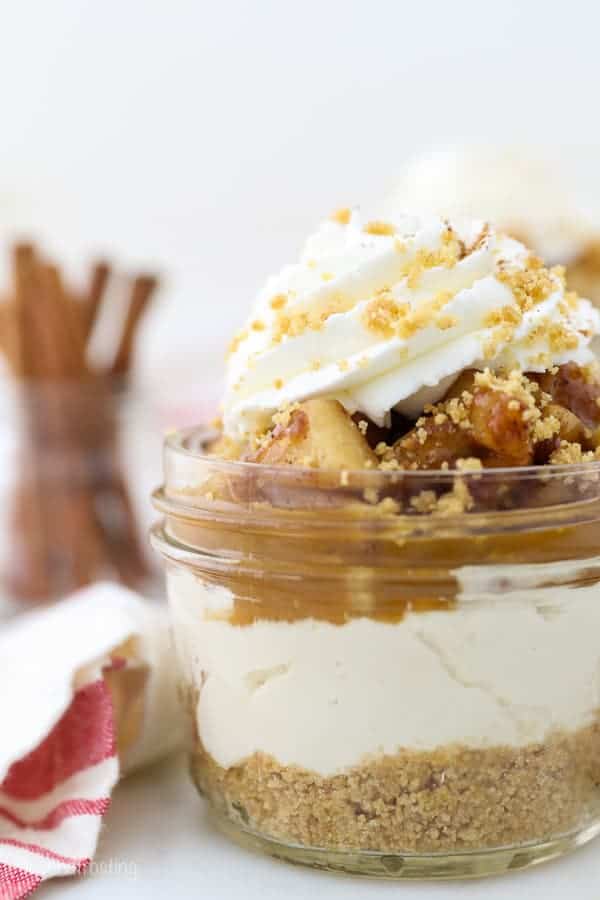 Every cheesecake needs a crust, even if it's in a jar. Simply mix together a little melted butter and graham cracker crumbs and then press it into the bottom of the jars. Any leftovers can be used to sprinkle on top.
Next comes the creamy no-bake cheesecake filling which is made with brown sugar, a touch of vanilla and whipped cream. It's not overly sweet and perfectly fluffy. Plus, it's super easy to whip together!
First, I make the whipped cream, and then I beat together the brown sugar, vanilla and cream cheese. Once it's well mixed, fold in the whipped cream. Easy peasy. I recommend making a homemade whipped cream, but if you need a time saver, you can use Cool Whip.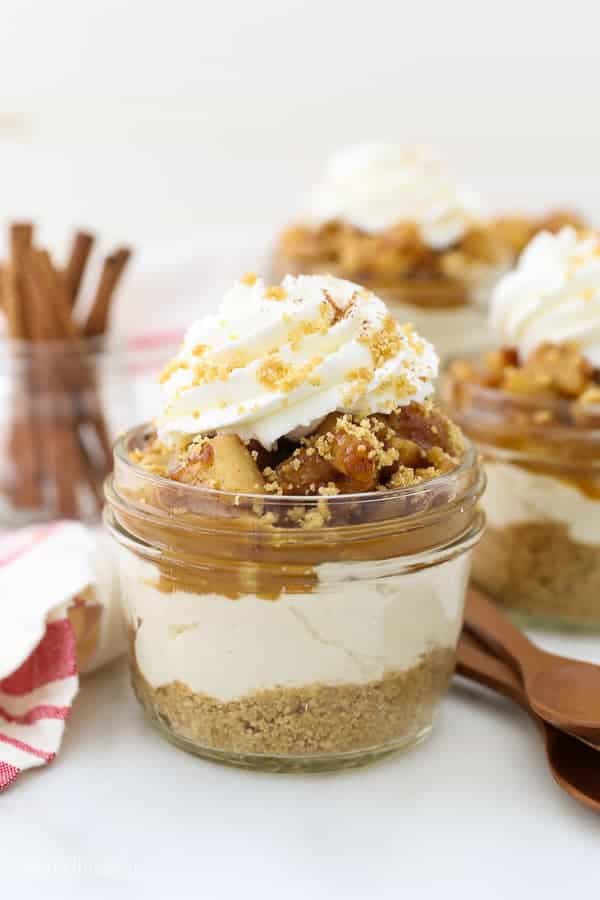 No-bake cheesecake desserts are a favorite of mine. There're so many ways you can make these, and so many flavor combinations. Plus, they're way easier than baking a cheesecake.
Next is a layer of salted caramel followed by my easy apple pie filling and topped with cinnamon maple whipped cream. If you're never had cinnamon maple whipped cream, you're in for a real treat.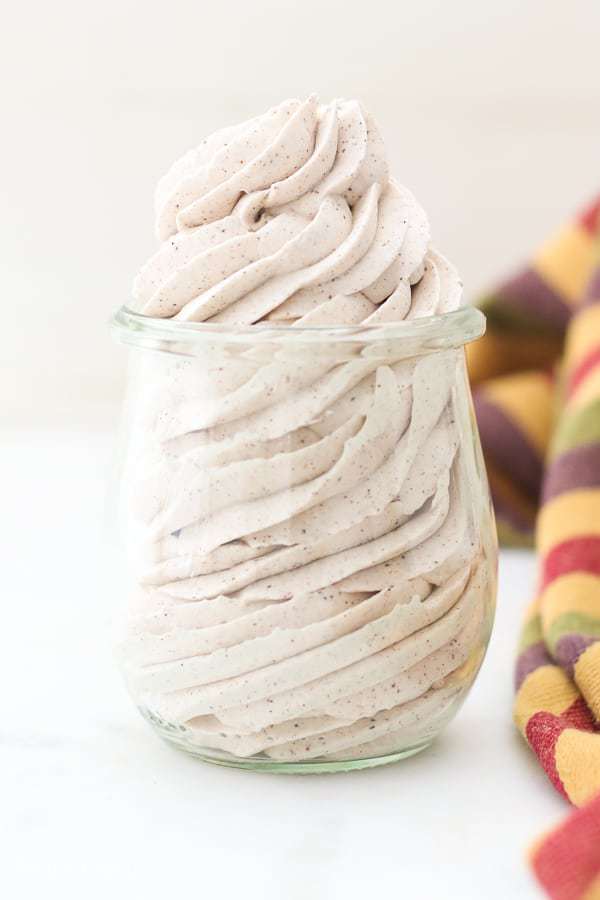 It's a homemade whipped cream with a hint of maple and a sprinkle of cinnamon. If you're looking to up your whipped cream game, start here.
The apple pie filling is out of the world. It's super simple to make on your stovetop, and I have lots of tips I shared on that post in case you're interested.
I've used this pie filling to fill cookies & cupcakes, breakfast recipes and even for ice cream. It's so versatile!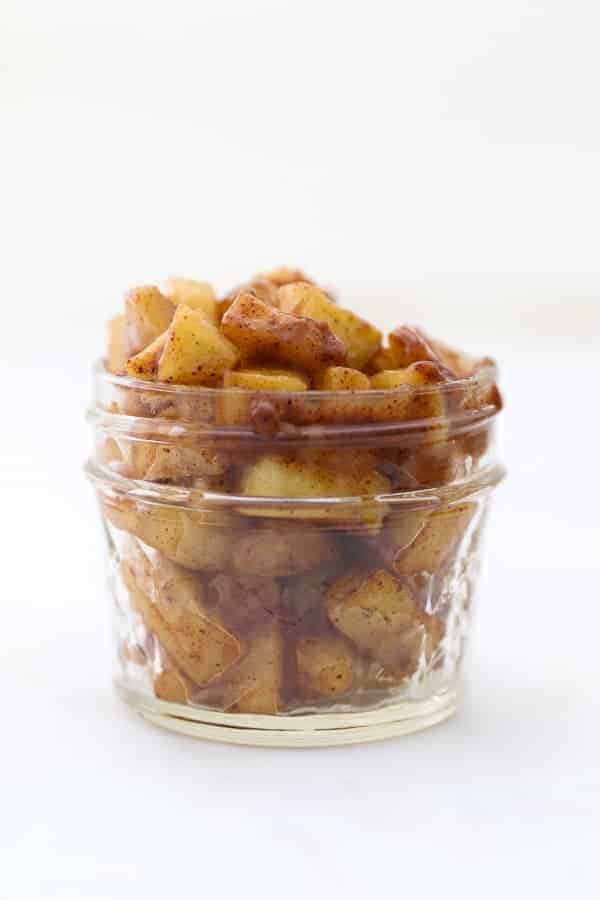 Seriously. Can you even handle how good these cheesecake jars are? So many of my favorite things in one dessert, I am not sure I can decide which layer is my favorite.
I made the individual cheesecake jars which are perfect for dinner parties and dessert tables to add a little personal touch.
Any jar or glasses will work, but I prefer ones with lids because this is definitely a make-ahead-of-time type of dessert, which can be really handy if you're prepping for a party. The ones you see here are 8 ounce, wide mouth jars which are easier to fill.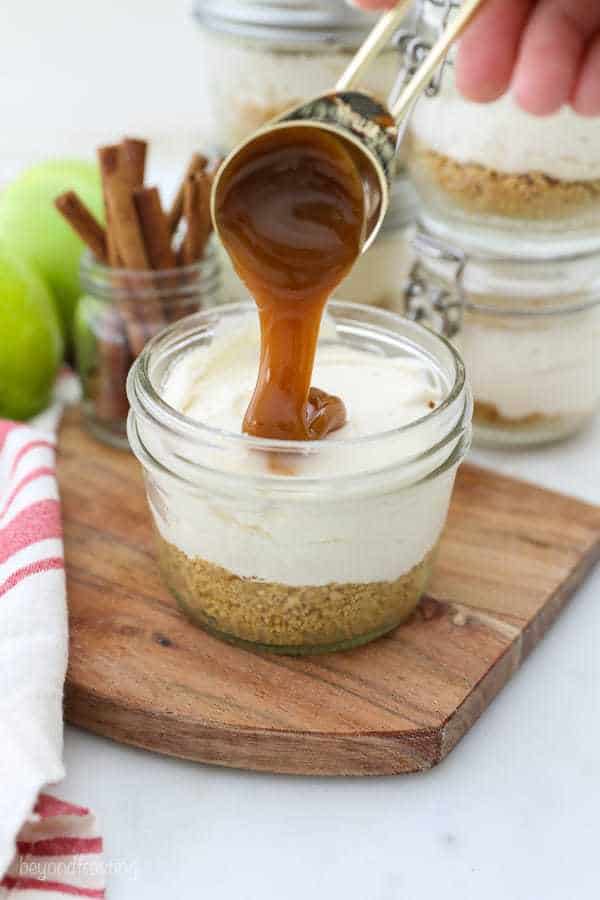 If you're preparing these ahead of time, every layer except the whipped cream can be done ahead and keep refrigerated. I find it's best to make the whipped cream prior to serving for the best result.
I hope you enjoy these No-Bake Mini Apple Pie Cheesecake Jars.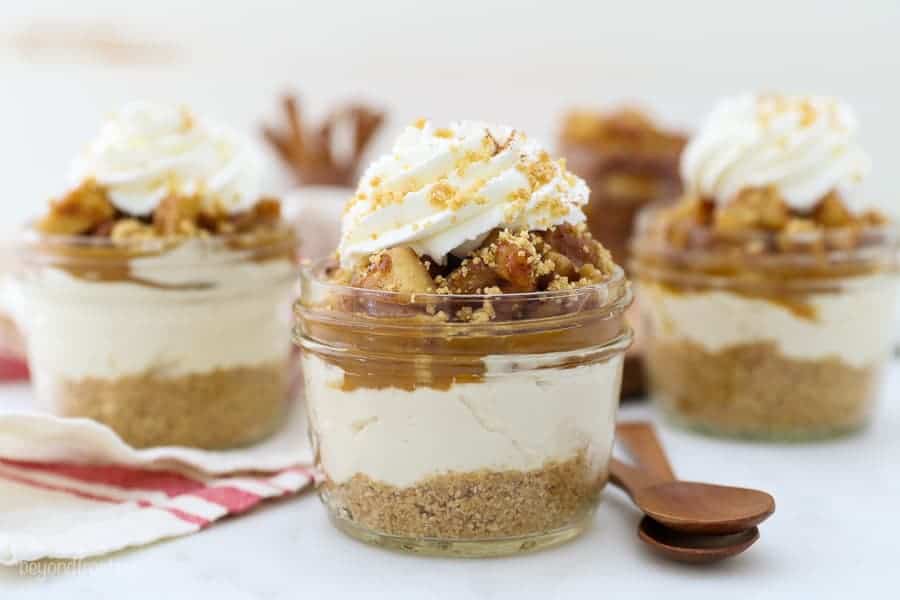 Follow Beyond Frosting:
Facebook | Twitter | Pinterest | Instagram
You might also like: