This post may contain affiliate sales links. Please see my full disclosure policy for details
No need to turn on the oven for this No-Bake Mocha Fudge Pie recipe. The Oreo crust is filled with a coffee infused mousse with ribbons of hot fudge sauce.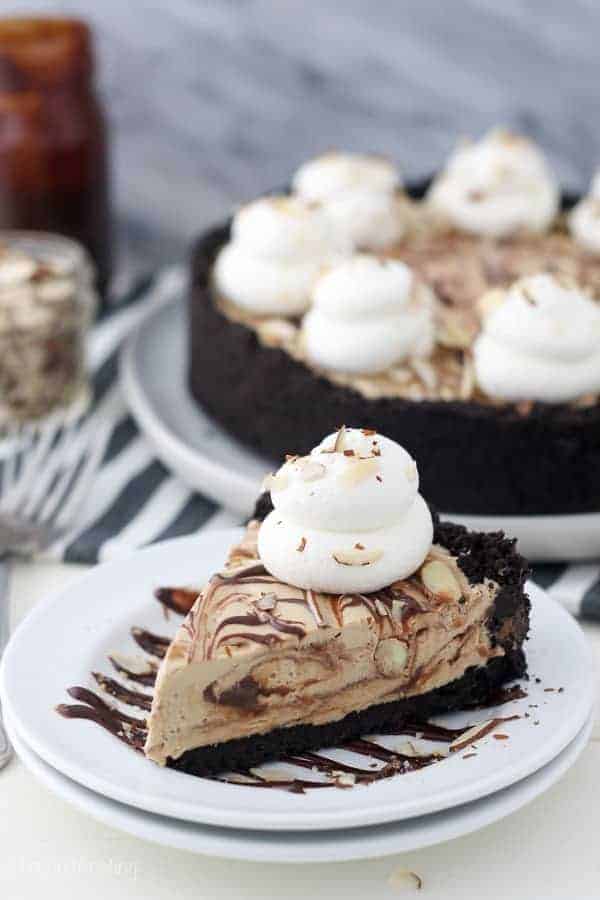 When the inspiration for a dessert hits, I generally jump off the couch to get to work. Despite my laundry list of ideas, sometimes it's difficult to motivate myself to get started, until I see something I just can't wait to make.
I saw a photo of an Almond Mocha Mousse Cake over the weekend and I knew this would make the most glorious no-bake dessert. So at 8pm, I got off the couch and went straight to the kitchen.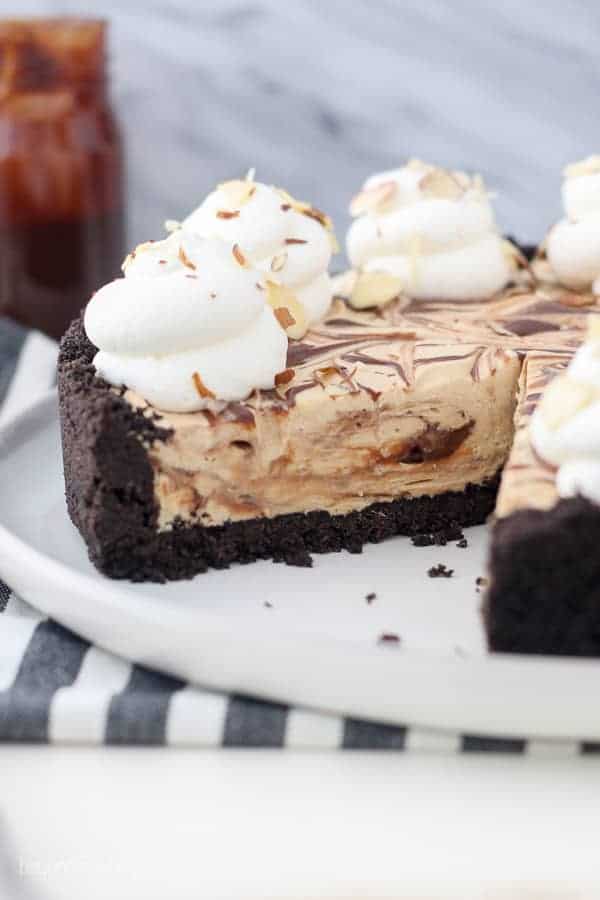 The combination of the Oreo cookie crust, the light and fluffy mocha mousse filling and ribbons of sweet hot fudge make this No-Bake Mocha Fudge Pie worthy of a second helping.
These types of no-bake pies are quite popular at my house. My favorite versions have a mousse filling made with some combination of cream cheese, chocolate and whipped cream. I have flavors such as dulce de leche, key lime, strawberry and more.
The chocolate transforms the filling, masking any of the tangy flavor you might get from the cream cheese and instead turning it into a subtle sweetness that takes on any flavor you might mix into it.
In this case, it's coffee.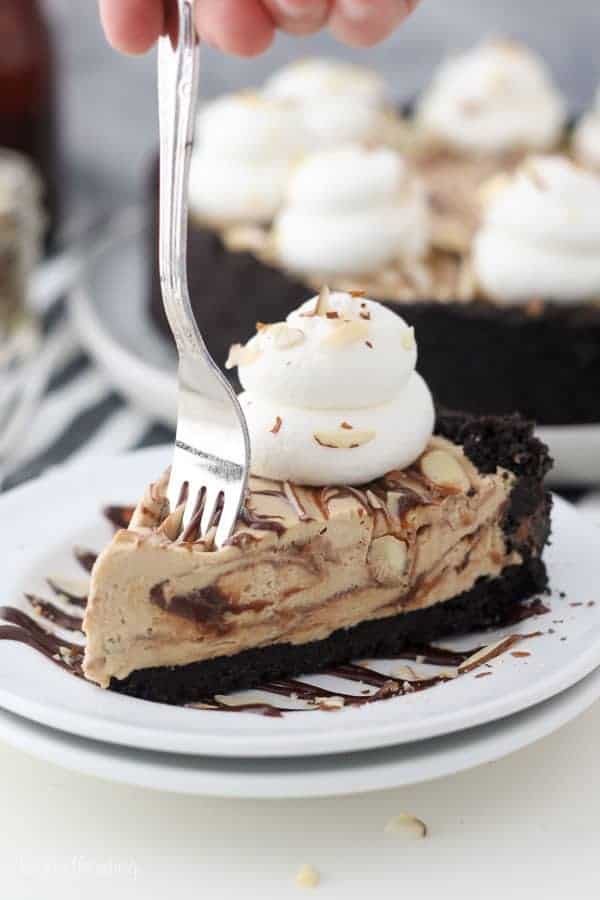 To make the coffee mousse, I used a strong brewed espresso in combination with espresso powder. The espresso powder takes the mocha flavor over the top. You can only add so much of the brewed espresso to the filling, so the extra espresso powder is necessary here.
It might seem like there's a lot of steps involved but it's all relatively easy to do.
When melting the chocolate for the mousse filling, I suggest to melt at 50% power so you do not burn the chocolate. I also prefer to use chocolate bars such as Ghirardelli instead of chocolate chips, especially for white chocolate.
Chocolate chips tend to have a coating on the outside and are usually more oily well melted.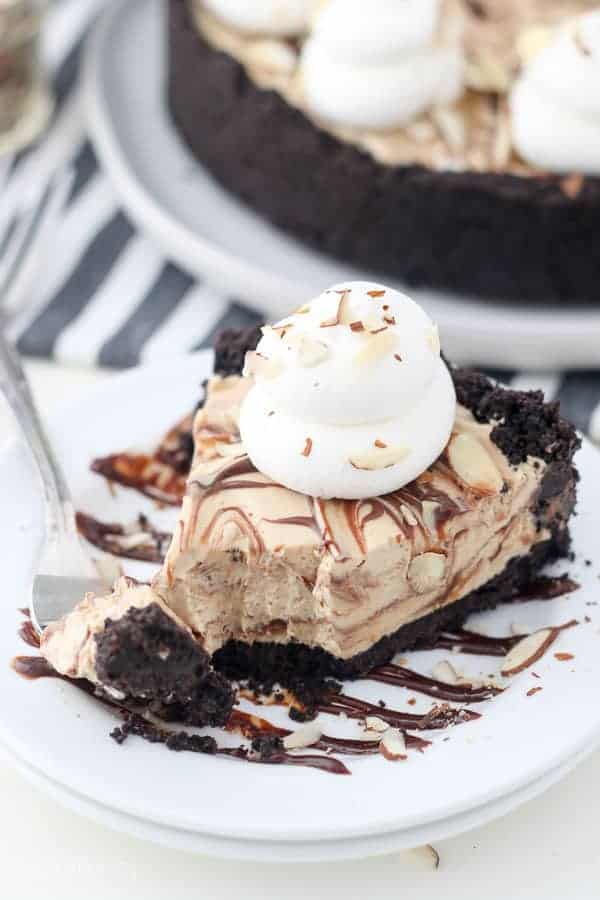 You'll need to make a batch of homemade whipped cream as well. You could use Cool Whip, but the homemade whipped cream is so much tastier.
Once the filling is ready to go, it is layered together with hot fudge.
For the hot fudge sauce, I just use a store-bought sauce like Hersheys or Smuckers. You should heat the hot fudge sauce until its thin enough that it drizzles off the spoon, but not too hot to the touch.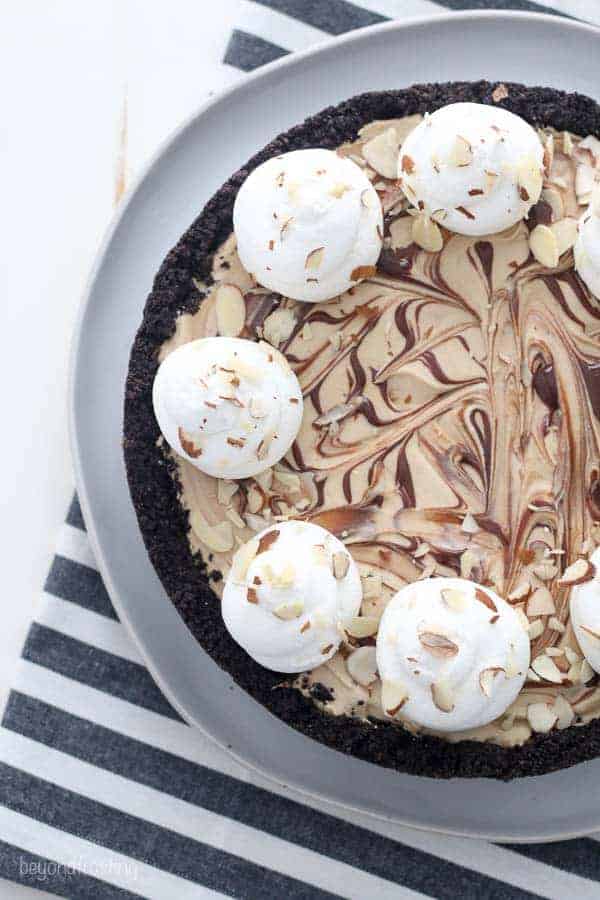 Layer in about 1/3 of the filling then swirl in a couple of tablespoons of the hot fudge. Just drizzle it over the filling and then swirl it with a knife.
After a couple of hours in the fridge, this mocha fudge pie is ready to slice, and you didn't even have to turn on the oven!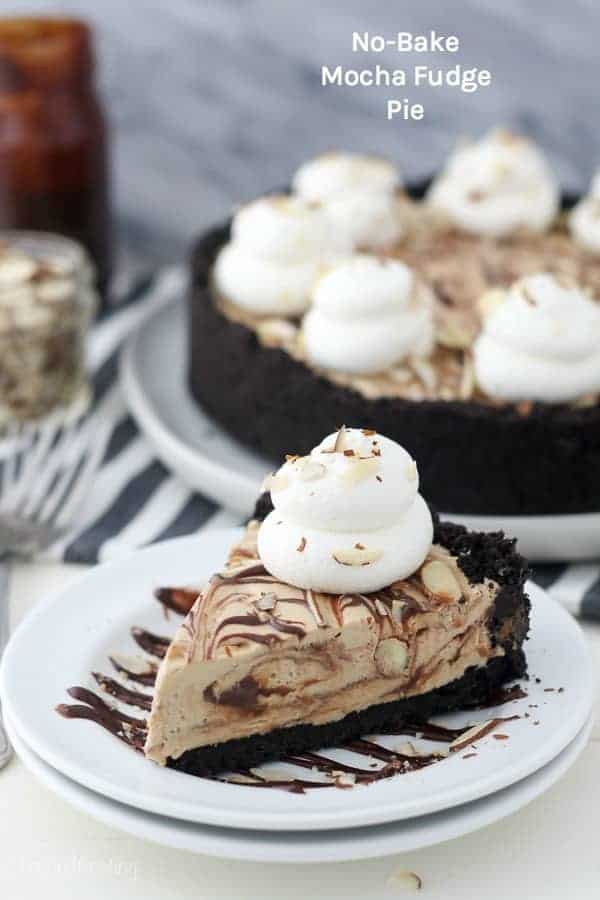 Follow Beyond Frosting:
Facebook | Twitter | Pinterest | Instagram
If you love no-bake recipes, be sure to check out my cookbook, No-Bake Treats!
You might also like: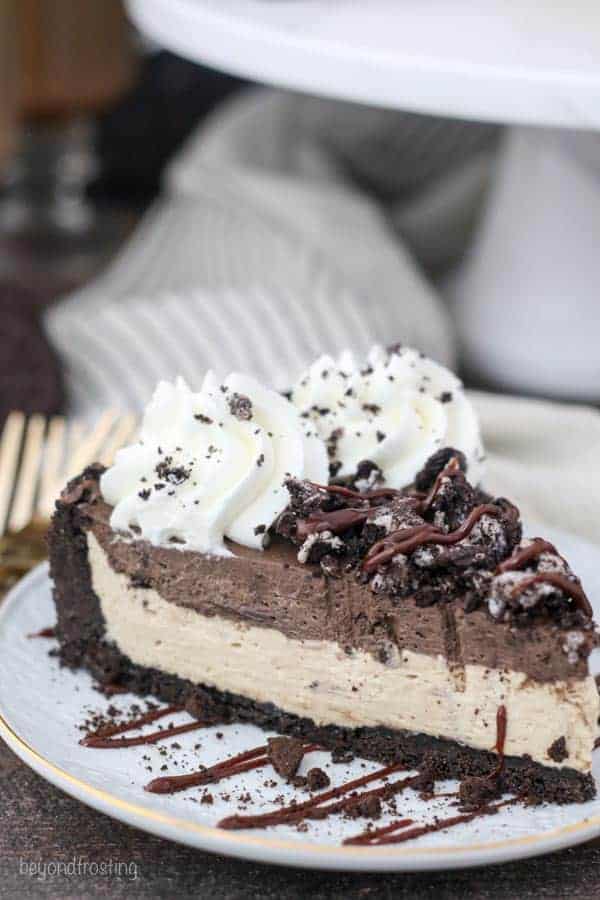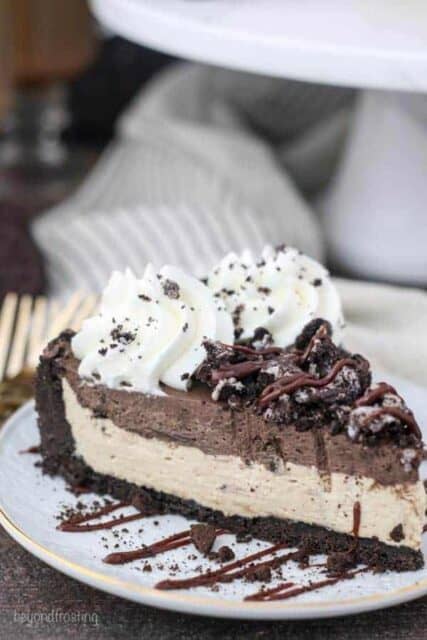 Mocha Cake with Kahlua Frosting