This post may contain affiliate sales links. Please see my full disclosure policy for details
These moist vanilla cupcakes are filled with a sticky marshmallow crème, and they're topped a fluffy peanut butter and marshmallow frosting and chopped peanuts.
This post is sponsored by the National Peanut Board. All thoughts and opinions are my own.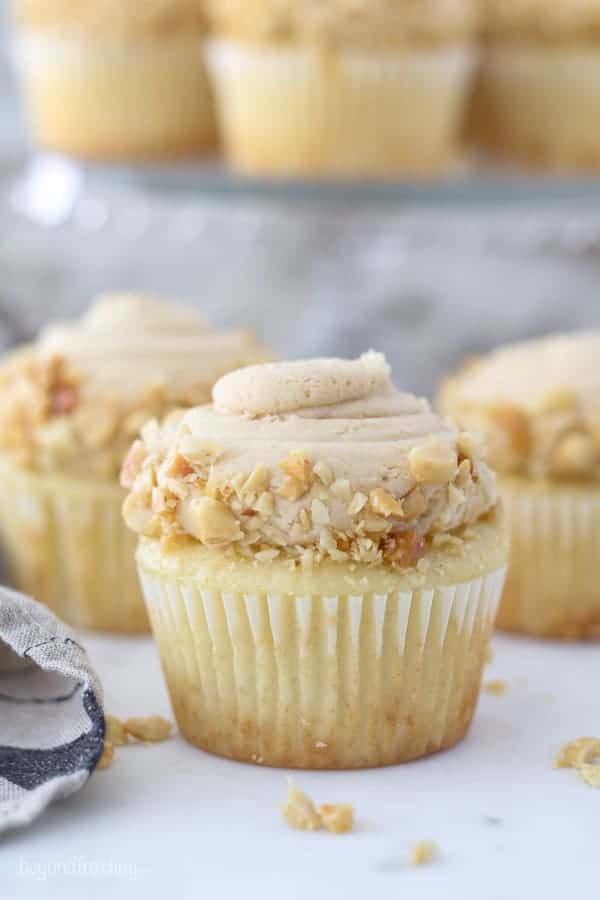 Thinking up new recipes to make is one of my favorite past times and any recipe that involved peanut butter is bound to be amazing. Right?
This recipe for Peanut Butter Marshmallow Cupcakes is most certainly for all of the peanut butter lovers out there. It's a vanilla cupcake topped with a creamy peanut butter marshmallow frosting and rolled in crushed peanuts. Salty and sweet, the best cupcake combo ever!
If you're more on team sweet than salty, you might also want to fill the middle of your cupcake with some additional marshmallow crème. I'll get to that in a bit.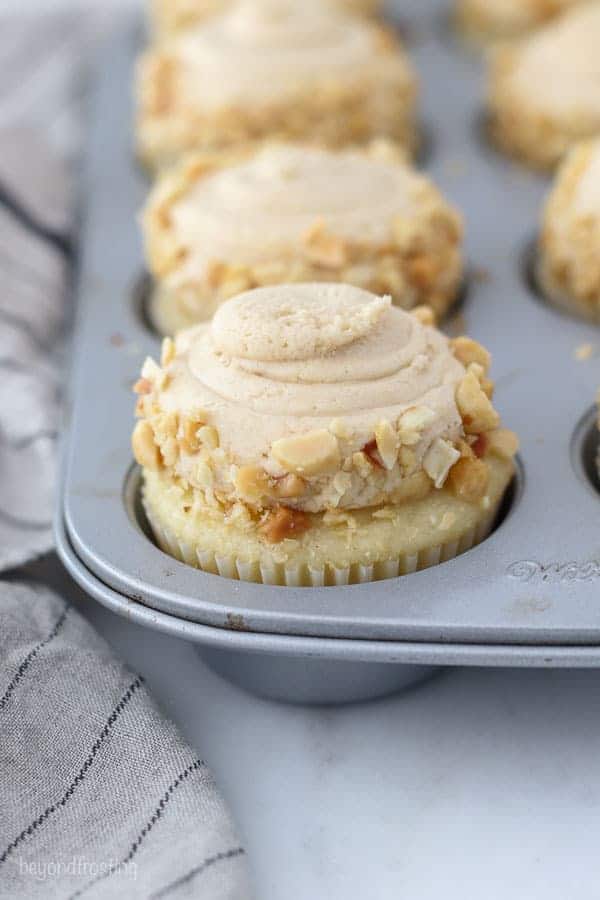 I don't know about you, but peanut butter and fluff sandwiches were a childhood favorite of mine, especially if bananas were involved. I had a friend who's house I played at all the time, and his mom always made us these sandwiches and it's probably been 25 or more years since I had once. Obviously, I need to fix this.
Peanut butter is a staple in my pantry. It's such a versatile ingredient and an easy way for me to incorporate some protein into my diet. My afternoon snack almost always consists of whipped peanut butter on a brown rice cake with sliced bananas. It's ridiculous how much I look forward to this snack throughout the day.
Is peanut butter a staple in your pantry? No matter how you partake in peanut butter, you'll get eight powerful grams of protein, two grams of filling fiber and 12 grams of unsaturated fat in each two-tablespoon serving.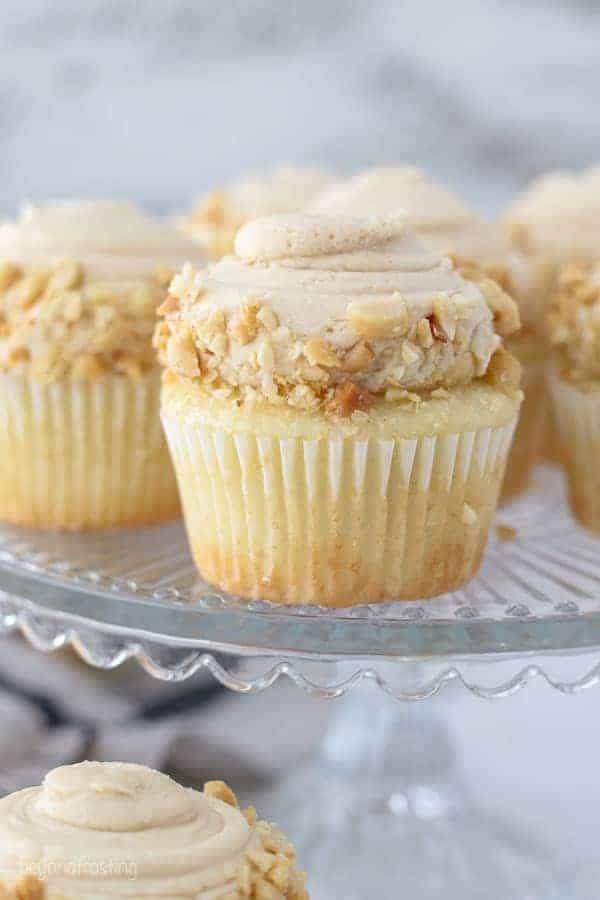 In the spirit of peanut butter and fluff, let's take a deeper dive into these cupcakes.
First, the cupcake is my simple Moist Vanilla Cupcakes. It's an oil-based cupcake, denser rather than light, meaning is resembling a sponge cake. With the additional of sour cream, it stays super moist for days. It's a recipe that can be paired with so many different flavors.
The real star of the show here is the frosting made with butter, peanut butter and marshmallow crème, there's no shortage of flavor here.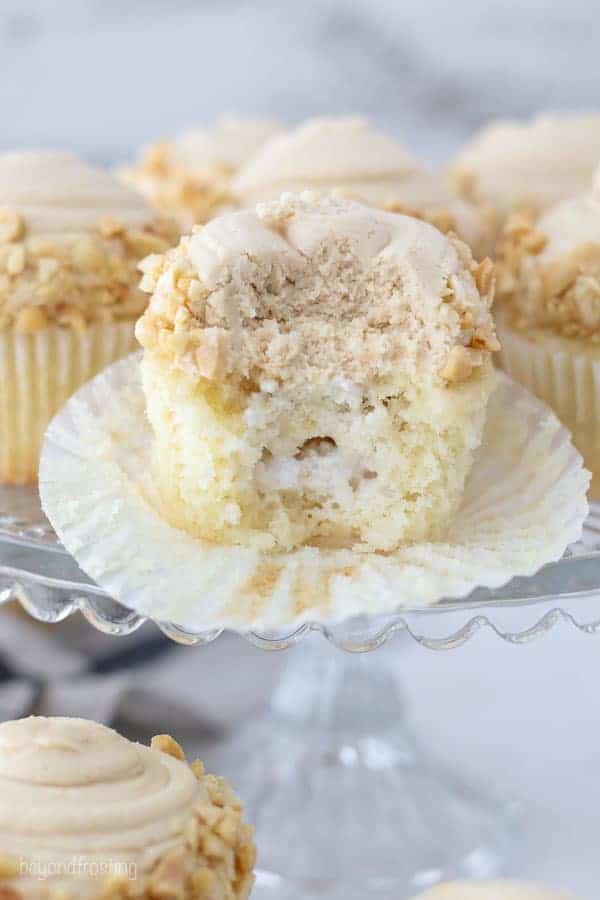 Let's talk through the steps of making this Peanut Butter Marshmallow Frosting.
Start by creaming the butter. My recipe starts with COLD butter, because we're using the paddle attachment to help soften the butter. I recommend cutting it into 1 tablespoon size pieces, start beating at a lower speed until your butter starts to break apart and then increase the speed to medium-high and beat for an additional 3-5 minutes. How do you know when the butter is ready? It should be lighter in color, fluffy and grow in volume.
Next, we're adding one heaping cup of creamy peanut butter frosting. This should be well incorporated into the butter, so be sure to scrape down your bowl occasionally.
Then it's time to start incorporating the powdered sugar. I recommend adding 2 cups at a time, and alternating with the liquid ingredients. As you add the powdered sugar, the frosting will thicken, so incorporating the liquid ingredients as you go is essential to keeping this frosting from getting too thick.
Speaking of liquid ingredients, this includes heavy whipping cream and vanilla extract. If you don't have heavy whipping cream it's okay to substitute with milk.
Lastly, we're adding a jar of marshmallow crème. The reason I like adding this last is so that we don't beat all the air bubbles out of it as we make the frosting. The marshmallow crème is the final ingredients making this frosting light and fluffy.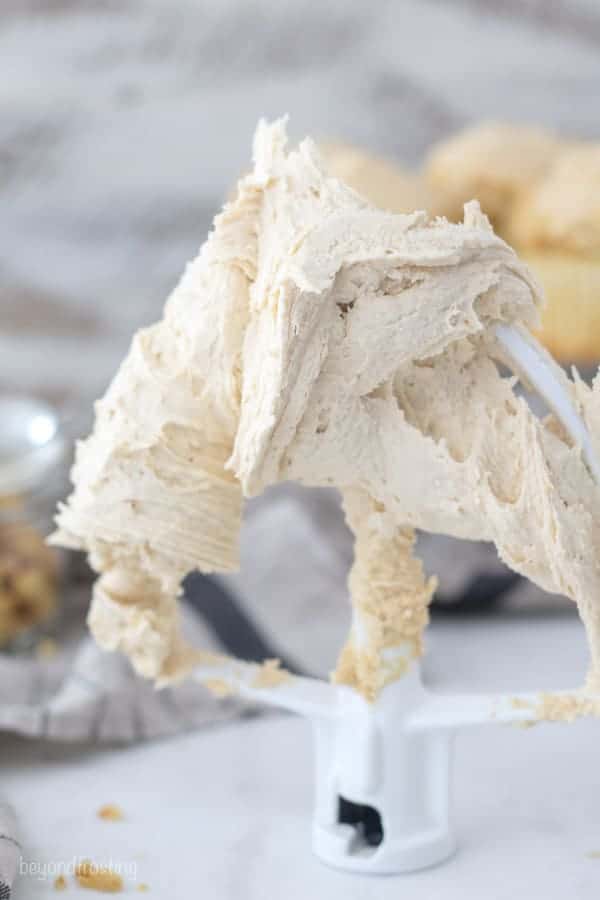 One final component that is optional for these cupcakes, is the filling. If you love marshmallow, then I'd definitely recommend this step. It's a nice little surprise when you bite into the center of the cupcake.
To do this, use a , and take the top half of the center of your cupcakes out. Fill your piping bag with marshmallow crème and use the piping bag to fill the centers of the cupcakes. I do like to pull the tops off those center pieces you previously removed and plop it back on top to provide a little more structure to the cupcake.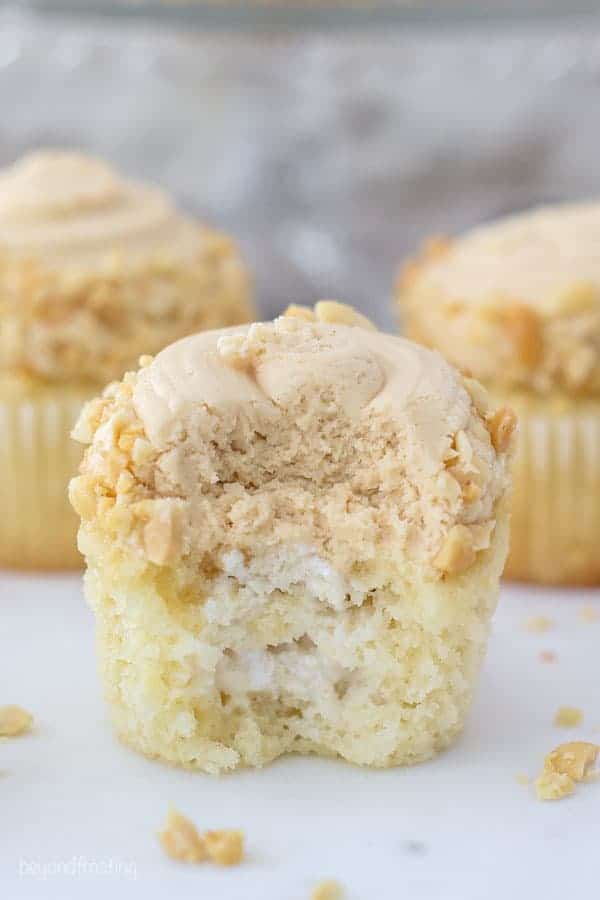 Once you frost these cupcakes, you can roll the edges in chopped peanuts. To do this, hold the cupcake in one hand and fill your other hand with peanuts. Gently press the peanuts into sides of the frosting.
I recommend using either lightly salted or unsalted. Salted peanuts can be a little over powering. I like adding the chopped peanuts because it creates a little bit of texture in the cupcakes and the crunch reminds me of crunchy peanut butter.
These Peanut Butter Marshmallow frosting can also be paired with other flavors of cupcakes like banana or chocolate cupcakes! I hope you fall in love with it as much as I did!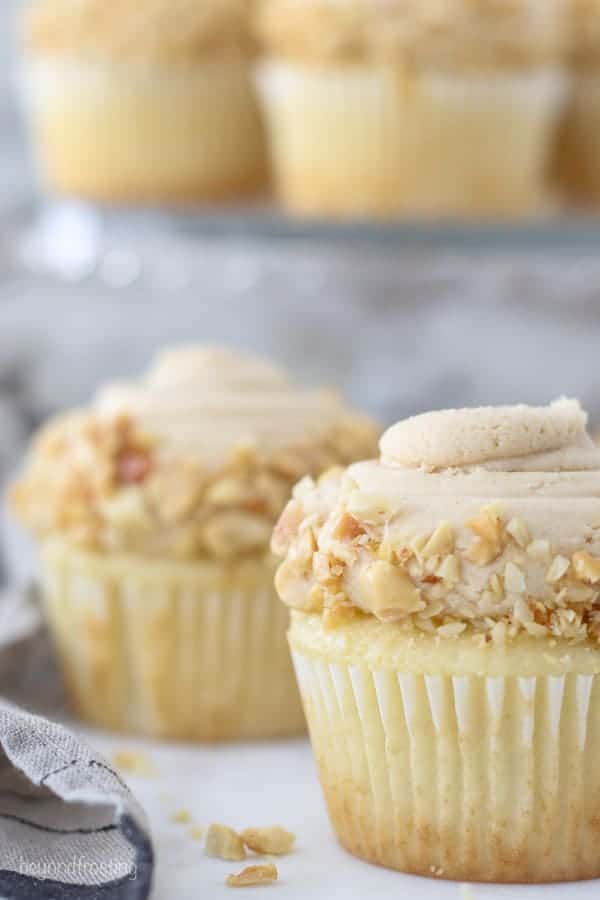 Head here for even more delicious peanut butter recipes for every occasion
Following along with the National Peanut Board Social
Facebook | Instagram | Twitter | Pinterest
Print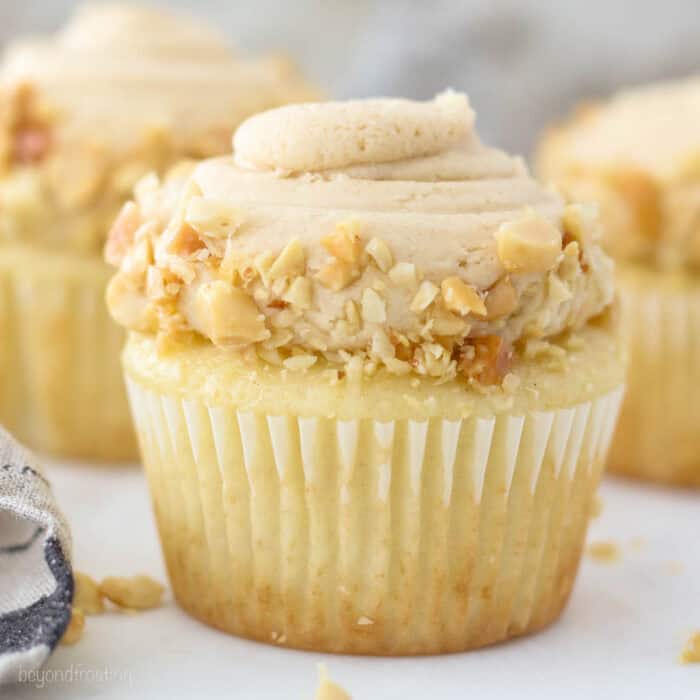 Peanut Butter Marshmallow Cupcakes
Author:

Prep Time:

30 minutes

Cook Time:

15 minutes

Total Time:

45 minutes

Yield:

24 cupcakes
Description
These Peanut Butter Marshmallow Cupcakes are a moist vanilla cupcake filled with marshmallow crème, topped with a fluffy peanut butter marshmallow frosting, and sprinkled with crushed peanuts. They're the perfect combination of sweet and salty!
Ingredients
For the cupcakes:
2 cups

granulated sugar

½ cup

vegetable oil

3

large eggs

1 tablespoon

vanilla extract

½ cup

light sour cream

2 ½ cups

all-purpose flour

3 teaspoons

baking powder

1 teaspoon

salt

1 ¼ cups

milk (I use nonfat)
For the frosting:
1 ½ cups

(

3

sticks) unsalted butter

1 cup

creamy peanut butter

5 ½ cups

powdered sugar

2 tablespoons

heavy whipping cream

1 tablespoon

pure vanilla extract

1

jar (7oz) marshmallow crème
Optional fillings and toppings:
2

jars (7oz) marshmallow crème

2 cups

chopped peanuts (light salted or unsalted)
Instructions
For the cupcakes:
Preheat the oven to 350°F. Line a with cupcake liners.
In a large mixing bowl, combine the sugar, vegetable oil, eggs and vanilla extract. Beat on medium speed until the eggs and oil are well incorporated and the batter is lighter in color, about 2 minutes. Scrape down the bowl as needed. Next mix in the sour cream and beat until well combined.
Combine the dry ingredients in a separate bowl. Alternate adding half the dry ingredients followed by the half the milk and mix just until the flour starts to incorporate. Use a spatula to scrape down the sides of the bowl and stir the batter from the bottom to the top to ensure it's well mixed.
Using a large cookie scoop, divide the batter evenly, filling each liner 2/3 full. Careful not to overfill. Bake at 350°F for 14-16 minutes. Test the cupcakes for doneness by inserting a toothpick into the center of the cupcake. If the toothpick comes out clean, the cupcakes are done. Cool Completely.
For the frosting:
Cut the butter into pieces. Using the paddle attachment, whip the butter at medium high speed for 3-4 minutes, scraping down the bowl occasionally. Beat the butter until it looks lighter in color.
Next add the peanut butter and incorporate into the butter, scraping the bowl as needed.
Slowly add the powdered sugar, 2 cups at a time, adding the heavy cream and vanilla intermittently, mixing on low speed until it's incorporated into the butter. Then increase the speed to high and beat for 30-60 seconds. Repeat until all your powdered sugar has been added.
Lastly, add the marshmallow crème and beat until it's well incorporated. Use a large piping bag fitted with a large open round piping tip to decorate these cupcakes.
For the filling:
Use a cupcake cupcake corer and take the top half of the center of your cupcakes out.
Fill your piping bag with marshmallow crème and use the piping bag to fill the centers of the cupcakes.
Pull the tops off those center pieces you previously removed and plop it back on top of the marshmallow filling.
For the topping:
Chop the peanuts into small pieces. Hold the cupcake in one hand and fill your other hand with peanuts. Gently press the peanuts into sides of the frosting. Store in an airtight container.
Category:

Cupcakes

Method:

Oven

Cuisine:

American
Keywords: Peanut Butter Cupcakes
If you're as much as a peanut butter fan as I am, you'll also enjoy these peanut butter recipes.
Ultimate Reese's Peanut Butter Pie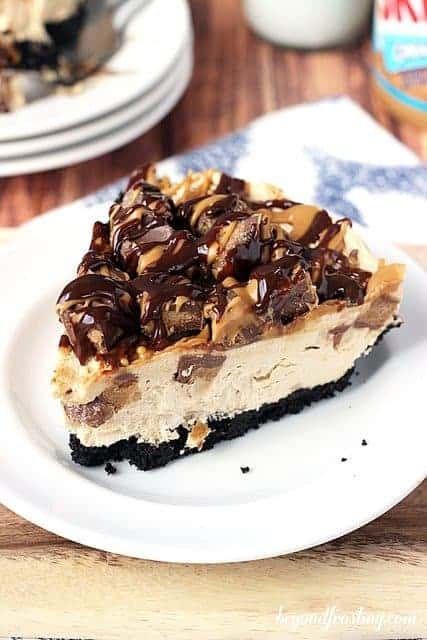 No-Bake Peanut Butter Banana Pie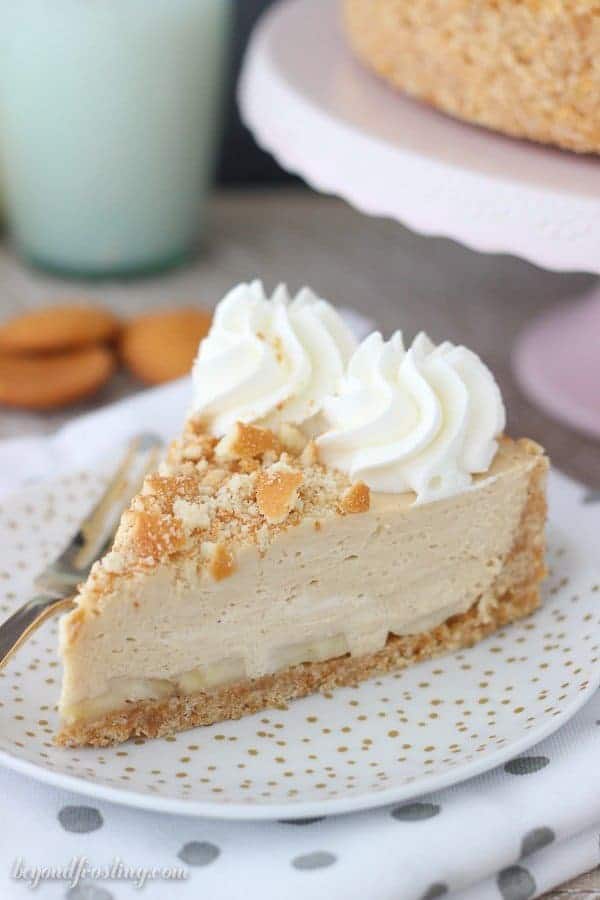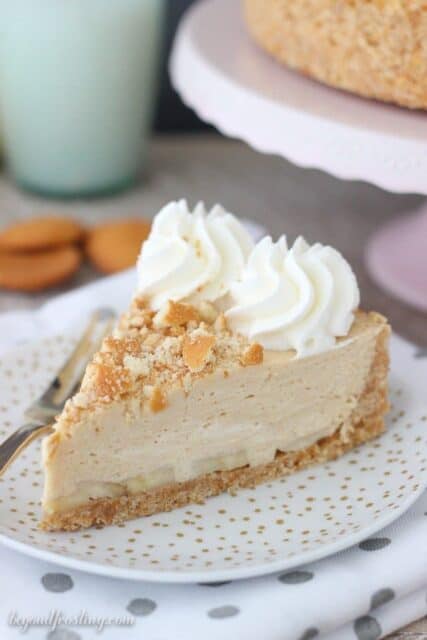 Peanut Butter Brownie Mousse Pie