This post may contain affiliate sales links. Please see my full disclosure policy for details
This Snickerdoodle Cookie Cake is four glorious layers of vanilla cake swirled with a cinnamon sugar streusel, a brown sugar and cinnamon frosting. It's topped offer with homemade snickerdoodle cookies.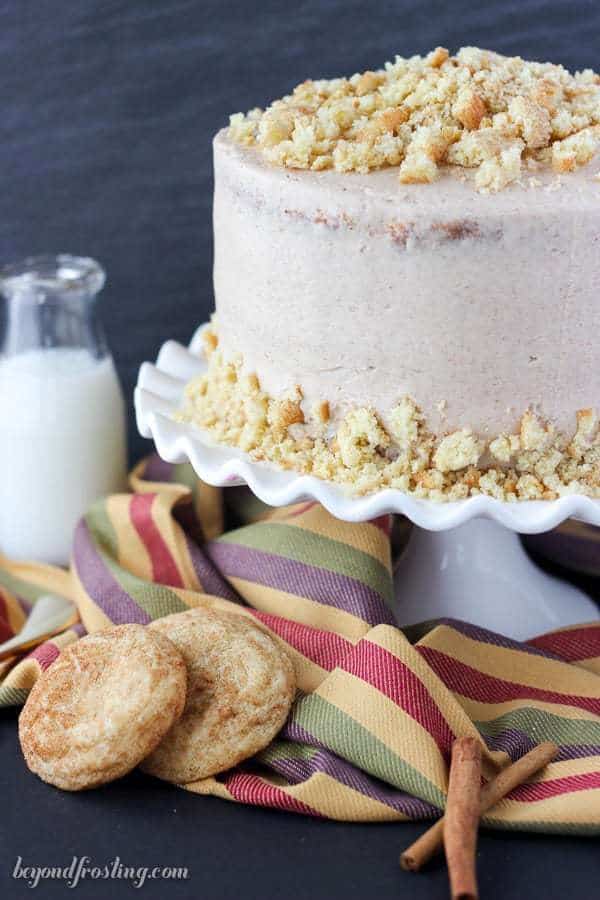 Despite how busy my schedule has been, I took some time off this weekend for some much needed quality time with my main squeeze. Our conflicting schedules (he commutes very far) doesn't allow us to spend as much time together as we used to. So I try and plan fun stuff for us to do every few weekend and I unplug for a whole weekend. One of the things we did this weekend was watch the entire season of Stranger Things.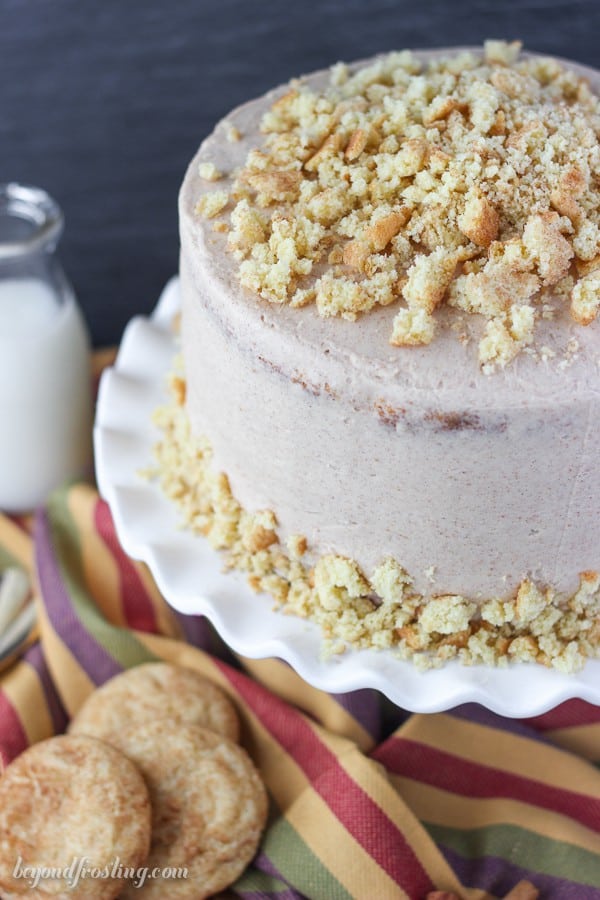 I know that vegging out in front of the TV for 8 straight episodes might not sound like a good time to you, but spending a day in my PJs is one of my favorite ways to spend the weekend. I made his favorite meal, this spicy sausage pasta, and we just chilled. I would have definitely made him this Snickerdoodle Cookie Cake but he is trying not to eat sugar right now. Imagine trying to do that in my house! I love to spoil him with his favorite things and I couldn't even get his favorite Peanut MnMs for our movie marathon. Which also means I didn't eat any either, haha.
I wish I could take credit for this cake, but our friend Shelby deserves all the credit. Her favorite cupcake is my Coffee Cake Snickerdoodle Cupcakes. Last time she made them, she asked me if I had ever made that recipe into a cake. She's so smart. Ask and I shall deliver.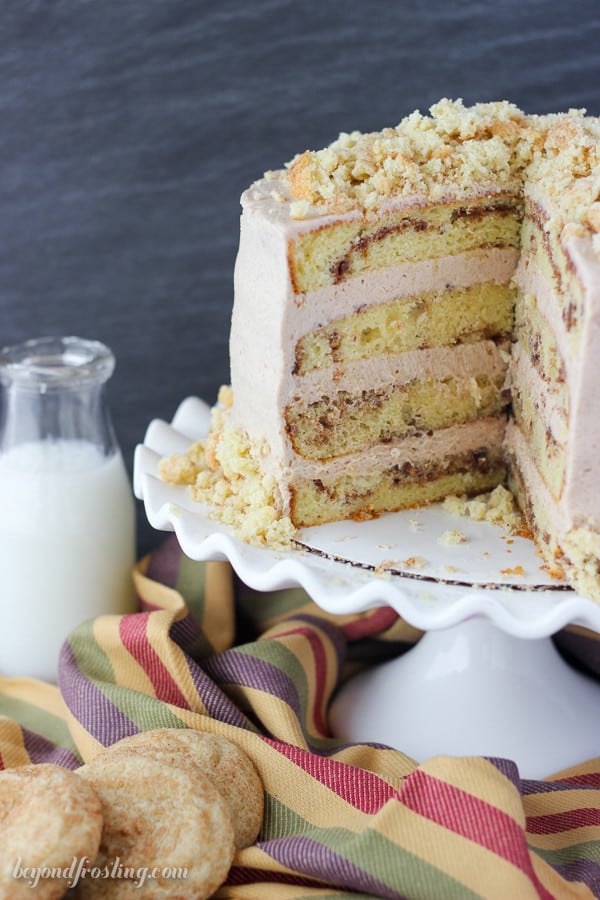 When I made this Snickerdoodle Cookie Cake, I couldn't keep it in my house for the weekend because I know my boyfriend and I would eat the whole thing. So I took it over to a friend's house and let her and her boys devour it.
One of my boyfriend's few favorite desserts is a perfect snickerdoodle cookie. So I knew he would love this cake when I was making it. You should have seen his eyes perk up when I was pulling the Snickerdoodles out of the oven.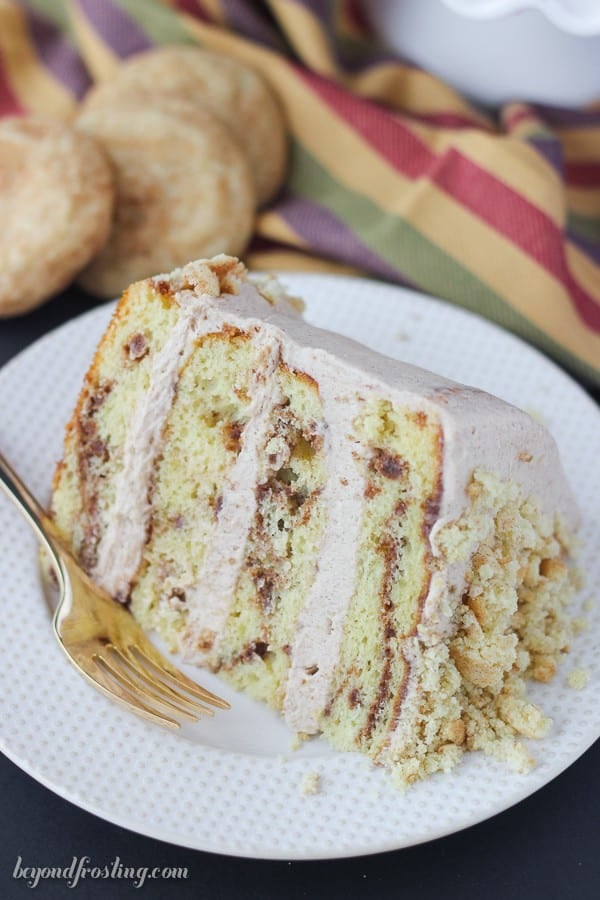 There are four glorious layers of vanilla cake swirled with a cinnamon sugar streusel. I used a doctored cake mix, but you can use your favorite homemade vanilla cake. In between the layers of cake, there is a brown sugar, cinnamon frosting and crushed snickerdoodle cookies. When you are pouring the cake batter into the pans, sprinkle in the streusel as you layer the batter so that every bite has some streusel in it.
It's not even fair for me to tease you guys with this cake and not actually share a piece with you. The cake itself is not overly sweet, but the frosting is a bit more on the sweeter side, so it's nicely balanced.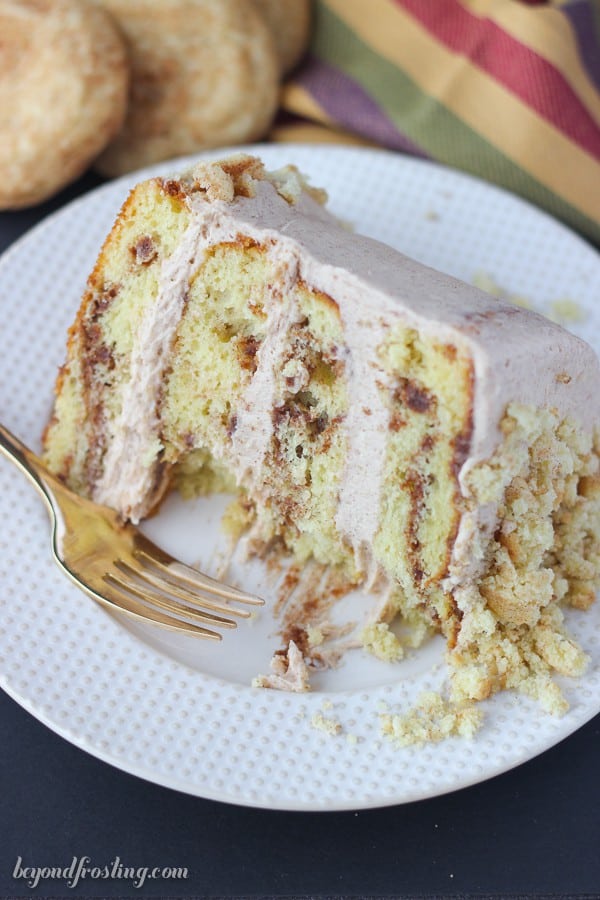 You don't have to make homemade cookies for this recipe, you can most certainly use store bought cookies, but personally, I am always looking for an excuse to make these snickerdoodle cookies. You probably need about 5 cookies total for this cake, and they are all crushed up and layered on top of the cake. However, you can get really creative and make miniature cookies to layer around the outside, or over the top as well.
I promise you this is one cake recipe that your friends will be requesting over and over again.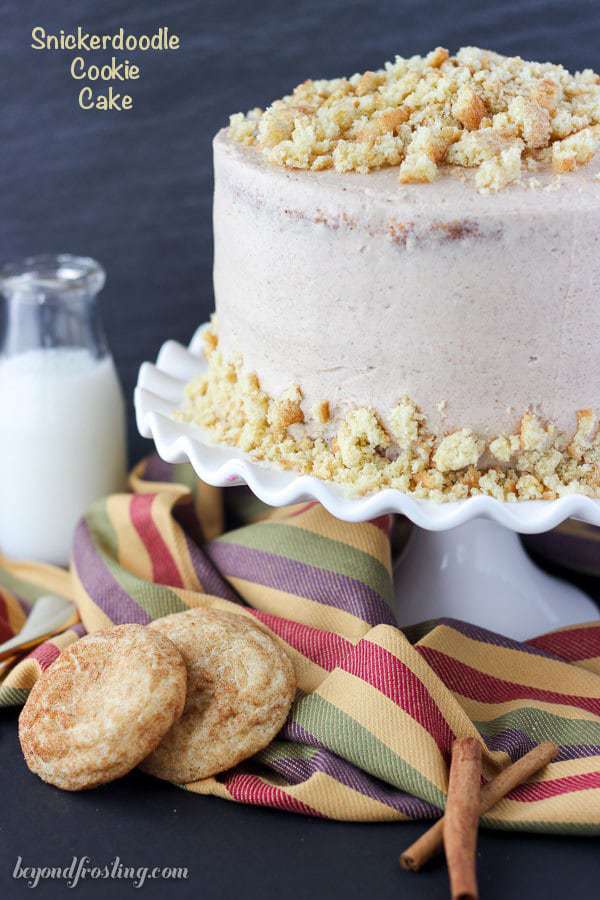 Keep up with all the happenings. Follow Beyond Frosting:
Facebook | Twitter | Pinterest | Instagram
If you love no-bake recipes, be sure to check out my cookbook, No-Bake Treats!
Print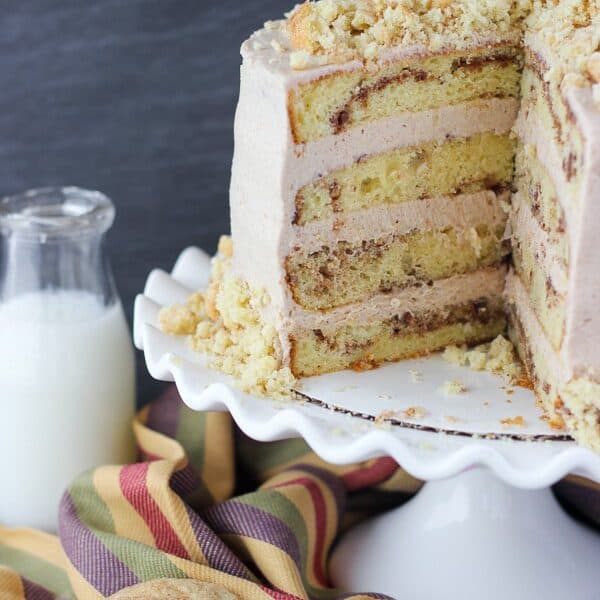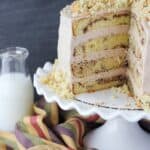 Snickerdoodle Cookie Cake
Author:

Prep Time:

40 minutes

Cook Time:

38 minutes

Total Time:

1 hour and 18 minutes

Yield:

16 servings
Description
Four layers of vanilla cake swirled with a cinnamon sugar streusel, topped with a brown sugar and cinnamon frosting and bits of homemade snickerdoodle cookies.
Ingredients
For the Cake:
1

box Vanilla Cake Mix

1

3.4 ounce box Instant Vanilla Pudding

3

large Eggs

1

large Egg White

3/4 cup

Buttermilk

1/2 cup

Vegetable Oil

3/4 cup

Light Sour Cream

2 teaspoons

Pure Vanilla Extract
For the Streusel:
1/3 cup

Light Brown Sugar

1/3 cup

All-Purpose Flour

1 tablespoon

Cinnamon

3 tablespoons

Unsalted Butter, Melted
For the Frosting:
2 cups

Unsalted Butter, At room temperature

1/2 cup

Light Brown Sugar

7 cups

Powdered Sugar

1 tablespoon

Cinnamon

1 tablespoon

Pure Vanilla Extract

2

–

3

tablespoons Heavy Whipping Cream

5

Snickerdoodle Cookies
Instructions
For the Cake:
Preheat the oven to 350°F. Grease and flour two 8-inch pans.
Combine the vanilla cake mix with the vanilla pudding. Add the eggs and egg white, followed by buttermilk, oil, sour cream, and vanilla extract.
Beat on medium speed until all the ingredients are well combined. Use a spatula to scrape down the side of the bowl and turn the batter over from the bottom until well mixed. Set the batter aside and prepare the streusel.
For the Streusel:
Combine all dry ingredients in a medium-sized bowl. In a separate bowl, melt the butter. Pour the melted butter over dry ingredients. Use a pastry cutter or fork to blend butter into dry ingredients to create a crumbly mixture.
Layer the cake batter and the streusel, swirling together with a knife. Any remaining streusel can be sprinkled over the top.
Bake at 350°F for 35 to 38 minutes until the cakes are done. Check for doneness by inserting a toothpick in the middle of the cake. If the toothpick comes out clean, your cupcakes are done. Allow complete cooling and then "tort" the top of the cake, cutting off the dome so it is complexly flat. Then cut each layer in half.
For the Frosting:
Allow butter to come to room temperature so it is soft but not melted. Beat butter in mixer on medium speed until smooth and creamy for 3 minutes. Add the brown sugar and containing mixing for another 2 minutes.
Slowly add powdered sugar 1 cup at a time while continuing to beat on medium speed. Add cinnamon and mix into the frosting.
As the frosting starts to thicken, add the vanilla extract and heavy whipping cream alternating in with the and increase mixer speed to high to whip frosting for another 3 minutes until it's smooth and creamy.
To Assemble the Cake:
Place a dollop of frosting on the bottom of the cake plate and place the bottom layer of cake on top. The frosting will help prevent the cake from sliding.
In order to create even layers, I use a piping bag fitted with an open round tip, or simply cut off the end of the piping bag. I also highly suggest using a lazy Suzan to rotate the cake as you work.
Fill the first layer of frosting by using your piping bag and pipe from the outside edge into the center. Gently spread the frosting with an offset spatula to fill in the gaps.
Place the next layer of cake on top and repeat the above instructions to fill the layer of frosting. Repeat a third time. For the top layer of cake, place it inverted, so the bottom of the cake is actually the top, creating a nice and smooth top edge.
Proceed to add your crumb coat by adding a cup of frosting to the top of the cake and gently spread out to the edges and down the sides. Use the leftover frosting in your piping bags to fill in the cracks between the layers.
Using an offset spatula or icing smoother, wipe away excess frosting, leaving you just enough to coat the outside of the cake. Do not mix your crumb coating frosting back into your icing if it has cake debris in it. Refrigerate the cake for 15-20 minutes to allow the crumb coat to harden.
Remove the cake from the refrigerator and proceed to the remaining frosting to the top and edges of the cake. To get a nice smooth edge, use your offset spatula and icing smoother to wipe away excess frosting.
Once you are satisfied with the frosting of the cake, crush 5 Snickerdoodle cookies into crumbs and press the crumbs around the bottom of the cake, and sprinkle the remaining cookies on top.
Category:

Dessert

Method:

Baked

Cuisine:

American
This recipe originally appeared on Food Fanatic.
Visit Beyond Frosting's profile on Pinterest.
You might also like:
Coffee Cake Snickerdoodle Cupcakes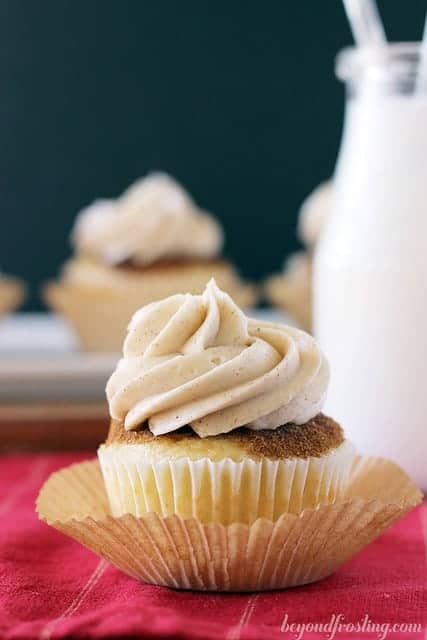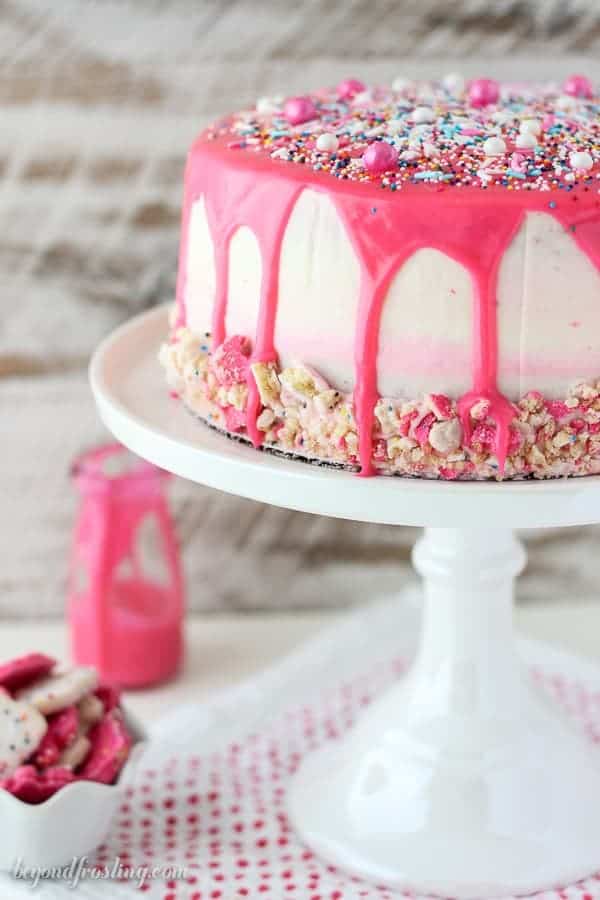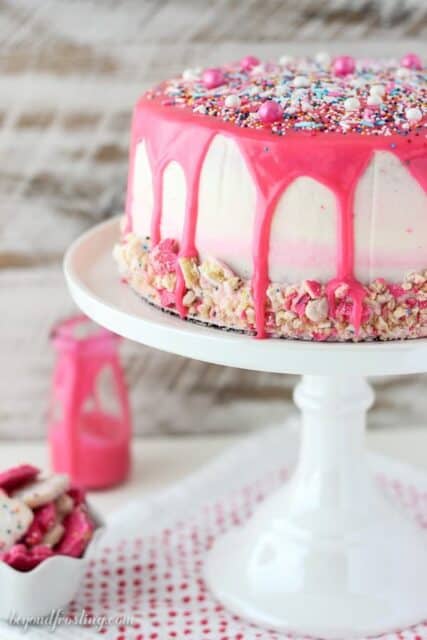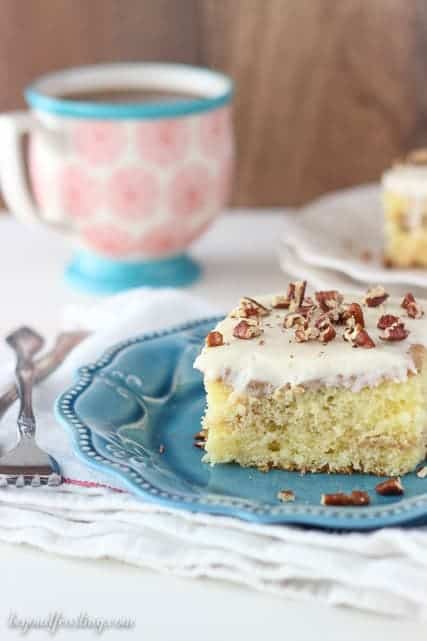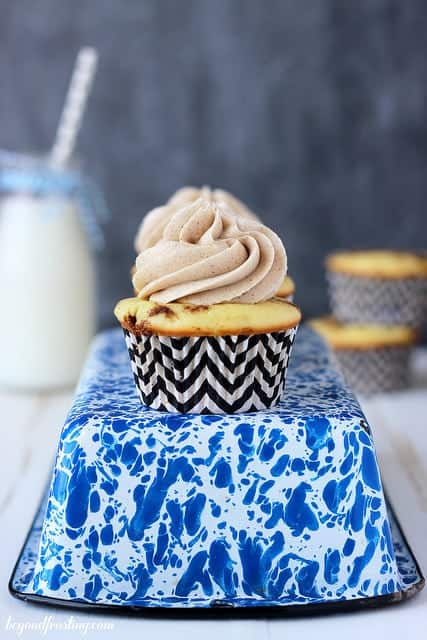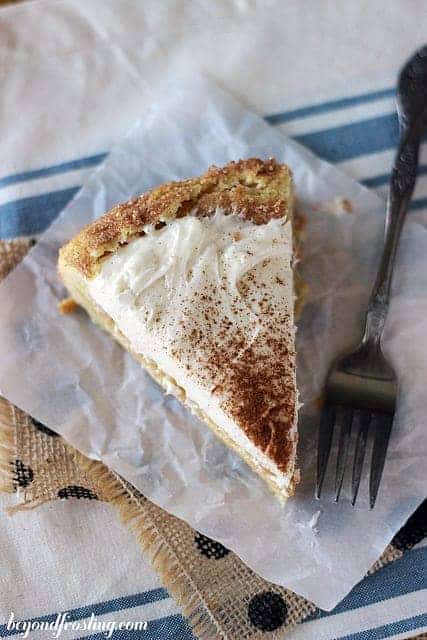 Recipes from my friends: