This post may contain affiliate sales links. Please see my full disclosure policy for details
Dessert Charcuterie Boards are so easy to create at home. Enjoy Valentine's day with your family or friends and share this Valentine's Day dessert board.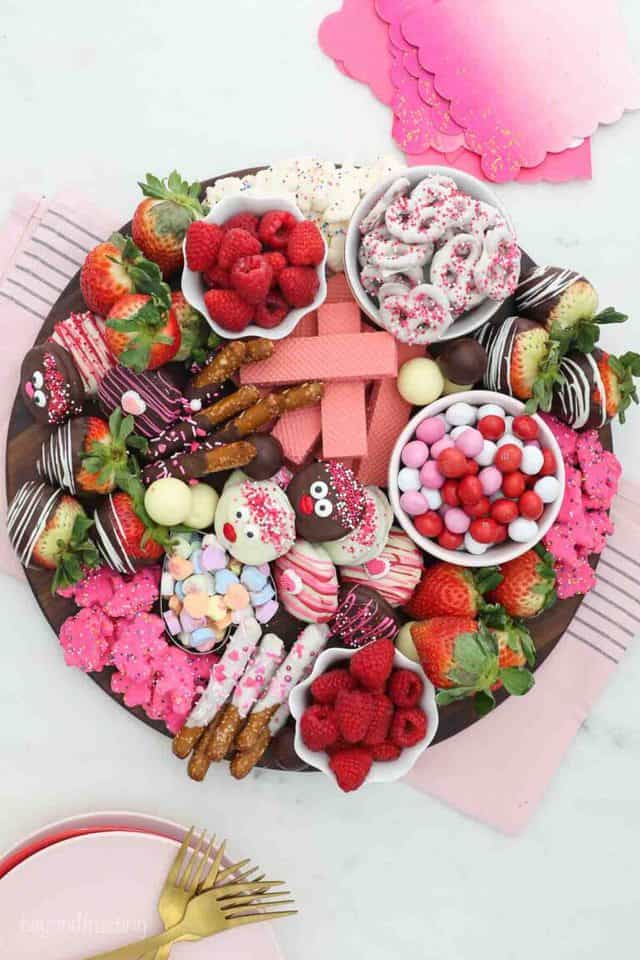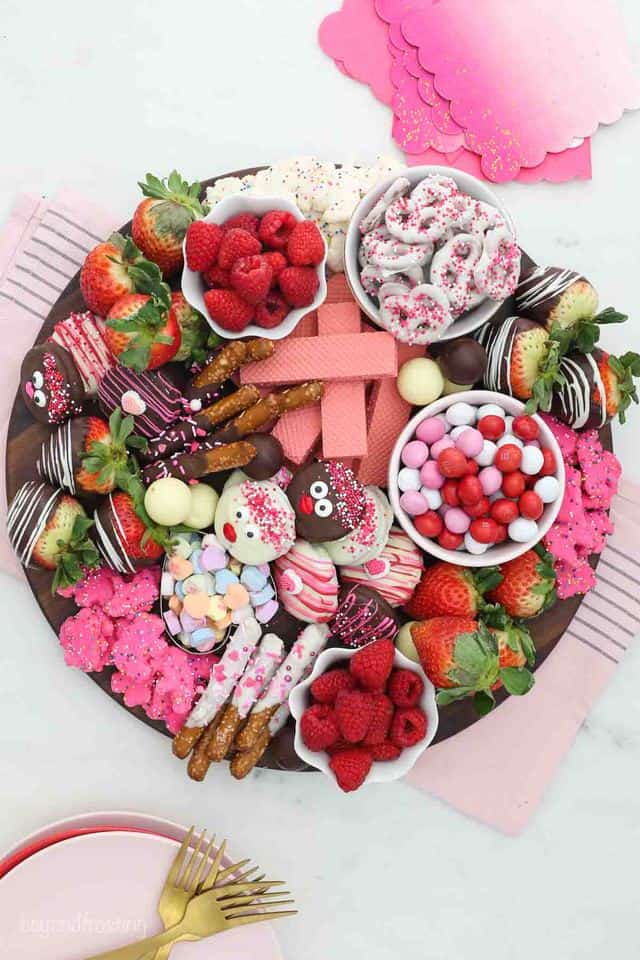 Valentine's Day Charcuterie Board
Dessert boards are my favorite! I am all about the charcuterie board, but when you start adding dessert, it's so much more fun.
This is perfect for a date night at home or a fun get together with your galentines. This would also be a great way to celebrate with the kids. Another great idea, instead of making one big board, you can get some cute gift boxes and make mini boards for your friends.
You can use just any type of candy or dessert for these types of boards, but I will share a few of my favorite tips so you can make this at home!
3 Tips to create a Valentine's themed board
Color coordinate: Pinks, red, purple and whites are the best colors for Valentine's day. Pick candy and cookies that can tie your board together along with the bowls you choose.
Don't go overboard: It's easy to buy all the things, but 2-3 items from a couple different categories is all you need! I do like to have multiples of things where is makes sense, like the same cookie laid our twice on the board. Pro tip: You may not want to buy full bags of candy, so try searching for the smaller items that are often packaged for individual Valentine's gifting.
Height, texture and shape: I love adding a variety of texture and shapes to my boards. This includes everything from the bowls I choose to the desserts I pick. Bowls help to add height to the board as well as to break up the space.
What to use for a dessert board
Cookies: Circus Animals, Lofthouse cookies, Strawberry Wafers, Red velvet cookies are all great ways to tie back to the color scheme. Of course you can always make cookies too!
Valentine's Day Candies: Sweet or sour, pick your favorites!
Chocolate: Really anything goes here, but truffles are always a hit! Look for heart shapes chocolates like Dove and Reese's.
Fresh Fruit: You can use any type of fruit, but my favorites are blackberries, raspberries, strawberries and grapes.
Homemade treats such as chocolate covered strawberries, chocolate truffles, chocolate covered pretzels and Valentine's day Oreos.
Other treats: Mini donuts, cupcakes, macarons or marshmallows
Dips: Nutella, peanut butter, melted chocolate or frosting make great dips!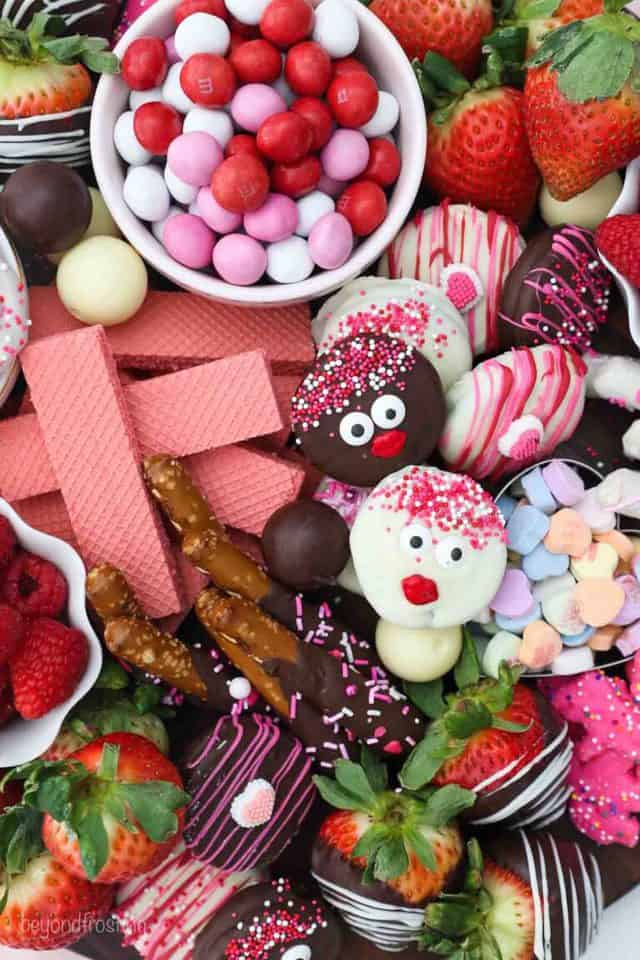 How to make a dessert charcuterie board
Choose a board– mine is 14" in diameter. Any size board, big or small, circle and rectangle will do. The bigger the board, the more you'll need to fill it.
Start with a couple of small bowls and place them on your board, off centered. Fill them with candies and fresh fruit. You can also use cookie cutters to make shapes, and fill them with candy as well.
Add the fruit and any other larger items around the outside edge.
Add cookies and start filling in larger spaces, working your way around the edges towards the middle. Arrange them in away so you don't have the same color or textures sitting next to one another. If I am adding something twice (like the Circus Animal Cookies), I add them on opposite sides of the board.
Fill the holes: Use any leftover candy and chocolate to fill in any holes
TRANSPORTING YOUR BOARD
If you need to transport your board, there may be some items you want to transport separately (like the chocolate covered strawberries).
Prior to building the board, place heavy duty foil or plastic wrap under the board in a couple layers that you can easy wrap it up over top of the board.
More of my favorite Valentine's day desserts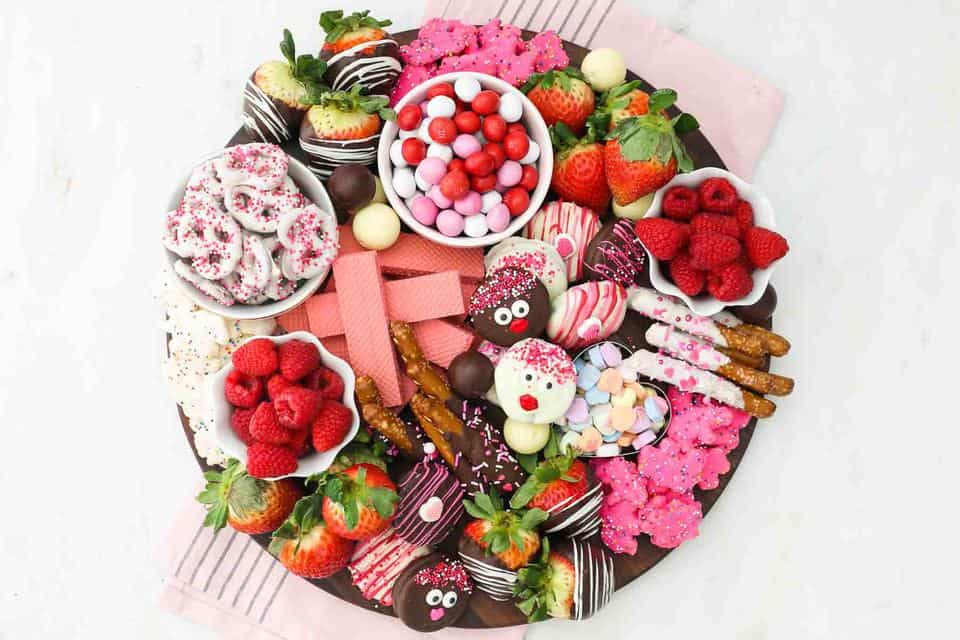 Print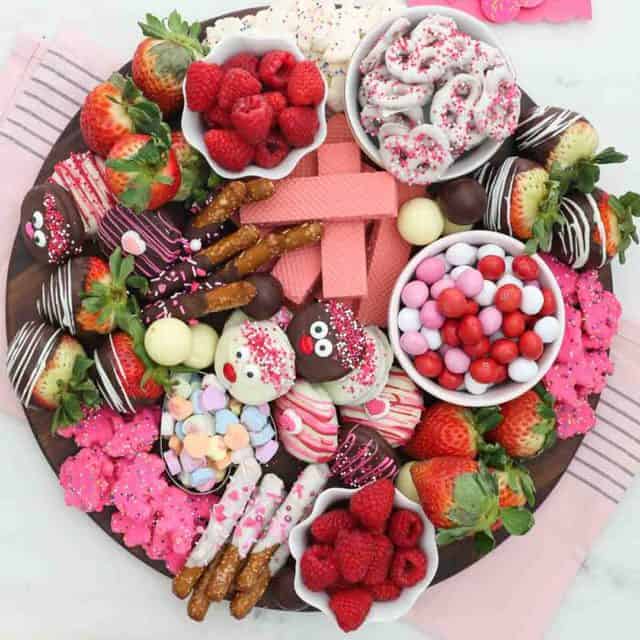 Valentine's Day Charcuterie Board
Author:

Prep Time:

15 minutes

Cook Time:

0 minutes

Total Time:

15 minutes

Yield:

6 servings
Description
An easy Valentine's day themed dessert charcuterie board.
Ingredients
2

–

3

varieties of candy (MnMs, conversation hearts, starburst, gummies etc)

2

–

3

varieties of chocolate candy (Truffles, chocolate hearts, Hershey's kisses etc)

2

varieties of fresh fruit

2

–

3

varieties of cookies or other treats
Instructions
Choose a board of any shape or size.
Start with a couple of small bowls and place them on your board, fill with candy and fruit.
Add largest items first Then take your largest items first and assemble them around the outside. Arrange them in away so you don't have the same color or textures sitting next to one another.
Fill the holes using any leftover candy and chocolate.
Category:

Dessert

Method:

No-Bake

Cuisine:

American
Keywords: Valentine's day dessert recipes, Valentine's day dessert ideas, easy Valentine's day dessert, dessert charcuterie board