This post may contain affiliate sales links. Please see my full disclosure policy for details
This pumpkin bundt cake recipe is an easy fall dessert, ready for the oven in 15 minutes! Get ready to dig your forks into this moist, spiced pumpkin bundt cake covered in a maple brown butter glaze.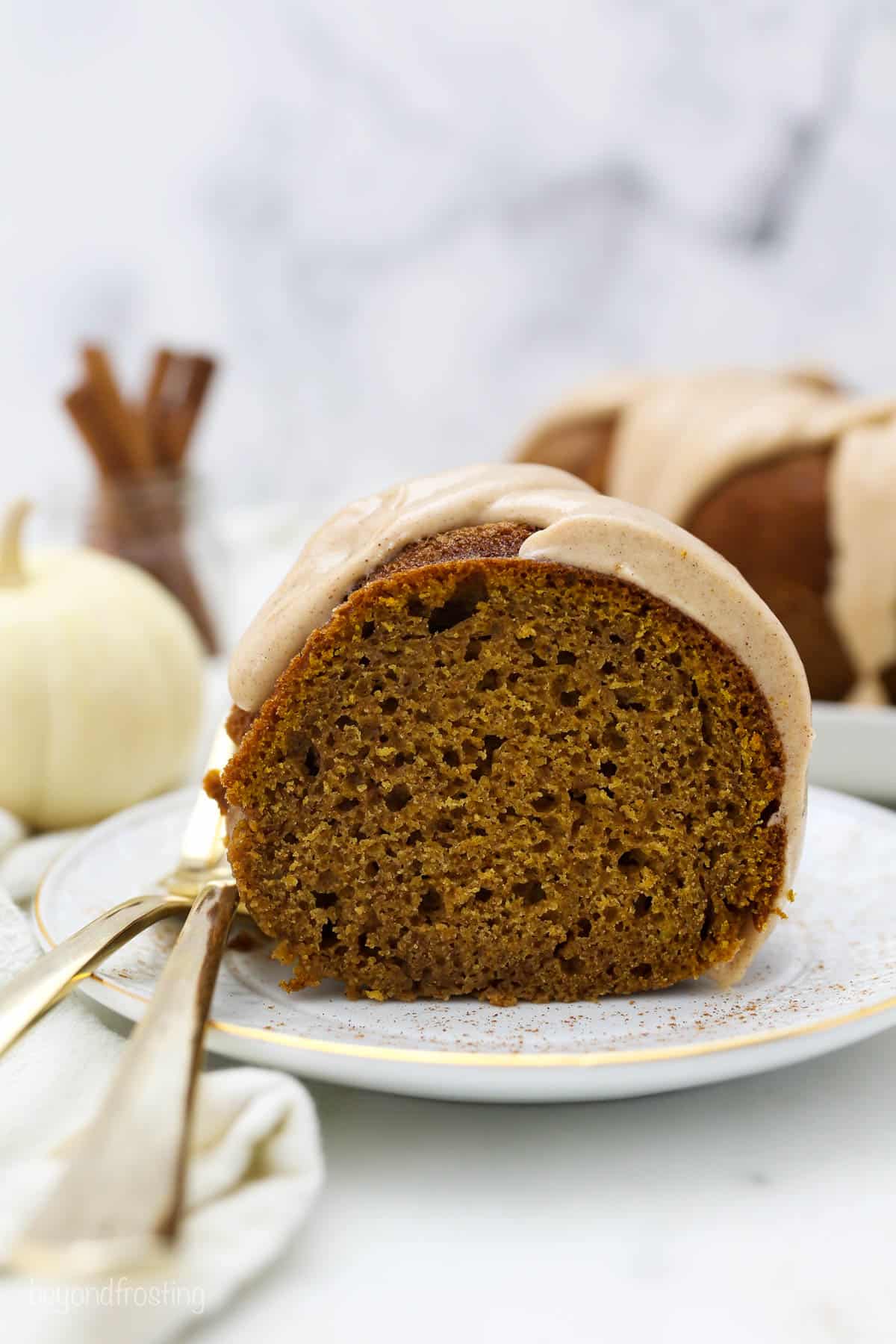 Irresistible Pumpkin Bundt Cake
Who's ready for cooler weather? I'm counting the days until I sink my forks into fall desserts like cinnamon sugar pumpkin donuts and this pumpkin layer cake. I want ALL the pumpkin. And I can see I'm not the only one. You guys have been loving my pumpkin cupcakes lately, so, I've turned the batter into a pumpkin bundt cake! This pumpkin spice bundt cake is moist, fluffy, perfectly sweet, and drenched in a creamy brown butter maple glaze. It uses basic pantry ingredients and comes together in just 15 minutes. If fall were a dessert, it would be this one!
Why You'll Love This Pumpkin Bundt Cake Recipe
Rich pumpkin flavor. We're using real pumpkin puree and plenty of pumpkin spice to infuse every bite of this bundt cake with the flavors of fall. If, like me, you're a fan of all things pumpkin, you're gonna want this cake in your oven STAT.
The BEST fall dessert. Thanksgiving? Potlucks? Pumpkin carving parties? This easy pumpkin bundt cake has you covered for all your favorite fall occasions. It's elegant without even trying, and it's a cinch to make.
Brown butter glaze. With maple syrup, because would it be a fall dessert without it? Rich, nutty brown butter really kicks the flavors up a notch. I cannot wait for you to stick your finger into this glaze for a taste test. Prepare to be in awe.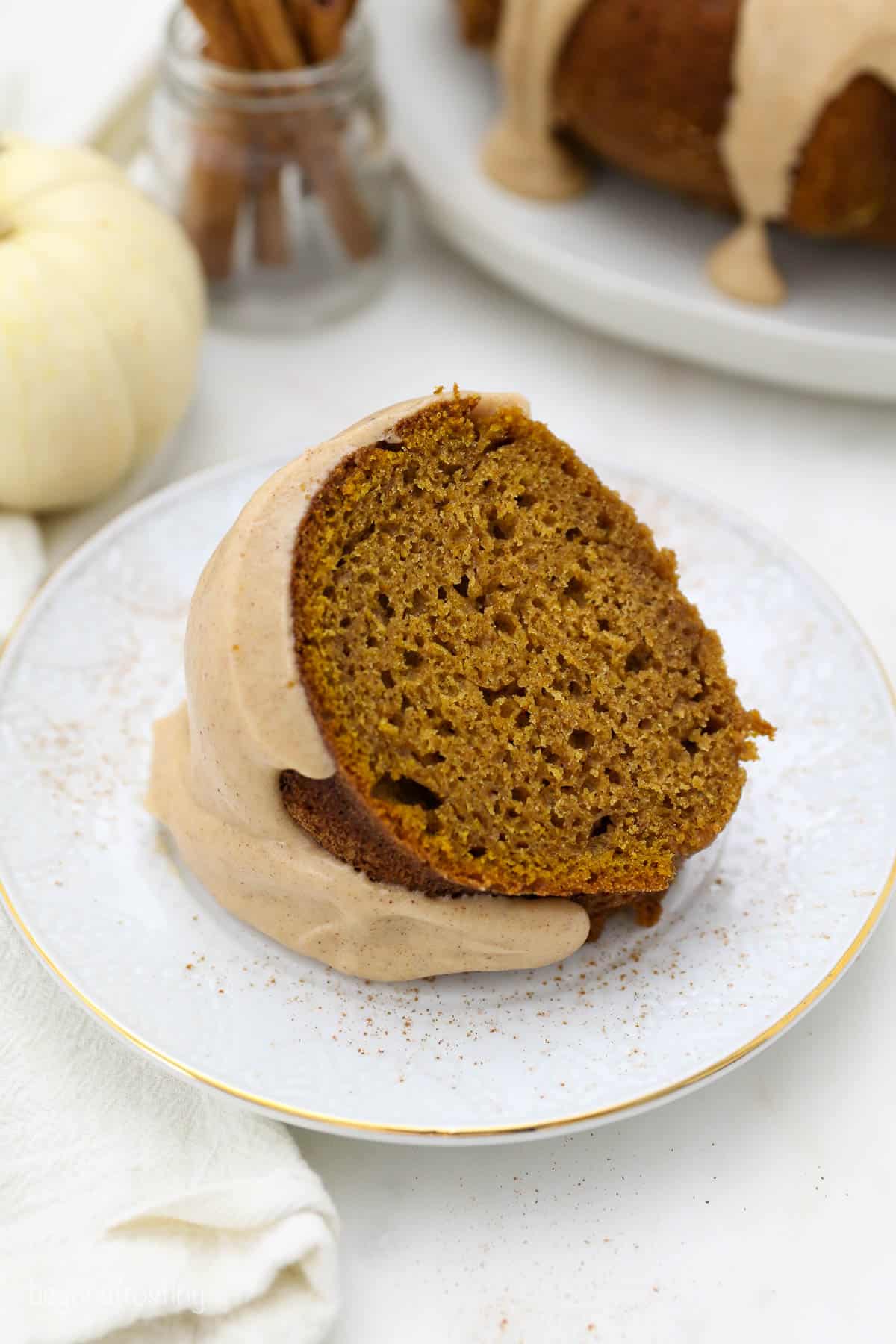 What's the Difference Between a Cake and a Bundt Cake?
The main difference between a bundt cake and a regular cake is the shape. Bundt cakes are baked in a bundt pan, which gives the cake its signature donut shape. They're a popular choice for parties as they're flexible in terms of serving size. One bundt cake yields anywhere between 12 and 16 servings.
Key Ingredients
I'm sharing some tips and notes on the key ingredients for this pumpkin bundt cake below. Be sure to scroll to the recipe card further on for the full recipe amounts and details.
For the Cake
Brown Sugar
Oil and Eggs – For richness, moisture, and structure. Making cakes with oil instead of butter yields a lighter, more tender cake crumb with loads of added moisture. You'll want to stick with vegetable oil or another oil with a neutral flavor.
Maple Syrup – I love adding a little bit of real maple syrup to my pumpkin cake. It echoes the flavors of the glaze and gives the cake just the right amount of sweet, fall flavor. If you don't have maple syrup, use honey instead.
Vanilla Extract – Like your maple syrup, make sure you're using REAL vanilla extract and not an artificial substitute. The taste just isn't the same!
Pumpkin Puree – Usually sold in cans in the baking aisle at the grocery store. Double-check that you're using 100% pumpkin puree, not pumpkin pie filling. They are not the same!
Flour
Pumpkin Pie Spice and Cinnamon – My two favorites, together in one cake! Pumpkin pie spice is a blend that you'll find in the spice aisle. You can also make homemade pumpkin spice by combining cinnamon, cloves, nutmeg, ginger, and allspice.
Baking Powder, Baking Soda, and Salt
Milk
For the Brown Sugar Glaze
Brown Butter – Brown butter is melted butter that's been cooked on the stovetop to unlock its caramelized, nutty flavors. If you don't know how to brown butter, it's never too late! I have a tutorial on how to brown butter that walks you through this uber-simple process.
Powdered Sugar – Also called confectioner's sugar. I highly recommend sifting your powdered sugar beforehand to prevent clumps in the glaze.
Cinnamon
Maple Syrup
Milk or Heavy Cream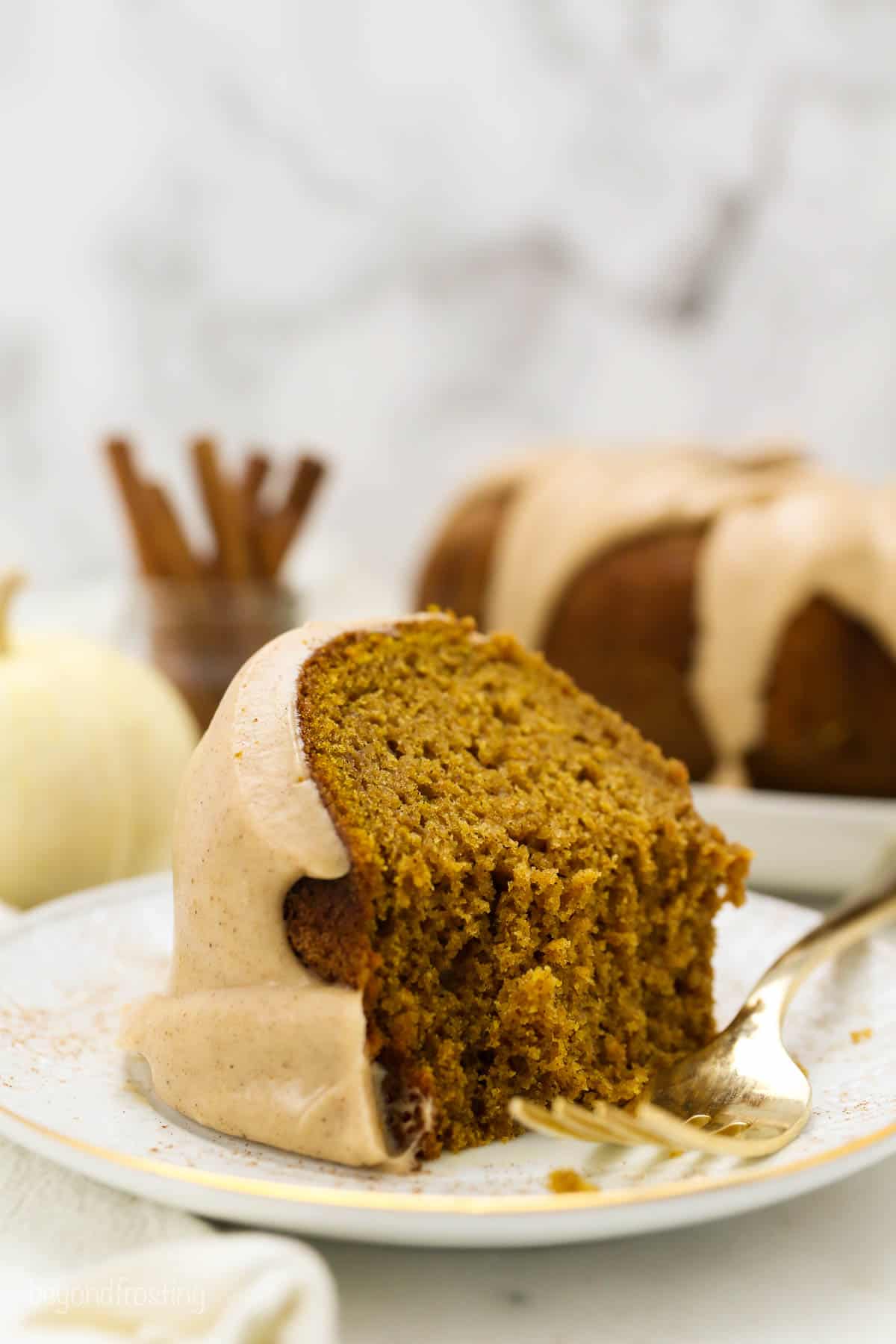 How to Make a Pumpkin Bundt Cake
Let's get this incredible pumpkin spice bundt cake ready for the oven. It takes just a few minutes:
Mix the wet ingredients. First, beat together the sugar, oil, eggs, maple syrup, and vanilla, followed by the pumpkin puree.
Add the dry ingredients. In a separate bowl, whisk the flour together with pumpkin pie spice, cinnamon, baking powder, baking soda, and salt. Next, slowly add the dry ingredients to the batter, alternating with milk until combined.
Bake. Now, you'll transfer the pumpkin cake batter to a well-greased and floured bundt pan. Bake at 350ºF for 30-35 minutes, or until a toothpick comes out clean.
Cool. Remove the bundt cake from the oven and let the cake cool in the pan for 5 minutes. Then, carefully run a knife around the outside edge of the cake, releasing it from the pan. Turn your bundt cake out onto a plate or cooling rack to cool completely.
Make the Brown Butter Glaze
Now, for what very well might be the pièce de résistance of this pumpkin bundt cake: the brown butter and maple glaze! If you've never browned butter in your life, I encourage you to give it a whirl. It's a simple extra step with the most incredible flavor payoff. Here's how to make your glaze: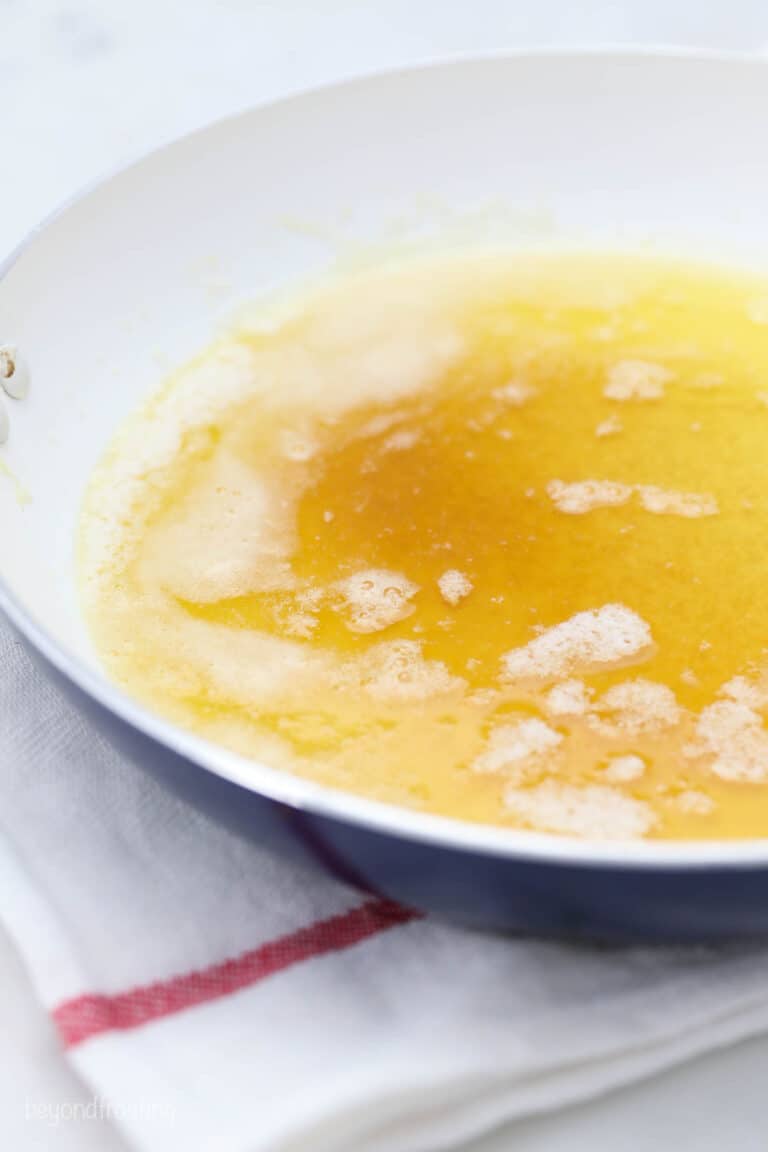 First, brown the butter. In a saucepan, melt butter over medium heat. Once the butter starts bubbling and boiling, continue to cook, stirring often, until it turns deep amber in color. You'll notice the bubbling start to slow as the butter browns. At this point, remove the pan from heat and transfer it to a heat-proof bowl to cool completely.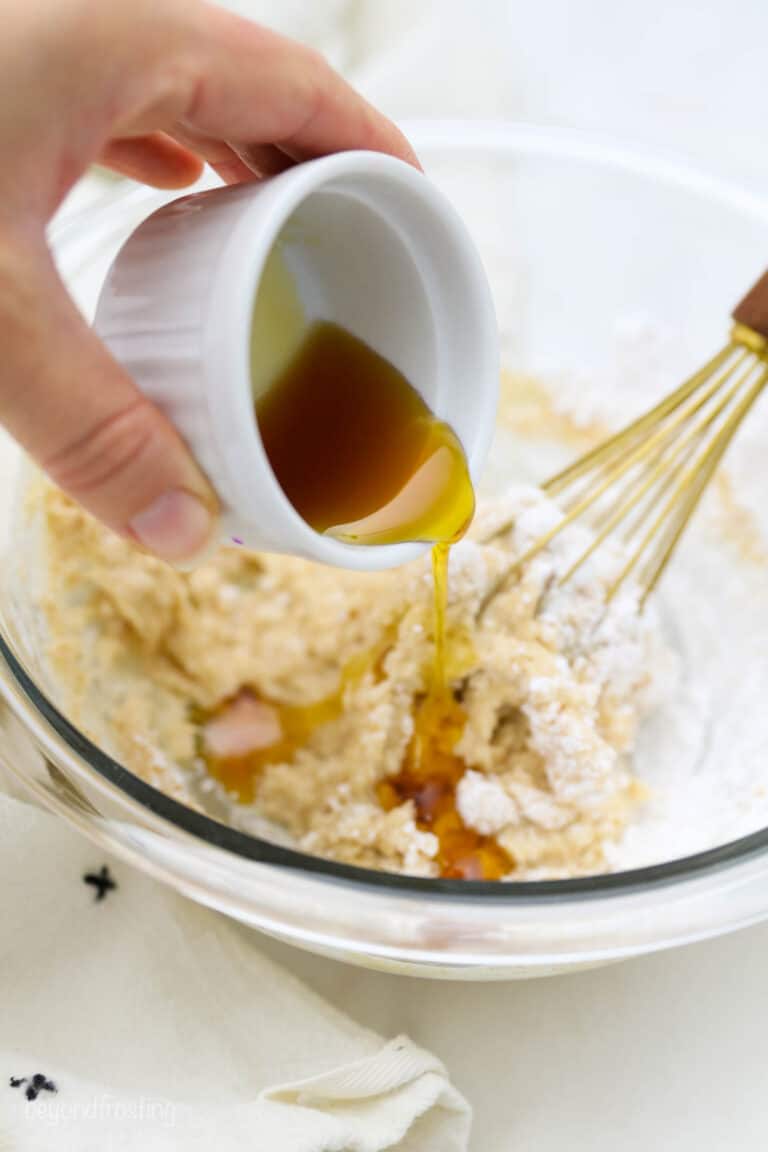 Combine the remaining ingredients. Once your brown butter has cooled, sift in your powdered sugar, whisking constantly. As the mixture thickens, alternate adding in the maple syrup and heavy whipping cream. Finally, add cinnamon and continue whisking until all the ingredients are combined.
Glaze the cake. When your pumpkin bundt cake is cooled to room temperature, pour the brown butter glaze all over top. Give the glaze a chance to set, and then get slicing!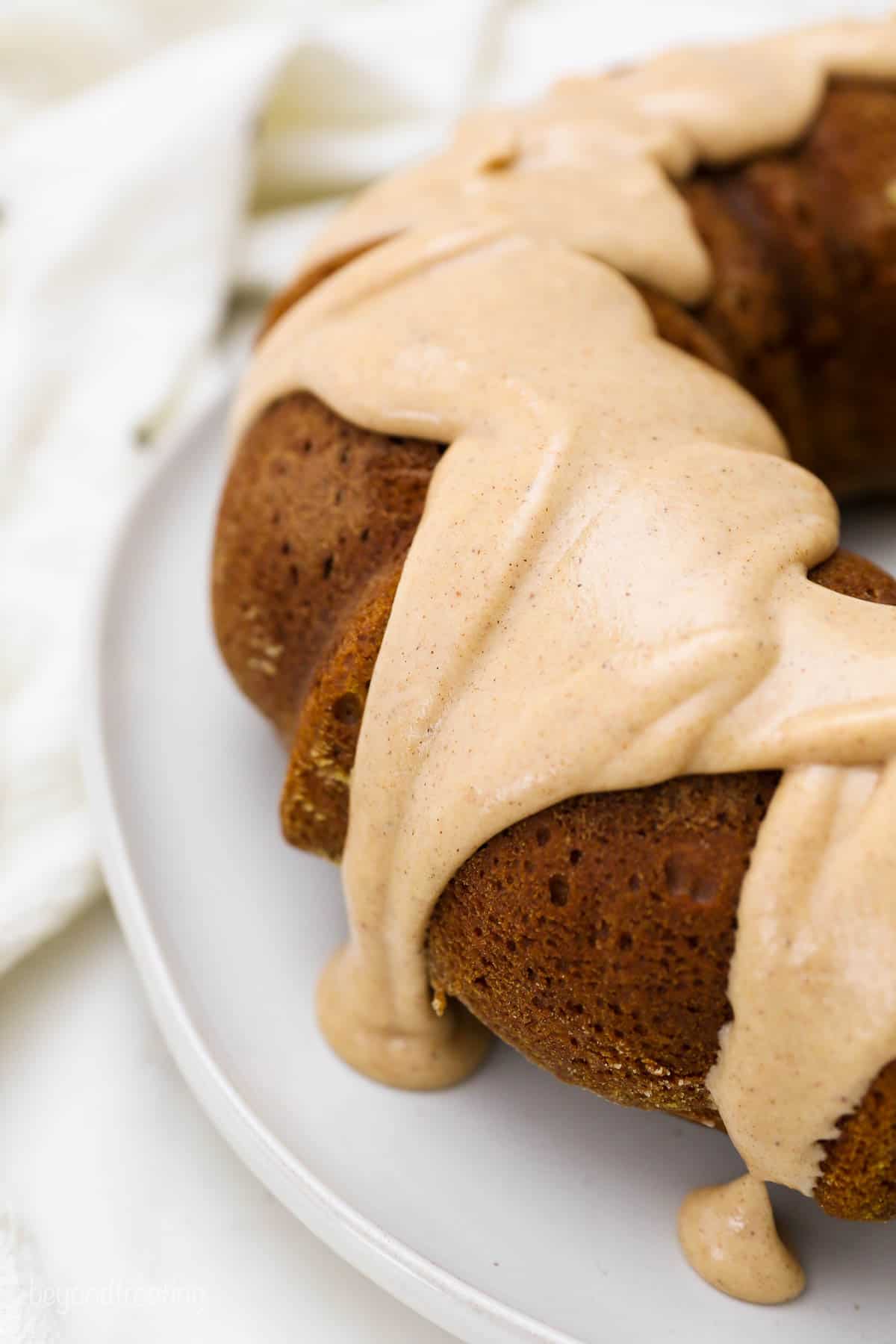 Tips for Success
You're going to be hooked on this pumpkin bundt cake! Keep these tips in mind for the best results every time:
Grease the pan generously. I grease my bundt pan with Crisco shortening and then dust it with flour as extra insurance against sticking.
Use pumpkin puree, NOT pumpkin pie filling. They aren't the same and aren't interchangeable in recipes. Pumpkin pie filling has additives like spices and thickeners. Canned pumpkin puree is 100% pumpkin, and nothing else.
Don't wait to pour over the glaze. The longer the glaze sits, the more it will thicken, making it harder to drizzle over the cake.
If your glaze is too thick, microwave it for a few seconds and then re-stir. You can also try adding a spoonful of milk to thin it out. Take care that you don't add too much, though. The glaze should still be thick enough to set on the cake.
How Do I Know When Bundt Cake is Done Baking?
If you're new to baking bundt cakes, it can be tricky to know when they're finished baking (what's going on inside that deep bundt pan?!). There are a couple of things you can do to check that your pumpkin bundt cake is done baking:
Insert a toothpick in the center of the cake. If it comes out clean, then the cake is done.
Gently press on the cake. It should be firm enough that it springs back up.
Look at the sides. If they are pulling away from the edges of the pan, your bundt cake is good to go.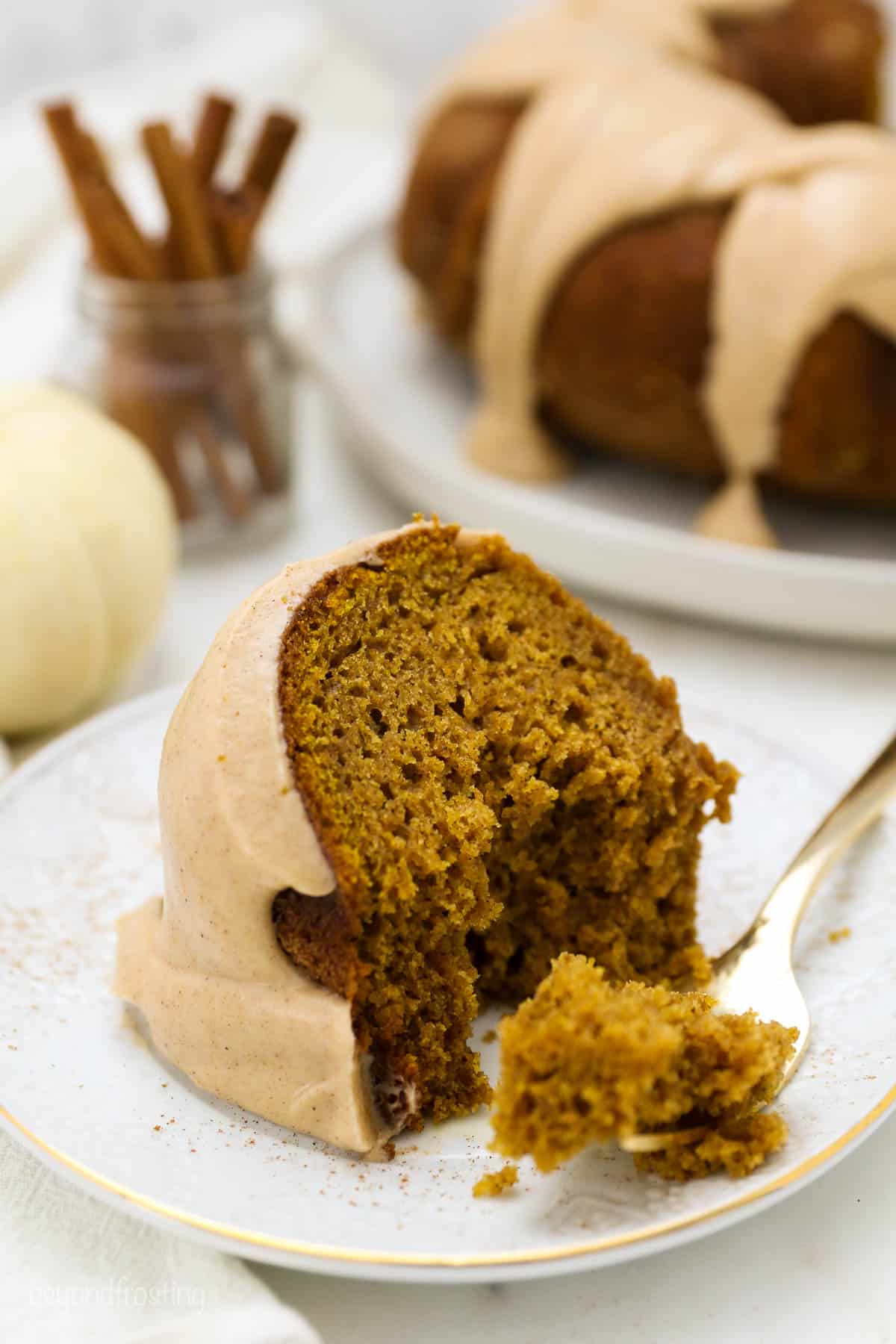 Variation Ideas
In case you'd like to change things up with this fluffy pumpkin spice bundt cake, here are some variations to try:
Toppings. Sprinkle the top of your glazed bundt cake with white chocolate chips or toffee bits, or drizzle it with chocolate or caramel sauce.
Frosting. I'm always hard-pressed to find a better topping for this pumpkin spice cake than my brown butter maple glaze. But you can absolutely frost your bundt cake any way you'd like. My cream cheese frosting or mascarpone whipped cream would also be delicious!
Add-ins. Looking for a fun variation of this pumpkin spice bundt cake with tons of delicious add-ins? Try this pumpkin seven layer bundt cake filled with walnuts and chocolate chips, topped with chocolate ganache.
How to Store a Bundt Cake
To Store: Leftover bundt cake will last in an airtight container on the counter for up to 3 days.
Freezer: I recommend freezing this pumpkin bundt cake before adding the glaze. To freeze, let the cake cool completely, then wrap it in plastic wrap followed by aluminum foil. Freeze for up to 3 months. When you're ready to enjoy, thaw it in the fridge, then top with brown butter icing.
More Pumpkin Recipes You'll Love
Print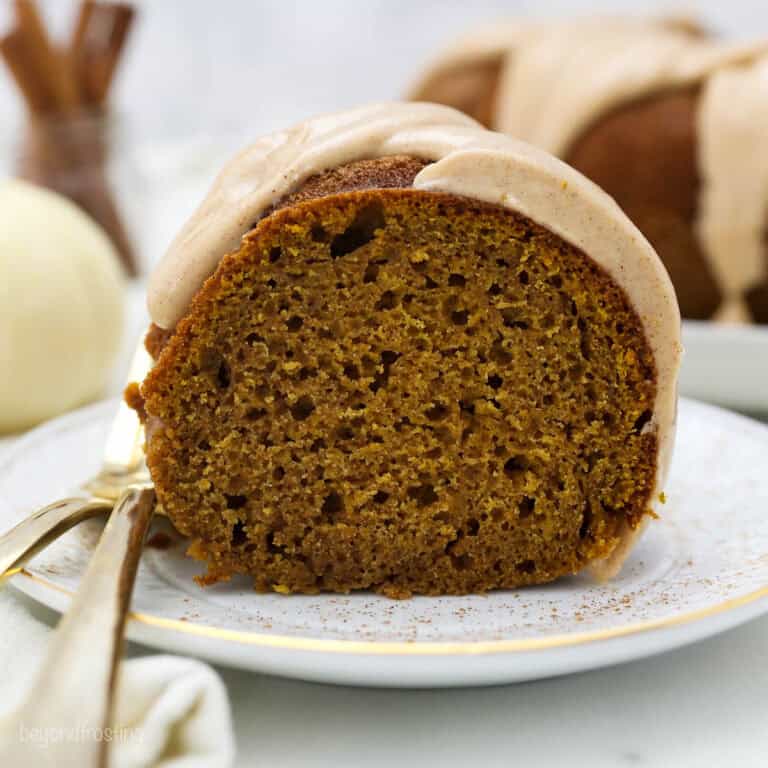 Pumpkin Bundt Cake
Author:

Prep Time:

15 minutes

Cook Time:

30 minutes

Total Time:

45 minutes

Yield:

10-12 slices
Description
This pumpkin bundt cake recipe is an easy fall dessert, ready for the oven in 15 minutes! It's a moist, spiced pumpkin bundt cake covered in a maple brown butter glaze.
Ingredients
For the Cake
1 ½ cup

s (

330g

) light brown sugar

½ cup

(118ml) vegetable oil

3

large eggs

2 tablespoon

s (30ml) maple syrup

2 teaspoon

s (10ml) vanilla extract

1 cup

(244g) pumpkin puree (not pumpkin pie filling)

2 cup

s (

280g

) all-purpose flour

2 teaspoon

s (

5g

) pumpkin pie spice

2 teaspoon

s (

5g

) cinnamon

1 ½ teaspoon

s (

5.6g

) baking powder

¾ teaspoon

baking soda

¾ teaspoon

salt

¾ cup

(177ml) milk
For the Glaze
1/2

cup (113g) unsalted butter, browned

2 cups (260g) p

owdered sugar, sifted

1 teaspoon

(2.5g) cinnamon

2 tablespoons

(30ml) pure maple syrup

2 tablespoons

(30ml) milk or heavy cream
Instructions
For the cake:
Preheat the oven to 350°F. Grease and flour the bundt pan.
In a large mixing bowl, combine the sugar, vegetable oil, eggs, maple syrup, and vanilla extract. Beat on medium speed until the eggs and oil are well incorporated. Scrape down the bowl as needed. Next mix in the pumpkin and beat until well combined.
In a medium-sized bowl, combine all remaining dry ingredients. Then, add half the dry ingredients to the batter followed by half the milk, and beat until it starts to combine. Add the remaining dry ingredients and milk and mix until well combined. Scrape down the bottom and sides of the bowl.
Bake at 350°F for approximately 30-35 minutes. Baking times will vary by the type of pan used. Test the cake for doneness by inserting a toothpick into the center of the cake. If the toothpick comes out clean, your cake is done. Remove from the oven and place on a cooling rack. After 5 minutes, run a knife around the outside edge of your cake and in the center to release it from the sides of the pan. Turn it out onto a plate or cooling rack. Allow to cool completely.
For the glaze:
To brown the butter, use a small saucepan, and cut the butter into pieces. Melt the butter over medium heat and allow it to boil and bubble.
Once it starts boiling, stir it frequently until it starts to turn to an amber color and releases a nutty aroma. Bubbling will slow down as it starts to brown.
Remove the butter from the heat and allow it to cool completely.
Sift your powdered sugar so it's easier to incorporate. Slowly start whisking in the powdered sugar, about ½ cup at a time.
As the mixture thickens, start alternating in the liquid ingredients: maple syrup and heavy whipping cream. Continue whisking in the cinnamon until all the ingredients are well combined.
The glaze should be thick but still run off your whisk. If you find it's too thick, pop it in the microwave for 10 seconds and re-stir. Adding additional milk or heavy cream will make the glaze even thinner, but you still want it to be thick enough that it will set. Store in an airtight container.
Equipment
Notes
I used a 10 cup bundt pan the one I linked to above is similar but a 12 cup size. The baking time will vary by the type and size of the pan you use
Grease the pan generously. I like to use Crisco shortening and flour to coat the pan before adding in the cake batter. Make sure you get every nook and cranny so you don't have any issues getting the cake out when it's done baking.
Use pumpkin puree, not pumpkin pie filling! They are not the same. Pumpkin pie filling has added sugar and other ingredients, while puree is just pumpkin.
Pour the glaze right away. The longer the glaze sits, the more it will set which will make it harder to drizzle over the cake.
If your glaze is too thick, pop it in the microwave for 10 seconds and re-stir. If it's still too thick, try adding a splash of milk to thin it out. Not too much though. You want it to still be thick enough that it will set on the cake.
Frosting variation ideas: if the brown butter maple frosting isn't your thing, check out my cream cheese frosting, caramel frosting, top it off with some whipped cream, or just enjoy it unfrosted! (Yes, it's that good.)
Category:

Cake

Method:

Oven

Cuisine:

Cuisine
Keywords: pumpkin bundt cake, pumpkin bundt cake recipe, pumpkin spice bundt cake